One of my favorite things about fall is my desire to turn the oven on and start roasting and baking everything in sight! After an extra hot and really smoky summer, (from all the forest fires) the cool crisp mornings and beautiful fall colors are more than welcome.
Roasted veggies are a real staple in our house most months out of the year, I only stop making them when it's too hot to move outside, and that's when I grill them instead. One of the biggest challenges to getting more veggies into our diet has been convenience, cause… let's face it veggies aren't the quickest thing to bring to the table. That's where pans and pans of roasted veggies come in: I make 2 full sheet pans with around 3 pounds of veggies on them each week, and that's just for 2 people. With all the prep work out of the way, you're only minutes away from a nutritious dinner.
Most often I roast my veggies plain with just a bit of olive oil and sea salt, then I can add them to whatever I'd like from a pasta sauce to a Thai curry. But lately I've taken to seasoning one pan with something bold and fun for an immediate dinner, then I put the other plain pan away in the fridge for another creation later in the week.
Delicata squash is one of my favorites in my fall and winter roast veggies mixtures because you don't have to peel it!
Once both ends are cut off and the the seeds are scraped out, cut the squash into quarters lengthwise and then slice them crosswise into bite sized pieces.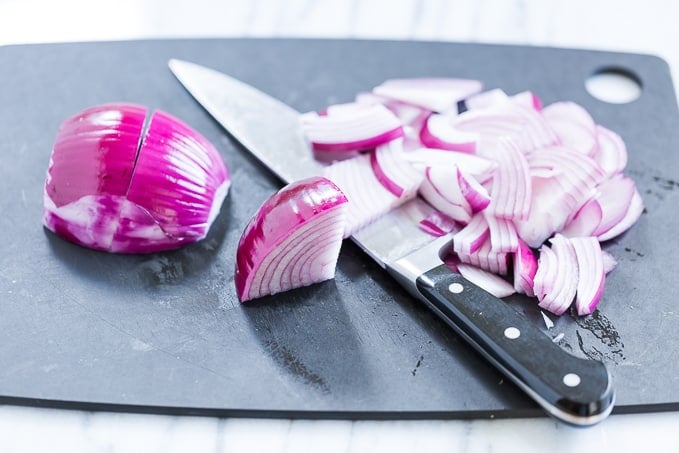 I like to keep all the veggies relatively the same size, so for the onion I cut it into quarters before slicing it roughly the same width as the squash.
For the fennel, remove the fronds and cut away the tough outer stocks (I love these in homemade chicken soup where they have time to simmer into tenderness). Cut the core out and slice the same width as the rest of the veggies.
For the carrots I try to slice them as thinly as possible because they seem to cook slower than even the squash sometimes.
I toss the whole medley together in a large bowl. From here you can decided how you want to season your veggies. I went with one pan of plain and one pan seasoned with a Persian seasoning mix, but the sky's the limit and you can use fajita or Cajun spices, or even a more Italian themed version with chopped fresh rosemary and garlic.
This summer when we were in Missoula, Montana we visited a great little place that's both restaurant and spice shop. Needless to say, I couldn't choose between their different spice mixes and ended up buying everything even though I didn't have a clue what to do with them. They give you a recipe on the back of each tin and some suggestions on the front. When I saw the Persian Advieh spice mix was supposed to be great for roasted veggies, I knew that's where I'd be starting.
Persian Advieh is a mild curry spice which is most often paired with sweet/sour flavors. This spice mix gives the veggies plenty of flavor and a touch of sweetness (w/o added sugar). I paired them with a Coconut Quinoa with Pomegranates and Cilantro, which isn't at all authentic to Persian cuisine, but we really loved it. The bright flavor of pomegranates is so perfect with the veggies, and the coconut quinoa adds a subtle creamy richness to the overall dish.
I like to toss in my spices individually on each pan of veggies because I like to roast at least 2 different flavors, but if you're doing both pans the same you can toss them together in the bowl before dividing them onto sheet pans.
One of the best things about roasted veggies is the caramelized edges they get while roasting. If veggies have never been your thing, be sure to try them roasted because their flavor is addicting.
I ate several meals out of these veggies just straight up in a bowl with much enjoyment, but adding some pomegranate arils really takes it to another level with the sweet/sour combination.
The recipe makes 2 sheet pans of veggies, and I've listed the quantity of spices for each pan of veggies in case you want to follow my system of roasting 1 pan flavored and 1 pan plain for another meal later in the week. If you want them all spiced simply double the amount of spices, and you're good to go! And, finally for a few ideas on what to do with your extra roasted veggies, check out the recipes below.
Easiest Roasted Veggie Thai Curry
Roasted Veggie Bowls with Pomegranate Feta Guacamole
Roasted Market Veggies with Basil Aioli and Over Easy Eggs
Print
Persian Roasted Veggies
---
Veggies for 2 pans roasted veggies:
1

large red onion

1

delicata squash, 1 1/2 pounds

6

carrots, 1 pound

1

bulb fennel, 8 ounces
Spices for 1 pan of veggies:
2 Tablespoons

avocado or olive oil

1 Tablespoon

Persian Advieh spice mix

1/2 Teaspoon

sea salt, or to taste
---
Instructions
Preheat the oven to 450ºF and line 2 cookie sheet (sheet pans) with parchment paper.
While the oven heats prepare the veggies. Cut the ends off the onion and peel away the tough outer layer. Cut the onion in half from the top to the bottom and lay each half flat side down on the cutting board. Cut them in half again, then turn the onion 90º and slice across it into 1/4″ slices (see picture above).
Cut both ends off the delicata squash and cut it in half lengthwise. Scrape out the seeds and cut each half in half again to create quarters lengthwise. Cut across the quarters to create 1/4″ slices.
Remove the ends and peel the carrots before thinly slicing them.
Cut off the fronds and tough outer stalks of the fennel, you can use these for another purpose like soup. Cut out the core and cut the fennel into 1/4″ thick slices.
Toss all the veggies together in a large bowl. From here you can roast them anyway you'd like, my favorite is to roast 1 pan with the spices listed above, and I roast the other pan plain with 2 tablespoons oil and 1/2 teaspoon sea salt.
Either way, divide the veggies onto the 2 lined cookie sheets and season accordingly.
Roast for 20 minutes, or until the veggies are tender and caramelized. Serve immediately with your choice of side dish.
Each pan makes approximately 4 cups of veggies, although they will shrink a bit after they've been refrigerated. I store my extra pan of veggies in a 1-quart mason jar for use throughout the week.
Prep Time:

20 mins

Cook Time:

20 mins