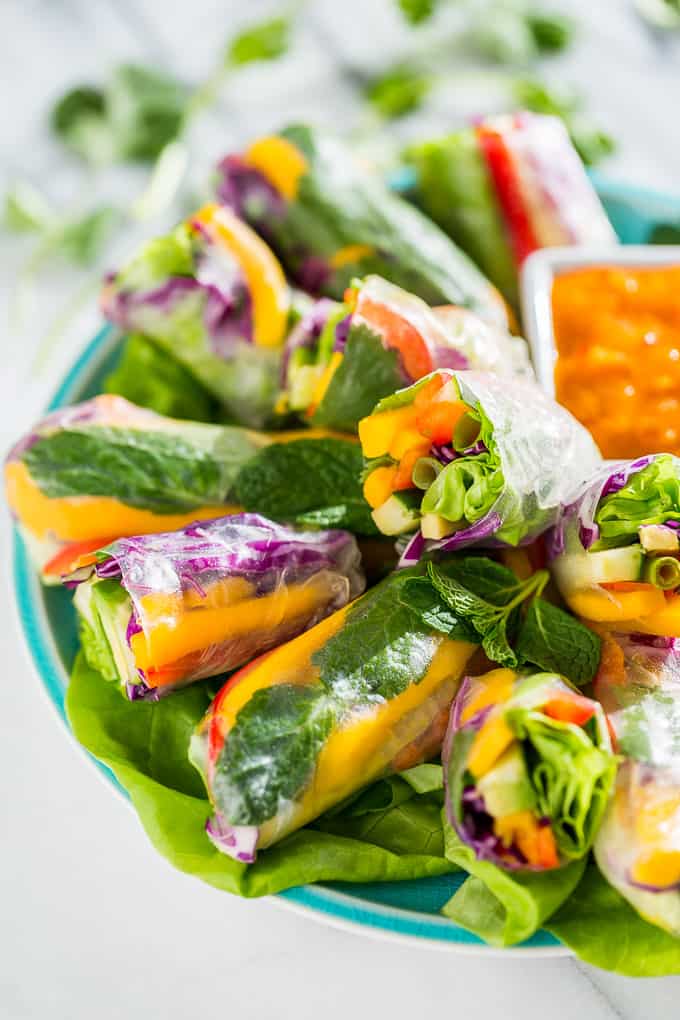 It might still be pretty cold around here, winter temperature are hanging on with hail one minute, and pouring rain the next. But the grass is slowly turning green, the trees are budding, and I'm in full force Spring mode!
I'm so predictable because I do this every year, I jump in full speed ahead into all the nice new produce, even though most of it won't be in season for us for another few months. I just can't help myself, I mean… who can actually wait until the end of June for the first strawberry!?!
I definitely can't, so be prepared for all things berries, and fresh produce heading your way soon. (Be sure and check out my Instagram Stories to see what I'm up to in real time, and what recipes will be coming your way next.) And the best part is, if you're in a late season area like me, you'll have all sorts of new recipes to try out by the time you have local produce again!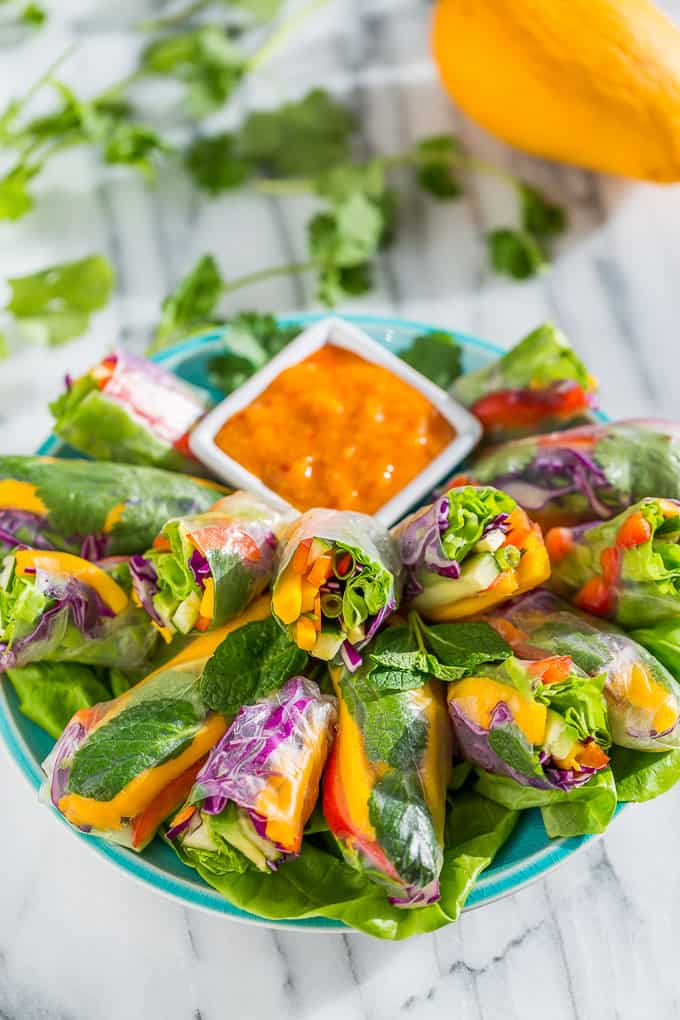 Anyways… back to the point which is these lovely spring rolls, which are technically summer rolls, but since everyone calls them spring rolls, I'm just rolling with it.
(On a side note, usually I edit out my ridiculous puns because I make them completely on accident, but maybe I'll start leaving some in, just so you can have a laugh at my goofy brain. Seriously though whenever I accidentally make a pun, my family just looks at me like 'really?' and then I realize what I've just said. It's actually kind of embarrassing sometimes because people think you're doing it on purpose, when in reality I'm just that ridiculous!)
I promise that's the last tangent today, (probably) and we'll just get on talking about these Rainbow Spring Rolls which are so delicious. I haven't actually rolled up spring rolls (before this recipe) in years because life gets busy, so I'm going to give you 2 options today.
First you can roll these up traditional style which definitely takes a little time. Or secondly you can do what I do most of the time, and just pile all the veggies/mango into a bowl with some rice vermicelli noodles and douse with sauce. The second option is obviously much faster, and it's a great way to get the same flavors in less time. However sometimes it's fun to take a few minutes and make them into rolls because you just can't beat the texture.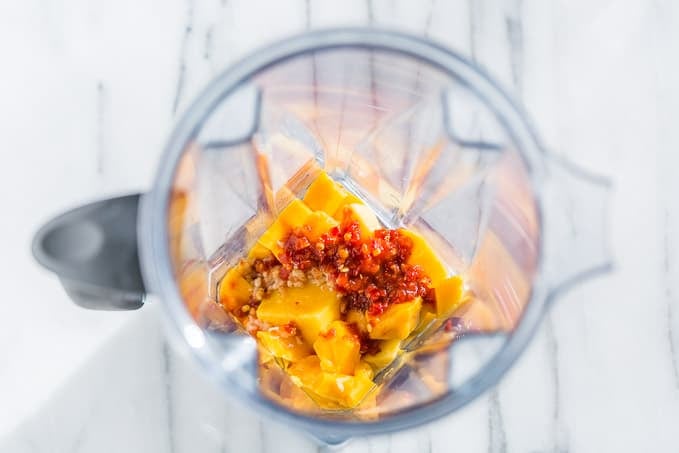 The sauce for this recipe is super simple, you just place a few ingredients into a blender, and poof… it's done!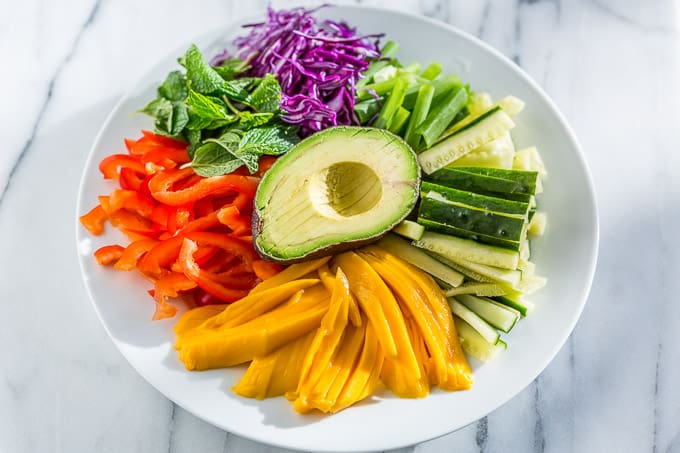 Before starting to make the spring rolls, prep all your veggies and mango. I like to cut everything into matchsticks, because I find it easier to roll, but feel free to cut the veggies however you'd like.
Normally you'd find cooked vermicelli rice noodles (which are the thinner version of Pad Thai noodles) in spring rolls. But for this recipe I kept it 100% fruits and veggies for the filling. I find them lighter and less filling as an appetizer, and it's easier not to overfill the rice paper wrappers when I don't add noodles.
Although sometimes I do add them if I want to make these into a light meal. You can check out my Summer Roll Bowls with 'Peanut Sauce' for an easier version that's more of a dinner than appetizer.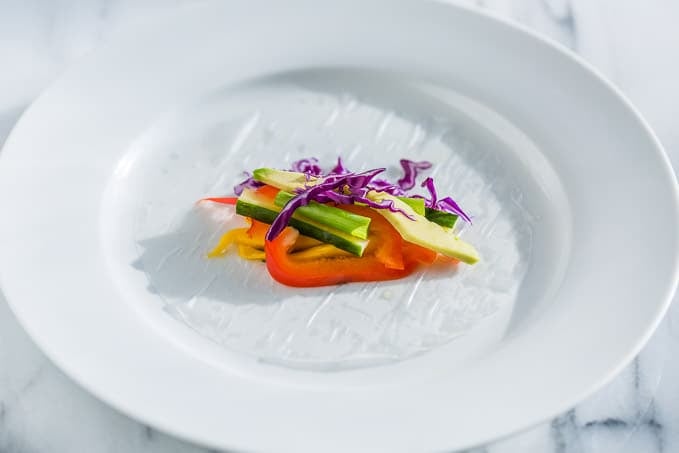 The most important thing when rolling spring rolls is not to over soak the rice paper wrappers, or they will tear too easily. I keep a pasta bowl (which is a wide mouthed bowl) of hot water next to where I'm rolling, and I dip the wrappers in just enough to get the whole rice paper wet.
Then place it on your work surface and add a little of each of your rainbow fruits and veggies. By the time you're done adding the filling, the rice paper wrappers have softened just enough to roll and stick together.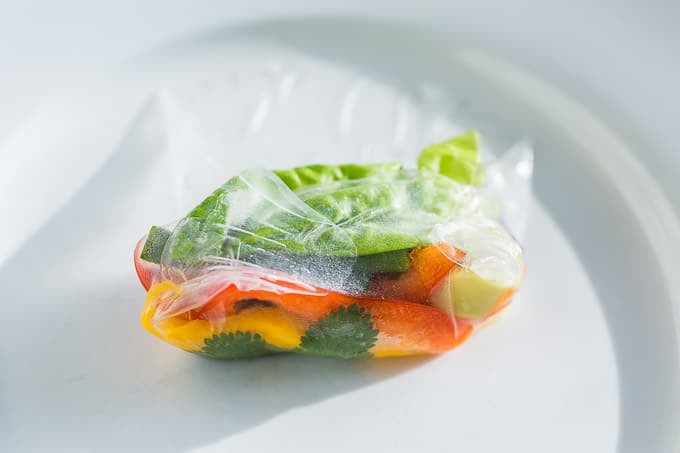 Next start rolling from the end, and after you've pulled the end up and over the fruits/veggies, tuck in both edges…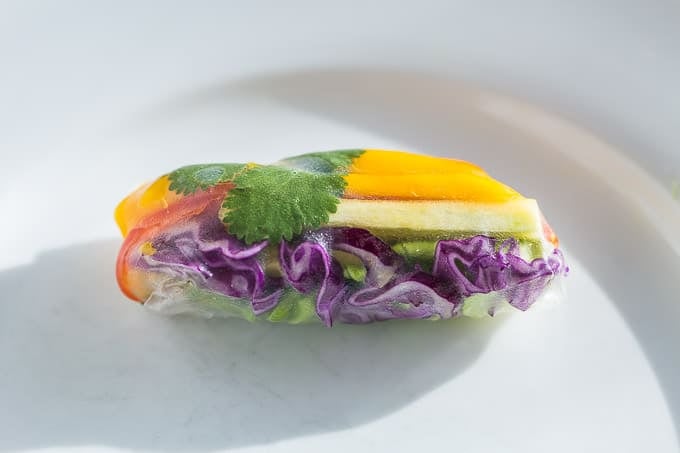 … and roll all the way to the end. Set the rolls aside in a single layer as you roll the rest, don't stack them because they will stick together if left too long. Once you have all the spring rolls done, then layer them on a serving platter and serve right away!
Tip: Don't be discouraged if you find you've torn several wrappers or the rolls won't stick together as you're trying to roll them. Spring rolls have a learning curve, so just go into it knowing it might be a little rocky to start with. After several failed attempts my first time I finally started to get in the groove.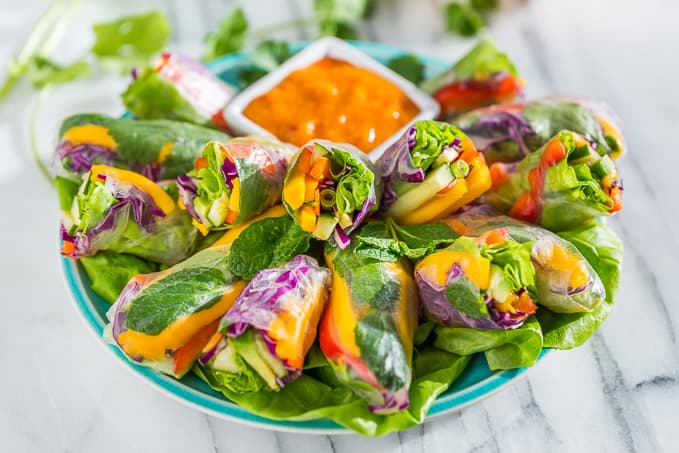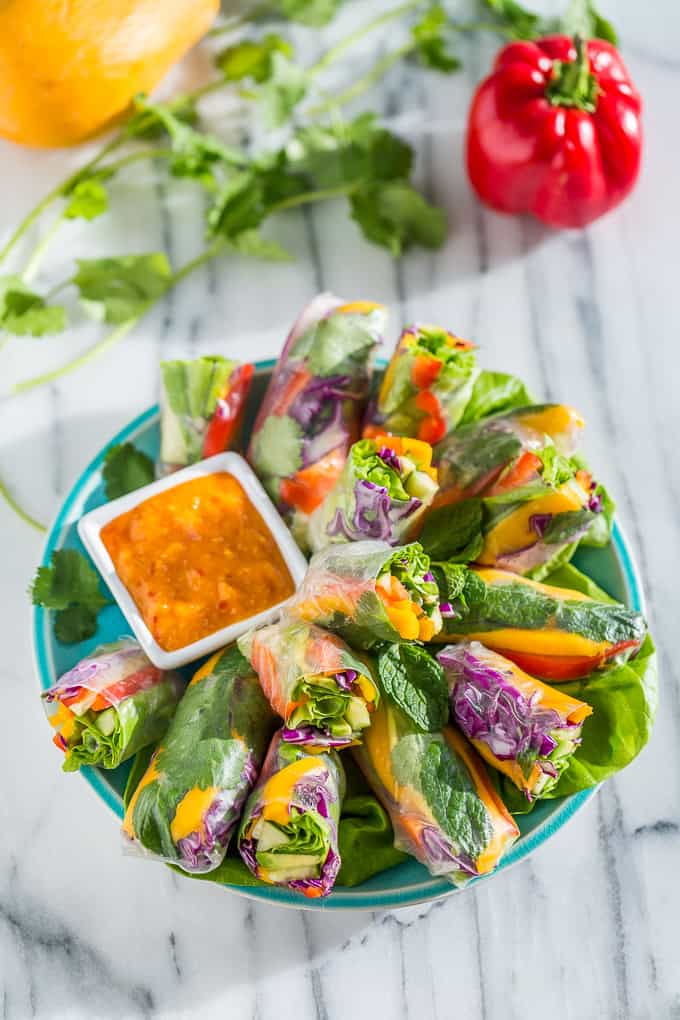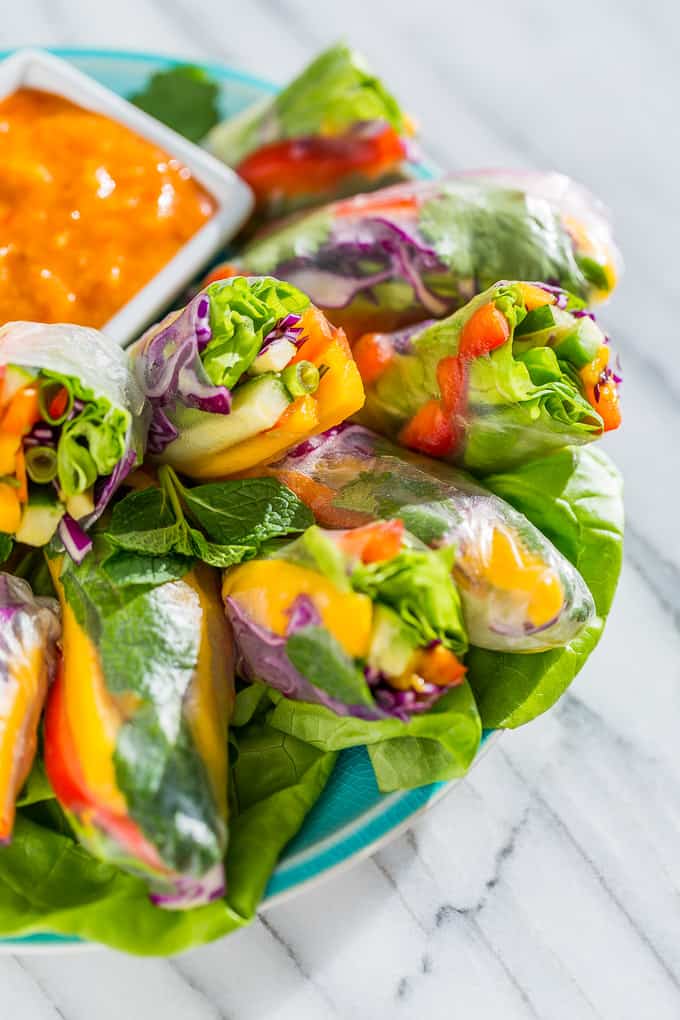 In the summertime when there's tons of herbs around in my garden, I like to use cilantro, basil, and mint. When I'm buying store bought herbs, I'll just pick one, whichever one I'm craving, but usually cilantro because it's budget friendly and the rest of the bunch can be used in guacamole which we make all the time.
Print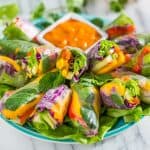 Rainbow Spring Rolls with Sweet Chili Mango Sauce
---
20

–

25

6″ rice paper wrappers

1

small ripe avocado, peeled, pitted, and thinly sliced

1 cup

finely shredded purple cabbage

1/2

red bell pepper, thinly sliced

1 cup

cucumber cut into matchsticks, 8 ounces

1/2

bunch of green onions, cut into

3

" lengths

1

champagne mango, cut into matchsticks, 8 ounces

1

small head butter lettuce, washed, dried, and leaves separated

1/2 cup

mixed fresh herb (use only the whole leaves) basil, cilantro, and mint
Sweet Chili Mango Dipping Sauce:
1 cup

champagne mango chunks, 6 ounces

2

–

3

Teaspoons sambal oelek chili paste, or to taste

1 Tablespoon

Grade A amber maple syrup

1

clove garlic, minced

2 Teaspoons

freshly squeeze lime juice
---
Instructions
Prepare all your fruits and veggies and set them aside on a platter.
Make the dipping sauce by placing all the ingredients into a blender and blend until mostly smooth with very small chunks. Place the dipping sauce into a serving bowl and set it aside.
Fill a medium sized bowl with hot water, I use a pasta bowl because it's the perfect size for 6″ rice paper wrappers.
Set the bowl by your work station, and choose a surface to roll on, I like to use either a dinner plate or cutting board.
Take one rice paper wrapper and completely submerge it in the hot water, don't leave it to soak, just make sure every surface has touched water.
Place the rice paper wrapper on your work surface and place a little of each veggie, mango, and avocado in the lower half. Place a leaf of lettuce over the veggies with a sprinkling of fresh herbs.
Start rolling by carefully lifting up the bottom end and pulling it lightly over the fruits/veggies. Then tuck in each side before finishing the roll.
Continue the rolling process until all the fruits and veggies are gone, placing them in a single layer to the side as you make them.
When they're all made, place them on a serving platter and serve immediately with the dipping sauce.