This strawberry shortcake isn't at all traditional because it leans more towards a strawberry cake-like texture rather than the usual biscuit with berries type dessert. The strawberries and batter get baked together into a tender rich cake studded with berries loaded with roasty flavor. Then it's topped with fresh berries and homemade ice cream, (or whipped cream for a more traditional option).
I love the two toned strawberry flavor with the roasted strawberries in the cake and the fresh ones on top. And while whipped cream is a good option, I've always felt that ice cream makes every dessert better. I added the seeds of 1 vanilla bean to my Homemade Coconut Ice Cream, and it turned out to be a super combination.
For hulling strawberries, I like to use a tomato corer tool which makes short work of strawberries. Then depending on how big your berries are, cut them into 1/4″ or 1/8″ pieces.
The batter and berries get layered together in a cast iron skillet and baked into moist cakey goodness!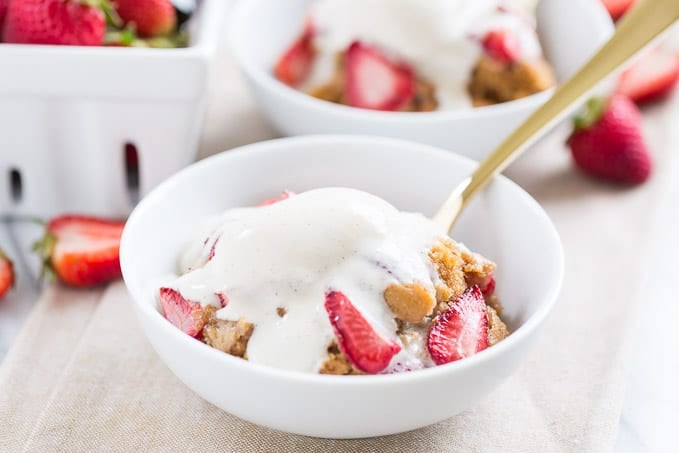 Have loads of strawberries around? Try my Fresh Strawberry Chia Jam!
Another little variation I discovered by accident is to mix together chunks of this shortcake with my Homemade Coconut Ice Cream, and freeze it until it's firm again for a Strawberry Shortcake Ice Cream.
I had so much shortcake topped with ice cream leftover after taking these pictures that I wasn't sure what to do with it. So… I scooped it all into a container and froze it for later. It turned out so good, that I'm making it that way on purpose now!
Print
Strawberry Skillet Shortcake
---
Shortcake:
1 cup

cashew butter

1/4 cup

maple syrup

2

eggs

1 1/2 Teaspoons

baking powder

1 Teaspoon

Vietnamese cinnamon

1 Tablespoon

vanilla extract

1/2 Teaspoon

almond extract

1

–

12

ounce container strawberries, hulled and quartered

2 Tablespoon

butter or coconut oil
Toppings:
---
Instructions
Preheat the oven to 325ºF.
Mix together the cashew butter, maple syrup, eggs, baking powder, Vietnamese cinnamon, vanilla extract, and the almond extract in a medium sized bowl until smooth, and set aside.
Heat a 9″ cast iron skillet over medium heat, add the butter or coconut oil to the pan to melt it. Remove the pan from the heat and add half of the quartered strawberries.
Pour the batter over the strawberries in the pan, smoothing over the top to even it out, and top with the remaining quartered berries.
Bake the shortcake for 20-25 minutes or until just done, but still moist in the center (remember the cake will continue to cook a bit in the cast iron pan after it's removed from the oven).
Serve immediately or at room temperature topped with the fresh berries and your choice of ice cream or whipped cream.
The shortcake will keep for 2-3 days at room temperature.
Prep Time:

20 mins

Cook Time:

20 mins