Incredible strawberry flavor and so simple to make, this Strawberry Vinaigrette is so tasty! This ultra easy dressing comes together in 5 minutes in the blender and is just 3 ingredients. It's especially good with my Strawberry Spinach Salad, (coming soon) but you can use it on all kinds of salads as well. You can also mix it up and use raspberries and even blueberries as well when you don't have strawberries. This dressing is made from real food ingredients with healthy fats, a touch of Vitamin C from the berries, and it's gluten free, dairy free, vegan, and sugar free too.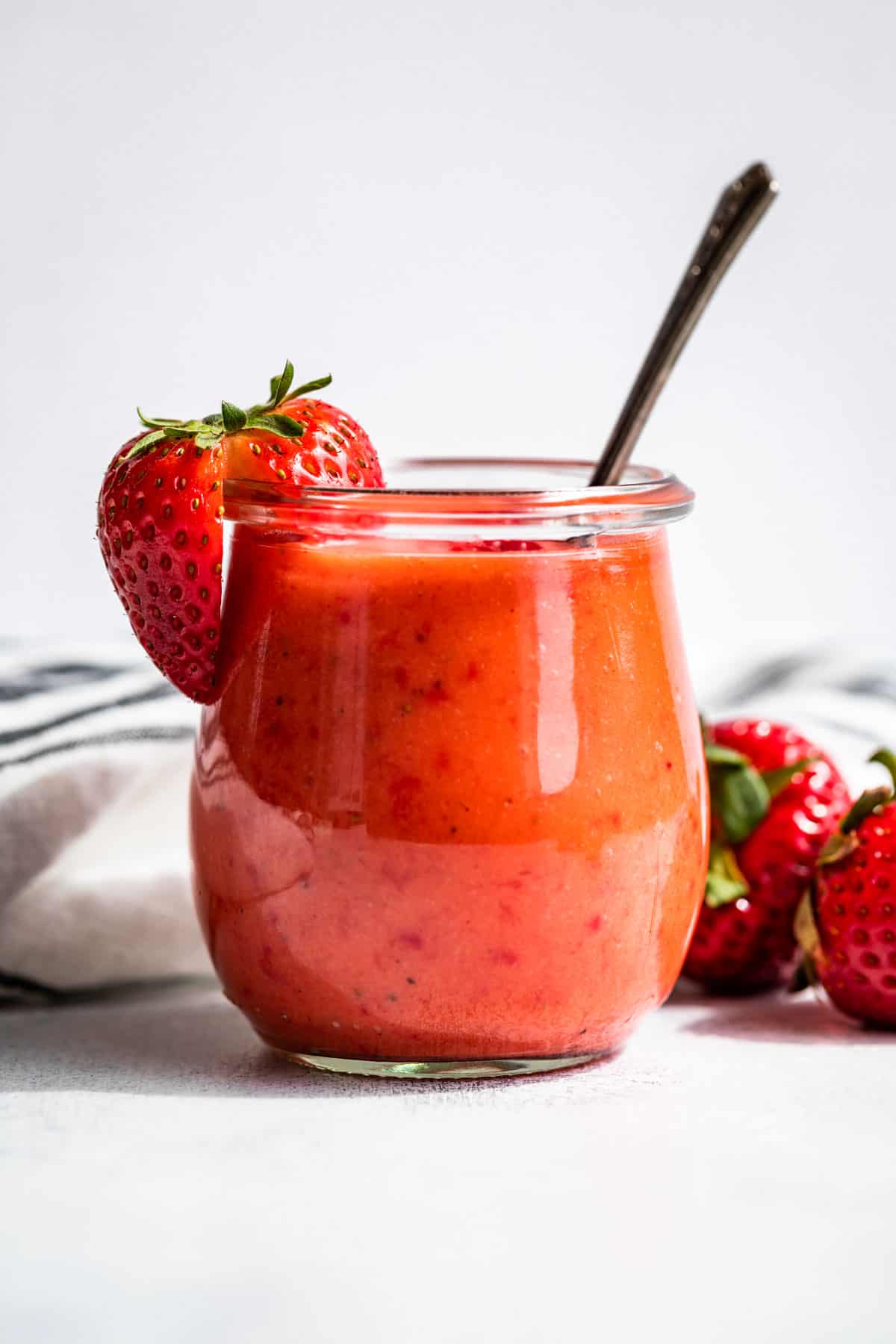 Pure summer flavor and perfect for all your salad needs! This strawberry vinaigrette has been on repeat in our house all season long and we simply can't get tired of it. It's naturally sweet and full of berry flavor which makes it so good with my Strawberry Spinach Salad.
Making your own salad dressing sounds like 1 more thing you don't need to do. But don't worry because you can make this in just minutes in the blender. And I can promise you no store bought bottled dressing has ever tasted like this.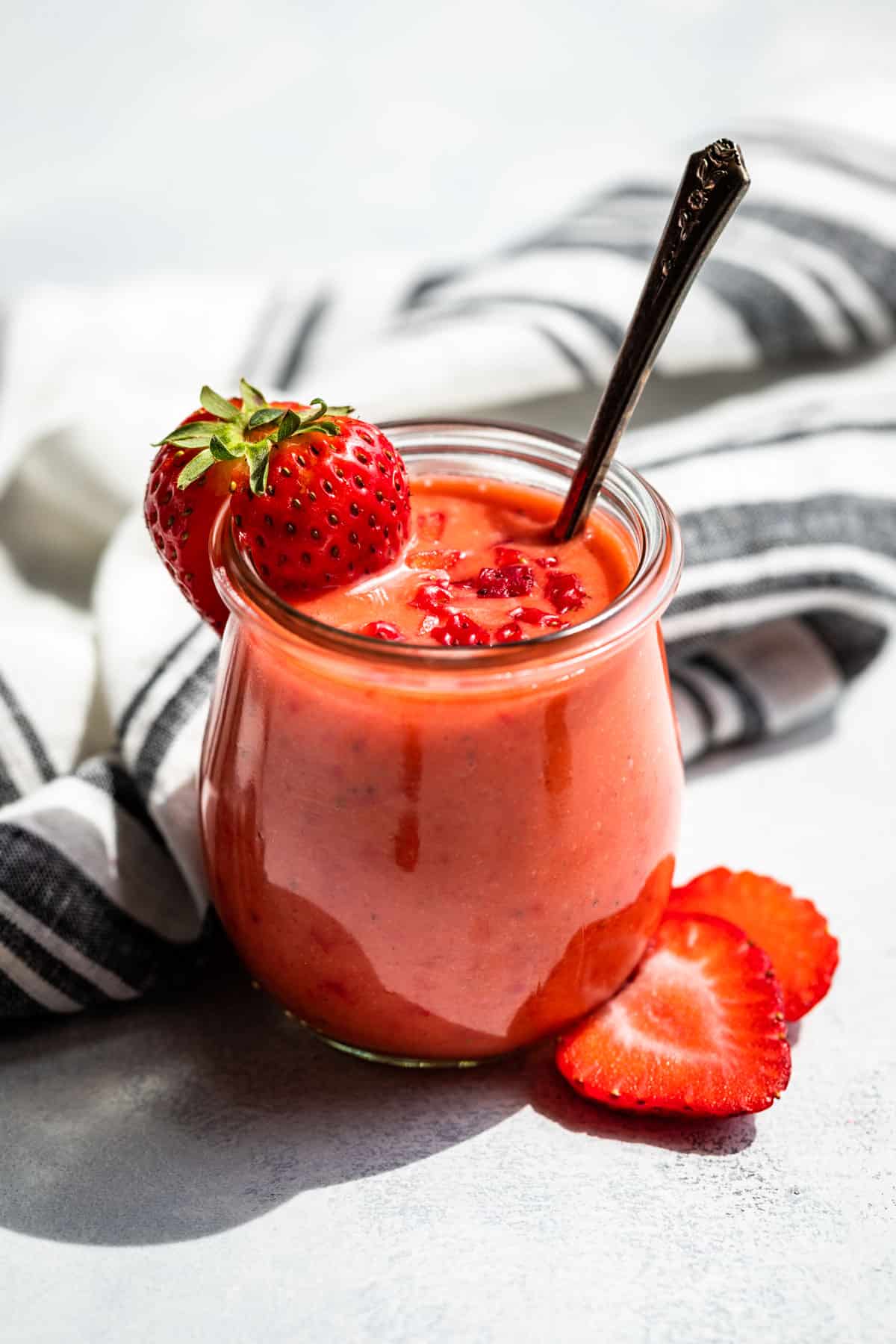 I kept the ingredients for this strawberry vinaigrette recipe simple so you can taste the pure strawberry flavor. You'll often find Dijon mustard and garlic in a vinaigrette, but I find this is one case where it's definitely better without them. Of course that's just my preference, so you might find you enjoy adding them as an extra punch.
Ingredients & Substitutions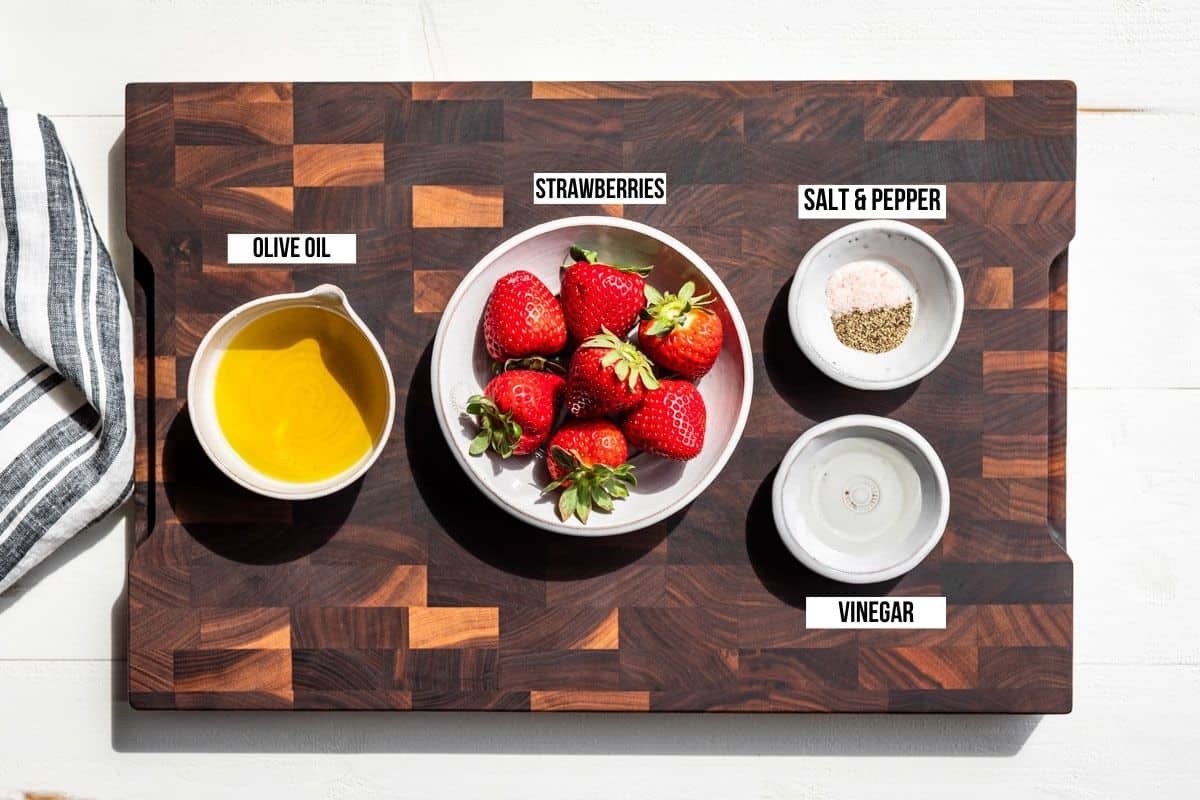 Olive oil – this dressing is very simple, so quality ingredients make a difference. You want to use the best quality extra virgin olive oil you have for this dressing.
Vinegar – white wine vinegar or champagne vinegar are my 1st choices for this dressing. But red wine vinegar would work as well as lemon juice which is quite tasty too.
Strawberries – I used fresh strawberries here, but thawed frozen strawberries work in the winter months as well. However they're definitely not quite as good as fresh, so make this as much as you can while they're in season. Again, quality matters and the riper your berries the better this vinaigrette will taste. If your berries are on the tart side, consider adding a drizzle of pure maple syrup to taste in the finished dressing, honey also works.
Sea salt & pepper – is what rounds out this savory sweet dressing and brings out all the berry flavor.
How to make this recipe step by step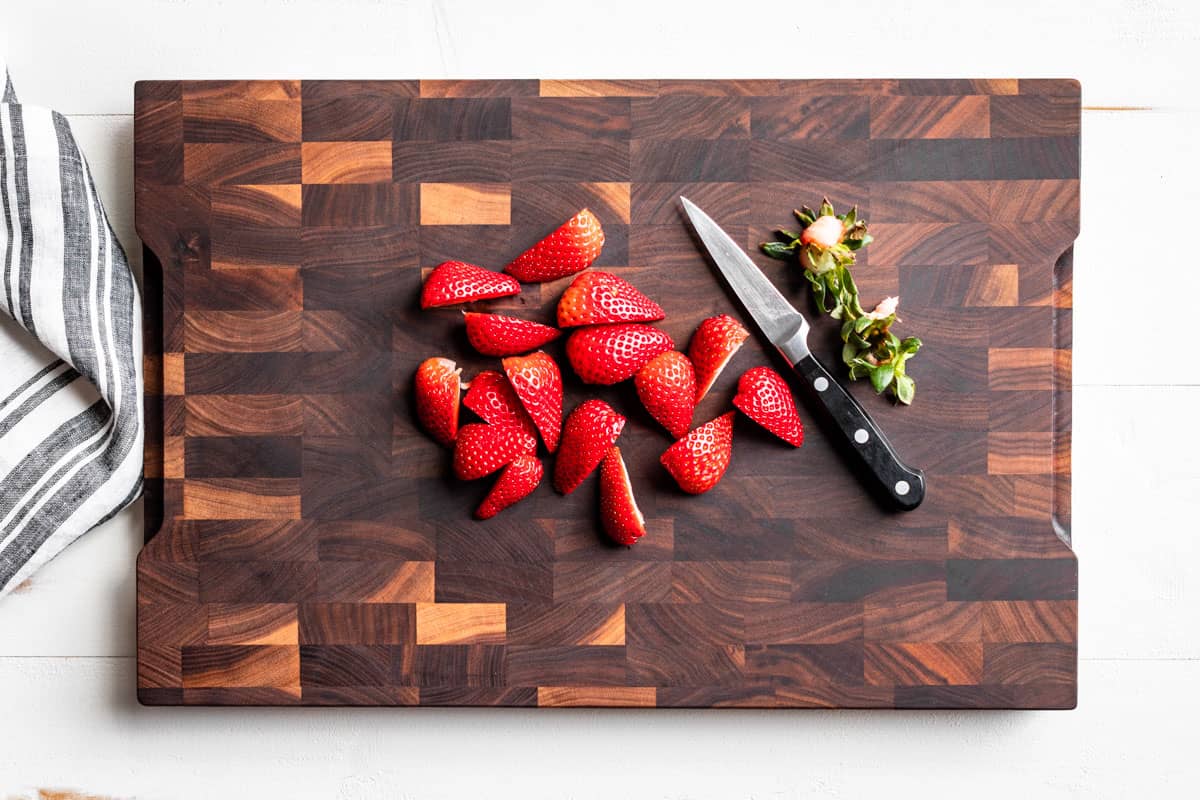 Step 1: Start by hulling the strawberries and cut them into halves or quarters depending on how large they are.
Step 3: Blend the strawberries until it's mostly smooth with small chunks of berry.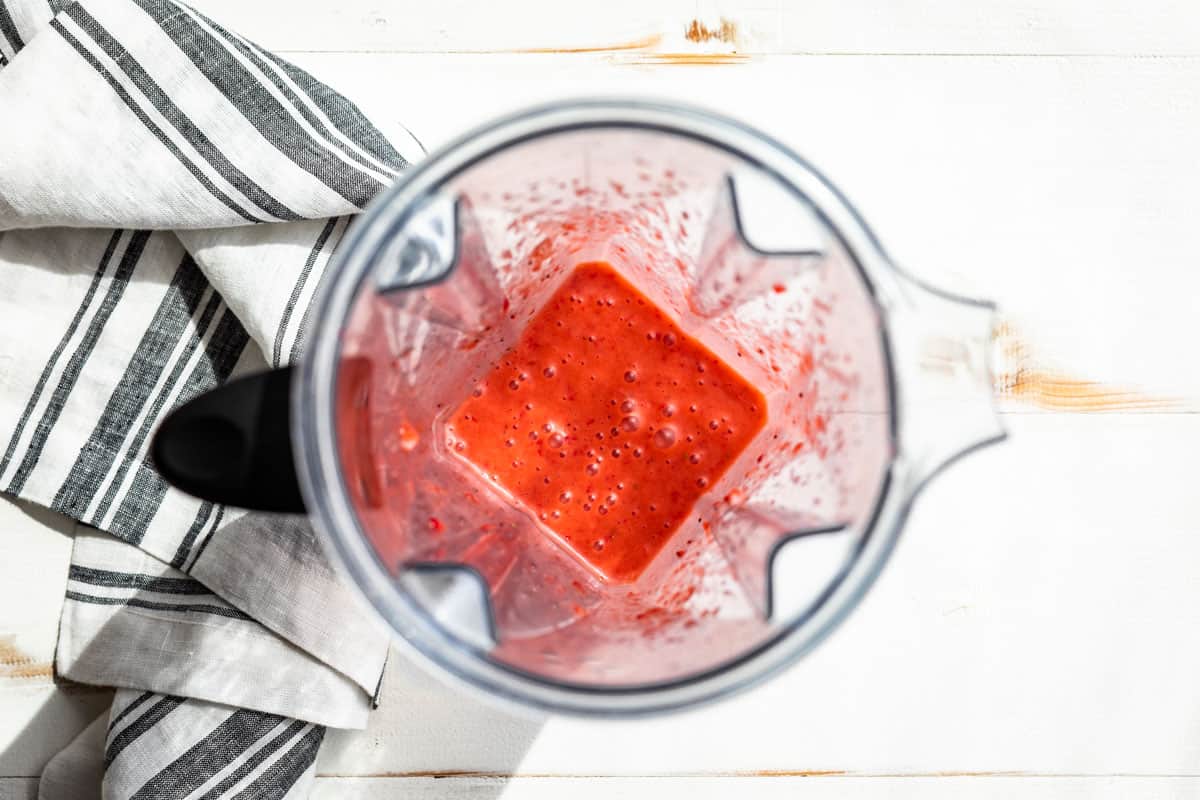 Step 4: Next with the blender running on low speeds, drizzle the olive oil in through the hole in the lid. Add the oil slowly waiting for it to be incorporated. This takes about 30 seconds running at 4-5 on a Vitamix.
Season to taste if you didn't add the salt and pepper earlier, then taste to see if you need to add any sweetener. Serve with your favorite salad.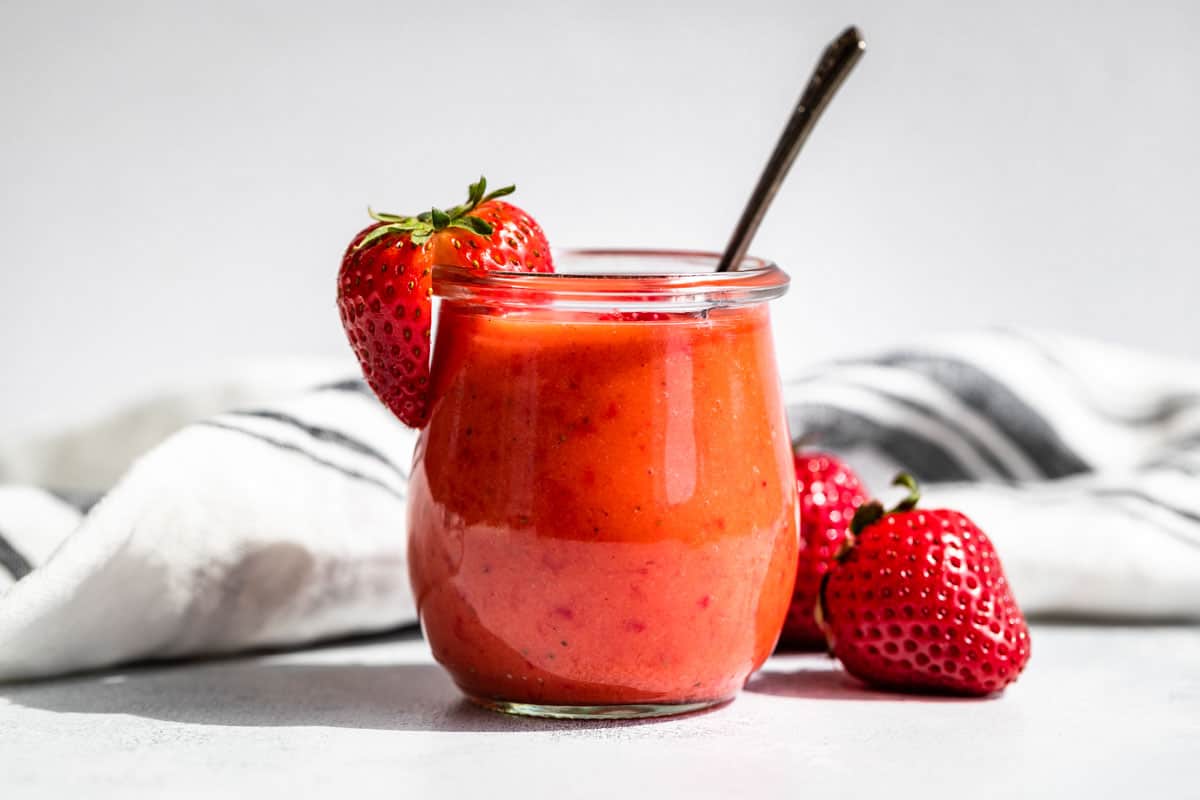 Ways to serve this
The ultimate pairing for this dressing is my Strawberry Spinach Salad, (coming tomorrow).
You can also use this dressing to make a pasta salad, use 8 oz pasta and 8 oz chopped cooked chicken along with sliced fresh strawberries and crumbled feta cheese. Add a large handful of chopped fresh basil and season to taste with sea salt and pepper. You can also add thinly sliced quartered cucumbers for a veggie, such a yummy combo!
Try this as a marinade for grilled chicken or pork, reserve some of the vinaigrette back from the marinade to drizzle over the top of the finished meat.
FAQ's
What is strawberry vinaigrette made of?
Traditionally it's made up of oil, vinegar, strawberries, and seasoned with sea salt and pepper. You can also add a touch of sweetener, both maple syrup and honey are tasty. Chopped fresh herbs are also great here like basil or tarragon. Mix things up by swapping out the vinegar for lemon or even lime juice with a touch of citrus zest as well. Strawberry vinaigrette can also be made by whisking in spoonfuls of strawberry jam in place of the fresh berries, but I personally find this to be a bit sweet.
What can I use in place of strawberries in this Strawberry Vinaigrette?
If you don't have or can't have strawberries, raspberries work really well in this recipe. I've also made it with blueberries and wild blueberries as well as peaches and nectarines. If you use raspberries, you may find you want to sweeten it just a touch.
How long does homemade Strawberry Vinaigrette last?
2-3 days in the fridge. Fresh berries spoil too easily to keep it for longer, luckily you can make a batch in just 5 minutes!
Storing leftovers
To store – place any leftovers into an airtight sealed container and refrigerate for 2-3 days.
Tips & Tricks
Make sure to add the olive oil slowly to the blender, this is what allows the dressing to emulsify properly. However it's no big deal if it separates, simply whisk it back together. Or if you're storing it in a tightly sealed jar, you can just shake it back together.
Definitely try this recipe with different berries and even peaches or nectarines. I like to match my berries or stone fruit in the dressing with what I put in the salad for maximum flavor. So if I used raspberries in the dressing, I toss some in the salad too. You can definitely mix and match berries, or even berries with stone fruit. Raspberries, blueberries, and strawberries are all spectacular with peach and nectarines, so you can't go wrong with these combos.
More homemade dressing recipe inspiration
I really hope you enjoy this Strawberry Vinaigrette! If you do get a chance to make this recipe, please leave a rating below, I'd love to hear from you in the comments.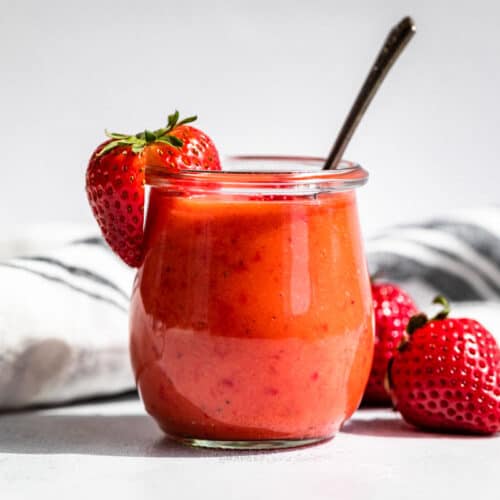 INGREDIENTS
5

ounces

strawberries

-

3/4 cup after they've been quartered

2

tbsp

white wine vinegar

-

or champagne vinegar, red wine vinegar, or lemon juice

1/4

cup

extra virgin olive oil

1/4

tsp

sea salt

-

more or less to taste

1

pinch

freshly ground black pepper
INSTRUCTIONS
Start by washing, drying, and hulling the strawberries. Quarter them and place them in the blender.

Add the vinegar along with sea salt and pepper, or leave out the salt and pepper to season to your taste at the end. Blend until mostly smooth with small chunks remaining.

With the blender running at low speeds, 4-5 on a Vitamix, add the olive oil in a thin steady stream through the hole in the lid. Blend until the oil has been added and the dressing is emulsified.

Serve right away for the best flavor, or refrigerate for up to 3 days.
Bonus Step
If you made this recipe, please leave a rating/comment. Ratings really help us continue to bring you high-quality free recipes. Rate This Recipe!
NOTES
You can also use raspberries, blueberries, peaches, or nectarines in place of the strawberries in this recipe.
nutrition facts
Serving:
0.25
cup
|
Calories:
132
kcal
|
Carbohydrates:
3
g
|
Protein:
0.2
g
|
Fat:
14
g
|
Saturated Fat:
2
g
|
Polyunsaturated Fat:
1
g
|
Monounsaturated Fat:
10
g
|
Sodium:
147
mg
|
Potassium:
58
mg
|
Fiber:
1
g
|
Sugar:
2
g
|
Vitamin A:
4
IU
|
Vitamin C:
21
mg
|
Calcium:
6
mg
|
Iron:
0.3
mg