Ultra creamy and so easy to make, this Dairy Free Ranch Dressing is so good you won't even know it's dairy free. It's simple to make with pantry spices, or with some optional fresh herbs to go the extra mile. This ranch dressing is perfect for any way you love to eat ranch dressing from a dip for cut veggies to sandwiches, wraps, and chicken nuggets. And if you're not dairy free, be sure to check out my Greek yogurt variation below.
I've been a ranch dressing fanatic since I was a kid. I mean… I would eat pretty much anything if it was drowned in ranch.
In fact… my cousin and I were famous in our family, (or infamous) for stealing the the veggie dip trays at birthday parties. We would steal it away, and find a closet to hide in.
Then we would proceed to eat all the broccoli off the tray covered in copious amounts of ranch dressing of course. If time allowed we would move on to the carrots. But most of the time we got caught before we could polish off the veggie tray.
This story is still told over holidays decades later. And it always makes me smile because how often do you get in trouble as a kid for eating broccoli?
Of course, we weren't actually in trouble for eating broccoli… it's just that it happened to be stolen broccoli. And nothing has changed, I'm still crazy about ranch dressing!
Ingredients & Substitutions
Avocado oil – has a buttery flavor that's absolutely perfect for this ranch dressing, but you can use any neutral-tasting oil you'd like. I don't recommend olive oil in this case because it has a bitter taste after blending.
Egg – is what binds the oil and vinegar together to create a creamy mayonnaise base. You'll find substitutions below in the recipe for how to use mayonnaise instead. But making it from scratch takes just a couple of minutes and tastes infinitely better.
White wine vinegar – combines with the oil and egg to create the mayonnaise base. You can also use lemon juice or champagne vinegar.
Dijon mustard – just a touch adds depth of flavor to this dressing.
Spices – garlic and onion granules give this ranch dressing its deep flavor. You want to find spices without any added salt. You can use garlic powder or onion powder and finer in texture, so you'd want to use a bit less. I like to add a touch of smoked paprika for a little extra flair and you'll find measurements for dried dill in the recipe too as a sub for the fresh herbs.
Fresh herbs – really do make a next-level ranch dressing, but if you don't have fresh parsley and dill try the dried herb measurements in the recipe. You can also use just one of the fresh herbs if that's all you have.
Milk of choice – I've used coconut, cashew, and almond milk in this recipe and they all work great. You can also use regular milk or the Greek yogurt option in the recipe as well.
How to make this recipe step by step
Step 1: Start by roughly chopping the fresh herbs if you're using them.
Step 2: Next make the creamy mayonnaise base by adding the egg, white wine vinegar, and Dijon mustard to a blender. Blend just to combine, then with the motor running on medium (4-5 on a Vitamix) slowly drizzle in the avocado oil. Be sure the oil completely combines as you add it so it emulsifies properly.
Step 3: When all the oil has been added and the base is thick and creamy, add the spices and fresh herbs to the blender.
Step 4: Blend again to combine and chop the fresh herbs a bit finer, but be sure to leave plenty of small green bits, you don't want the herbs to disappear into the dressing.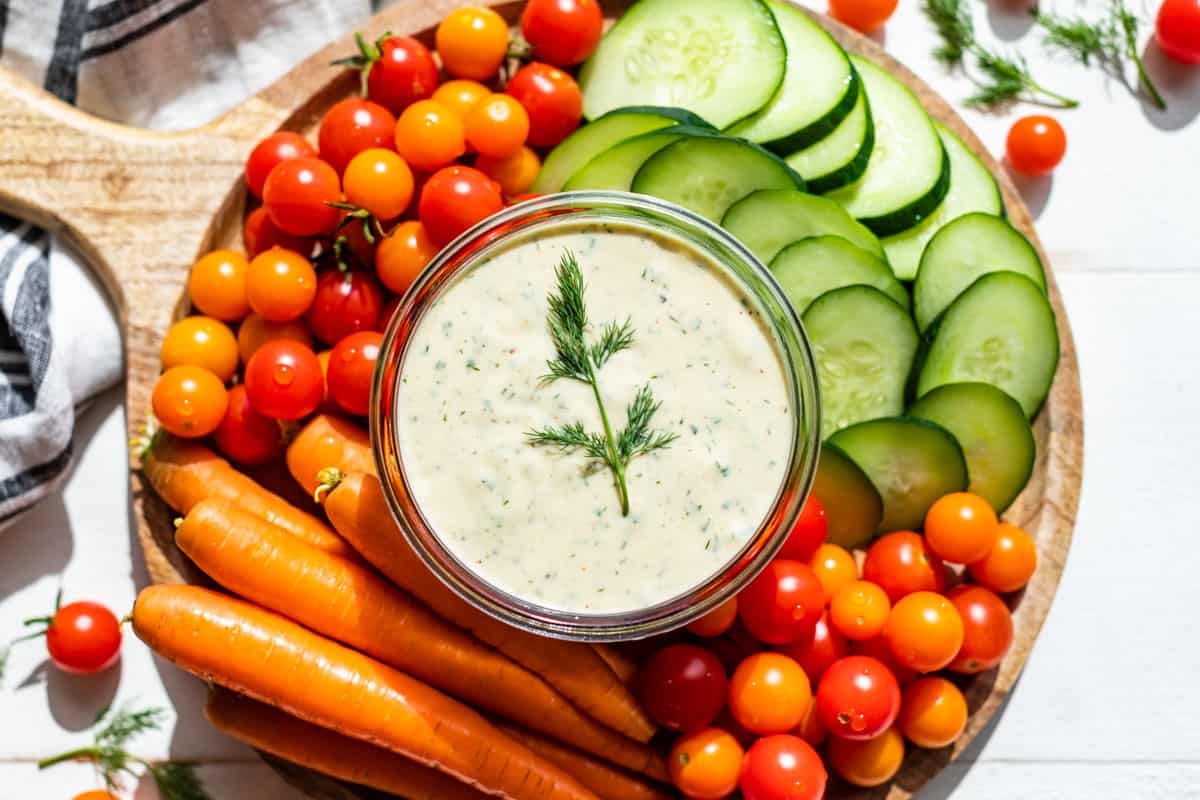 FAQ's
How can I make this ranch dressing vegan?
Use the mayonnaise option in the recipe below and choose a vegan mayonnaise.
What can I use in place of the egg in this ranch dressing?
Try using the mayonnaise option listed in the recipe if you're not comfortable using the egg called for.
Storing leftovers
To store – this ranch dressing will keep for 4-5 days in the refrigerator because of the raw egg. I keep mine longer, but be safe and trust your instincts, smell test, etc., and always throw out food that seems off. With this being a raw egg recipe, it's better to be safe!
Tips & Tricks
The fresh parsley and dill really do make an incredible ranch, but the dried dill option is really good too. I don't substitute anything for the parsley because dried parsley isn't very tasty.
If you're not dairy-free, definitely try the Greek yogurt variation, it's my favorite ranch dressing ever!
When you're blending this dressing, add the oil very slowly to allow it time to emulsify. If the oil is added too fast, the dressing will break and be runny. If this happens to you, try adding another egg, then double the amount of oil, spices, fresh herbs, etc. to make a double batch.
More homemade dressing recipe inspiration
I really hope you enjoy this Dairy Free Ranch Dressing! If you do get a chance to make this recipe, I'd love to hear from you in the comments.
Dairy Free Ranch Dressing
---
INGREDIENTS
1

farm fresh egg

-

see notes

2

tbsp

white wine vinegar

-

or freshly squeezed lemon juice

1/2

tsp

Dijon mustard

1

cup

avocado oil

1

tsp

dried garlic granules

-

no salt

2

tsp

dried onion granules

-

no salt

1/2

tsp

black pepper

1/4

tsp

paprika

-

smoked paprika is my new favorite

1

tsp

sea salt

-

or to taste

1

tbsp

chopped fresh parsley

-

or 1 Teaspoon dried

1

tbsp

chopped fresh dill

-

or 1 Teaspoon dried

1-2

tbsp

milk of choice

-

I used cashew milk w/o additives
INSTRUCTIONS
Add the egg, lemon juice, and Dijon mustard to a blender. Secure the lid and blend starting on low speed.

Add the oil in a thin steady stream into the blender with it running. Gradually increase the speed to 4-5 on a Vitamix. Continue to add the oil in a thin stream until it's all been incorporated, and the mixture has thickened.

After the oil has been incorporated, turn off the blender, and add all the spices and fresh herbs. Blend again to combine.

Add the milk of your choice just until you reach the thickness you like in ranch dressing.

Serve with your choice of veggies, or anything you love ranch with!
Bonus Step
If you made this recipe, please leave a rating/comment. Ratings really help us continue to bring you high-quality free recipes. Rate This Recipe!
NOTES
Eating raw egg is always undertaken at your own risk, and you can sub in any high quality mayonnaise of your choice in it's place. I love the avocado mayo at our health food store, but be prepared for sticker shock since it's made with a good quality oil. That's why I make my own mayo for this recipe by starting with the fresh egg.
If you're not using the raw egg, you can sub in 1 cup high quality mayonnaise of your choice. Then just blend in the spices to the mayo of your choice, and adjust the thickness accordingly, with the milk of your choice.
If you're not dairy free, try adding 1/2 cup of Greek yogurt to the finished ranch dressing instead of the milk of choice.
nutrition facts
Serving:
2
tbsp
|
Calories:
204
kcal
|
Carbohydrates:
1
g
|
Protein:
1
g
|
Fat:
22
g
|
Saturated Fat:
3
g
|
Polyunsaturated Fat:
3
g
|
Monounsaturated Fat:
16
g
|
Trans Fat:
0.002
g
|
Cholesterol:
17
mg
|
Sodium:
243
mg
|
Potassium:
22
mg
|
Fiber:
0.2
g
|
Sugar:
0.1
g
|
Vitamin A:
88
IU
|
Vitamin C:
1
mg
|
Calcium:
8
mg
|
Iron:
0.2
mg
This recipe was originally published in 2019, but has been updated with nutritional information, new tips, and new photos in 2022!