This Thai Broccoli Salad with Sweet Chili Lime Dressing is inspired by Thai flavors, and is naturally gluten-free and dairy-free as well. It pairs perfectly with simply cooked meats for the easiest of dinner simply loaded with veggies.
This may well be my favorite broccoli salad yet! Probably because of the fresh Southeast Asian-inspired flavors. And… what's not to love? Juicy chunks of mango, crunchy bell peppers, and a sweet chili lime dressing topped with toasted cashews.
I grew up eating Classic Broccoli salad and have always loved it. In fact, I love broccoli salad so much that I made an avocado dressing one called Healthy Broccoli Salad.
Then I was on a roll and made my Mexican Broccoli Salad which is inspired by Mexican flavors like cumin and cilantro. And that brings us to today with this Thai Broccoli Salad.
I was never a huge cruciferous veggie fan growing up. But it turns out it's more about the preparation, and not so much that I don't like broccoli!
After all, I could always devour broccoli as long as it came with sauce. Ranch dressing was my go-to, but smothered in cheese sauce was always good too.
Now I'm on a mission to create some new favorites that let the veggies shine through. But all the while leaving my taste buds fully satisfied without tons of cheese!
Let's start with the sweet chili dressing
Step 1: Whisk together all dressing ingredients in a small bowl except the avocado oil. Slowly drizzle in the avocado oil while whisking until the dressing is emulsified.
The dressing might separate if it sits for a bit, simply whisk it back together before tossing it with the salad. If you can't find avocado oil, olive oil is a good substitute.
Step 2: Peel the broccoli stem with a peeler until the tender core emerges. Slice up the stems, keeping them separate from the florets. It's best to do the stems first, by themselves.
Step 3: If you try to process them with the florets, the texture will be uneven because the stems take longer to break down. I've found that small batches are best for the most even texture (1 batch of stems, and 2 batches of florets).
For the bell pepper, cut it in half and remove the core and seeds. Slice the pepper into 1/4″ – 1/2″ strips, and then cut across the strips to make cubes.
Peel the mangoes and cut a side off each end. Placing the flat side down, stand the mango up, and cut off both 'cheeks' on either side of the pit. Finally, cutting away from yourself, trim the mango pit of any extra fruit. Once you've removed the pit, cut the mango pieces into 1/2″ cubes.
Step 4: Mix everything together in a large bowl and serve right away for the best results. Any leftovers keep well for at least one day. After that, the mango starts to turn brown.
Also, it's best to leave the toasted nuts out if you think you have leftovers and just sprinkle them over the top right before eating. You can also use toasted peanuts rather than cashews.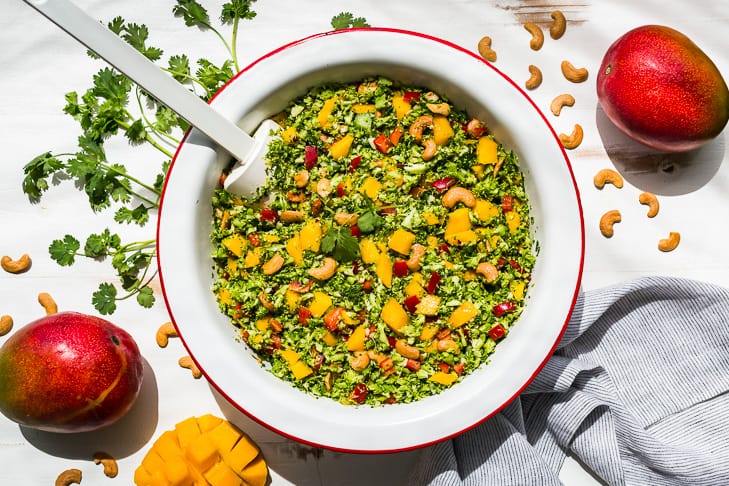 Storing leftovers
To store – place any leftovers into an airtight container and store them in the refrigerator for 2-3 days. This salad is best eaten right away, and the mangos will sometimes turn brown in the fridge after a couple of days. Also, keep the toasted cashews out separately if you think you'll have leftovers because they will get soggy.
Make ahead – you can prep the dressing 1-2 days ahead and you can also prep the broccoli 1 day ahead and refrigerate it in a tightly sealed container.
Dietary Options & Substitutions
Paleo – use the red pepper flakes instead of the chili paste in the recipe.
Vegan or Vegetarian – make sure to use maple syrup rather than honey to make this salad vegan.
I really hope you enjoy this Thai Broccoli Salad! If you do get a chance to make this recipe, I'd love to hear from you in the comments.
INGREDIENTS
Thai Broccoli Salad:
2

heads

broccoli

-

1 pound – 10 ounces

2

mangoes

-

1 pound

1

large

red bell pepper

-

10 ounces

1

cup

cashews

-

toasted

1/4

cup

fresh cilantro

-

chopped
Sweet Chili Dressing:
1

tbsp

sambal chili paste

-

or 1-2 tsp red pepper flakes

1/4

cup

honey

-

or maple syrup

1/4

cup

fresh lime juice

1

clove

garlic

-

minced

1

tsp

sea salt

-

or to taste

1/4

cup

avocado oil
INSTRUCTIONS
Peel the stems of the broccoli and roughly chop them, keeping the stems separate from the florets. Cut the florets into 2" pieces.

In a 14-cup food processor fitted with a chopping blade, process the broccoli in 3 batches. First, add the stems and process together. Then add the broccoli florets and process in 1-2 batches until all the broccoli is very small bite-sized pieces.

Peel the mangoes and cut them into 1/2" pieces.

Cut the bell pepper in half, removing the stem and seeds. Cut it into 1/4" – 1/2" strips and then cut the strips crosswise to form cubes.

For the dressing, whisk together all the ingredients except the avocado oil. Slowly drizzle in the avocado oil, whisking constantly until the dressing emulsifies.

Toss all the salad ingredients together with the dressing and serve within 4 hours.
Bonus Step
If you made this recipe, please leave a rating/comment. Ratings really help us continue to bring you high-quality free recipes. Rate This Recipe!
NOTES
Paleo – use the red pepper flakes instead of the chili paste in the recipe.

Vegan or Vegetarian – make sure to use

maple syrup

rather than honey to make this salad vegan.
nutrition facts
Calories:
366
kcal
|
Carbohydrates:
45
g
|
Protein:
11
g
|
Fat:
20
g
|
Saturated Fat:
3
g
|
Polyunsaturated Fat:
3
g
|
Monounsaturated Fat:
12
g
|
Sodium:
461
mg
|
Potassium:
990
mg
|
Fiber:
8
g
|
Sugar:
27
g
|
Vitamin A:
2920
IU
|
Vitamin C:
245
mg
|
Calcium:
117
mg
|
Iron:
3
mg