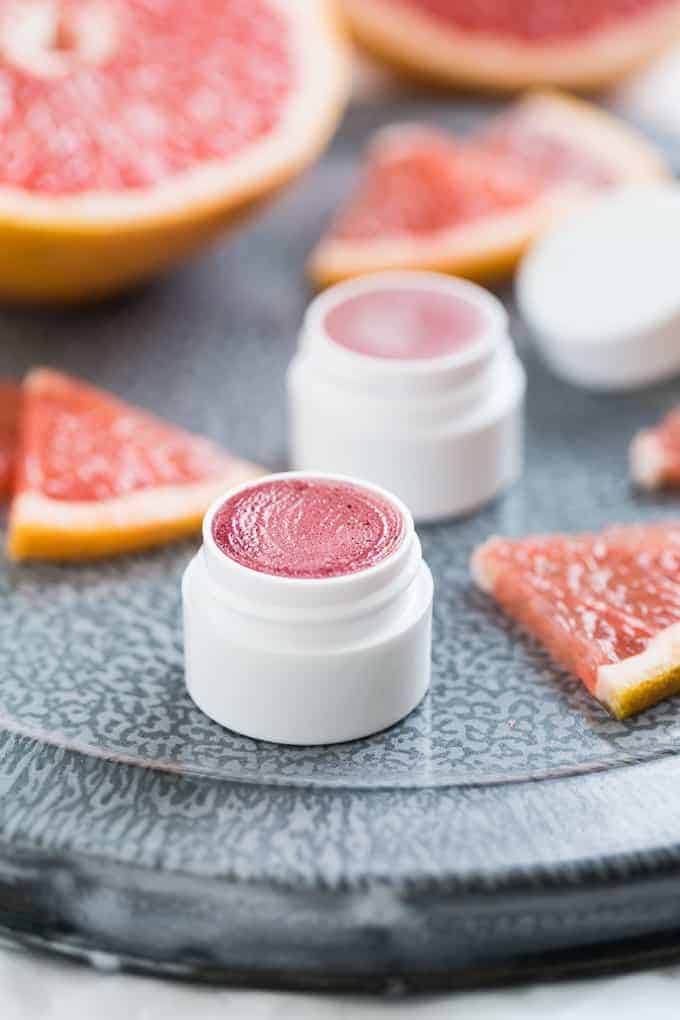 I love all things grapefruit, the taste… the smell… you name it! I ended up developing this lip balm out of necessity, you see I've gotten spoiled over the last few years with a local company that made the best grapefruit lip balm out of completely natural ingredients. However all of sudden I can't find it anywhere, so I did what anyone with an addiction would do… I found a fix.
I used to make my own chapstick and lip balm because it's one of the easiest DIY bath products you can make. It really is so much easier than something like lotion which involves combining water and oil. And another bonus is that you can make 6-8 of them in just 10 minutes, which means chapstick for months, or a great homemade gift for someone else.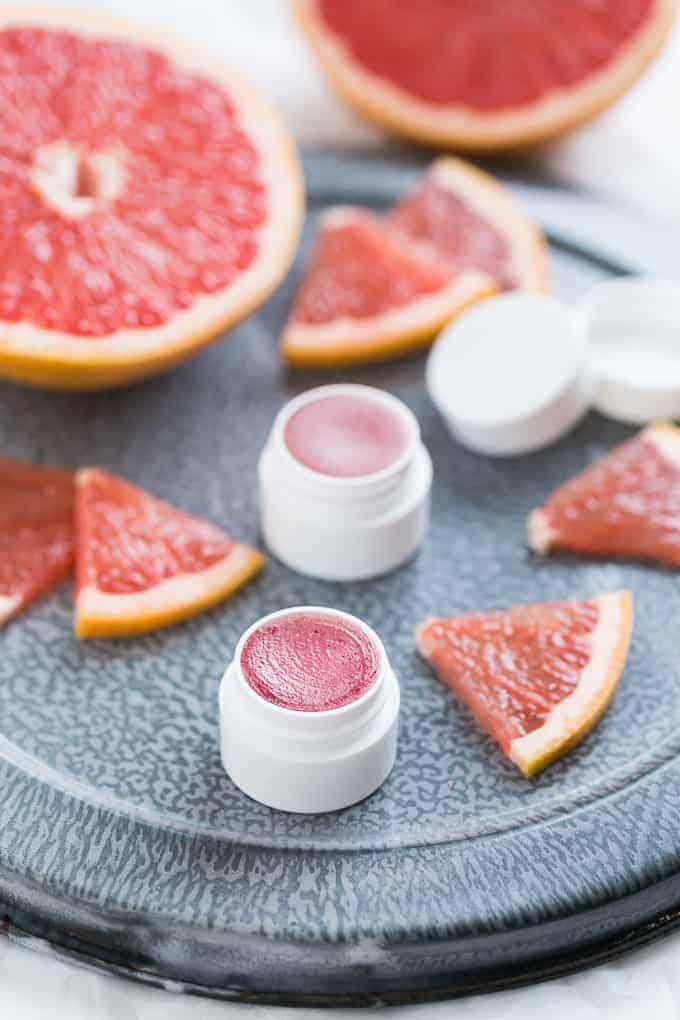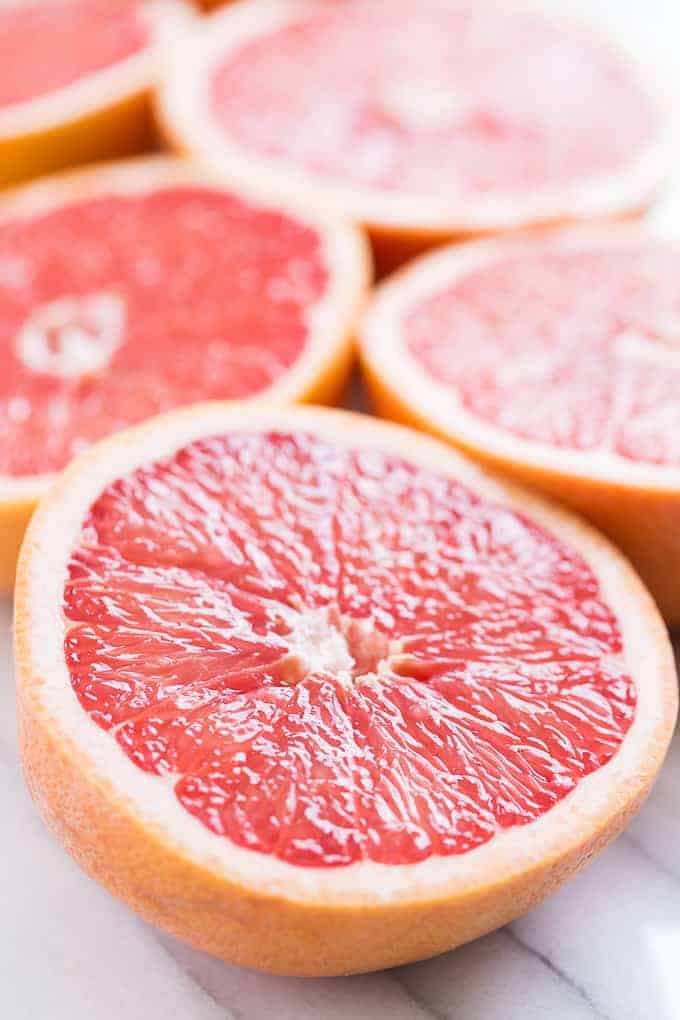 I've been truly enjoying grapefruit for perhaps the first time in my life, and if you're a fellow grapefruit fan you'll love this Pink Grapefruit Green Smoothie and some of my Homemade Grapefruit Ginger Body Wash. I don't know why it's taken me so many years to discover the amazingness of grapefruit, but it's really hit me hard this year!
I like to use a combination of oils in my chapsticks/lip balms because I feel like it does a better job conditioning. Coconut oil provides an immediate softening, the shea butter kicks in some long lasting protection with it's waxier consistency, and the castor oil gives you superior softening and a beautiful gloss.
When you melt the oil and beeswax together, you want to make sure they're completely melted without a single speck of wax.
I bought my containers at my local health food store, Natural Grocers, and they had several options to choose from.
The pink color in the chapstick came from a small amount of fresh beet juice that I added right at the end. I only used beet juice because that's what I had around, but powdered beet root (available at health food stores and online) is easier to mix in. You can adjust the amount, tinting the lip balm to your desired shade. I prefer to keep it light pink because otherwise the color can be a little strong once you apply it.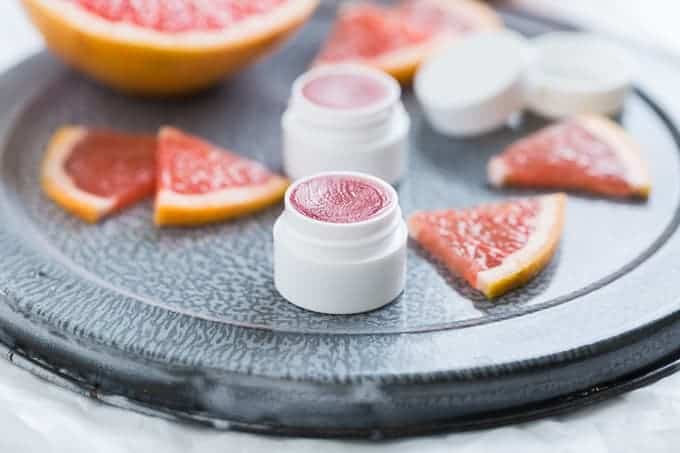 This lip balm recipe can be used as blank slate and you can change the essential oils to whatever your favorite scent is. I've really been loving my new lip balm (it's even better than the one I was buying) because my lips have been so chapped this winter no matter what I seem to do. But since I started using this lip balm, my lips have been perfectly soft!
Print
Homemade Pink Grapefruit Lip Balm
---
1 Tablespoon

+

1 Teaspoon

grated beeswax, packed, weighing 4 grams

1 Tablespoon

shea butter

2 Tablespoons

coconut oil

1 Tablespoon

castor oil

1/4

–

1/2

Teaspoon grapefruit essential oil (or your favorite scent)
Optional color:
powdered beet root, or
less than

1 Teaspoon

fresh beet juice

6

–

8

container of your choice
---
Instructions
In a small saucepan, heat the beeswax, shea butter, coconut oil, and castor oil together over low heat until the beeswax is completely melted.
Remove the pan from the heat, add in the essential oil and optional color. Add the coloring agent of your choice slowly mixing in a tiny bit at time until the desired shade is reached.
Pour the liquid lip balm into clean containers of your choice.
Store for up to 4 months
Prep Time:

8 mins

Cook Time:

2 mins