These Top 10 Tips for Visiting Glacier National Park are answers to the common questions I get every year as a local. I put together everything I know, plus what I've learned from friends and family to help you have the best trip possible!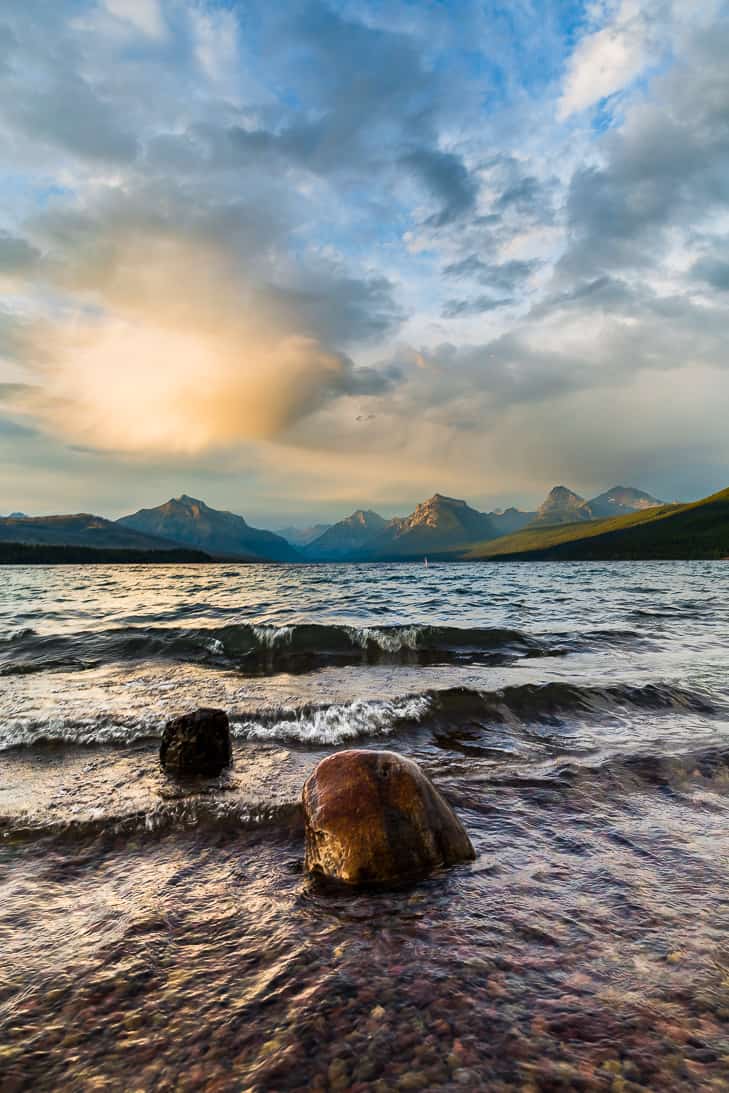 Glacier National Park is spread out over 3 main regions. There is so much to see, you're going to want to pack as much adventure as possible into your trip!
After visiting Yellowstone National Park, I wrote about my Top 10 Tips for Visiting based off all of our experiences. Since then, so many people have wrote to tell me how much they enjoyed it. So today I'm writing out my tips for each park we visit!
I'm struggling a bit more to write out my tips for Glacier because I'm a local. I've lived here my whole life, and that it makes it harder to write from a visiting perspective. But I hope you'll find this helpful.
We've talked to so many people visiting in Glacier that we've met while hiking. And some of the same questions keep coming up over and over again. I know that whenever I'm visiting somewhere new, I get almost overwhelmed with the amount of options available.
It's hard to figure out exactly what you want to do in your limited vacation days. I've been hiking and exploring Glacier National Park for over 15 years now. So I hope my list of tips below will help you to have the best trip possible!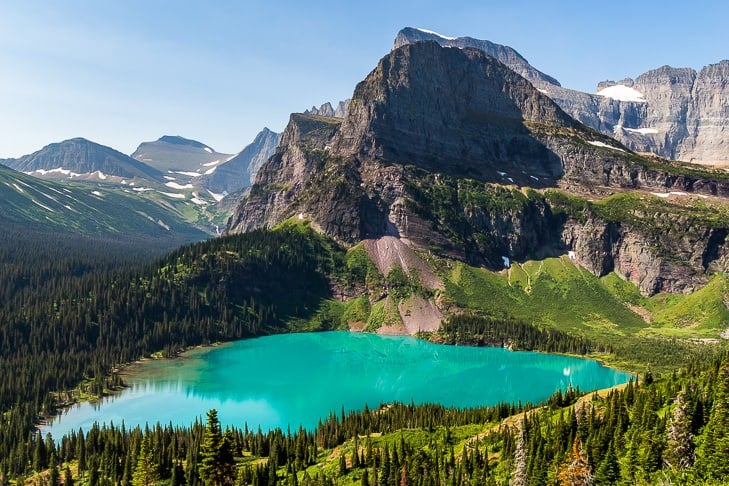 Now… let's dive right into my Top 10 Tips for Visiting Glacier National Park!
1. The first thing you need to know about Glacier National Park is that the glaciers for which is was named, are on their way out. So many people come to Glacier and are disappointed that they can't see massive glaciers right from the road. You can see a couple of glaciers while driving the Going to the Sun Road. But they're definitely not as big as anything you'd see in Canada or Alaska.
For the best glacier viewing experience I would try hiking Grinnell Glacier in the Many Glacier region of the park. The above and below photos are from that hike. The trail climbs up to the remains of Grinnell Glacier, past the mesmerizing Grinnell Lake, (above photo). And then it finishes in a mountain cirque filled with the last of Grinnell Glacier and beautiful aqua colored glacial melt water, (photo below).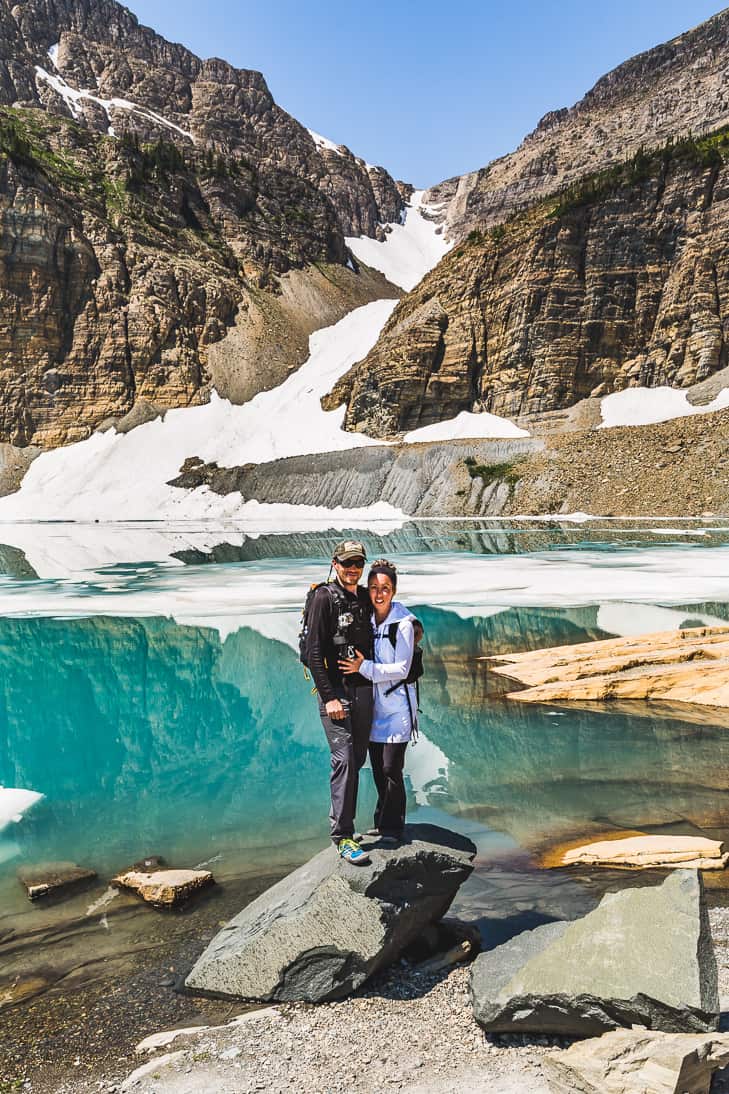 2. My next tip would be to know your basic itinerary because like I mentioned Glacier is spread out over 3 main regions. It really helps to know what hikes you want to do, and what region it's in so that you can arrange your lodging. Having a basic plan also helps you make the most of your time. And you don't want to spend half of your vacation driving all over the park stuck in traffic, (even though the views are stunning along the way).
Glacier has also started a shuttle bus system that's a really fantastic way to get around the park. Parking is very limited! You can even be turned away from entering the Logan's Pass Visitor Center during peak hours of the day because the parking lot is too full. Glacier also has some great through hikes to consider. Instead of needing a car at each end of the hike you can take the shuttle which is really awesome.
As far as I know at this time the shuttle buses don't go into the Many Glacier region of the park. But if you're not planning on renting a car there are other taxi services that will pick you up on that side of the park, taking you back to St. Mary where you can hop back on the shuttle bus.
3. My third tip goes along with the second – figure out the top hikes you know you want to do and prioritize around those. All sorts of things come up on vacation, so it's best to know which ones you really want to do when the weather throws you a curveball! I would definitely have different recommendations for which hikes to do depending on what region you're in and how many miles you normally hike in a day.
Overall my favorite hikes based off of amazing views would be Grinnell Glacier, Iceberg Lake, Ptarmigan Tunnel, and Cracker Lake. The Swiftcurrent Pass hike is also in the same area. But while it's incredible I'm listing it last because it's a long and strenuous hike, (these 5 are all in the Many Glacier region).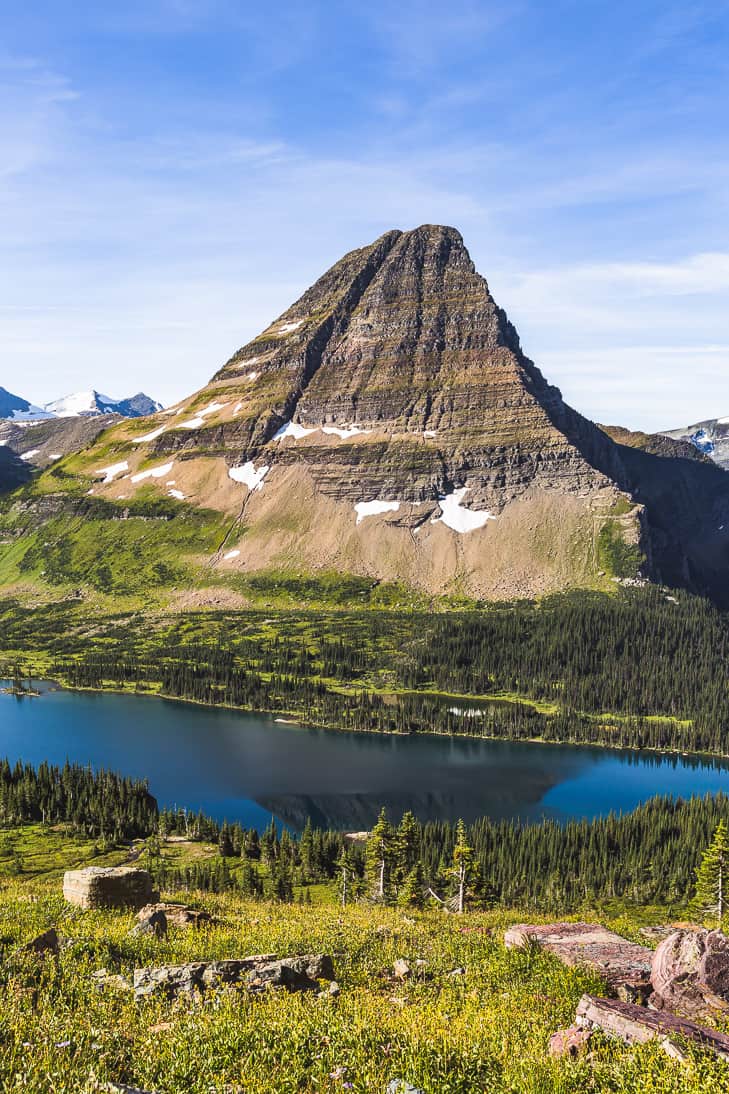 On the west side of Glacier, the Hidden Lake hike starting from Logan's Pass Visitor Center is top notch. And it's short hike as well (although it's very crowded). The Highline Trail is much longer but it's also one of my all time favorite hikes for it's amazing views throughout the whole hike.
(I always recommend doing the Grinnell Glacier Overlook spur trail that's part of the Highline if you are up for the extra mileage.)The views are more than worth it because it looks down on Grinnell Glacier and into the Many Glacier valley).
At the bottom of the Going to the Sun Road you can visit Avalanche Lake (5 miles roundtrip). Lake McDonald (the last picture in this post) is also worth a visit for the views. It's a great place to end the day. And you can go for a swim, have a picnic, or rent a paddleboard or canoe.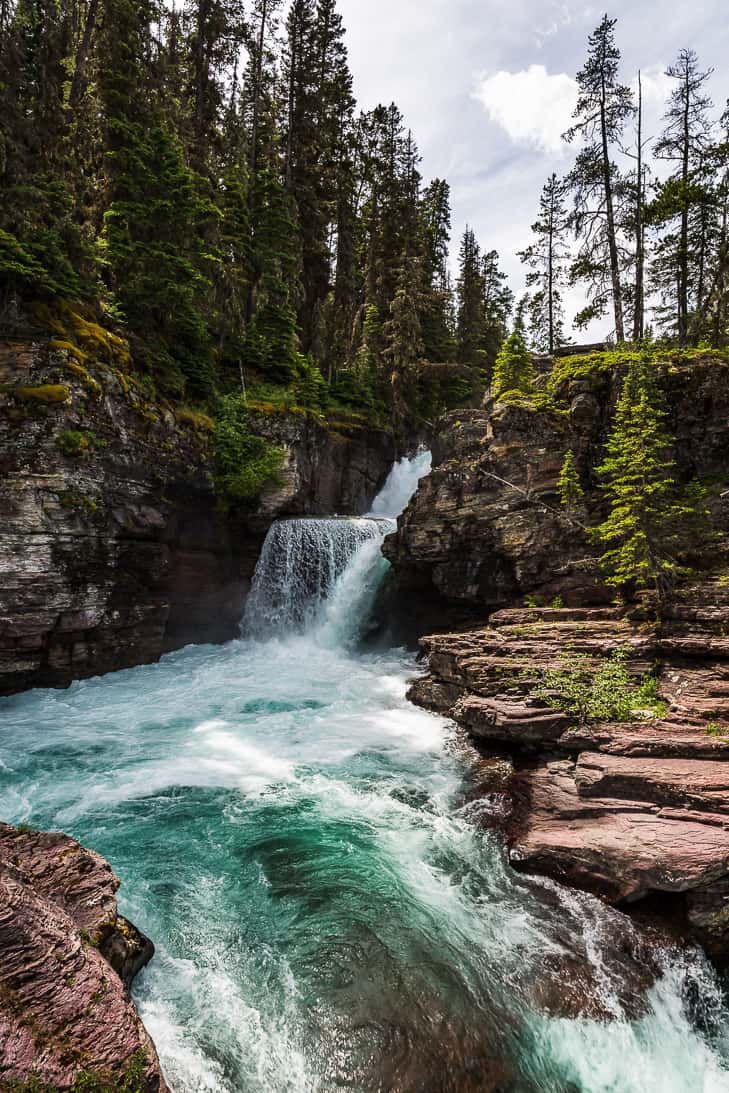 The St. Mary's side also holds a few great hikes including Siyeh Pass, Piegan Pass, St. Mary and Virginia Falls, Sunrift Gorge, and Otokomi Lake. I've linked to each of the hikes that we've written about individually. That way you can read more about each one, and see more photos.
I personally haven't explored much in the Two Medicine area of the park, so I can't give recommendations at this time. But if you do have a little extra time in your schedule, the Two Medicine area is beautiful, and much less crowded because of the drive to get there.
(Update: we've now done Scenic Point, Two Medicine Pass, Cobalt Lake, Rockwell Falls, and Dawson Pitamakan Loop and they were all fantastic!)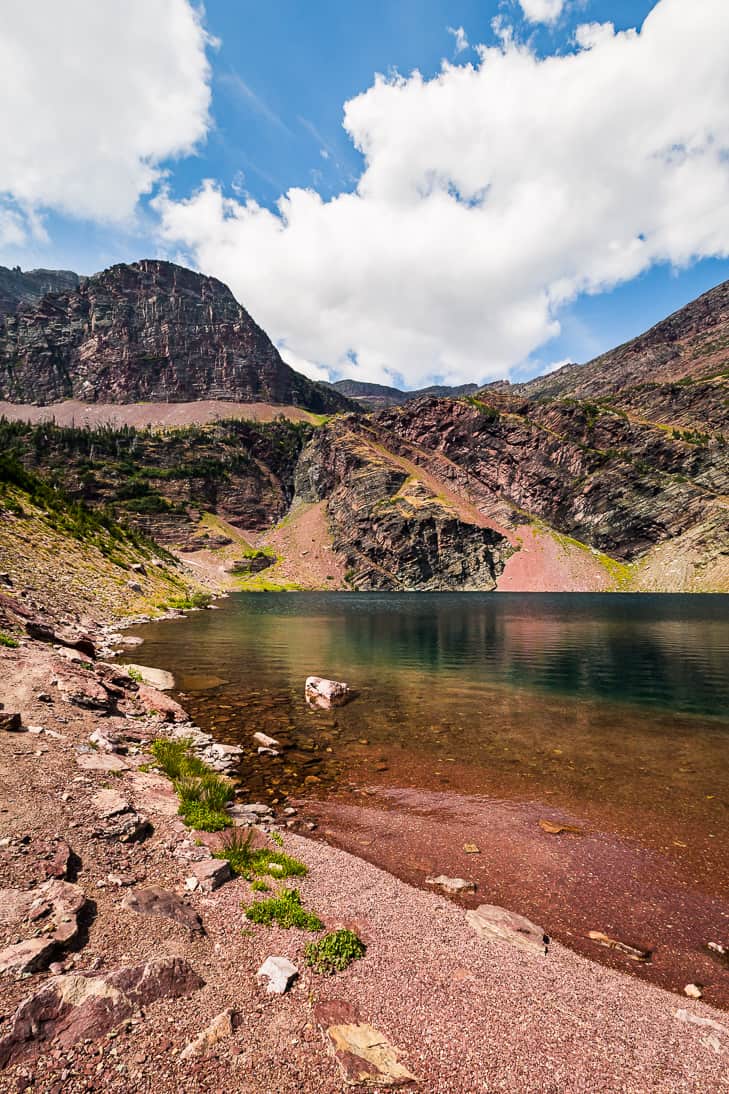 4. What to do about lodging is also one of the most common questions. We even met one couple in Yellowstone who were going to skip Glacier because they couldn't reserve a campsite. Luckily, Glacier is just starting to implement a reservation system, and you can now reserve campsites at the St. Mary campground.
All the other campgrounds are first come first serve, which I'll have to admit can be an absolute headache sometimes. The best way to get a camp site is to arrive first thing in the morning when people are moving to another campground or headed back out of the park. By 10 am, or earlier the camping sites have pretty much filled up, and you're not likely to get a spot.
You can see the 'fill by times' on the website for Glacier National Park. The Apgar campground at Lake McDonald and the Avalanche campground seem to be the last to fill up. But depending on where you're hiking these campgrounds can be a long ways from your trail head.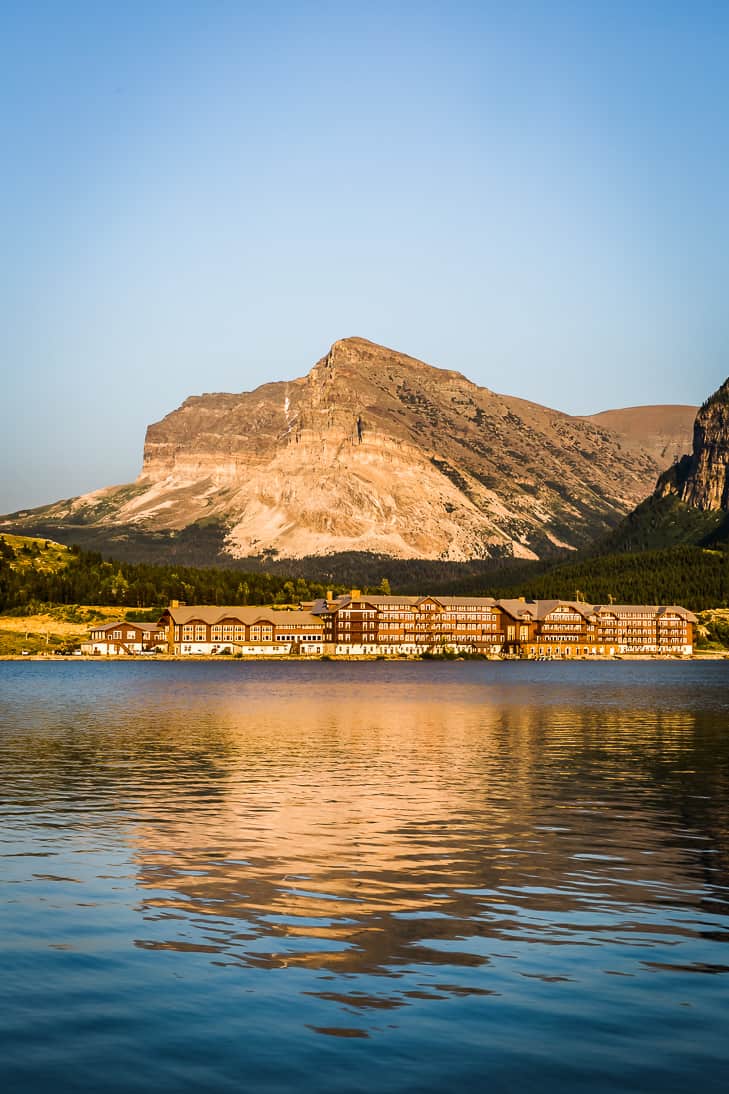 For instance, Many Glacier is about 1 1/2 hours from the Apgar campground at Lake McDonald. It's not that many miles, but the speeds are very slow on the Going to the Sun Road. And summertime traffic can double your driving time. If this doesn't sound like fun to you, (and why would it?) there are KOA campgrounds just outside both the west side of the park and the St. Mary side of the park between St. Mary and Many Glacier.
You can also book a room at any of the 3 main lodges. There's one on Lake McDonald, one in St. Mary, and another one in Many Glacier, (with perhaps the best views). And just a quick note on the lodges, they are really gorgeous (with restaurants to eat at and gift shops) but they've been kept completely original which means no pools, hot tubs, and other such frills. This really burns some people who didn't seem to realize they were staying in an old school environment!
Some people like to stay in Whitefish which is a really quaint resort town with great restaurants to eat in. The only drawback to this is that Whitefish is about a 40 minute drive, (if there's no construction) from the park entrance.
Then there's at least another hour after that to get up the Going to the Sun Road to Logan's Pass, and yet another 1 1/2 hours to Many Glacier. Bearing the driving time in mind, it's best to stay in or near the park to get the most out of your time there.
5. My fifth tip is to stay away from the wildlife. I can't tell you how many times this comes up even in a single season! When you see an up close picture like the one above, it's not because people are actually close to the wildlife. Many photographers have fantastic zoom lens that create the most beautiful wildlife photos. But it's really unsafe to approach wildlife, and it can even be life threatening.
Bears are an obvious example of animals to keep your distance from. But big horn sheep and goats can also harm you, and should be treated with the utmost respect. There are also wildcats and wolverines in the park. All of which should be avoided at all costs – no photo is worth your life!
One afternoon while photographing wildflowers, man with his wife and kids came charging up the trail. He had heard there were big horn sheep somewhere on the trail, and he wanted to get close for a photo. He asked me where they went. And I said they had just went charging by, on the trail behind me, and off into the woods after being spooked by the traffic on the road.
I mentioned to him that they can be really aggressive, especially when they've already been upset, and that it might be a good idea to keep a good distance away. He was completely surprised to learn that they could be dangerous, and thanked me for warning him and his family. Wildlife is just that – wild – and getting close is never a good idea!
6. Another common question is 'when is wildflower season'? This one is hard to answer because it varies from year to year. It's based off of snow pack in the mountains and the amount of rain/warmer temperatures we receive in the spring. But in general the wildflowers are usually at their peak in the 2nd and 3rd weeks of July.
7. And speaking of seasons, lets talk about the seasons of Glacier for the next tip. Glacier has a very short season in which the whole park is open. The Going to the Sun Road usually opens at the end of June, (at the very earliest). And it's almost always open by the first week in July. The road closes to 'through use' somewhere between September and end of October.
Even after the road closes you can usually still drive as far as Avalanche Lake through November on good years. And you can take the highway the long way around to access Two Medicine and Many Glacier. The website for Glacier National Park is great because they keep you up to date with road closures, campground status, and any kind of fire restrictions.
The winter becomes even more limited with the Going to the Sun Road being closed at the Lake McDonald Lodge on the lake. The road into Two Medicine isn't maintained in the winter so there is limited access there as well. Many Glacier is open (mostly for views, I don't think any of the businesses are open) but it's a long long way to get there if you're staying on the west side of Glacier.
I wrote a post about Wintertime in Glacier detailing a bit more if you're interested. I would try to come in the summertime when you can see more, but if you do happen to be in the area during the wintertime, Glacier has a certain magic to it when it's covered in snow, (and there more than enough activities to fill up your time).
8. Where to find food is of utmost importance when you're out pounding the trails day after day – you'll likely find your appetite sky rocketing after a couple days of this! There are restaurants and food options in the Lake McDonald area, the town of St. Mary which is just out side the park after you've driven the entire Going to the Sun Road, and there are places to eat in Many Glacier. As far as Two Medicine goes, the eating options are in East Glacier before you make the drive down into Two Medicine.
It's important to note that there are no restaurants at Logan's Pass. The visitor center there has bathroom facilities as well as information, but no food. And speaking of facilities, finding a bathroom along the Going to the Sun Road isn't too hard if you have more than one driver in the car. The parking lots are often filled up through the mid-day hours. And if you're driving by yourself you might just have to wait through the whole drive before you can stop. This has happened to me on a number of occasions, so it's best to plan ahead! If you have someone with you, they can double park and stay with the vehicle if you need to stop.
9. There are all kinds of recreation available in the park. You can take a tour in the famous red buses with open tops to see the entire Going to the Sun Road. There's paddleboard/canoe rentals at Lake McDonald like I mentioned. And there's horseback trail rides available at both Lake McDonald and Many Glacier.
Park rangers lead guided hikes on certain trails at certain times. So you can check with the visitors center to see which one might interest you. You can also ride your bike through the entire Going to the Sun Road. But there are time restrictions with this, so be sure to check with the rangers for more info.
10. My final tip is to relax and go with the flow. Avacation rarely goes off as planned, but it's always a blast anyways! Traffic can be bad, weather refuses to cooperate, and sometimes injuries happen that can put a damper on the amount of miles you planned to hike. No matter what happens, you're going to see some of the best views of your life, and hike in the 'Last Best Place'.
Simply let the Montana magic happen!