Caramelized and with a hint of sea salt, these Coconut Chips make an incredibly tasty snack! They're easy to make and so much cheaper than store-bought. Besides being budget-friendly, this recipe allows you to add less sweetener for less overall sugar. These coconut chips are a simple homemade version of the Dang coconut chips that are sure to impress both adults and kids. These also keep really well at room temperature for at least a month for quick grab-and-go snacking.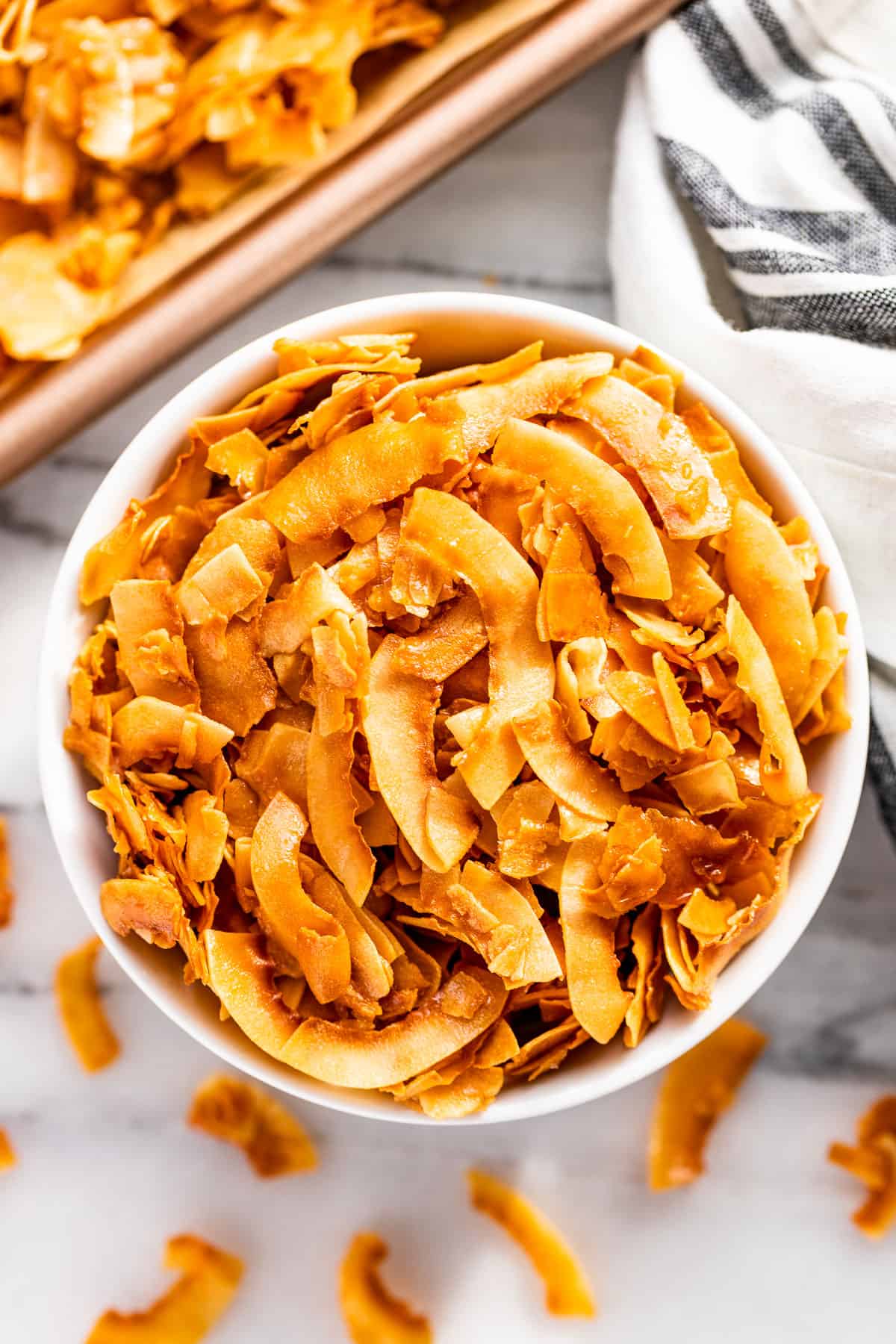 Crunchy caramel-flavored coconut chips are pretty popular and one bite will tell you exactly why. These coconut chips are so easy to make and perfect for all your snacking needs. They're also naturally gluten-free & dairy-free too.
We love taking them with us on all our hikes and traveling adventures. But they're equally good for a regular workday snack. We've also taken to sprinkling them over the top of my overnight oats as well to add some crunch.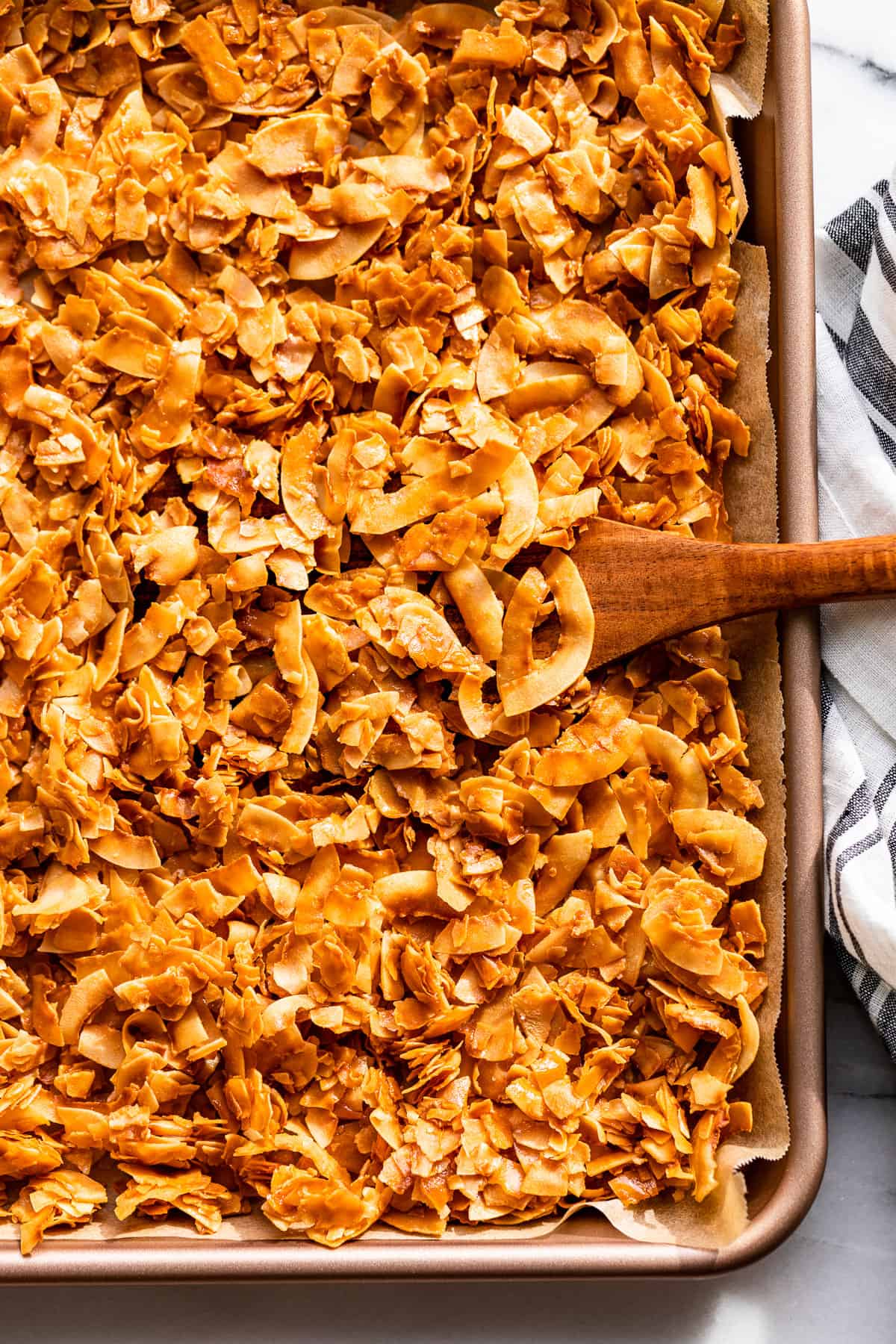 Ingredients & Substitutions
Large coconut flakes – large flake coconut is essential to make chips, small coconut will not work for this recipe. You also want unsweetened coconut flakes so we can add sweetness to taste. I get the organic big flake unsweetened coconut from Natural Grocers. But you'll sometimes find big flake coconut labeled as organic coconut chips or unsweetened coconut chips. You can sometimes find these in grocery stores, but health food stores like Whole Foods are a more likely bet.
Maple syrup – is easy to mix into coconut flakes, but honey or agave nectar will also work. Coconut sugar is traditional for the Dang coconut chips, but it is a bit more difficult to dissolve and mix with the coconut flakes. See the recipe below for coconut sugar options.
Sea salt – just a touch of salt enhances the sweetness and flavor. It also makes these so tasty they're hard to stop eating.
Vanilla extract – a little vanilla adds a wonderful depth to this recipe.
How to make this recipe step by step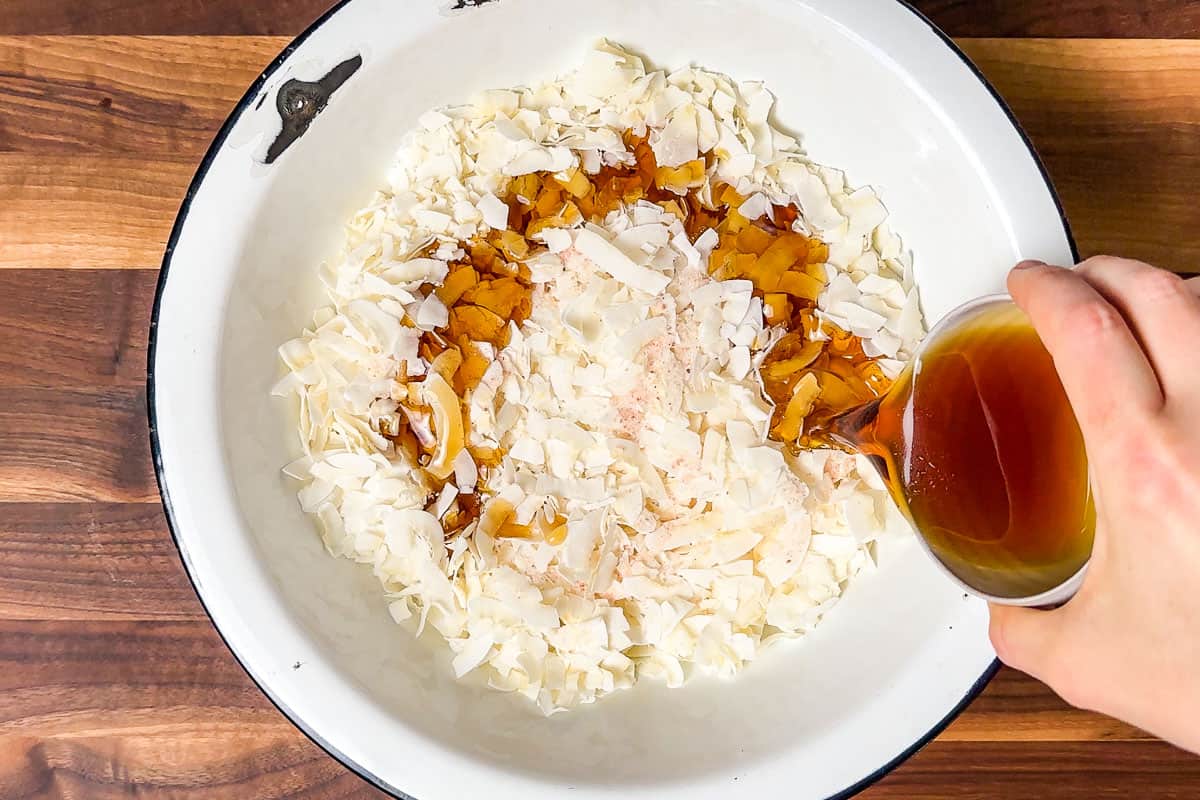 Step 1: Preheat the oven, then mix the coconut flakes, maple syrup, sea salt, and vanilla together in a medium bowl.
Step 2: Mix the coconut flakes together to combine well.
But be gentle while mixing so the flakes don't break too much.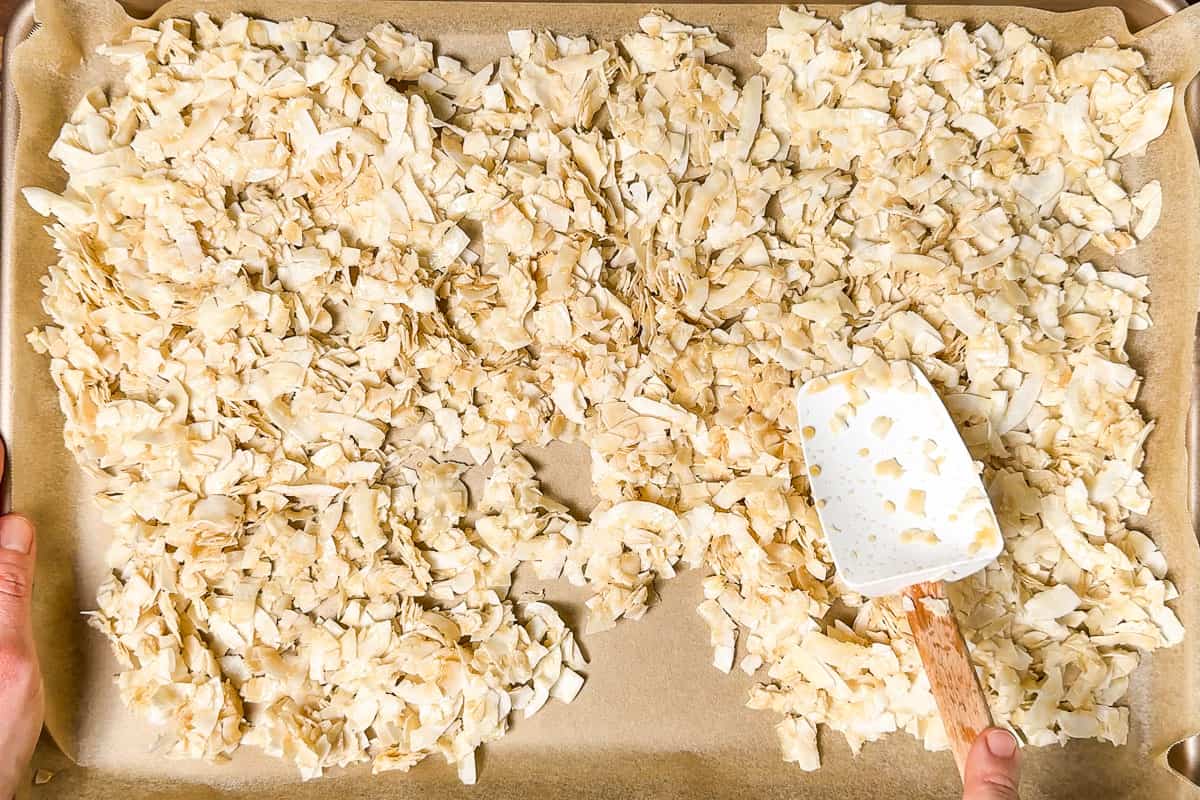 Step 3: Spread the coated coconut flakes out evenly on a prepared baking sheet.
Step 4: Bake for half the baking time then stir well, then spread them out evenly with a spatula again before finishing the baking time.
Don't skip the extra time in the oven to crisp up. Leaving the coconut chips in the oven with the residual heat is what makes these coconut chips perfectly crispy and golden brown.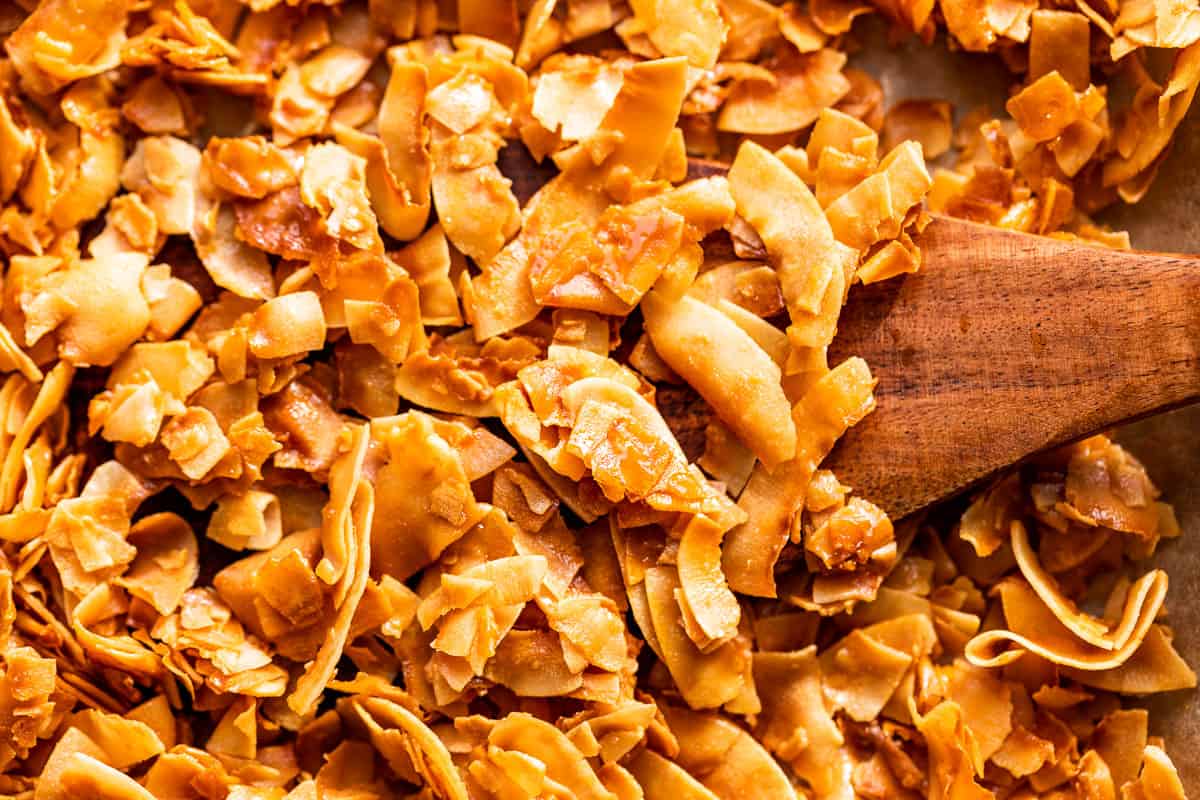 Ways to serve this
As a snack for any occasion from a mid-day work snack to hiking or traveling. I like to portion these out into small jars. The 1/4 cup mason jars are perfect for these, I fill them up 1/2-3/4 and then they're ready to grab and go.
Eat this like you would granola. Sprinkle it over the top of fruit and yogurt like my parfaits. Or add it as a bit of crunch on top of my Overnight Oats.
These are also really great on top of ice cream. But they also make a great topping for salads in place of nuts. They're a bit like caramelized almonds in a spinach salad, but coconut instead.
FAQ's
Are coconut chips healthy?
They are a great source of healthy fat and Vitamin B. They also contain lots of other nutrients including the main electrolytes – magnesium, calcium, and potassium. Making your own coconut chips is also a healthy option because you can add sweetener to your taste. They're a low-sugar healthy snack that keeps really well. Coconut also contains mcts aka medium-chain triglycerides.
Do I need to use coconut flakes?
Yes, shredded coconut cannot make coconut chips. Look for unsweetened coconut flakes for this recipe.
Do these coconut chips taste like Dang coconut chips?
Yes, they are incredibly similar to the brand of coconut chips. However, things can always vary depending on the ingredients you use. This homemade version of coconut chips is also budget-friendly as well as incredibly tasty.
Storing leftovers
To store – place the fully cooled coconut chips into an airtight container and store them for at least 1 month in a cool dark place like your pantry.
Make ahead – These keep well for at least a month, so they can definitely be made ahead.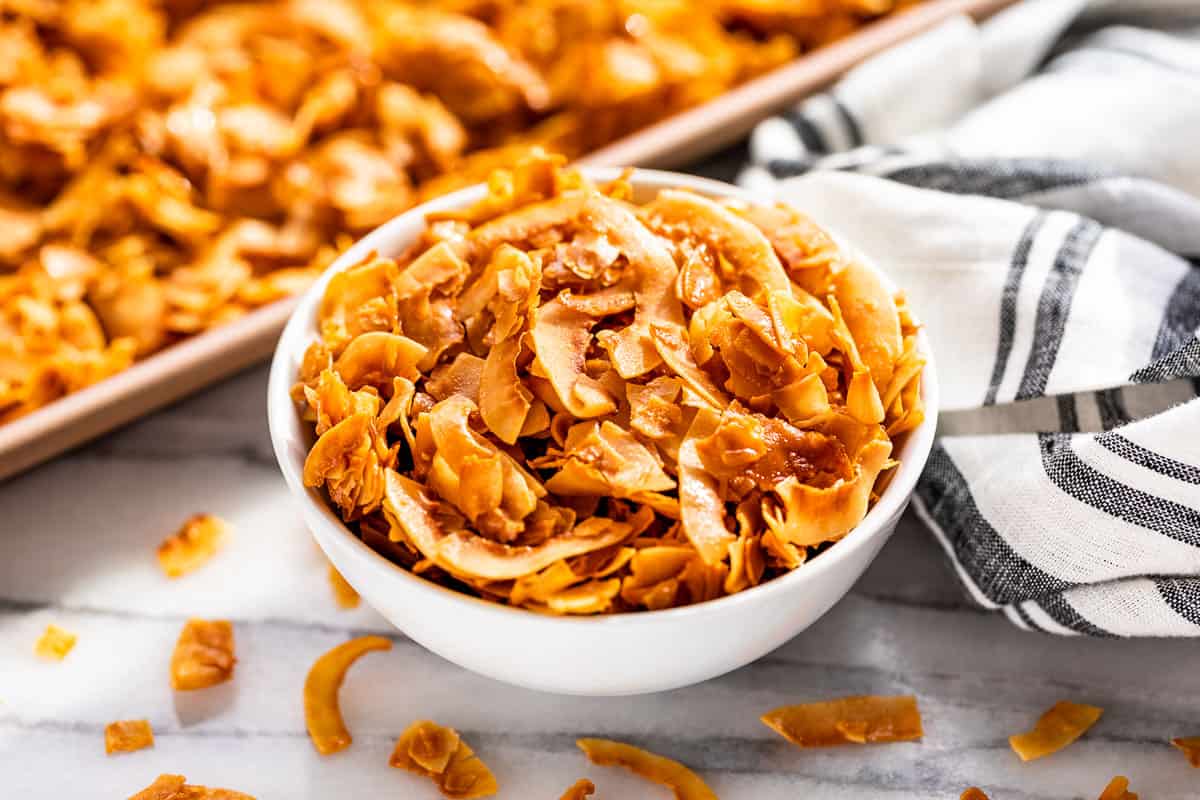 Tips & Tricks
Don't skip the extra time with the oven turned off. When the coconut chips sit in the residual heat of the oven it creates the perfect temperature to fully caramelize and create the crispiest results.
You can use a bit less sweetener if desired, just know that as you reduce the amount of maple syrup the coconut chips will be a bit less caramelized. They will still toast up quite nicely though!
These also make great homemade gifts. They keep really well for at least a month at room temperature in a well-sealed container!
Make these into cinnamon coconut chips by mixing in 1 tbsp ground cinnamon before baking. You can also make these with honey or agave nectar if maple syrup doesn't work for you. We like to stick to natural sugars when possible!
Dang chips also make plain sea salt coconut chips without any added sugars. I've also done that with this recipe and just left out the maple syrup. They're crispy and golden brown but without caramelization.
Dietary Options & Substitutions
Dairy-free / Paleo / Vegan /or Vegetarian – these coconut chips are all of the aforelisted. However, be sure not to use the honey option if you want to make these vegan.
Healthy Snacks Recipe Inspiration
I really hope you enjoy these Coconut Chips, they're such a tasty sweet treat! If you do get a chance to make this recipe, I'd love to hear from you in the comments.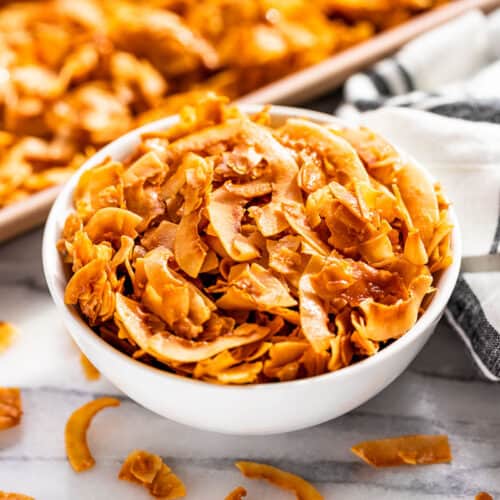 INGREDIENTS
10

ounces

big flake coconut

-

unsweetened, measuring 6 cups

1/3

cup

maple syrup -

I used Grade A, see notes

1

tbsp

vanilla extract

1

tsp

sea salt

-

or to taste
INSTRUCTIONS
Preheat the oven to 300ºF and line a baking sheet with parchment paper.

In a large bowl stir together the big flake coconut, maple syrup, vanilla, and sea salt. Use a gentle hand while stirring so the coconut chips don't get broken.

Spread the coconut mixture in an even layer on the parchment lined baking sheet.

Place the baking sheet in the oven and bake for 15-20 minutes, stirring halfway through the cooking time.

When the cooking time is up, turn the oven off. Stir the coconut chips again with the oven door open while you stir to let out some of the heat so the coconut chips don't overcook.

Shut the oven door after stirring and allow the coconut chips to cool down with the oven for 2 hours. This step helps the chips get super crispy.

Remove the chips from the oven after the 2 hours is up, and let them cool completely to room temperature before storing them in an airtight container.
Bonus Step
If you made this recipe, please leave a rating/comment. Ratings really help us continue to bring you high-quality free recipes. Rate This Recipe!
NOTES
I often make these right after dinner, and then just let them cool down with the oven overnight.
Dang coconut chips are made with coconut sugar which is harder to mix in than coconut sugar. But you can use 1/4 cup coconut sugar, then pour 1-2 tablespoons boiling water over it and stir to dissolve. Let this mixture sit for 20 minutes or until no longer granular. You may need to heat it up on the stove top gently to get it to dissolve before using it.
nutrition facts
Serving:
0.25
cup
|
Calories:
92
kcal
|
Carbohydrates:
6
g
|
Protein:
1
g
|
Fat:
8
g
|
Saturated Fat:
7
g
|
Polyunsaturated Fat:
0.1
g
|
Monounsaturated Fat:
0.3
g
|
Sodium:
102
mg
|
Potassium:
75
mg
|
Fiber:
2
g
|
Sugar:
4
g
|
Vitamin C:
0.2
mg
|
Calcium:
8
mg
|
Iron:
0.4
mg
This recipe was originally published in 2015, but has been updated in 2023 with new photos, more information, tips, and nutritional information.