Everything you need to know for how to make Overnight Oats plus 10 Flavors! This super easy make-ahead breakfast for busy mornings that is perfect for meal prep. It's gluten-free and you'll find my dairy-free tips below as well. Overnight oats are typically served cold, but you can warm them up too. The 10 flavor recipe variations are all based off dessert flavors, which means you can eat a healthy breakfast that tastes like you're having dessert!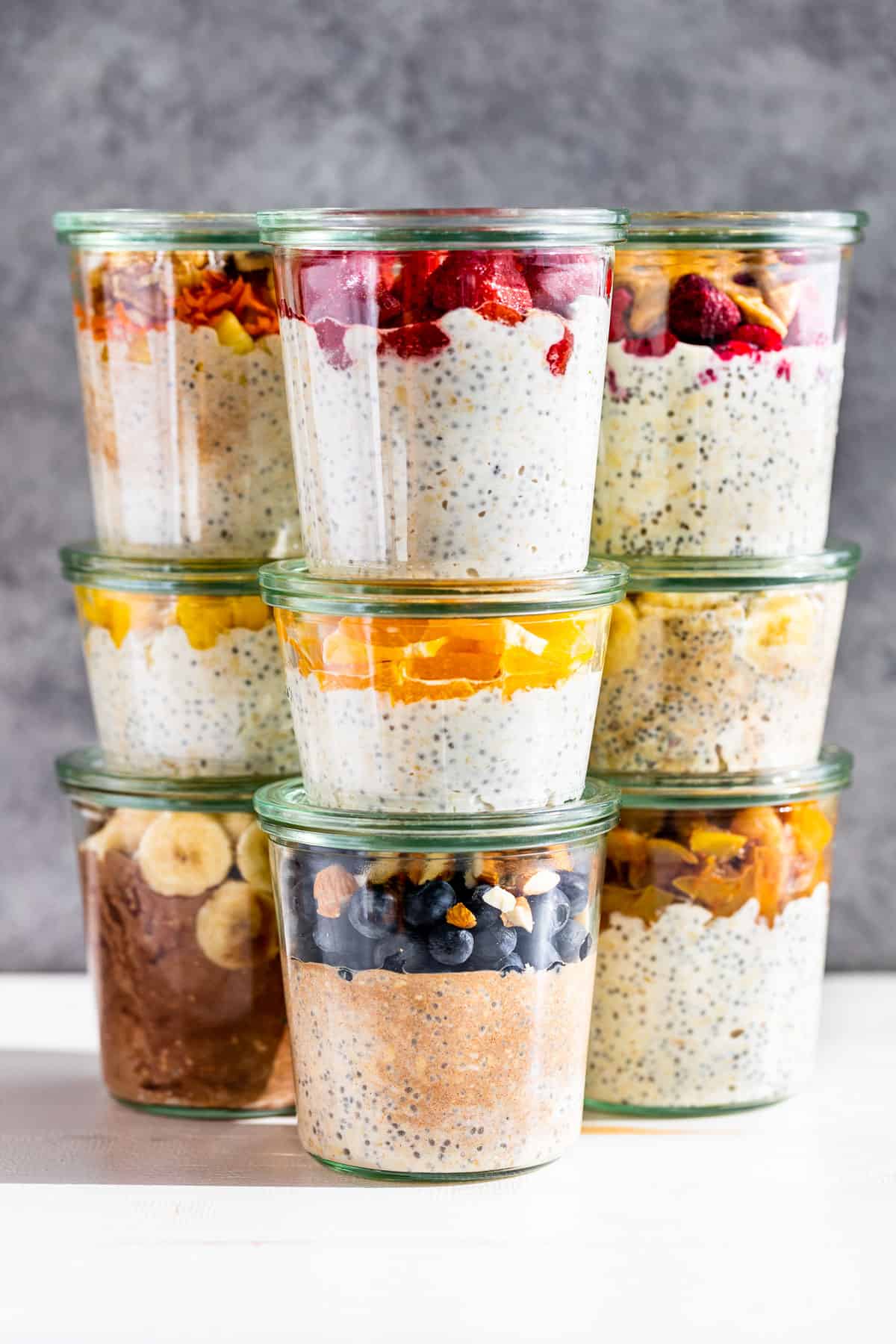 What is the big deal about overnight oats anyways? I promise the answer to that question is in your first bite of overnight oats! At first, could sound like a weird concept to eat a cold oats mixture for breakfast.
And while you can heat these up, you'll find the cold version to be incredibly delicious and a lot like eating dessert for breakfast. I also just have to tell you that I HATE oatmeal, and the all-caps aren't enough to tell you how much I dislike oatmeal.
So when this whole overnight oats thing started, I thought I'd just ignore it because oatmeal is the worst thing to happen to breakfast. (Also just want to acknowledge that I know I'm the weird one, and everyone I know loves oatmeal. Even my husband thinks I'm crazy!)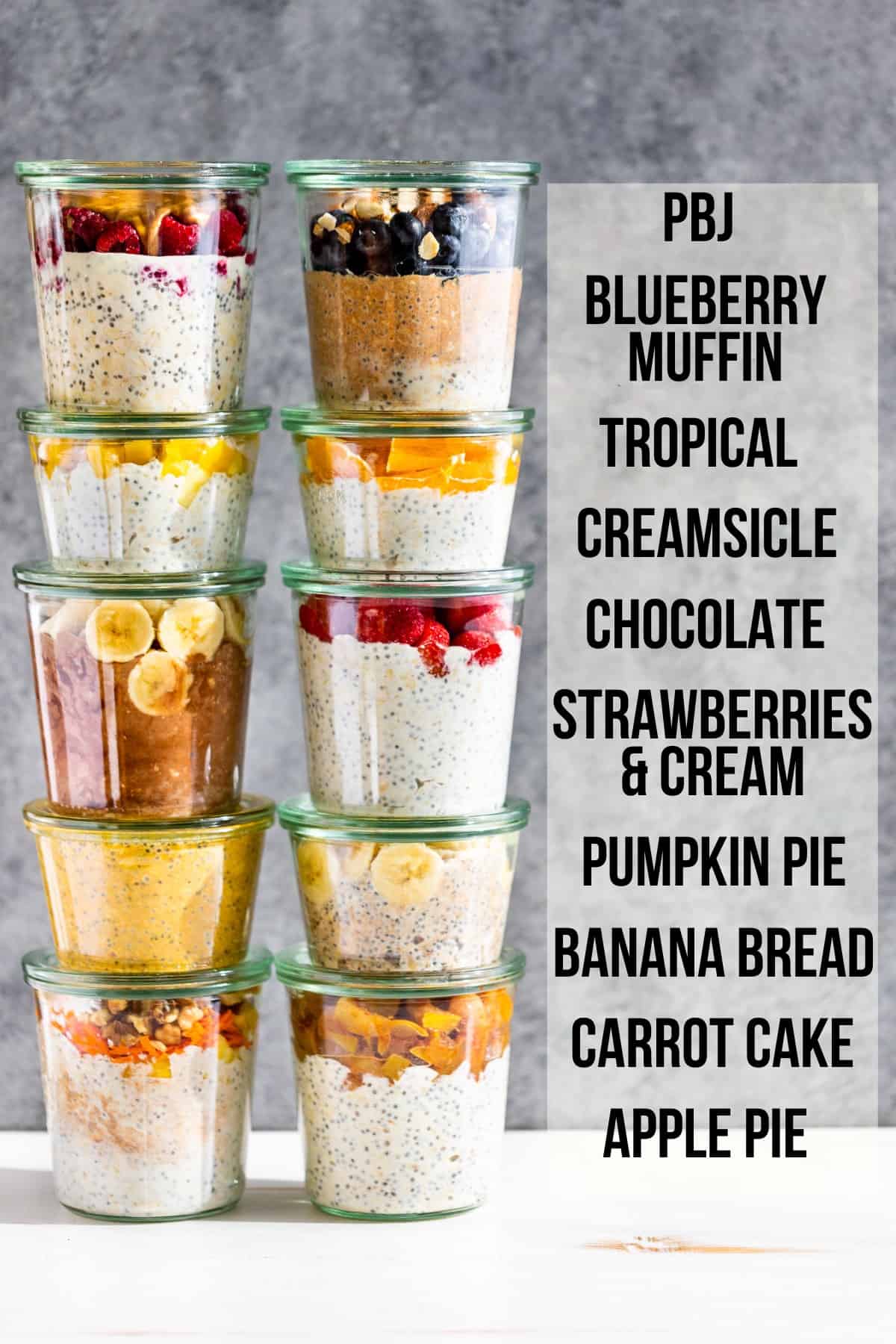 Watch how to make Overnight Oats Plus 10 Recipe Flavors
But I kept getting so many requests from you all to make overnight oats. So I decided to give them a whirl, and I was completely surprised by how much I loved these!
As it turns out what I don't like is the texture of cooked oatmeal. So I always eat mine cold, but Tyler has tested out the warmed-up versions for me. If you're a bit skeptical of overnight oats, I sure hope you'll give them a try because I think you'll be pleasantly surprised.
Ingredients & Substitutions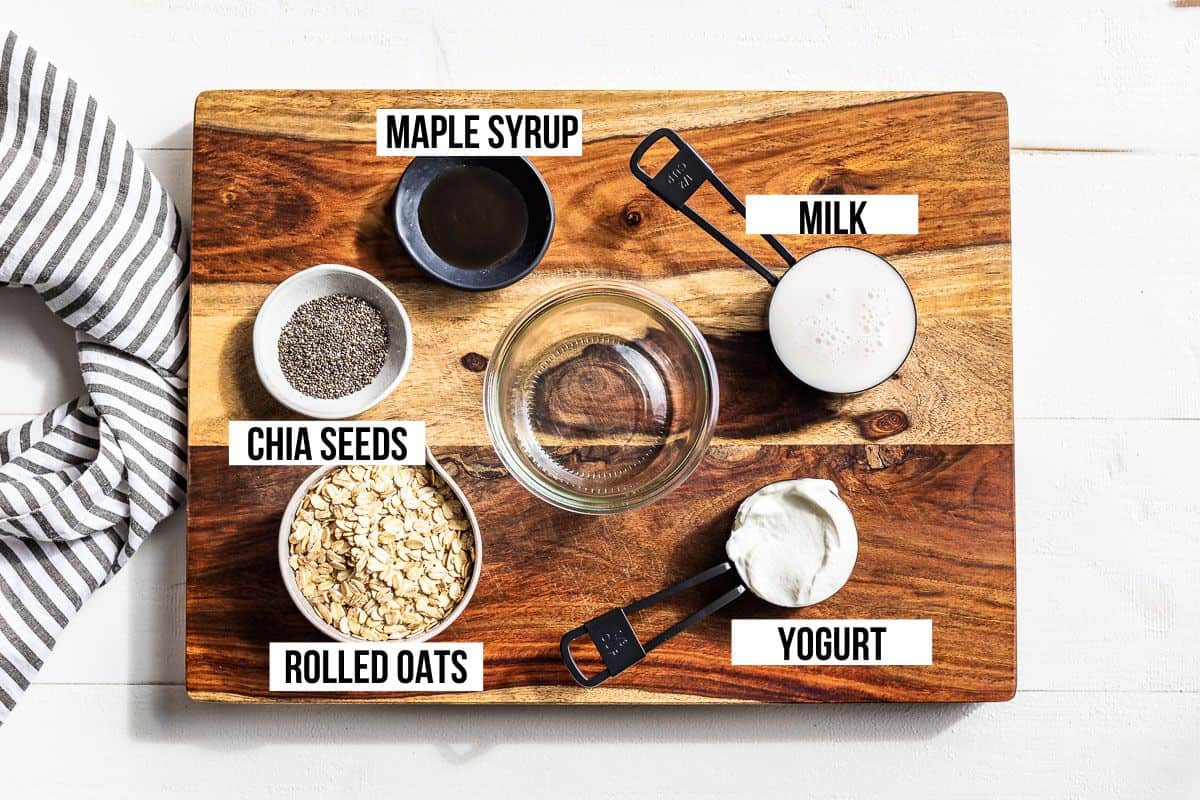 Rolled oats – You can use any kind of rolled oats in this recipe, but my favorite is the thick rolled oats (the gluten-free ones) from Bob's Red Mill. They have a bit more chewy texture which is really nice in overnight oats. I have tested this recipe using regular rolled oats and they work as well. It's just our preference to use the thicker rolled oats for more texture. Use gluten-free oats if needed, just be sure to buy the bag that says 'gluten-free' on the front. I don't recommend quick oats or instant oats. here because they're too soft for best results, and steel-cut oats won't properly soften.
Chia seeds – provide more fiber and they also thicken up these overnight oats nicely.
Sweetener – I like to use Grade A amber maple syrup because it's readily available where we live for a good price. It also has a very subtle maple flavor that isn't too strong. You can also use honey, but it's harder to mix in unless you heat it up. Agave nectar also works here.
Milk – You can use any kind of milk you'd like here. I've been using the vanilla almond or cashew milk from the brand Malk and it's so delicious in these oats. The touch of vanilla goes really well with each of the 10 flavors, but you can use any regular milk or dairy-free milk you love the flavor of. One of the main reasons I use that brand is because they don't add any thickeners or additives which can be difficult to avoid with dairy-free milk. Regular dairy milk works perfectly here too as well as coconut milk or oat milk.
Yogurt – My favorite yogurt to use here is Greek yogurt, the kind that doesn't have added thickeners, but is just super creamy and thick on its own. Siggi's dairy or Wallaby are my favorites from what we have available. I have also tried all sorts of dairy-free yogurts, and Kitehill has been the best so far! I'm not the hugest fan of dairy-free yogurts overall, but they do work well in overnight oats. You can also substitute the 1/3 cup of yogurt for 1/4 additional cup of milk as well to make these dairy-free/vegan.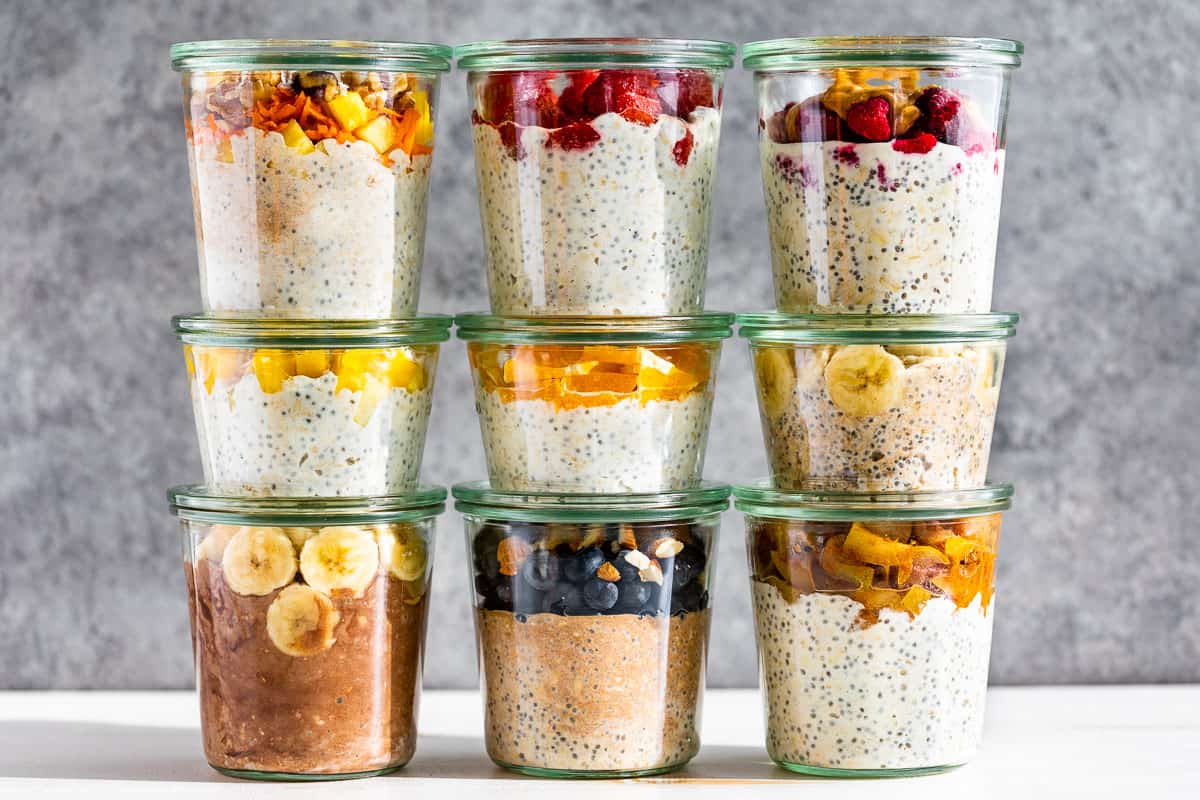 How to customize your own flavors
I add about 1/2 cup of fruit to each flavor of overnight oats. So you can easily sub in anything you'd like that pairs with the other flavors. For instance, in the blueberry almond one, you could sub in chopped peaches. (If they're fresh add them right before eating, but canned will keep in the fridge for a few days.) The Strawberry one is perfect for any kind of berry you can find because it's creamy with a touch of almond. And the same goes for the PBJ, you can use any nut or seed butter combined with any berry you like. Once you get going with these combos, the sky's the limit!
You can add nut butter to any combo that sounds good like any of the berry flavors, chocolate, or banana bread below.
I like adding a scoop of collagen to add a bit of extra protein, but you can use any protein powder you like. You may need to add a touch more milk depending on what protein powder you use because they soak up the liquid.
Let's make the basic overnight oats recipe step by step
First, we'll go through how to make the base recipe in individual servings in a jar. Then further down you'll find how to make overnight oats in bigger batches.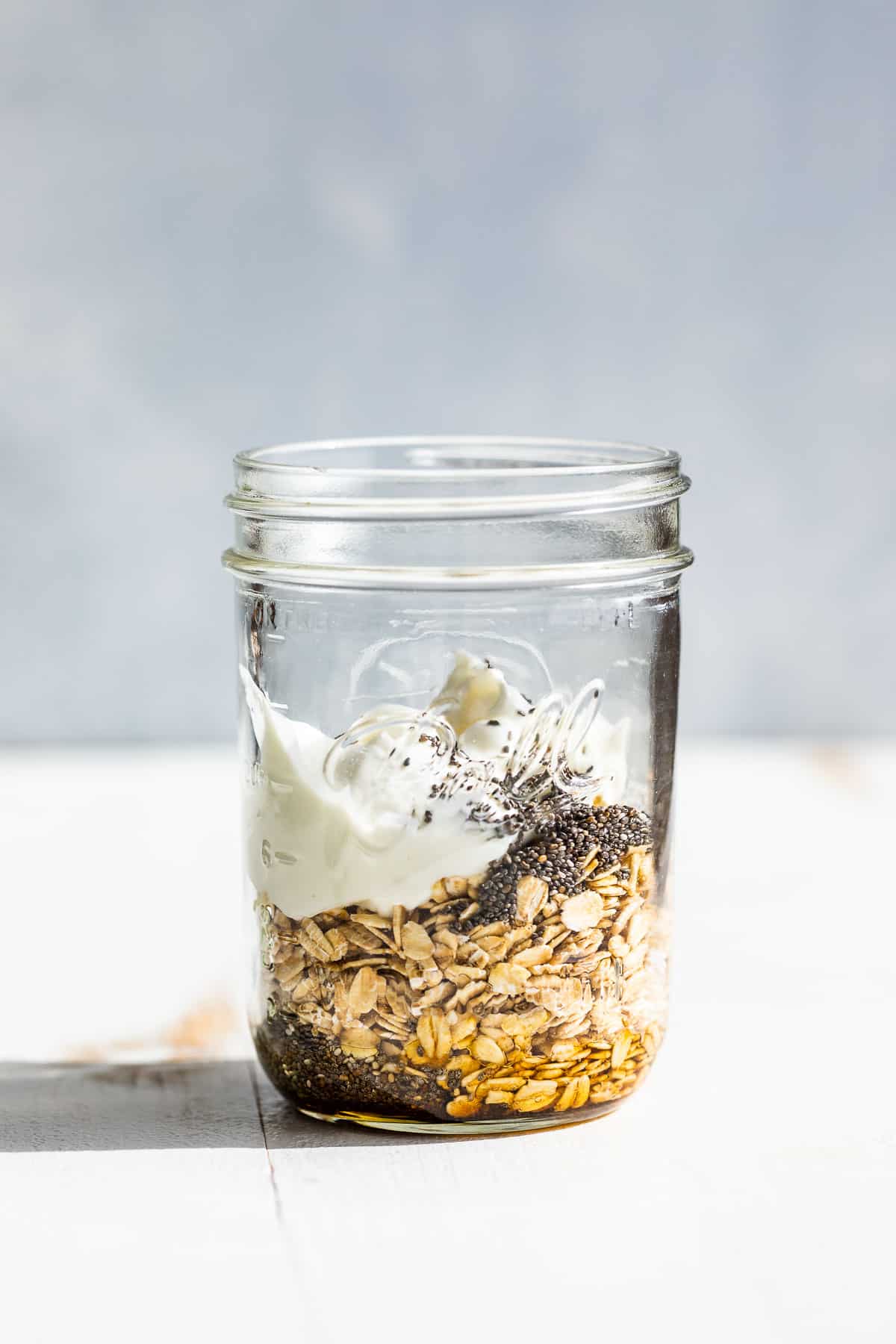 Step 1: First measure out your rolled oats, chia seeds, maple syrup, milk, and yogurt. I also like to add a touch of vanilla extract if I'm not using the vanilla almond milk I mentioned above.
Add the ingredients jar. The 1 pint/2 cup Mason jars work really well for this because you'll have plenty of room for toppings.
Step 3: Add your choice of milk to the jar.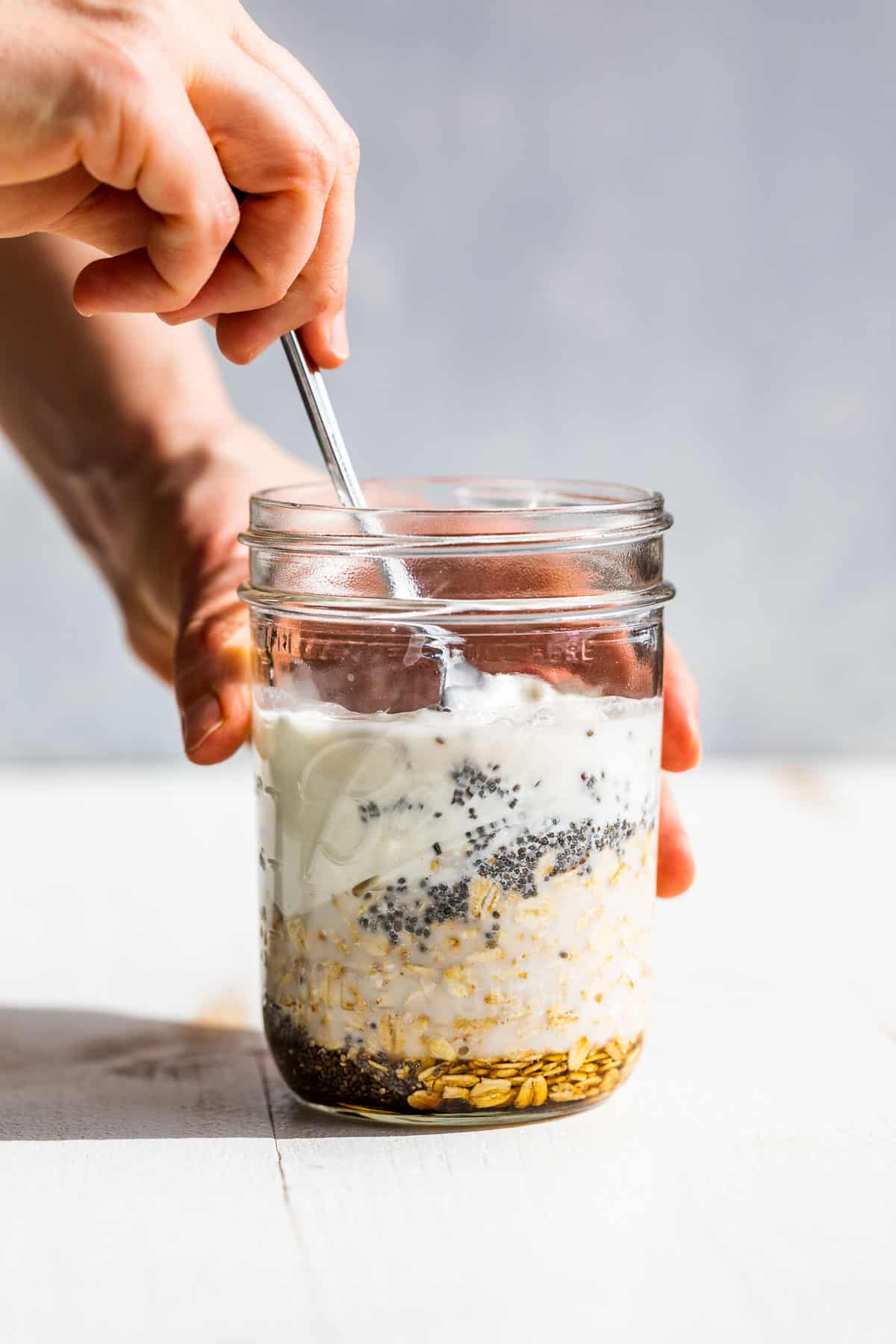 Step 4: Then stir to thoroughly combine. Or tightly seal the jar with a lid and shake the jar well to combine.
Step 5: From there you can pick any of the 10 flavors listed in the recipe to add to your basic overnight oats mixture. Let the oats soak overnight in the fridge, or top with your favorite toppings and refrigerate overnight.
You can also taste test to see if you might like to adjust the sweetness.
How to make a larger batch of overnight oats
I like to make no more than 4 days' worth of overnight oats at a time for the best flavor and texture.
Simply add all the ingredients to a mixing bowl, and whisk together until combined. From there you can portion out the mixture evenly into the containers of your choice.
It's easiest to let the oat mixture thicken in the refrigerator before portioning it, then scoop out 1 cup portions. As mentioned above, I like to use 1 pint/2 cup sized containers so there's plenty of room for toppings.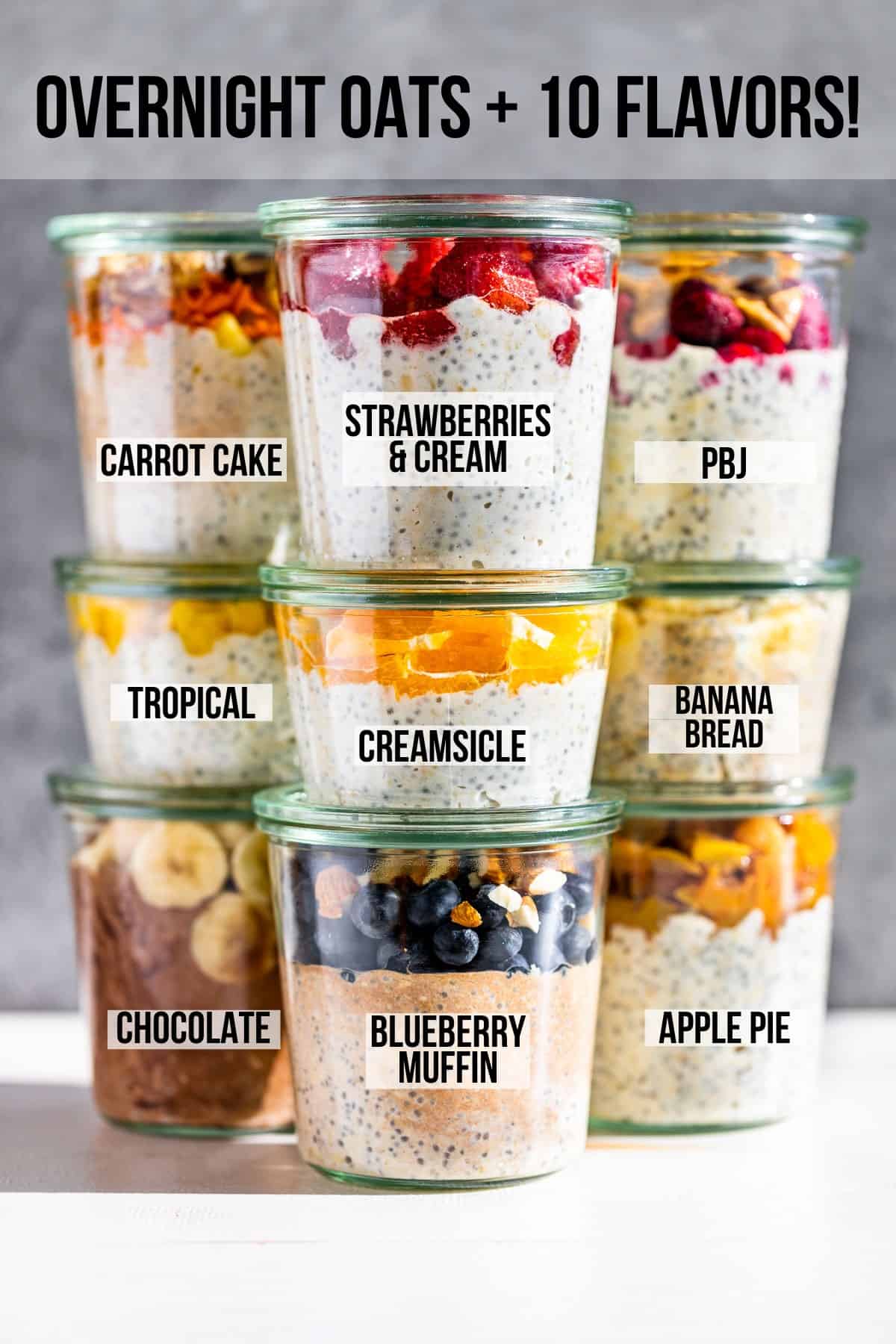 10 easy recipe flavors for Overnight Oats
Carrot Cake – which is my personal favorite because it really does have the perfect carrot cake flavors going on. You'll find all of these 10 flavors taste like dessert for breakfast, and it's hard to beat carrot cake flavors in the morning. I like to add chopped pecans or walnuts on top for some crunch right before serving. You can stir in the nuts overnight, but they will soften slightly by the next day.
Strawberries & Cream – is a classic combo that never gets old! We're coming into fresh berry season now, but when berries aren't in season frozen berries work really well here. I've also done variations where I've used 1/4 cup of fruit juice-sweetened jam in place of the berries and omitted the maple syrup.
Tropical – is another favorite of mine because it tastes so good, but also because it's extra convenient. You can easily use frozen pineapple and/or mango for these which makes the prep work super fast.
'PBJ' – is Tyler's favorite because he loves anything peanut butter! But you can use any nut butter you'd like here like almond butter or cashew butter, or even any seed butter to make this one nut free. I like using frozen raspberries as the 'jelly' part of this flavor because they have the perfect amount of tartness that goes along with the nut butter. But you can sub in any berry you'd like here as well.
Chocolate – because chocolate for breakfast really should be a thing! Try adding 1/2 cup of berries to this flavor instead of the sliced banana listed in the recipe. Chocolate and berries are perfect in overnight oats. It's also fun to add a few mini chocolate chips or cacao nibs to crunch and extra chocolate flavor. Move into an Almond Joy variation by adding shredded coconut and chopped almonds.
Apple Pie – is the only flavor that requires a bit of cooking, but it's more than worth it! It takes just a few minutes to simmer the apples with the spices, and give you that apple pie flavor.
Banana Bread – is the perfect thing to do with those overripe bananas sitting on your counter! I almost always let a few bananas get too ripe for eating, and they make the best overnight oats. When you add a few spices to the mix, it tastes just like banana bread but way healthier. This one has 1 additional tablespoon of chia seeds listed which is to help thicken it up.
Orange Creamsicle – is based on my favorite orange sherbet from childhood and the orange-vanilla combo is really tasty here. If oranges aren't in season, you can always sub in any kind of berry in this variation.
Blueberry Muffin – is inspired by the flavors from my Paleo Blueberry Muffins. Just a touch of lemon combined with the cinnamon is so good you'll find yourself making this one a lot. If you can find wild frozen blueberries, definitely try them out because they have a slightly more tart flavor that works really well here. I like to sprinkle some sliced almonds on top, but you can leave them off to make this one nut free.
Pumpkin Spice – is the ultimate pantry overnight oats because it uses canned pumpkin purée. This one tastes like pumpkin pie, keeps super well, and it couldn't be easier to make! This flavor variation also has 1 additional tablespoon of chia seeds listed to keep it nice and thick. This is because the pumpkin purée adds a bit more liquid to the mix.
Ways to serve this
These are our #1 go-to for yummy make-ahead breakfasts that I pack for Tyler to take to work. For extra protein, I often cook up some sausage links or bacon to send along with a jar of overnight oats.
Serve this 'family style' when you're entertaining. Make a basic batch of overnight oats ahead of time, then serve it in the morning with a variety of toppings. Or serve these overnight oats with my Winter Fruit Salad as a topping.
Add my Turkey Breakfast Sausage, cooked bacon, Sausage Egg Muffins, or Sausage Hash Brown Breakfast Casserole to go along with the family-style oats described above.
FAQ's
Can you use water for overnight oats?
No, I wouldn't recommend it because it would be very bland. Milk makes for a wonderful creamy texture. Both dairy and non-dairy milk work perfectly here.
How long do overnight oats last?
They last for up to 5 days. The toppings don't always last as long if you use fresh berries. You can always make a large batch of overnight oats and top them as desired the night before you need them. Another solution is to use frozen fruit or dried fruit like raisins or cranberries. They're great for meal prep because you can make them Sunday night to have ahead for the whole work week.
Do you use hot or cold milk for overnight oats?
You want to use cold milk to make overnight oats. As the oats soak in the liquid overnight in the fridge they will absorb the cold milk. From there you can eat the oats cold or hot with your choice of toppings.
Do you eat overnight oats cold or hot?
Either way, it's up to you and what you like best! I personally like them best cold, straight out of the fridge.
Can you freeze overnight oats?
Yes, overnight oats freeze really well. I like to freeze them in single portion sizes and then defrost them in the fridge overnight before adding your toppings. If you're using frozen berries, you can freeze the topping along with the overnight oats for the ultimate easy make-ahead breakfast.
Storing leftovers
To store – you can keep overnight oats for up to 4 days in an airtight container in the refrigerator. If you use fresh berries, keep an eye on them because they will sometimes go bad after 1-2 days. You can always add fresh fruit as needed, or use frozen berries instead.
Make ahead – this is the ultimate make-ahead recipe that keeps up to 4 days in the fridge.
Reheating – you can warm up overnight oats if desired on the stovetop or microwave until heated through. If you intend to eat these hot, I recommend adding your toppings fresh.
To freeze – the base of overnight oats freezes really well, then thaw in the fridge overnight before adding your toppings. Berries and tropical fruits also freeze well if you want to add the toppings before freezing.
Tips & Tricks
Try different combinations of milk and yogurt to find your favorite. We love using unsweetened vanilla almond milk with Greek yogurt. But I've also used half and half in place of milk when we're making this for hiking days and need a bit more calories.
A new variation we love is to replace the milk with orange juice for certain flavor combinations. It tastes like a creamsicle, so naturally it's good topped with oranges. But this combination is also very tasty with pineapple, bananas, or berries as a topping.
The basic recipe for overnight oats is so versatile you can add any of your favorite toppings. It's a great starting point for way more flavors than the 10 listed here.
Use any fruit that's in season for the best value and don't be afraid to use frozen berries, they're great in overnight oats. Frozen fruit is perfect in overnight oats because it's a bit softer. But use whatever is fresh and in the season when you can.
Dietary Options & Substitutions
Dairy-free, Vegan, or Vegetarian – be sure to use dairy-free milk as well as dairy-free yogurt. Coconut yogurt is my favorite, but use whatever you love best. There are more suggestions in the ingredients section, but unsweetened dairy-free milk is best so you can add sweetener to your taste.
Paleo – try my Coconut Chia Pudding instead which doesn't have any whole grains.
More Easy Breakfast Recipe Inspiration
I really hope you enjoy these Overnight Oats, they are just the best make-ahead breakfast! And if you do get a chance to make them, I hope you'll leave me a comment/rating below. I always love hearing from you here! Also for more delicious healthy breakfast ideas head on over to the breakfast category for all our breakfast recipes.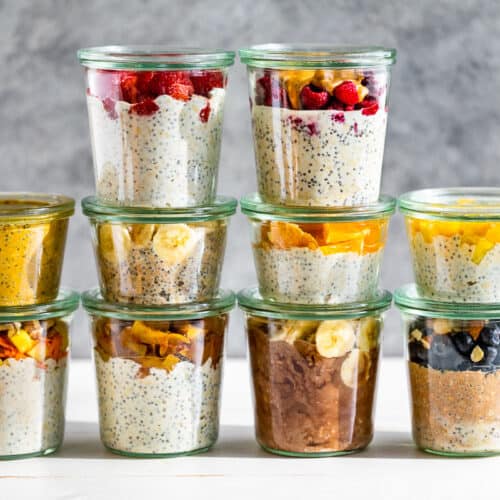 How To Make Overnight Oats ( +10 Flavors)
---
INGREDIENTS
Overnight Oats Base:
1/2

cup

rolled oats

-

I used extra thick Bob's Red Mill gluten free

1

tbsp

chia seeds

1

tbsp

maple syrup -

more or less to taste

1/2

cup

milk of choice

-

I like to use unsweetened vanilla almond milk

1/3

cup

yogurt

-

Greek yogurt is my favorite
Carrot Cake:
1/4

cup

chopped pineapple

1/4

cup

grated carrot

1/2

tsp

ground cinnamon

2

tbsp

unsweetened shredded coconut

2

tbsp

chopped pecans or walnuts

-

optional
Tropical:
1/4

cup

chopped fresh or frozen pineapple

1/4

cup

chopped fresh or frozen mango

2

tbsp

unsweetened shredded coconut

2

tbsp

chopped macadamia

-

optional
Strawberries & Cream:
1/2

cup

frozen strawberries

-

or 1/2 cup chopped fresh strawberries

1/8

tsp

almond extract
PBJ:
1/2

cup

frozen raspberries

-

or 1/2 cup fresh

2

tbsp

peanut butter

-

or nut/seed butter of choice
Chocolate:
1 1/2

tbsp

cocoa powder

1

additional tablespoon of maple syrup

1

tbsp

chocolate chips

-

or cacao nibs

1/2

banana

-

sliced, or 1/2 cup berries of choice
Pumpkin Spice:
1/4

cup

pumpkin purée

1/2

tsp

pumpkin spice

1

additional tablespoon chia seeds
Banana Bread:
1

tsp

ground cinnamon

1

ripe banana

-

mashed, 1/2 cup

1

additional tablespoon chia seeds
Orange Creamsicle:
1

tbsp

orange zest

-

from a microplane grater

1/2

cup

sliced fresh oranges

-

tangerines, or mandarins

1

tsp

vanilla

-

omit if using vanilla nut milk
Blueberry Muffin:
1

tsp

ground cinnamon

1

tbsp

freshly squeezed lemon juice

1/8

tsp

almond extract

1/2

tsp

vanilla extract -

omit if using vanilla nut milk

1/2

cup

fresh or frozen blueberries

1

tbsp

sliced almonds

-

optional
Apple Pie:
1

Granny Smith apple

-

chopped into bite sized pieces

1

tsp

cinnamon

1/4

cup

orange juice

-

apple juice, or water
INSTRUCTIONS
Mix together all the ingredients for the overnight oats base in a 1 pint/2 cup mason jar or 2 cup container of your choice.

Choose which flavor you'd like and mix the ingredients into the overnight oats base. You can leave any of the fruit on top as well, but I recommend mixing the spices in. If you're using sliced banana as a topping, add that right before serving.

For the apple pie version, add the chopped apple to a small saucepan along with the cinnamon and orange juice. Bring the mixture to a simmer, partially cover with a lid and simmer on low until the apple is tender and the liquid has mostly evaporated, 6-8 minutes.

Let the apple pie mixture cool before stirring half of it into your overnight oats base, and top with the remaining half, then refrigerate overnight.

Once you have your flavor of choice mixed in, refrigerate overnight before eating. This step is necessary to allow the oats and chia seeds to soften and soak up the liquid.

These overnight oats will keep up to 4 days, but are best in the first 2-3 days.
Bonus Step
If you made this recipe, please leave a rating/comment. Ratings really help us continue to bring you high-quality free recipes. Rate This Recipe!
NOTES
To make a larger 4-serving batch, measure out 2 cups oats, 1/4 cup chia seeds, 1/4 cup maple syrup, 2 cups milk, and 1 1/3 cups yogurt. Then top each of the 4 servings individually with different flavors. Or choose one flavor times 4 for your toppings.
The nutrition facts were calculated for the PBJ flavor, and to reduce calories you could use 1 tbsp nut butter.
nutrition facts
Serving:
1
g
|
Calories:
611
kcal
|
Carbohydrates:
70
g
|
Protein:
22
g
|
Fat:
30
g
|
Saturated Fat:
8
g
|
Polyunsaturated Fat:
8
g
|
Monounsaturated Fat:
11
g
|
Trans Fat:
0.02
g
|
Cholesterol:
25
mg
|
Sodium:
96
mg
|
Potassium:
819
mg
|
Fiber:
14
g
|
Sugar:
28
g
|
Vitamin A:
305
IU
|
Vitamin C:
16
mg
|
Calcium:
398
mg
|
Iron:
4
mg
This recipe was originally published in 2021 but has been updated in 2023 with new photos, more information, tips, and nutrition facts.