Meet your new favorite easy breakfast, these Fruit and Yogurt Parfaits are downright addicting! They're gluten-free with dairy-free and paleo options too. You can make these ahead of time for meal prep with my Berry Sauce, or use fresh berries. No matter which combo you go with, these parfaits are sure to be a crowd-pleaser with both adults and kids.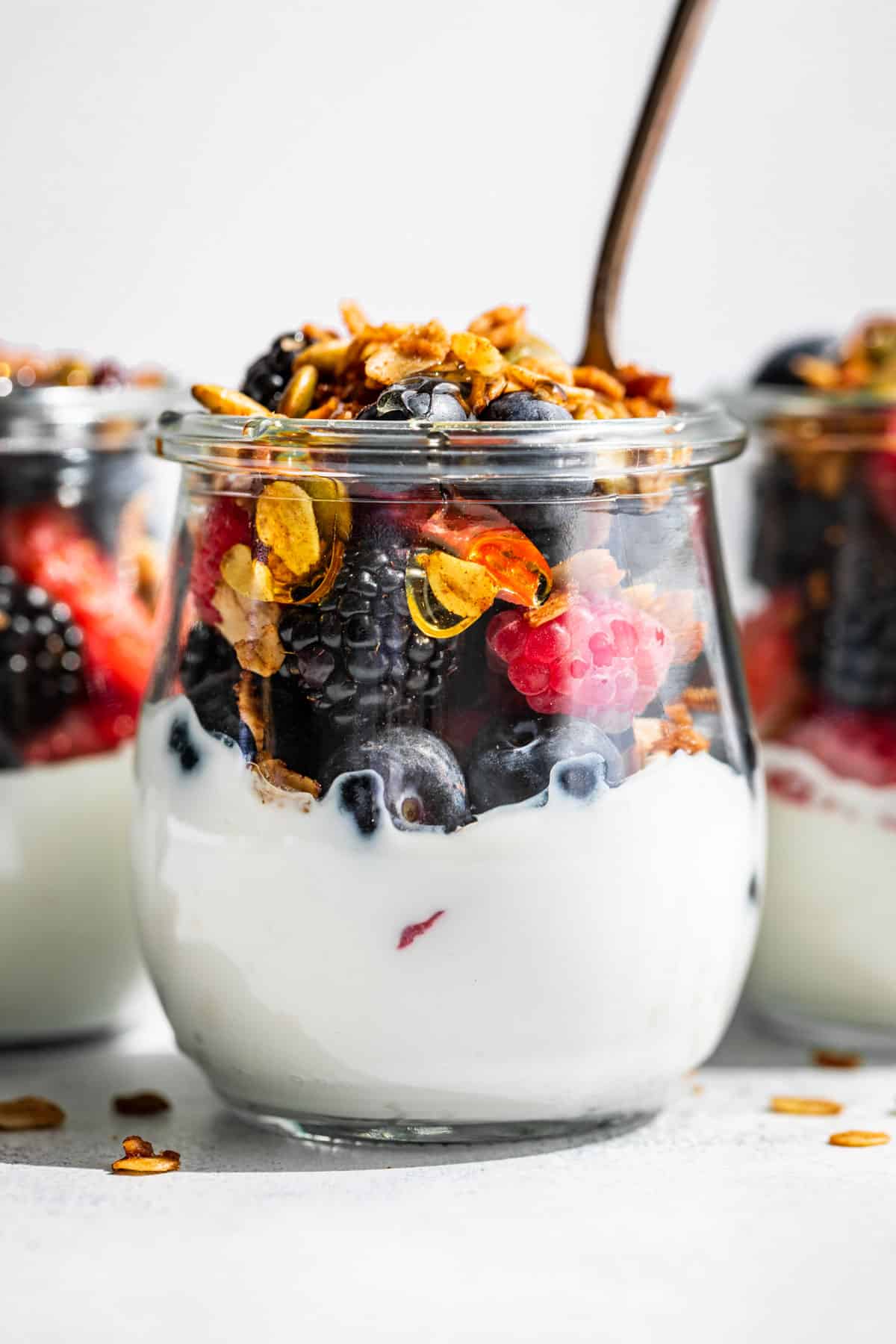 We make this recipe more than any other recipe on the blog, it's just so easy and tasty! It's perfect for berry and stone fruits throughout the summer. Then after the fresh fruit is gone, we make my Berry Sauce and make these parfaits all winter long.
These are great as a snack, but most often we have these parfaits for breakfast. And of course, they're great for brunch layered into cute jars as well. You can use your favorite granola, or make my Homemade Granola which is super easy and way tastier than store-bought.
If you can't have oats, try my all-time favorite Maple Cinnamon Paleo Granola. It's all caramelized coconut and nuts, scented with cinnamon, and it's completely addictive.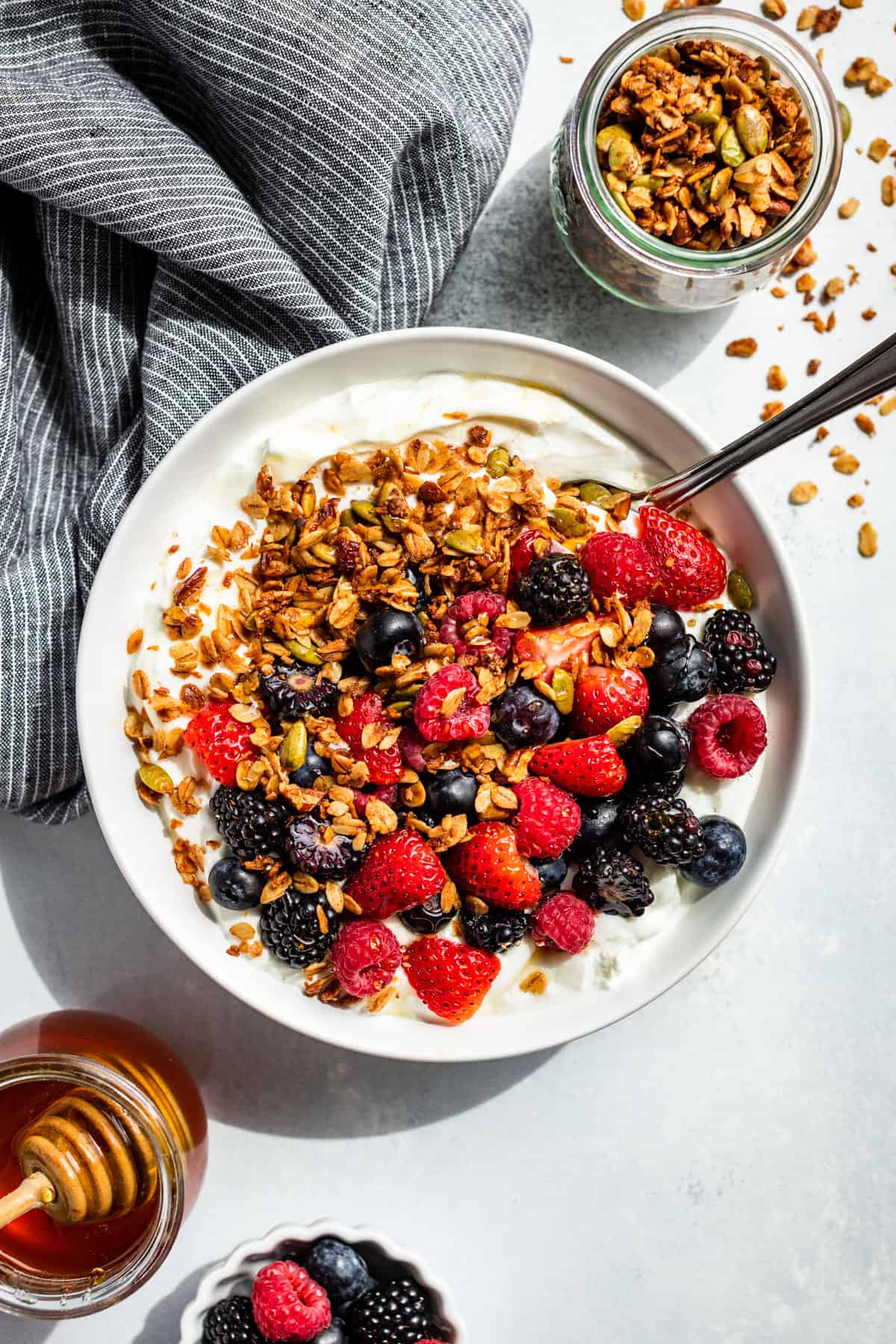 Ingredients & Substitutions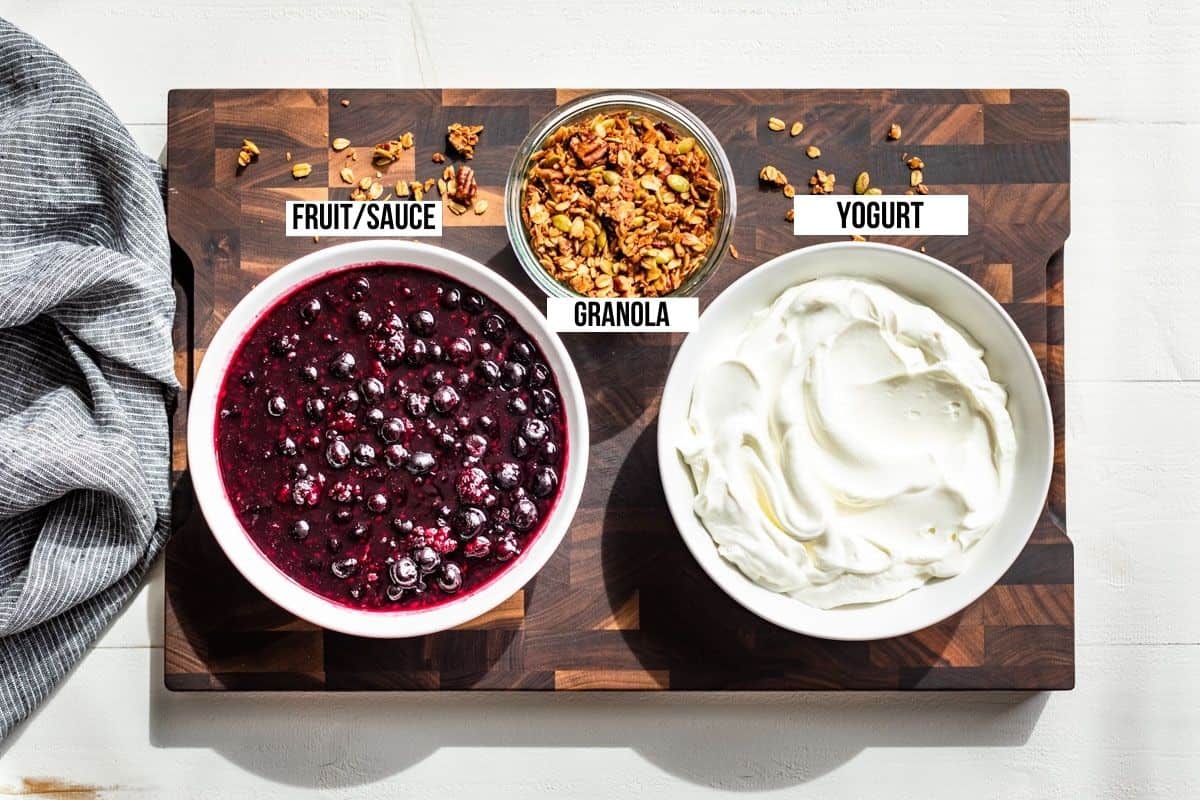 Yogurt – you can use any kind of yogurt or dairy free yogurt you'd like. Our favorite is a super thick and creamy Greek yogurt for these parfaits. I like to use plain yogurt so I can just add my sweetener of choice to taste. But honey yogurt and vanilla yogurt both work really well here too.
Fruit – fresh berries are great when they're in season, but otherwise try my Berry Sauce which makes use of frozen berries. Frozen berries are both budget friendly and widely available. Stone fruits like peaches etc. are really taste here as well when they're in season.
Granola – you can use your favorite store bought granola here of course, but my Homemade Granola is so easy. And I think you'll be surprised by how much tastier homemade granola is! For a paleo option, you can also try my Maple Cinnamon Paleo Granola.
How to make this recipe step by step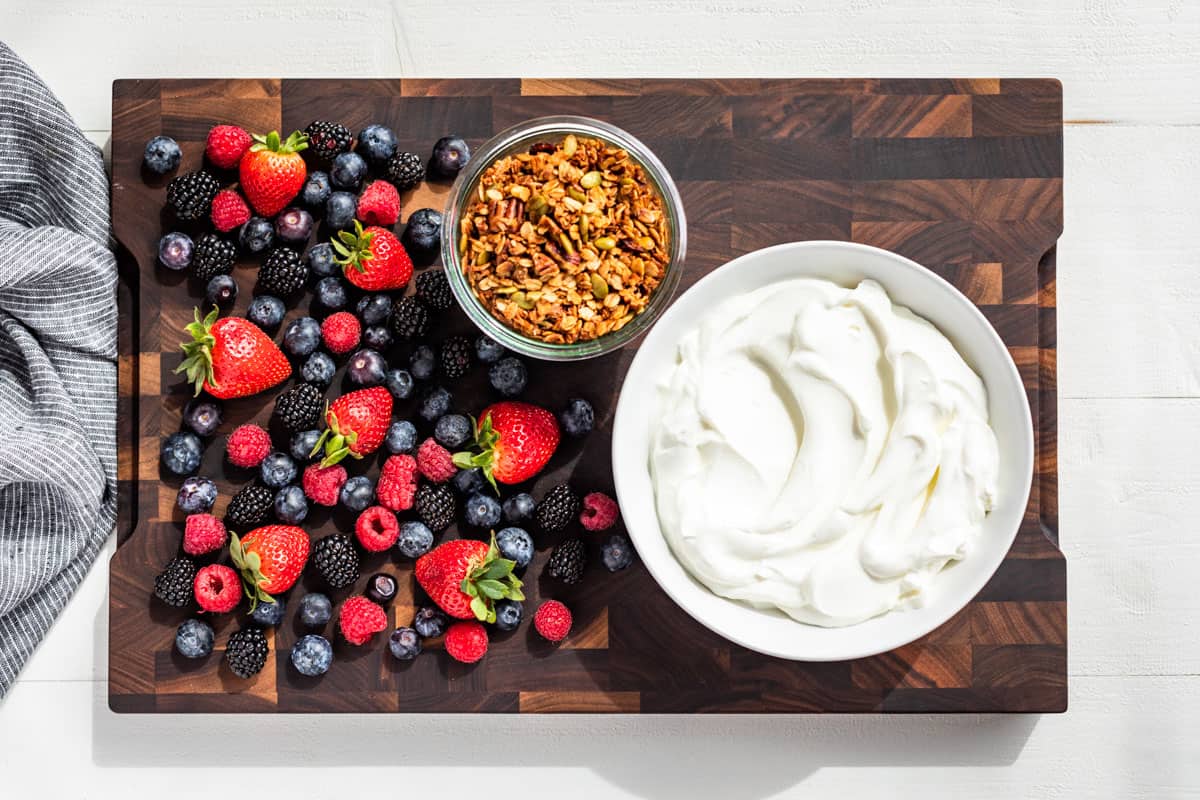 Step 1: Start by assembling your ingredients. If you're using fresh berries you want to be sure they're dried well after washing so they keep for a couple of days.
I don't recommend making much ahead with fresh berries because they go bad quickly, just 1-2 days in the refrigerator is best.
If you're looking to make this more of a meal prep recipe, definitely use my Berry Sauce which will easily keep all week long.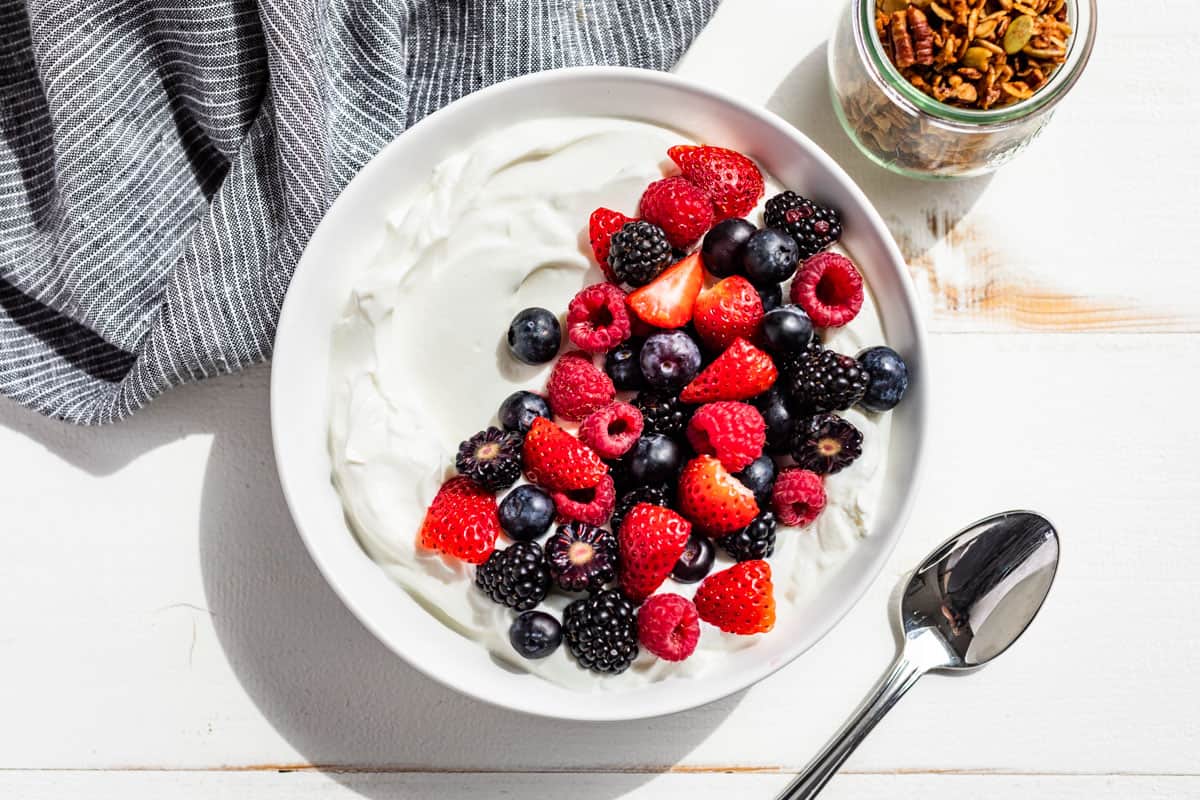 Step 2: Next you can assemble 1 serving as picture above by layering in the yogurt. Then top with berries, granola, and a drizzle of maple syrup or honey.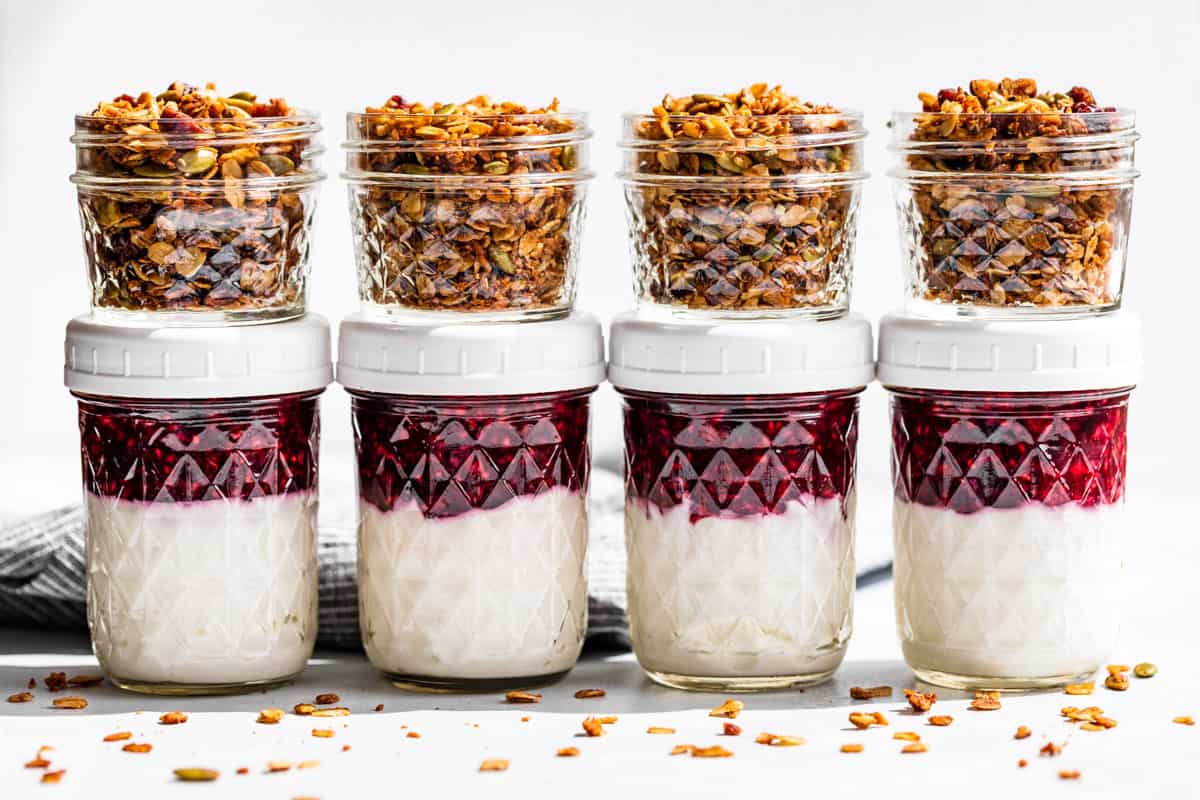 Step 3: Or you can meal prep these for make ahead yogurt parfaits by layering in the yogurt, then top with berry sauce. From there I like to portion out the granola into smaller containers to store in the pantry. (See the tips sections below for how I meal prep these.)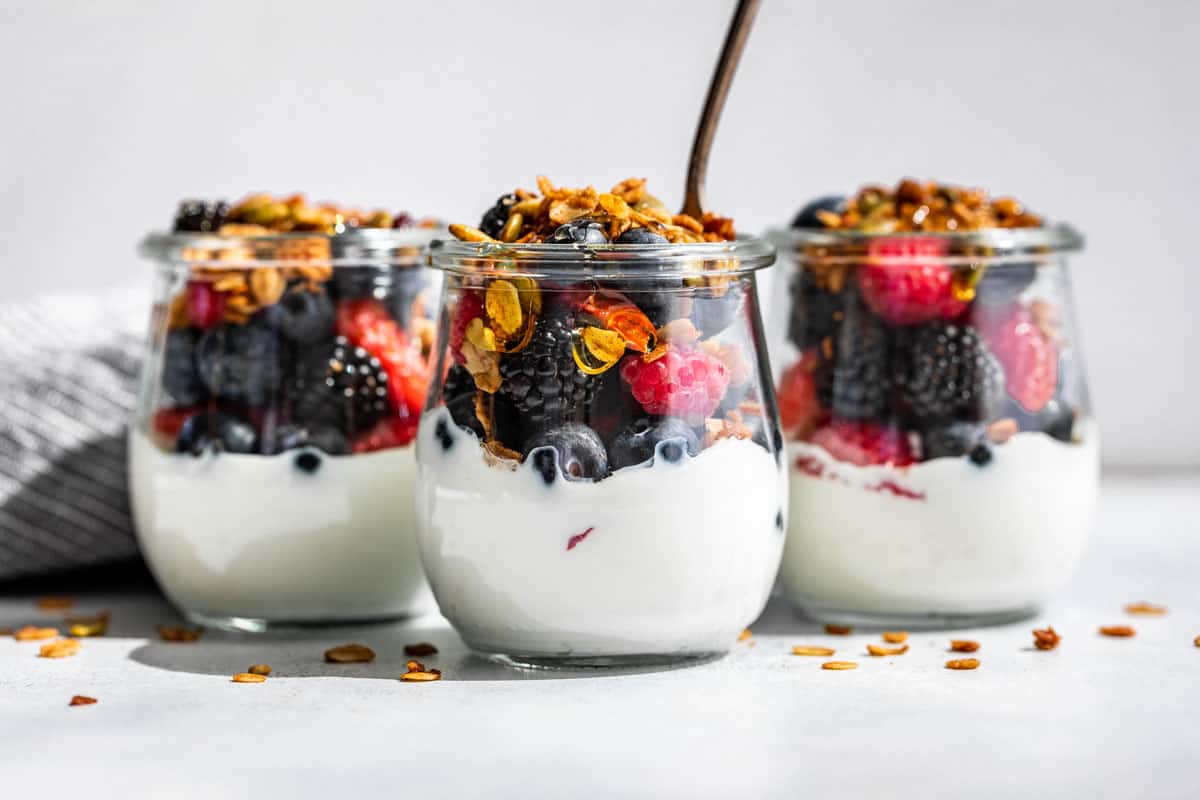 Step 4: Finally for a 'fancy' look for weekend brunches or company, try layering the yogurt and berries into small cute jars (like Weck), then top with granola and a drizzle of honey.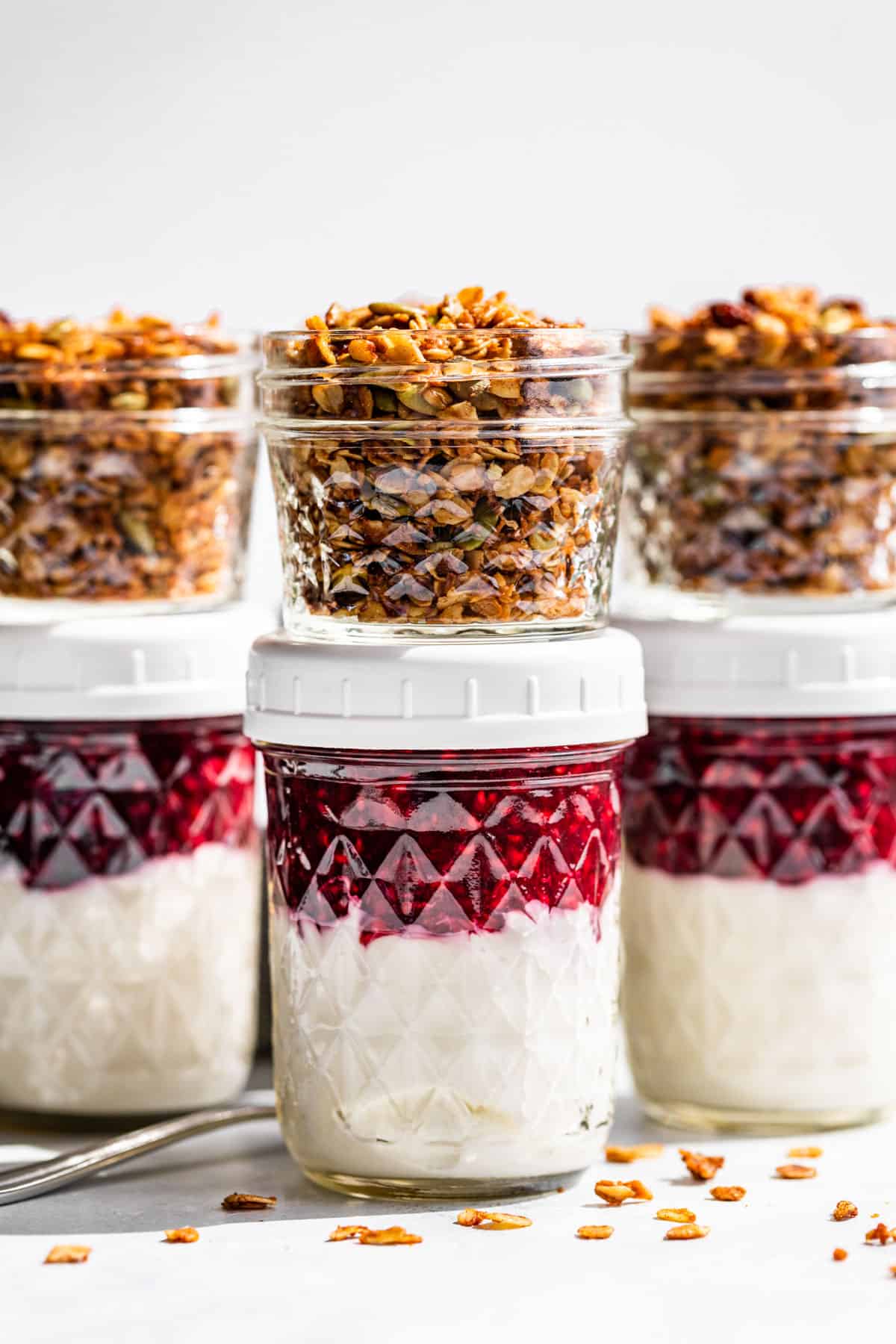 Ways to serve these Fruit and Yogurt Parfaits
As a meal prep grab-and-go breakfast option. We pre-cook bacon or sausages and refrigerate them as a protein to have alongside these parfaits.
Try these for a brunch menu with my Sausage Hash Brown Casserole, Vanilla Coffee Cake Muffins, Roasted Sweet Potatoes, & maybe one of my Smoothie recipes as well to really go all out.
Take these camping or as your next hiking breakfast. This is our #1 recipe for camping with everything pre-made ahead, we can assemble these Yogurt Parfaits in just a couple of minutes. I've put these together on our tailgate, right on top of the cooler lid, and on picnic tables. They're perfect for when you don't feel like cooking in the great outdoors!
FAQ's
Is a yogurt parfait healthy?
Yogurt parfaits can be a very healthy breakfast, especially when you make your own. If you buy them, they tend to be packed with sugar. However, when you make your own, you get to choose how much natural sweetener to add and the quality of ingredients used! Choosing a Greek yogurt for instance will give you a bit of protein boost over regular yogurt. You can also buy unsweetened yogurt and add it to taste.
How long do yogurt parfaits last in the fridge?
2-3 days with fresh fruit or up to 1 week when you assemble your yogurt parfaits with my Berry Sauce.
Storing leftovers
To store – to meal prep these, use the Berry Sauce over fresh berries, and your extras will store in the fridge for up to 1 week. If you assemble these parfaits with fresh berries, they will keep 1-3 days in the fridge depending on the freshness of the berries and how dry they were when you assembled the parfaits.
Freezing – I don't recommend freezing these parfaits because the yogurt doesn't come out right. You can freeze the berry sauce although sometimes it thaws separated. I just warm it up on the stove and it comes back together, but you'll need to wait for it to cool before assembling these parfaits.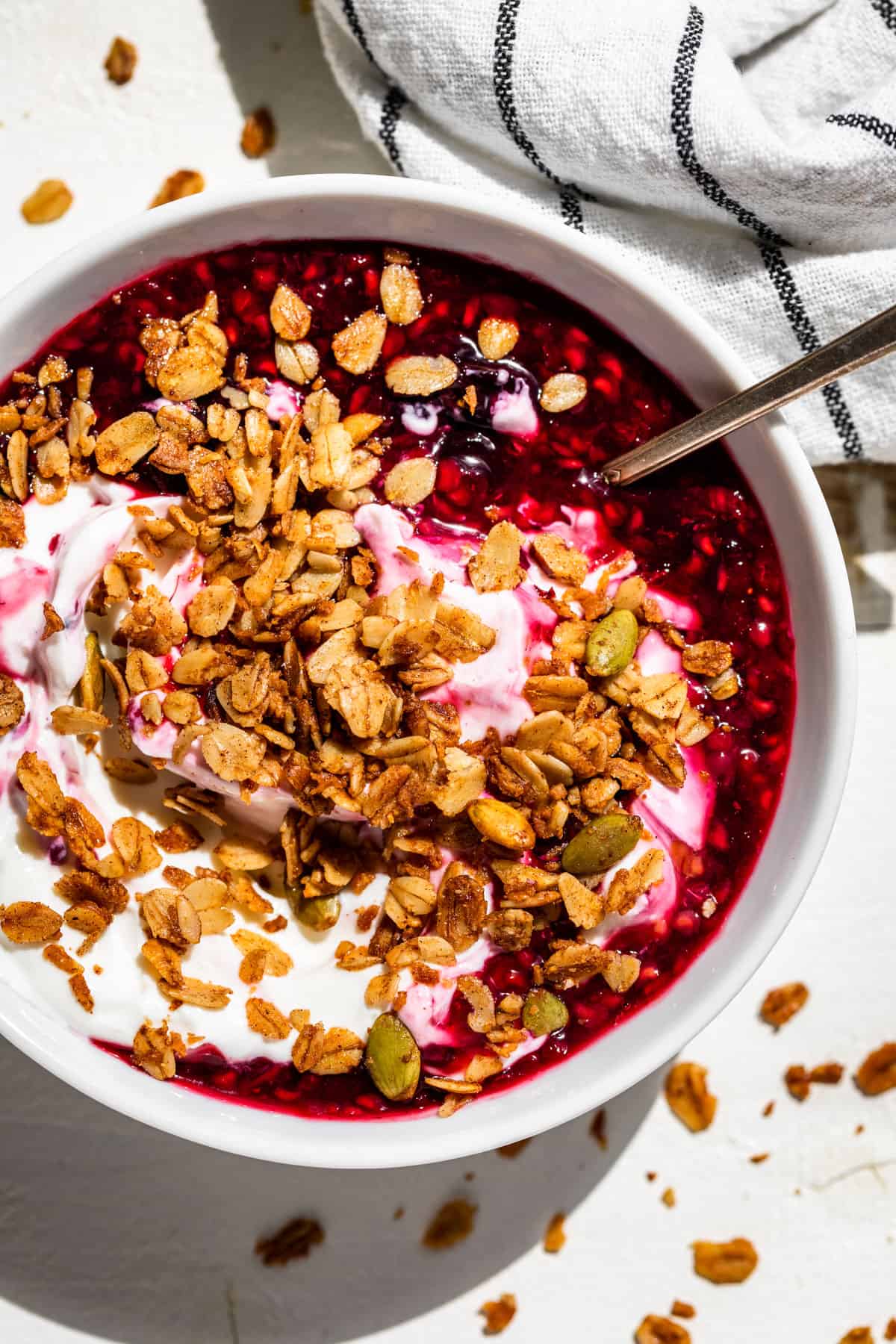 Tips & Tricks
Try all sorts of berry combinations or 1 single fruit, the sky is the limit with how many combinations you can come up with. We love using a 3 berry mix to make the Berry Sauce. And in the summer months, peaches with blueberries are so good in these.
To meal prep these parfaits, try using the 2-cup mason jars or other 2-cup containers for a make-ahead option. I add 1/2 cup yogurt then top it with 1/2 cup berry sauce which fills the jar just halfway. Then I portion out the granola into the 1/4 cup mason jars on the side.
When it's time to eat your parfaits, swirl the berry sauce into the yogurt and top with granola. It's easy to eat right in the jar because it was only 1/2 full before you added the granola. (The jars pictured here are 1 cup jars and they're completely full because they look nicer in photos.)
I really hope you enjoy these Fruit and Yogurt Parfaits! If you do get a chance to make this recipe, I'd love to hear from you in the comments.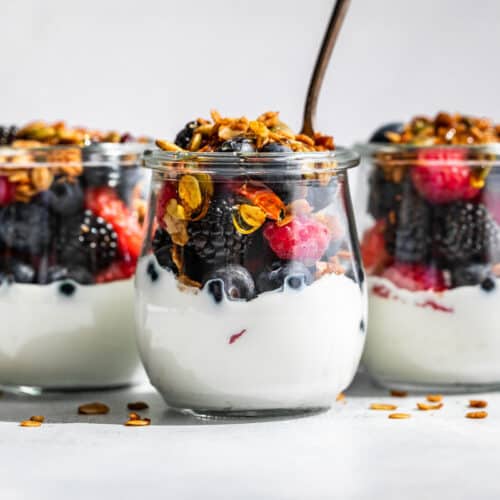 Fruit and Yogurt Parfaits
---
INGREDIENTS
Triple Berry Fruit Sauce:
32

ounces

mixed frozen berries

-

See notes below for using fresh berries, I used frozen raspberries, blackberries, and blueberries.

1

tbsp

cornstarch

-

or tapioca starch

1/4

cup

pure maple syrup

-

or honey

1

tsp

vanilla extract

1/4

tsp

almond extract

32

ounces

plain yogurt

-

of choice, I love Greek yogurt especially but dairy free coconut yogurt comes in 2nd.

2

cups

granola

-

see notes
INSTRUCTIONS
Make the berry sauce by whisking the maple syrup and cornstarch or tapioca starch together until smooth. Add the frozen berries and cook over medium high heat, stirring constantly until melted.

When the berries have melted, turn the heat to hight and bring the sauce to a boil to thicken. Remove the berry sauce from the heat and whisk in the vanilla and almond extracts. Set the sauce aside to cool, then refrigerate until no longer warm.

Once the sauce is completely cooled, you're ready to make the fruit and yogurt cups.

Choose your 8 containers, I like to use the 2 cup Mmson jars for the parfaits and the 1/4 cup mason jars for the granola.

Add 1/2 cup of the yogurt to each container, followed by 1/2 cup cooled berry sauce. Then portion the granola out, seal with lids, and store the granola in the pantry.

Place a lid on each finished yogurt parfait container and refrigerate until you're ready to eat them. They will last in the refrigerator for 1 week. If you use fresh berries, they will last 1/3 days in the fridge.
Bonus Step
If you made this recipe, please leave a rating/comment. Ratings really help us continue to bring you high-quality free recipes. Rate This Recipe!
NOTES
This recipe will make anywhere from 8 servings if you portion it into 1/2 cup yogurt to 1/2 cup fruit sauce, and 1/4 cup granola or it will make up to 16 servings with 1/4 cup yogurt to 1/4 cup fruit sauce, and 2 tbsp granola.
To make these with fresh berries or fresh fruit, omit the berry sauce and sub in 1/2 cup cup fruit for each parfait you want to make. You'll need 4 cups of fresh berries to go with 1 – 32 ounce container of yogurt. You'll also want 1-2 tbsp of maple syrup or honey per yogurt parfait if you use plain yogurt.
The nutrition facts were calculated using Greek yogurt and are the best estimate possible for this recipe.
I use either my Homemade Granola or my Maple Cinnamon Paleo Granola.
nutrition facts
Serving:
1
g
|
Calories:
309
kcal
|
Carbohydrates:
42
g
|
Protein:
16
g
|
Fat:
9
g
|
Saturated Fat:
1
g
|
Polyunsaturated Fat:
3
g
|
Monounsaturated Fat:
4
g
|
Trans Fat:
0.01
g
|
Cholesterol:
6
mg
|
Sodium:
51
mg
|
Potassium:
409
mg
|
Fiber:
6
g
|
Sugar:
25
g
|
Vitamin A:
62
IU
|
Vitamin C:
3
mg
|
Calcium:
169
mg
|
Iron:
2
mg