This Creamy Cashew Roasted Red Pepper Sauce is good with so many things, it's hard to even list them all out. But our 2 favorites are paired with any cut of meat pan-fried or grilled and tossed with gluten free pasta!
I've finally developed a dairy free alternative to my most popular recipe with this Creamy Cashew Roasted Red Pepper Sauce. I get so many questions about how to omit or swap out the goat cheese in my Creamy Roasted Red Pepper Zucchini Noodles. So I knew it was time for a whole separate dairy free recipe!
This sauce is just as easy to make as my original version. But it does require thinking ahead to pre-soak the cashews. I find it's easiest to start soaking them in the morning. Then after work they're ready to go to make this sauce for dinner.
You can use this sauce in about as many ways as you can possibly think of. It's great over zucchini noodles, butternut noodles, and pasta of any shape.
But thinking outside the scope of pasta, it's also great as a pizza sauce. We also like it over grilled chicken or steak, as well as steamed/sautéed veggies. Really, we're talking pretty much everything because it's one of those sauces that enhances everything it touches.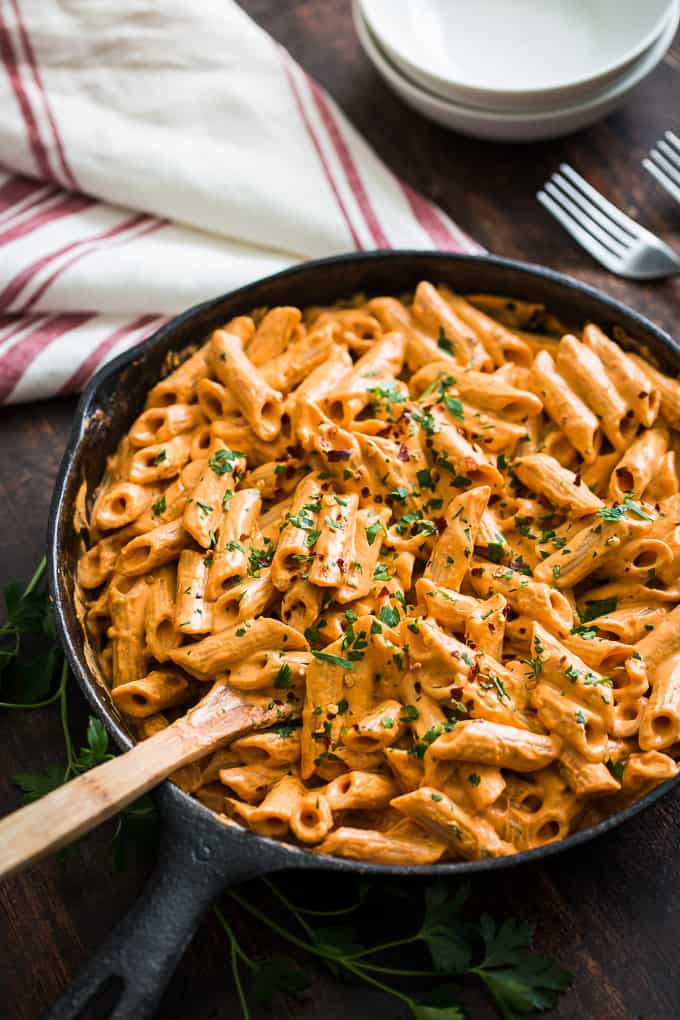 So let's dive right into this Creamy Cashew Roasted Red Pepper Sauce!
Time saving tip: use jarred roasted red bell peppers to cut the time in half.
To make your own roasted peppers, place them on a baking sheet within 3″ of the broiler in the oven. Then watch them carefully, and turn them as the skin blisters and begins to turn black. When they're roasted on all sides, take them out of the oven. Then place them in a container with a lid, and let them steam for 15-20 minutes.
Once they're done steaming, the skin peels away fairly easily. I don't worry about any bits of skin that don't come off right away. The blender will take care of a small amount of skin. Finally you cut out the stems, remove the seeds, and cut the peppers into quarters.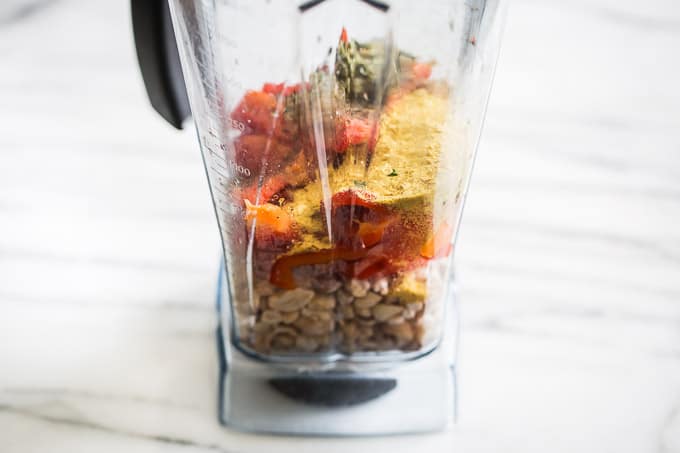 From there, you place them in the blender with all the other ingredients…
… which then turns into creamy magic, thanks to a high powered blender.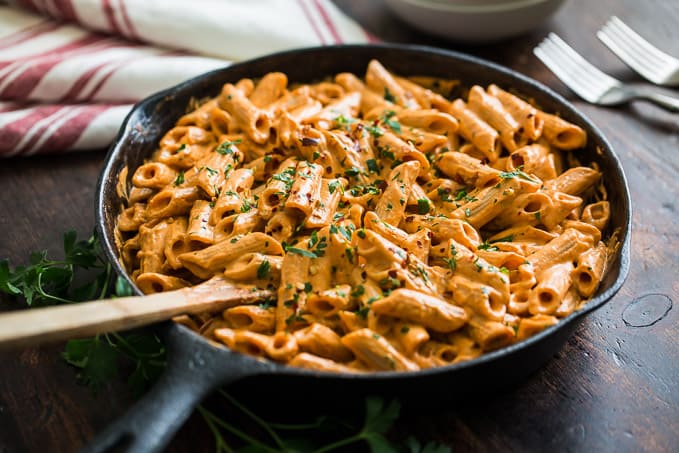 And once you have your sauce made, your only problem is trying to figure out how you want to use it first!
More recipe inspiration for red peppers:
I hope you'll enjoy this sauce as much as we have! If you do make it, I hope you'll leave me a comment/rating below. And I always love hearing from you here. Or over on Instagram where you can tag me at #getinspiredeveryday with your photos.
Print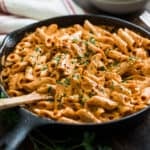 Creamy Cashew Roasted Red Pepper Sauce
---
Description
This ultra creamy sauce might be dairy free, but you'd never know it with the silky texture and loads of flavor from the roasted peppers and nutritional yeast!
---
2 roasted red bell peppers, 8 ounces
1 cup raw cashew pieces, 5 ounces, soaked in 3 cups water for at least 2 hours
2 Tablespoons olive oil
2 cloves garlic, minced
1 Tablespoon chopped fresh thyme
1 Tablespoon freshly squeezed lemon juice
2 Tablespoons nutritional yeast
1/2 Teaspoon sea salt, or to taste
1/4 Teaspoon black pepper
Optional: 1/4 Teaspoon red pepper flakes
Garnishes: toasted pine nuts, chopped parsley or basil, and red pepper flakes
---
Instructions
Quarter and place the roasted peppers into a high powered blender. Drain the soaked cashews and place them in the blender as well.
Heat a small skillet over medium high heat. When the pan is hot, add the olive oil, garlic, and thyme. Sauté briefly until fragrant, but not browned, 1-2 minutes. Then add the garlic herb mixture to the blender along with the rest of the ingredients.
Blend starting on low, and working up to medium high speed, using the tamper to keep the mixture moving. Blend until the sauce is completely smooth.
To serve this sauce with pasta, simmer the cooked pasta and sauce together until the sauce is heated through. If you're using spiralized noodles like zucchini or butternut noodles, heat the sauce separately from the cooked noodles, and then serve them tossed together.
Notes
This recipe makes the perfect amount of sauce for 1 – 12 ounce package gluten free pasta.
If you're roasting your own peppers, it will take about an extra 40 minutes, but it's mostly hands off time.
Prep Time:

20 mins

Cook Time:

5 mins

Category:

Sauce

Method:

Blending

Cuisine:

American
Keywords: Vegan Roasted Red Pepper Sauce, Creamy Red Pepper Sauce, Paleo Red Pepper Cream Sauce, Dairy Free Cream Sauce, Cashew Cream Sauce