Is there anything better than pizza?… I'm thinking not, unless it's pizza followed by ice cream! I saw a saying the other day that said, 'If you had to choose between eating tacos everyday or being skinny for the rest of your life – would you choose hard shell or soft shell?'
Well it would definitely be soft shell for the record, but this saying could also work for pizza. As in – if you had to choose between pizza and being skinny – would you choose extra cheese, extra pepperoni, or both? Don't make me choose between pizza and anything… please!
I've always been a ranch dressing girl growing up, but since the first batch of this Italian Dressing, I've been completely won over by it. Not only does it make every salad taste amazing, but you can double or triple the dressing recipe for a big batch that keeps perfectly in the fridge for 2 weeks!
I've been using this Power Greens mix (spinach, baby kale, and beet) a lot lately, but you can use any greens you prefer in your salad.
Depending on the size of your tomatoes, you'll need to cut them in half or quarters so that they're bite sized.
And while cheese is an essential flavor in anything pizza, there's so much flavor going on here that you could easily leave out the cheese if you're dairy free.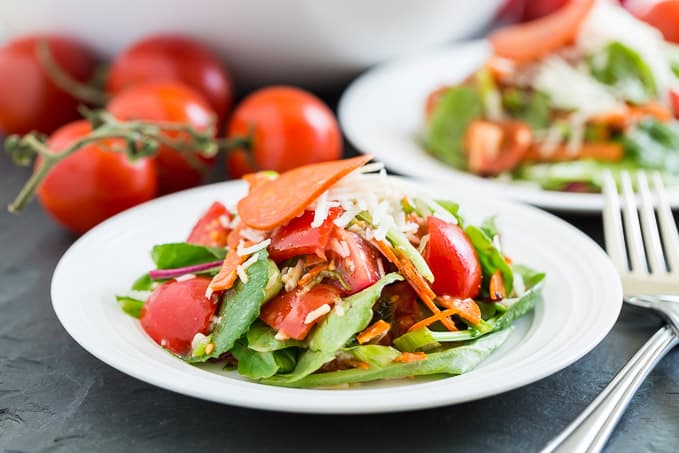 Since giving up wheat for a year, (I promise I will write about that soon) pizza has been pretty much out of the question. I tried several gluten free crusts, but they were so dismal that I can't even… but I did get really creative with adding pizza flavors to all sorts of other things.
It started with my Meat Lover's Pizza Burgers, then I discovered I could grill tortillas with pizza toppings, (perfect for an easy pizza party btw). Next there were my Sweet Potato Pizza Bites which have been a major hit, and finally a polenta pizza crust that also is fun on the grill, and now this pizza salad!
Now I'm not about to sit here and tell you that this salad is going to take the place of pizza, but we both love it and it's a close second to our favorite Chicken Caesar Salad to make on date nights. I love salad anyways, but add a whole bunch of pizza toppings, and you've got my new obsession!
As a side note: I've started experimenting a bit with Einkorn wheat which the most ancient wheat. Many people who have trouble with wheat can eat Einkorn wheat without problems (not Celiacs of course, you should consult your doctor before making any changes to your diet). After a full year of no wheat at all, I was starting to feel really great, so I was hesitant to mess it up by trying Einkorn, but I gave it a whirl and to my surprise, (and absolute delight) I felt fine.
I didn't want to bring it up for awhile in case it was a fluke, but I've been making something with Einkorn once a week for a few months and I'm still doing fine. I've mostly been experimenting with pizza dough, and once I get it right, I'll post it. I can't even tell you what that first bite of pizza was like after an entire year without my favorite food – pure bliss!
Even with actual pizza back in my life, I'm still making this pizza salad nearly every week, so I knew I had to get the recipe written down to share. It's a great way to easily eat several servings of veggies with all my favorite flavors!
Print
Pepperoni Pizza Salad with Homemade Italian Dressing
---
Salad Ingredients:
8 cups

mixed greens, 8 ounces

1

package natural pepperoni slices, 4 ounces

1 cup

grated Pecorino Romano or Parmesan cheese

12 ounces

cherry tomatoes, halved or quartered, about

4 cups
Homemade Italian Dressing:
2 Tablespoons

white wine vinegar

1

–

2

Teaspoons maple syrup, to taste

1

small clove garlic, minced, or

1/2 Teaspoon

garlic powder

1 Tablespoon

minced onion, or

1 Teaspoon

onion powder

2 Teaspoons

Dijon mustard

1/2 Teaspoon

sea salt, or to your taste

1/2 Teaspoon

dried oregano

2 Teaspoons

minced parsley, or

1/2 Teaspoon

dried

2 Teaspoons

minced basil, or

1/2 Teaspoon

dried

1/2 cup

avocado oil or olive oil

1 Tablespoon

diced red bell pepper
---
Instructions
Place the washed salad greens into a large bowl.
Thinly slice the pepperoni slices into strips and scatter them over the top of the greens along with the grated Pecorino, and cherry tomatoes.
To make the dressing, place all the ingredients except the oil and diced bell pepper into a blender. Blend starting on low and drizzle in the oil slowly increasing the speed a bit to 4 or 5 on a Vitamix. Blend until all the oil is added and completely emulsified. Add the bell pepper and blend just to combine.
Toss the salad with the dressing or serve it alongside.
The dressing keeps in the refrigerator for 2 weeks.
Notes
For the mixed greens, I used a mix of spinach, beet greens, and baby kale.
One of my favorite shortcuts on this dressing is to sub in 1 1/2 Teaspoons Italian seasoning for the oregano, parsley, and basil to speed things up a bit.