This Slow Cooker Whole30 Chili is the perfect easy recipe when you want comfort food with no fuss & minimal cleanup! It simmers away in the slow cooker all day filling the house with mouth-watering smells that will make you hungry when you walk through the door. The spices in this chili combine wonderfully with the sweetness of the sweet potato. Add all the toppings you can think of for fresh flavor with this savory slow-cooked chili. It's bean-free, gluten-free, dairy-free, and paleo.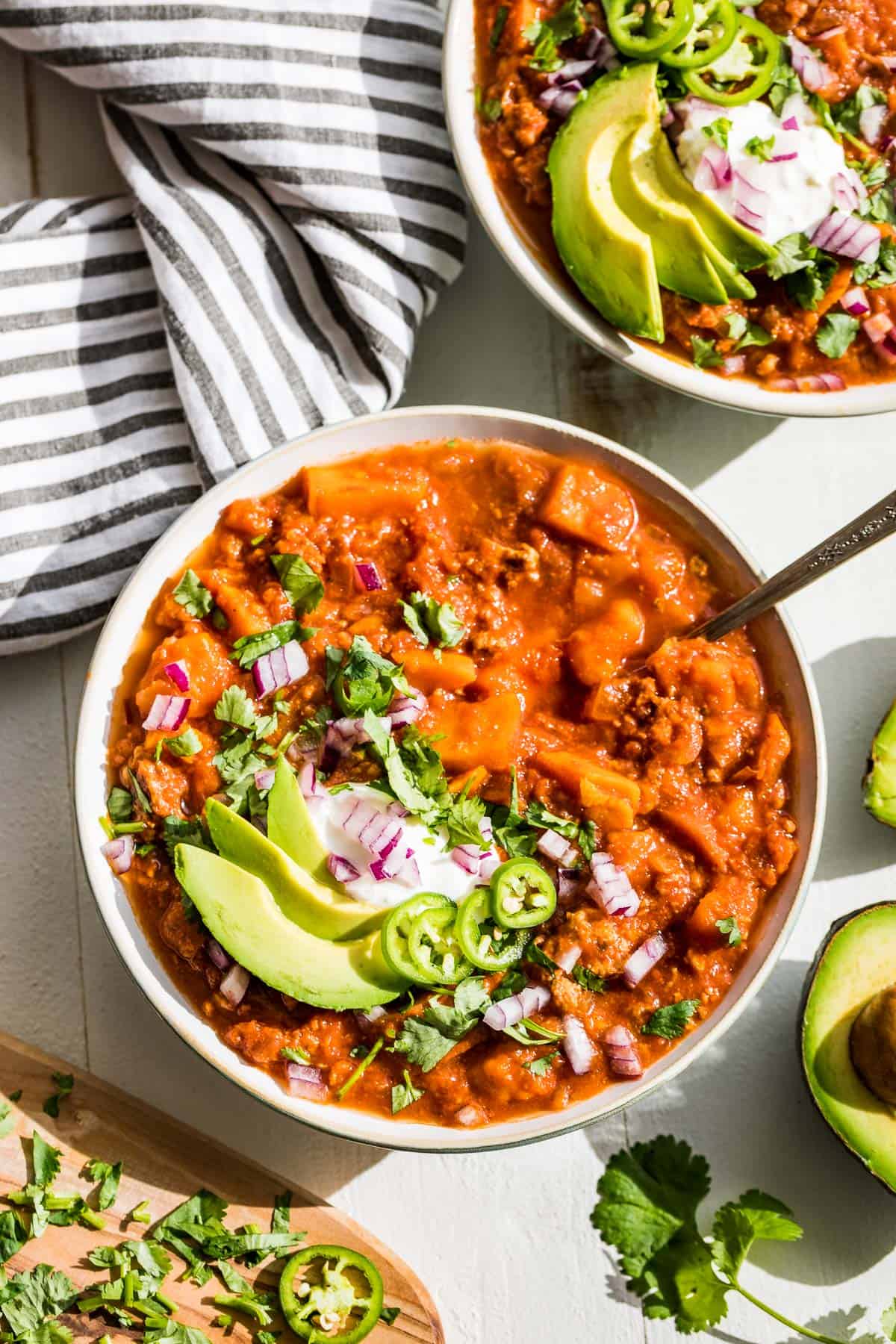 I really hated chili growing up. I mean we're talking so much dislike that I would gladly go without dinner if I could have. Whenever chili was on the menu, I would eat about 1/4 cup of chili with a big bowlful of toppings, (yay for toppings)!
It wasn't until I was older that I realized that it wasn't the chili so much as the kidney beans that I hated. And I'll admit I still don't like them despite my best efforts. Lately though, one of my friends has been making chili with sweet potatoes, and that got me thinking I should give chili another chance. This time around without any beans whatsoever.
So… that brings us up to the present, I've just had this chili 4 DAYS IN A ROW and I'm loving it. This is a definite success on the chili front! I'm head over heels for how the spicy meat pairs with the sweet potato. And we're also fans of how easy it is to make this slow cooker Whole30 chili as well.
And of course… there's nary a mealy/chalky kidney bean in sight. I've also added a few new toppings as an adult. And I must say that avocado, lime wedges, and cilantro are just the thing to take chili to the next level!
So that's the story of how I ended up loving chili. And maybe if you're not the hugest fan of chili, this might be the recipe that changes your mind. I even fed this to a family member who hates sweet potato and he ate several bowls!
Ingredients & Substitutions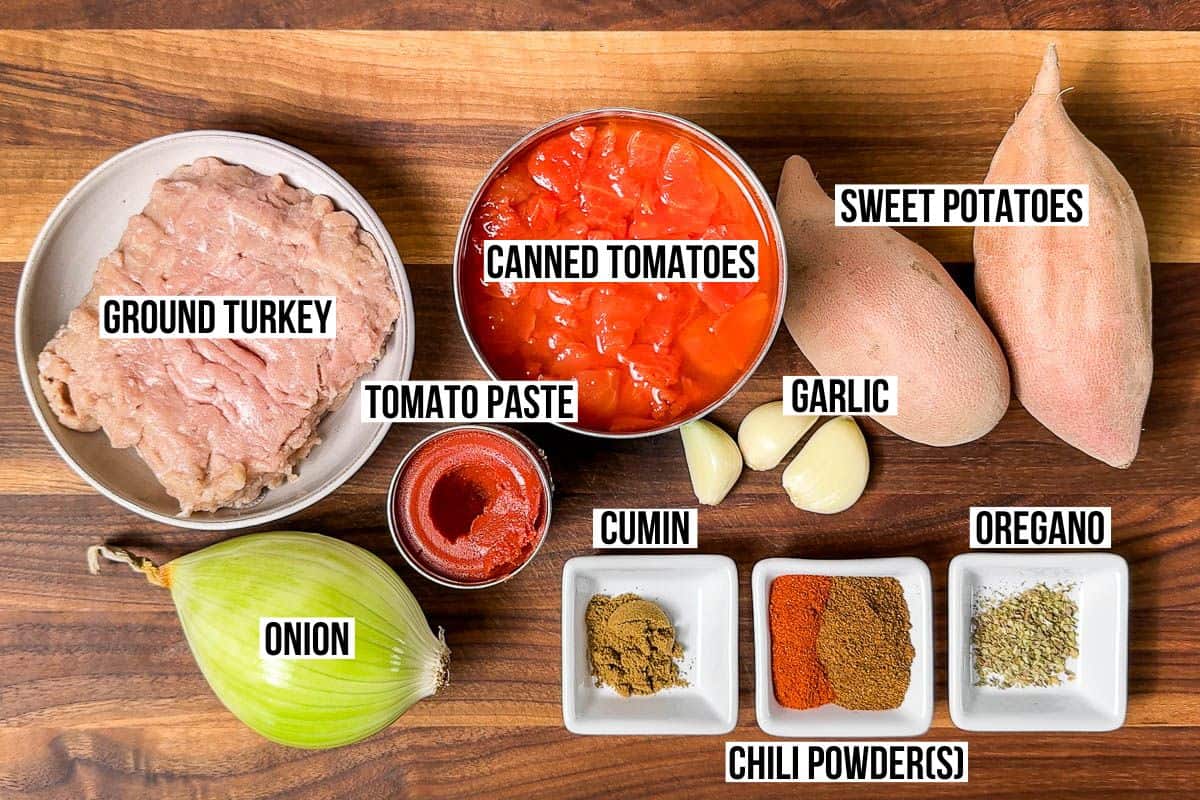 Ground turkey – other types of ground meat also work like lean ground beef and ground pork.
Onions & garlic – white onions and yellow onions both work in this recipe. And for the garlic, use a garlic press to speed up the prep time. I don't recommend jarred garlic.
Spices – I use a mix of ancho chili powder and chili powder for greater depth of flavor, but just chili powder is also listed in the recipe as an option. From there a bit of cumin and oregano rounds out the chili flavor we all know and love.
Sweet potatoes – are what I use in place of beans for this chili and their sweet flavor is great with chili spices. There is also an option below to add black beans as well if desired.
Tomatoes – I use a mix of canned tomatoes and tomato paste for the best tomato flavor. I have tried tomato sauce and it's just not as good so I don't recommend it.
How to make this recipe step by step
Step 1: Start by dicing up the onion.
One key to this recipe is to cut the onions into a small dice, otherwise they'll be a tad crunchy.
Step 2: Trim the sweet potatoes and peel them if desired.
Then cut them into large (but still bite-sized) chunks.
Step 3: Next, we'll mix together the ground turkey with the spices and diced onions.
Make sure to break up the ground turkey well as you mix.
Step 4: Place the sweet potatoes over the top of the turkey mixture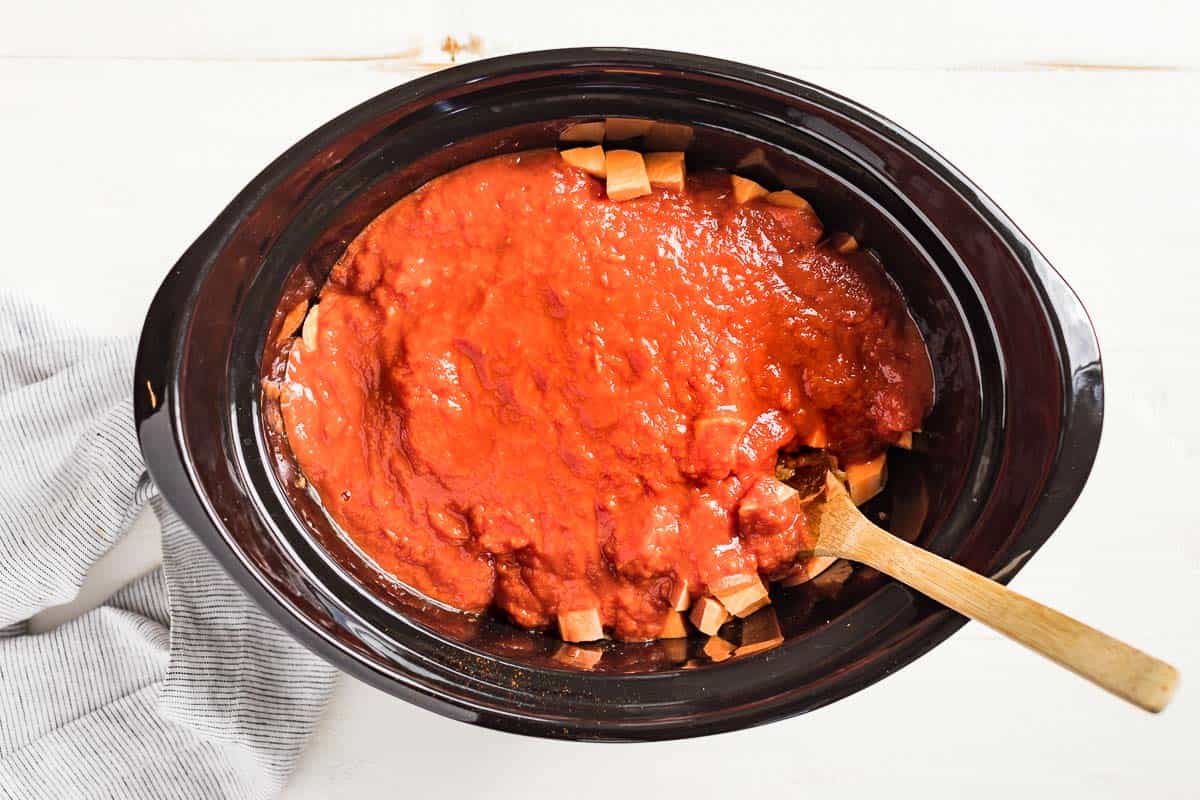 Step 5:Place the whole tomatoes and tomato paste in a blender and blend until combined but still chunky.
Pour the tomato mixture over the top of the sweet potatoes.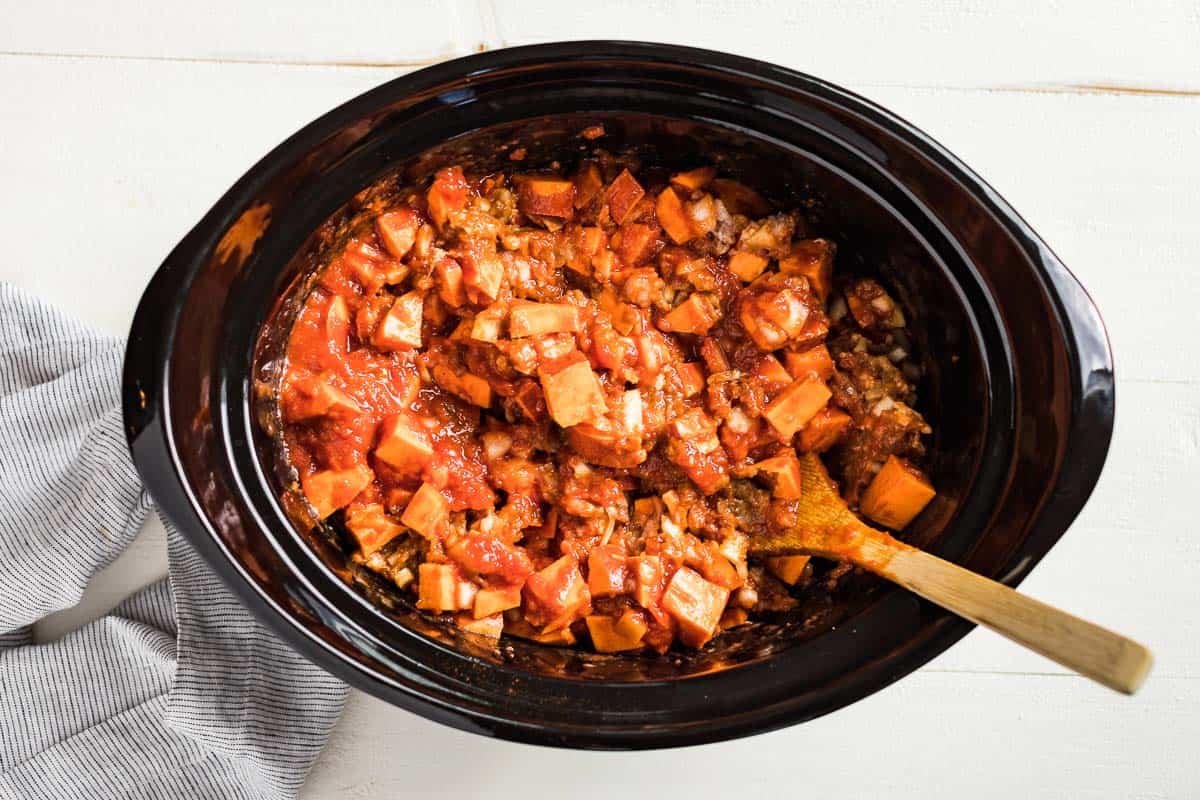 Step 6: Mix to combine and turn the crockpot to low. Cook for 8-10 hours, or until the sweet potatoes are tender. Taste the chili and add salt to your taste
Ways to serve this Slow Cooker Whole30 Chili
Enjoy this chili with Whole30 toppings: avocado, red onion, green onion, cilantro, jalapeno, and creamy Cilantro Lime Dressing, or make your own Whole30 sour cream.
If you're not doing a Whole30, try this chili with sour cream and grated cheddar cheese or pepperjack cheese.
FAQ's
What is the secret to making good chili?
My secret for the best-tasting chili is to use a good amount of spices for full flavor but still balanced and not overwhelming with chili powder.
Can I use beans in this chili?
Yes, you can add beans to this chili, it isn't Whole30 but I hope you customize this to your taste. Beans are a budget-friendly option, and my favorite is to add a can of drained and rinsed black beans to the slow cooker. The black beans are perfect with the sweet potato.
Storing leftovers
To store – store any leftover chili in an airtight container in the refrigerator for 3-4 days.
Make ahead – this chili gets better as it sits, so feel free to make it ahead and reheat as desired.
Reheating – add leftovers to a saucepan and heat over medium-high heat stirring often until heated.
To freeze – this chili freezes fairly well in an airtight container for up to 3 months. Thaw in the fridge overnight before reheating. The sweet potatoes will become much softer after freezing.
Tips & Tricks
Everyone's slow cooker seems to work at different speeds. Mine took 10 hours to cook my sweet potatoes all the way through. I would recommend trying this or any slow cooker recipe the first time on a day when you're home. That way, you'll be around when it's ready and you can add your own notes about cooking time to the recipe.
The whole tomatoes, combined with the tomato paste really adds to the chili experience. I added the tomato paste in an effort to make a fuller sauce, not quite so watery. It worked wonders for the texture, adds a natural sweetness that cuts the acidity, and adds depth to the sauce. This also makes for a super thick chili. If it's too thick for your taste, feel free to add some broth at the end of the cooking time.
The recipe calls for ancho chili powder which is really tasty, (try it as a rub on grilled chicken or fish). If you can't find it, don't worry, you can use regular chili powder with great results!
Dietary Options & Substitutions
Dairy-free – this recipe is dairy-free, but you can add dairy-free sour cream and cheese if desired.
Paleo – choose from the Whole30 topping options in the recipe. Make your own paleo sour cream, or drizzle this chili with my creamy Cilantro Lime Dressing (it's also Whole30).
Best Toppings for this Slow Cooker Chili
Diced red onion or sliced green onion.
Avocado which is probably my favorite!
Chopped fresh cilantro.
Sour cream/dairy-free/Whole30 alternative.
My creamy Cilantro Lime Dressing is my favorite dairy-free & Whole30 topping.
Sliced jalapenos for a touch of spice.
Grated cheddar cheese if you can have dairy.
More Slow Cooker Dinner Recipe Inspiration
I really hope you enjoy this easy slow cooker Whole30 Chili! If you do get a chance to make this recipe, I'd love to hear from you in the comments.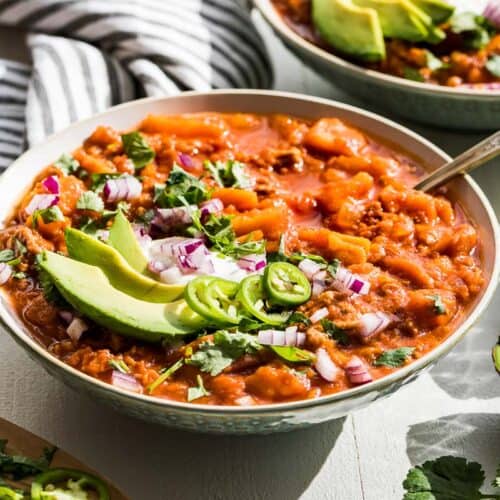 Slow Cooker Whole30 Chili
---
INGREDIENTS
1

pound

ground turkey

-

ground beef, chicken, or pork

1

medium

onion

-

about 12 ounces, diced very small

3

cloves

garlic

-

minced

1

tbsp

chili powder

1

tbsp

ancho chili powder

-

(or 1 additional Tablespoon chili powder)

1

tsp

ground cumin

1/2

tsp

dried oregano leaves

2

tsp

sea salt

-

or to your taste see notes

2 1/2

pounds

sweet potatoes

28

ounces

canned whole tomatoes

-

or diced tomatoes, try fire roasted tomatoes for a variation

6

ounces

canned tomato paste
Toppings:
lime wedges, cilantro, sliced green onion, avocado

-

optional: Whole30 sour cream/sour cream, grated cheddar cheese.
INSTRUCTIONS
Place the ground turkey, onions, garlic, spices, and sea salt in a 4-quart crockpot. Use a wooden spoon to break up the turkey and mix everything together.

Cut the ends off the sweet potatoes and trim off any unsightly bits, (peel if desired). Then, cut them into quarters lengthwise. Cut the quarters crosswise into chunks about 1 1/2 inches in size.

Place the sweet potatoes over the top of the turkey mixture.

Place the whole tomatoes and tomato paste in a blender and blend until combined but still chunky. Pour the tomato mixture over the top of the sweet potatoes and turn the crockpot to low.

Cook for 8-10 hours, or until the sweet potatoes are tender. Taste the chili and add salt to your taste.

Serve with any and all toppings you desire.
Bonus Step
If you made this recipe, please leave a rating/comment. Ratings really help us continue to bring you high-quality free recipes. Rate This Recipe!
NOTES
Start with less salt during the cooking time, then test and season to your taste when the chili is done.
The nutrition facts are calculated without the toppings.
nutrition facts
Calories:
312
kcal
|
Carbohydrates:
52
g
|
Protein:
24
g
|
Fat:
2
g
|
Saturated Fat:
1
g
|
Polyunsaturated Fat:
1
g
|
Monounsaturated Fat:
1
g
|
Trans Fat:
0.01
g
|
Cholesterol:
42
mg
|
Sodium:
1376
mg
|
Potassium:
1489
mg
|
Fiber:
10
g
|
Sugar:
16
g
|
Vitamin A:
28217
IU
|
Vitamin C:
25
mg
|
Calcium:
132
mg
|
Iron:
5
mg
This recipe was originally published in 2018 and updated in 2020 & 2023 with new photos and more tips and information.