This Slow Cooker Pot Roast is the ultimate family dinner recipe, especially for the weekend when you have more time to linger over dinner. With just a few minutes of prep work, the slow cooker does the rest, filling your house with tasty aromas all day. It's gluten-free, dairy-free, Whole30, and paleo as well. It's a classic combo that's the perfect comfort food for a Sunday supper with friends and family gathering around the table.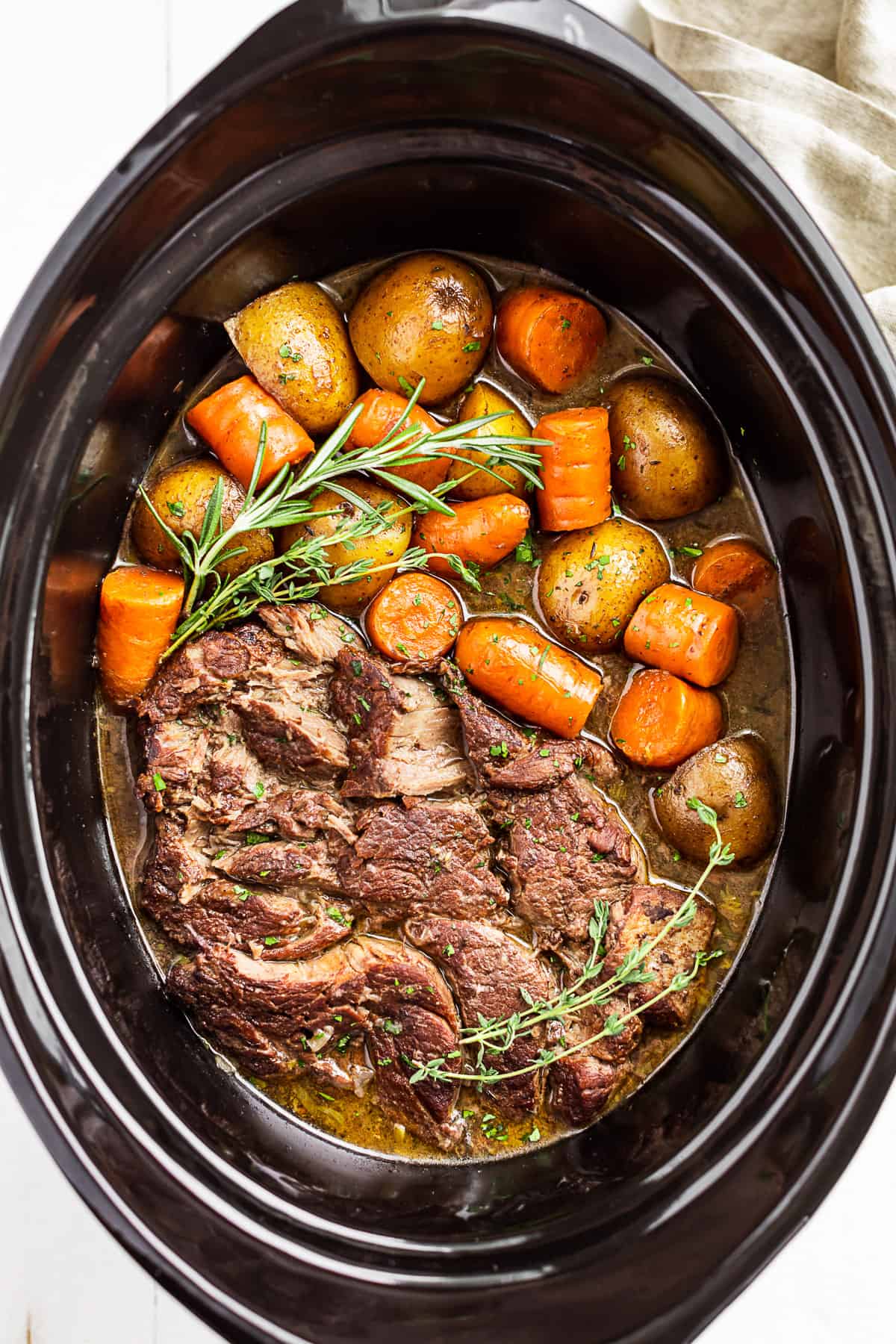 A Sunday roast was on repeat in our house growing up. And you know what? I don't remember anyone ever complaining about having roast again for dinner! My mom would rotate between beef and pork roast, but it was always served with potatoes and carrots from our garden.
Fast forward to now and I'm still making Sunday roasts, but with potatoes and carrots from a local farm. We don't currently have garden space, but once you taste fresh veggies, you'll go out of your way to find them. In fact, this recipe is even tastier if you can find locally-grown veggies in your area! But don't worry there are still plenty of flavors to go around if you can't.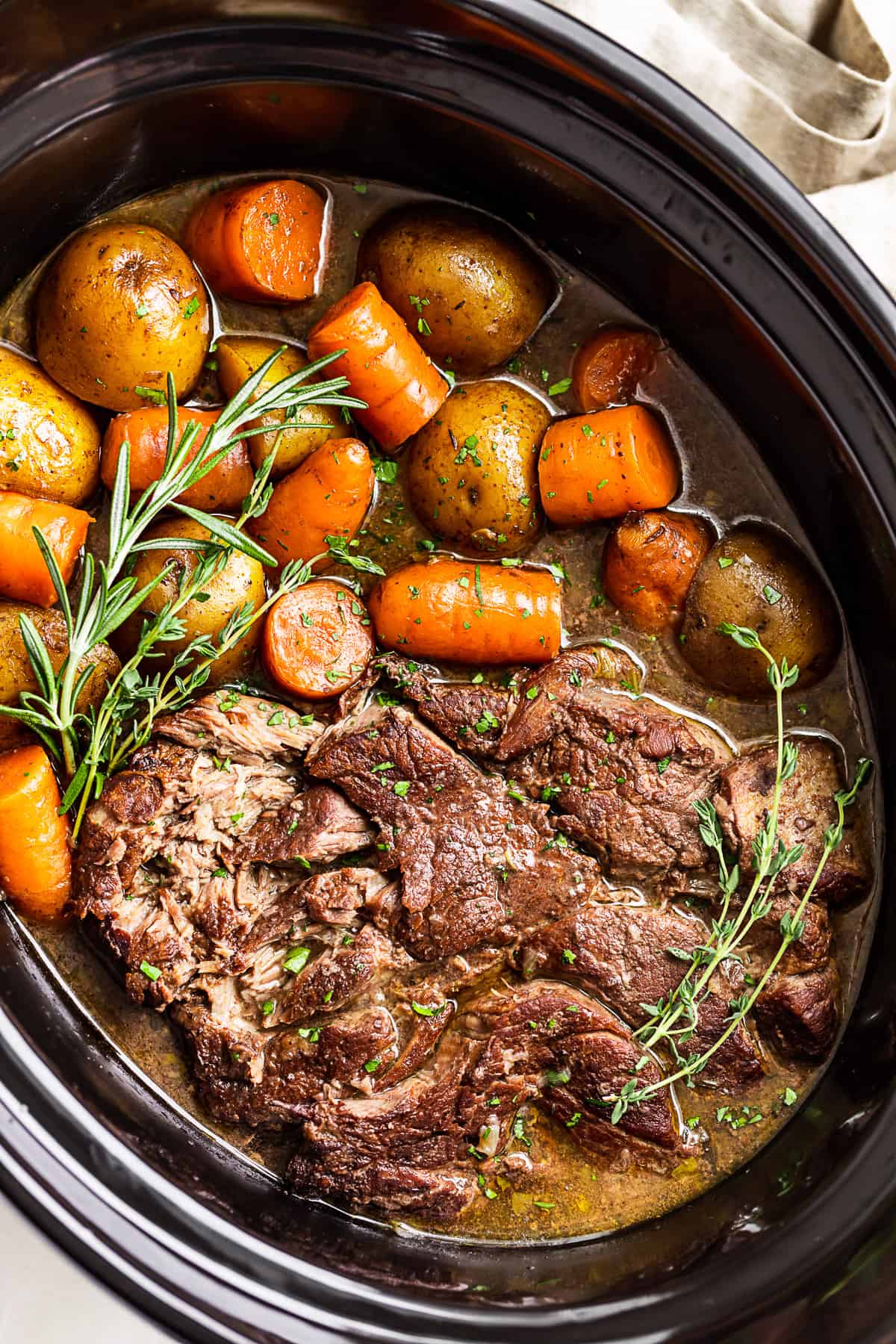 And speaking of flavor, you'll see I love to use fresh herbs here, but they're not totally necessary. My mom often made roasts without any seasoning other than salt and pepper. And sometimes she'd use a bit of Italian seasoning or Herbs de Provence. Either option is very affordable and super tasty.
You'll also find my option to use red wine for a 'fancy' pot roast. But using broth in place of the wine will give you wonderful results with a 'down home' flavor. You can't go wrong with either option, and we go back and forth between the 2 variations often!
Watch How to Make Slow Cooker Pot Roast
Ingredients & Substitutions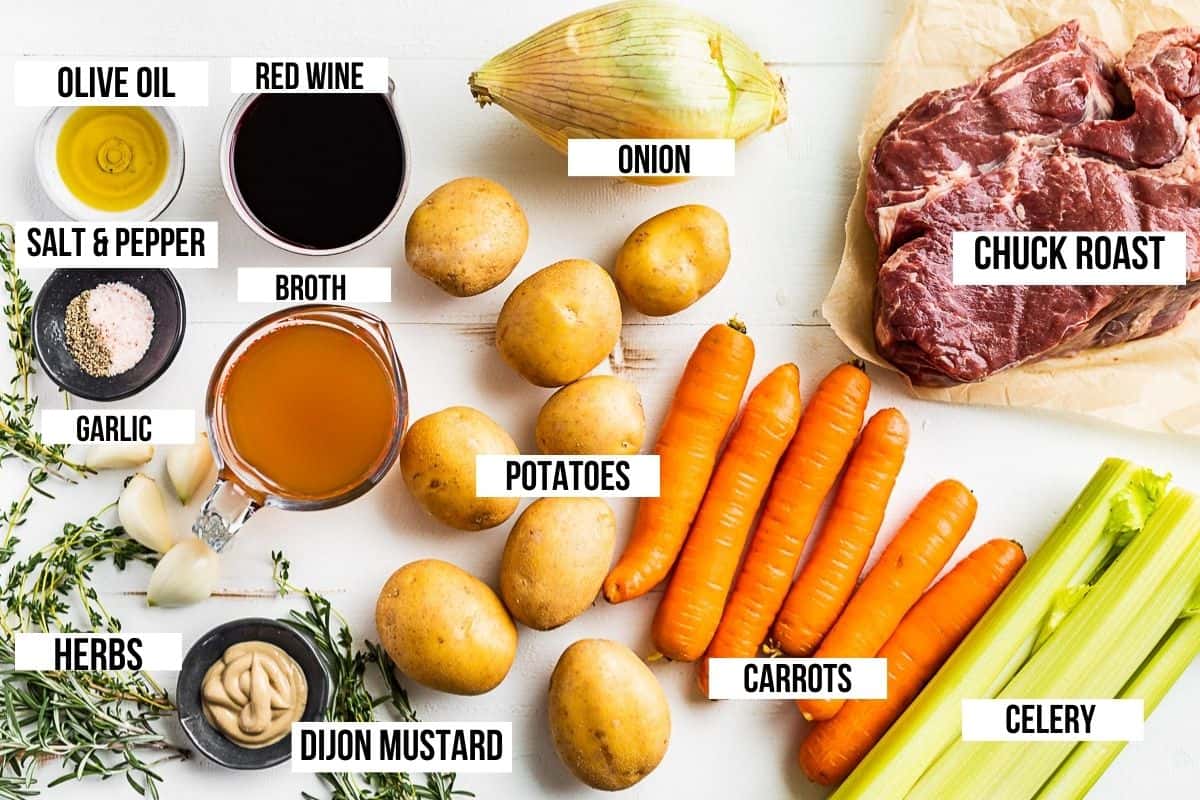 Beef roast – a chuck roast is my go-to for the best cut of meat for a pot roast meal because it has just the right amount of marbling to produce super tender cooked meat.
Onion & garlic – together add so much flavor here, especially after they get a quick sauté in the pan you sear the roast.
Potatoes, carrots, & celery – both potatoes and carrots are classics with pot roast, but I also like to add thinly sliced celery. It simply melts into the broth as it cooks and adds flavor. I prefer the nice texture of Yukon golds or red potatoes with pot roast, but the slightly drier Russet potatoes also work.
Dijon mustard – adds some depth of flavor to this roast, but can be omitted.
Broth & optional red wine – as I mentioned we sometimes add red wine for a 'fancy' roast, but you can also use broth for a very tasty more down-home flavor.
Herbs – I like to add sprigs of rosemary and thyme, or just one if I don't have much around. I also use Italian seasoning or Herbs d' Provence if I don't have anything fresh in the house. And for a plain old-fashioned flavor, you can omit them altogether for classic 'meat and potatoes'.
How to make this recipe step by step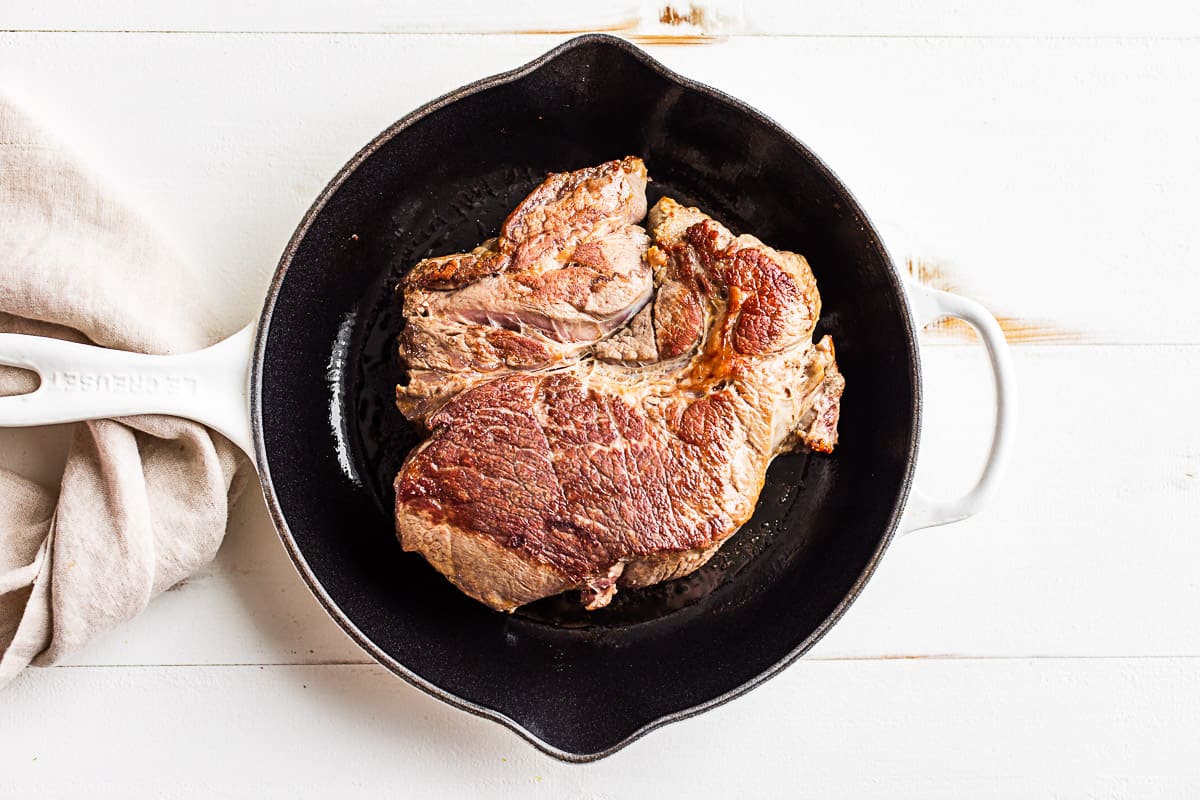 Step 1: Start by searing the roast to brown both sides. I find a cast iron skillet works really well for this!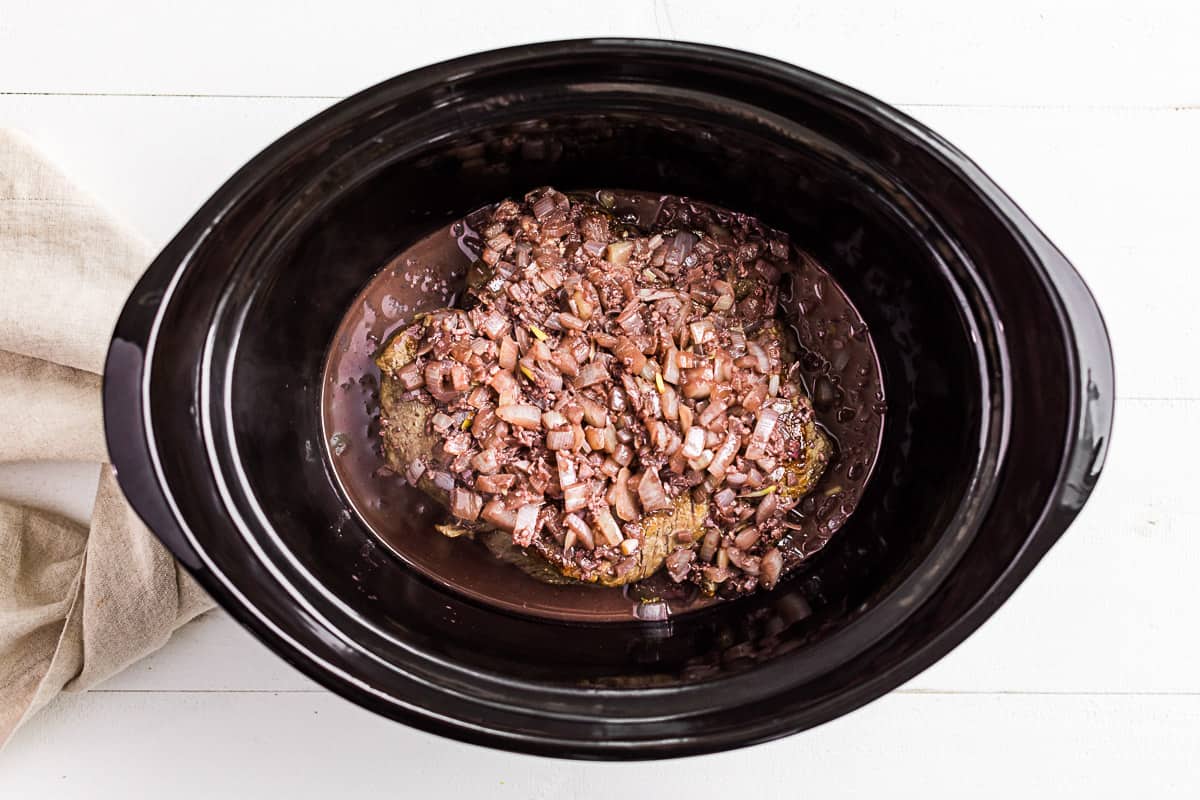 Step 2: Add the roast to the slow cooker, then briefly sauté the onion and garlic before adding the wine/broth to scrape up the browned bits from the bottom of the pan. Pour this mixture over the top of the roast in the slow cooker.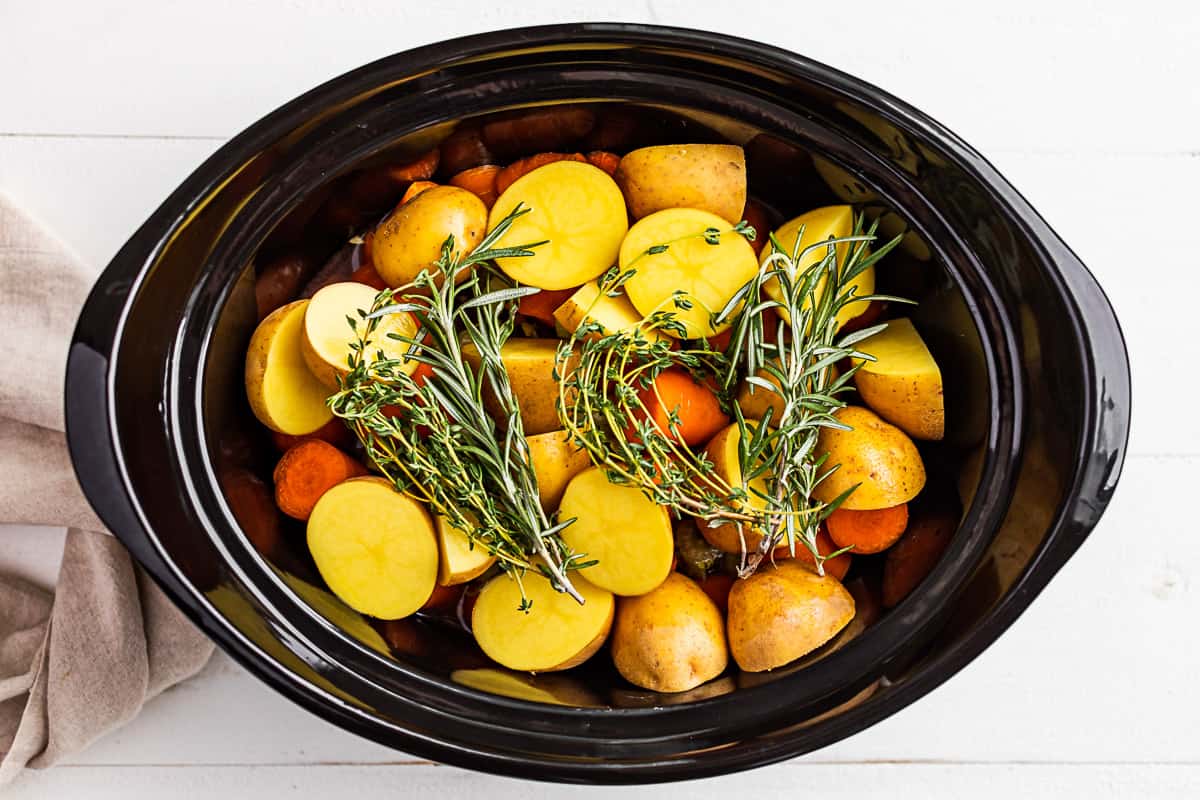 Step 3: Next add the carrots and potatoes over the top of the roast and place the fresh herb sprigs on top. If you're using the dried herbs, I like to add them in with the wine/broth mixture in step 2.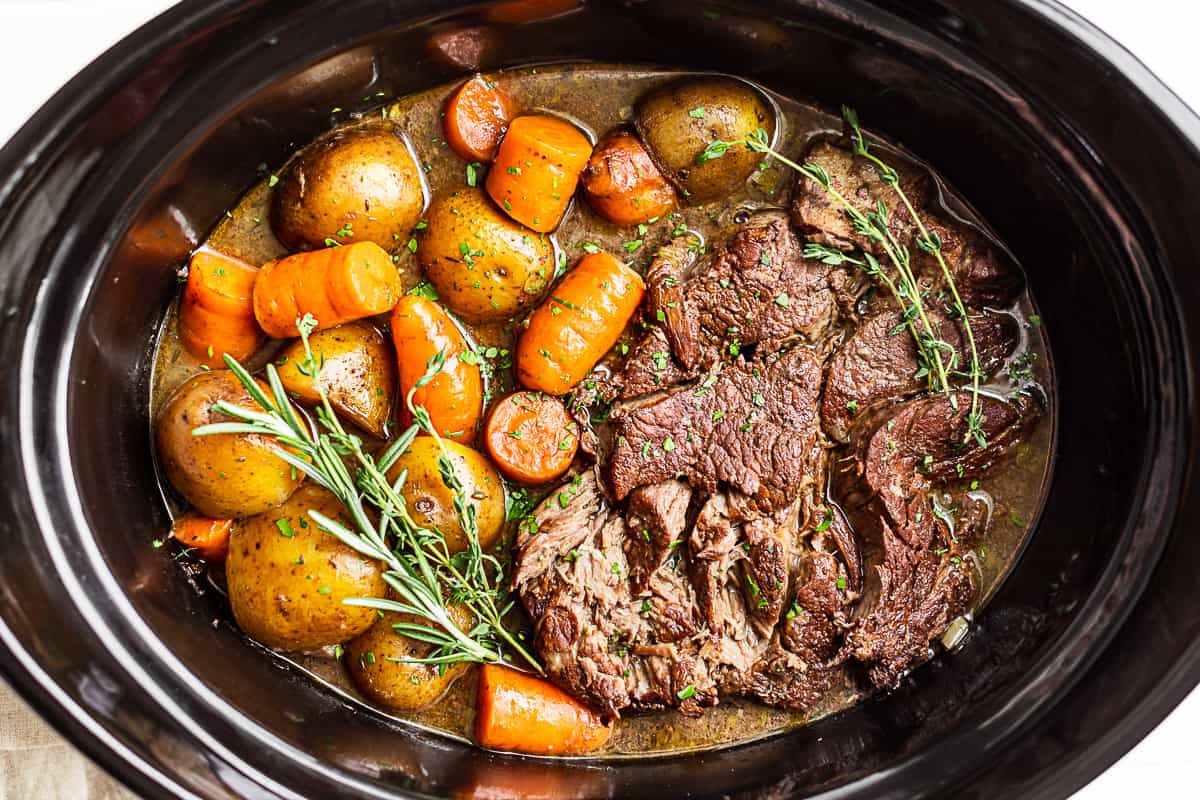 Step 4: Then set the slow cooker time for 8 hours on low, and enjoy your day as your dinner cooks! When the roast is tender, serve it from the slow cooker bowl, or arrange it on a serving platter.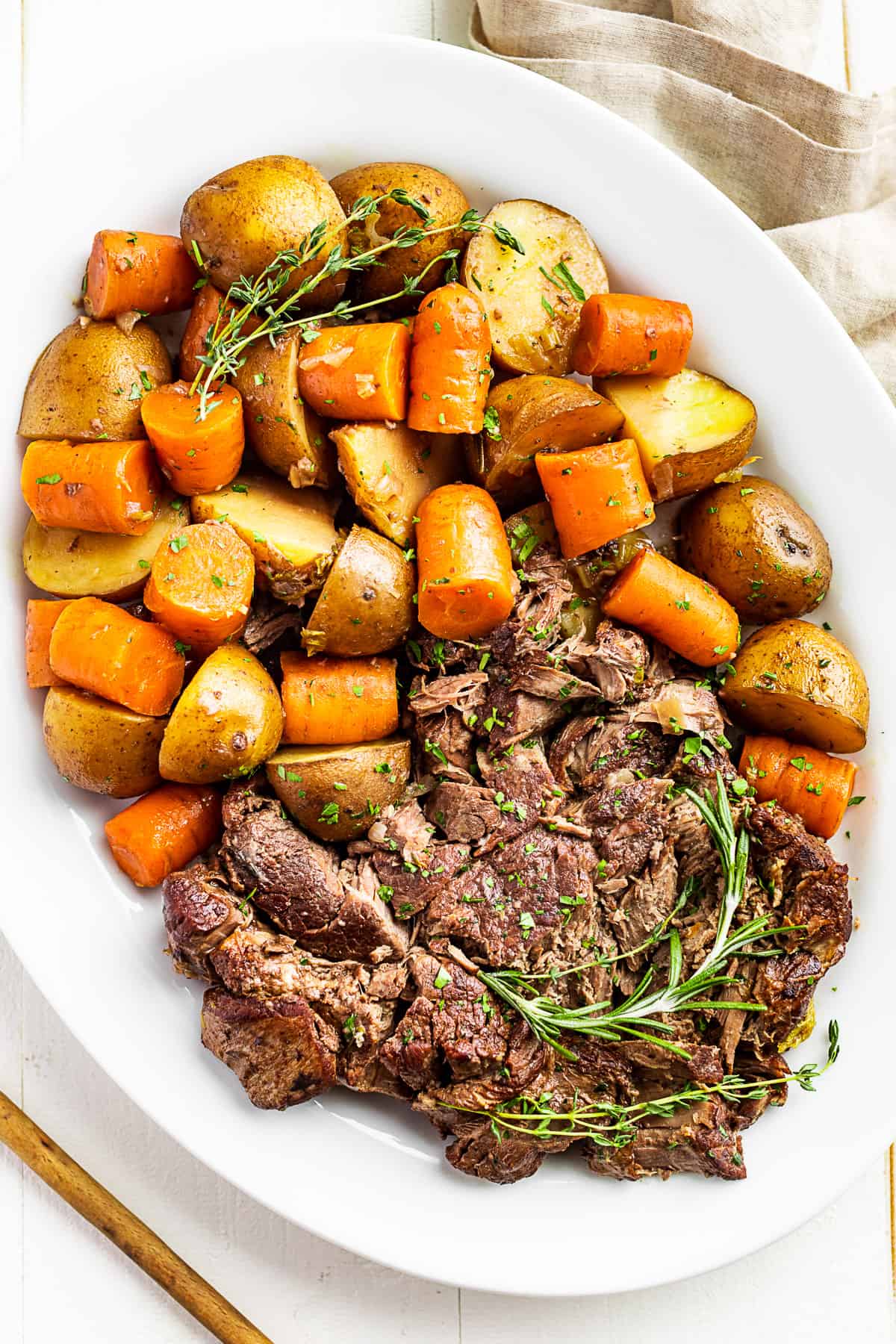 FAQ's
Should pot roast be covered in liquid in the slow cooker?
No, you want to add some liquid, but there's no need to have the roast submerged in a slow cooker. Follow the amount of liquid in the recipe and pour it over the top of the roast. This will give you plenty of liquid to tenderize the roast as it cooks, with enough leftovers to make gravy.
Do you have to brown the roast before putting it into the slow cooker?
No, but it really does add a lot of flavor to the meat and the rest of the ingredients. Taking a few minutes to sear the roast is definitely worth it even if it means wiping up the stove afterward.
Is it better to cook a roast on HIGH or LOW in the slow cooker?
Low and slow is the best for a chuck roast because it will give you the most tender roast. I have cooked chuck roasts on high and they're still good, but low is always best.
Should meat or vegetables go in the slow cooker first?
Put the roast in first with the vegetables on top, this allows the roast to become tender faster and the vegetables won't be mushy this way.
Storing leftovers
To store – place any leftovers into a sealed container and refrigerate for 4-5 days.
Reheat – add any leftovers you want to heat up to a skillet or small pot. Cover and heat over a low simmer until heated through, adding a bit of water as necessary. You can also reheat it in the microwave.
Freeze – I don't recommend freezing the potatoes because they thaw mushy/grainy, but the beef and carrots can be frozen in an airtight container for up to 3 months. The carrots will be a bit softer when thawed. To thaw, place the container in the fridge overnight before reheating.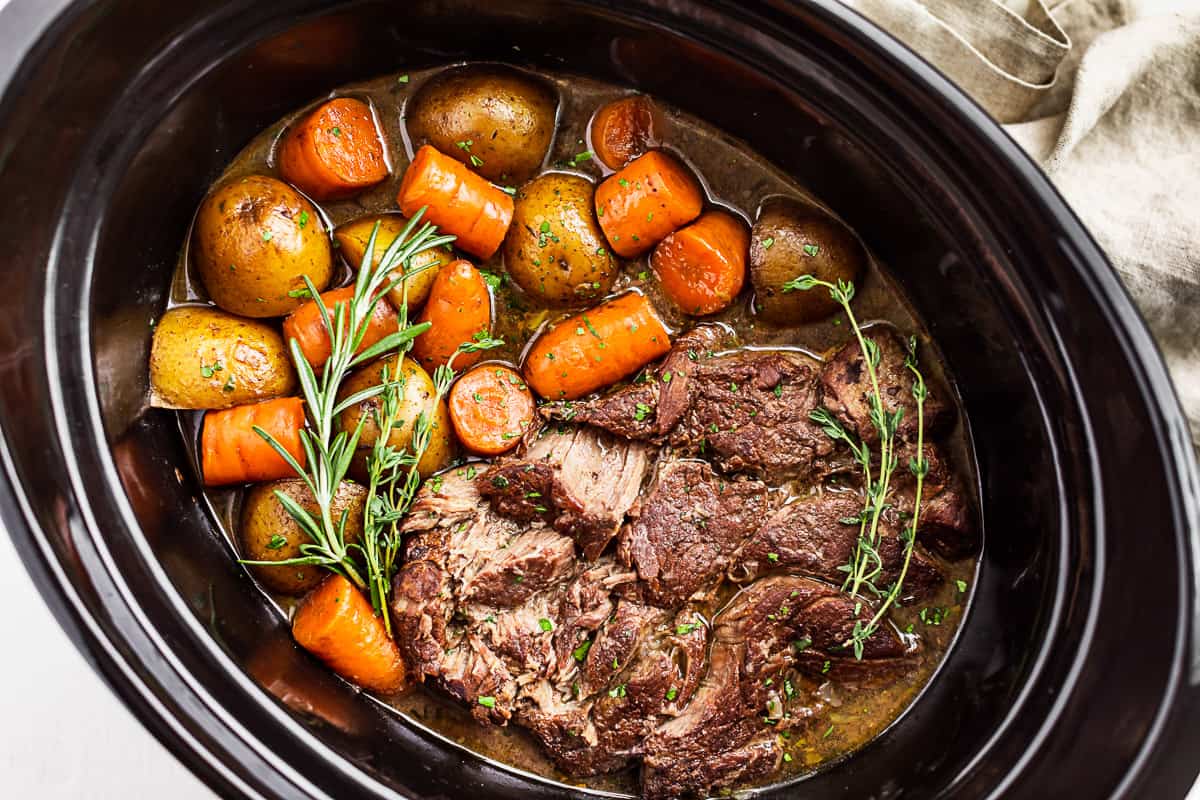 Tips & Tricks
You can use either fresh herbs or dried herbs, both are very tasty. However, we're extra partial to fresh sprigs of rosemary because it's just so good!
Don't skip searing the roast before adding it to the slow cooker because it adds so much flavor. It's still good if you're in a hurry and skip the searing step, but it's worth taking the extra few minutes to sear the roast.
Try this recipe using a pork shoulder roast in place of the beef chuck roast, so good!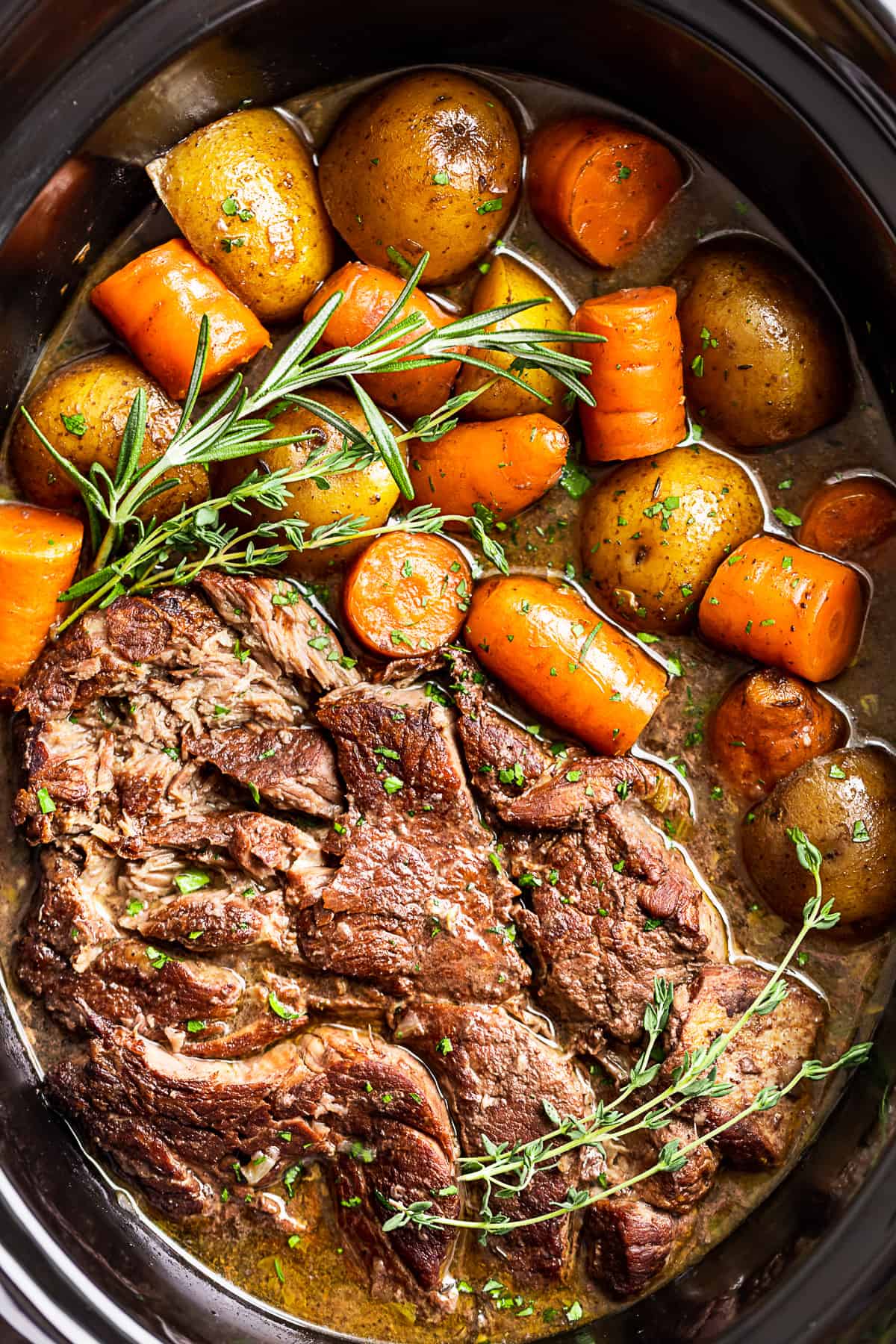 More 'Sunday Supper' Recipe inspiration
I really hope you enjoy this Slow Cooker Pot Roast! For an Instant Pot option, try my Balsamic Pepperoncini Pot Roast, or this Slow Cooker Pork Roast recipe as well. And you can head to my slow cooker recipes page for more ideas too. If you do get a chance to make this recipe or have any questions, I'd love to hear from you in the comments.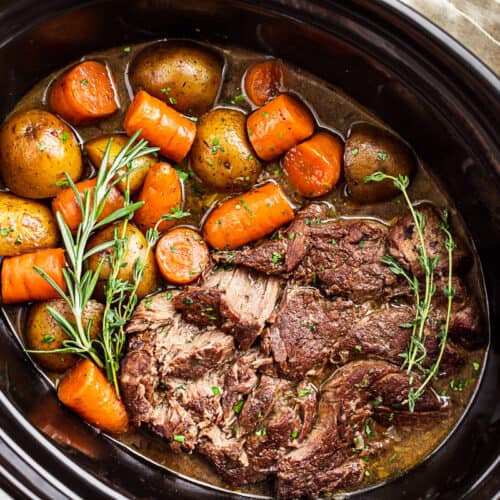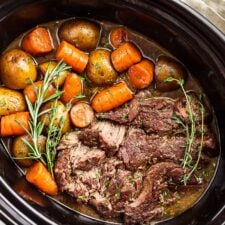 INGREDIENTS
1- 2

tablespoons

olive oil

-

or avocado oil

3

pound

chuck roast

1

onion

-

1/4″ dice, 3 cups

4

cloves

garlic

-

minced

1

cup

beef broth

1

cup

red wine

-

or 1 additional cup beef broth

1

tablespoon

Dijon mustard

2

stalks celery

-

thinly sliced

2

pounds

Yukon gold potatoes

-

(4-5 medium) cut into 3-4″ chunks

1.5

pounds

carrots

-

5-6, cut into 3″ lengths

2

sprigs fresh rosemary & 2-3 sprigs of fresh thyme

-

see notes

1/2

teaspoon

sea salt

-

or to taste, see notes

1/2

teaspoon

ground black pepper
INSTRUCTIONS
Place a large 9-10″ skillet over medium high heat. When the pan is hot, add 1 tablespoon of the oil and carefully add the roast to the pan. Cook until the roast is well browned, about 4-5 minutes, the turn the roast over and sear the other side.

Remove the seared roast from the skillet and place it into the slow cooker bowl. Add the additional tablespoon of oil if needed and briefly sauté the onions and garlic, 3-4 minutes, before add the wine or 1 cup of broth and the Dijon mustard to deglaze the pan.

Make sure to scrape up all the browned bits, then pour the onion mixture over the top of the roast. Next add the remaining cup of beef broth, then the thinly sliced celery.

Add the potatoes and carrots on top of the celery, then place the herb sprigs over the potatoes. Sprinkle the sea salt and pepper over the top.

Place the slow cooker lid on and set the timer for 8 hours on low, or until fall apart tender. You can also cook this on high for 4-5 hours, but low heat will give you a more tender roast.

When the cooking time is up, remove and discard the herb sprigs, season to taste with sea salt and pepper if needed and serve. You can serve this straight from the slow cooker bowl or arrange it on a serving dish.
Bonus Step
If you made this recipe, please leave a rating/comment. Ratings really help us continue to bring you high-quality free recipes. Rate This Recipe!
NOTES
You can also use 2 teaspoons dried herbs like Italian seasoning or Herbs d' Provence.
The amount of sea salt needed will depend a lot on how salty your beef broth is. You can always add more at the end of the cooking time if needed.
The long cook time for 8 hours on low will give you the most tender texture.
For a quick gluten free gravy, whisk together a couple tablespoons cornstarch or tapioca starch with water. Then slowly add it as needed to the strained cooking liquid and bring to a boil to thicken to your liking. Season to taste with sea salt and pepper, and serve it with the roast.
nutrition facts
Calories:
682
kcal
|
Carbohydrates:
41
g
|
Protein:
49
g
|
Fat:
34
g
|
Saturated Fat:
12
g
|
Polyunsaturated Fat:
3
g
|
Monounsaturated Fat:
18
g
|
Trans Fat:
2
g
|
Cholesterol:
156
mg
|
Sodium:
570
mg
|
Potassium:
1928
mg
|
Fiber:
7
g
|
Sugar:
8
g
|
Vitamin A:
18988
IU
|
Vitamin C:
39
mg
|
Calcium:
109
mg
|
Iron:
7
mg