Savory aromas fill your house while this Slow Cooker Pork Roast is cooking. It's a simple Sunday dinner at its finest, and perfect for gathering everyone around the table. It's naturally gluten-free, dairy-free, and full of flavor. The pork shoulder roast cooks surrounded by carrots and potatoes making this a one-pot dinner. Herbs add flavor and dimension to this down-home classic, making it a recipe you'll come back to over and over again.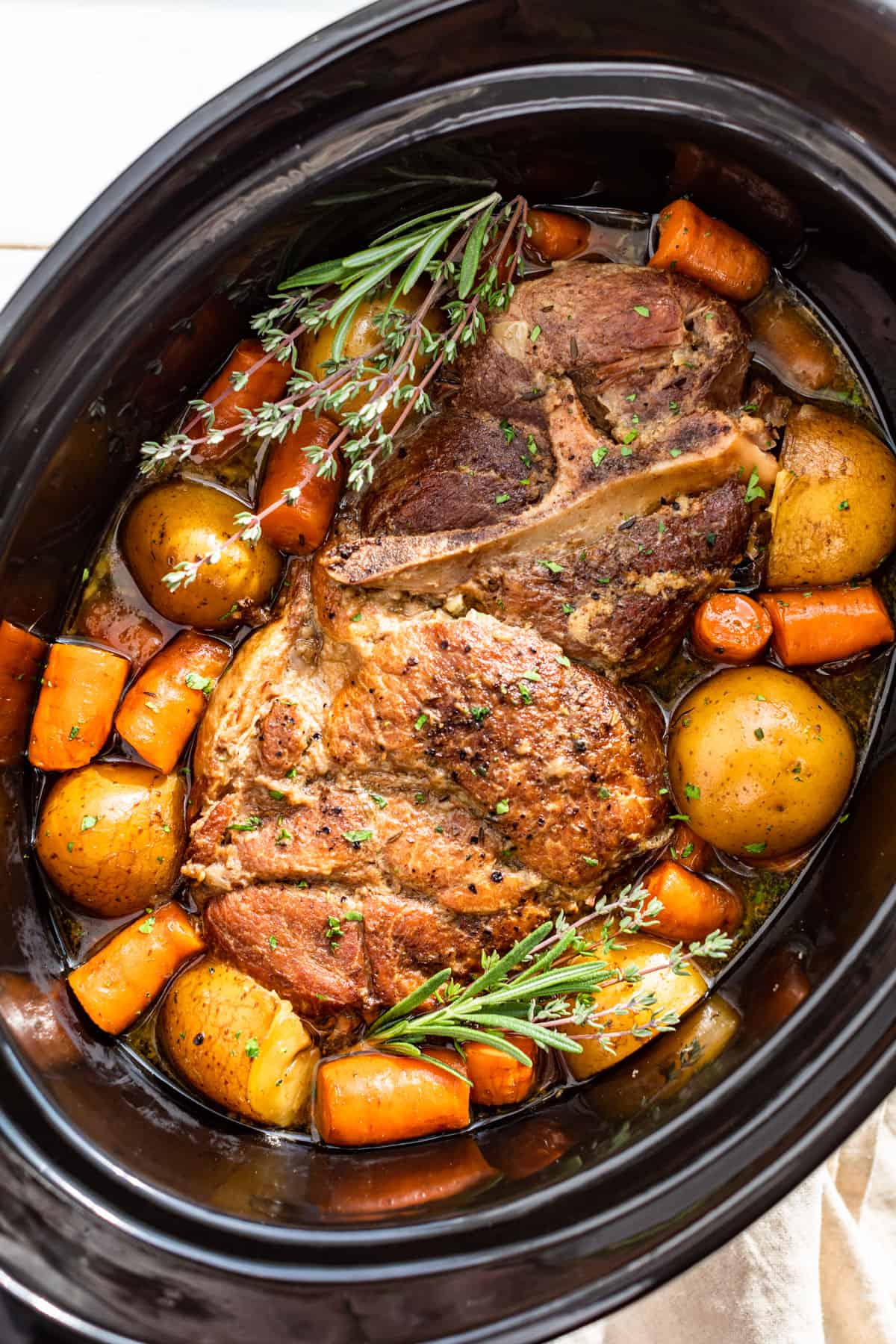 Pork roast was often on the menu on Sundays when I was growing up. My mom would put together a pork roast along with some potatoes and carrots and pop it in the oven until tender.
So to this day, pork roast is just a family dinner kind of meal to me. Although the leftovers are so good, I often make this for just the two of us so that we have lots for lunches.
My mom used to time bake her roasts in the oven, until the oven wasn't all that trustworthy anymore, (then someone had to be home while it was cooking). So I've adapted her way of making pork roast to use the slow cooker. This way you can set it to cook, and go about your day!
The slow cooker cooks this tougher cut of meat low and slow all day until it's completely fall-apart tender, and so juicy. This slow cooker pork roast recipe is sure to become one of your Sunday dinner favorites too.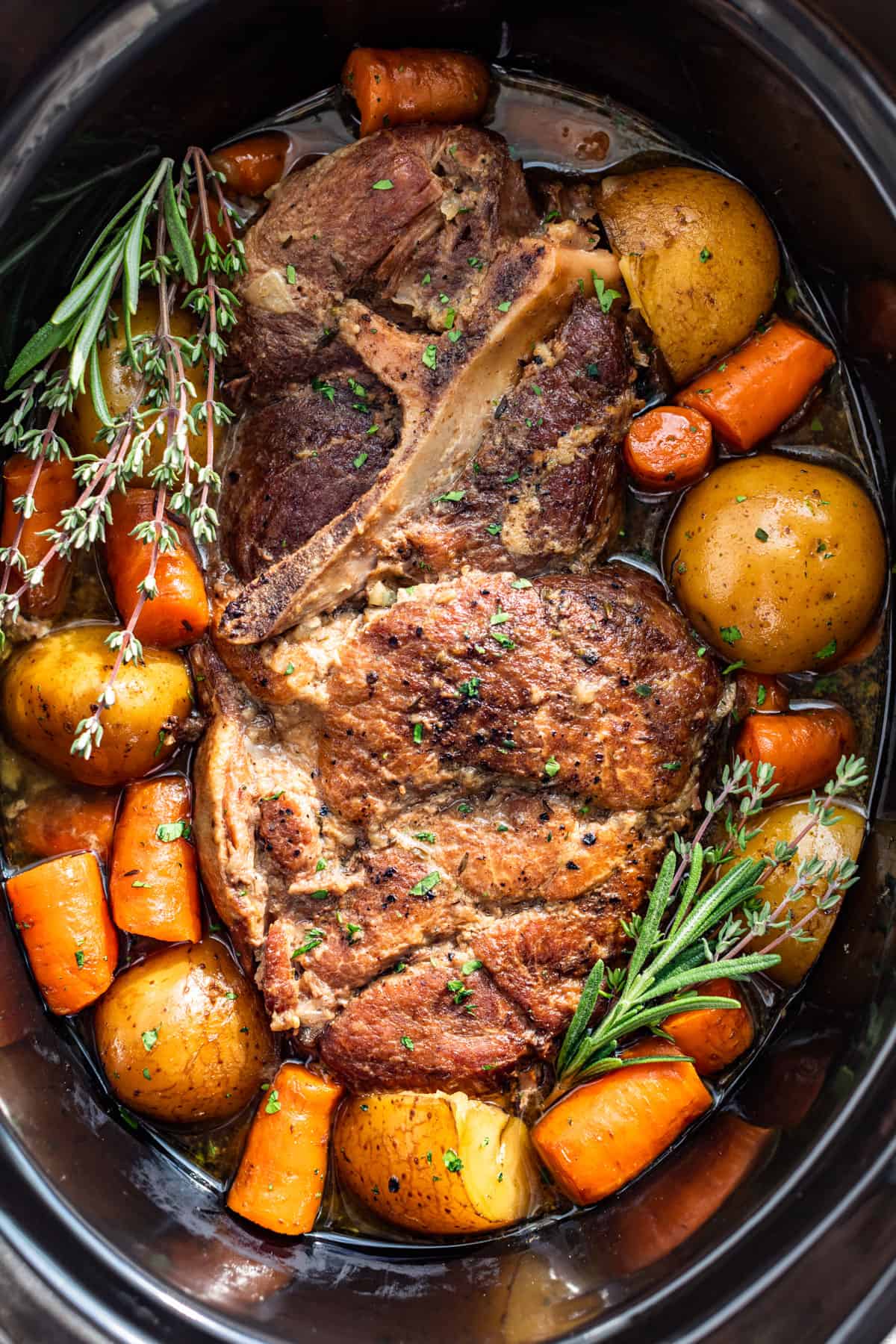 Watch how to make this Slow Cooker Pork Roast
Ingredients & Substitutions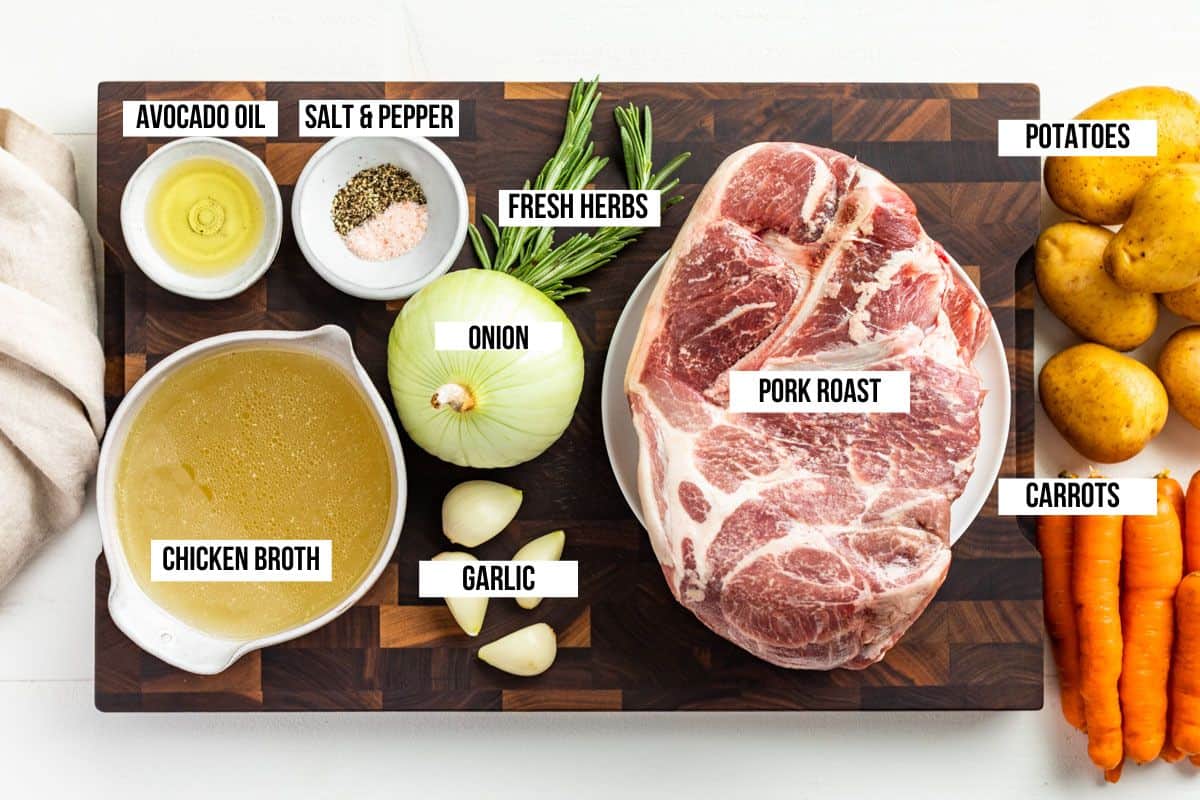 Pork roast – you want to look for a pork shoulder roast. This is different from a pork butt which has more marbling in it. Pork shoulder is a tougher cut with just the right amount of marbling to cook into a super tender and still juicy roast. You don't want a lean/tender cut here like pork loin, it would be incredibly dry. I like to use a pork shoulder with the bone in, but boneless pork shoulder will work here as well, it will just take less time to cook.
Onion & garlic – add lots of savory flavor to the mix as this roast cooks.
Fresh herbs – I like to use a mix of rosemary, sage, and thyme when I have them all growing in my herb garden. But you can use just 1 herb here as well. You'll also find my notes on how to use dried herbs in this pork roast as well. Italian seasoning and Herbs de Provence both work well.
Chicken broth – keeps everything juicy while it cooks. I like to use low-sodium chicken broth and add salt to taste.
Potatoes & carrots – make this roast a one-pot meal. The potatoes are cut into larger chunks along with the carrots so they don't overcook.
How to make this recipe step by step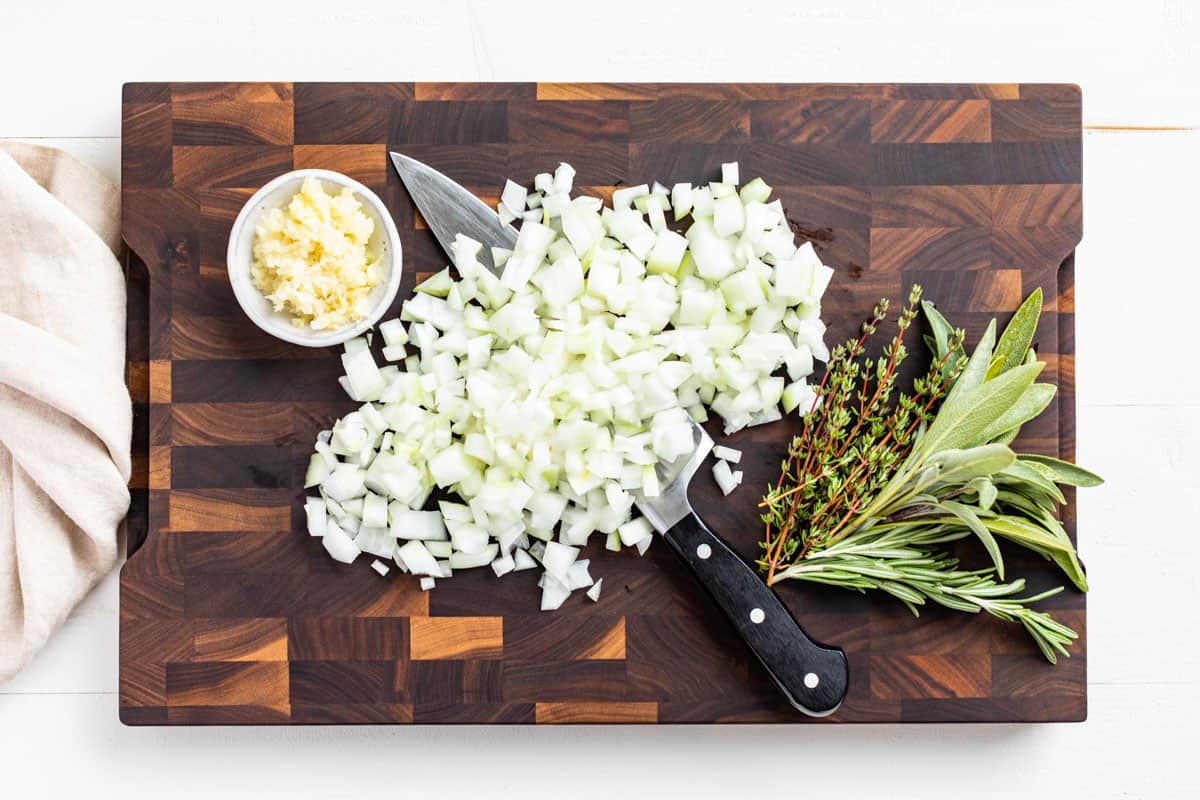 Step 1: Start by dicing the onion and mincing the garlic.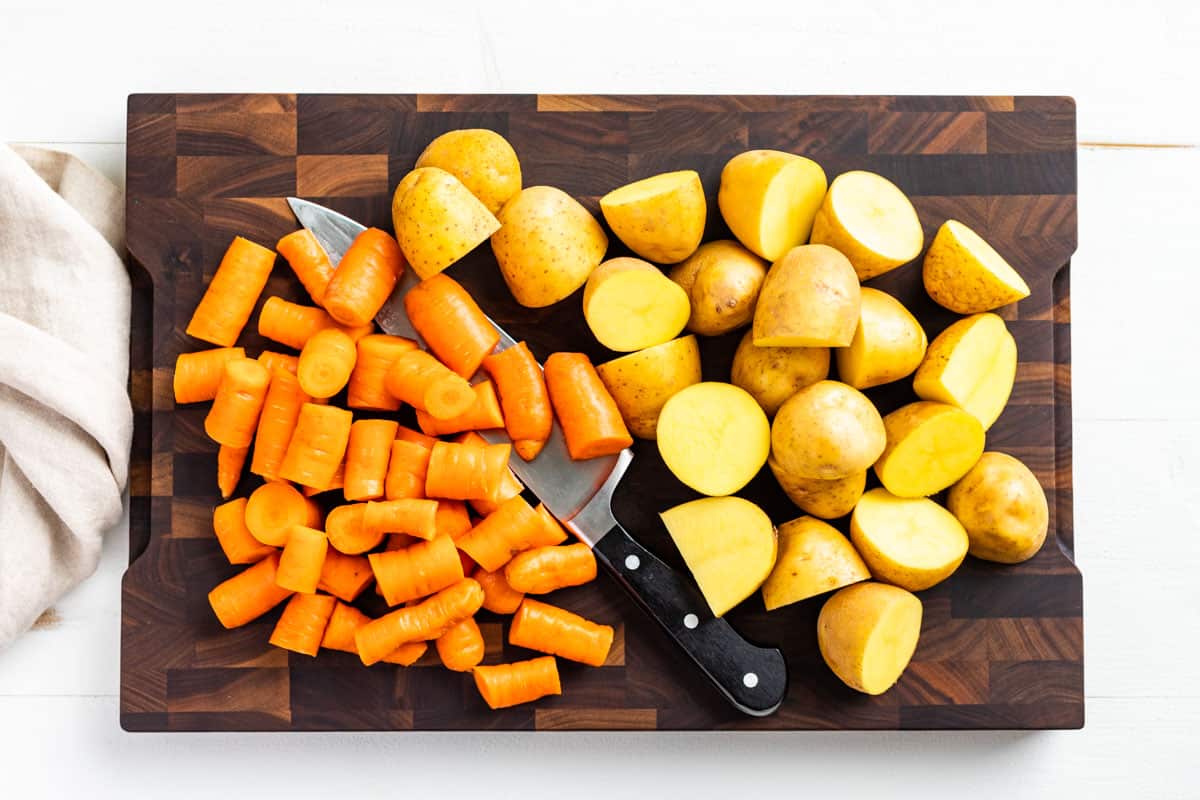 Step 2: Cut the potatoes and carrots into larger-sized chunks.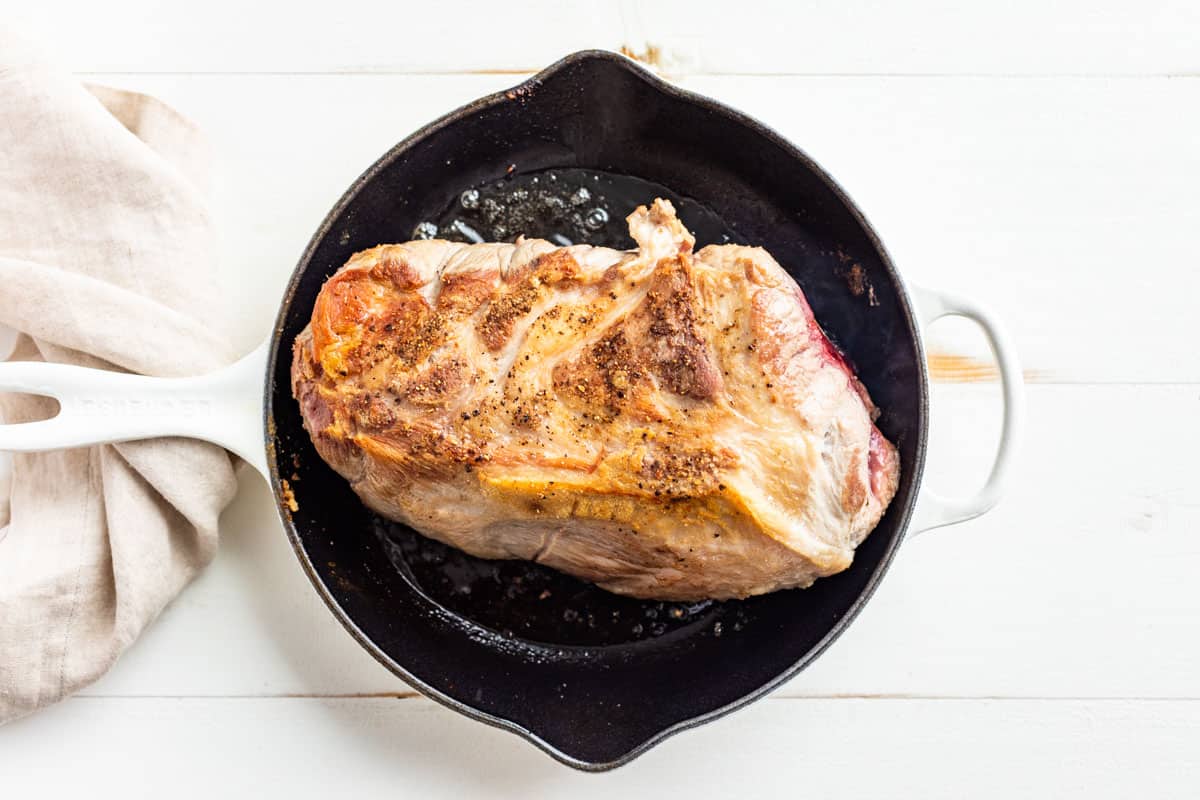 Step 3: Then season the pork roast with salt, and pepper, and sear on both sides until well browned.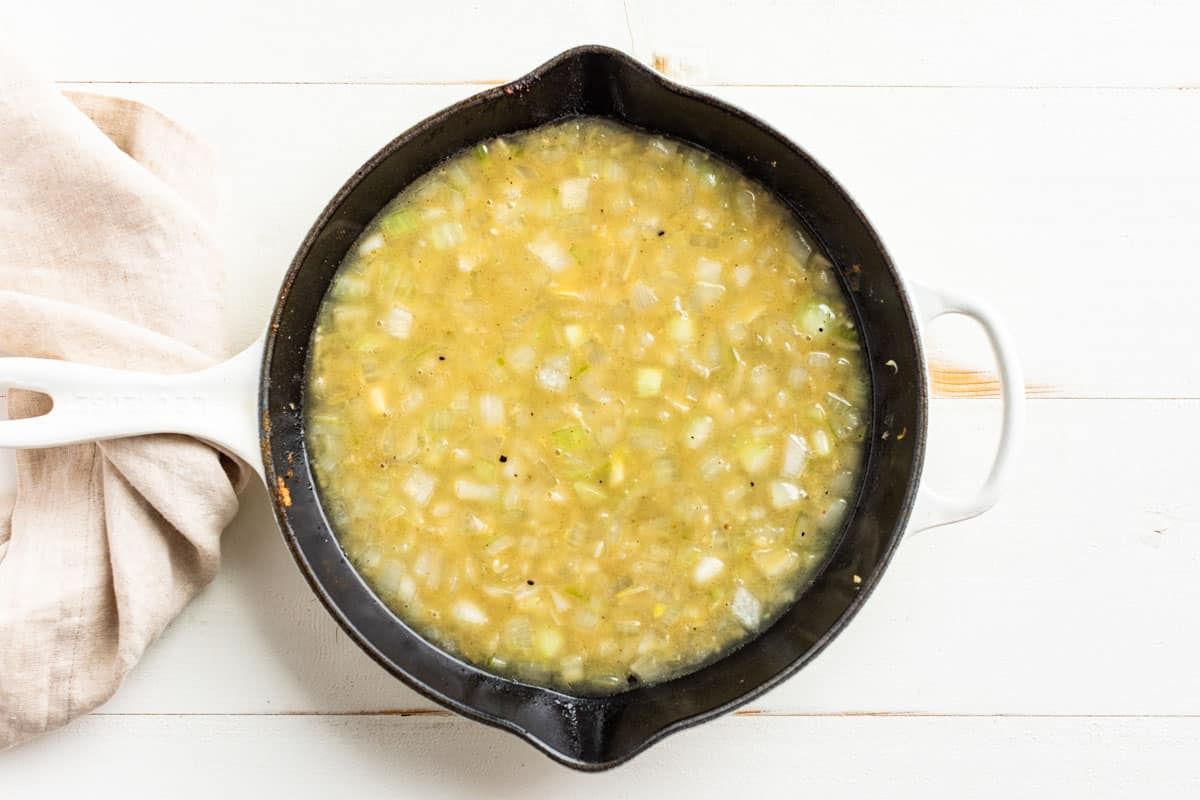 Step 4: Remove the pork roast from the pan and add it to the slow cooker. Then add the onions and garlic to the same pan and cook briefly stirring constantly. Add the chicken stock and scrape the bottom of the pan to get those browned bits loosened up and into the liquid.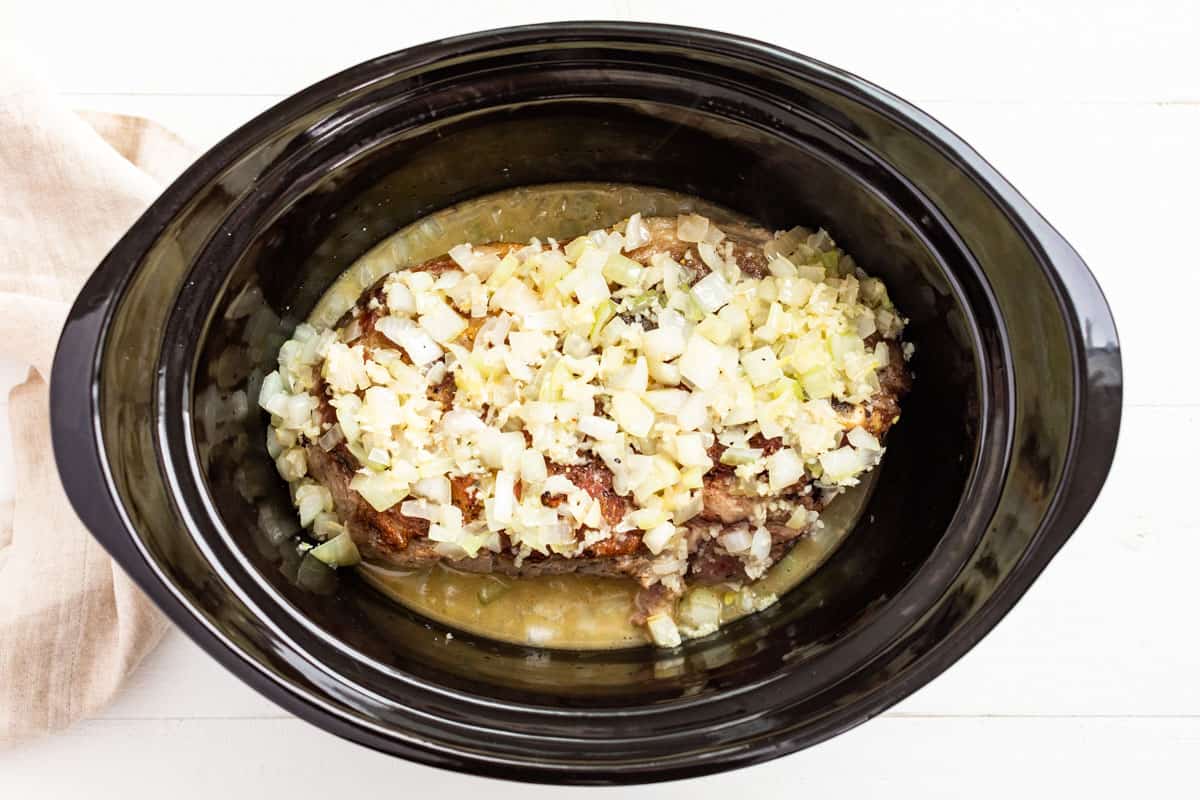 Step 5: Pour the onion mixture over the top of the pork roast in the slow cooker bowl.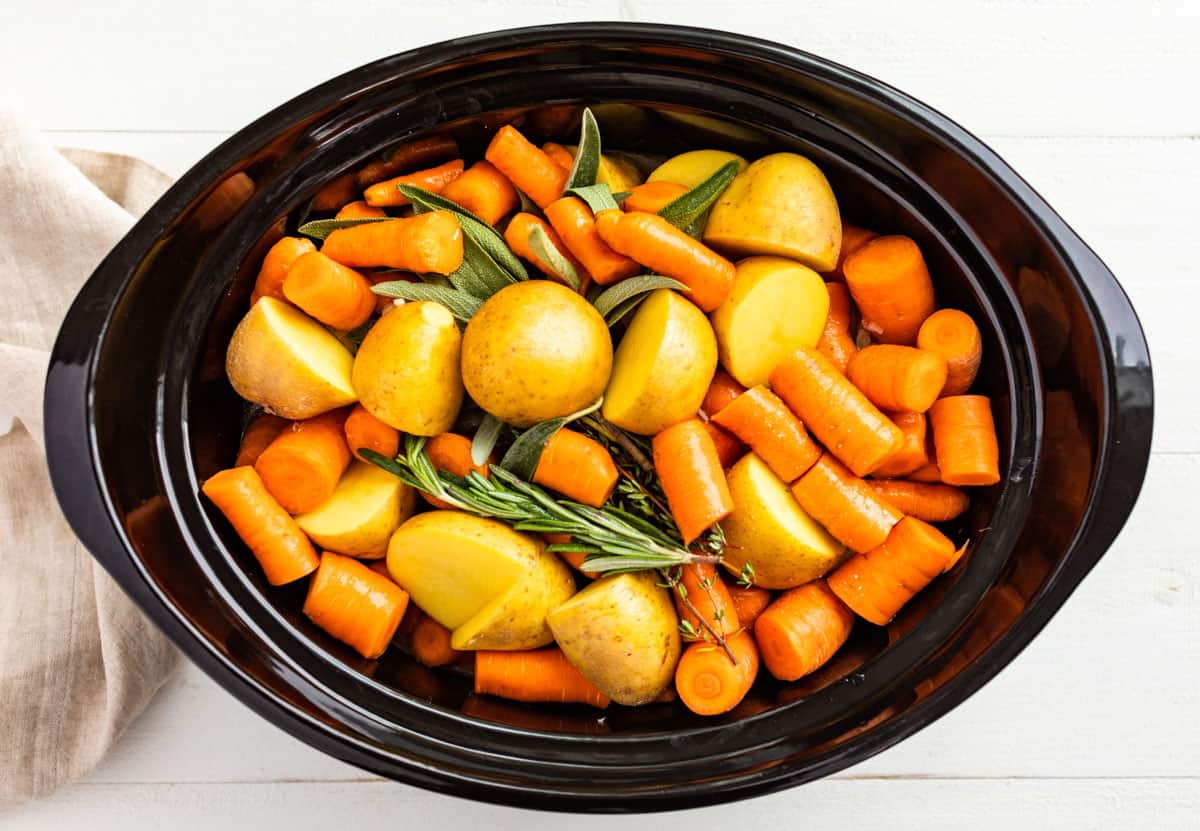 Step 6: Pile the potatoes and carrots over the top and tuck in the sprigs of herbs. Your slow cooker will be quite full and you won't be able to see the pork roast.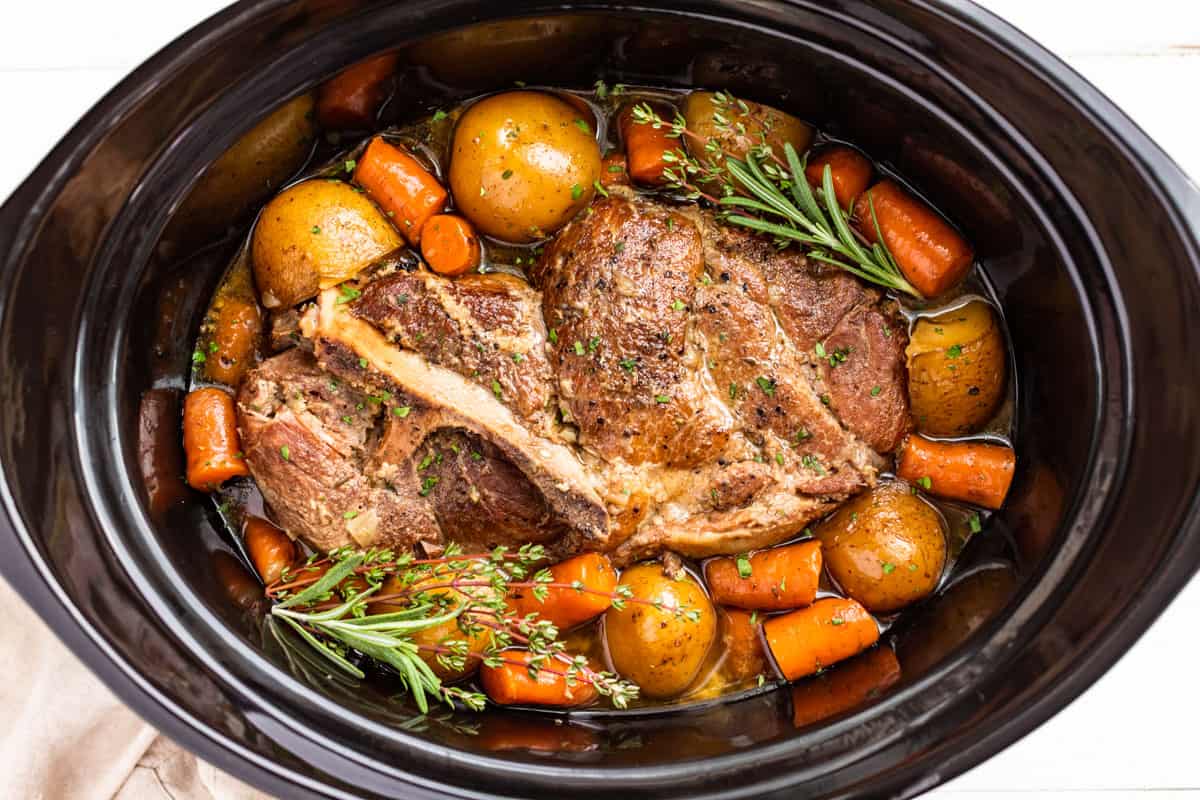 Step 7: Cover with the lid and cook low and slow for 8-ish hours until the pork roast is fall apart fork tender. Remove the the herb sprigs before serving.
You can spoon out some of the potatoes and carrots into a serving bowl and serve the roast in the slow cooker bowl as pictured.
Or you can arrange everything on 1-2 servings platters and slice the meat to serve.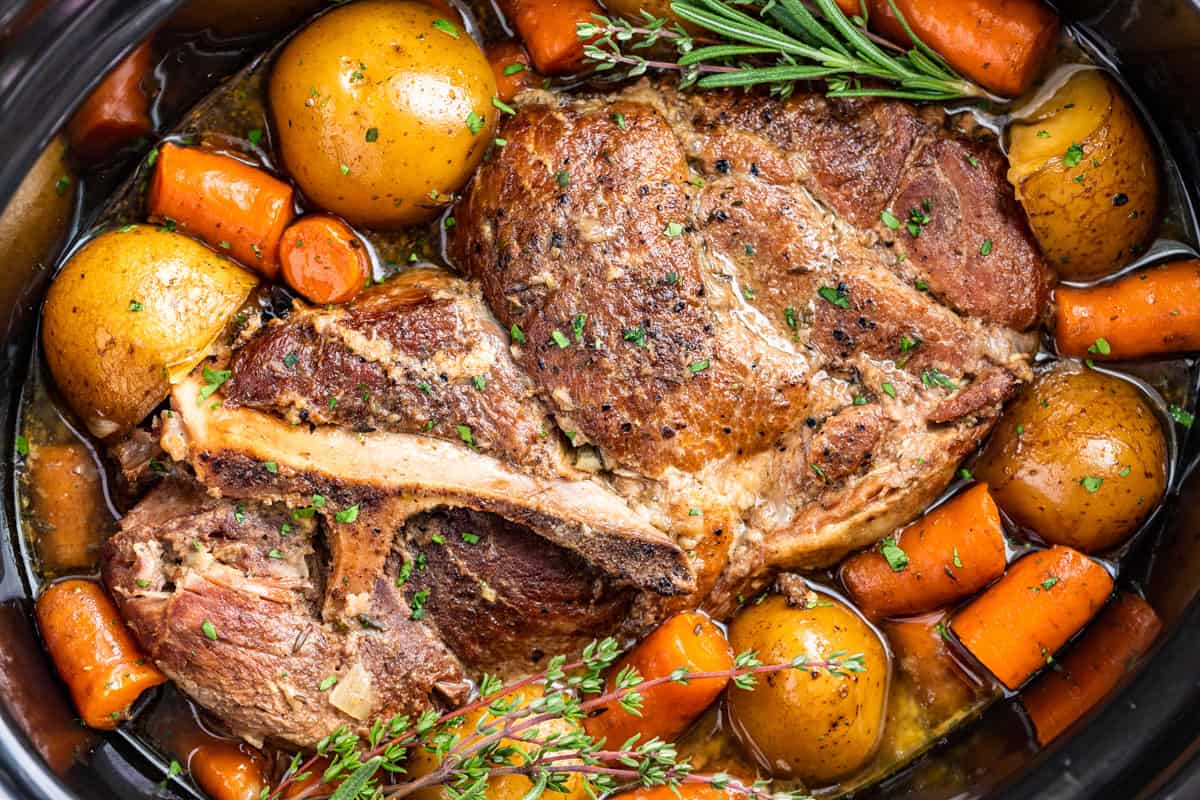 FAQ's
What can I use instead of pork?
You can use a beef chuck roast or follow my recipe for Slow Cooker Pot Roast instead.
Do you have to brown a roast before putting in a slow cooker or crockpot?
No, you don't absolutely have to brown the roast beforehand. Searing the roast to a nice brown on each side adds a lot of yummy flavors and I would encourage you not to skip this step.
Can you overcook a pork roast in a slow cooker?
Yes, you can overcook it, but there is a bit more nuance. When you're cooking a pork shoulder roast like this recipe, it's almost impossible to overcook it because it has the perfect amount of marbling. If you're making a different recipe with a lean cut of pork, you want to be careful because it will dry out.
Can I use pork tenderloin or pork loin in this recipe?
No, both the pork tenderloin and pork loin roast are very lean cuts of meat that would be dry and tough cooked in the slow cooker.
Storing leftovers
To store – place any leftovers into an airtight sealed container, and refrigerate for up to 5 days.
Make ahead – this recipe is best made and served right away. But leftovers are great for up to 5 days, so you can meal prep this recipe, and reheat it as desired. For make-ahead options, try cutting up the carrots ahead of time and refrigerate.
Reheating – place any leftovers into a skillet with a little of the juices and reheat over medium heat covered with a lid until heated through. Or you can also microwave the leftovers.
To freeze – I don't recommend freezing the carrots or potatoes because they are mushy when thawed. Place any leftover pork tightly sealed in an airtight container in the freezer for up to 1 month.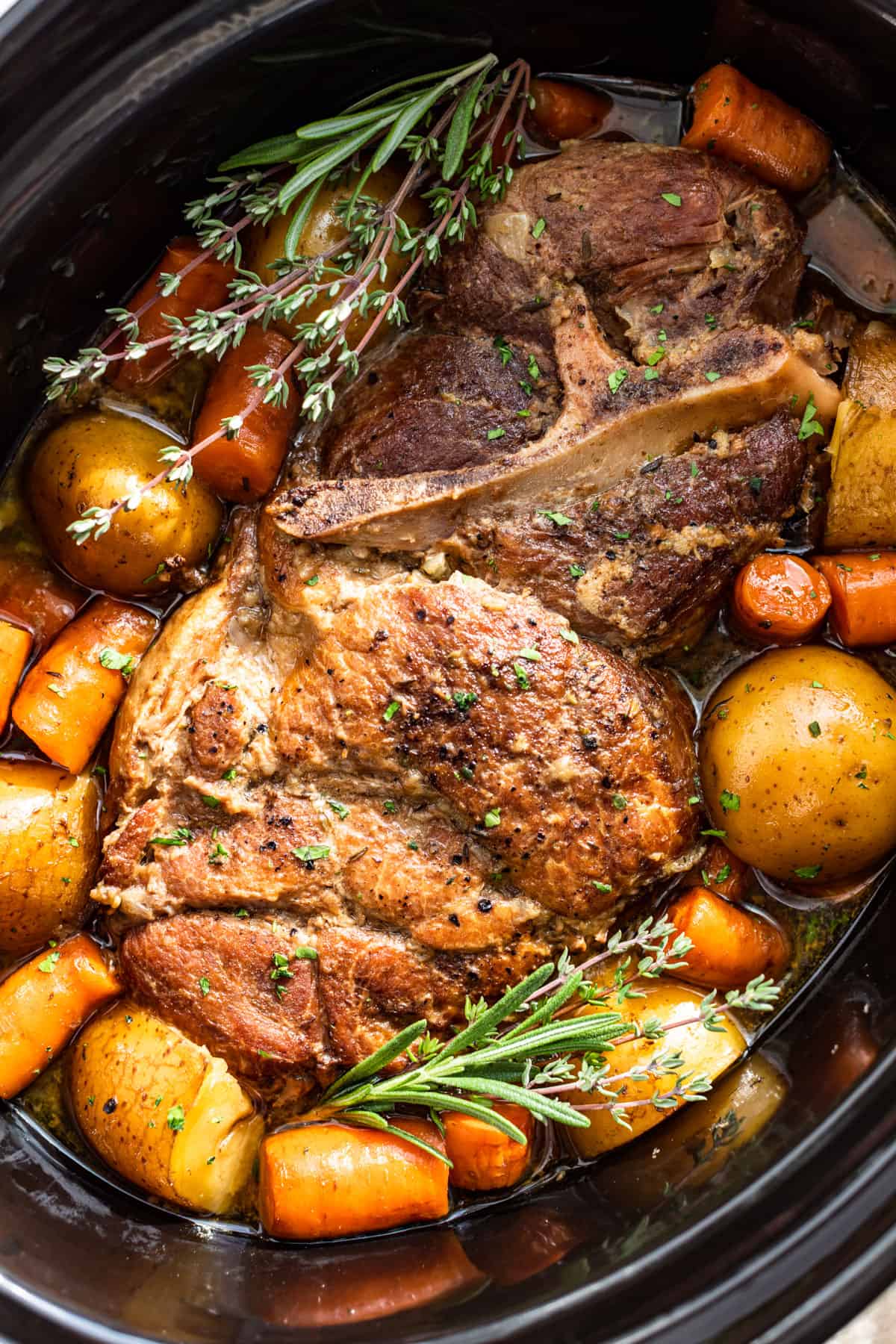 Tips & Tricks
Don't skip searing the pork roast, it's a little extra work, but it adds so much flavor. There are crockpot pork roast recipes that say you don't need to sear. But the crockpot doesn't add flavor while it's cooking, and searing the roast goes a long way to giving you the best roast.
Dried herbs do work well here, but it's worth trying out fresh herbs at least once because they're so good!
You can skip measuring the carrots and potatoes if desired and just 'eyeball' it until your pork roast is surrounded and the slow cooker bowl is full without the veggies touching the lid.
If you're looking for a shorter cooking time pork roast recipe, try my Pork Sirloin Roast or Best Pork Tenderloin.
Family Dinner Classics Recipe Inspiration
I really hope you enjoy this Slow Cooker Pork Roast! If you do get a chance to make this recipe, I'd love to hear from you in the comments.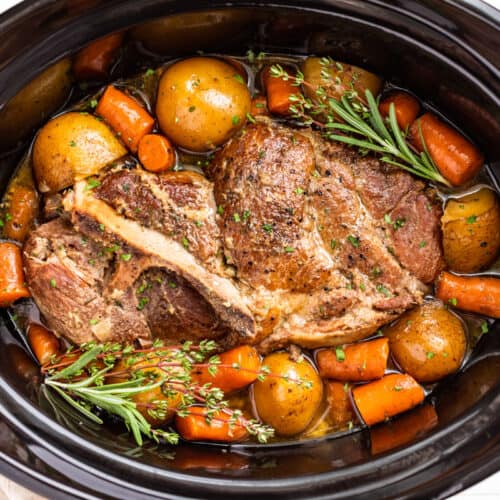 INGREDIENTS
4

pounds

pork shoulder roast

1

tbsp

avocado oil

-

or olive oil

1

large

white onion

-

1/2" dice

4

cloves

garlic

-

minced

2

cups

chicken broth

-

low sodium

1/2

tsp

sea salt

-

extra for sprinkling the roast and seasoning to taste at the end.

1/2

tsp

black pepper

-

extra for sprinkling the roast and seasoning to taste at the end.

2

pounds

potatoes

-

cut into 3" pieces, about 4 potatoes

1.5

pounds

carrots

-

cut into 3" lengths, about 8 carrots

6

sprigs

rosemary, sage, & thyme

-

2 of each herb, or 4 sprigs 1 individual herb like rosemary, see notes for dried herbs
INSTRUCTIONS
Preheat a large cast iron pan on the stove top. When the pan is hot but not smoking, add the oil. Sprinkle the roast with salt and pepper, then sear the pork roast on each side. This takes 4-5 minutes per side.

Remove the roast from the pan and place it in the bottom of a 6 quart slow cooker.

Add the diced onion and garlic to the cast iron pan you seared the roast in and sauté briefly until the onion begins to soften.

Turn off the heat and add the chicken broth to the pan. Scrape up any browned bits from the bottom, then stir in the salt and pepper.

Carefully pour the onion garlic mixture over the pork roast in the slow cooker.

Then add the potatoes and carrots around and on top of the roast, tucking in the herb sprigs.

Cover and cook on low for 7-9 hours. This roast takes 8 hours in my slow cooker for the roast to be falling apart tender, and the veggies done.

To serve remove the veggies & discard the sprigs of herbs from the top of the roast, and place them in a serving bowl. Serve the bowl of veggies along with the roast.

You can also lift the roast, (very carefully it's tender) and place it on a serving platter. Arrange the veggies around it, and use the juices to make gravy if desired as directed in the notes below.
Bonus Step
If you made this recipe, please leave a rating/comment. Ratings really help us continue to bring you high-quality free recipes. Rate This Recipe!
NOTES
The small amount of salt listed goes in while cooking the roast and vegetables to season while cooking. Then you can add more to the juices to taste at the end of the cooking time if you're making gravy.
Any kind of potato works here, I usually use Yukon golds or red potatoes.
You can also use 2 teaspoons dried herbs like Italian seasoning or Herbs de Provence in place of the fresh herbs.
To add gravy to your meal, carefully drain off the cooking liquid. Then use it to make my Gluten Free Gravy or my Paleo Gravy.
Cooking times vary with slow cookers, so try and check your pork roast early the 1st time you make it around 6 hours or so on low. See if it's fork tender or needs to go the full 8+ hours.
nutrition facts
Calories:
483
kcal
|
Carbohydrates:
41
g
|
Protein:
42
g
|
Fat:
16
g
|
Saturated Fat:
5
g
|
Polyunsaturated Fat:
2
g
|
Monounsaturated Fat:
8
g
|
Cholesterol:
124
mg
|
Sodium:
446
mg
|
Potassium:
1743
mg
|
Fiber:
7
g
|
Sugar:
8
g
|
Vitamin A:
18962
IU
|
Vitamin C:
40
mg
|
Calcium:
95
mg
|
Iron:
4
mg