Quick and easy to make in under 10 minutes, this Cilantro Lime Dressing is perfect for so many dinners. Think everything from tacos, to your favorite burrito bowls, and fajitas as well. It's also perfect over dinner salads and as a marinade for chicken too. It's naturally gluten free, dairy free, and vegan. You can make it creamy or spicy in a number of ways you'll find listed out in the recipe notes below.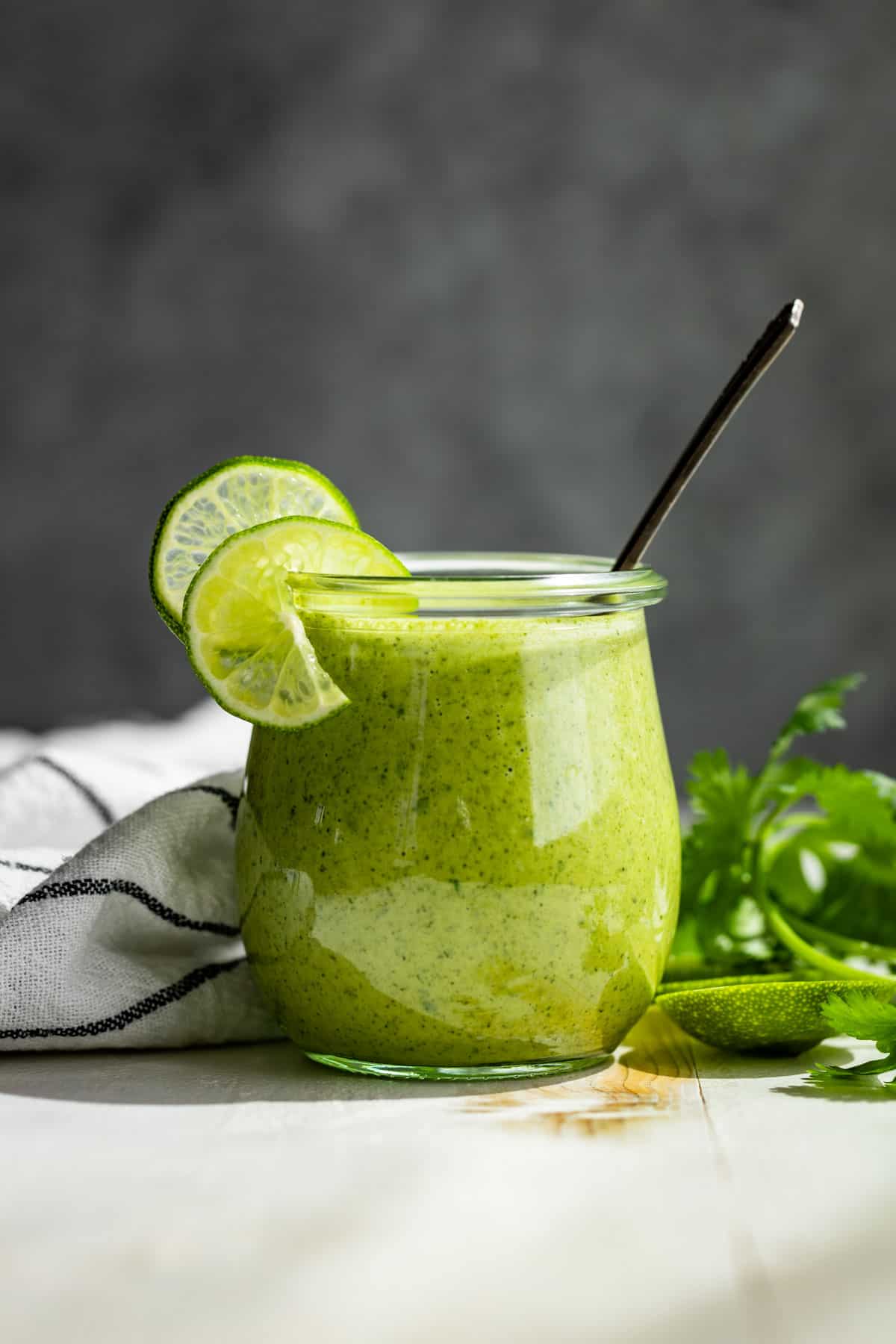 I first made this Cilantro Lime Dressing for my Fish Taco Bowls a few years back. But ever since then, we've been putting this zesty dressing on all sorts of Mexican inspired bowls. It's even delicious on Asian inspired salads, (made without the cumin) as well with the cilantro and lime pairing so well with so many flavors.
So whether you drizzle it over you favorite 'bowl' meal, or toss it with shredded cabbage for a tasty slaw, you'll definitely love this one. There's just so much bright fresh flavor, that it really levels up so many different meals and salads.
It's also a great way to add a layer of flavor if you're dairy free. Rather than using sour cream, try drizzling this dressing over your next taco instead!
Ingredients & Substitutions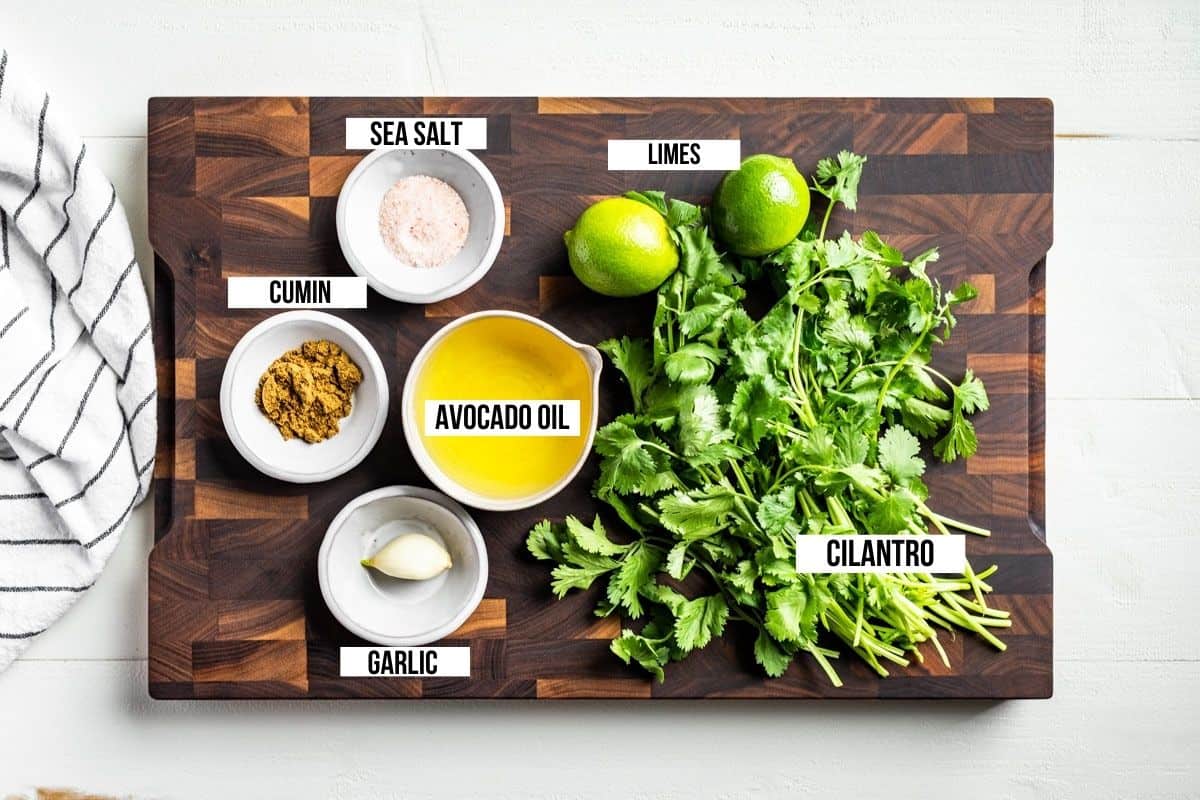 Cilantro – the freshest cilantro you can find, from the farmers market whenever possible. Once you taste farm fresh cilantro you won't be able to believe the difference. That being said, I make this with cilantro from the store all the time, and it's very tasty. I just mention it because the extra freshness is nice when it's available.
Limes – fresh lime juice is an absolute must here. It's on of those cases where you don't want to use bottled juice because you will really notice it in the end.
Cumin – just a touch adds a lot of depth to this dressing. However it does make it more 'Mexican' so I leave it out if I'm planning on using this dressing with Asian flavors.
Garlic – again adds depth of flavor to this dressing, and there really isn't a good substitute for it. Like each ingredient in this simple dressing, you want to make sure it's fresh. Jarred garlic might be ok in a stir fry, but it will overpower this dressing. Try using a garlic press to speed things up if you don't like mincing garlic.
Avocado oil – or any other neutral tasting oil you like to use in your dressings works here. I use avocado oil as a healthy fat, but also because it has a wonderful buttery flavor. Olive oil works as well.
How to make this recipe step by step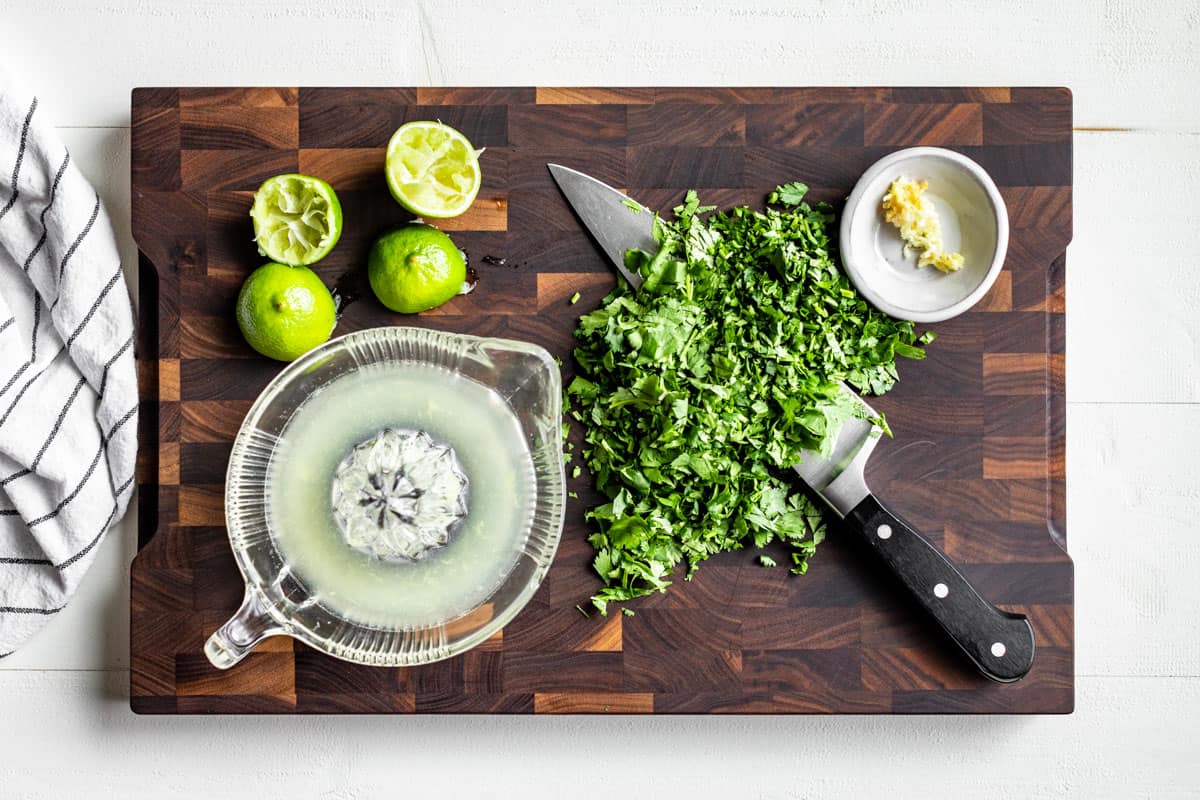 Step 1: Start by juicing the limes, chopping the cilantro, and mincing the garlic.
Tip: Use a garlic press to speed things up! I use mine pretty much every single day of the year, so it's definitely a worthwhile gadget to have.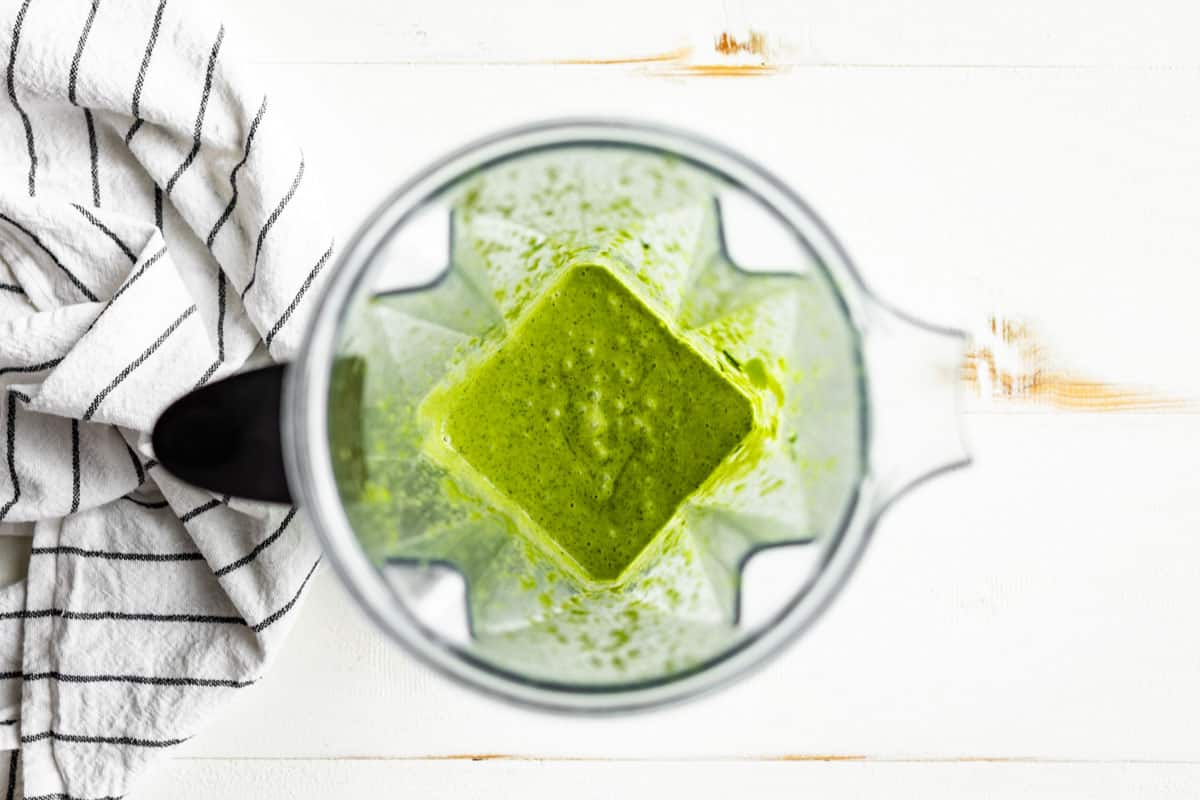 Step 2: Place everything but the oil into the blender and blend on low speeds to combine. Then with the motor running on low speeds, add the oil in a thin steady drizzle through the hole in the top of the lid.
Keep add ing the oil until it's completely combined and the dressing is emulsified.
Step 3: Transfer to a container to store in the fridge for up to one week.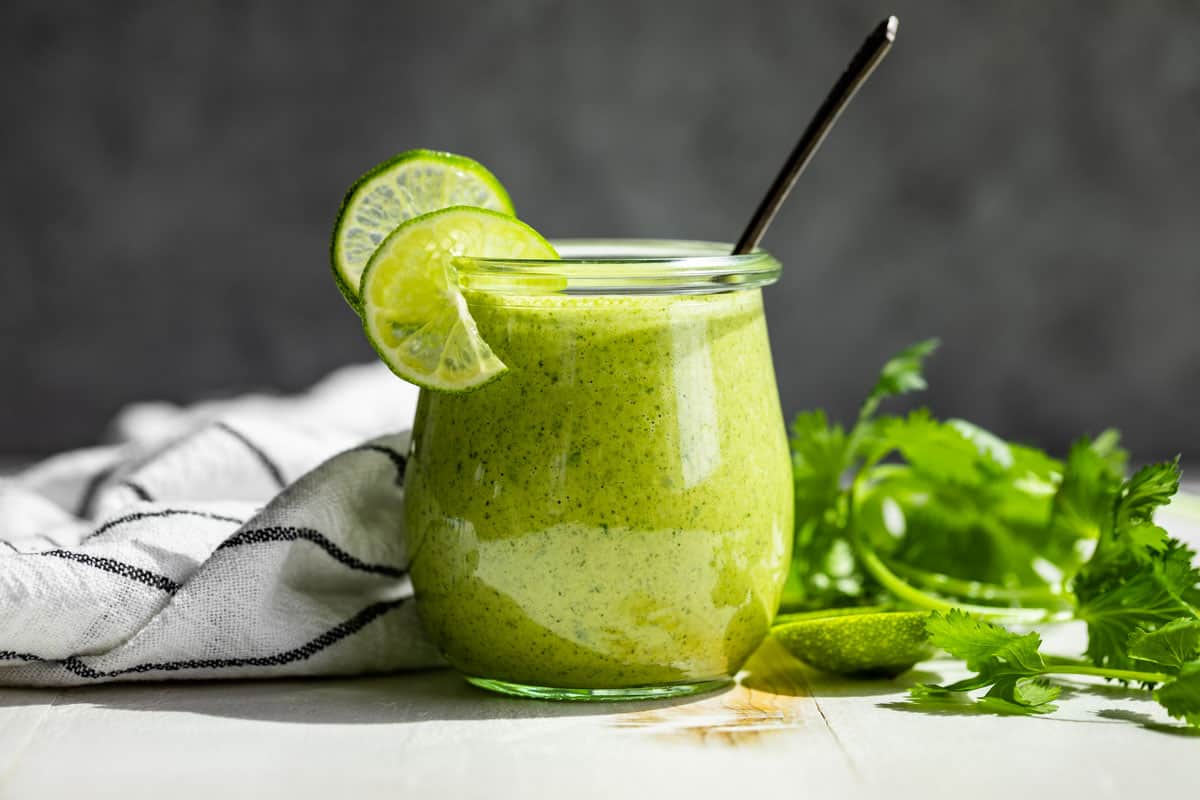 Ways to serve this Cilantro Lime Dressing
FAQ's
What can I use in place of cilantro?
You can sub in basil in this dressing, however I recommend just making my Basil Vinaigrette instead of this recipe if you don't like cilantro.
How can I make this dressing creamy?
For a creamy dressing check out my tips below for how to add and egg to this dressing, or you can also add a tablespoon of good quality mayonnaise at a time until it's as creamy as you'd like. Both sour cream and Greek yogurt can also be mixed in 1 tablespoon at a time until the desired consistency is reached.
How can I make this dressing spicy?
Add 1/2 to 1 diced jalapeno to the blender, this is one of our favorite variations, so yummy!
Storing leftovers
To store – place any leftovers into an airtight sealed container and store in the refrigerator for up to 1 week. This dressing tastes best the day it's made, but it's still pretty good for a week. You can also use the leftovers to make a marinade as well.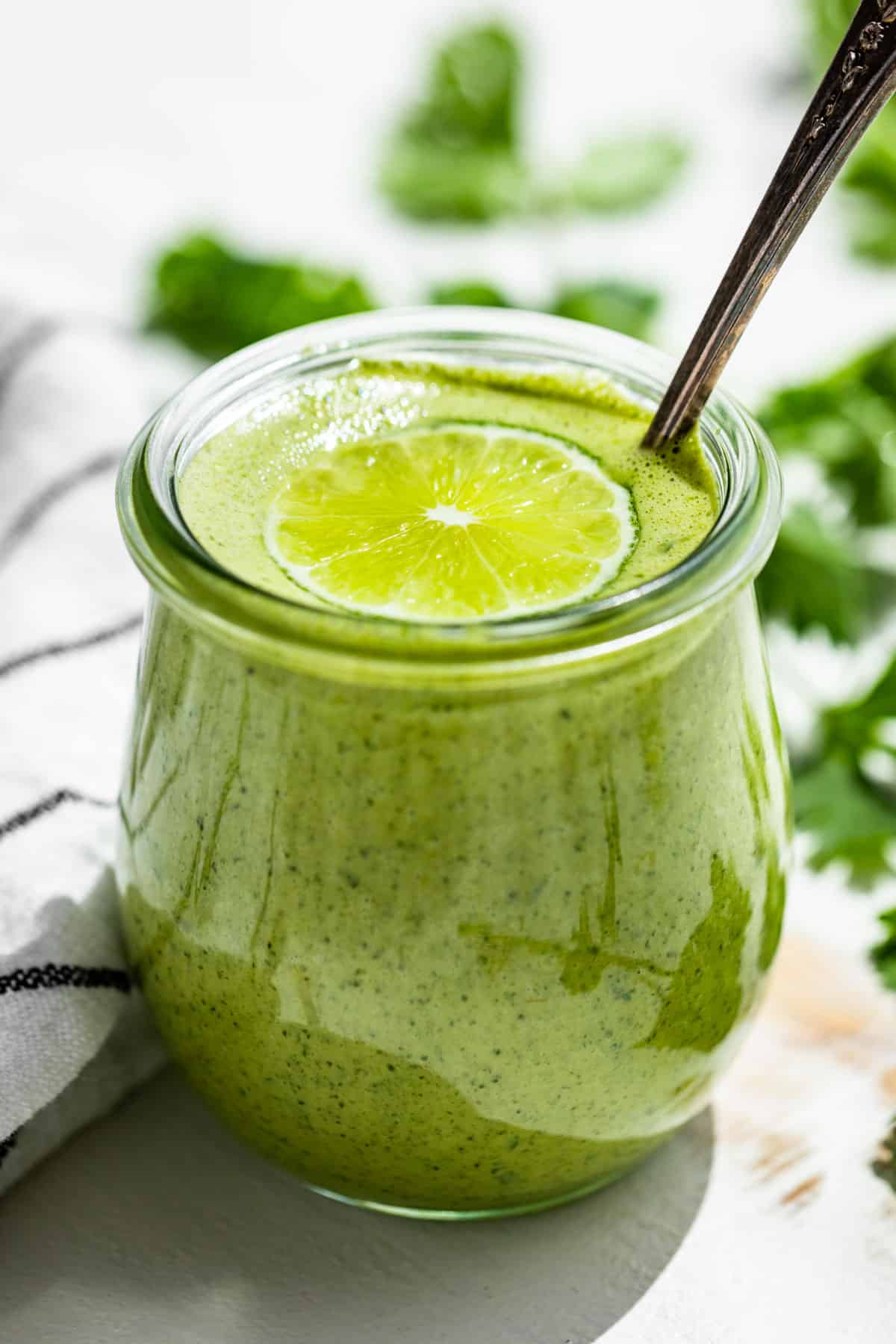 Tips & Tricks
This dressing is meant to be zippy, but if it's too much of a lime kick, feel free to add a touch of maple syrup or honey to sweeten to your taste.
If you really hate cilantro, rather than trying to sub anything in here, I would recommend making my Basil Vinaigrette.
Fresh lime juice really is the best combo here, but you can also use white wine vinegar if you don't have fresh limes.
I like to make creamy dressings by adding a raw egg into the blender. This creates a very creamy, slightly thicker dressing that is so good. It's also a great way to get that creamy effect if you're dairy free. However that does involve raw eggs, so that decision is up to you, and what's best for you. You can get a similar effect by adding a couple of tablespoons of good quality mayo to your finished dressing as well, but it's not quite as good.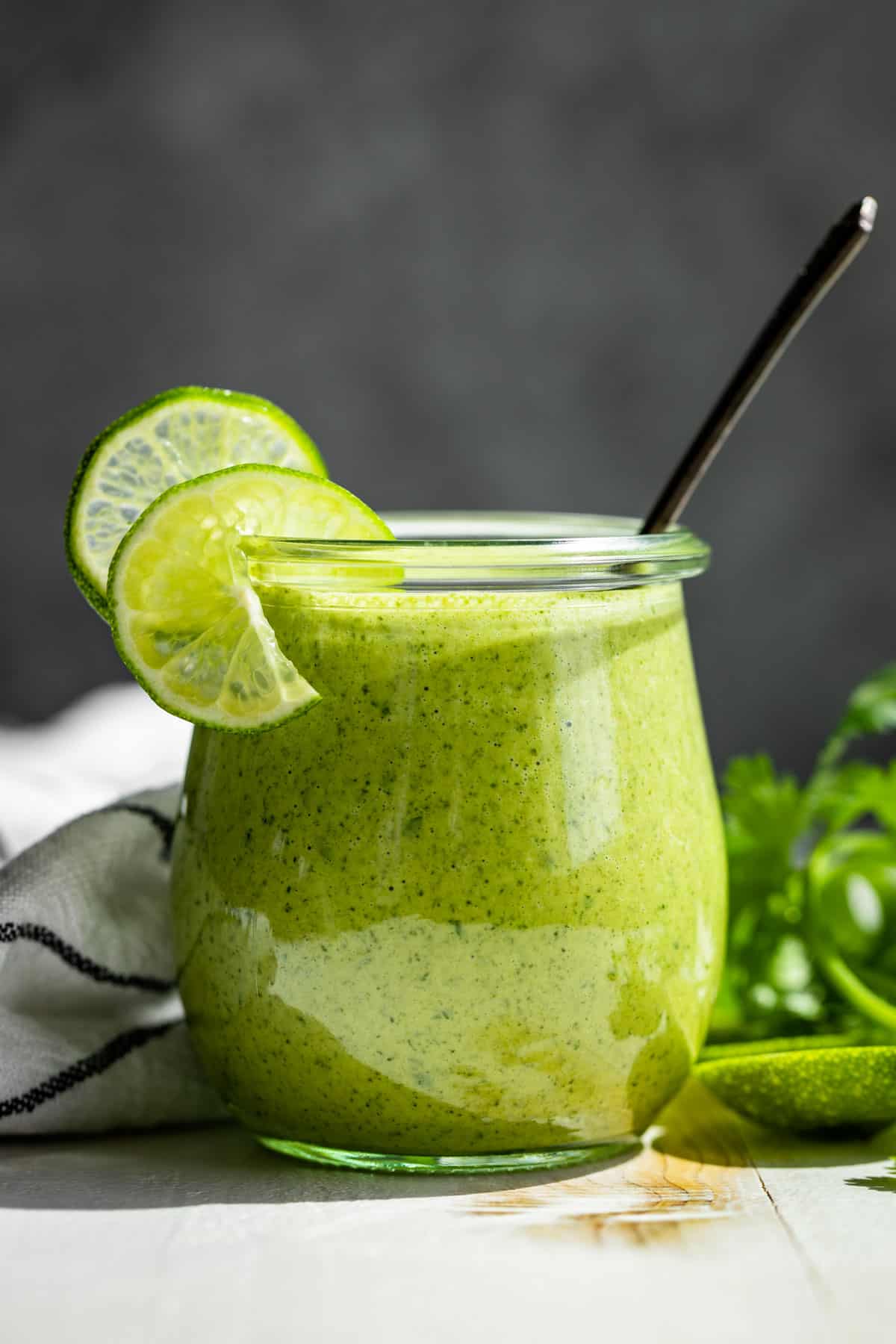 More recipes for homemade salad dressings
I really hope you enjoy this Cilantro Lime Dressing! If you do get a chance to make this recipe, I'd love to hear from you in the comments.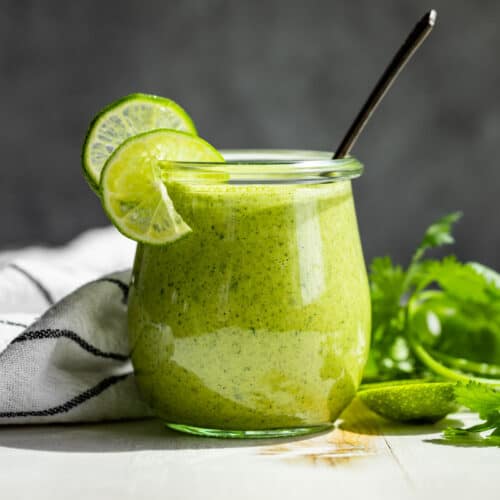 INGREDIENTS
1/2

cup

cilantro

-

chopped

1/4

cup

lime juice

-

freshly squeezed

1

clove

garlic

-

minced

1

tsp

sea salt

-

or to your taste

2

tsp

ground cumin

1/2

cup

avocado oil

-

olive oil, or any neutral oil you like
INSTRUCTIONS
Add the chopped cilantro, lime juice, garlic, sea salt (or omit and season to taste at the end) and cumin to a blender.

Blend on low speeds to combine, then with the motor running, add the oil in a thin steady stream through the hole in the lid until completely emulsified.

Transfer the dressing to a sealed container and refrigerate for up to 1 week.
Bonus Step
If you made this recipe, please leave a rating/comment. Ratings really help us continue to bring you high-quality free recipes. Rate This Recipe!
NOTES
Creamy Variation: add 1 raw egg to the blender (at your own risk) along with the cilantro. Or you can add up to 1/4 cup good quality mayo, sour cream, or Greek yogurt to make this dressing creamy. Spicy Variation: add 1/2 to a whole chopped jalapeno to the blender along with the cilantro. No Blender: make sure to finely chop everything, then whisk it together before adding the oil in a thin steady stream. Whisk constantly to emulsify, or shake it vigorously in a tightly sealed jar until combined. Or you can also make this in a food processor.
nutrition facts
Serving:
0.25
cup
|
Calories:
250
kcal
|
Carbohydrates:
2
g
|
Protein:
0.3
g
|
Fat:
27
g
|
Saturated Fat:
3
g
|
Polyunsaturated Fat:
4
g
|
Monounsaturated Fat:
19
g
|
Sodium:
584
mg
|
Potassium:
49
mg
|
Fiber:
0.2
g
|
Sugar:
0.3
g
|
Vitamin A:
155
IU
|
Vitamin C:
5
mg
|
Calcium:
14
mg
|
Iron:
1
mg