My husband declared these 'better than my favorite potato chips'! They have that sweet-salty thing going on with just a hint of spicy, and the addictive depth of flavor from the curry spices. That's why they've quickly become our new favorite snack. It's a bonus that they are really quick and easy to make.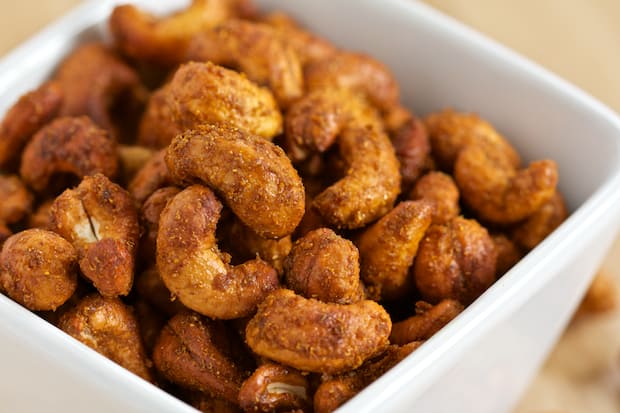 With hiking season starting, I'm needing to have more snack food on hand. We might be a little weird, but we don't like packing a big heavy lunch to the top of a mountain. Usually we just have a nut bar or two and head back down the trail. But… here's the thing; I don't even like those nut bars, so more often than not I don't eat all day which isn't real brilliant. Curried Cashews has been an evolving process. I first bought some at a local health food store, and that was enough to get me addicted. However, they weren't exactly budget friendly, so a homemade version was in order. I made some with whole cashews and cashew pieces and both turned out great. The cashew pieces were significantly cheaper (especially when you buy in bulk). So, budget problem solved and now we have a healthy snack for road trips and hiking.
I used a Malaysian Curry powder that is slightly spicy, but you can use any kind of curry powder from mild to hot. For the next batch, I want to try an Indian Curry powder.
I made my curry mixture on the stove because my honey was crystalized and needed to be melted first. I found it was much easier to mix together with warm honey. If you used maple syrup instead of honey you could mix it together in a bowl.
Add the nuts to the curry mixture and thoroughly mix together. Spread them evenly on a parchment lined baking sheet and place in the oven to roast for 35 to 40 minutes. The nuts need to roast slowly at a low temperature to keep them from burning while curry mixture adheres. I learned this the hard way after trying to roast them at 350F and almost incinerating my first batch.
After they cool, transfer them into an airtight container for storage. I keep a portion out for immediate eating and freeze the rest for later.
Coconut Curry Recipe inspiration
Let the hiking-snacking begin!
Update 1: I had one batch of cashews get soft after a couple of days, but I just put it in the oven at 225F until crunchy again (15 minutes).
Update 2: I started making this recipe with pecans, and it's really good. I hate to say it, but… pecans may even be better than cashews!
Print
Curried Cashews
---
2 Tablespoons

curry powder

1 Teaspoon

sea salt

1 Tablespoon

honey, or maple syrup

2 Tablespoons

water

1 Teaspoon

olive oil

3 cups

cashews, whole or pieces (

12 ounces

)
---
Instructions
Preheat the oven to 250F and line a baking sheet with parchment paper.
Mix together the first five ingredients and toss with the cashews.
Spread the nuts in an even layer and roast for 35-40 minutes.
Transfer to an airtight container. I made a bigger batch and put most of it in the freezer.
Notes
I noticed that my batch with the pieces of cashews was better baked at 200F for about 45-50. They seemed to need a little extra drying.
Prep Time:

5 mins

Cook Time:

35 mins