The best Curried Chicken Salad loaded with crunchy fresh veggies and juicy mango, this salad is guaranteed to be a hit. It's easy to make, gluten-free, and dairy free as well. You can meal prep this for workweek lunches or prep it ahead for entertaining and brunch menus. You'll also find several options below for what to use in place of mango when it's not available. So let's jump in and make this yummy variation of chicken salad.
I love a good classic chicken salad, but this curried chicken salad is the perfect change of pace. Creamy curry flavors pair together so well with a touch of lime in the dressing.
From there the dressing is tossed together with chicken and veggies along with juicy mango to create a salad you won't soon forget. You'll find some extra options in the recipe below as well for when you can't find ripe mangos.
We love this salad made with diced apples, oranges, grapes, and even dried cranberries. There are lots of options to keep this salad seasonal. And you may find yourself meal prepping it weekly to take along for extra good lunches.
Ingredients & Substitutions
Cooked chicken – both cooked boneless skinless chicken breasts or chicken thighs both work here. You can also use leftover rotisserie chicken.
Veggies – I like to use celery and carrots for crunch and an extra serving of veggies. Carrots add some sweetness as well which is nice with the curry flavors. Green onion adds depth of savory flavor without being overwhelming like an onion. You could also use diced red onion to taste, but be aware it's much stronger. And chopped fresh cilantro pairs perfectly with these flavors and adds so much freshness. If you don't like cilantro you can leave it out.
Mango – is incredibly tasty with the curried dressing. However, only use mango when you can get good ripe juicy mangoes. Otherwise, I recommend using diced apples, oranges, halved grapes, or chopped dried cranberries. Raisins are also a classic choice with curried chicken salad, but they're my last option personally. Dried cranberries have so much more flavor. Golden raisins would be the best raisin option if you go in that direction.
Lime – adds depth to the dressing and the fresh lime juice flavor is the perfect match to this combo. You could also use white wine vinegar, but it's not quite as good.
Curry powder – I use mild curry powder and there's no spice in this chicken salad. You can also use spicy curry powder or add cayenne to taste if prefer a spicy curried chicken salad. I also add a touch of turmeric for color and cumin for depth of flavor.
Coconut aminos – adds sweetness and umami flavor to the dressing, but you can also use tamari or soy sauce. You may want to add a touch of sweetener to the dressing in that case.
Mayonnaise – I like to use avocado oil mayonnaise, but you can use any good quality mayo of your choice. If you don't do mayonnaise, you can always use Greek Yogurt. I think this variation usually tastes best with 50/50 mayo to Greek yogurt.
How to make this recipe step by step
Step 1: Start by whisking together the ingredients for the curry dressing. Set it aside in the refrigerator to let the flavors develop while you make the salad.
Step 4: Add the veggies to a bowl along with the cooked diced chicken and pour the curried dressing over the top.
Step 5: Mix the chicken salad together well to combine. Then season to taste with additional sea salt and black pepper if needed.
You can refrigerate the curry chicken salad at this point up to 1 day ahead of time. If you're using the dried cranberries, you can add them now.
Step 5: When you're ready to serve the chicken salad, add the fresh diced mango or any of the other fruit options listed in the recipe.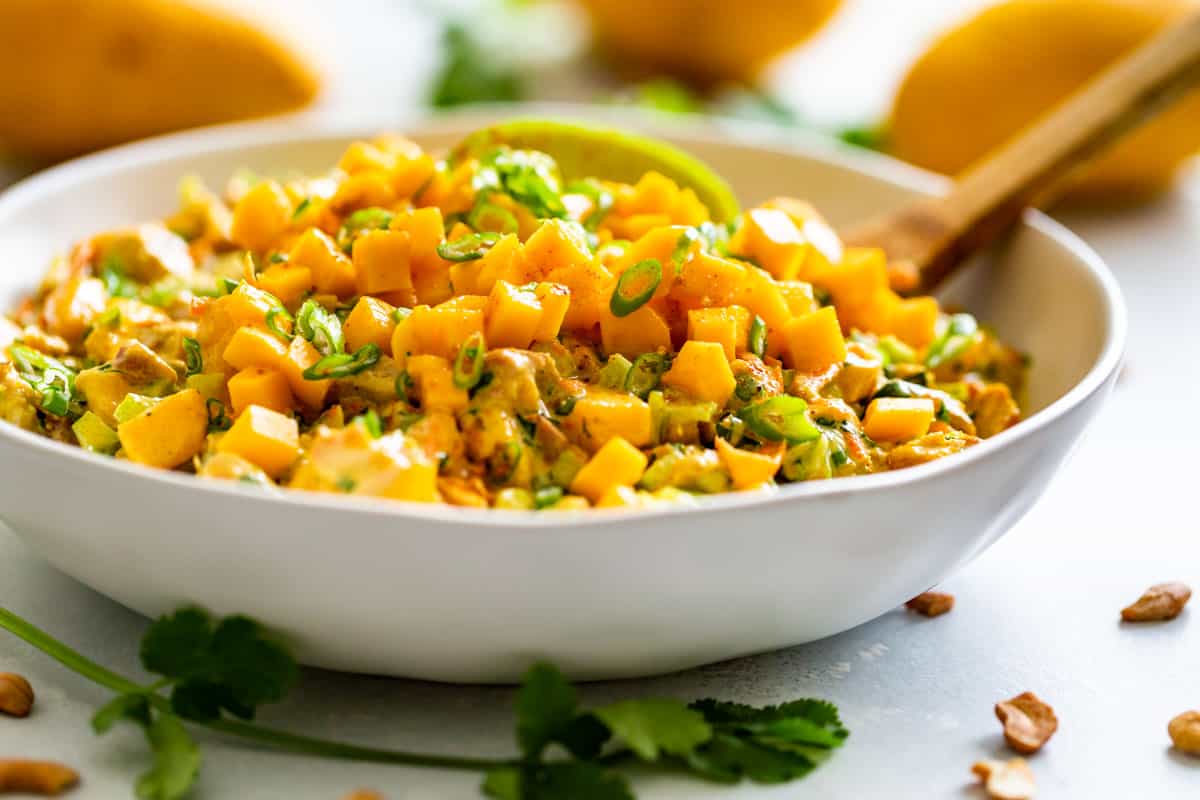 Ways to serve this
Serve this curry chicken salad on a bed of baby spinach, spring mix, or arugula. I like to add chopped roasted cashews when I serve this on greens.
This salad also makes a great curried chicken salad sandwich on your choice of bread with lettuce. If you're going the sandwich route, I recommend using dried cranberries. The fresh fruit options do work as well, but the sandwich is a bit harder to eat.
You can also make this curried chicken salad into a lettuce wrap with green leaf lettuce or butter lettuce, or use your choice of tortillas as a wrap.
Or serve this chicken salad with the crackers of your choice.
This salad makes a great light dinner in the summer or lunch for any workday. But it's also pretty enough for entertaining. It works wonderfully for bridal showers, baby showers, and pretty much any brunch menu.
FAQ's
Should I use chicken breasts or chicken thighs for chicken salad?
Chicken breasts are the traditional choice for chicken salad, but you can use either one, it's up to your personal taste. Chicken breasts soak in the dressing a bit better. But they are easier to overcook, so I recommend using an instant-read thermometer so your chicken isn't dry.
Why is my chicken salad dry?
Usually, the answer is overcooked chicken which cannot be fixed. You can let the chicken salad sit with a bit more dressing in the fridge for a couple of hours to try and add moisture to the chicken. A chicken salad can also be dry if your recipe doesn't have enough dressing.
Can you freeze chicken salad?
No, unfortunately, chicken salad doesn't freeze well. But you can prep the chicken ahead and freeze it. Then you're most of the way there to making a chicken salad at a moment's notice.
Storing leftovers
To store – this chicken salad keeps well in the fridge for up to 4 days without the mango. Add your choice of fruit fresh, or use the dried cranberries option listed in the recipe which will keep for 4 days. Place the curried chicken salad in an airtight container and refrigerate.
Make ahead – prep this salad without the mango Sunday night for the workweek. Or you can also prep the chicken ahead and have it frozen ready to make this salad.
Tips & Tricks
In the winter I roast the chicken in the oven, and in the summer I grill it. You may also really enjoy making my Smoked Chicken Breasts to use in this chicken salad if you have a pellet grill. I like to smoke 6 pounds or so of chicken breasts at a time. Then I freeze them sliced as homemade lunchmeat or diced for salads.
Don't feel like you have to use mango if you can't find good fresh juicy ripe mangos. Diced apples or oranges and halved grapes all work well. I also like to use roughly chopped fruit juice-sweetened dried cranberries. Another bonus with the dried cranberries is they keep well for 4 days. The fresh fruit options all need to be added when you're ready to serve this salad.
More Lunch Recipe Inspiration
I really hope you enjoy this Curried Chicken Salad! If you do get a chance to make this recipe, I'd love to hear from you in the comments.
INGREDIENTS
Curried Dressing:
3/4

cup

mayonnaise

-

homemade or avocado mayo

1

tsp

curry powder

-

mild or spicy

1/2

tsp

ground cumin

1/4

tsp

turmeric powder

2

tbsp

freshly squeezed lime juice

2

tbsp

coconut aminos

Sea salt and pepper to taste if needed
Curried Chicken Salad Ingredients:
1

pound

cooked chicken

-

thighs or chicken breasts, diced into bite-sized pieces, see notes

3/4

cup

finely diced celery

-

from about 2 stalks

1/2

cup

green onion

-

thinly sliced

1/2

cup

grated carrots

1/4

cup

cilantro

-

chopped

2

cups

cubed mango

-

1/2", from 2 small champagne mangoes, 8 ounces, see notes
Optional to make a sandwich, meal, or wrap:
baby spinach, spring mix, or arugula

-

to serve this salad on a bed of greens, + roasted cashews

Lettuce leaves for wrapping

-

about 8-12 from 1 head green or red leaf lettuce

Bread, tortillas, or wraps of choice if desired
INSTRUCTIONS
Place all the dressing ingredients into a small bowl and whisk to completely combine. Set the dressing aside in the refrigerator while you prep the chicken salad.

Add the cubed chicken to a medium-sized mixing bowl along with the celery, green onion, grated carrots, and cilantro. Mix to combine.

Pour the curried mayo dressing over the chicken salad. Stir to completely combine and season to taste with more sea salt and pepper if needed.

The curried chicken salad can be refrigerated at this point for up to 1 day. When you're ready to serve it, add the diced fresh mango and stir to combine.

Or you can use any of the fruit suggestions in the notes below. If you use dried cranberries, add those right away with the dressing.

Serve the curried chicken salad with bread, tortillas, and/or lettuce leaves for wrapping. You can also serve this on a bed of greens like baby spinach, spring mix, or arugula.
Bonus Step
If you made this recipe, please leave a rating/comment. Ratings really help us continue to bring you high-quality free recipes. Rate This Recipe!
NOTES
For the cooked chicken, preheat the oven to 400ºF. Place the chicken on a parchment-lined baking sheet and roast until the chicken is done in the center, or a thermometer reads 165ºF. Boneless skinless will take about 20-25 minutes, and bone-in will take about 40 minutes.
If you can't find fresh mango, diced apples, diced oranges, or halved grapes all work really well with this salad. You can also use  1/2-3/4 cup roughly chopped dried cranberries, or even raisins.
I prefer to let the chicken salad sit for at least 2 hours in the fridge to let the flavors meld, and the dressing really sinks into the chicken. I either make it the night before and take it for lunch for the next 2-3 days. Or I make it in the morning to serve at a brunch or light dinner.
The nutrition facts were calculated with the mango but without the wraps or bread of choice.
nutrition facts
Calories:
550
kcal
|
Carbohydrates:
18
g
|
Protein:
30
g
|
Fat:
39
g
|
Saturated Fat:
7
g
|
Polyunsaturated Fat:
21
g
|
Monounsaturated Fat:
10
g
|
Trans Fat:
0.1
g
|
Cholesterol:
103
mg
|
Sodium:
552
mg
|
Potassium:
571
mg
|
Fiber:
3
g
|
Sugar:
13
g
|
Vitamin A:
3928
IU
|
Vitamin C:
37
mg
|
Calcium:
55
mg
|
Iron:
2
mg
This post was originally published in 2018 and has been updated in 2023 with photos, tips, and information.