This Curried Mango Chicken Salad is one of my favorite recipes to meal prep for lunches, but it's also fantastic for entertaining as well!
I can't remember exactly when I first tasted curried chicken salad, but I was hooked from the first bite. It was so much more fun than the straight up classic, and it became something I looked for on restaurant menus. However I do remember the exact moment I knew I needed to finally make my own version.
It was quite a number of years ago, back in the days where grabbing a sandwich was a normal thing for me on the rare occasion I hadn't packed my own lunch. On this particular day, I hadn't brought anything from home, and decided to try out a new deli type restaurant. So I pulled in, got in line, and started reading the overhead menu.
To my delight they had curried chicken salad sandwiches listed, and I knew that's exactly what I was getting. Once I had picked up my order, I decided to eat in the car because it was so crowded and noisy. After unwrapping my sandwich, I sank into the first bite, and froze. It was so terrible, I mean words escape me to describe how bad it tasted, and I spit my bite right back out.
However since this sandwich had cost me more money than I would normally spend on lunch unless I was out with friends, I wrapped it back up to take home to our family dog. And this is where the story gets funny, when I gave my sandwich to our dog, (who normally loved any kind of human food) he sniffed it, then promptly turned his back and walked away!
So now you know I'm not even close to exaggerating about how bad this sandwich was – even our dog wouldn't deign to take a bite. Which leads me to today where I finally have a recipe written down for this curried chicken salad, a salad worthy of even the fanciest lunch.
But it's also so good and easy to make, you'll probably find it on your menu often. I personally love it on lettuce wraps, but lately I've been trying out different coconut wraps as well. Some are definitely better than others, but these Sunfood wraps are the best so far. Lettuce wraps are a super easy way to replace bread in your sandwiches if you find yourself needing to go gluten free. But they're also a great way to get more veggies into your average day, which is always a plus.
Strictly speaking if you can't find mango, you don't absolutely have to use it. Grapes or chopped apples are also great depending on the season you're making this. But I have to say, mango combined with the creamy curry dressing, is my favorite pairing so far.
Tips for making this Curried Mango Chicken Salad:
I like to grill the chicken for the salad for a couple of reasons. First off the cleanup is nonexistent when you grill. And secondly, I love the grill flavor in chicken salads of all kinds, including my healthier version of the classic chicken salad. But if you don't have/don't grill, you can always sauté on the stove top. Also you can oven roast, or poach your chicken depending on your preference.
Once the chicken is cooked, everything comes together fairly quickly.
The dressing is stirred together…
… and it's all mixed up.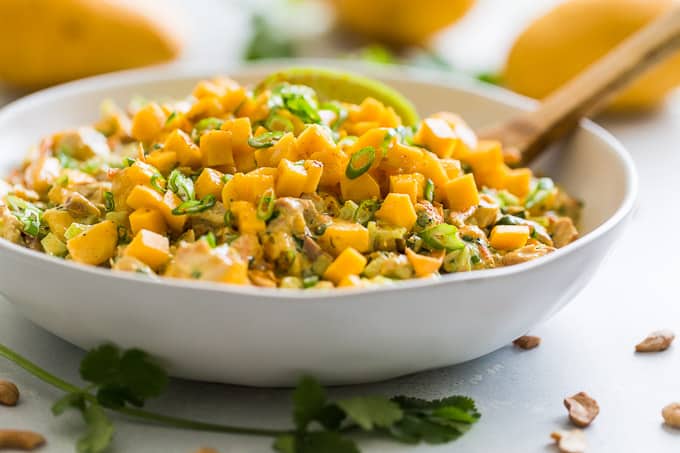 From there it's nice to let it sit in the refrigerator for 2-4 hours to let the flavor really sink in. But you can also serve it right away, and it's still great.
This recipe has been a smash hit around our house. And even though I know I'm crazy about curried chicken salad, I guess I was still surprised by how much everyone else liked it too. Especially Tyler, you don't tend to think your husband would be crazy about this type of food, but he couldn't stop eating it!
Print
Curried Mango Chicken Salad
---
1

pound boneless, skinless chicken thighs, about

4

, grilled

2 cups

cubed mango, 1/2″, from 2 small champagne mangoes, 8 ounces

1/4 cup

chopped cilantro

1/2 cup

thinly sliced green onion

1/2 cup

grated carrots

3/4 cup

finely diced celery, from about

2

stalks
Curried Dressing:
3/4 cup

homemade mayonnaise, or mayo of choice

1 Teaspoon

curry powder

1/2 Teaspoon

ground cumin

1/4 teaspoon

turmeric powder

2 Tablespoons

freshly squeezed lime juice

2 Tablespoons

coconut aminos
Salt to taste if needed
Lettuce leaves for wrapping, about 8-12 from 1 head green or red leaf lettuce
Tortillas or coconut wraps optional
Homemade Mayonnaise:
1

egg, room temperature

1 Teaspoon

white wine vinegar, or fresh lemon juice

1/2 Teaspoon

Dijon mustard

1/2 Teaspoon

sea salt

3/4

–

1

cup avocado oil
---
Instructions
Cube the grilled chicken into 1/2″ pieces, you'll have about 2 1/2 cups. Add the cubed chicken to a medium sized mixing bowl along with the mango, cilantro, green onion, carrots, and celery. Lightly toss to combine.
For the dressing mix together all the ingredients called for. Taste to see if you need to add more salt, then mix the dressing together with the chicken mixture until combined. Taste again to see if you need to adjust the salt, then serve the chicken salad with your choice of wrap.
I prefer to let the chicken salad sit for at least 2 hours in the fridge to let the flavors meld, and the dressing really sink into the chicken. I either make it the night before and take it for lunch for the next 2-3 days. Or I make it in the morning to serve at a brunch or light dinner.
To make homemade mayonnaise, crack the room temperature egg into a bowl, making sure there's no bits of shell. Then add the egg to a blender along with the white wine vinegar, Dijon mustard, and sea salt. Then secure the lid and blend starting on low speed.
Increase the speed to 2-3 on a Vitamix, and slowly drizzle in the avocado oil in a thin steady stream. It's very important not to add the oil too fast or the mayonnaise won't emulsify. Increase the speed as you continue to add the oil to around 5-6.
Continue to add the oil just until the mayonnaise becomes so thick it stops blending in the machine. When this happens, turn the machine off and scrape out the mayonnaise. It's advised to only keep homemade mayo for 2-3 days in the fridge. If you have any extra leftover from this recipe, try stirring in a little sriracha and making these sushi bowls.
Notes
Homemade mayo contains raw egg which isn't considered suitable for many people. Be sure and do your own research before making your own decision.