This healthy Tuna Salad Meal Prep is the ultimate easy recipe you can whip together in 15 minutes! It's naturally gluten-free and dairy-free, and there are some no-mayo options below as well. It's easy to customize to your dietary needs, and you get multiple servings of fruits and veggies too. This budget-friendly lunch is simple and tasty which makes it a recipe I come back to over and over again.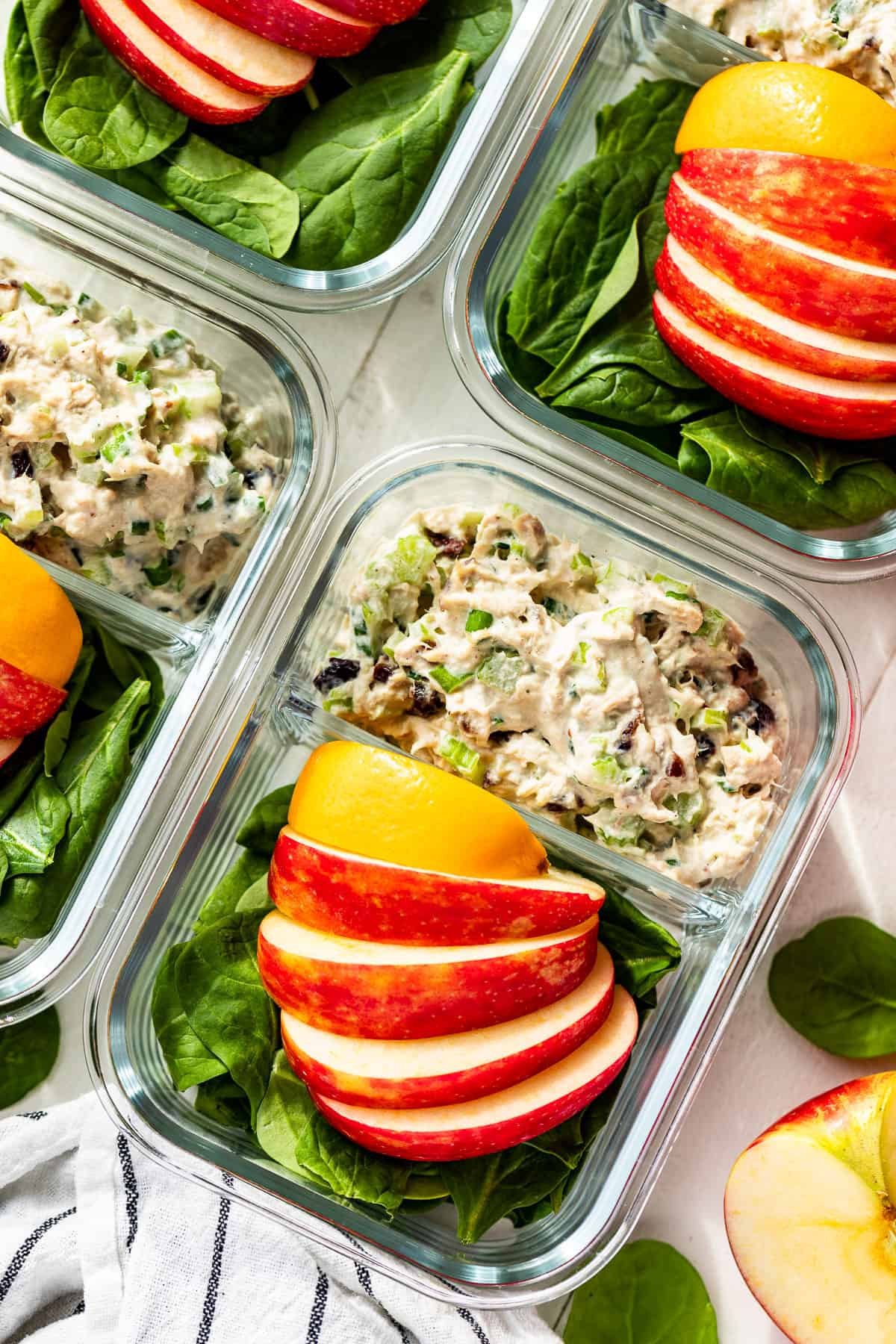 Are you tired of the same old tuna salad for lunch? Meal prepping can be a lifesaver when you're busy, but there's no need to get bored with your meals thanks to a few creative swaps. Combine that with changing up the fruits and veggies in this recipe, and you'll never be tired of tuna salad again.
Another thing I love about this recipe is it uses pantry staples. From there you can add fresh ingredients like greens and fruit. But you can also keep it simple as well if you're running low on fresh food at the moment.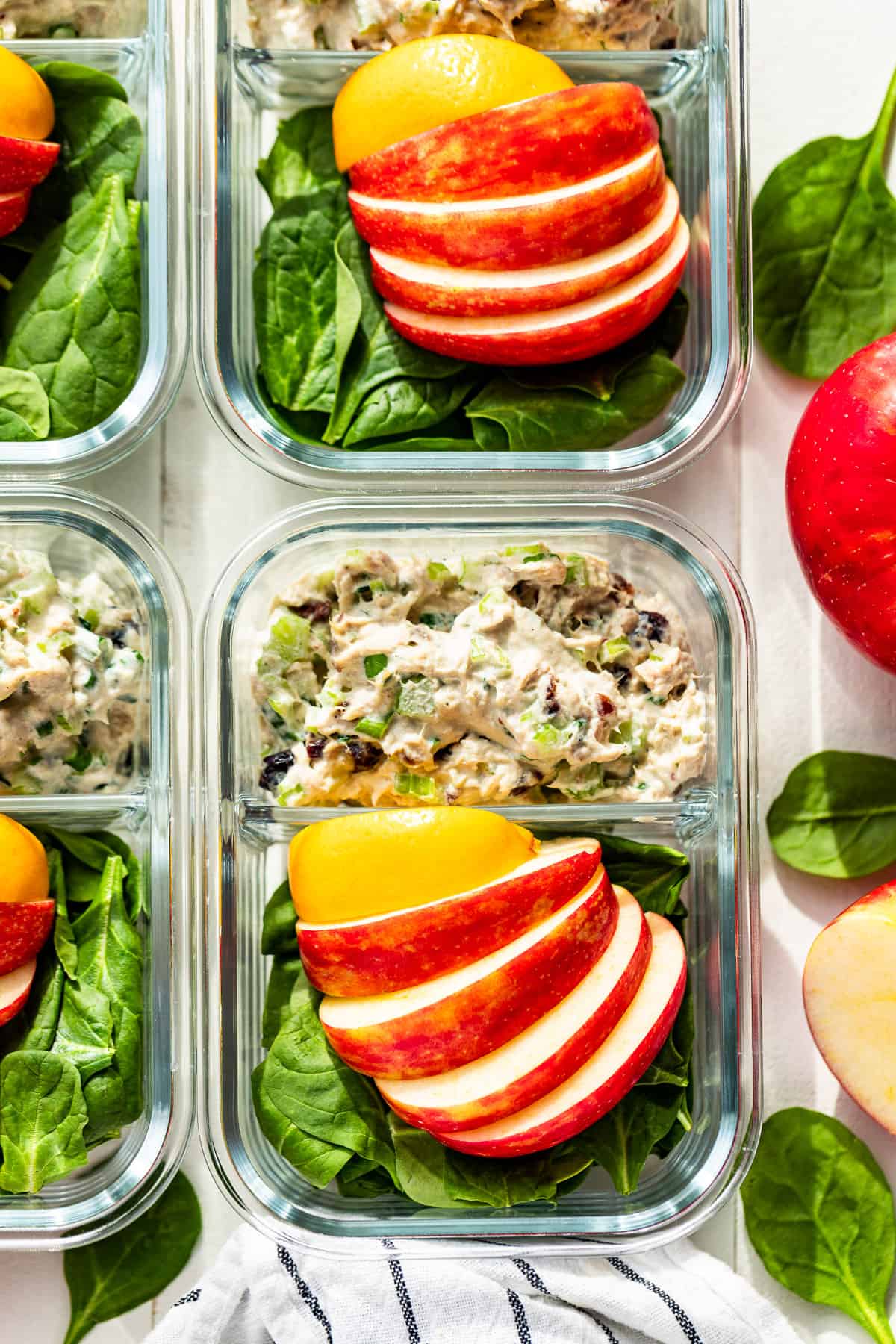 Ingredients & Substitutions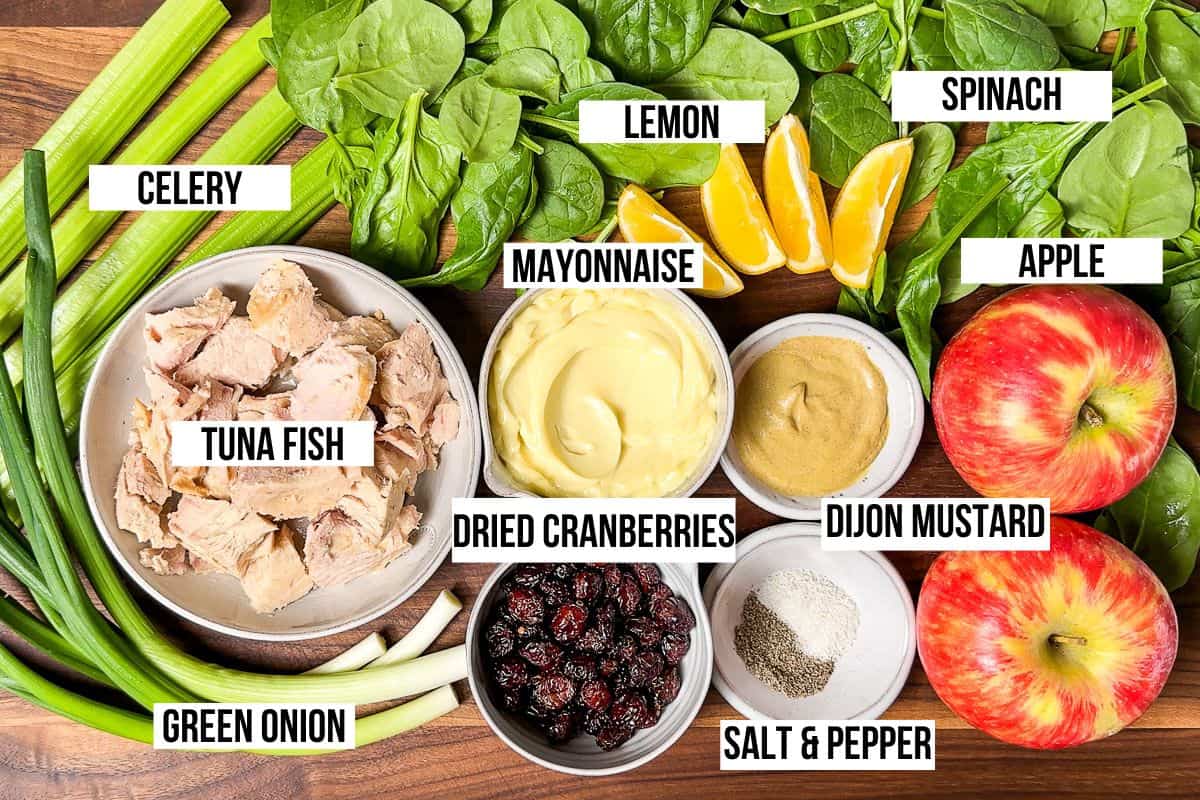 Tuna fish – look for good quality water-packed tuna fish. I like using Wild Planet which is a sustainable seafood company. I always stock up whenever they're on sale to have plenty around.
Dressing – I use a mixture of avocado oil mayonnaise and Dijon mustard. You can also use Greek yogurt or a 50/50 mix of Greek yogurt and mayonnaise. You'll also find some of my homemade dressings listed below that work as well.
Celery & green onion – add both crunch and savory flavor to this tuna salad. I find green onions to be a nice balance of flavor without being too overwhelming. You can also use diced red onion, but it will be much stronger.
Dried cranberries – I like to use fruit juice sweetened dried cranberries to keep this recipe healthy. They're easily found at any health food store. Usually, recipes call for pickles, and you can definitely use that in place of dried cranberries.
Greens – pre-washed greens of any kind make this really fast to put together. Spinach, spring mix, arugula, or any leaf lettuce you like all work well here.
Lemon – cut into wedges to squeeze over the top of the tuna salad adds bright fresh flavor and makes a dressing of sorts for the tuna salad and greens.
Apples – make a great flavor pairing and add some sweet crunch. I've also used sliced-up Mandarin oranges, blueberries, raspberries, and diced pears. All of these have been great flavor options.
How to make this recipe step by step
Step 2: Next drain the canned tuna fish really well and add it to a mixing bowl along with the chopped cranberries, celery, and green onions.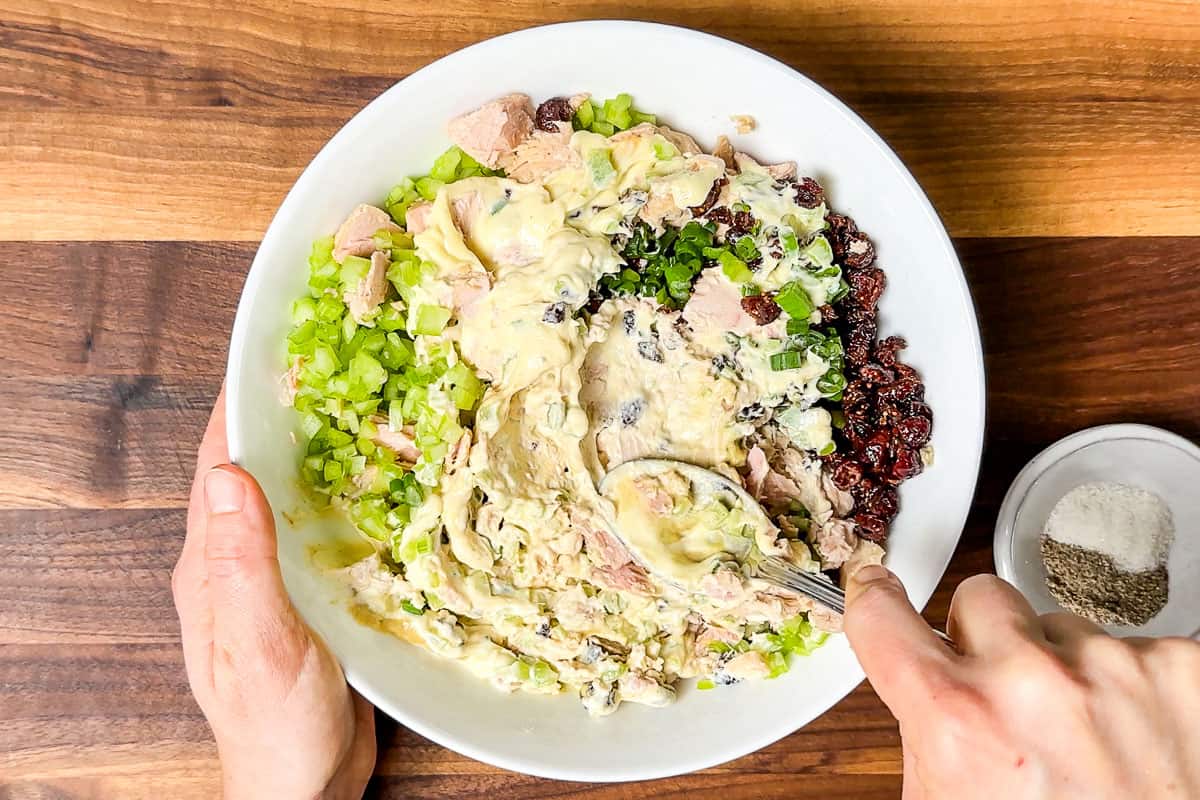 Step 3: Add the mayonnaise and Dijon mustard to the bowl and mix to combine. You can also use Greek yogurt, a 50/50 mix of yogurt and mayo, or any of the dressing recipes listed below.
Season the tuna salad with sea salt and pepper.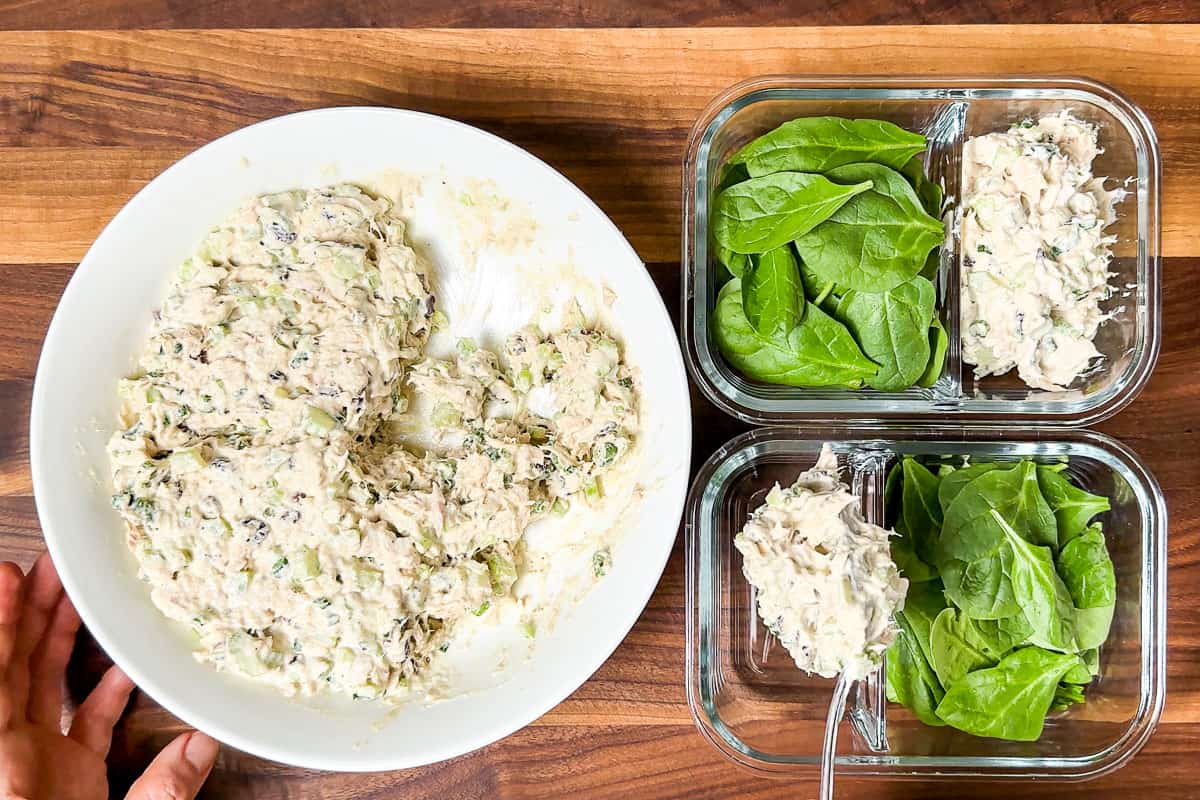 Step 4: From there you can serve the tuna salad any way you'd like.
To meal prep this recipe, portion the tuna mixture into 4 containers along with your choice of greens.
Step 5: Add a lemon wedge and some apple slices, (or you can dice it) to each container. The apples will turn brown over time, so you can add them fresh each day for the best results. Secure each container with a lid and refrigerate for the workweek.
The lemon wedge is for squeezing over the top when you're ready to eat this. The lemon juice adds a bright pop of flavor and creates a dressing for the spinach.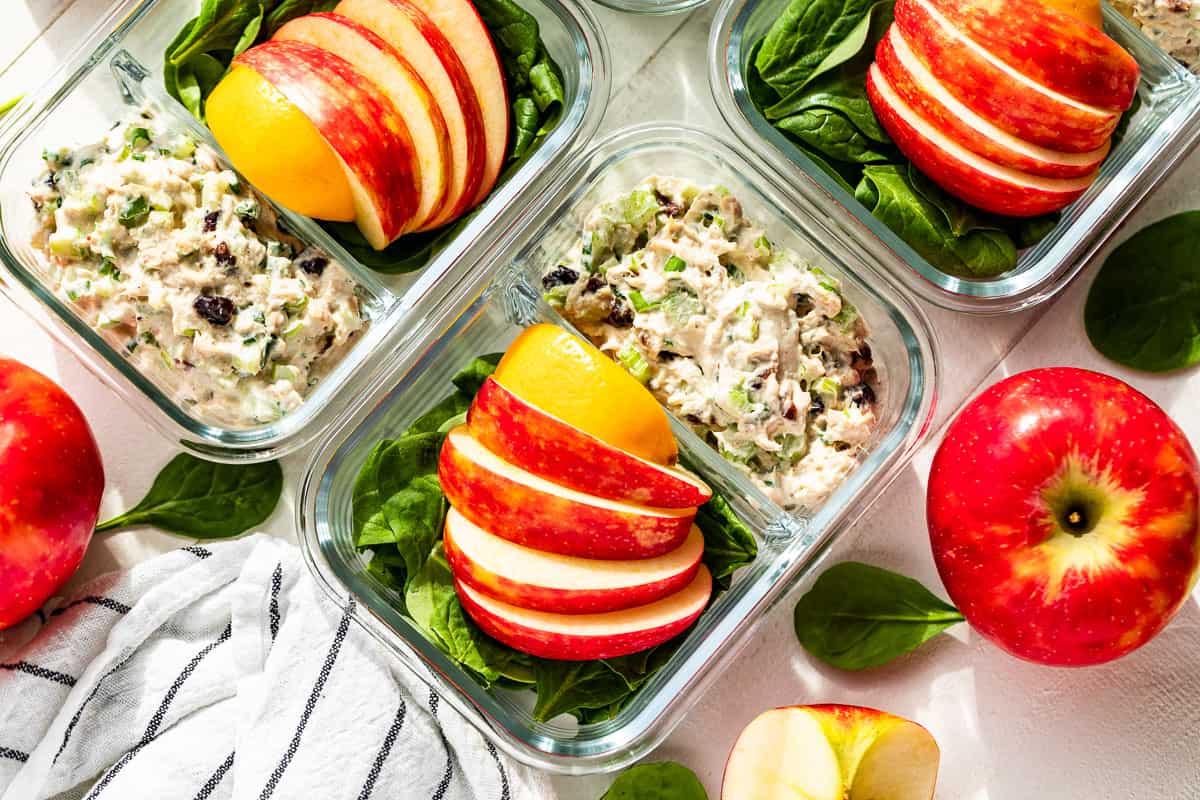 Ways to serve this
While I love to serve this over a bed of greens, tuna salad is also great as a dip of sorts. Try eating it with carrot sticks and celery sticks in place of the greens.
Mix it up with different greens or try my other options for dressing. I love this with the mayo dressing, but I also use Greek yogurt or even a 50/50 mix sometimes.
There's also no need to portion this out into meal prep containers as pictured. You can pile all the tuna salad into 1 container to refrigerate. Then assemble a salad daily for your meal.
FAQ's
Is mayonnaise healthy?
A good quality mayonnaise made with quality oils is a healthy source of fats in moderation. However, you can use Greek yogurt or any of my homemade dressings and vinaigrettes that don't have mayo in place of the traditional dressing.
What goes well with tuna salad?
Tuna salad is great over a bed of greens like romaine, spinach, or arugula. It's also tasty with crunchy veggies like bell peppers or sliced cucumbers. Try adding berries on top of your tuna salad, or sliced apples/pears in the colder months.
What makes this Tuna Salad healthy?
This tuna salad recipe is a great source of lean protein mixed with healthy fats and boasts a couple of servings of fruits and veggies as well for a balanced meal. You also have the option of using a healthy mayonnaise or Greek yogurt dressing to customize for your dietary needs.
Storing leftovers
To store – place the tuna salad into an airtight container and store it in the fridge for up to 4-5 days enough for an entire week of lunches.
Make ahead – this tuna salad keeps well up to 4 days, so it can be made ahead. Just remember any leftovers will not keep as long.
To freeze – tuna salad doesn't work well in the freezer, the veggies turn to mush and the mayo sometimes breaks. This is fast and easy to make, so don't try freezing it!
Tips & Tricks
If you're serving this tuna salad over greens, try topping it with blueberries or raspberries in the summer. Sliced/diced apples or pears are very tasty for the rest of the year.
Another great variation is to use any of my vinaigrettes in place of mayo. Try subbing out the mayo for my Italian Dressing, Cilantro Lime Dressing, Lemon Vinaigrette, or Basil Vinaigrette.
For fun creamy options, try my Greek Yogurt Dressing or Dairy Free Ranch Dressing in place of the mayo.
I also love scooping up this tuna salad with crackers or even potato chips when we're out hiking.
I get a lot of questions about containers, and I found the ones you see today at TJ Maxx. I look whenever I go in, and slowly over time, I've built up my container collection for a fraction of the regular price.
Use pre-washed greens to keep this recipe as simple and fast as possible. I love making my own mayonnaise which only takes a couple of minutes, but I always have avocado oil mayo on hand in the pantry to make this even faster.
If you don't like tuna fish, try using chicken instead. You can use canned chicken, leftover rotisserie chicken, shredded chicken, or grilled chopped chicken. I have made chicken salads with all of the above and they're all good, but I'm partial to grilled chicken myself.
Dietary Options & Substitutions
More meal prep recipe inspiration
I really hope you enjoy this healthy Tuna Salad Meal Prep! If you do get a chance to make this recipe, I'd love to hear from you in the comments.
Healthy Tuna Salad Meal Prep
---
INGREDIENTS
2

cans

-

5 ounces each, water packed tuna fish

1/2

cup

avocado oil mayonnaise

2

tbsp

Dijon mustard

1/2

cup

green onions

-

thinly sliced

1

cup

finely diced celery

-

2-3 stalks

1/2

cup

fruit juice sweetened dried cranberries

-

roughly chopped

1/2

tsp

sea salt

1/4

tsp

ground black pepper
To assemble:
8

cups

baby spinach

-

8 ounces

1

lemon

-

cut into 4 wedges
Optional:
2

apples

-

1/2 apple per serving
INSTRUCTIONS
Drain the tuna fish and place it in a medium sized mixing bowl. Add the mayonnaise, mustard, green onions, celery, cranberries, sea salt, and black pepper. Mix to combine, then set aside.

In 4 containers evenly portion out the spinach. Then portion out the tuna salad evenly, about 3/4 cup per container.

Keep the tuna salad from touching the greens so they don't get soggy. Finally add 1 lemon wedge per container, then seal and refrigerate for up to 4 days.

Add the chopped apple when you're ready to eat the tuna salad to prevent the apple from being too brown.
Bonus Step
If you made this recipe, please leave a rating/comment. Ratings really help us continue to bring you high-quality free recipes. Rate This Recipe!
NOTES
You can also use Greek yogurt in this recipe in place of the mayonnaise. Or try a 50/50 mix of Greek yogurt and mayonnaise which is really tasty.
nutrition facts
Calories:
395
kcal
|
Carbohydrates:
32
g
|
Protein:
19
g
|
Fat:
23
g
|
Saturated Fat:
4
g
|
Polyunsaturated Fat:
13
g
|
Monounsaturated Fat:
5
g
|
Trans Fat:
0.1
g
|
Cholesterol:
42
mg
|
Sodium:
809
mg
|
Potassium:
745
mg
|
Fiber:
6
g
|
Sugar:
22
g
|
Vitamin A:
5992
IU
|
Vitamin C:
39
mg
|
Calcium:
115
mg
|
Iron:
4
mg
This recipe was originally published in 2020, but has been updated with new photos, more tips and, information and nutritional facts in 2023.