Easy to make in under 20 minutes, this Spicy Tuna Salad will jazz up your work lunches, and it's healthy too. It's packed with protein and there's plenty of veggies as well. The hint of sriracha makes this a lunch you won't get tired of, and you can make this as spicy as you would like.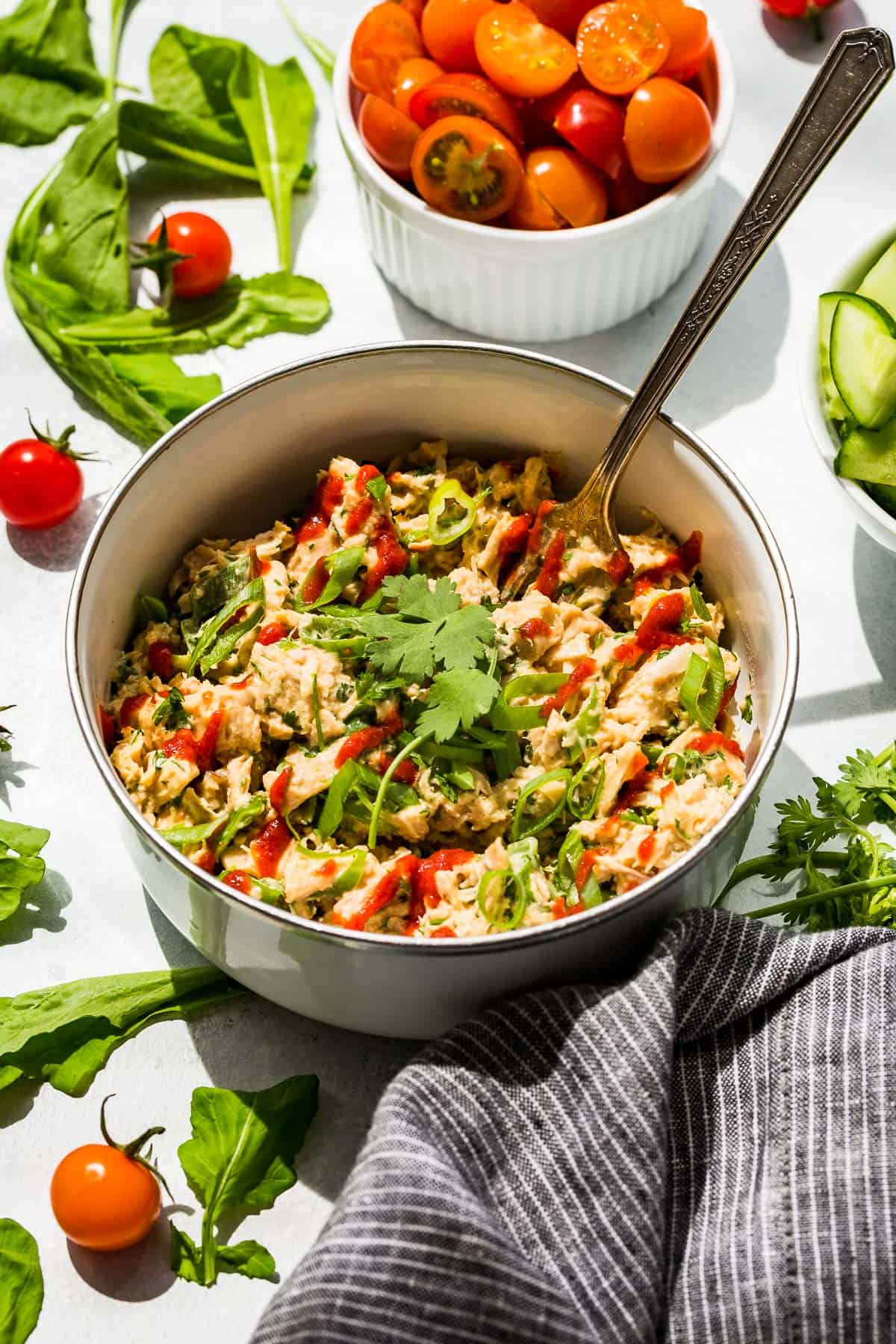 You can mix up this spicy tuna salad in under 10 minutes. And in just 20 minutes you can turn it into meal prep lunches with veggies.
I love a good classic tuna salad, and I make my healthy tuna salad meal prep version often. However, I love to mix things up, and this spicy tuna salad is just the perfect way to break up any boredom.
A little sriracha paired together with cilantro and fresh veggies makes this tuna salad one you'll come back to often. This spicy tuna salad doesn't need to be too spicy, just add sriracha until it tastes good to you.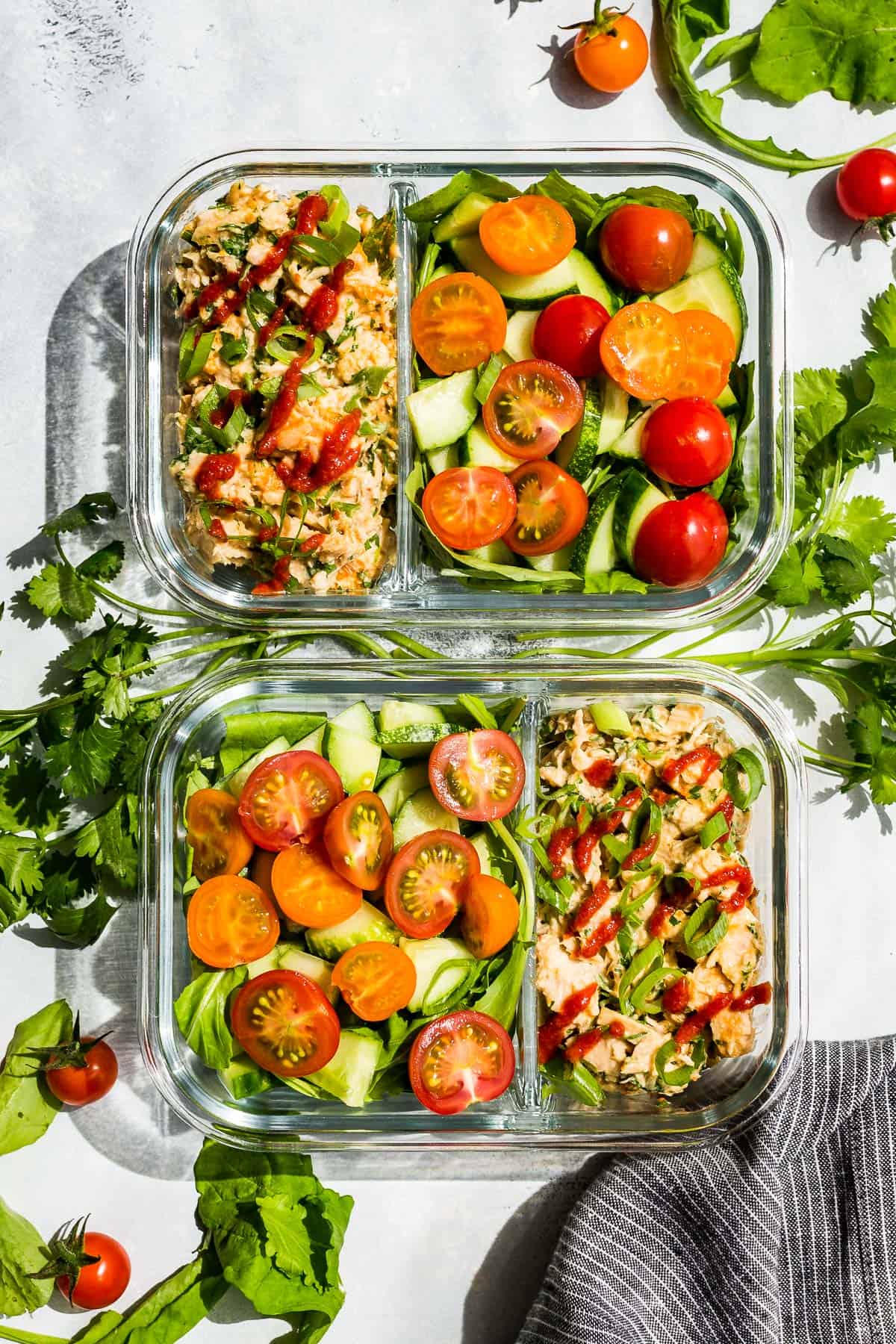 Ingredients & Substitutions
Tuna Fish – I've made this with both water-packed and olive oil-packed tuna fish, and either way it's really tasty. If you hate tuna fish, sub in cooked chicken, it's fantastic and that's how I make it for Tyler!
Mayonnaise – I use a homemade avocado oil sriracha mayo option listed in the recipe. But your choice of whatever mayo you like is perfect.
Sriracha – This is of course what makes all the magic. And speaking of magic, I just discovered a probiotic sriracha by the brand Wild Brine that will make you fall in love with sriracha all over again – it's seriously that good! Also as far as I can tell it's Whole30 compliant as well, so that's another bonus.
Green onion – sometimes called scallions, or chives all thinly sliced adds another element of savory to this tuna salad and keeps it from being boring.
Cilantro – this one is optional, but it is tasty if you have it around. I've made this several times without the cilantro and it's still good.
Salad ingredients – I've been using a bed of arugula topped with cucumbers and cherry tomatoes. But you can use any green or mix of greens you'd like. And if cucumbers and tomatoes aren't in season, just leave them out. In the winter, try something sweet like cubed-up mango in place of the tomatoes.
How to make this recipe step by step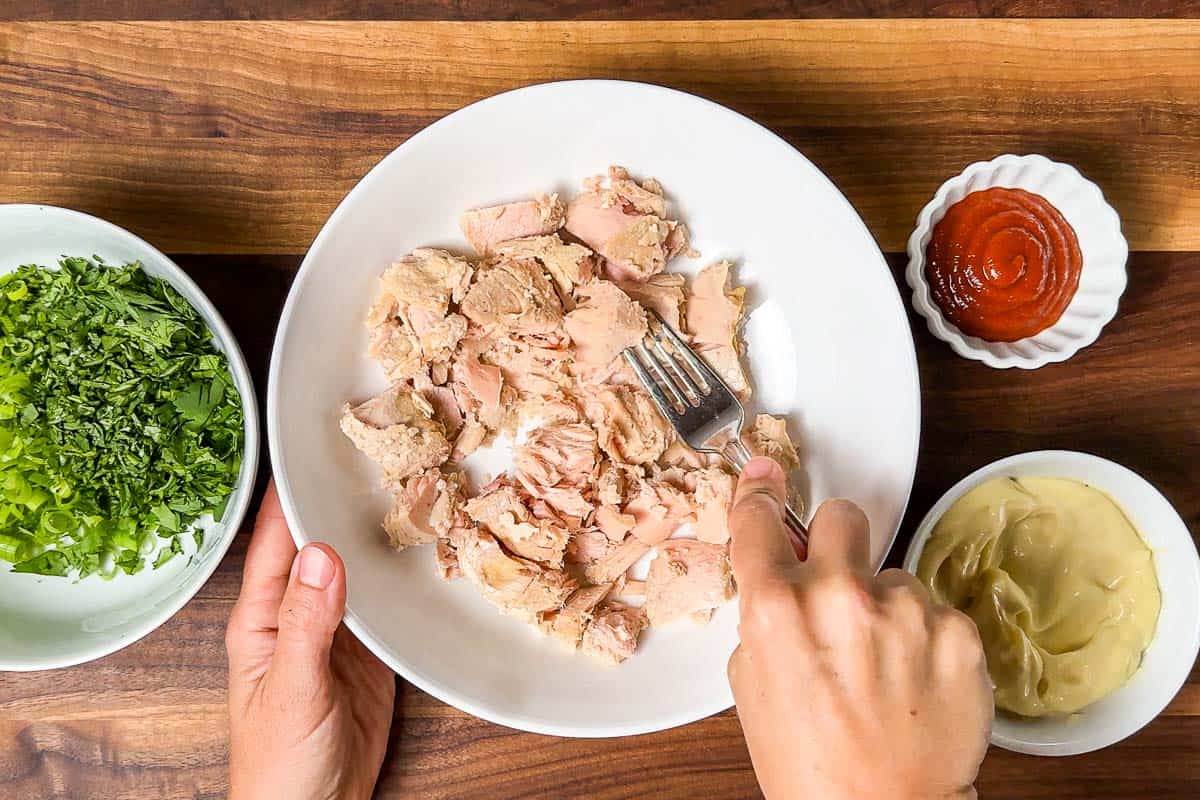 Step 2: Next drain the canned tuna fish well and add it to a bowl. Lightly break it up with a fork or spoon.
Step 3: Add the green onion, cilantro, mayonnaise, and sriracha to the tuna fish and mash to combine. The mashing helps to bring out a bit more flavor from the green onion and cilantro.
Add just a bit of sriracha at first, then taste and adjust the amount of spice to your liking.
Step 4: Serve the spicy tuna salad with the salad ingredients. Or portion it out into containers with the tuna mixture on one side and the salad on the other.
Step 4: Drizzle with a little more sriracha sauce if desired, seal with a lid and refrigerate.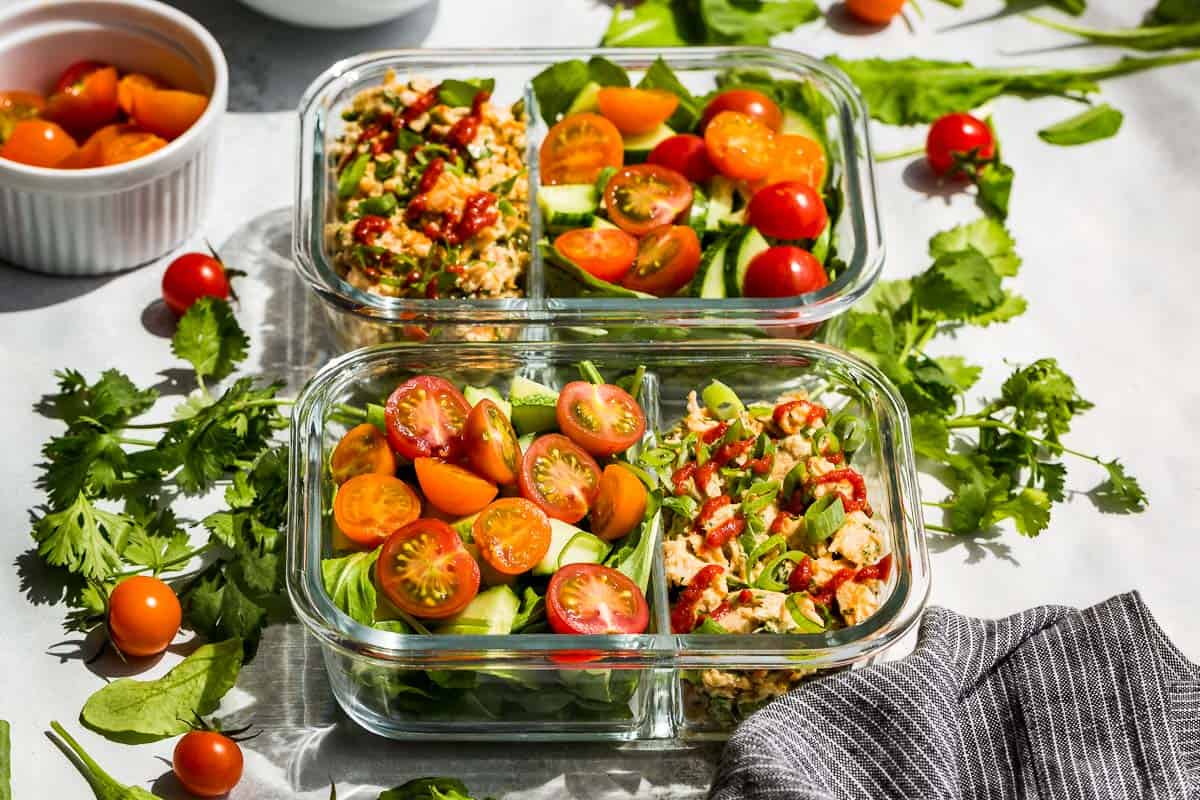 Ways to serve this
Serve this tuna salad over any lettuce or mix of greens you like. We like arugula in particular with this spicy tuna salad, but just about anything works here.
I like squeezing a little lime juice over the top of the salad ingredients sometimes for some added zip. You could also sprinkle a few drops of rice vinegar as well instead of lime juice.
Make this spicy tuna salad into a sandwich, pile it onto toast, or serve it with crackers for dipping. This recipe also makes great wraps, simply add the spicy tuna salad along with some of the veggies and greens to your choice of tortilla.
FAQ's
What can I use instead of mayonnaise in tuna salad?
You can use plain yogurt or plain Greek yogurt in place of some or all of the mayonnaise in this tuna salad.
What goes well with tuna salad?
Tuna salad is great over a bed of greens like romaine, spinach, or arugula. It's also tasty with crunchy veggies like bell peppers or sliced cucumbers. Try adding fruit like diced mango which pairs really well with this spicy tuna salad.
Storing leftovers
To store – place the tuna salad into an airtight container and store it in the fridge for up to 4 days.
Make ahead – this tuna salad keeps well up to 4 days, so it can be made ahead. Just remember any leftovers will not keep as long.
To freeze – tuna salad doesn't work well in the freezer, the mayo sometimes breaks and the veggies can't be frozen. This is super quick and easy to make, so don't try freezing it!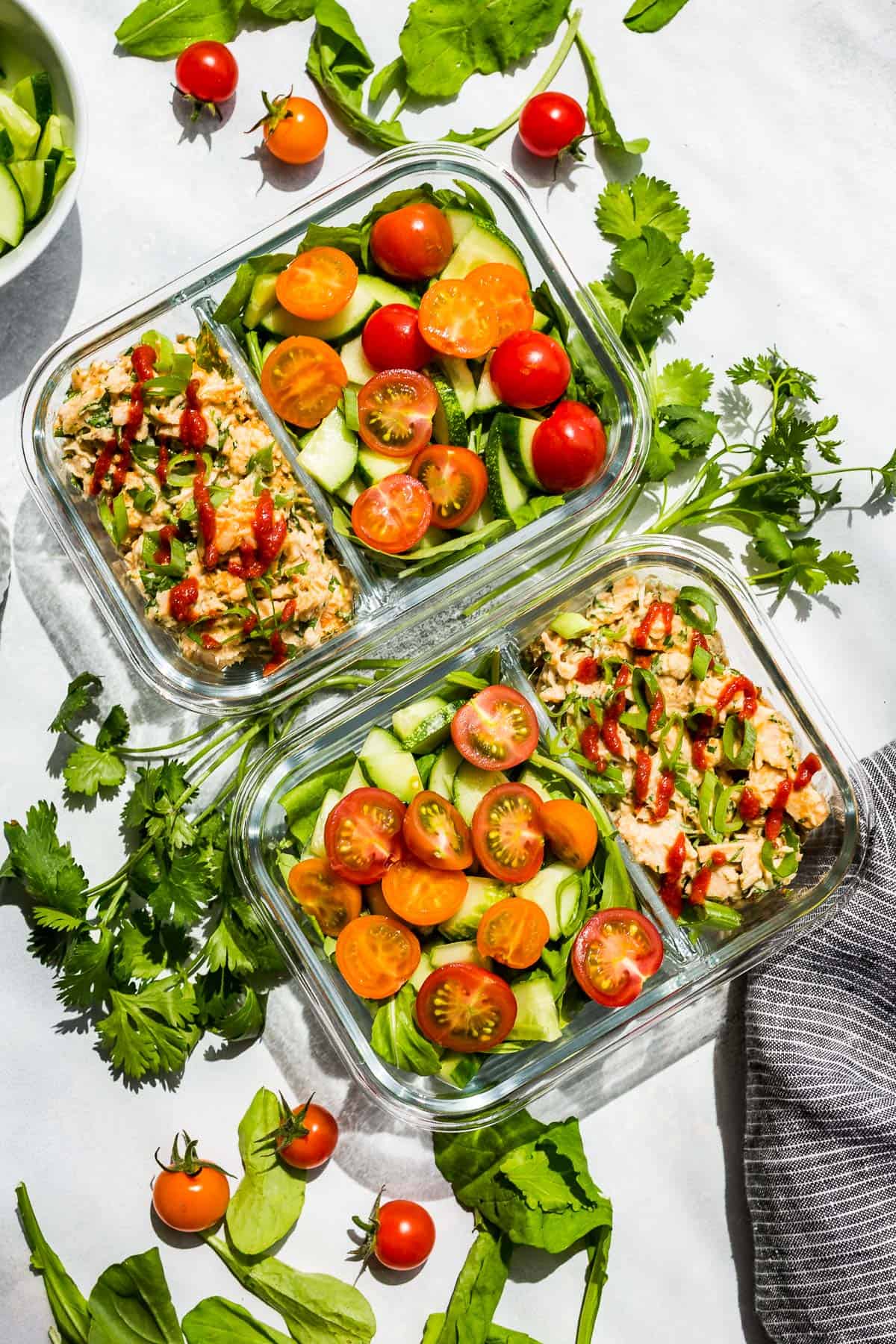 Tips & Tricks
Vary the veggies, greens, or even sub in some diced mango to change things up in this recipe. Or add some finely diced celery to the tuna salad for extra crunch.
If you can find the fermented sriracha from the brand Wild Brine, give it a try it's fantastic! I found it in the refrigerator section of our local health food grocery store and I'm pretty well obsessed with it.
Try mixing 50/50 plain Greek yogurt together with the mayo for a different twist.
This tuna salad is also a really good way to use up any of my Sriracha Mayo recipe if you have it on hand. I make that Sriracha Mayo recipe so often, it's almost always in my fridge ready to make this tuna salad. If you use sriracha mayo you may not need to add any extra, just taste after mixing and add more only if desired. If you have leftover sriracha mayo, it's great for sushi bowls too.
The recipe calls for 1 tbsp sriracha which is very mild. We like a medium amount of heat which is the 3 tbsp listed. Spice is a very personal preference, so just taste test and adjust accordingly.
You don't need to portion this out into meal prep containers. Instead, you store the tuna salad in a container and portion it out as needed.
Meal Prep this Spicy Tuna Salad
Start by mixing together the tuna salad, then portion it into your containers.
Next add the greens, and veggies/fruit if you're using them on the opposite side of your container. If you're using cucumbers and tomatoes, place them on the bottom with the greens on top for the best results. It's pictured the opposite here because it looks prettier this way. It will last at least 2 days with the tomatoes on top of the greens, but it's best to put them on the bottom.
Refrigerate and eat within 4 days.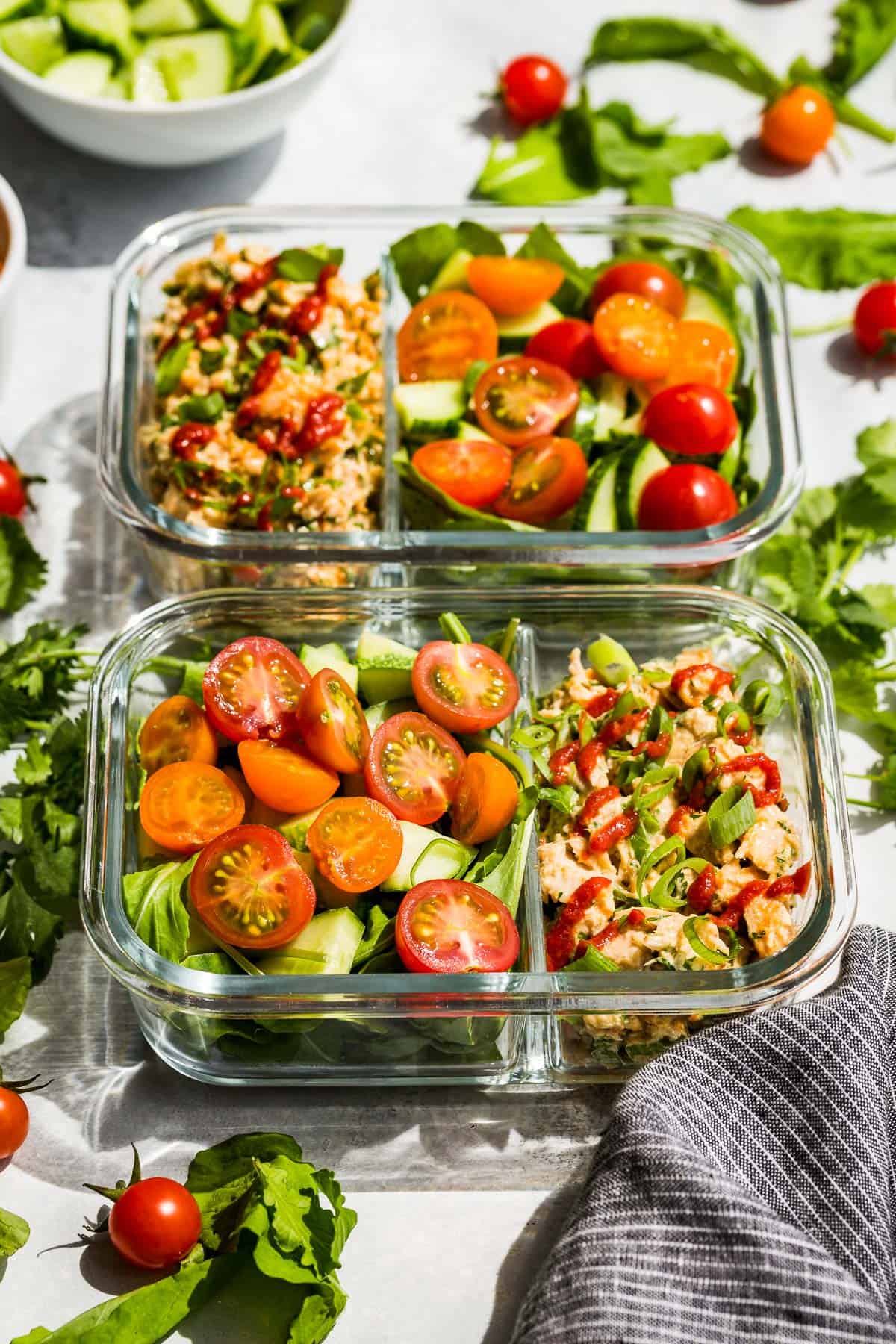 More Easy Lunch Recipe Inspiration
I really hope you enjoy this Spicy Tuna Salad! If you do get a chance to make this recipe, I'd love to hear from you in the comments.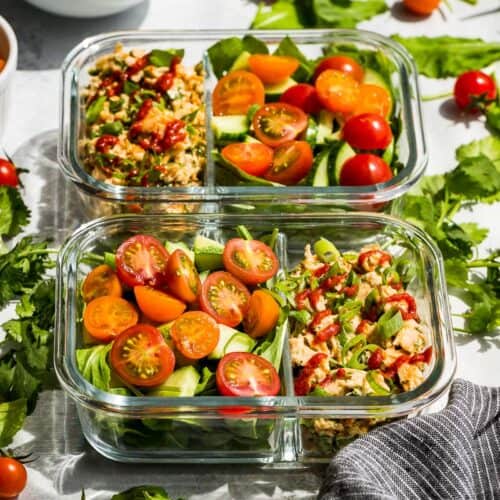 INGREDIENTS
Spicy Tuna Salad:
10

ounces

canned tuna fish

-

well drained, 2 cans

1/3

cup

mayonnaise

-

see notes

1

tbsp

sriracha

-

add more to your taste, we like 3 tbsp

2

tbsp

thinly sliced green onions

-

or chives

1/4

cup

cilantro

-

chopped

sea salt

-

to taste, this will vary depending on the ingredients you use.
Salad Ingredients:
8

cups

arugula or mixed greens of choice

1

small

cucumber

-

quartered and thinly sliced, about 1 cup

2

cups

cherry tomatoes

-

havled
INSTRUCTIONS
Mix together all the ingredients for the sriracha tuna salad, and prep all the salad ingredients.

Serve the tuna salad with the salad ingredients, or you can follow the meal prep instructions.

To meal prep this, portion the tuna salad into one side of your 4 containers of choice. Add the cucumbers and tomatoes to the other side, then top with the greens. 

Refrigerate and eat within 4 days.
Bonus Step
If you made this recipe, please leave a rating/comment. Ratings really help us continue to bring you high-quality free recipes. Rate This Recipe!
NOTES
To use homemade mayo in place of the mayo and sriracha I use my sriracha mayo recipe, measuring out 1/2 cup.
The nutrition facts were calculated with water-packed tuna fish. 
nutrition facts
Calories:
220
kcal
|
Carbohydrates:
6
g
|
Protein:
16
g
|
Fat:
15
g
|
Saturated Fat:
2
g
|
Polyunsaturated Fat:
9
g
|
Monounsaturated Fat:
3
g
|
Trans Fat:
0.04
g
|
Cholesterol:
33
mg
|
Sodium:
380
mg
|
Potassium:
510
mg
|
Fiber:
2
g
|
Sugar:
3
g
|
Vitamin A:
1497
IU
|
Vitamin C:
28
mg
|
Calcium:
95
mg
|
Iron:
2
mg
This recipe was originally published in 2020 and updated in 2023 with more tips and information.