Better than takeout, this Easy Cashew Chicken is the perfect go-to recipe for dinner. It's easy to make and packed with veggies, protein, and flavor. Then add a touch of crunchy cashews, and you just take this right over the top – it's so good! It's naturally gluten-free, dairy-free, and family-friendly.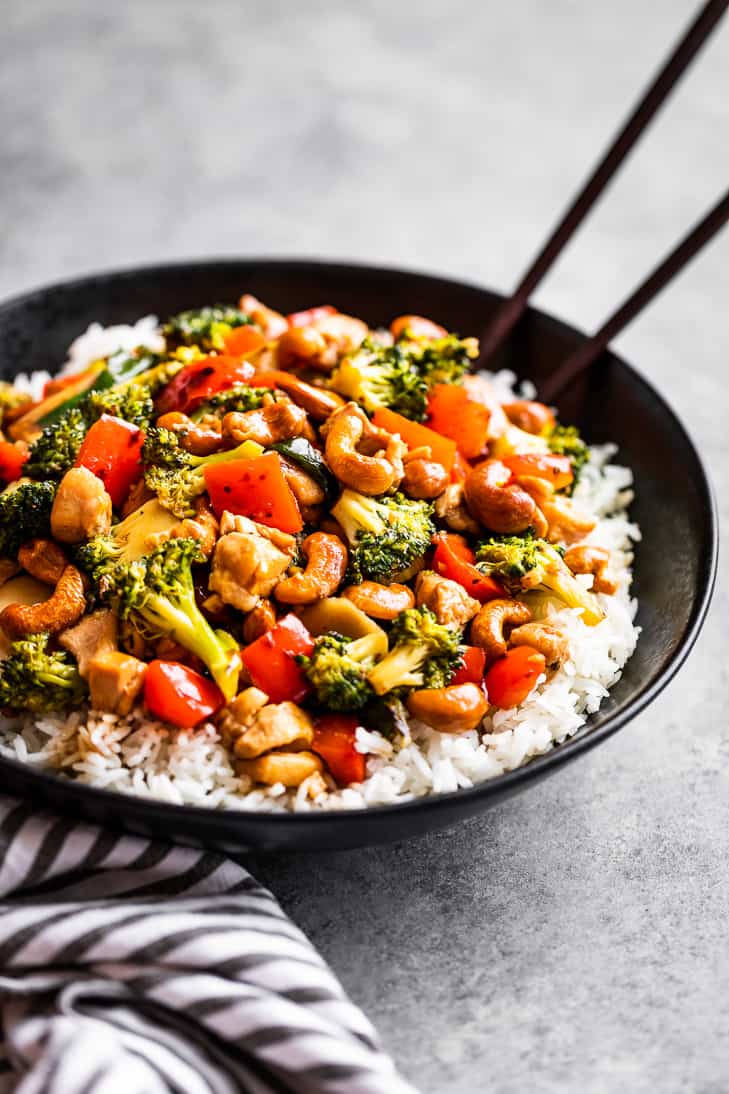 What are your go-to recipes during the workweek? We rely heavily on stir fries for sure because they're simple to make, and they're a 1-pan kind of dinner too. You can also easily customize whatever stir fry you're making to what you have on hand as well.
All in all, stir fry is a must-have 'back pocket' kind of recipe. Once you make it a few times you'll know it so well you can whip it up extra fast. You'll also find some tips below for how to prep a few things ahead to make this even faster.
Cashew chicken is a classic standby that simply never gets old. However, for the average weeknight, I kept this recipe extra simple. I've also added lots of extra veggies, so you won't even need to make a side dish, just steam some rice and you're done!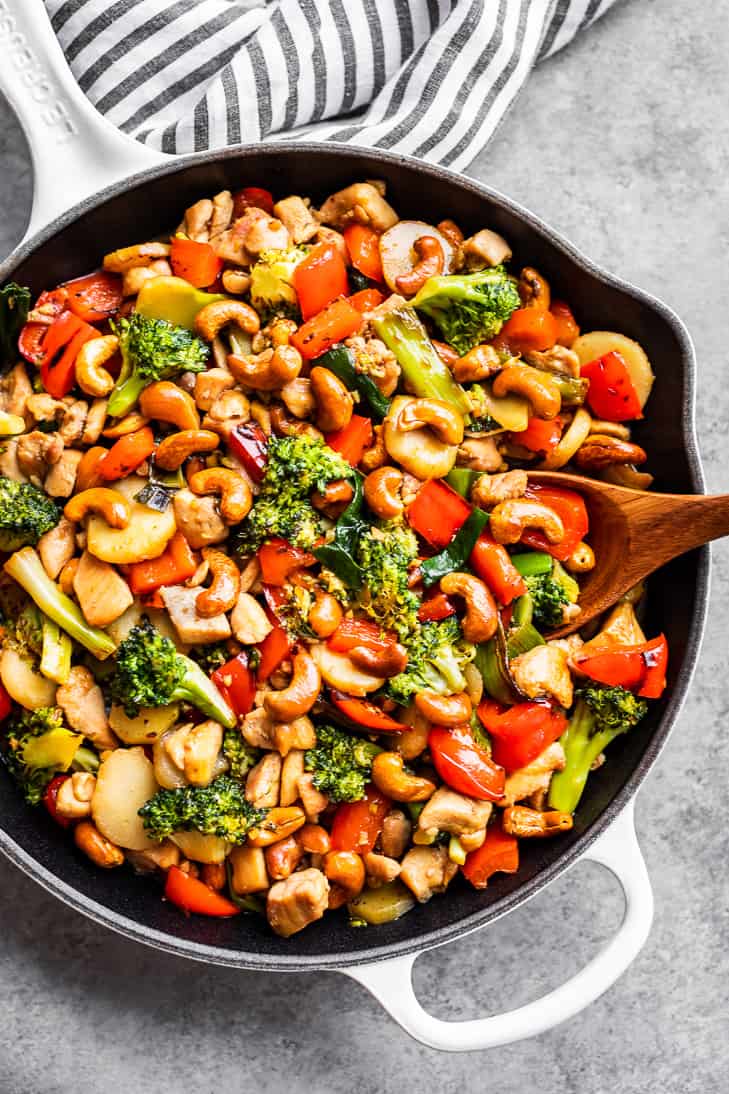 Ingredients for this Easy Cashew Chicken
Chicken – I like to use chicken thighs here because they don't dry out as easily as chicken breasts in a stir fry.
Green onions – Both the white and green parts are used in this stir fry. The white ends go in early and the green goes in at the end.
Red bell pepper – red peppers adds lots of flavor and a bright pop of color. But as I mentioned above, stir-fries can be customized easily to whatever veggies you love in a stir-fry. You only want to steer clear of the veggies that take too long to cook like extra hard root veggies, (winter squash, potatoes, etc.). Veggies like carrots and parsnips can be thinly sliced and stir fry well.
Broccoli – is my main green veggie here, but asparagus, snow peas, or bok choy all work here. (Although bok choy cooks really fast, add it in towards the end if you use it.)
Water chestnuts – add lots of fun crunch to this stir fry and have been traditional in any cashew chicken I've ever ordered in a restaurant. You can usually find them in your ordinary supermarket. They're in the oriental section of our grocery store.
Garlic & ginger – are your aromatics in this stir fry and add so much flavor.
Sauce ingredients – I've kept the sauce ingredients extra healthy here. I used a mixture of coconut aminos and fish sauce to mimic the flavors from the classic dish which usually has oyster sauce in it. I haven't found an oyster sauce yet in the store that doesn't have a whole pile of ingredients in there that I'm not too sure about. It's also usually not gluten-free. So the fish sauce in this recipe adds the right flavor to get by without it. You can also sweeten this stir fry to taste if you use soy sauce with brown sugar or honey. I use coconut aminos which are naturally sweet. For the chicken broth, I recommend low sodium so you can add salt to taste.
Cashews – toasted to golden perfection add lots of yummy crunch. They're not strictly necessary if you can't have nuts. Despite the fact this is a 'cashew chicken' recipe there's still plenty of flavor if you need to omit the nuts.
let's make this recipe step by step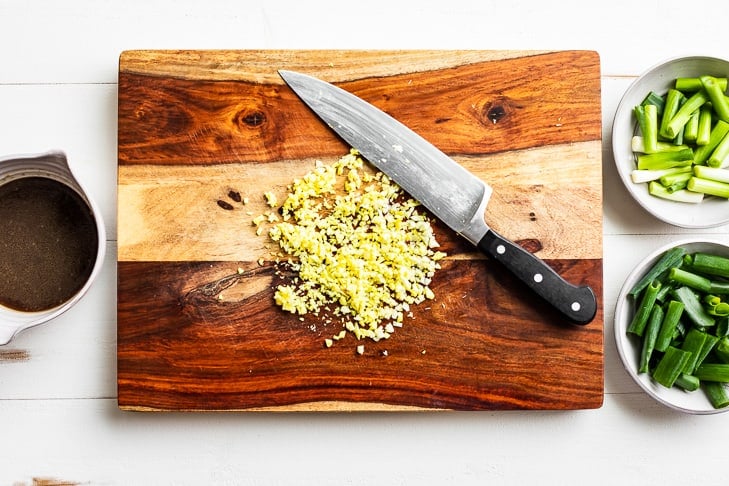 Step 1: We're going to start by prepping all the ingredients.
Stir fries are best cooked over high heat and need all of your attention once you start cooking.
Time saving tip #1: You can mince your garlic and ginger ahead of time, and refrigerate it for a couple of days. Or you can freeze it for a later date. I mince up large batches, and then freeze them in small containers. From there I just pull out a container and place it in the refrigerator to thaw. A good amount to freeze for a stir fry is 2 cloves of garlic and 1 tablespoon minced ginger. You can vary the ratios, but that one is very tasty!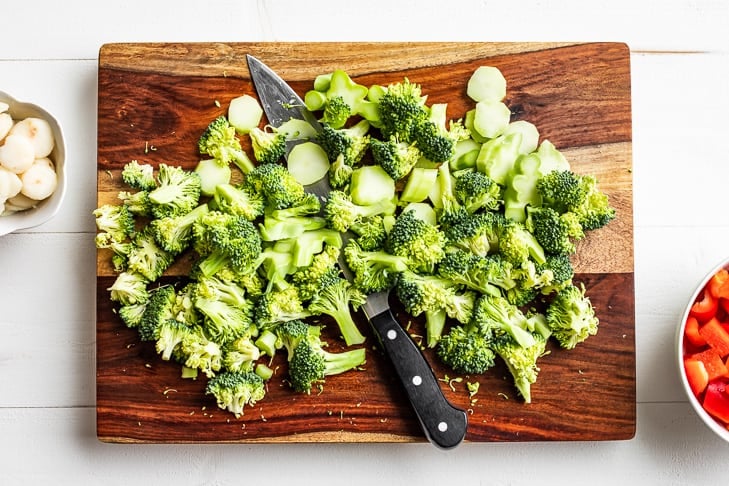 Step 2: Cut up all the veggies. Try to aim for evenly sized pieces if you can.
This helps the veggies to cook more evenly in the pan.
Time saving tip #2: Cut up your veggies on the weekend and store in airtight containers. This way if you don't have much time in the evenings, the main prep work is already done. You can also buy lots of different veggies already cut up these days. And if you use a veggie like snow peas, there's no prep at all!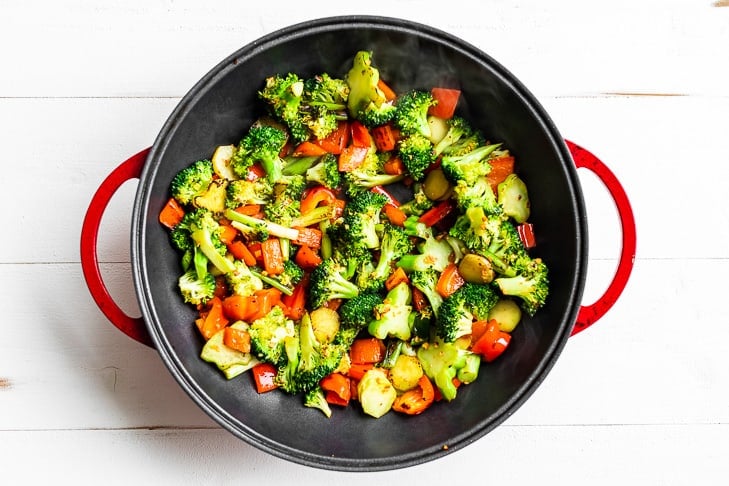 Steps 3 & 4: Next, it's time to sauté the chicken before removing it from the pan.
Then stir fry the veggies over medium-high heat until they're crisp tender.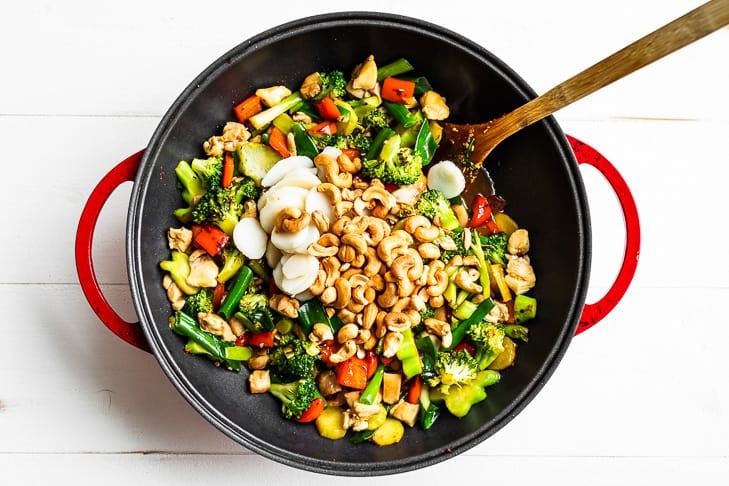 Step 5: Finally, we're going to add the sauce mixture along with the water chestnuts and cashews. You can also keep the cashews back as a garnish to sprinkle individually so they don't get soggy as they sit in the stir fry.
Toss together while cooking over high as the sauce absorbs, and serve!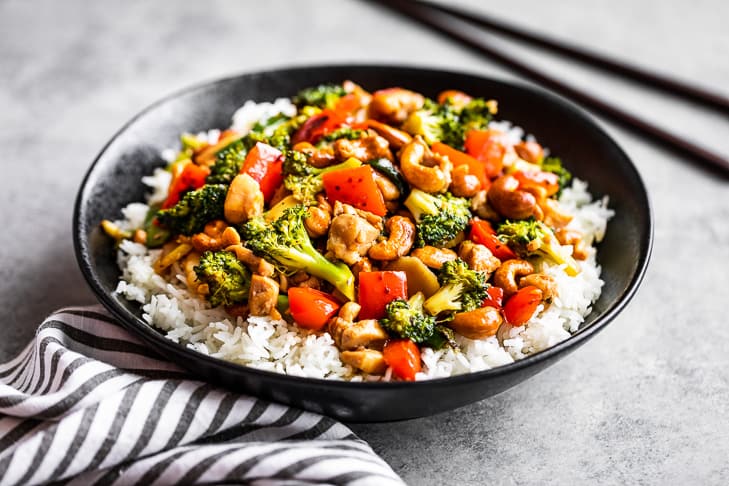 FAQ's
Can I use chicken breasts instead of chicken thighs in this stir fry?
Yes, you can use cubed-up chicken breasts instead of chicken thighs. Chicken breasts can dry out more quickly than chicken thighs, so be careful not to overcook them.
Where did Cashew Chicken originate?
Cashew Chicken was invented by David Leong a Chinese American chef. My version of this now classic recipe has added veggies and allergy-friendly substitutes included.
Storing leftovers
Store – place any leftovers into an airtight container and refrigerate for up to 5 days. The veggies will continue to get soggier with time. Also, I recommend keeping the cashews separate so they don't get soggy as well.
Make ahead – You can prep the garlic and ginger ahead of time and freeze them in small containers. That way you can make this stir fry faster. You can also cut up the vegetables up to 1 day ahead of time and refrigerate until you're ready to use them.
Reheat – add your leftover stir fry to a skillet, and cook over medium heat stirring constantly until the stir fry is hot. Add a bit of water if necessary to keep it from sticking. If you have leftover rice, add that to the skillet with the stir fry to soften it.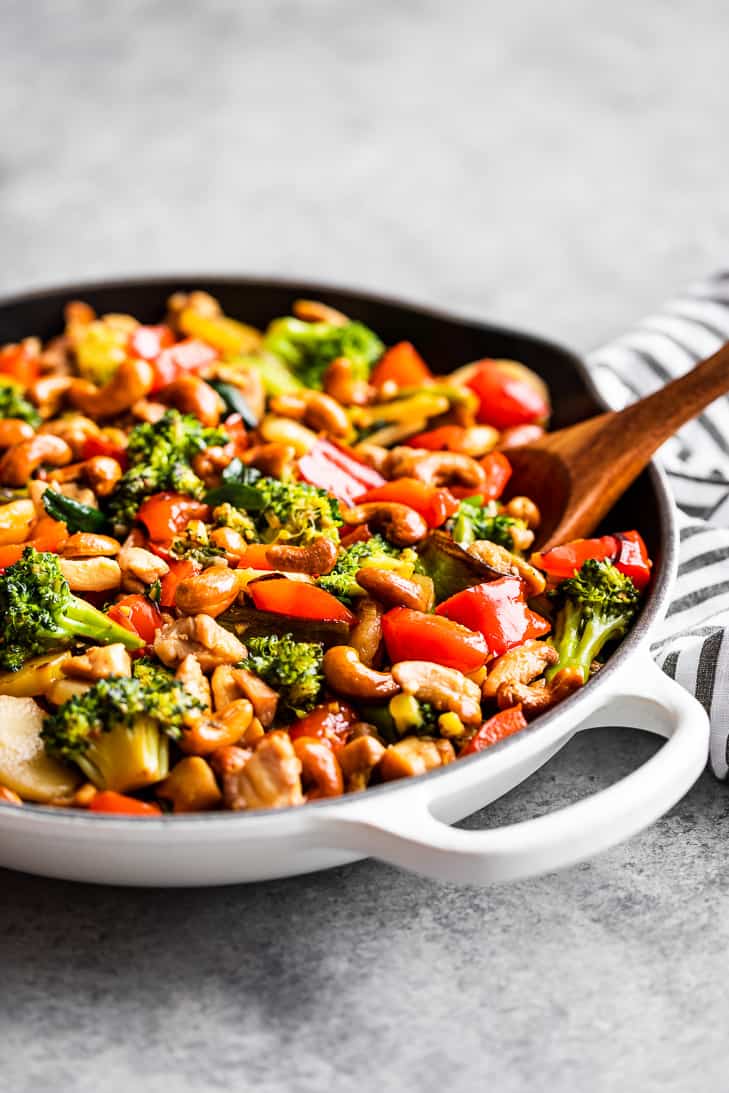 I really hope you enjoy this cashew chicken recipe! And if you do get a chance to make it, I hope you'll leave me a comment/rating below. I always love hearing from you here! Also for lots more Asian inspired recipes, head over to the recipe index.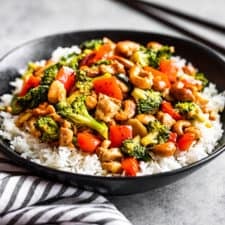 INGREDIENTS
2

tbsp

avocado oil

-

or stir frying oil of your choice

1

pound

boneless skinless chicken thighs

-

cut into 1″ pieces

1

large

red bell pepper

-

cut into 1/2″ pieces

1

pound

broccoli

-

1-2 heads

1

bunch

green onions

-

sliced into 2″ lengths

1

tbsp

minced ginger

2

cloves

garlic

-

minced

1

can

water chesnuts

-

drained & rinsed

3/4

cup

toasted unsalted cashews
Sauce:
1

tbsp

tapioca starch

-

or cornstarch

1/4

cup

coconut aminos

-

or soy sauce

1

tbsp

fish sauce

1

tbsp

rice vinegar

1

tsp

toasted sesame oil

1/2

cup

low sodium chicken stock or broth
INSTRUCTIONS
Prep all the ingredients before you begin to cook. For the broccoli, cut the heads into evenly sized florets. Then peel the tough outer layer of the stem and thinly slice it.

As you cut the green onions, separate the dark green parts off to the side to add at the end of the cooking time. Then mix together all the ingredients for the sauce and set it aside.

Preheat a very large skillet, 15″ works great, over high heat. When the pan is hot but not smoking, add 1 tablespoon of the avocado oil along with the chicken.

Cook stirring only as the chicken browns until it's just cooked, 3-4 minutes. Remove the chicken from the pan and set it aside.

Add the remaining tablespoon of oil to the pan with the bell pepper, broccoli florets and sliced stems, and the white parts of the green onion. Cook until the veggies are crisp tender, 5-6 minutes.

Then add the ginger and garlic, stir to combine and cook until fragrant, 2-3 minutes.

Finally add the sauce mixture along with the cooked chicken, water chesnuts, dark green parts of the green onion, and the cashews. Continue to cook over high heat, stirring constantly, until the sauce thickens and is thoroughly mixed in, about 30 seconds.

Season to taste with salt if needed and serve immediately.
Bonus Step
If you made this recipe, please leave a rating/comment. Ratings really help us continue to bring you high-quality free recipes. Rate This Recipe!
NOTES
Store – place any leftovers into an airtight container and refrigerate for up to 5 days. The veggies will continue to get soggier with time. Also, I recommend keeping the cashews separate so they don't get soggy as well.
nutrition facts
Calories:
467
kcal
|
Carbohydrates:
35
g
|
Protein:
32
g
|
Fat:
24
g
|
Saturated Fat:
4
g
|
Polyunsaturated Fat:
5
g
|
Monounsaturated Fat:
13
g
|
Trans Fat:
0.02
g
|
Cholesterol:
108
mg
|
Sodium:
852
mg
|
Potassium:
1055
mg
|
Fiber:
7
g
|
Sugar:
8
g
|
Vitamin A:
2078
IU
|
Vitamin C:
157
mg
|
Calcium:
89
mg
|
Iron:
5
mg