This Sausage Hash Brown Breakfast Casserole is loaded with goodies and so easy to make! It's perfect for everything from meal prepping to holiday and weekend breakfasts. There are even make-ahead and overnight options as well to make this recipe even easier. This egg casserole is a household favorite for us for everything from holiday breakfast to taking along with us camping.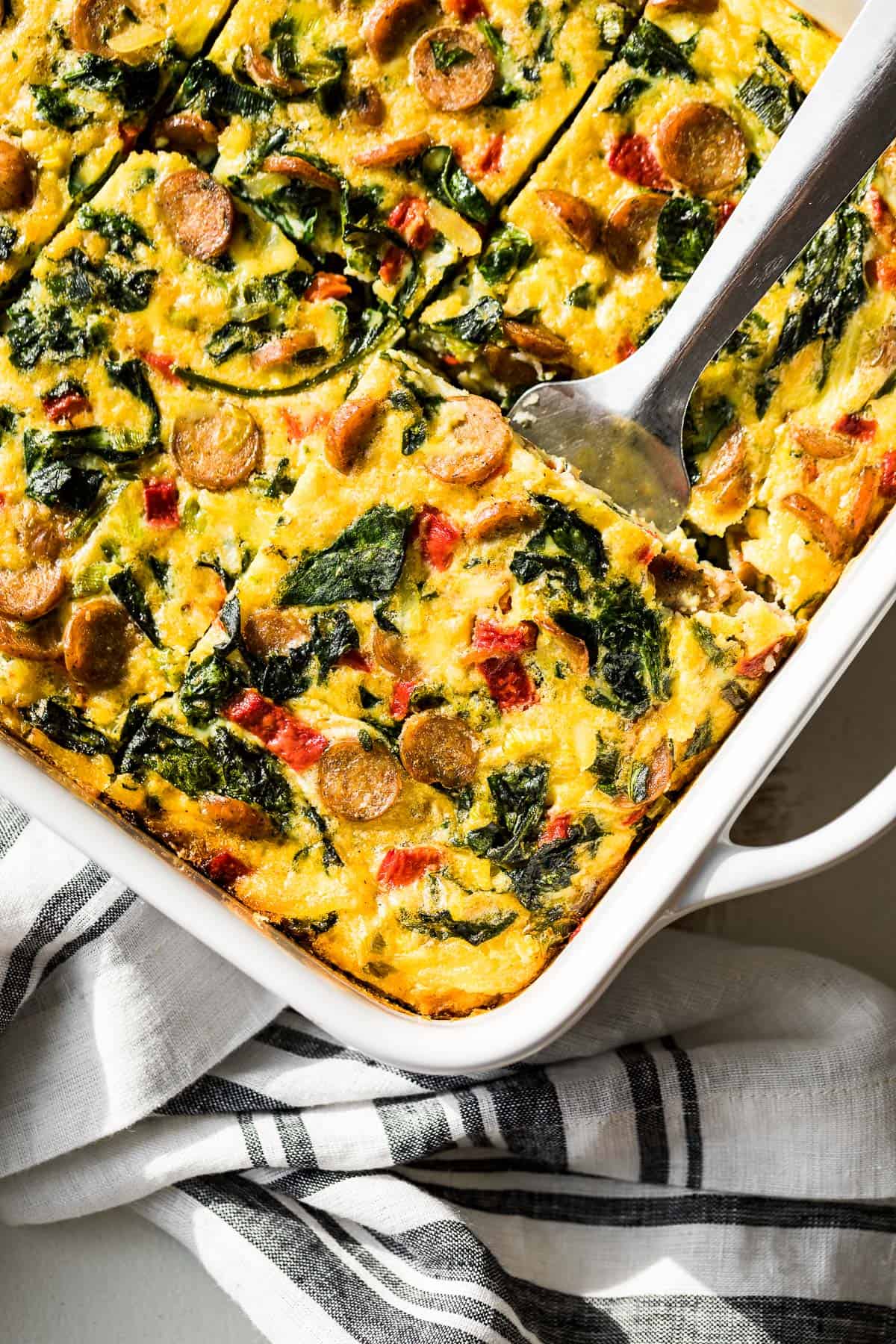 This is one of those recipes that just makes life easier all around. The inspiration for it came from my sister-in-law's mom. She often makes a recipe for a breakfast bake that's commonly called a 'wife saver' although I think it has other names as well.
The whole premise behind the 'wife saver' is the casserole is assembled the night before. (Think of it like a savory French Toast Casserole.) That way all you need to do in the morning is pop the pre-made breakfast casserole into the oven.
I loved the idea straight off, but most of these recipes are made with bread. So rather than using gluten-free bread, I decided to go with hash browns instead and add some veggies in too.
The results were a loaded breakfast casserole we can't get enough of! And after 4 years of making this egg casserole, I had to add all my new additions for you today with this updated version.
Ingredients & Substitutions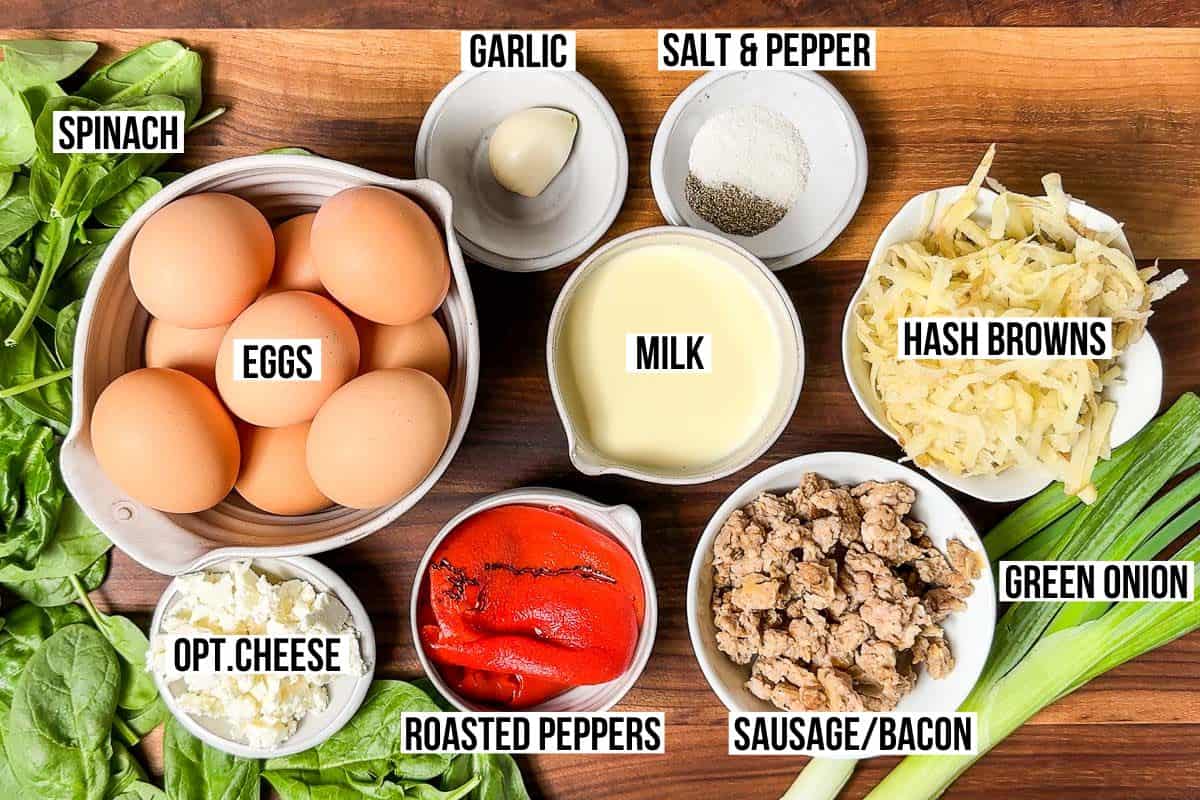 Sausage, Bacon, or both – I make this recipe with sausage or bacon, or sometimes a mix of both for a variation. For sausage, any bulk breakfast sausage works here, or mix it up with something like chorizo. I you have precooked sausage links, thinly slice them and skip the cooking adding them straight to the casserole to bake.
Veggies – I used spinach and diced roasted peppers along with some green onion. You can use any veggies you like in a breakfast bake as long as they're bite-sized. Also, avoid anything hard like butternut squash because it takes too long to bake for this casserole. Or you can pre-cook the veggie of your choice to add.
Hash browns – I've used both frozen hash browns, grated raw potato, and grated cooked potatoes in this recipe. Grated potato is the best budget option because frozen hash browns can be costly.
Eggs – the essential ingredient to hold all of this egg casserole together.
Herbs / Spices – I like to make this recipe in its simplest form without any seasoning other than salt and pepper most of the time. This allows the flavor of the sausage and veggies to shine. However that being said, I sometimes add 1 teaspoon dried herbs (like Italian seasoning) or 1 tablespoon of chopped fresh basil.
Cheese – you don't need to add cheese if you're dairy-free, but I love adding grated/shredded cheddar cheese or crumbled feta as another way to mix things up. You can use mozzarella or Swiss cheese, but I personally lean towards the most flavorful cheeses like sharp cheddar/feta for this sausage egg casserole.
How to make this recipe step by step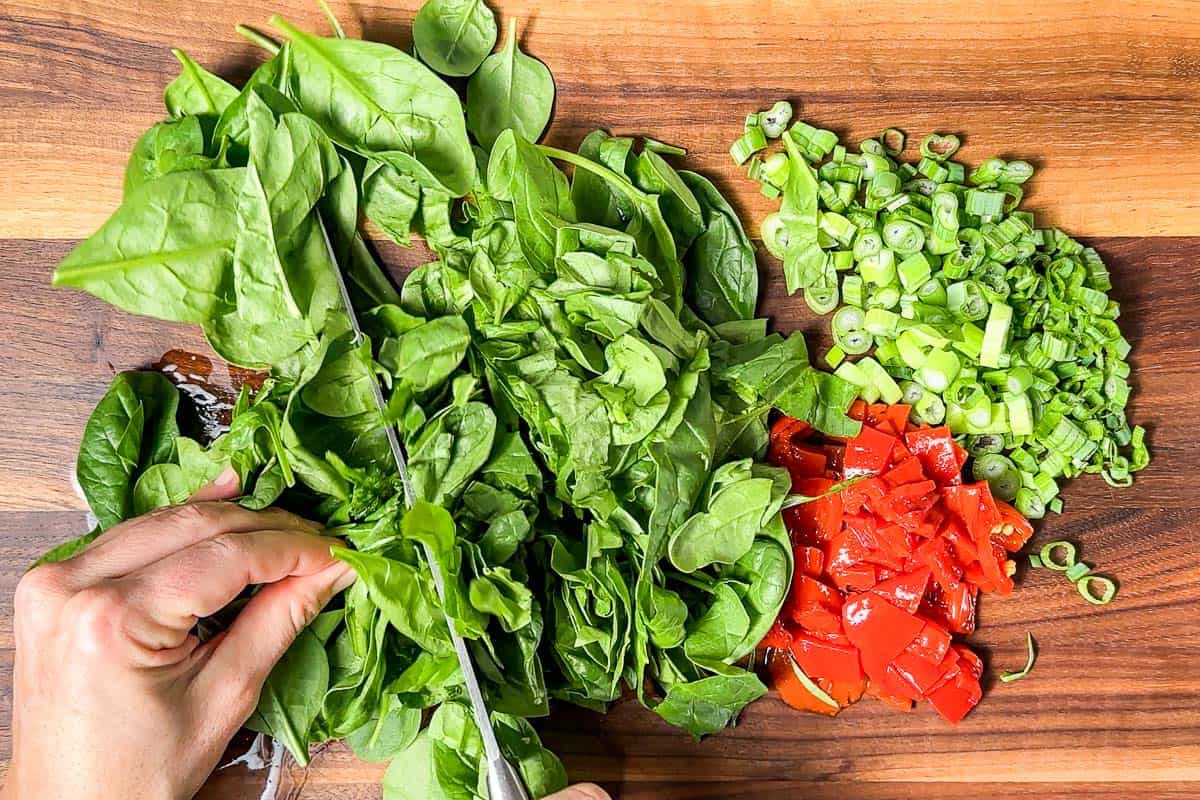 Step 1: Prep all of the veggies. You can use fresh red bell peppers, but at this time of year, I often use jarred roasted peppers. They're both convenient and most of the time more affordable in our area during the colder months.
If you use fresh bell peppers, sauté them briefly with the sausage or bacon.
Step 2: Next we're going to sauté your meat of choice in a large skillet. In this particular batch, I used a mix of sausage and bacon. You really can't go wrong with either one or a mix of both!
You can also use finely diced-up ham as well, but don't cook it in this step, brown the hash browns on their own.
Step 3: After the sausage/bacon is done, add the hashbrowns without draining off any grease. The grease will help you to brown the hash browns.
If you use the grated potato, add it in at this step, it will just take a little bit longer to cook. Cook over medium-high heat to brown the potato.
Step 4: When the hash browns and cooked and browned, add the spinach, green onion, and bell pepper to the pan. Cook briefly just to lightly wilt the spinach.
Step 5: Transfer the sausage hash brown mixture to a well-greased 9″ x 13″ baking dish.
If you're choosing the make-ahead option, let the sausage mixture cool for 10-15 minutes before topping with the egg mixture.
Step 6: In a large bowl, whisk together the eggs, salt and pepper, and milk of choice until well combined.
Step 7: Pour the egg mixture over the sausage hash brown mixture into the casserole dish. Add the optional cheese if desired and stir just enough to distribute the goodies through the egg mixture.
Bake the breakfast casserole until puffed up and done in the center.
FAQ's
How long can I keep uncooked breakfast casserole in the fridge?
If you follow my make-ahead tips below and assemble the uncooked casserole, I recommend no more than 24 hours in the refrigerator before baking. If you make the sausage mixture and egg mixture and store them separately, they will keep 2-3 days in the fridge before baking.
Can you reheat sausage casserole in the oven?
Yes, you can reheat sausage casserole in the oven, but it's best done in a covered dish at a low temperature like 250ºF so it doesn't dry out.
Can I use sweet potato instead of regular potato in this breakfast casserole?
Yes, you can use sweet potato but I recommend using my roasted cubed sweet potato. You could try and grate sweet potato to cook as a hash brown but it doesn't tend to stick to the pan. Simply mix in roasted cubed sweet potato instead for the simplest option. If you don't have leftover cooked sweet potato, roast the sweet potato along with the bacon or sausage of your choice in the oven rather than following the stovetop method.
Storing leftovers
To store – place any leftover breakfast casserole into an airtight container and refrigerate for 4-5 days.
Make ahead – see the make ahead tips below for a full rundown!
Reheating – the easiest way to reheat this casserole is to microwave until heated. But I've also reheated several slices in the oven, (a toaster oven also works) in a covered dish until heated at 250ºF for about 15 minutes. You can also eat this casserole cold, we take it camping all the time and eat it straight out of the cooler before we head out hiking!
To freeze – place any leftover breakfast casserole into an airtight container and store it in the freezer for up to 3 months. If you have a lot of casserole slices to freeze, place layers of parchment paper between the slices to prevent sticking. This is helpful to get a slice or two out at a time. You can also freeze the slices on a parchment-lined baking sheet, and then transfer to a freezer container to prevent sticking. Defrost in the refrigerator overnight before reheating.
Make Ahead and Freezer Tips
If you're making this as the overnight option, you assemble the casserole, cover it, and refrigerate it overnight. Just be sure to combine the egg mixture with a cooled sausage mixture if you're not baking it right away. In the morning, remove it from the refrigerator, preheat the oven, then bake it. To be on the safe side, allow your baking dish to come to room temperature for at least 30 minutes or up to 1 hour before baking to avoid cracking. I use Pyrex 9″ x 13″ pans for this casserole and have never had a problem with cracking, but pottery isn't as resilient.
You can also make the sausage hash brown mixture ahead of time and refrigerate. Then when you're ready to bake the casserole, add the sausage mixture to a baking pan, whisk the eggs, and pour it over the top. This is my favorite make-ahead option.
For the meal prep option assemble and bake the casserole. Then cool until just warm and portion it out as you'd like. You can place each piece into separate containers, or place all the pieces into 1 container – whatever works best for you. From there you can refrigerate this for 4-5 days.
That leads me to the freezing option where you can freeze extra pieces of this breakfast casserole for a later date. It does make quite a bit, but that just makes life easier in the future if you can freeze some! To thaw, place the frozen breakfast casserole in the refrigerator overnight. Then reheat as desired, or eat it at room temperature.
Dietary Options & Substitutions
Dairy-free – make sure whatever sausage you use is dairy-free. Breakfast sausage is usually dairy-free, but it's always best to check the labels.
Paleo & Whole30 – check the labels for the sausage and hash browns to make sure they're Whole30 compliant. Frozen hash browns often have added oil that is not Whole30. And sausage can have dairy, sugar, and other additives in it.
No allergies – if you don't have allergies/dietary needs, I love making this casserole with the optional cheese listed in the recipe. You can also use any kind of milk desired, I've personally tested this recipe with regular milk, half and half, heavy cream, almond milk, and coconut milk.
Budget tip: use the grated potato option listed in the recipe. The potato can be raw or cooked before you grate it, the cooking time will vary a bit in the skillet. Grating your own potato for this recipe is simple with added savings compared to frozen hash browns.
More Egg Breakfast Recipe Inspiration
I really hope you enjoy this Sausage Hash Brown Breakfast Casserole! If you do get a chance to make this recipe, I'd love to hear from you in the comments.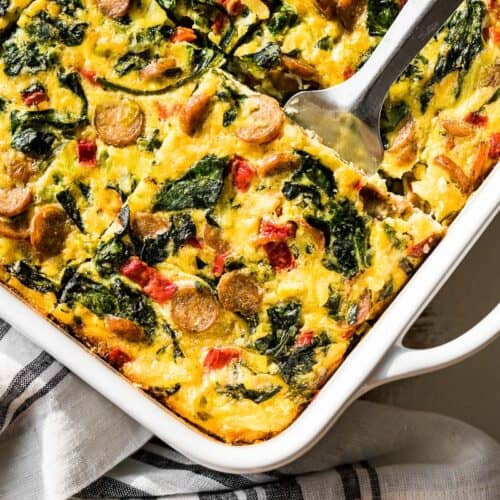 Sausage Hash Brown Breakfast Casserole
---
INGREDIENTS
8

ounces

breakfast sausage

-

see notes or 8 ounces of finely sliced bacon

16

ounce

bag frozen hash browns

-

4-5 cups, or 2 medium potatoes grated, see notes

3/4

cup

green onions

-

thinly sliced, 1/2 bunch

1

clove

garlic

-

minced, or 1/2 teaspoon garlic powder

6

cups

roughly chopped spinach

-

6 ounces

3/4

cup

diced jarred roasted red peppers

-

see notes

12

eggs

1

tsp

sea salt

-

or to taste

1/2

tsp

black pepper

1/2

cup

milk of choice

-

regular milk, coconut milk, almond milk, half and half, and heavy cream all work well

Optional: 1 Teaspoon Italian seasoning or 1 Tablespoon chopped fresh basil

Optional: 1 cup crumbled feta cheese, or 1 cup grated sharp cheddar cheese 
INSTRUCTIONS
Preheat the oven to 350ºF and grease a 9″x13″ baking pan. (Don't heat the oven if you're doing the make ahead option.)

Fry the sausage/bacon in a large pan over medium-high heat until browned and cooked through.

Add the hash browns to the pan and brown over medium-high heat for 4-5 minutes. It will take closer to 10 minutes if you add raw grated potato.

Then add the green onions and garlic and reduce the heat to medium. Cook for 1-2 minutes, then add the spinach and bell pepper, and continue to cook just until the spinach wilts.

Pour the sausage mixture into the greased baking pan. Cool the sausage mixture for 10-15 minutes before adding the egg if you're making this ahead.

In a medium-sized bowl or in a blender, add the eggs, salt, pepper, and milk of choice. Whisk or blend until smooth. Add the optional herbs if desired.

Pour the egg mixture over the sausage mixture. Add the optional cheese if desired. Then stir just to distribute the goodies through the egg mixture.

If you're making this ahead, tightly cover the casserole and refrigerate for 1 day before baking. When you are ready to bake the casserole, remove it from the fridge to take the chill off while the oven preheats. Also, be sure to check if your baking dish can go from the fridge to the oven, (I use Pyrex). It also takes about 5 additional minutes to bake coming from the fridge.

Otherwise if your baking this right away, place the casserole in the oven as soon as it's assembled. Bake until puffy and the center is done, 35-40 minutes.

Remove the casserole from the oven, slice and serve immediately. Or you can let it cool to room temperature, portion it out and refrigerate it for future breakfasts.
Bonus Step
If you made this recipe, please leave a rating/comment. Ratings really help us continue to bring you high-quality free recipes. Rate This Recipe!
NOTES
For the sausage, I like to use ground breakfast sausage, but I've also used pre-cooked thinly sliced chicken sausage links. Whatever you choose, just make sure it's in small bite-sized pieces. Also, feel free to use a mix of sausage and finely diced bacon for a fun change.
You can use raw or cooked potatoes to grate for your own hash browns. Grating raw potatoes can be juicy/messy but it does work. You will need to cook them a touch longer than cooked potato, until tender and browned with the sausage.
nutrition facts
Calories:
330
kcal
|
Carbohydrates:
18
g
|
Protein:
20
g
|
Fat:
20
g
|
Saturated Fat:
7
g
|
Polyunsaturated Fat:
3
g
|
Monounsaturated Fat:
8
g
|
Trans Fat:
0.1
g
|
Cholesterol:
357
mg
|
Sodium:
1043
mg
|
Potassium:
693
mg
|
Fiber:
2
g
|
Sugar:
2
g
|
Vitamin A:
3566
IU
|
Vitamin C:
26
mg
|
Calcium:
133
mg
|
Iron:
4
mg
This post was originally published in 2020 and updated with more information and prep photos in 2023.