This Paleo Thanksgiving Dinner Menu is complete with extra inspiration for sides and desserts!
So today's Thanksgiving spread happened quite by accident! This year I was not going to go all out and get crazy with too many recipes. In past years I've sometimes worn myself out so much making holiday recipes, that when the actual holiday arrives, I don't make anything at all.
Last Thanksgiving was a case in point where I made pasta for dinner. I had bought a turkey with the best of intentions. But when the day actually came, we went hiking with my mom, and spent the day in nature instead.
So with no one home to put the turkey in, we all agreed it wasn't going to be 'turkey day' after all. And I have to say, while I missed the turkey dinner, I can't say I missed cooking all day long.
All of this really got me thinking about putting together an extra easy menu. I'm not saying this is as easy as cooking pasta for dinner, but it's about as easy as Thanksgiving dinner can get!
Paleo Thanksgiving Dinner Menu:
Roasted Brussels Sprouts, see tips below for how I roast them.
More Inspiration for Side Dish Recipes:
Paleo Thanksgiving Dessert Ideas: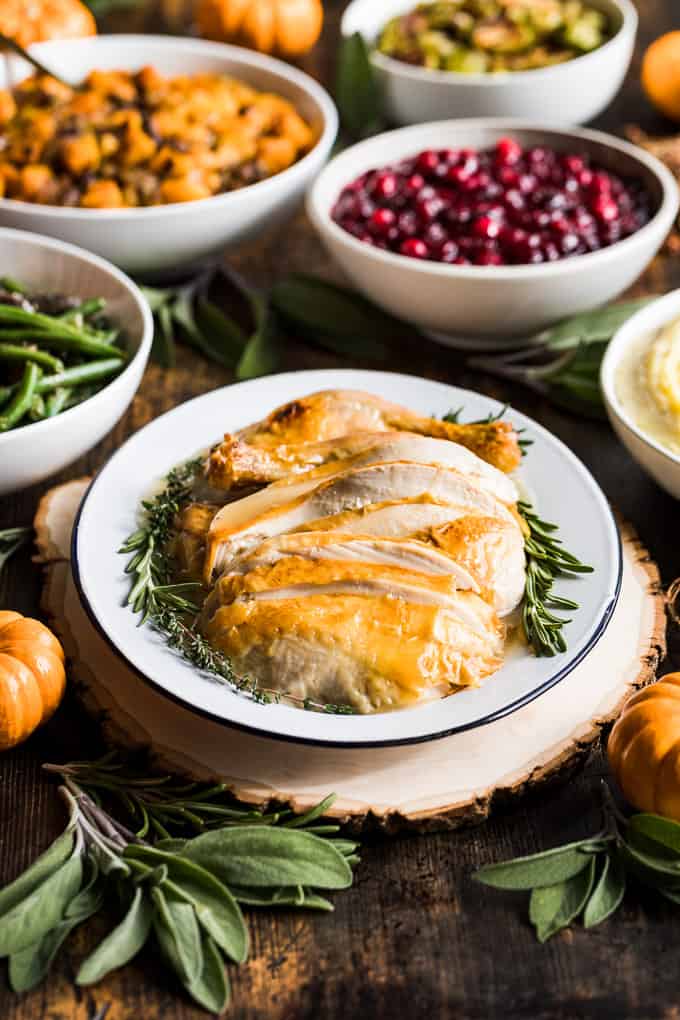 Timing Tips for Thanksgiving Dinner:
The most important tip I have for cooking a relatively stress free Thanksgiving dinner is to choose several make-ahead recipes.
The next most important tip is to choose what you make by how much 'real estate' they take up on your stove and in your oven.
And finally, try and have things prepped as much as possible as it always seems like the turkey cooks slower/or faster than you're anticipating!
Tips for making ahead this Paleo Thanksgiving Menu:
Whatever desserts you choose along with the ice cream/whipped cream can be prepped and ready to go by late morning, and before the turkey starts cooking.
The Homemade Cranberry Orange Sauce can be made 2-3 days in advance and refrigerated.
The Butternut Sausage Apple Stuffing can also be made 2-3 days in advance and gently reheated at 300ºF after the turkey comes out, and is resting before you carve it.
For the gravy, you can mix together the tapioca starch with water and set it aside 30 minutes or so before making the gravy. You'll need to mix it back together right before you add it to the gravy.
I personally think mashed potatoes are best made last minute. However you can have the butter/ghee melted and ready to go. I have reheated mashed potatoes in a double boiler over simmering water. Cover the mashed potatoes with foil or a lid and stir occasionally until warmed. Overall I don't find this to be all that helpful because it takes up space on the stove, and it's not quite as good.
And the same thing goes with roasted brussels sprouts, but you can have them trimmed and cut in half ahead of time. Then since I don't have an actual recipe for these yet, toss them with a bit of olive oil, sea salt, pepper, and garlic powder. Then roast them at 450ºF until just tender, about 8-10 minutes.
For the green beans, you can have them trimmed ahead of time. And you can also make the sauce 2-3 days in advance and refrigerate it. Reheat the sauce gently in a fry pan, and toss the cooked green beans in right before you serve dinner.
I hope this menu is helpful in your holiday planning! Also head over to my 10 Things To Do With Your Leftover Turkey for some leftover ideas. And be sure and let me know below what your best tips are for cooking Thanksgiving dinner?