This Mango Madness Smoothie is so good it's actually addicting with it's deep mango flavor. It's easy to make and packed with bright flavor and Vitamin C.
It's an orange madness around here today! I bought a case of delectable champagne, (ataulfo) mangoes, and they're creeping into everything. If you haven't tried champagne mangoes yet – be sure to look for them. They're less fiberous than regular mangoes and they have an addicting sweet flavor.
However all that being said, any ripe mango you can find will make a super tasty smoothie! And if ripe mangoes are hit and miss for you too, don't worry because you can use frozen mango as well.
Tips for making this Mango Madness Smoothie:
I used a Honeycrisp apple, but Pink Lady or a Granny Smith would work as well.
Both the apple and the orange add a bit of zestiness to the recipe.
Mango can be a bit bland depending on where you live, especially if you're using frozen. So I've found adding ingredients with a sour component like the kombucha in this recipe to be a big flavor booster.
I use a Zyliss peeler because it does an excellent job peeling the mango skin away without taking half the fruit!. Once they're peeled, cut a flat spot off on end (see the top right photo).
Placing the flat side down, stand the mango up and cut the 'cheeks' off both sides of the pit. Cut off any extra fruit from the pit always cutting away from yourself.
Pile everything into the blender and blend on high until it's completely smooth. You can enjoy the whole 48 ounces immediately, and forget to share with anyone else because it's so tasty, or refrigerate some for later!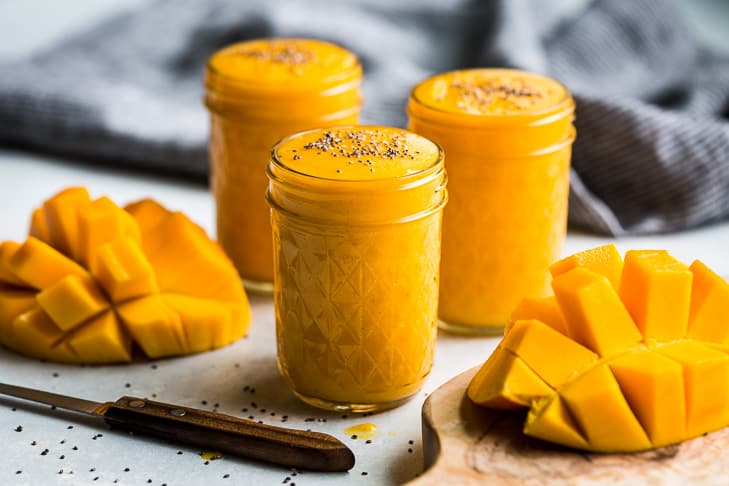 More Mango Recipe Inspiration:
This smoothie really tastes like sunshine in a glass to me. It's one of my main go-to's during the colder months of the year, and I simply never tire of it!
I hope you get a chance to make this smoothie soon, and if you do, I hope you'll leave me a comment/rating below. I always love hearing from you here in the comments. And also over on Instagram where you can tag me at #getinspiredeveryday with your photos of what you make.
Print
Mango Madness Smoothie
---
Description
This smoothie is packed with double the mango flavor and tastes like sunshine!
---
2 mangoes, (12 ounces after it's cut up), or 2 cups frozen cubed
1 navel orange, peeled and quartered
1 apple (Honeycrisp, Pink Lady, or Granny Smith), quartered and cored
1 – 16 ounce bottle mango kombucha
---
Notes
I used Champagne mangoes, otherwise known as Ataulfo mangoes. Any kind of mango will work, but the Champagne mangoes have less fibrous strands and an addicting flavor.
For a variation, try adding some coconut milk for a tropical flavor, or 1 cup of ice cubes for a frosty version in warmer weather.
Prep Time:

10

Category:

Smoothie

Method:

Blending

Cuisine:

American
Keywords: Mango Smoothie, Mango Smoothie Recipe, Recipe for Mango Smoothie