Refreshing and like bright sunshine flavor, this easy Mango Smoothie is packed with both Vitamin A and Vitamin C. Juicy mango flavor is enhanced with orange juice to create a smoothie you'll come back to again and again. It's easy to make with frozen mango chunks so you can make this even when you can't find fresh mangoes. It's naturally dairy free, but you'll find my creamy yogurt variation below as well. We love the tropical flavors of this smoothie, and you'll find a few more variations below to lean into the tropical vibe even more!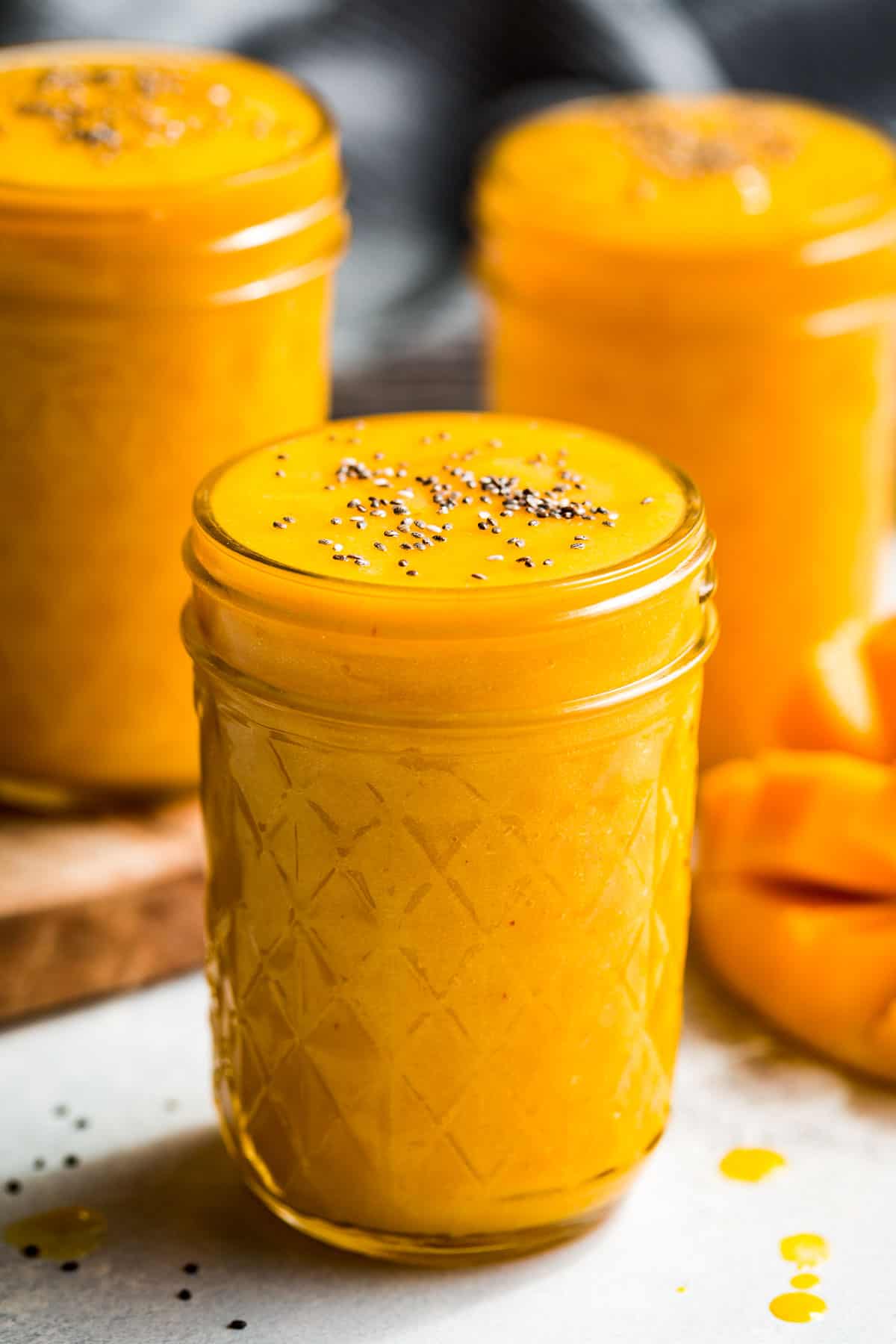 Mango pairs together with orange and apple in this smoothie for pure mango flavor. There's no overwhelming banana to compete with the delicate mango flavor, and I know you're going to love the simplicity.
My original recipe used mango kombucha to make reinforce the mango flavor. But it's not available for everyone, so you'll find my new version with orange juice below along with the original recipe.
Orange juice is perfect with the mango as well without being overwhelming like a banana. And it brings an extra boost of Vitamin C which is always a bonus.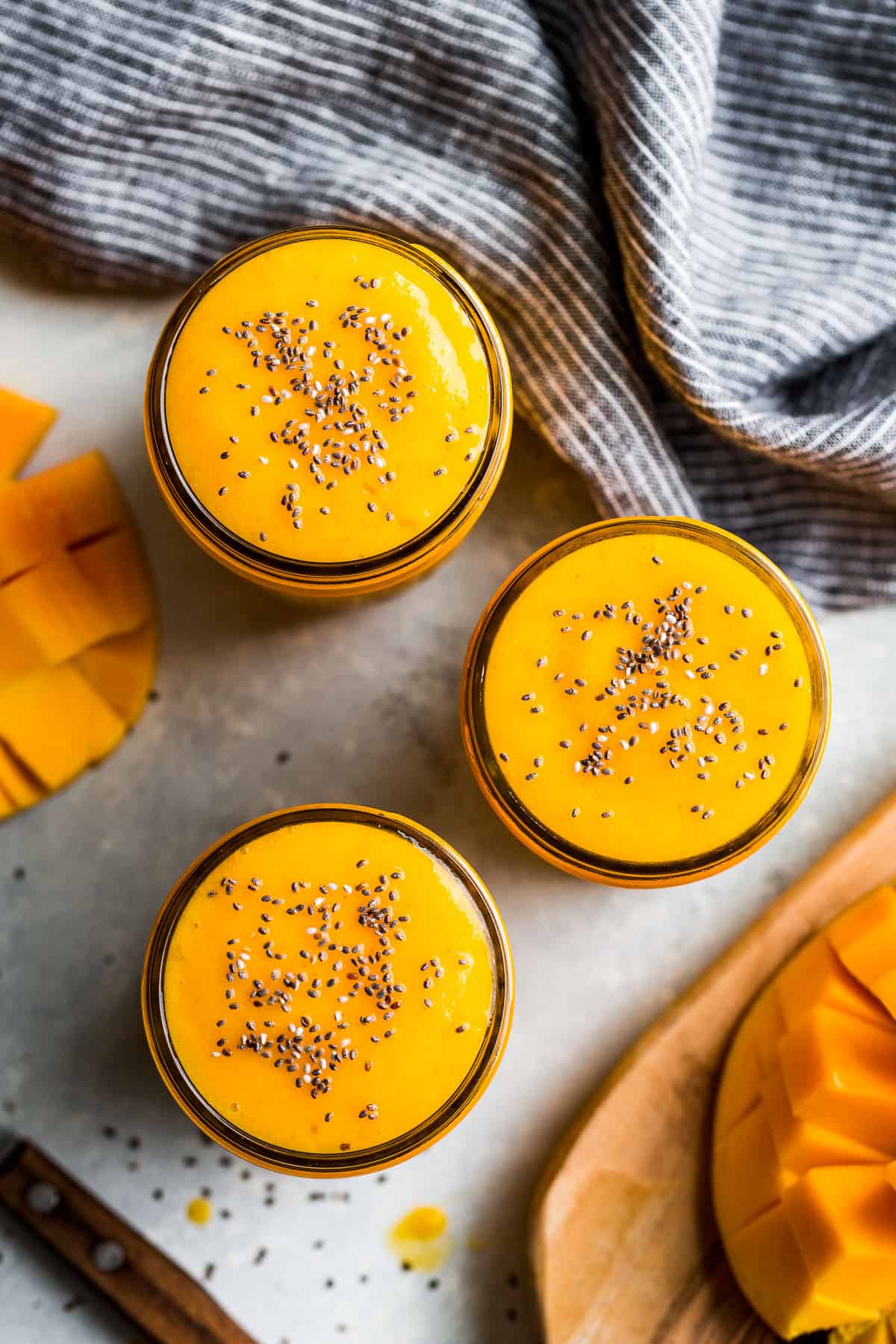 Ingredients & Substitutions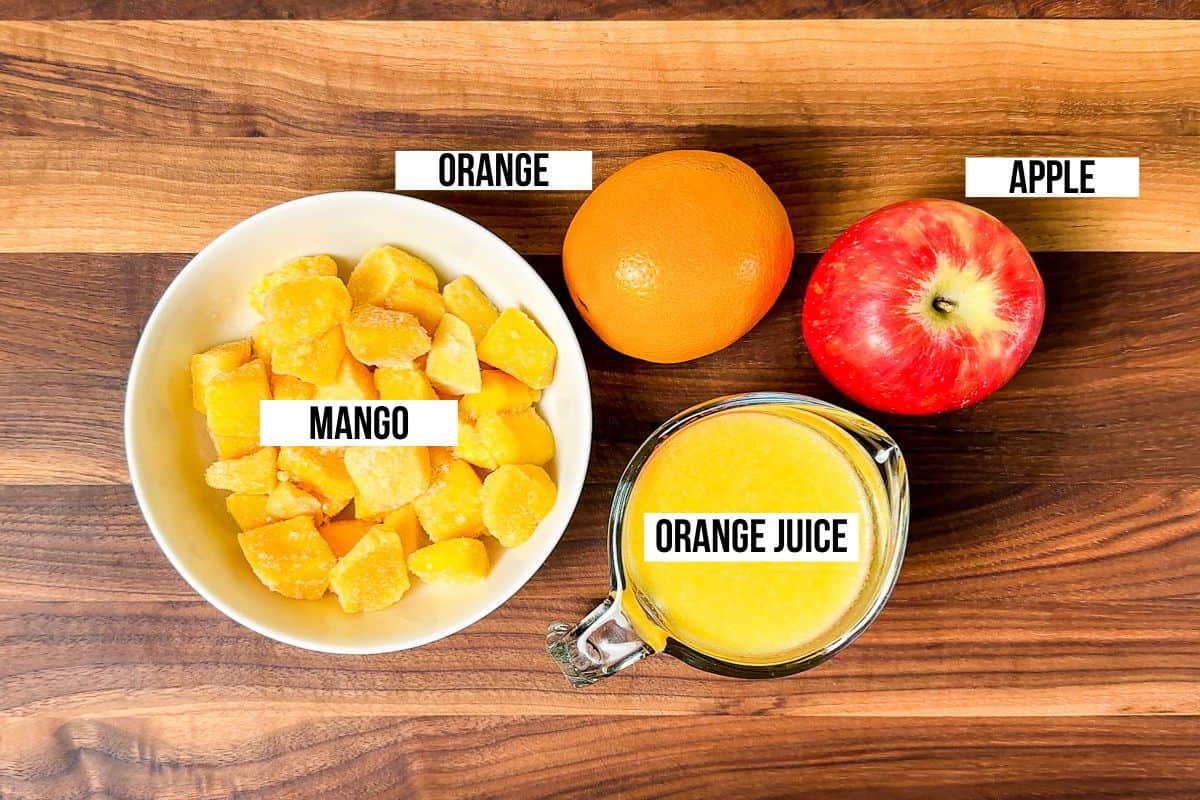 Mango – I like to use frozen mango in this smoothie because it's easily available year-round. You can use fresh mango, but you need something to be frozen in this smoothie. So you can either freeze your fresh mango overnight before blending or freeze your orange in sections.
Orange – one whole orange plus some orange juice adds sweetness and brings out the mango flavor. It also adds a nice amount of vitamin C.
Apple – adds sweetness and provides a base for this smoothie without taking away from the mango flavor. I like to use Honeycrisp apples when available, but Pink Lady works really well too.
Extras – a touch of vanilla extract adds depth of flavor and a bit of lime juice is really fun too. If you like a creamy smoothie, consider adding a bit of coconut milk in place of some orange juice. Or you can also add some creamy Greek yogurt or dairy-free coconut yogurt to the mix.
How to make this recipe step by step
Step 1: Start by peeling the orange and breaking it up into sections. Then quarter and core the apple.
Step 3: Blend working up to high speed until the smoothie is completely smooth, about 1 minute. Pour into glasses and enjoy this fruit smoothie right away for the best flavor!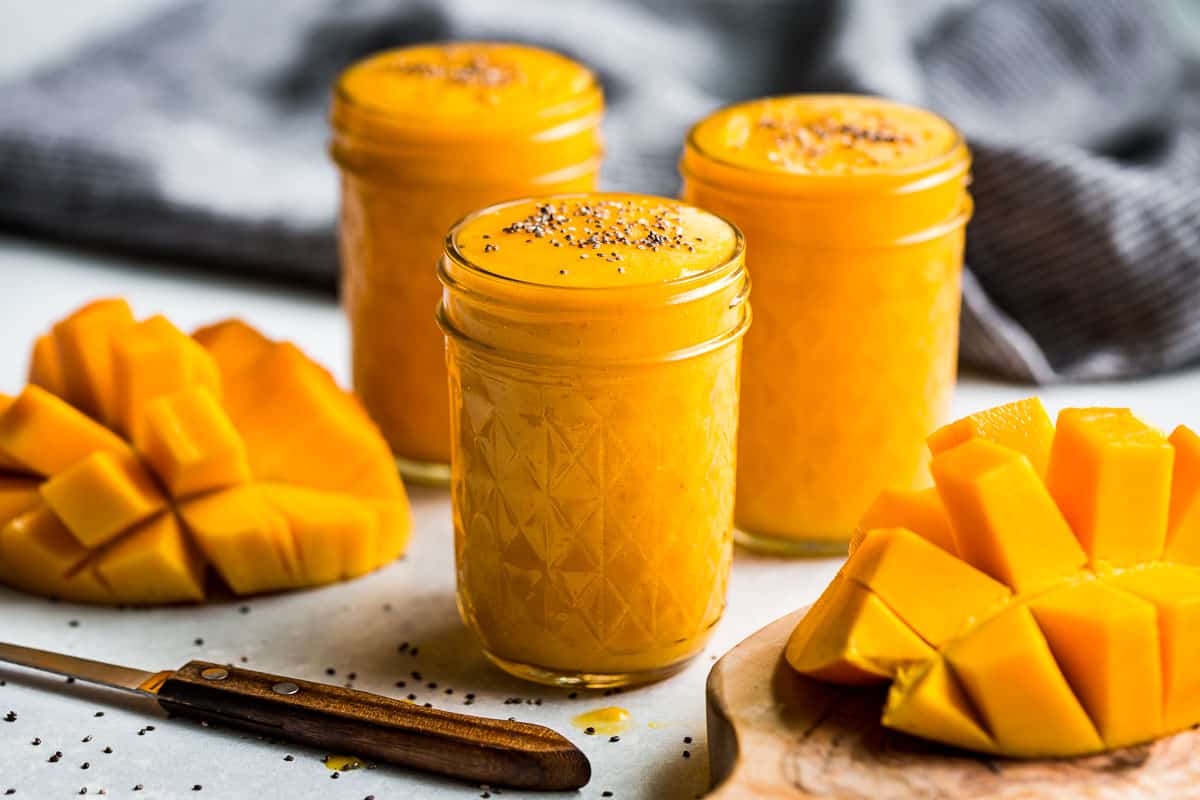 Ways to serve this
Try the variations above like adding some lime or adding yogurt for a creamy texture to change things up. You can also add spinach to make this a green smoothie. Just be careful how much you add because mango is a subtle flavor that can easily be overwhelmed.
I like this smoothie as a mid-afternoon snack most of the time, but it's great as part of your breakfast too. Or if you're like me and love 2 breakfasts sometimes, have something substantial, then have this smoothie mid-morning.
Add this smoothie to your next breakfast or brunch menu. Try it served alongside my Sausage Hash Brown Breakfast Bake and Paleo Blueberry Muffins. It's also great with my Veggie Breakfast Casserole and my Almond Flour Raspberry Muffins.
FAQ's
Should I use fresh or frozen mango?
Fresh ripe mangos will always give you more mango than store-bought frozen mango. However, something should be frozen in this recipe to make a great smoothie. You can freeze the orange juice into 'ice cubes' or freeze the sectioned orange if you have fresh mango.
Do you put ice in a smoothie?
You can use ice in a smoothie, but you'll find you get better results to use a frozen ingredient instead. For instance frozen berries, frozen bananas, or even frozen milk cubes or cubes of frozen orange juice. That way you're adding flavor rather than ice which just waters down your smoothie. The best smoothies with the best flavor and texture always have a frozen ingredient.
Storing leftovers
To store – place any leftovers into an airtight container and refrigerate for up to 1 day.
Make ahead – this smoothie tastes best right away, but it can be stored for up to one day refrigerated. I often make it ahead in the morning to drink mid-morning or mid-afternoon.
To freeze – try making your own Freezer Smoothie Packs so you can make this smoothie in just minutes. You can also place the leftovers into an airtight container and store them in the freezer for up to 1 month. Defrost in the fridge overnight. I don't recommend freezing this smoothie if you don't have to, it really tastes the best fresh just like all smoothies.
Tips & Tricks
If you get a deal on a case of ripe mangos, try dicing some up to freeze for this smoothie. Super ripe mangos make the best smoothies and store-bought frozen mango chunks never have as much flavor as freezing your own.
Try adding a superfood like sprinkling the top of your smoothie with chia seeds or bee pollen. For more options, head on over to my Superfood Smoothie Boosters for all my favorites.
For some extra sweetness, try adding a bit of honey or Grade A amber maple syrup to taste.
Dietary Options & Substitutions
Dairy-free, Paleo, Vegan, or Vegetarian – this recipe is naturally dairy-free, paleo, vegan, and vegetarian. But if you decide to make it creamy be sure to use coconut milk or non-dairy milk like almond milk, or a plant-based yogurt of your choice. Also, some of the optional superfoods mentioned aren't vegan.
More Smoothie Recipe Inspiration
I really hope you enjoy this Mango Smoothie! If you get a chance to make this recipe, I'd love to hear from you in the comments.
INGREDIENTS
1

navel orange

-

peeled and quartered

1

apple

-

Honeycrisp, Pink Lady, or Granny Smith, quartered and cored

2

cups

frozen mango cubes

-

or 12 ounces diced fresh mango, from 2

1

cup

fresh orange juice

-

or mango kombucha
INSTRUCTIONS
Place all the ingredients into the blender in the order listed.

Blend starting on low and working up to high speed. Blend until completely smooth, about 1 minute for a high-powered blender.

Enjoy right away for the best flavor or refrigerate for up to 1 day.
Bonus Step
If you made this recipe, please leave a rating/comment. Ratings really help us continue to bring you high-quality free recipes. Rate This Recipe!
NOTES
For a variation, try adding some coconut milk for a tropical flavor, or try coconut yogurt or Greek yogurt for a creamy version.
You can add more or less orange juice to achieve the consistency you desire.
If you have fresh mango, try freezing the orange juice into 'ice cubes', or freeze the sectioned orange. Or you can even freeze your fresh cubed mango overnight before blending it. Fresh ripe mangos always have more flavor than the store-bought frozen mango.
nutrition facts
Calories:
236
kcal
|
Carbohydrates:
59
g
|
Protein:
3
g
|
Fat:
1
g
|
Saturated Fat:
0.2
g
|
Polyunsaturated Fat:
0.2
g
|
Monounsaturated Fat:
0.3
g
|
Sodium:
5
mg
|
Potassium:
739
mg
|
Fiber:
7
g
|
Sugar:
48
g
|
Vitamin A:
2255
IU
|
Vitamin C:
168
mg
|
Calcium:
67
mg
|
Iron:
1
mg
This post was originally published in 2014 but was updated in 2020 and again in 2023 with new photos, more information and tips.