These Paleo Pineapple Zucchini Muffins are a healthy remake of a recipe my family has been making for decades. Instead of several cups of sugar, I've subbed in maple syrup, and all real food ingredients to make it a much healthier option.
This recipe is inspired by a pineapple zucchini bread my Aunt was always famous for making. After a little research, it seems the original recipe came from Sunset magazine in the 70's. But I grew up knowing it as Aunt B's zucchini bread.
I never knew what was in it growing up. But it's shocking to look at the recipe and find it has 2 cups of white sugar and a full cup of processed oil! So I set out to create a recipe in the spirit of the original, but with ingredients that didn't make me cringe a little.
To my surprise it was super easy to make this recipe much healthier. That's not always the case. But it seems this recipe was made to be reworked into a paleo-friendly & naturally gluten free option.
Ok… so let's talk about the ingredients for these Paleo Pineapple Zucchini Muffins:
Almond Flour – this replaces the processed refined flour in the original recipe with great results. It also helps to reduce the amount of oil needed to make this recipe work.
Tapioca Starch – just a touch of tapioca starch is what works together with the egg to bind the almond flour together and make a perfectly fluffy muffin.
Cinnamon & Nutmeg – these are the original spices from the recipe, and their flavor is spot on in this zucchini muffin.
Zucchini – as you might expect of a zucchini muffin, zucchini makes this recipe perfectly moist.
Crushed Pineapple – adds a touch of sweetness and some additional liquid to the batter combined with the zucchini to make for the perfect moistness.
Maple Syrup – my natural sweetener of choice for paleo baking and muffins.
Avocado Oil – I love using avocado oil in place of refined oils in my recipes for a healthy fat that doubles as a dairy free option. Just be sure to look for a quality brand like Chosen Foods or Mariannes.
Eggs – work together with the tapioca starch to create the best fluffy texture.
Now… let's jump in and make these muffins step by step!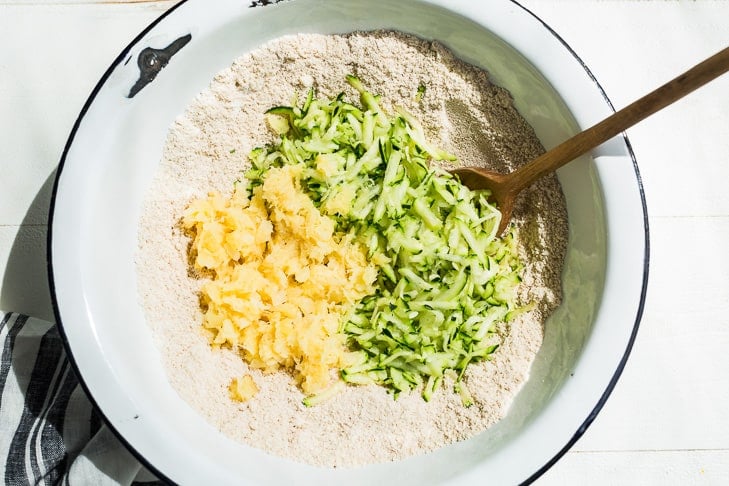 First we're going to mix together the dry ingredients, and then add the zucchini & pineapple.
From there we're going to mix in the wet ingredients to form the muffin batter.
Then we'll portion it out into a lined muffin tin…
…and bake until puffed up and done in the centers.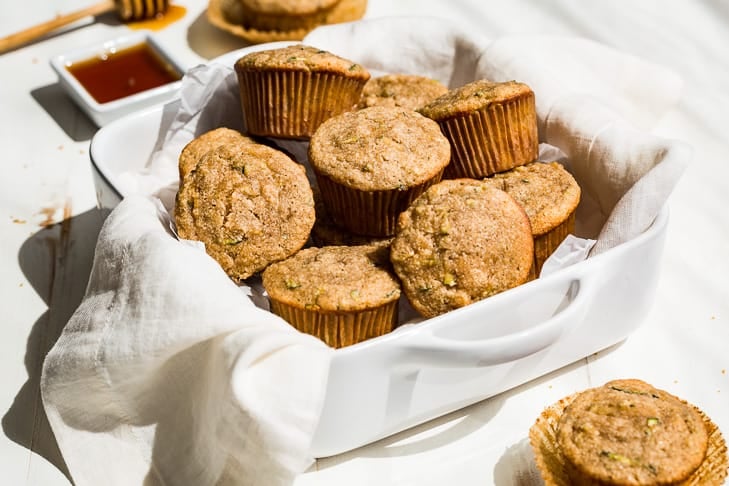 Finally it's time to serve these golden beauties up. We love ours with butter and honey!
And now for more muffin inspiration:
I sure hope you enjoy this new take on my Aunt B's zucchini bread recipe! If you do make these muffins, I hope you'll leave me a comment/rating below. I always love hearing from you here. And over on Instagram where you can tag me at #getinspiredeveryday with your photos.
Print
Paleo Pineapple Zucchini Muffins
---
Author:

Kari

Total Time:

40 minutes

Yield:

12

muffins

1

x

Diet:

Gluten Free
Description
A fun, fresh take on the classic zucchini muffins with the added sweetness of pineapple!
---
2 cups fine almond flour
1/2 cup tapioca starch
1/2 Teaspoon sea salt
2 Teaspoons baking powder, see notes
1 1/2 Teaspoons ground cinnamon
1/2 Teaspoon ground nutmeg
1/2 cup crushed pineapple, no sugar added, well drained
1 1/2 cups grated zucchini
2 eggs
1/3 cup avocado oil
1/2 cup maple syrup
1 Tablespoon vanilla extract
---
Instructions
Preheat the oven to 350ºF and line a muffin tin with paper liners.
Whisk together the almond flour, tapioca starch, sea salt, baking powder, cinnamon, and nutmeg.
For the pineapple, drain it in a fine mesh sieve and use your hand or a spoon to press a bit more liquid out of it. Then add it to the flour mixture with the grated zucchini. Stir to distribute the pineapple and zucchini evenly in the flour mixture.
Then add the eggs, avocado oil, maple syrup, and vanilla extract. Mix until a batter forms, then portion it out equally into the 12 lined muffin cups.
Bake until puffed and a toothpick inserted into the center comes out with moist crumbs, 20-25 minutes.
Cool for 5-10 minutes, then remove the muffins onto a cooling rack.
Serve at room temperature for the best taste and texture.
Any leftovers freeze well in a tightly sealed container. To reheat, defrost then heat in a 300ºF for about 10 minutes. Or you can place them from the freezer to the oven at 200ºF. Let them reheat for 10 minutes, then turn the oven off and let them sit for another 10 minutes to completely defrost.
Notes
Baking powder can have all sorts of additives, and isn't always gluten free or paleo. To be safe, you can make your own by mixing together 1 part baking soda to 2 parts cream of tartar, and use the mixture right away.
Prep Time:

15

Cook Time:

25

Category:

Baking

Method:

Method

Cuisine:

American
Keywords: Zucchini Muffins, Zucchini Muffins Recipes, Recipe for Zucchini Muffins, Zucchini Muffins Healthy