These Almond Flour Banana Muffins are the perfect way to use up your ripe bananas. They're easy to make and the right combination of moist and fluffy with some mini chocolate chips thrown in for good measure. These healthy banana muffins are popular with both kids and adults alike. And as a bonus, they freeze well too so you can always have some on hand for quick breakfasts or a snack.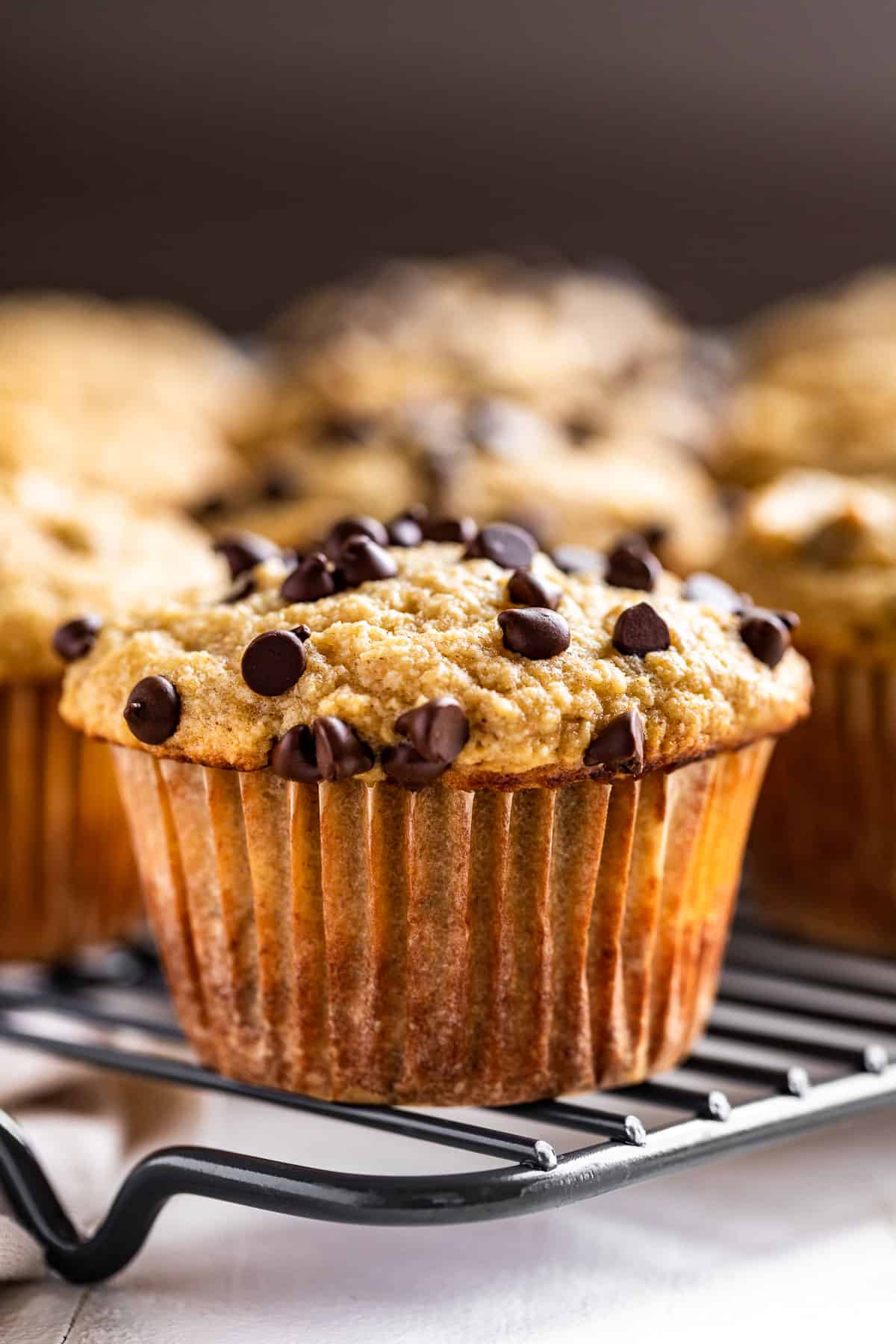 I've never been that into anything banana-related. I mean banana is ok… but give me chocolate, caramel, or both any day over banana flavors! But I have to say these banana muffins have changed my tune.
I don't even think I would have developed this recipe if it wasn't for repeated requests. After all, when I think about muffins, my mind almost always goes straight for these Paleo Blueberry Muffins.
So with all the requests and the fact that Tyler really likes banana muffins, I got to work. Imagine my surprise when I bit into my first butter-slathered bite, and my eyes rolled up in absolute delight.
Of course, 1 muffin turned into 2, and I was hooked! To be fair these banana muffins have mini chocolate chips in them. So maybe that explains my now 'obsession' with them.
The other thing that I love about these muffins is they freeze well. And I've been keeping a batch ready to go at all times. It would seem that having ready-made muffins around is handier than I would have thought.
Just last weekend, we had company on an extra busy weekend. So when Saturday morning came, I just reheated these muffins in the oven and made some sausages and scrambled eggs. It looked like an impressive breakfast, but it couldn't have been easier.
Ingredients & Substitutions
Almond flour – sometimes called almond meal, but you want to look for a nice fine texture. Sometimes almond meal can be very coarse, so looking for the word flour on the bag you buy is best!
Tapioca starch – is added to the mix with almond flour and it's what helps hold it together since it's gluten-free. Tapioca starch also really helps to make fluffy muffins.
Bananas – ripe bananas with plenty of black spots are perfect for making banana muffins. The blacker they become the more they have a tendency to stick to the paper wrappers.
Eggs – also help to hold these muffins together and provide structure for a fluffy muffin.
Butter – melted ghee, avocado oil, or melted coconut oil all work well in these muffins. You can also use dairy-free butter if desired.
Maple syrup – just a touch combined with the ripe bananas to make the right amount of sweetness.
Vanilla extract – is important for the best flavor in these muffins.
Cinnamon – a little cinnamon is the perfect compliment to the banana flavor without being overwhelming, more of a hint.
Baking powder – gives these muffins spring when they bake and helps to leaven them into a fluffy texture.
Chocolate chips – I like to add mini chocolate chips for more chocolate in every bite. But they can be left out for regular banana muffins as well.
How to make these Almond Flour Banana Muffins
Step 1: Add the dry ingredients to a medium-sized mixing bowl and whisk them together making sure there are no lumps of almond flour.
Step 2: Next place the bananas, melted butter/ghee/avocado oil, eggs, and vanilla into a blender and blend until smooth.
You can also mash the ripe bananas by hand in a medium-sized bowl and stir in the rest of the wet ingredients. The blender just speeds things up, but it's not necessary.
Step 3: Stir the chocolate chips into the flour mixture if you're using them.
Then pour the banana mixture into the flour mixture.
Step 5: Portion the batter out evenly into a muffin pan lined with 12 paper muffin liners.
If desired you can sprinkle the tops of the muffins with mini chocolate chips. I usually do half and half as pictured above.
Step 6: Bake the muffins until they're puffed in the middle and a toothpick inserted into the center comes out clean or with moist crumbs.
Let them cool slightly in the muffin tin, then remove them to a cooling rack to cool completely before storing them.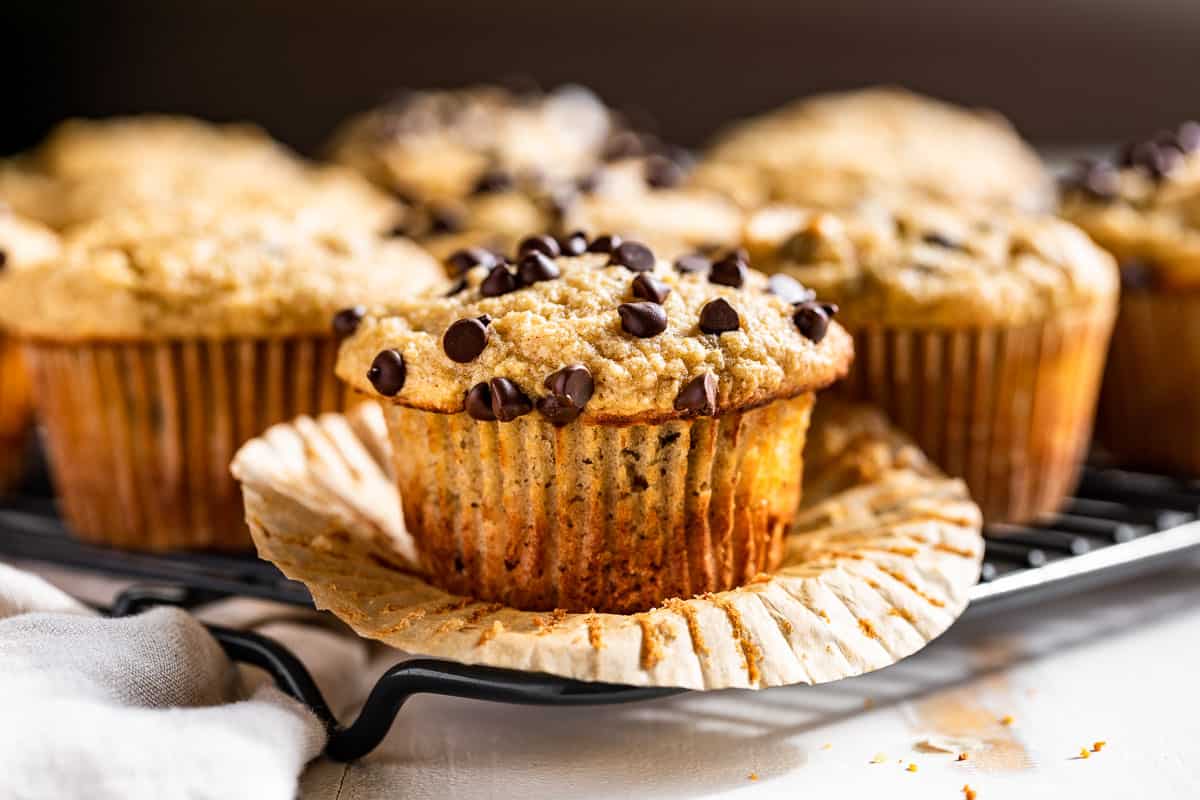 FAQ's
What can I use instead of almond flour?
This recipe was specially made for almond flour, so I recommend using my Gluten Free Banana Bread recipe and baking it into muffins instead.
Are banana muffins healthy?
Yes, these banana muffins are relatively healthy because they're made with whole food ingredients and nothing processed. They're mostly sweetened naturally with ripe bananas and a touch of maple syrup. The only cane sure is in the optional chocolate chips. All in all, they're a pretty healthy banana muffin!
Can I use all-purpose flour instead of almond flour?
No not in this recipe, but you could use all-purpose flour in place of the gluten-free flour called for in my Gluten Free Banana Bread recipe.
Storing leftovers
To store – cool the muffins to room temperature and store them in an airtight container on the counter for up to 2 days. The muffins will begin to dry out over time, so I freeze any leftovers I have right away.
Make ahead – These can be made ahead and frozen. Defrost them overnight in the fridge and reheat slightly to serve.
Reheating – place the muffins in an oven or toaster oven at 250ºF for 10 minutes or so until heated through. Or you can also microwave to reheat.
To freeze – these keep well in an airtight container in the freezer for up to one month. Be sure to let them cool to room temperature before freezing.
3 Easy Banana Muffin Variations
Omit the chocolate chips for a classic banana muffin.
Add 1/2 cup of fresh blueberries in place of the chocolate chips for banana blueberry muffins.
Add 1/2 cup chopped nuts (walnuts and pecans are my favorites with banana muffins) for banana nut muffins. You can omit the chocolate chips or keep them in, either way is great!
Tips & Tricks
Ripe bananas make the best sweetest muffins, but there are varying degrees of 'ripeness'. Yellow with plenty of black spots will give you a nice sweet muffin with the perfect fluffy texture. As the bananas ripen into black your muffins will be a bit moister with less spring. They will also sometimes stick to the paper wrappers when the bananas are overripe because of the increased natural sugar.
When your bananas reach the perfect ripeness described above, try peeling them. Then break them into chunks and freeze them in a labeled airtight container until you're ready to bake. That way you know you have the right amount of bananas to bake these muffins.
Dietary Options & Substitutions
Dairy-free – use dairy-free butter, avocado oil, or coconut oil. I personally love using avocado oil because it's the easiest, but coconut is a close second, you just need to melt it first. Also, make sure you're using the chocolate chips that you buy dairy-free, we love Enjoy Life chocolate chips.
Paleo – be sure to use melted ghee, avocado oil, or coconut oil along with dairy-free chocolate chips.
Recipes for almond flour muffins
I hope you'll enjoy these Paleo Banana Muffins as much as we have! If you do make them, I hope you'll leave me a comment/rating below. I always love hearing from you here.
Almond Flour Banana Muffins
---
INGREDIENTS
2 1/4

cups

fine almond flour

1/2

cup

tapioca starch

-

also called flour

1

tsp

ground cinnamon

1/2

tsp

sea salt

2

tsp

baking powder

-

see notes

1/4

cup

maple syrup

4

ripe bananas

-

broken/cut into 1″ pieces

1/4

cup

melted ghee

-

butter, or avocado oil for dairy free

2

eggs

1

tbsp

vanilla extract

1/3

cup

mini chocolate chips

-

optional

Optional: 2-3 Tablespoons mini chocolate chips for topping
INSTRUCTIONS
Preheat the oven to 350ºF, and line a muffin tin with muffin cup liners, or grease the pan very well.

In a medium sized mixing bowl, whisk together the almond flour, tapioca starch, cinnamon, sea salt, and baking powder. Set the mixture aside.

Add the maple syrup, banana pieces, melted ghee/butter/avocado oil, eggs, and vanilla into a blender. Blend on low speeds until smooth.

Pour the banana mixture into the flour mixture, and mix until combined. Then stir in 1/3 cup chocolate chips if desired.

Portion the batter evenly into the prepared pan. Sprinkle with the optional additional chocolate chips.

Bake until puffed in the middle and a toothpick inserted into the center comes out clean or with moist crumbs, not batter, 18-22 minutes.

Remove the muffins from the oven, and let them cool for at least 5 minutes before carefully removing them from the pan to continue to cool on a wire/cooling rack.

Serve hot/warm from the oven. Or cool to room temperature and freeze in an airtight container for up to 1 month. Reheat gently in a warm, 200ºF oven until thawed and warmed through, about 20 minutes.
Bonus Step
If you made this recipe, please leave a rating/comment. Ratings really help us continue to bring you high-quality free recipes. Rate This Recipe!
NOTES
Baking powder can have all sorts of additives, and isn't always gluten free or paleo. To be safe, you can make your own by mixing together 1 part baking soda to 2 parts cream of tartar, and use the mixture right away.
Over time I've found these muffins can sometimes fall if your bananas are on the riper side or are larger in size, (creating too much moisture to flour ratio). To compensate for that, I've added 1/4 cup of almond flour to my original recipe and the muffins have never sunk since I started making them this way!
nutrition facts
Calories:
261
kcal
|
Carbohydrates:
26
g
|
Protein:
6
g
|
Fat:
16
g
|
Saturated Fat:
4
g
|
Polyunsaturated Fat:
0.3
g
|
Monounsaturated Fat:
1
g
|
Trans Fat:
0.2
g
|
Cholesterol:
38
mg
|
Sodium:
213
mg
|
Potassium:
170
mg
|
Fiber:
3
g
|
Sugar:
13
g
|
Vitamin A:
194
IU
|
Vitamin C:
3
mg
|
Calcium:
104
mg
|
Iron:
1
mg
This post was originally published in 2020 but has been updated in 2023 with more tips, information, new photos, and nutritional information.