This Easy Paleo Pumpkin Bread is naturally gluten-free and grain-free as well because it's made with almond flour. It's easy to make and tastes like the holidays. It's perfectly spiced and fills your house with the best aromas as it bakes. It has a moist but fluffy texture that's perfect on its own, or with a bit of butter and honey. This healthy pumpkin bread recipe is my go-to for cozy baking and it makes a wonderful homemade gift.
This pumpkin bread is seriously easy to make. I mean so easy you can mix it together in just minutes. From there it bakes in the oven making the whole house smell incredible, and the aromas wrap around you like a giant holiday hug!
I promise this isn't an exaggeration because as I was testing batch after batch for this recipe, a friend stopped by to drop something off for me. When I opened the door she said, 'Your house smells absolutely amazing!'.
I had already forgotten I'd been baking this pumpkin bread all morning. So at first, I had no idea what she was talking about! It's funny how you become accustomed to the smell after being in the house all day.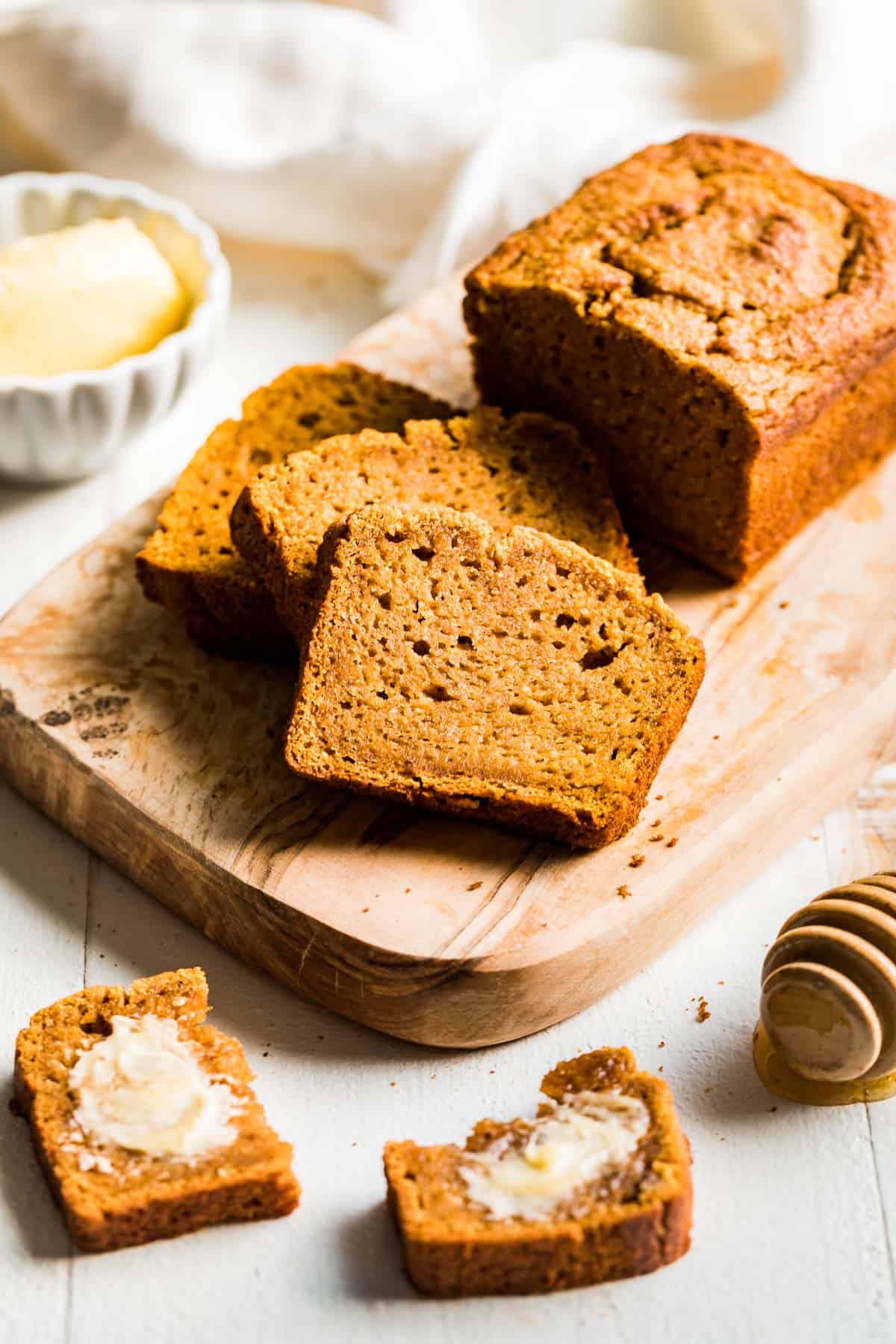 But later in the day, I left the house for a walk. And as soon as I came back through the door, it was like I had dropped right into the holiday season. It also made me immediately crave another slice of this delectable bread, so you have been warned!
Ingredients & Substitutions
Almond Flour – is my favorite flour to make perfectly moist baked goods that are gluten-free and paleo.
Tapioca Starch – sometimes called tapioca flour, I use this in combination with almond flour and it creates the perfect fluffy texture in paleo baked goods. I've also had many readers write in to say they've successfully subbed in either arrowroot or cornstarch for the tapioca.
Pumpkin Spice – this is a spice worth having in your spice lineup since it combines several spices and strikes the right balance in this bread. Pumpkin spice is a blend of spices together so you don't need to measure out like allspice, cloves, ground ginger, nutmeg etc. one at a time.
Cinnamon – pairs perfectly with the pumpkin spice to give just the right flavor you want in a pumpkin bread.
Pumpkin Purée – not pumpkin pie filling! Pumpkin purée is just 1 ingredient – pumpkin, and it makes for the best flavor in baked goods.
Maple Syrup – is the perfect sweetener here. It adds the right amount of sweetness and is a great flavor booster, as well as being a natural sweetener. I also tested this recipe with coconut sugar, but the texture was crumbly instead of fluffy and moist. Honey is also problematic as the pumpkin bread browns too fast. The crust burns while the inside is still raw.
Avocado Oil or Ghee – I tested this recipe with both melted ghee and avocado oil. I personally lean towards the avocado oil because it's easier but either way is very tasty. If you can have dairy, butter also works in this recipe as well as coconut oil.
Eggs – work together with the almond flour and tapioca starch to create the right texture in this pumpkin bread.
Vanilla – is necessary in my book for truly delicious baked goods of all sorts! It always rounds out and enhances all the other flavors.
How to make this Paleo Pumpkin Bread recipe step by step
Step 1: Start by preheating the oven. Then mix together the dry ingredients: almond flour, tapioca starch, pumpkin spice, cinnamon, sea salt, and baking powder in a large bowl until no lumps remain.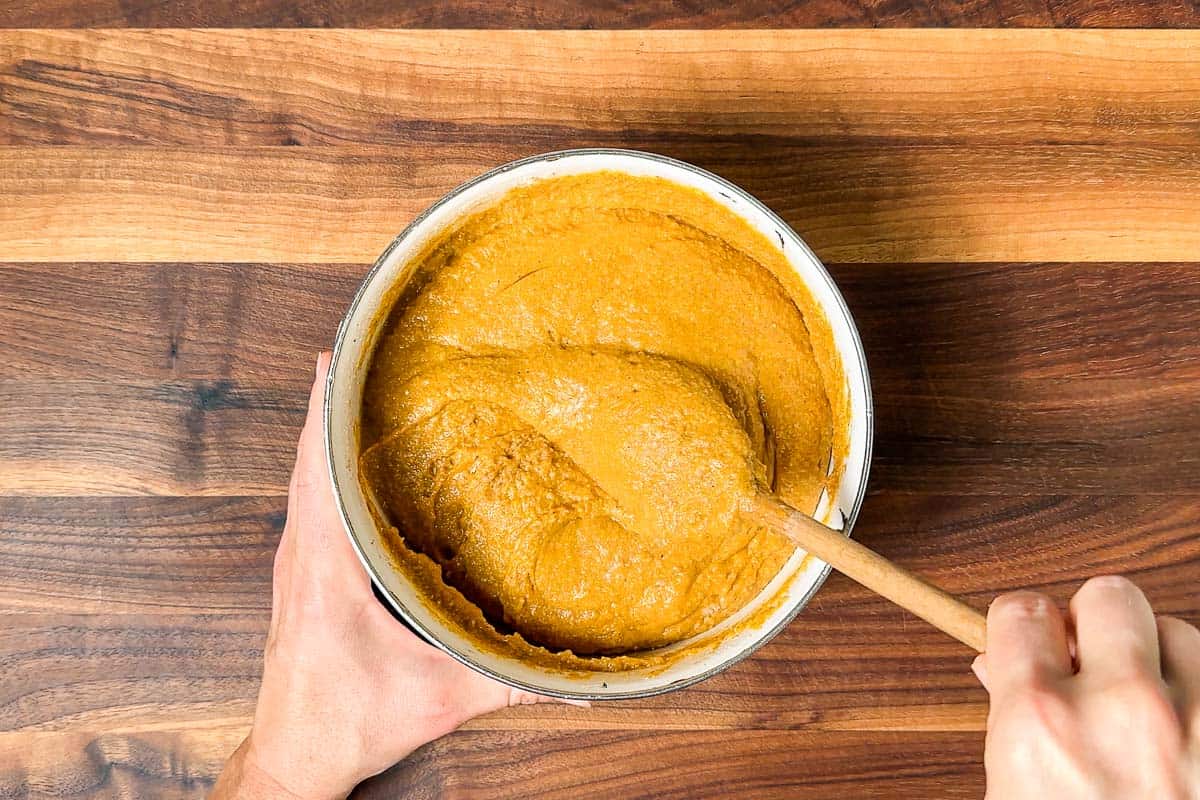 Step 2: Add the pumpkin puree along with the eggs, maple syrup, vanilla, and avocado oil.
Stir until all the flour mixture has been combined into a smooth batter.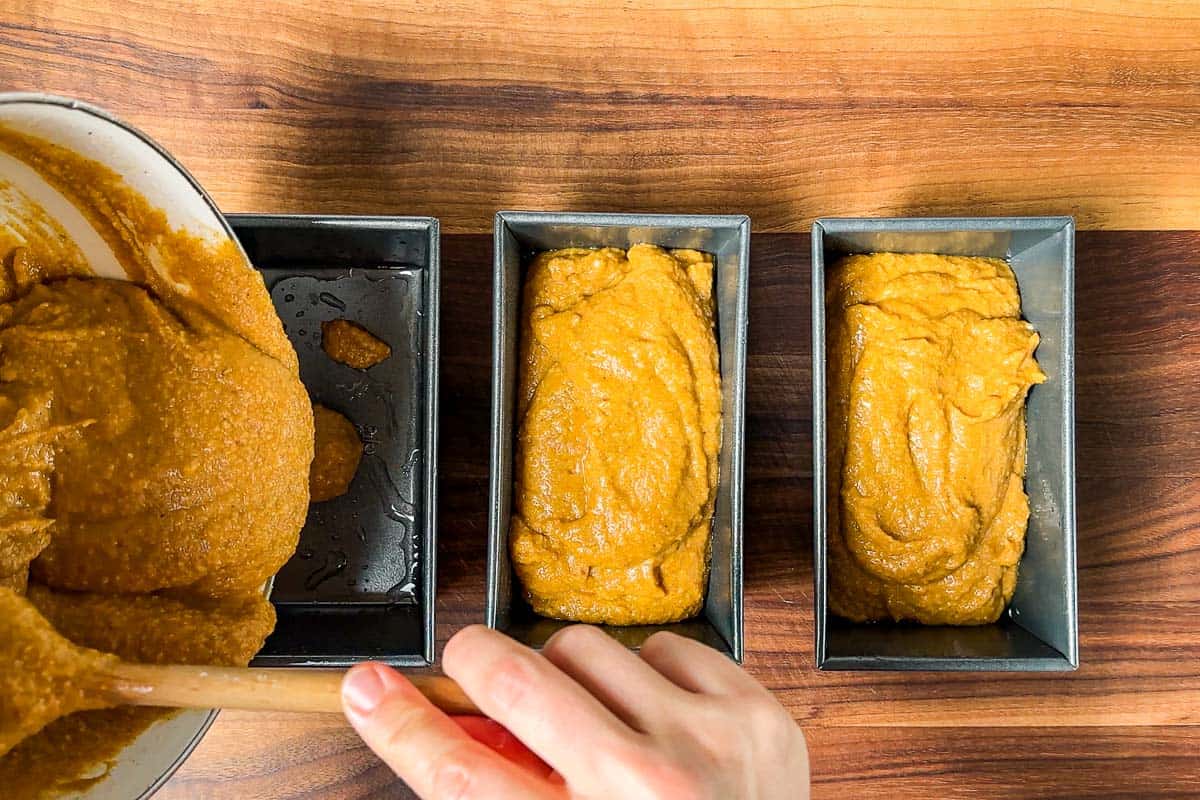 Step 3: Portion the batter equally into 3 greased mini loaf pans.
I find mini loaf pans to cook paleo quick bread a bit better, but you can also use a regular-sized loaf pan and bake as directed in the recipe.
Step 4: When the pumpkin bread is puffed in the center and a toothpick inserted comes out clean or with moist crumbs let it cool for about 15 minutes on a wire rack.
Run a butter knife carefully around the edges of the loaf pan to loosen the pumpkin bread, using a hot pad if the pan(s) is still too hot. Turn the loaf pans over to remove the pumpkin bread from the pan and cool completely.
FAQ's
What is Paleo Pumpkin Bread?
Pumpkin bread is paleo when it's made with grain-free flour like almond flour and with natural sweeteners like maple syrup or honey. It should also be dairy-free or made with ghee.
Can I use all-purpose flour for almond flour in this pumpkin bread?
Unfortunately, you cannot substitute all-purpose flour for the almond flour in this pumpkin bread. Almond flour has naturally healthy fats in it and this recipe is formulated for that. If you sub in all-purpose flour the pumpkin bread will be dry. If you're looking for a recipe without almond flour, try my Gluten Free Banana Bread.
Storing leftovers
To store – place any leftover pumpkin bread into an airtight container and store at room temperature for up to 4 days. It is best if you slice it as you need it so it doesn't dry out.
Make ahead – the best make ahead option is to slice the cooled pumpkin bread, freeze it in individual slices then transfer the slices to an airtight container for up to 2 weeks. Another option is to whisk together the flour mixture ahead of time to speed up the process.
Reheating – place slices of pumpkin bread in a covered baking dish in the oven at 200ºF until warmed through, about 10 minutes.
Freezing – freeze any leftovers in an airtight container for up to 1 month. I like to slice my leftover pumpkin bread, freeze the slices on parchment paper on a baking sheet, then add them frozen to an airtight container and store in the freezer for up to 2 weeks. That way it's easy to pull out exactly how much pumpkin bread you'd like. Defrost on the counter or in the fridge.
Tips & Tricks
Try adding 1/2 cup dark chocolate chips to the pumpkin bread batter for a variation!
This Paleo Pumpkin Bread really does taste best completely cooled to room temperature. The flavors are much more prominent when the bread is cooled rather than hot.
I really hope you enjoy this Paleo Pumpkin Bread recipe! If you do get a chance to make this recipe, I'd love to hear from you in the comments.
INGREDIENTS
2

cups

fine almond flour

1/2

cup

tapioca starch

1

tbsp

pumpkin pie spice

1

tsp

ground cinnamon

2

tsp

baking powder

-

see notes

1/2

tsp

sea salt

1

cup

pumpkin purée

-

not pumpkin pie filling

1/2

cup

maple syrup

1/3

cup

avocado oil

-

ghee, butter, or coconut oil

2

eggs

1

tbsp

vanilla extract
INSTRUCTIONS
Preheat the oven to 350ºF and grease with avocado oil 3 miniature non-stick loaf pans, (or 1 regular-sized non-stick loaf pan).

In a medium-sized bowl, whisk together the almond flour, tapioca starch, pumpkin pie spice, cinnamon, baking powder, and sea salt.

In a small bowl, whisk together the pumpkin purée, maple syrup, avocado oil, eggs, and, vanilla extract.

Pour the pumpkin mixture into the almond flour mixture, and stir to combine.

Portion out the batter equally into the 3 mini loaf pans, or all of the batter into the regular-sized loaf pan.

Place the loaves/loaf pan into the oven and bake until puffed in the center and a toothpick inserted comes out clean, or with moist crumbs. The mini loaves take about 35 minutes, and a full-sized loaf pan takes about 55 minutes.

When the pumpkin bread is done, remove it from the oven and set the pan(s) on a cooling rack. Let the pumpkin bread cool in the pan(s) for 15-20 minutes. Then gently run a butter knife around the edges to loosen the bread and slide it out of the pan(s) to cool completely.

Slice and enjoy. This pumpkin bread keeps well for a couple of days without getting dry. I like to slice and freeze it so we can enjoy a slice whenever for weeks to come.
Bonus Step
If you made this recipe, please leave a rating/comment. Ratings really help us continue to bring you high-quality free recipes. Rate This Recipe!
NOTES
Baking powder can have all sorts of additives, and isn't always gluten free or paleo. To be safe, you can make your own by mixing together 1 part baking soda to 2 parts cream of tartar, and use the mixture right away.
I like baking any kind of paleo quick bread like this one in mini loaf pans because I think they bake more evenly and with the perfect amount of browning in the crust for our taste. I did bake this in a regular sized loaf pan and it does work, but it's a little browner than we care for, although my husband still gobbled it down.
Also I tested one round of this recipe with a regular sized glass loaf pan, and I wouldn't recommend it. The crust of the bread was so brown it was almost burnt which wasn't the case when I used a non-stick pan.
nutrition facts
Calories:
235
kcal
|
Carbohydrates:
20
g
|
Protein:
5
g
|
Fat:
16
g
|
Saturated Fat:
2
g
|
Polyunsaturated Fat:
1
g
|
Monounsaturated Fat:
5
g
|
Trans Fat:
0.003
g
|
Cholesterol:
27
mg
|
Sodium:
181
mg
|
Potassium:
89
mg
|
Fiber:
3
g
|
Sugar:
10
g
|
Vitamin A:
3219
IU
|
Vitamin C:
1
mg
|
Calcium:
108
mg
|
Iron:
1
mg
This recipe was originally published in 2020 and updated with more prep photos, tips, and information in 2023.