The key to unbeatable flavor in these Roasted Brussels Sprouts is the hot oven temperature. When you combine that with a little olive oil and garlic, you have the best browned Brussels sprouts you have ever seen. These are the perfect easy side dish to add to so many meals, from my Creamy Tuscan Chicken to my Instant Pot Beef and Shells!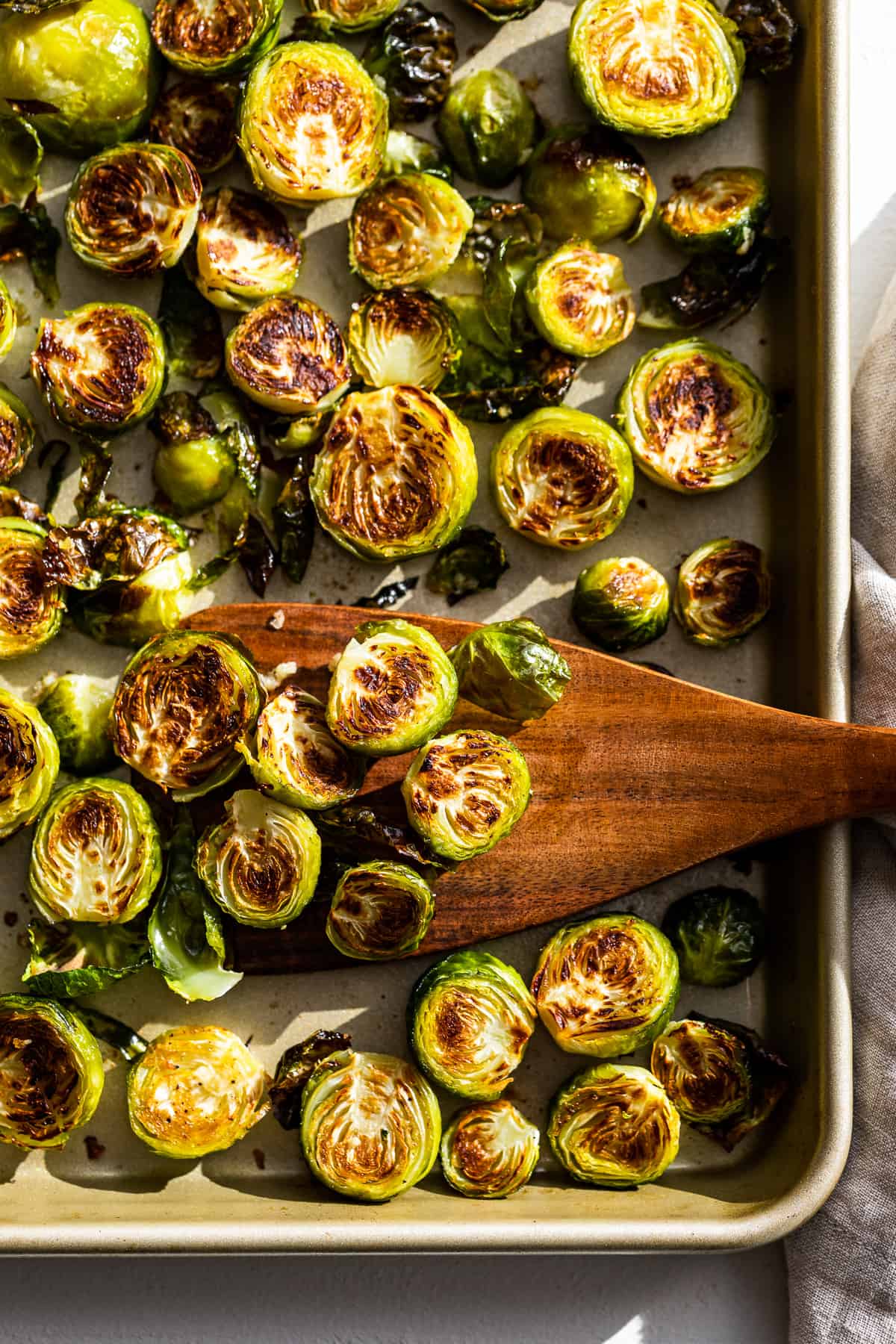 Perfectly browned and oh-so-tasty Brussels sprouts are super simple to make! In fact, it's all about the oven temperature. Simply place them in a ultra hot oven, on a good quality baking sheet, and you're in for some veggies you can't stop eating.
In fact, my husband got a separate bowl for his Brussels sprouts so he could enjoy their 'French fry-like flavor'! That's a direct quote and he's not wrong, these are beyond delicious. Apparently, he didn't want anything else on his plate to interfere with the Brussels sprouts goodness.
(This is probably the best compliment about veggies I've ever received, but can't stop laughing about how serious he is about these!) In fact, every time I make these, the 2 of us usually eat the whole pan, (all 4 servings).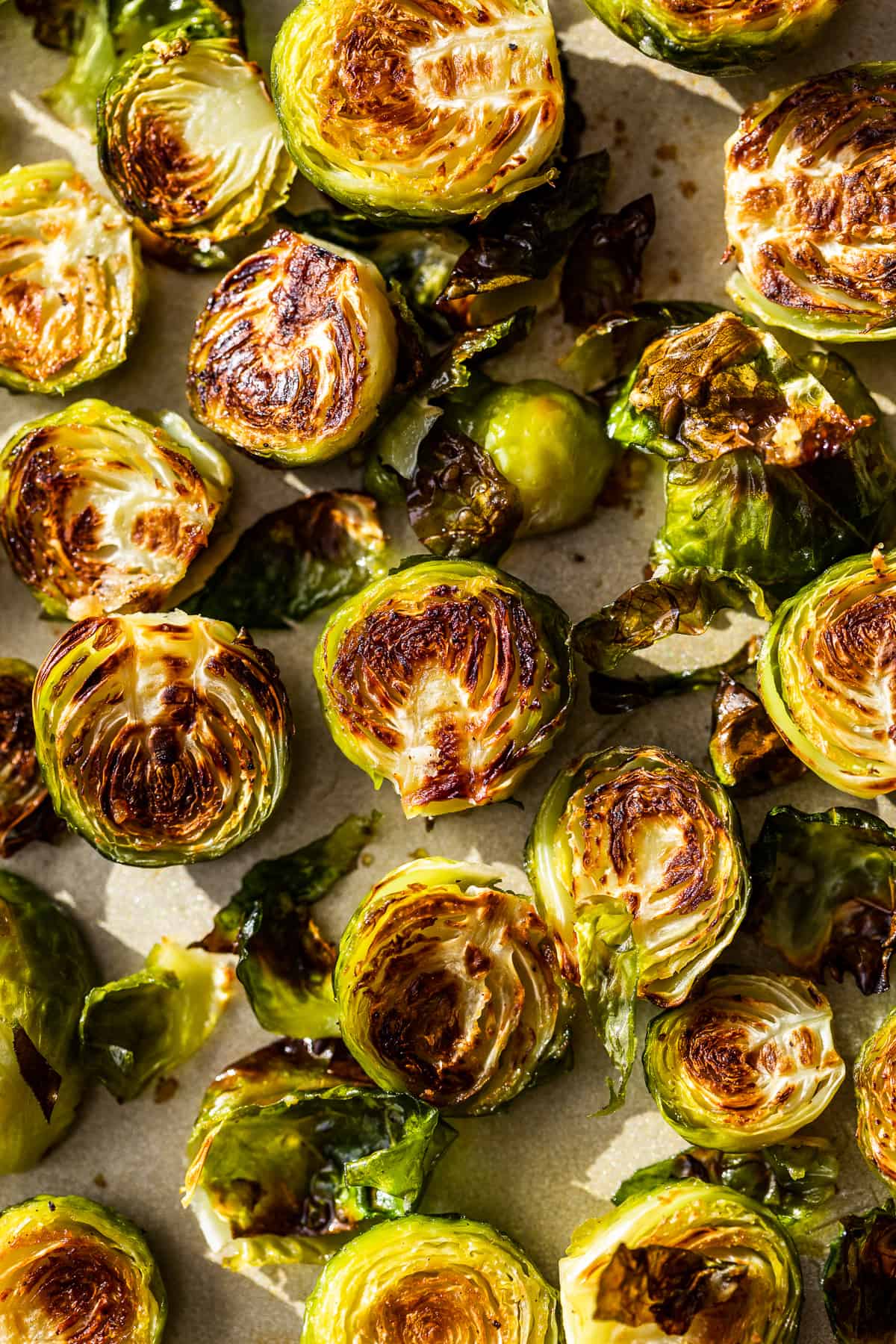 It's really amazing how much flavor you can bring out of veggies with a few simple ingredients and a hot oven. So if you've ever wondered if Brussels sprouts are for you, these could change your mind. I mean… even my mom who 'doesn't like' Brussels sprouts likes these.
Ingredients & Substitutions
Brussels Sprouts – I've only ever used fresh Brussels sprouts for this recipe. Frozen Brussels sprouts have a much softer texture and won't give you the same caramelization, but you can use them.
Olive oil – is my favorite oil here, and even though the temperature is high, I haven't had a problem with it smoking. You can also use avocado oil which has a much higher smoke point, or bacon grease.
Garlic – fresh is best and I don't recommend the jarred kind. But when you're in a hurry, try using 1 teaspoon of garlic powder recommended in the recipe notes. Garlic powder tastes way better than pre-minced in the jar. Be sure your garlic powder doesn't have salt in it, or adjust your seasoning accordingly.
Sea Salt & Pepper – just a bit to taste goes a long way in making veggies super tasty. Sometimes veggies can be a bit bland just because they don't have quite enough salt!
How to make this recipe step by step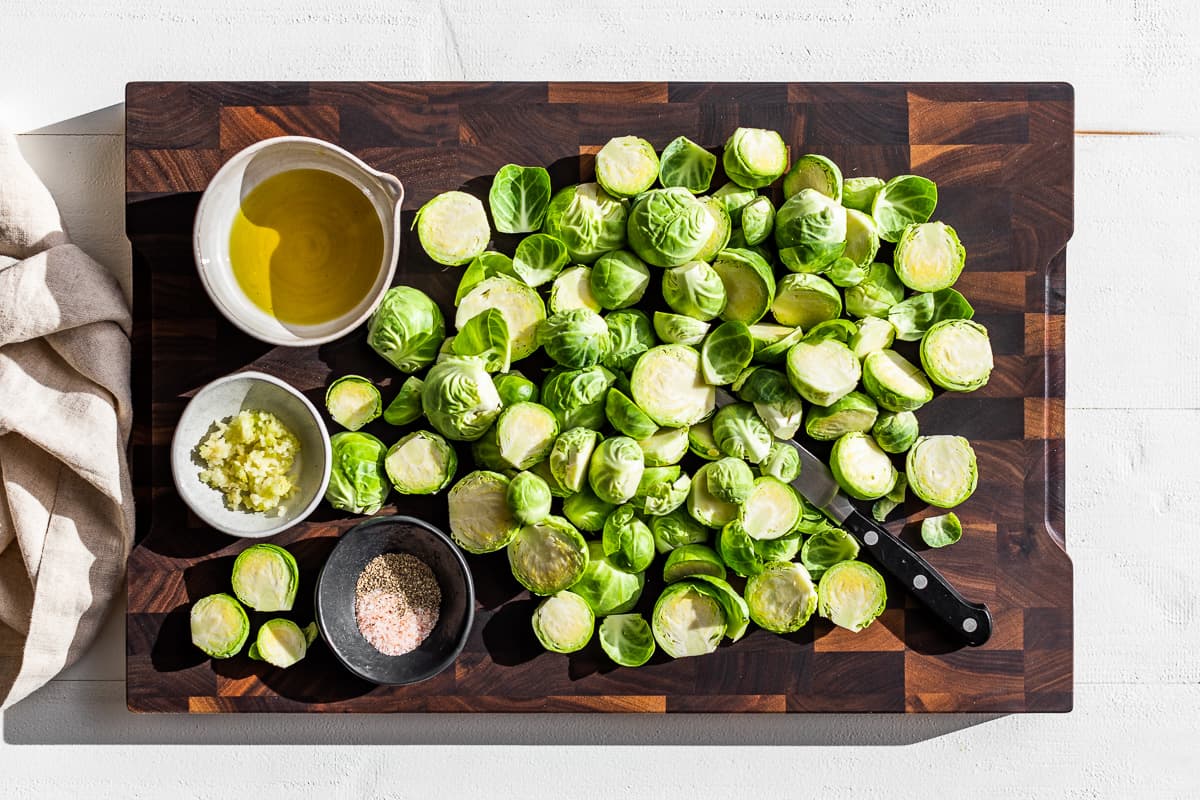 Step 1: Start by cutting off the ends of the Brussels sprouts and cutting them in half. Peel away any tough or wilted outer leaves and discard them. Place the Brussels sprouts and any bits/leaves that fall off on a baking sheet.
Quick Tip: Try using a garlic press if you don't care for mincing up garlic. It makes it super quick and easy, especially if you only need 1 clove!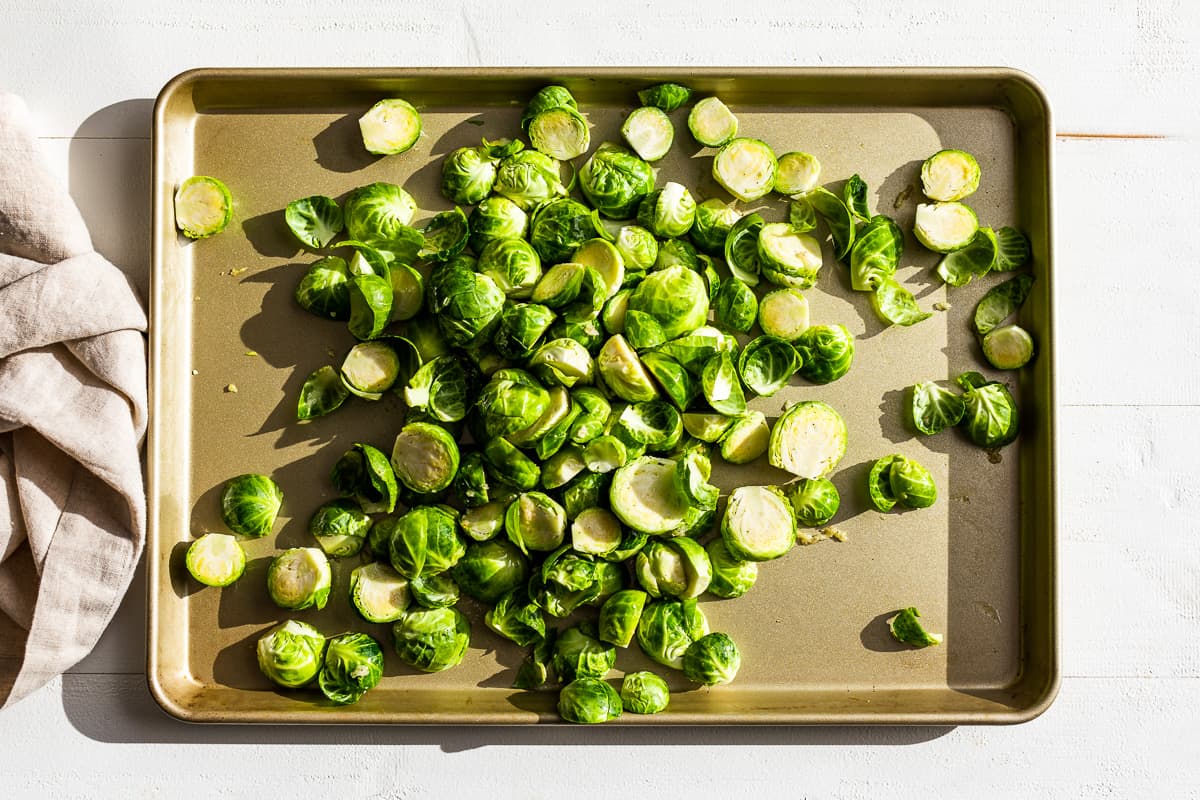 Step 2: Toss the halved Brussels sprouts with olive oil, minced garlic, sea salt, and pepper on the baking sheet.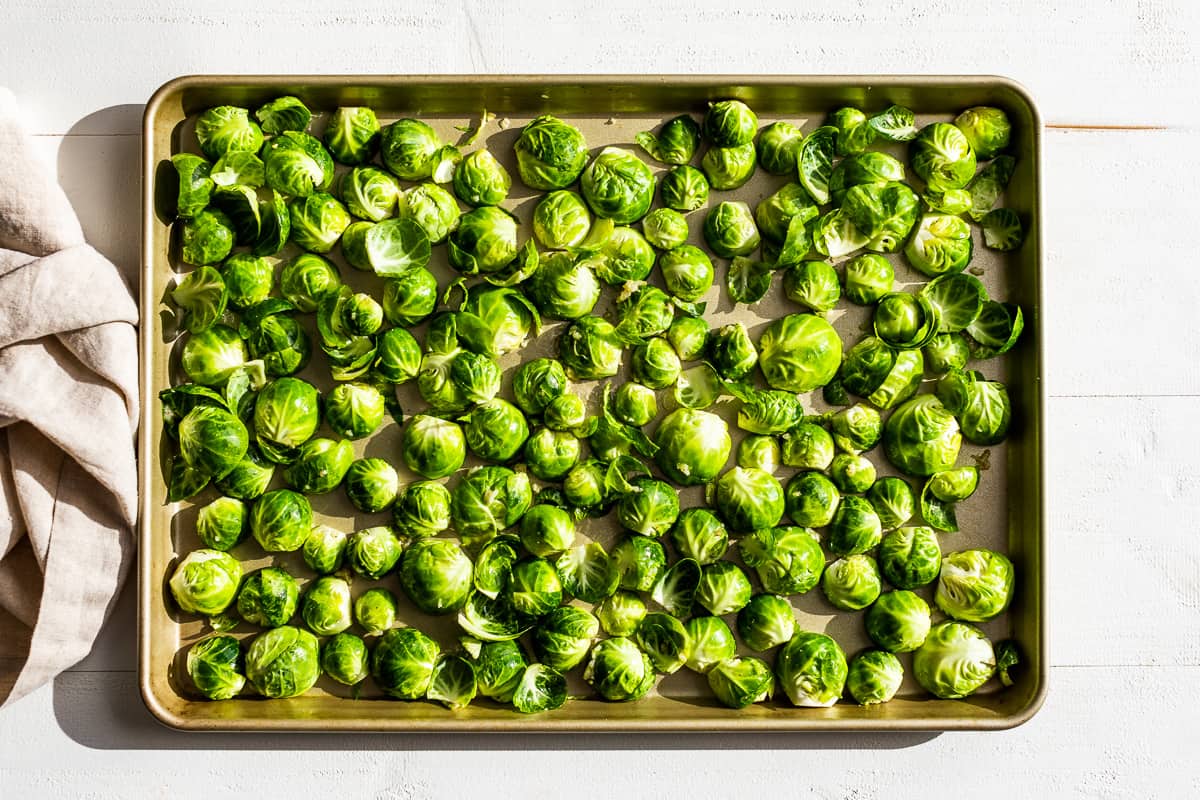 Step 3: Turn all the Brussels sprout halves flat side down on the baking sheet. This step is what gives you all the beautiful caramelized Brussels sprouts.
If the flat sides of the Brussels sprouts aren't touching the baking sheet, they won't brown properly. It takes less than 1 minute and it's truly the key to this recipe!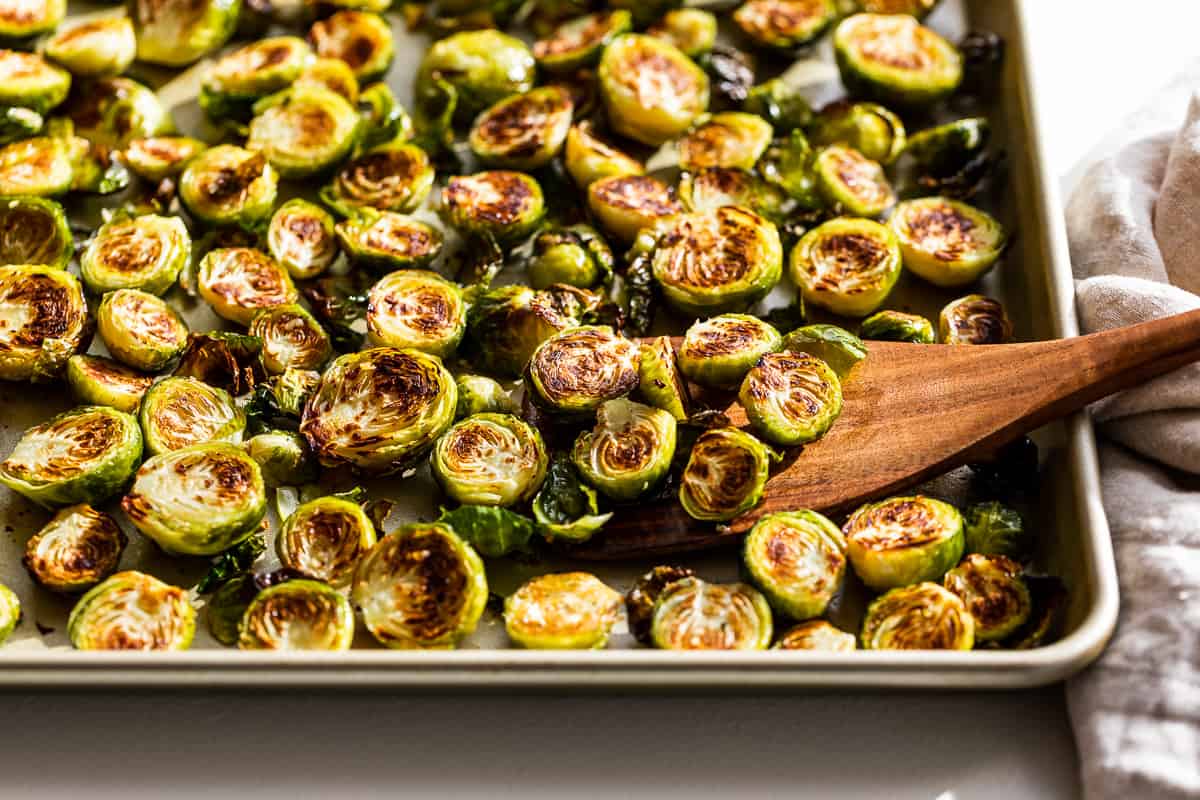 Step 4: Roast until tender and the flat sides are browned, 15-20 minutes, rotating the pan halfway through.
The timing will vary depending on the size of your Brussels sprouts. So be sure to roast until fork tender. Also depending on your oven, you might need to place the baking sheet on the bottom rack of the oven for half the baking time for the best browning.
Ways to serve these Roasted Brussels Sprouts
FAQ's
Should Brussels sprouts be cut before roasting, and should I cut off the ends?
Yes and yes! Cutting the Brussels sprouts in half before roasting gives you a flat side that will brown beautifully as they roast. I also recommend cutting off the ends because they can be tough.
Can I use frozen Brussels sprouts in place of fresh ones?
Yes but with reservations. Fresh definitely will give you the best browned caramelization. But if you thaw and drain frozen Brussels sprouts you can use them here. They will be much softer and may need a few more minutes in the oven to brown.
How do you roast Brussels sprouts so they're not soggy?
The key is a high temperature! You're going to be roasting these at 450ºF which gives you the perfectly browned look you'll never get with lower temperatures. Anything between the range of 325º-400ºF won't brown your Brussels sprouts. 425ºF and higher will yield the tastiest veggies. Also don't use frozen Brussels sprouts because they will be on the soggier side and it can't be helped.
Storing leftovers
To store – transfer any leftovers to an airtight container and refrigerate for 3-4 days. These do taste the best right away though!
Reheat – I heat mine in a small skillet with other leftovers and a touch of water. Cover the skillet and warm over low heat then uncover to evaporate any extra water. Or you can microwave these too.
To freeze – I recommend trying to eat them up for the best flavor, but if you do freeze them just know they do lose some texture and become soggy. Freeze in a sealed container for up to 3 months. Thaw in the refrigerator and reheat.
Tips & Tricks
Don't skip turning the halved Brussels sprouts flat side or cut side down! I timed myself and it took less than a minute and it's what gives you the best browning.
Choose the freshest Brussels sprouts. They should look good without mold etc. and the leaves should be tightly wrapped together.
Use a good quality baking sheet for even cooking! Thin cookie sheets will warp and some Brussels sprouts may burn.
Make sure your Brussels sprouts are in a single layer, flat side down. Don't crowd the pan because they won't brown well.
Try adding your favorite herb, I like to use 1/2 teaspoon dried or 1-2 teaspoons fresh. Italian seasoning for dried herbs and rosemary or thyme for fresh are our favorites for everything we've tried.
Drizzle the finished Brussels sprouts with reduced balsamic or balsamic vinegar, and sprinkle with parmesan cheese for killer veggies.
Side dish recipe inspiration
I really hope you enjoy these Roasted Brussels Sprouts! If you do get a chance to make this recipe, I'd love to hear from you in the comments. Also if you're looking for a 'fancy' Brussels sprouts recipe, try my Caramelized Bacon Balsamic Brussels Sprouts.
INGREDIENTS
2

lbs

Brussels sprouts

-

8 cups whole, ends trimmed and cut in half

2

tbsp

olive oil

-

avocado oil, or bacon grease

1

clove

garlic

-

minced or 1 teaspoon garlic powder, see notes

1/2

tsp

sea salt

-

or to taste

1/4

tsp

ground black pepper
INSTRUCTIONS
Preheat the oven to 450ºF.

Toss the halved Brussels sprouts together with the olive oil, garlic, sea salt, and black pepper on a large baking sheet. Make sure the garlic is thoroughly mixed in through the sprouts.

Spread out the Brussels sprouts evenly and flip them to be flat side down on the baking sheet.

Roast the Brussels sprouts in the oven until browned and tender, 15-20 minutes, rotating halfway through. The cooking time will vary depending on the size of your Brussels sprouts. Mine measured on average 1 1/2″x2″ before cutting them.

You may need to place your baking sheet on the bottom of your oven for part of the baking time. Experiment to see what works well with your oven.

When the Brussels sprouts are done, serve immediately.
Bonus Step
If you made this recipe, please leave a rating/comment. Ratings really help us continue to bring you high-quality free recipes. Rate This Recipe!
NOTES
Be sure you garlic powder doesn't contain salt, or adjust your seasoning accordingly.
Use a good quality baking sheet to roast these. The thin cookie sheets warp at high temperatures and will cook unevenly and burn in places.
These brown perfectly in the middle rack of my oven. But when I've cooked them in different ovens, I've found they don't always brown on the middle rack, and I cook them on the bottom rack for half the cooking time.
nutrition facts
Calories:
161
kcal
|
Carbohydrates:
21
g
|
Protein:
8
g
|
Fat:
8
g
|
Saturated Fat:
1
g
|
Polyunsaturated Fat:
1
g
|
Monounsaturated Fat:
5
g
|
Sodium:
348
mg
|
Potassium:
887
mg
|
Fiber:
9
g
|
Sugar:
5
g
|
Vitamin A:
1711
IU
|
Vitamin C:
193
mg
|
Calcium:
97
mg
|
Iron:
3
mg