These Garlic Butter Sautéed Mushrooms are a super easy and versatile side dish that can make an ordinary dinner seem special. They're naturally gluten free with dairy free and vegan options as well. Try adding them to everything from freshly cooked pasta, or to your next steak night.
These Garlic Butter Mushrooms are definitely not another boring side dish. In fact they quickly become the star of the show, they're just so flavorful. They're also one of my favorite ways to add another veggie to a meal in just minutes.
The garlic-butter flavor is also super versatile and can be paired with so many things. I've used them as an omelet filling, as a topping for my Creme Fraiche Risotto, and tossed into a salad for lunch. So… you might want to make an extra batch just to have on hand in the refrigerator. I'm thinking you're easily going to be able to find all sorts of ways to use these!
And speaking of which, our favorite way to serve these is with steak for special dinners, (see inspiration below). But they're also great with everyday kinds of meals too. You can also make them with olive oil or avocado oil for a dairy free version. And when you leave out the optional herbs, they really do go with anything.
Inspiration for an easy steak dinner with sides:
Garlic Butter Sautéed Mushrooms
And for dessert…
Alright… let's talk about the ingredients for these Garlic Butter Sautéed Mushrooms!
Mushrooms – I like to use Crimini mushrooms here because they're a bit more flavorful than regular white. But you can use any mushrooms you have available. And if you should ever get your hands on some morel mushrooms, well… you're definitely in for a treat!
Butter – for the 'garlic-butter' flavor, but ghee, avocado oil, and olive oil all work. So feel free to choose whichever one is best for you. Also as I mentioned above using olive or avocado oil is a more neutral flavor and makes these mushrooms even more versatile.
Garlic – fresh minced garlic is a must here! This is a very simple dish and jarred garlic isn't going to give great results. In a pinch I would use a touch of garlic powder over anything from a jar.
Herbs – These are optional, but I love using rosemary, sage, or thyme here. In the summer months chives or a sprinkling of freshly chopped parsley is nice as well.
Tips for the best sautéed mushrooms:
Don't overcrowd the pan! This is super important because your mushrooms will 'steam' rather than sauté. It won't 'ruin' them or anything, you just won't have that lovely caramelized flavor or great texture you're looking for. When you first add mushrooms to a hot pan, they suck up all the butter/oil and it seems like it might be too dry. But don't worry, they start shedding water soon. And in no time they're be browned like the picture below.
Don't walk away! These come together in just a few minutes over high heat. It's too easy to burn things at high heat, so it's best to give them your full attention for the few minutes they're cooking. You won't be sorry after one bite of pure good flavor!
No more rubbery mushrooms! Rubbery mushrooms happen when mushrooms 'steam' rather than sauté. So along with not crowding the pan, you want to make sure your mushrooms are thoroughly dried before cooking.
How to clean mushrooms? A damp cloth works well for mostly clean mushrooms. But when I get a batch with a lot of visible dirt, I do go ahead and wash them under running water, despite all the controversy about this. If I wash them under running water, I spread them out and allow them to dry for at least an hour before cooking. As mentioned above, water is the enemy here because you don't want your mushrooms 'steaming'!
And finally and Italian inspired steak dinner to go with these mushrooms!
This is a dinner I have made over the years for special occasions, birthdays, and date nights! If you're really going 'all out', start with my Antipasto Platter. For the 1st course or 'pasta' course try my Creamy Butternut Risotto.
Then follow that with my Tuscan Style Steak paired with these mushrooms and Prosciutto Wrapped Asparagus, (which you can also do with broccoli rabe).
And finally for dessert I would lean towards the Healthy Chocolate Tart or the Chocolate Hazelnut Pudding. They're both equally delicious, and even better they're make ahead, and so easy!
I hope you enjoy these mushrooms as much as we have! If you do make them, I hope you'll leave me a comment/rating below, I always love hearing from you here. And if you're looking for more flavorful side dishes, check out our side dish category in the recipe index.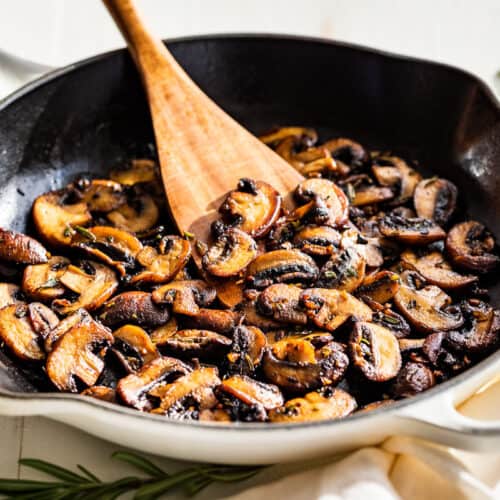 Garlic Butter Mushrooms
---
Yield:
2
as a large side dish
INGREDIENTS
3

tbsp

unsalted butter

-

ghee, olive oil, or avocado oil

10

ounces

Crimini mushroom

-

thoroughly cleaned and sliced 1/4" thick, 14 mushrooms, or 4 cups sliced

1

large

clove garlic

-

peeled and thinly sliced

1

tsp

chopped fresh rosemary

-

thyme, or sage, options

1/4

tsp

ground sea salt

-

or to taste
INSTRUCTIONS
Preheat a 9" cast iron skillet over medium heat.

While the skillet heats prepare your mushrooms, and chop your choice of herbs.

Turn the skillet up to medium-high heat, and add the butter to the pan.

When the butter is mostly melted, add the mushrooms, garlic, and chopped herb of choice.

Toss the ingredients together to combine in the skillet, and then let the mushrooms sauté for 1-2 minutes before turning.

It's important not to stir all the time, or the mushrooms won't have a chance to brown, and that caramelized flavor is not to be missed!

Cook until the mushrooms are tender with browned edges, about 5-8 minutes turning them 2-3 times total.

Season to taste with sea salt, and serve immediately with the dinner of your choice.
Bonus Step
If you made this recipe, please leave a rating/comment. Ratings really help us continue to bring you high-quality free recipes. Rate This Recipe!
nutrition facts
Calories:
184
kcal
|
Carbohydrates:
7
g
|
Protein:
4
g
|
Fat:
17
g
|
Saturated Fat:
11
g
|
Polyunsaturated Fat:
1
g
|
Monounsaturated Fat:
4
g
|
Trans Fat:
1
g
|
Cholesterol:
45
mg
|
Sodium:
302
mg
|
Potassium:
646
mg
|
Fiber:
1
g
|
Sugar:
2
g
|
Vitamin A:
526
IU
|
Vitamin C:
0.5
mg
|
Calcium:
34
mg
|
Iron:
1
mg
This post was originally published in 2014, but has been updated in 2021 to include more tips, nutritional information, and new photos.