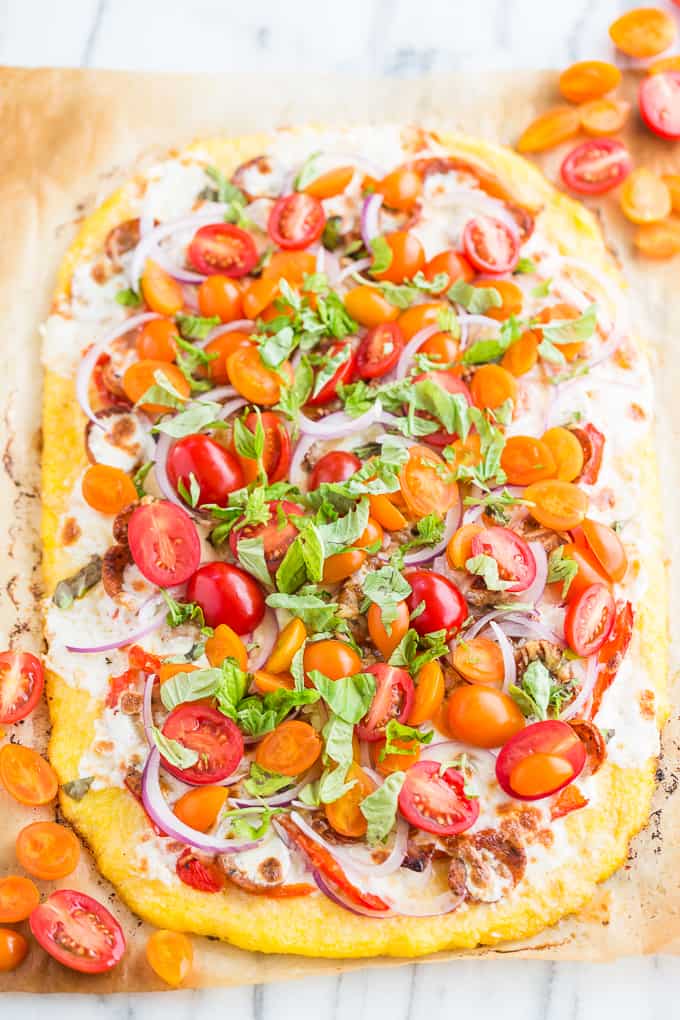 Pizza is probably my all time favorite food, I say 'probably' because who can choose just one favorite? And what's not to love with a crust filled with a variety of toppings and gooey, melty cheese! We started a tradition a number of years ago where we would hike in the mountains of Kananaskis or Banff National Park, Alberta. Then we would head home absolutely starving, and devour homemade pizza (usually and Pizza Margherita).
But now even after a year of being wheat free, I just can't get my pizza cravings under control. I haven't found a gluten free or grain free crust that even comes close to comparing to my former artisan bread recipe. There have even been a couple instances where a few tears have leaked out in sheer disappointment over sub-standard cardboard-like pizza, (not my proudest moment, but it's not easy giving up your favorite foods, and I used to be a serious bread baker).
So… enter Thanksgiving time last year when my family decided to do a 'make your own pizza party' for Thanksgiving instead of the traditional turkey dinner. While this is a great idea and it was loads of fun, it presented a few problems for the one person who was no longer eating pizza!
I knew for a fact that I didn't want to try yet another gluten free crust, so I searched for some other alternatives and came up with a polenta crust. It's not at all bread like, but I absolutely love it as a base for pizza toppings. And maybe it's exactly because it's not like a normal crust that I like it so much, The gluten free versions I've tried just seem to be masquerading as pizza.
Anyways, our traditional 'Pizza Saturdays' are back in session, and I'm making one of these beauties every weekend right now until our tomatoes finally run out. And speaking of tomatoes, when tomato season is over you can use a marinara or pizza sauce instead of the creme fraiche as a sauce, and omit the tomato topping.
For the crust your start by cooking the polenta base. Once the water comes to a boil, it's important to sprinkle the polenta in slowly in a thin steady stream to avoid getting any lumps in the final product.
After the polenta start to pull away from the sides of the pan and hold some shape of it's own, it's ready to spread onto a lined cookie sheet.
I like to make our crusts up until this point and just hold them until I'm ready in the refrigerator. I find it's a lot easier if the crust is pre-made, especially when we come home ravenous after a day hiking in the mountains.
Simply cover it with a lid or plastic wrap, and it will keep 3-4 days in the refrigerator, which is great if you want to make it ahead for a pizza party.
When you're ready to use your pizza crust, you par-bake it first in the oven to give it some time to set up before placing the toppings on.
While the crust is baking, prepare the toppings of your choice.
I used creme fraiche a the 'sauce' of sorts, and it immediately melts upon touching the hot crust but don't worry, it turns out fine in the end. Also, like I mentioned before you can use marinara sauce instead of the creme fraiche when tomatoes are out of season.
After your toppings go on, layer with cheese. I like to add at least 2 kinds for more depth of flavor, here I used fresh mozzarella and grated parmesan.
And here we are, right out of the oven and looking delicious! While it's good this way, I think it adds a whole extra layer of amazing when the fresh toppings go on.
I use a mixture of grape cherry tomatoes and the orange colored Sungolds. If you're not a huge fan of raw onion, try thinly sliced green onions instead which are much milder.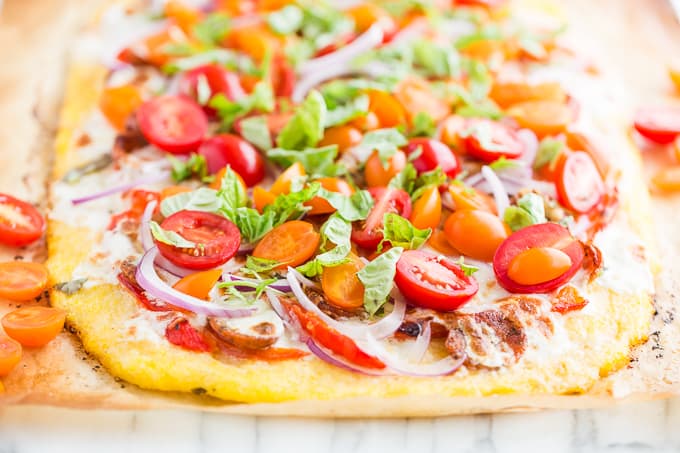 For more pizza flavored inspiration, check out the recipes below, and let me know which one of your favorite foods you'd love to see a remake for!
Margherita Baked Spaghetti Squash Boats
Grilled Tortilla Pizza Margherita
Print
Roasted Red Pepper Sausage Polenta Pizza
---
Polenta Base:
1 cup

polenta

4 cups

water
sea salt to taste
Toppings:
1/4 cup

creme fraiche

1/2

pound Italian sausage, I like the hot variety

1

clove garlic, minced

1

roasted red bell pepper, 4 ounces

6

–

8

ounces fresh mozzarella

1 cup

freshly grated parmesan

1/4 cup

thinly sliced red onion, 1 ounce

2 cups

halved cherry tomatoes, 10 ounces

1/4 cup

slivered basil, 1/4 ounce
sea salt and freshly ground pepper
---
Instructions
Start by preparing the polenta base. Bring the 4 cups of water to a boil (a non-stick pot makes this easier), once the water is at a rolling boil, slowly add the polenta in a thin fine stream stirring constantly to avoid any lumps. Lower the heat to medium-low, and stir occasionally during the first 10 minutes or cooking, or until the polenta starts to get thick and stick to the bottom. For the remaining 10 minutes of cooking stir the polenta often to keep it from sticking. When the polenta is pulling away from the sides of the pan and holding it's own shape, season it to taste with sea salt and spread it evenly over a parchment lined baking sheet. Cover with a lid or plastic wrap and refrigerate until firm, about 2 hours, or up to 3 days.
When you're ready to use your polenta crust, preheat the oven to 450ºF, and bake the crust for 15 minutes to firm it up.
While the crust bakes, prepare your toppings. Sauté the sausage and minced garlic together, then set aside to cool a bit.
After the crust comes out of the oven, spread the creme fraiche evenly over the top, (don't worry when it melts into liquid). Top with the sausage and roasted pepper strips. Scatter the cheeses evenly over the top.
Increase the oven heat to 500ºF and bake the pizza until bubbling with browned spots in the cheese, about 6-8 minutes.
When the pizza is done, top it with the thinly sliced red onion, cherry tomatoes, and slivered basil. Season to taste with sea salt and pepper, and serve immediately!
The leftovers keep in the fridge for at least 3-4 days and reheat well.
Prep Time:

40 mins

Cook Time:

22 mins