Meal prepping is pretty revolutionary, and so are sheet pan dinners, so why not combine the 2!?! We've been meal prepping for a few years now, but only taking it seriously for the past year or so. I've written several posts about how we prep from week to week with recipe suggestions, and I'll be sure to include them all below.
But I figured it was time to get more serious about writing down and sharing our favorite meal prepping recipes. Then I took a poll over on Insta Stories on whether or not you'd like to see more meal prepping, and the results were an overwhelming YES! So here we are with the first of many more meal prepping recipes to come.
We both love Mexican flavors, and since I had just gotten a great deal on a bunch of bell peppers, fajita flavors seemed to be a great place to start. Late last summer I shared a recipe for my Sheet Pan Fajita Salad Bowls which are still one of our favorite meals. However, sometimes I just want something for lunch that's not a salad, especially when it's a meager 6ºF outside.
So I took our favorite Mexican fajita flavors, and made something much more comforting with bright fresh flavors. The veggies and chicken are flavored with spices and quickly roasted in the oven. And while that's all happening you get to make a quick 'sunshine sauce' in the blender.
Now please don't roll your eyes at my ridiculous sauce name, it really does taste and look like sunshine. But I really can't take credit for such a fun title. I was reading a book about tacos and came across a hot sauce recipe they had named sunshine sauce because of it's bright yellow color.
And when I saw how gorgeous this sauce was, I thought it deserved a fun title like 'sunshine sauce'. It's actually so beyond good, I'm going to give it its own recipe someday with the variations included that I'm currently working on.
For the 'rice' you can either use cauliflower rice, or cube up sweet potato and process them in a food processor to create rice. Or if the whole 'ricing' process seems like too much work for that particular week, just cut some sweet potatoes in half and roast them following these directions for my roasted sweet potatoes.
Once the roasted chicken and veggies have cooled a bit, they're all portioned out, and packed into storage containers for the week to come.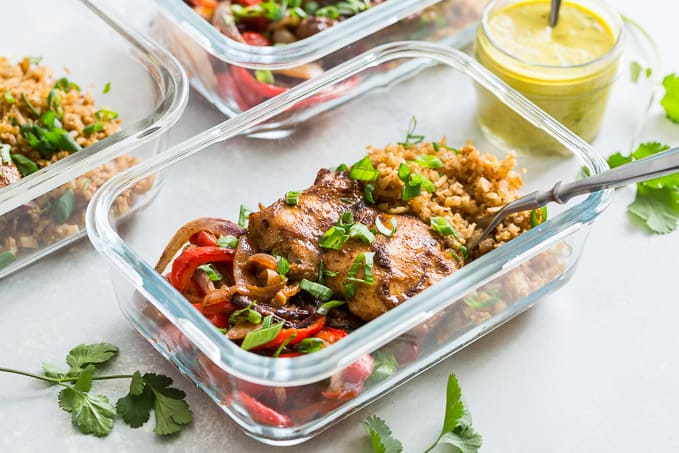 I like to heat mine up, add sliced avocado and green onion, and drizzle with plenty of sunshine sauce.
I sure hope you enjoy this meal prep recipe, and please let me know if there's any flavors you'd like to see in meal prep recipes to come. I do have a spring version with garlic herb chicken and asparagus coming, and I was thinking a Mediterranean version might be in order too. Leave me comment and cast your vote!
Meal Prepping Inspiration:
Make Your Own Freezer Smoothie Packs
5 Ways to Make Simple Healthy Lunches
Print
Sheet Pan Fajita Meal Prep
---
Fajita Chicken and Veggies:
1

pound boneless skinless chicken thighs, 4-6

2

red bell peppers, 12 ounces total

1

red onion, 12 ounces

1 Tablespoon

ground cumin

2 Teaspoons

chili powder

1 Teaspoon

chipotle powder

1 Teaspoon

sea salt, or to taste

1/2 Teaspoon

garlic powder

1 Tablespoon

avocado oil
Cauliflower Rice:
5 cups

riced cauliflower, see notes

1/2 Teaspoon

sea salt

1/2 Teaspoon

garlic powder

1 Tablespoon

of the reserved seasoning mix made from the chicken and veggies

1 Tablespoon

avocado oil
Sunshine Sauce:
1 Tablespoon

orange zest

1

orange, peeled

1/2 Teaspoon

ground turmeric

1 Tablespoon

ground cumin

1/4 cup

freshly squeezed lime juice

1

clove minced garlic

1 Teaspoon

sea salt, or to taste

1 Tablespoon

Dijon mustard

1/2 cup

roughly chopped cilantro

1/3 cup

avocado oil
---
Instructions
Preheat the oven to 450ºF and line 2 baking sheets with parchment paper.
Mix together the cumin, chili powder, chipotle, sea salt, and garlic powder listed under the fajita chicken and veggies. Measure out 1 Tablespoon of this spice mixture to keep back for the cauliflower rice. Then mix the remaining spice mix together with the chicken and veggies along with the tablespoon of avocado oil. Spread the chicken and veggies evenly over 1 baking sheet, and place it in the oven to roast 25-30 minutes, or until the chicken is done and no longer pink in the center.
While the chicken is roasting, mix the cauliflower rice together with the reserved tablespoon of spice mix along with the sea salt, garlic powder, and avocado oil listed for the cauliflower rice. Spread the seasoned rice evenly over the 2nd baking sheet. Roast the cauliflower rice until tender, about 10 minutes, and then remove it from the oven to cool.
While the chicken, veggies, and cauliflower rice are cooling, make the sunshine sauce. Add all the ingredients for the sunshine sauce to a blender except the cilantro and avocado oil. Blend starting on low and working up to high speed until the orange is completely broken down and smooth. Then add the cilantro, and add the oil in a thin steady stream with the machine running at a medium speed until all the oil is added and the dressing is emulsified and creamy, with little flecks of cilantro remaining.
Portion the chicken, veggies, and cauliflower rice out into containers with lids. I use 4 rectangular glass containers with lids that snap on because they're super convenient and stack well in the refrigerator. Pour the sunshine sauce into 4 small containers, I used the 1/4 cup mason jars with lids, and refrigerate both the sauce and chicken/veggies for 4-5 days.
Notes
To make cauliflower rice, take one large head of cauliflower and cut away the florets. Place the florets into a food processor and pulse until a rice like texture appears. You can also do this with sweet potatoes if you're not crazy about cauliflower rice.
Prep Time:

20 mins

Cook Time:

30 mins