I know meatloaf might not be the most popular food out there. But I do have to say I've always liked it, and it's just plain good comfort food. While there's nothing wrong with old fashioned regular meatloaf, I really can't help mixing it up a bit with recipes!
So todays bacon ranch meatloaf is a mix of all the most popular American things I could think of that would be great together. First up there's ranch, I mean… who doesn't need more ranch flavors in their life? Next up I used BBQ sauce as the glaze, although come to think of it, ketchup might have been a more American touch.
But since great flavor is always my main point now matter what the cuisine might be, I went with BBQ sauce because there's just something about it's flavor with ranch. Finally I wanted it to be bacon wrapped because even the most humble meatloaf enjoys a good bacon hug!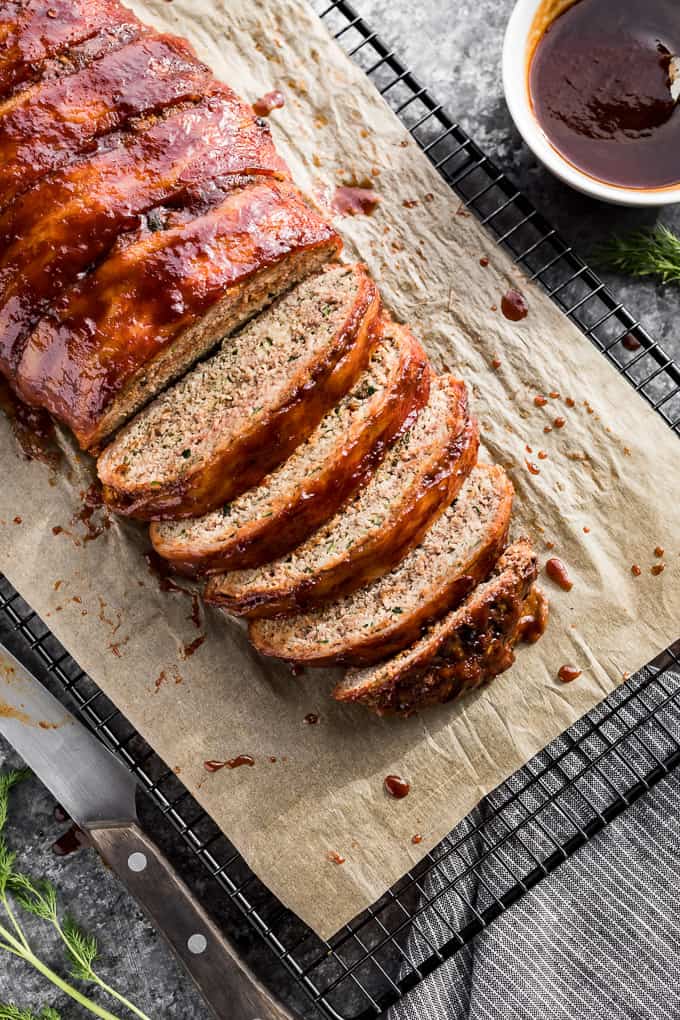 And while this is just me saying so, I thought this turned out pretty good. I mean good enough to eat cold out of the fridge for the better part of 2 weeks straight with all the recipe testing I did!
Although I could throw in as well that my mom also enjoyed it, and she's not really a fan of meatloaf at all.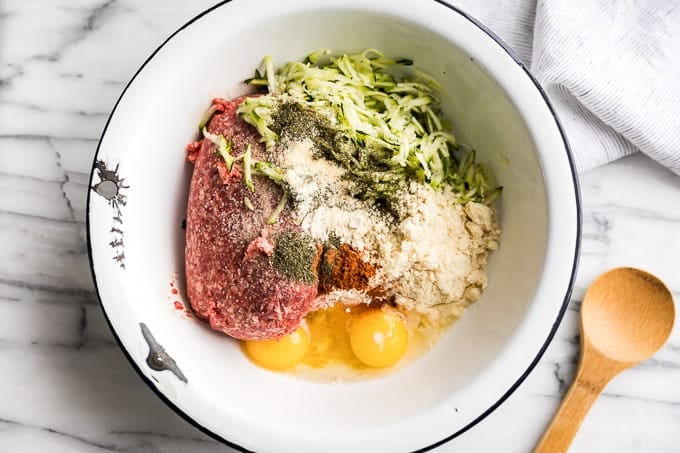 Traditional meatloaf usually has some combination of milk soaked breadcrumbs or oatmeal. However to keep this both paleo and gluten free, I used almond flour. For the moisture factor in any kind of paleo meatloaf or meatball I like to use grated zucchini.
Not only does it add some extra veggies to the mix, but it makes for a great texture, as well as being a dairy free option too.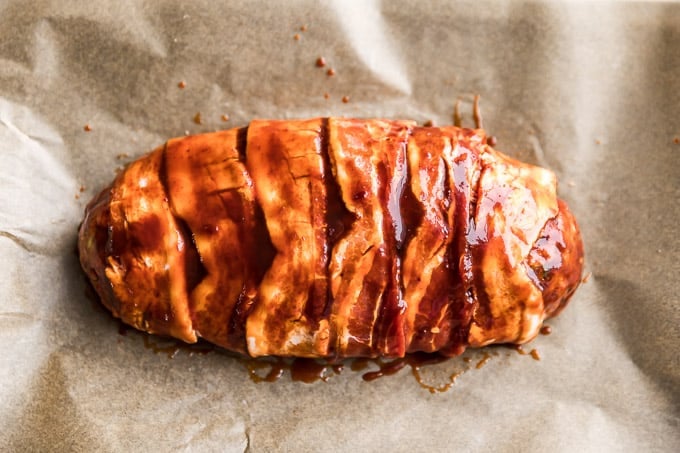 Once you have your meatloaf mixture, you pat it into an oval shaped log. Then it's wrapped in bacon and lightly glazed with BBQ sauce.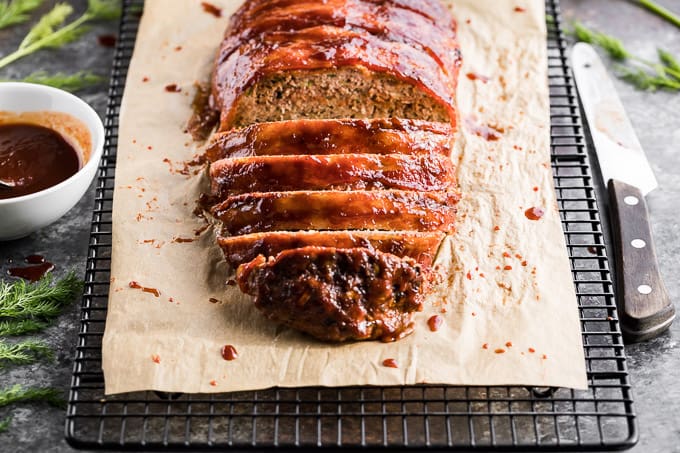 When it comes out of the oven, I like to hit it again with another light coat of BBQ sauce.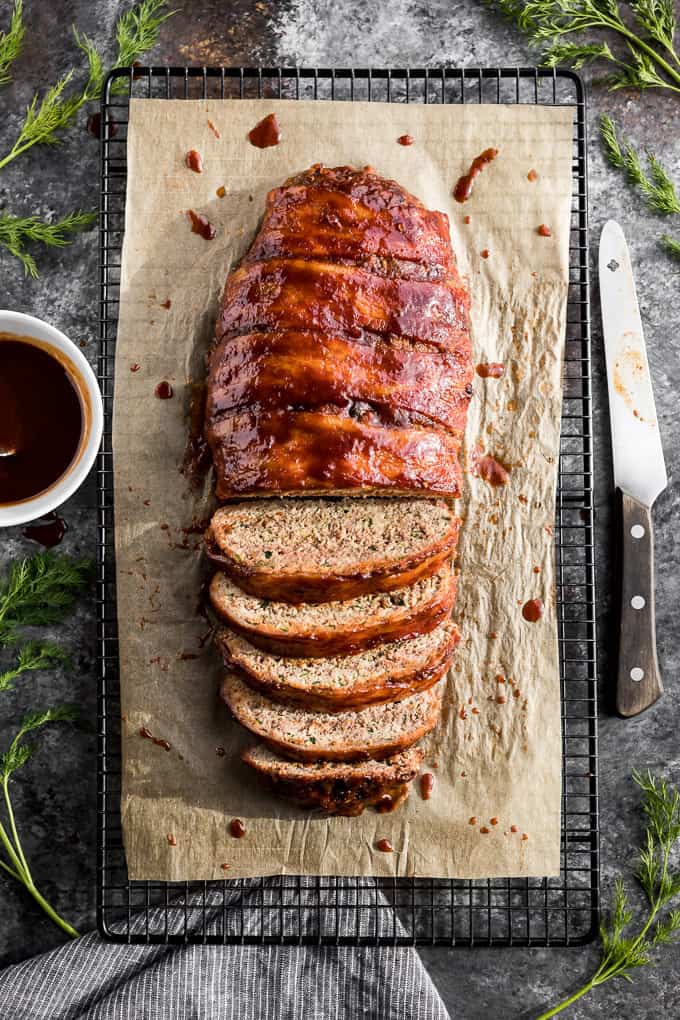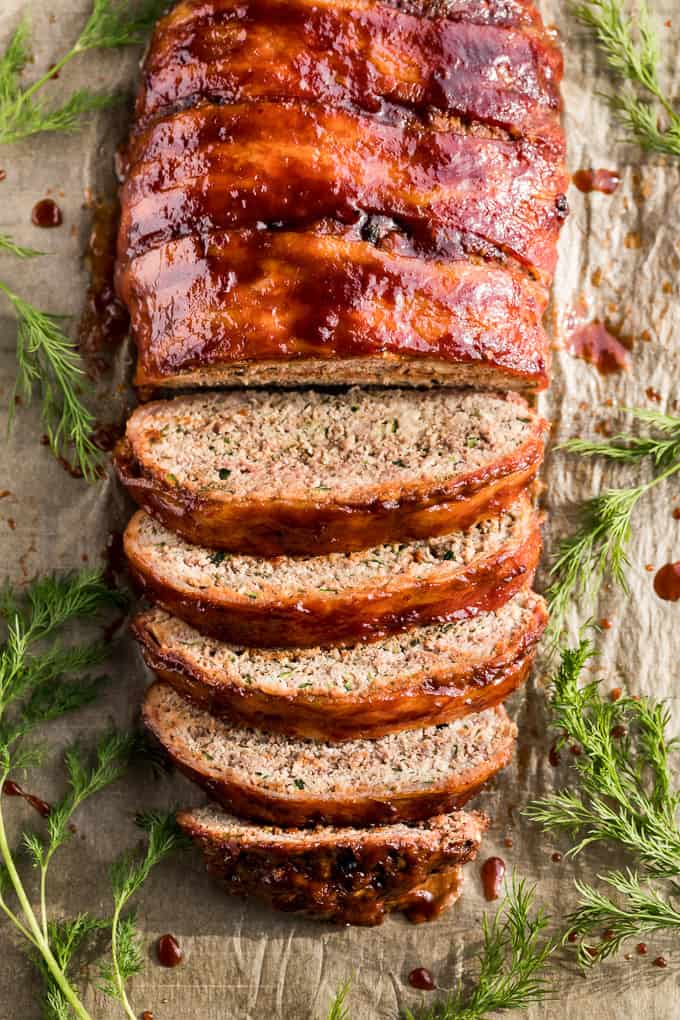 Feel free to serve this however you normally might serve meatloaf. But I just wanted to let you know what we loved for side dish inspiration. As you can see in the above photo, I served it with mashed potatoes, and roasted green beans.
Then to add to the ranch flavors going on, I drizzled the whole thing in my Easy Blender Whole30 Ranch Dressing. It sort of made me feel like I was 5 years old again, and needed ranch with pretty much everything!
Print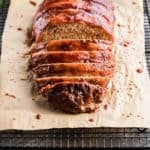 Bacon Wrapped Ranch Meatloaf
---
Author:

Kari

Total Time:

1 hour

Yield:

8

servings

1

x
Description
All the childhood favorites together in one flavor packed meatloaf!
---
2 pounds ground meat, see notes
1/2 cup finely ground almond flour
1 cup grated zucchini
2 eggs
1 Teaspoon sea salt
1/2 Teaspoon black pepper
2 Teaspoons dried dill
1 Teaspoon dried garlic granules
2 teaspoons dried onion granules
1/2 Teaspoon smoked paprika
6 strips of bacon
1/2 cup BBQ sauce, see notes for Whole30
---
Instructions
Preheat the oven to 350ºF and line a cookie sheet with parchment paper.
Mix together the ground meat of your choice, almond flour, zucchini, eggs, sea salt, pepper, dill, garlic and onion granules, and smoked paprika until completely combined.
With your hands, shape the meatloaf into a oval/football shape on the lined cookie sheet. Then lay the strips of bacon evenly across the top and gently tuck the ends under the meatloaf.
Pour half of the BBQ sauce over the bacon strips and brush it across evenly. Bake for 45 minutes or so until the meatloaf is done in the center.
Remove the meatloaf from the oven and brush it with the remaining BBQ sauce. Then serve with your choice of side dishes.
Food Safety Note: Do not put the spoon or brush back into your BBQ sauce after touching the raw meat. I pour half of the amount called for over the surface and smooth it out with the back of a spoon. Then after it's cooked I pour the rest on and use a new spoon to smooth it out, you just want to avoid any cross contamination with raw meat.
Notes
The first time I made this it was with 1 pound each ground beef and pork, and the second time around I used 1 pound each ground beef and turkey. Both ways are good, although I do lean toward the mixture of beef and pork personally!
You can use your favorite BBQ sauce, or try my homemade version. Also if you're doing a Whole30, you'll want to use a homemade BBQ sauce made without any added sweetener or you can simply leave it off altogether and just serve it with my Whole30 Ranch.
Prep Time:

15

Cook Time:

45
Keywords: Gluten Free, Paleo, Dairy Free, Grain Free, Whole30