Just 15 minutes of prep work to throw everything into the roaster, and the oven turns it into crispy Roast Chicken and Vegetables, perfect for family dinner! This recipe is naturally gluten-free, paleo, and has a dairy-free option as well. It's a home-cooked meal with some flare from the chopped fresh herbs and a hint of lemon. It's the kind of supper that's beautiful enough for entertaining, but simple enough for family dinner. And it's especially suited for weekends when you have more time around the table.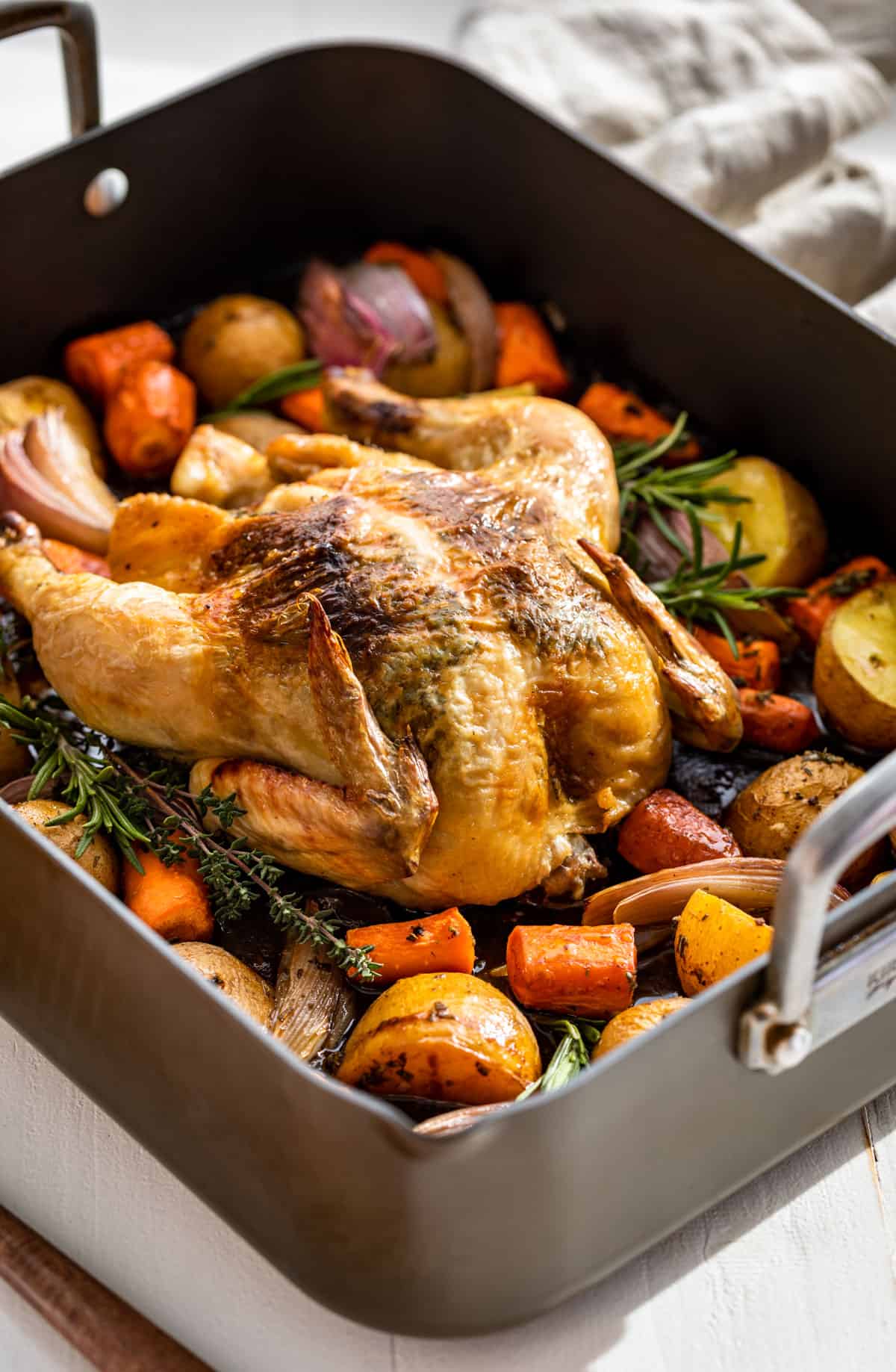 This recipe is part of my 'Sunday Suppers' series I'm working on for you this year. They're the recipes for gathering everyone around the tables with minimal fuss for the cook. After all, it's nice to enjoy having family or friends over and not spend too much time in the kitchen!
It's a 'homey' kind of recipe that never gets old because of its simple flavors. And you can never go wrong by adding some homemade Gluten Free Gravy to the menu either! You'll find my extra recipe suggestions below for how to entertain with this recipe, with inspiration for side dishes and desserts.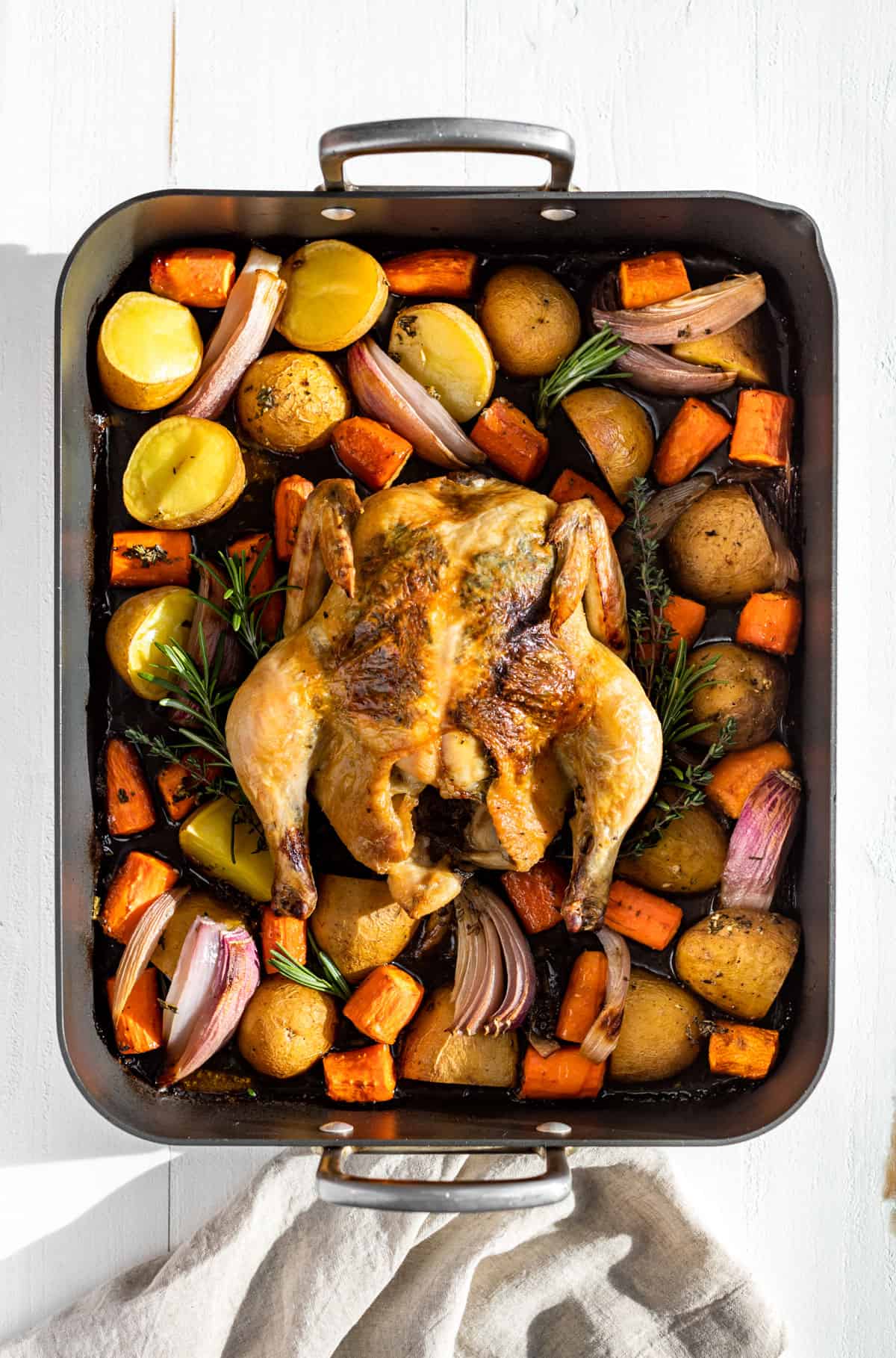 Ingredients & Substitutions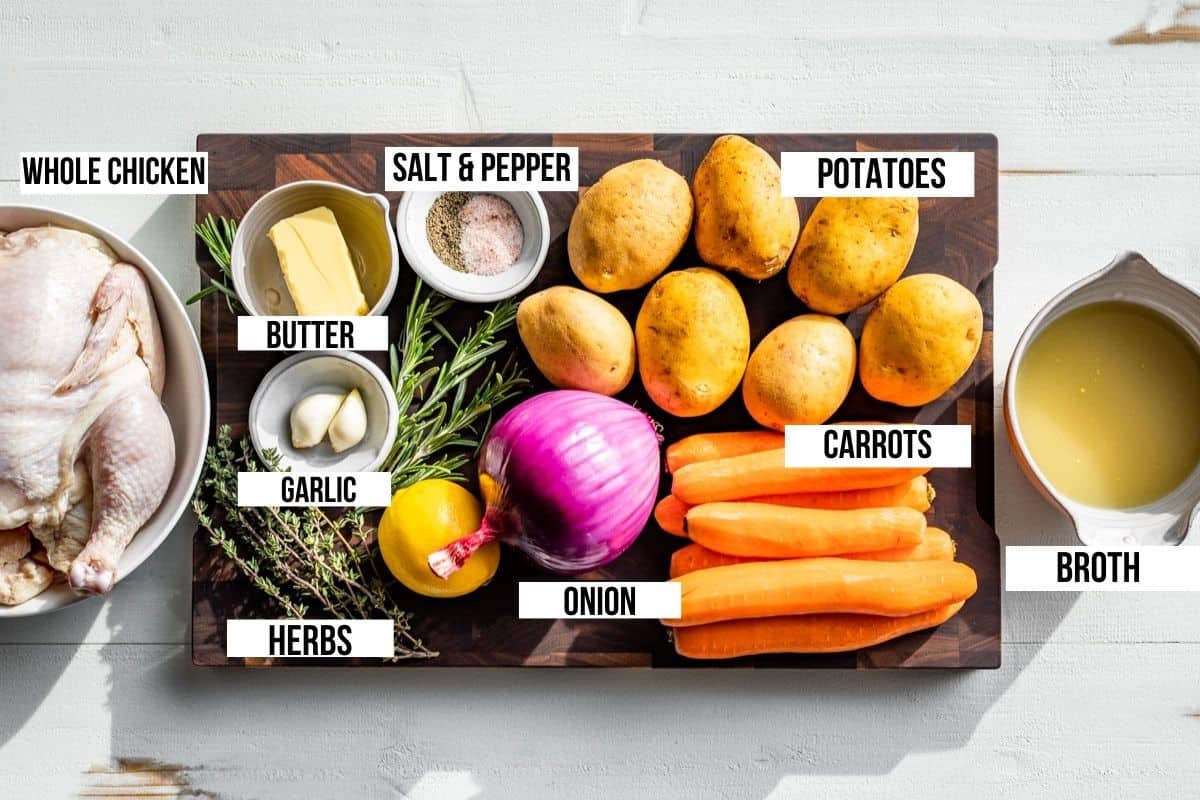 Whole chicken – this recipe is formulated for the bake time of a whole chicken so I don't recommend using chicken thighs or chicken breasts without changing your baking time and how you cut the veggies accordingly.
Potatoes – I used Yukon golds, but any waxy potato or red potato works well here.
Carrots – cut into larger pieces so they cook well with the potatoes, I recommend looking for carrots that are at least 1″ in diameter for roasting.
Red onion – or yellow, sweet, etc. is all fine here.
Garlic – adds lots of flavor to the herb butter.
Herbs – you can use either fresh or dried. For fresh I like to use either or both rosemary and thyme, and for dried I like to use either Italian seasoning or Herb de Provence. You can also use oregano, but I like to pair it together with thyme because it's too strong on its own.
Butter – ghee, olive oil, or dairy-free butter of your choice. I've made this recipe with ghee, butter, and olive oil and you can't go wrong.
Lemon – can be omitted, but I love squeezing a fresh lemon and drizzling the juice over the top of the pan for depth of flavor.
Chicken broth – helps to cook the veggies in the bottom of the roaster and keep them from sticking.
How to make Roast Chicken and Vegetables step by step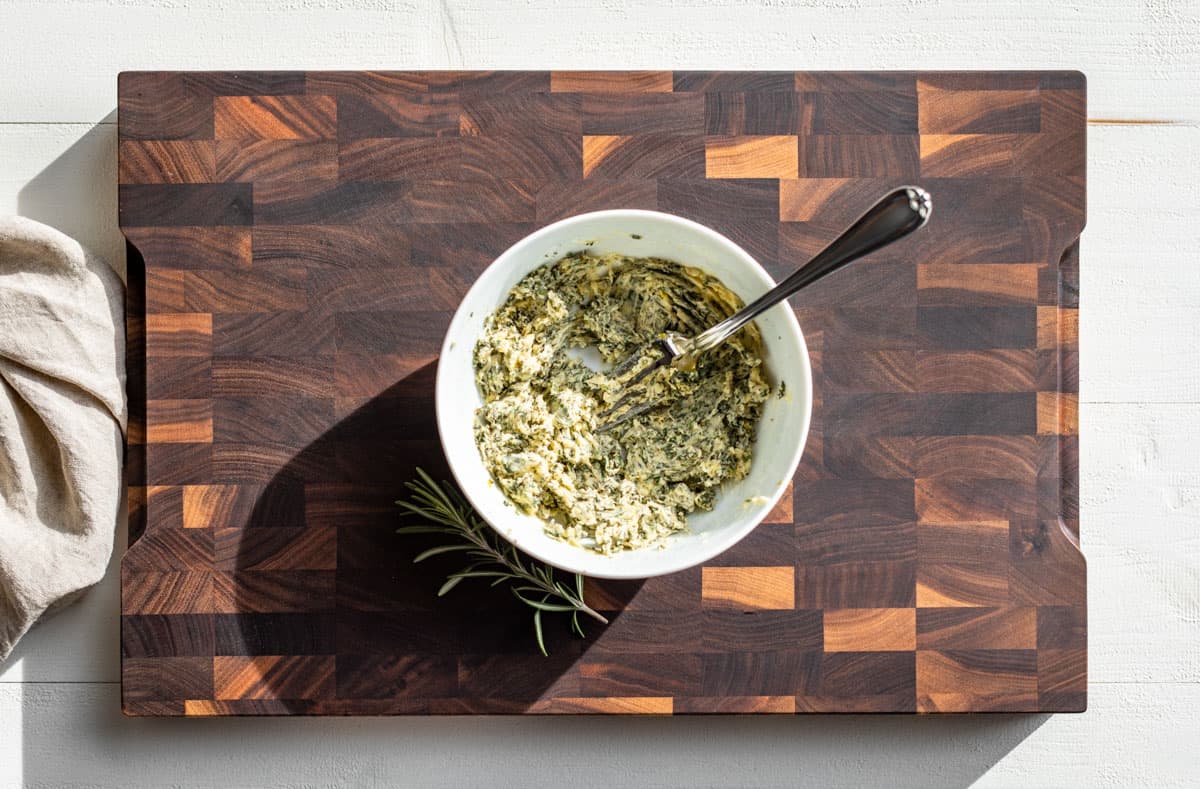 Step 1: Preheat the oven, then mash the minced garlic and herbs into the softened butter. Mix in the sea salt and pepper and set the butter mixture aside.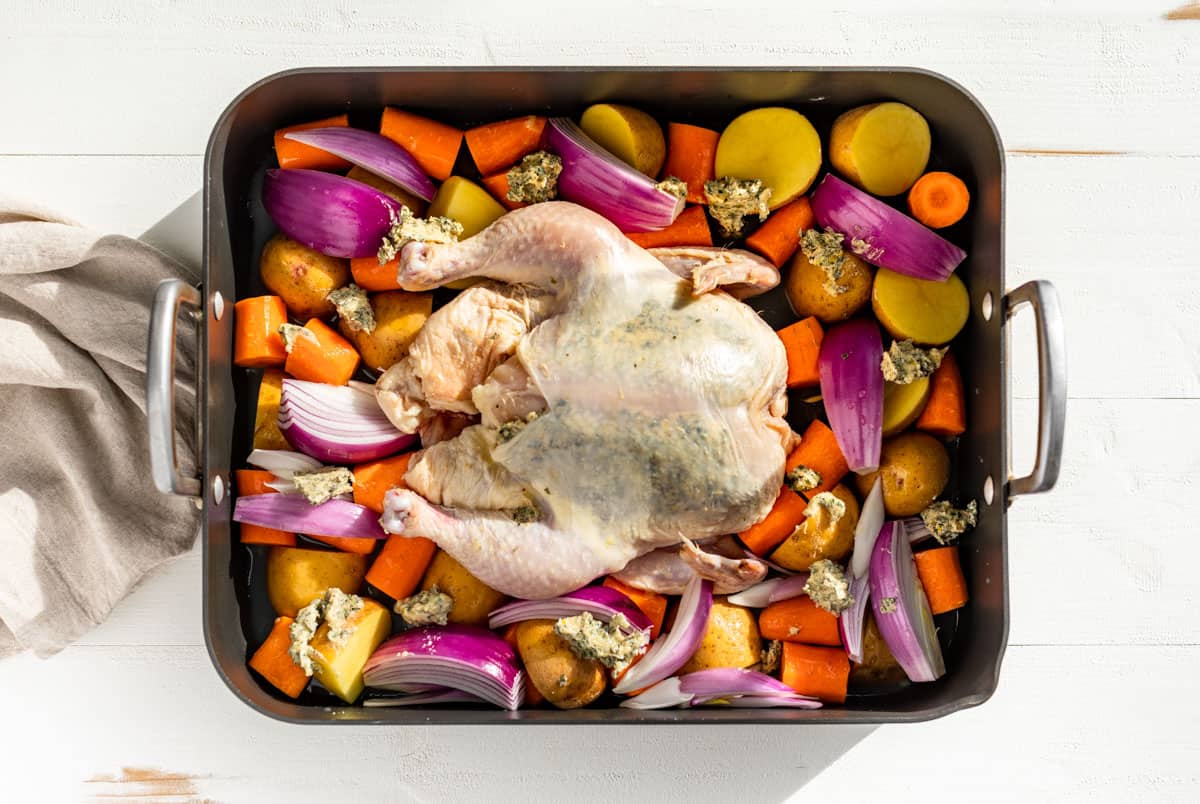 Step 3: Place the chicken into the roaster, and rub about 1/3 of the butter mixture under the skin next to the breast meat. I don't recommend rubbing any on top because the herbs and garlic burn over time. Add the veggies to the roaster and dot them with the remaining 2/3 of the garlic herb butter. Pour the chicken stock and lemon juice over the veggies.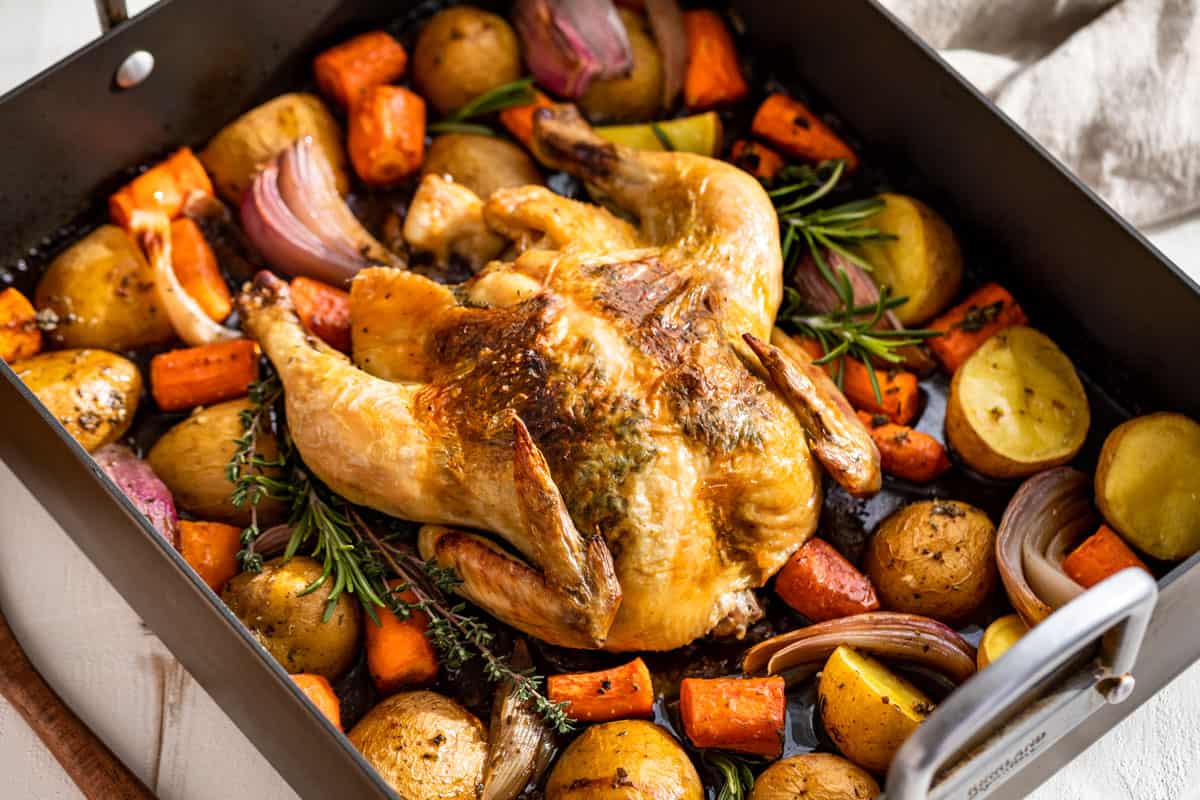 Step 4: Roast until the chicken is done. A thermometer inserted between the leg and thigh will register 170-175ºF. Check the chicken about 20 minutes before the cooking time is over and add more chicken stock if the pan is drying out.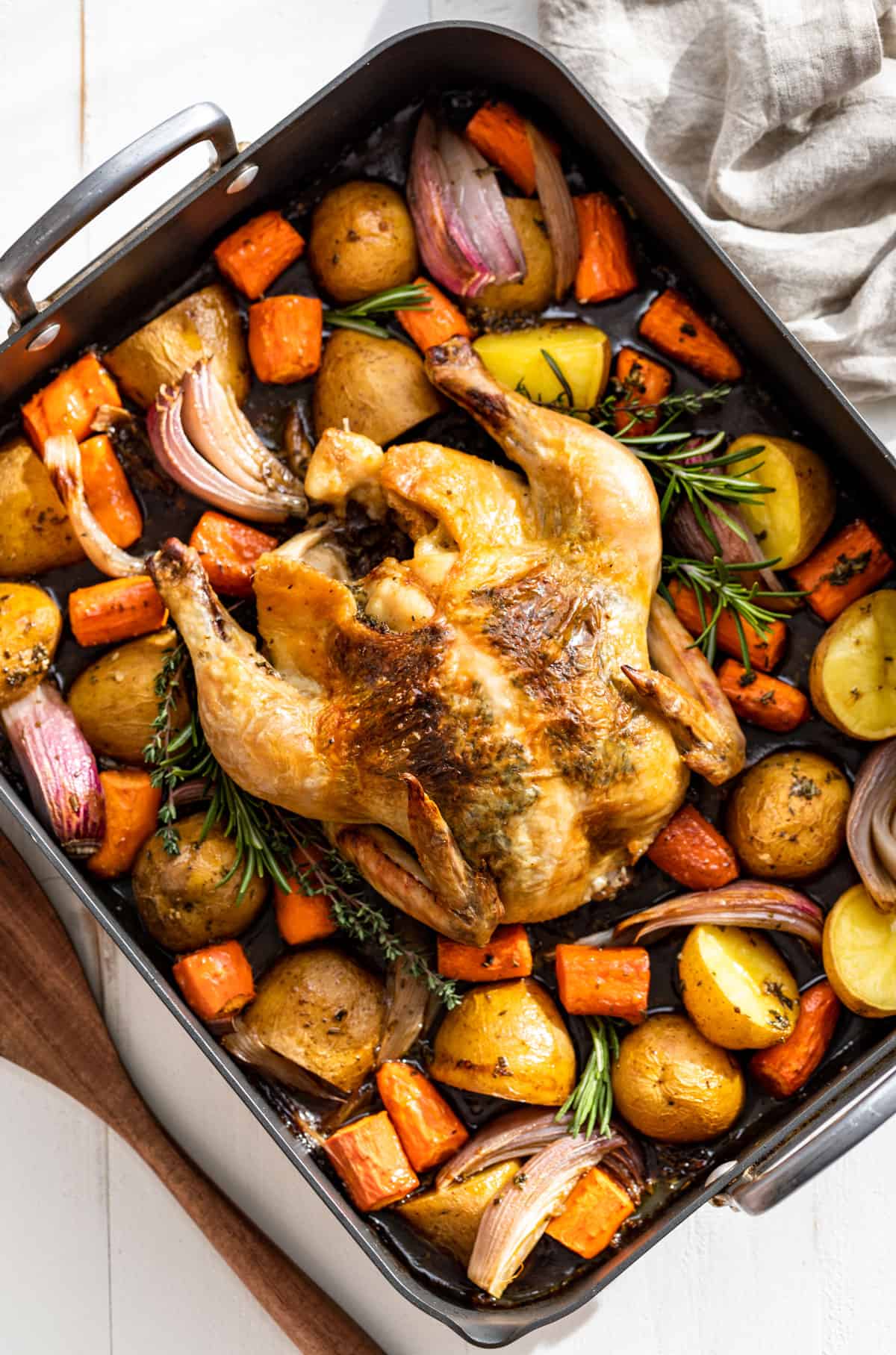 Ways to serve this Roast Chicken and Vegetables
FAQ's
Do you add liquid when roasting a chicken?
Yes, adding a liquid to the pan keeps the pan drippings from burning. If you plan on making gravy, you'll want to make sure you have a good amount of liquid in the pan at the end of the cooking time.
Do you cover the chicken when roasting?
No, you want the chicken to bake uncovered so the skin turns out golden brown and crispy. If your chicken is larger than 4-5 pounds, it will need to bake longer and you may need to tent it with foil in the last 10-15 minutes if it's browning too much.
Storing leftovers
To store – any leftovers will keep in a tightly sealed container for up to 5 days in the refrigerator.
To reheat – place as much of the chicken and vegetables as you'd like to reheat into a skillet. Add a couple of tablespoons of water, cover the pan, and simmer until everything is heated adding more water if necessary. This works well for everything but the chicken skin which doesn't re-crisp. You can also microwave any leftovers.
To freeze – the chicken freezes well in an airtight container for up to 3 months. I don't recommend freezing the veggies because they're a bit soggy when thawed.
Tips & Tricks
If you want the best crispy skin, be sure to take the extra step of brushing a bit of oil over the surface of the chicken.
I don't bother to truss the chicken anymore, it cooks nice and even every single time without the added bother!
Repurpose the leftovers
Pull all the remaining meat off the chicken bones, then freeze the chicken bones to make Homemade Chicken Stock later. Or you can also make a smaller batch right away for soup.
You can chop up all remaining veggies and chicken into bite-sized pieces and add them to chicken broth to create a soup.
If you have plenty of leftover chicken, try using it in my Best Chicken Salad or Curried Mango Chicken Salad.
Dice up the potatoes and pan-fry them for breakfast with some over-easy eggs.
More Sunday Supper Recipe inspiration
I really hope you enjoy this Roast Chicken and Vegetables! If you do get a chance to make this recipe, I'd love to hear from you in the comments.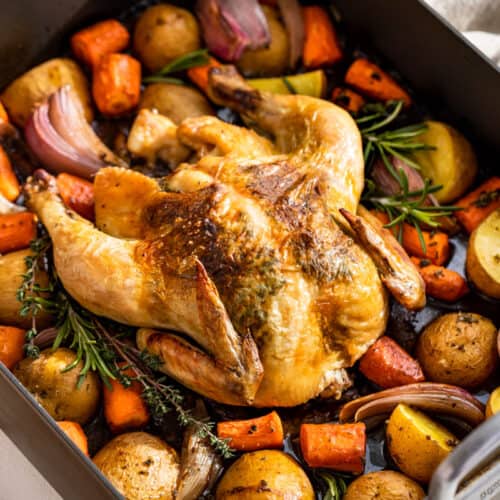 Roast Chicken and Vegetables
---
INGREDIENTS
1

whole

chicken

-

4-5 pounds

4

tbsp

butter

-

ghee, or extra virgin olive oil, softened

2

cloves

garlic

-

minced

3

tbsp

chopped fresh rosemary and/or fresh thyme

-

see notes

1

tsp

sea salt

-

or to taste

1/2

tsp

ground black pepper

6

medium

Yukon gold potatoes

-

2 pounds

8

carrots

-

1″ diameter, 1.5 pounds

1

red onion

-

sweet, or yellow onion

1

lemon

-

juiced

4

cups

chicken stock

Optional: 1-2 tablespoons olive oil or avocado oil to brush over the chicken
INSTRUCTIONS
Preheat the oven to 375ºF.

Remove the chicken from the packaging, drain, remove any giblets from the cavity of the chicken, and pat the skin dry with paper towels.

In a small bowl, mash the butter, garlic, chopped herbs, and salt and pepper together until combined.

Cut the potatoes into chunks about 3″, then cut the carrots into lengths about 3″ as well. Slice both ends off the onion and peel away the tough outer layer. Cut the onion in half, then cut each half into quarters for a total of 8 wedge shaped pieces.

Place the chicken in a large roasting pan, (12″ x 18″ x 4″) and scatter the veggies evenly around it. Gently loosen the chicken skin covering the breast meat and slide about 1/3 of the herb butter mixture under the skin.

You can truss the chicken legs together with kitchen twine, but I've stopped doing this extra step and the chicken still cooks evenly and perfectly juicy.

Dot the remaining 2/3 of the herb butter over the veggies. Mix the lemon juice together with 2 cups of the chicken stock and pour it over the veggies.

If you want an extra crispy chicken skin, brush the chicken all over with 1-2 tablespoons olive oil or avocado oil.

Roast the chicken until a meat thermometer inserted between the leg and thigh, not touching the bone, registers 170º and the veggies are tender, about 1 hour 45 minutes to 2 hours. Check the chicken after 1 hour 20 minutes or so and add the additional 2 cups of chicken stock if it's looking dry. You want to make sure the pan doesn't run dry or the drippings will start to burn.

Serve the chicken and vegetables straight from the pan, or arrange them on a serving platter. You can also drain out the pan juices and add them to my Gluten Free Gravy.

Garnish with additional sprigs of thyme and rosemary if desired. Or you can also sprinkle the potatoes and veggies with some freshly chopped parsley for a bright pop of color.
Bonus Step
If you made this recipe, please leave a rating/comment. Ratings really help us continue to bring you high-quality free recipes. Rate This Recipe!
NOTES
You can sub in 1 tablespoon of dried Italian seasoning or Herbs d' Provence for the fresh rosemary and thyme.
A meat thermometer really helps you to know when chicken is done so you always have juicy meat.
I've use a non-stick roaster and an enameled turkey roaster for this recipe and both have worked well. 
nutrition facts
Calories:
586
kcal
|
Carbohydrates:
44
g
|
Protein:
35
g
|
Fat:
31
g
|
Saturated Fat:
11
g
|
Polyunsaturated Fat:
5
g
|
Monounsaturated Fat:
11
g
|
Trans Fat:
0.4
g
|
Cholesterol:
129
mg
|
Sodium:
665
mg
|
Potassium:
1455
mg
|
Fiber:
7
g
|
Sugar:
7
g
|
Vitamin A:
14064
IU
|
Vitamin C:
52
mg
|
Calcium:
96
mg
|
Iron:
4
mg