Cozy comfort food at its best, this Dutch Oven Beef Stew cooks low and slow in your oven for meltingly tender results. It's naturally gluten-free, high in protein, and packed with veggies. Try this recipe for your next family dinner with its classic flavors, it's something the whole family will love. Fall-apart tender beef coated in a savory gravy with tender potatoes, carrots, and peas makes this a one-pot meal you can rely on.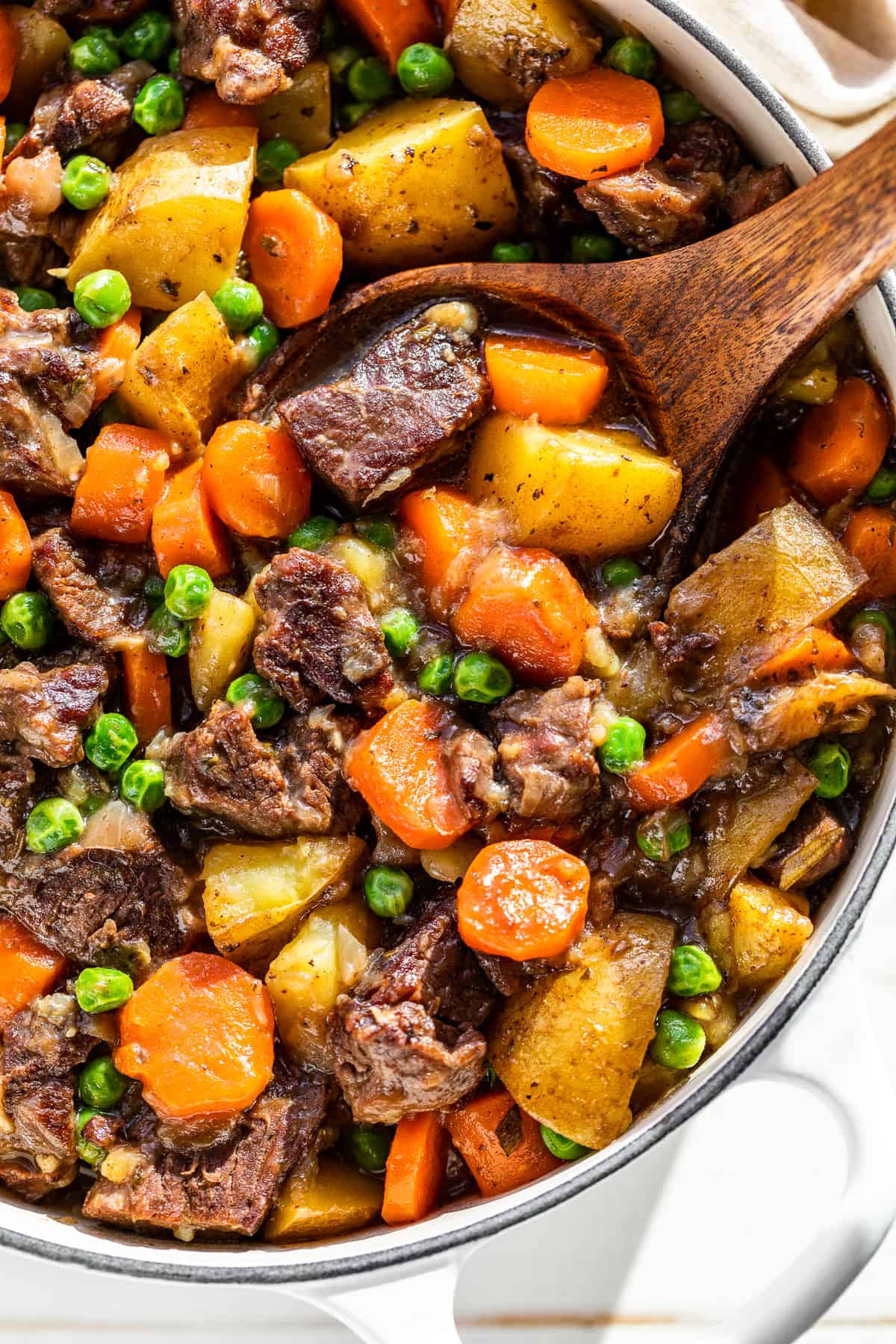 What's the secret to incredible beef stew? It's super simple, use cubed-up chuck roast rather than the usual stew meat for meltingly tender fall-apart beef.
You can definitely use regular stew meat here if it's convenient. But once you experience the wonders of beef stew made with chuck roast, you just can't go back!
From there adding some chopped fresh herbs gives the traditional beef stew a boost of savory flavor. It all braises together in the oven with tender meat & veggies, velvety smooth gravy with hearty beef stew flavor.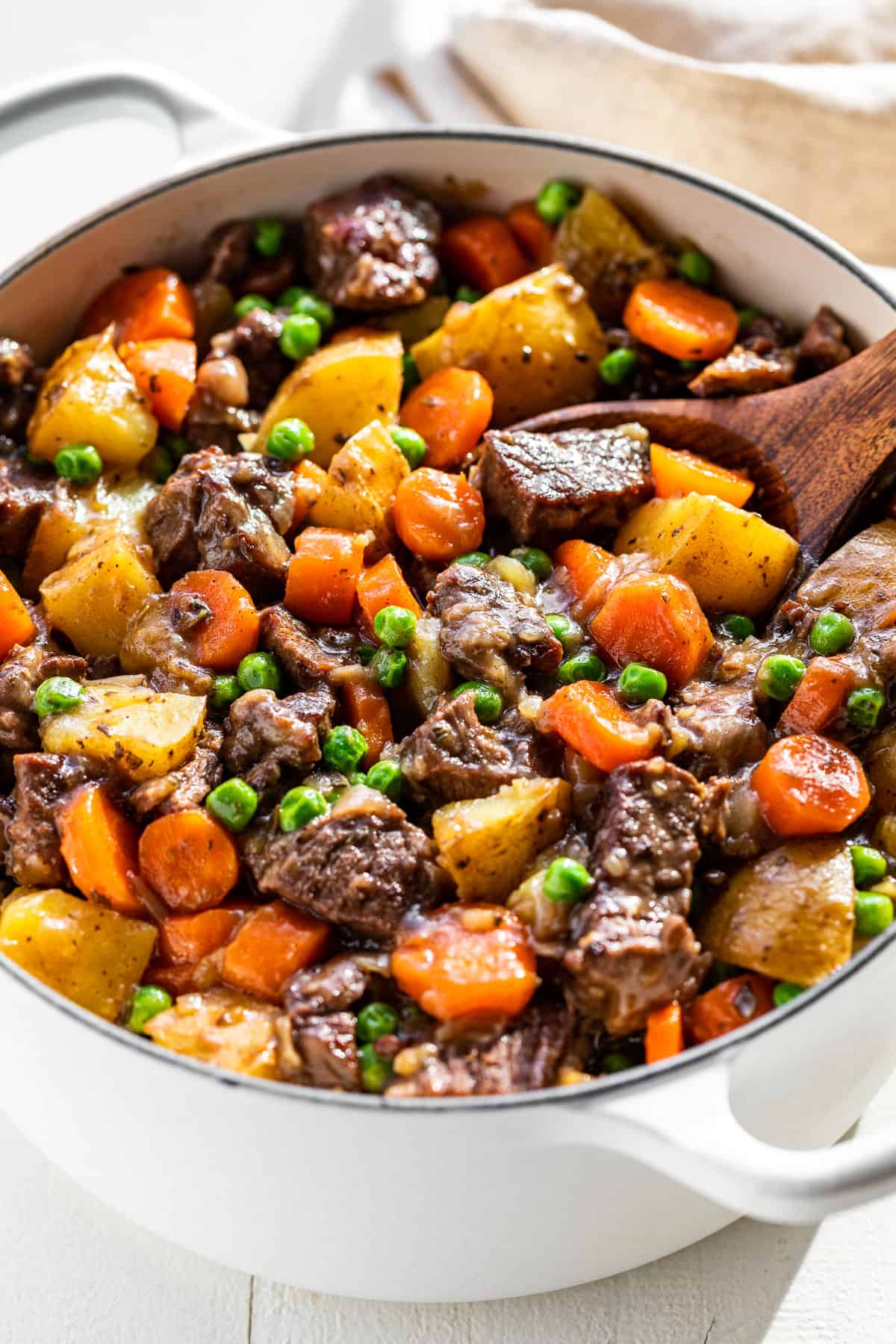 Ingredients & Substitutions
Beef Stew Meat – I like to use cubed-up chuck roast here, but bottom round will work as well. The packages of 'stew meat' you find labeled as such in the store often produce stringy dry beef. Chuck roast braises into a fork-tender perfectly moist finished stew.
Oil – I like to use avocado oil to sear the beef because it can tolerate higher temperatures without smoking, but you can use whatever oil you'd like to sear the cubed beef. Olive oil would also work.
Onion & garlic – are the flavor base of any good stew, fresh onion, and garlic are a must in this recipe.
Flour – is what turns all the juices into a velvety soft rich gravy to surround the beef and veggies. I use gluten-free 1:1 from Bob's Red Mill and it works perfectly. But you can also use all-purpose flour if desired.
Fresh herbs – a mixture of thyme and rosemary make the best-tasting stew in my opinion, but I have made this with just 1 single herb with tasty results. It's not quite as good, but you can use dried thyme or Herbs de Provence. Bay leaves are traditional in beef stew, but I left them out for simplicities sake and because you really can't tell the difference.
Liquid – I like to use a mixture of red wine and beef broth or beef stock for the best depth of flavor, but you can use just beef broth if desired. I've also used chicken broth before and it works just fine as well if that's what you have on hand.
Vegetables – potatoes, carrots, and peas are what I know and love in a stew. I like to use either Yukon gold potatoes or red potatoes. Baby potatoes also work here.
Other – you'll often find tomato paste or diced tomatoes in stew recipes. I personally don't care for this because I grew up with stew made without tomatoes in the classic ranch style. However, part of the beauty of a classic like beef stew is to customize it to the way you know and love. So feel free to add a bit of tomato, Worcestershire sauce, balsamic vinegar, or anything you desire. Celery is also common, but again no celery around here for us! But I hope you will make this Dutch oven beef stew recipe your own.
How to make this recipe step by step
Step 1: Start by preheating the oven, then sear the cubed-up chuck roast in 2-3 batches in a large Dutch oven. I use a 5.5-quart Dutch oven. Repeat the cooking process until all the pieces of meat are browned.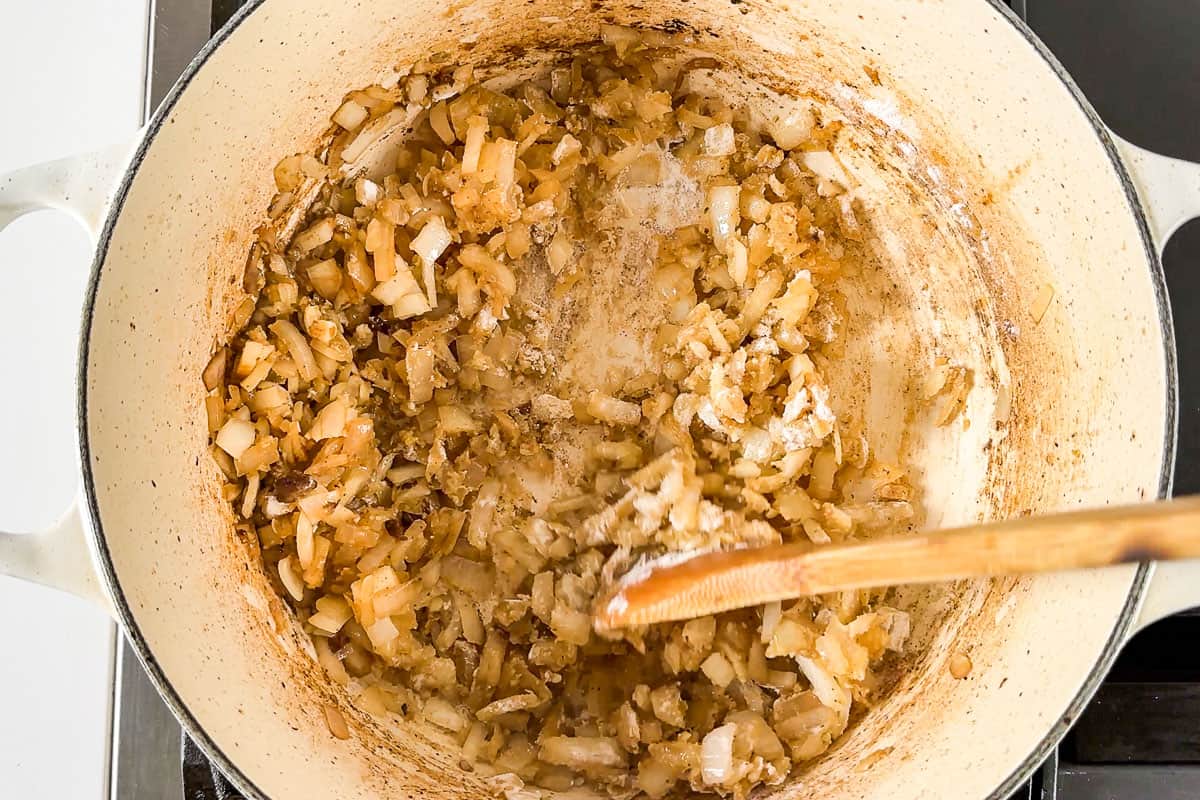 Step 2: When the batches of beef are done, sauté the chopped onion and garlic over medium heat in the remaining oil until golden brown and softened. Stir in the flour to completely combine.
Step 3: Then add red wine to the pan and scrape up the brown bits from the bottom before adding the beef broth, chopped herbs, and browned beef. Bring this mixture to a simmer.
Next, cover the Dutch oven and bake until the beef is beginning to get tender, about 1 hour.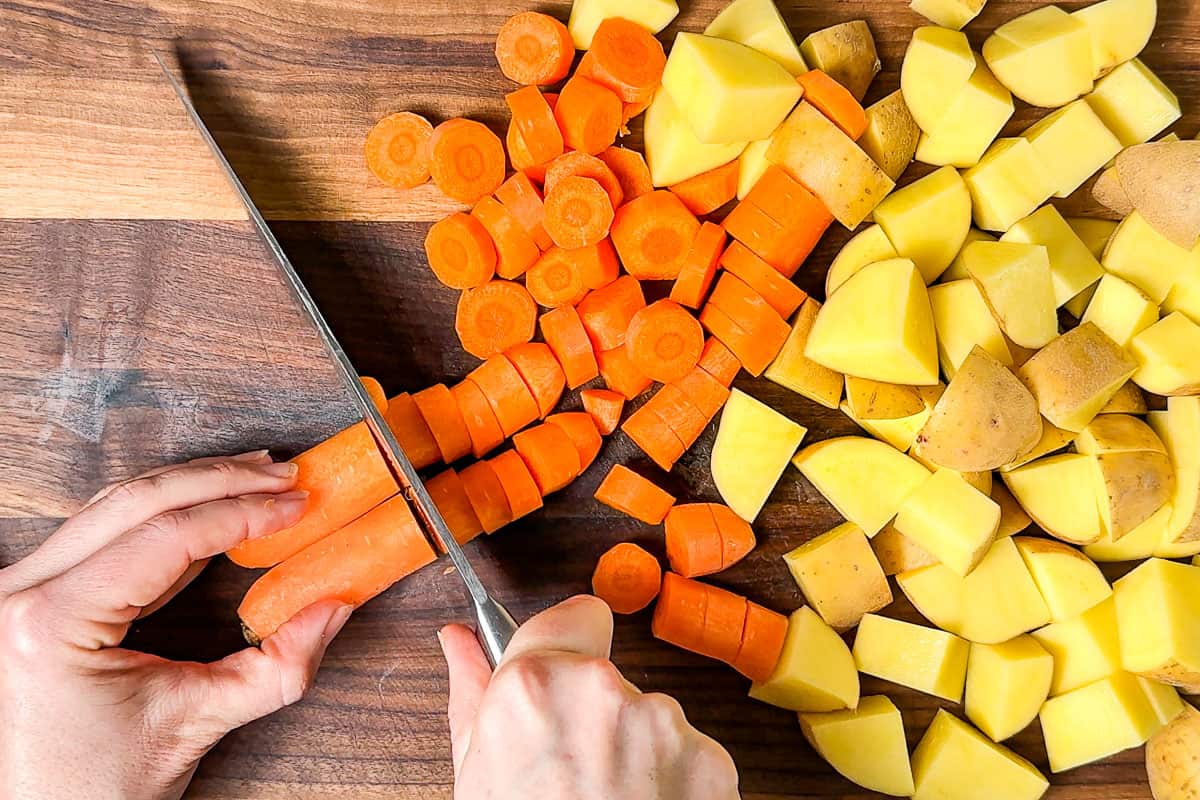 Step 4: When the beef stew is almost done with the 1st hour of cooking, cut up the carrots and potatoes.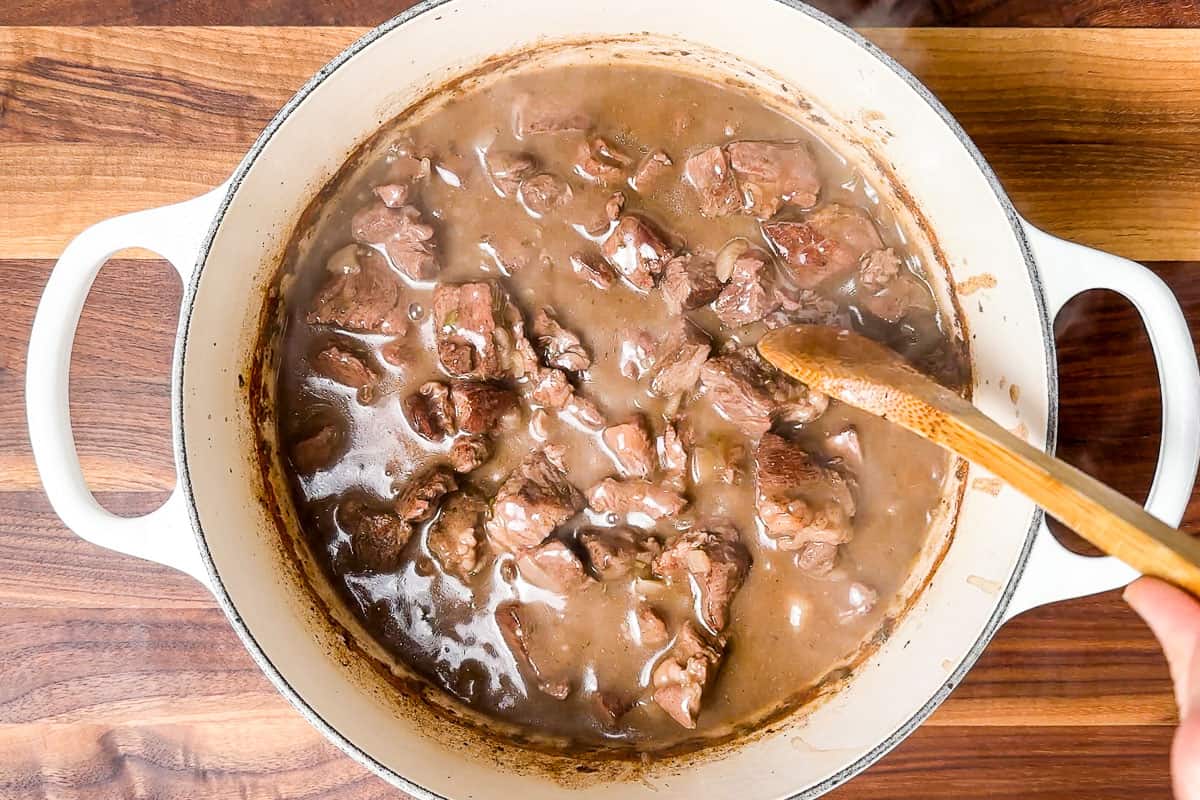 Step 5: After the 1st hour of baking the beef stew, remove it from the oven.
Stir using a wooden spoon to make sure nothing is sticking to the bottom of the pot.
Step 6: Add the carrots and potatoes and mix to combine. Scrape the bottom of the pan again to prevent sticking.
Cover the Dutch oven and bake again for 1 hour to 1 hour 15 minutes or just until the beef is falling apart fork tender.
Step 7: When the cooked meat is tender, add the peas and allow the boiling beef stew to cook them while you season the beef stew to taste with sea salt and pepper.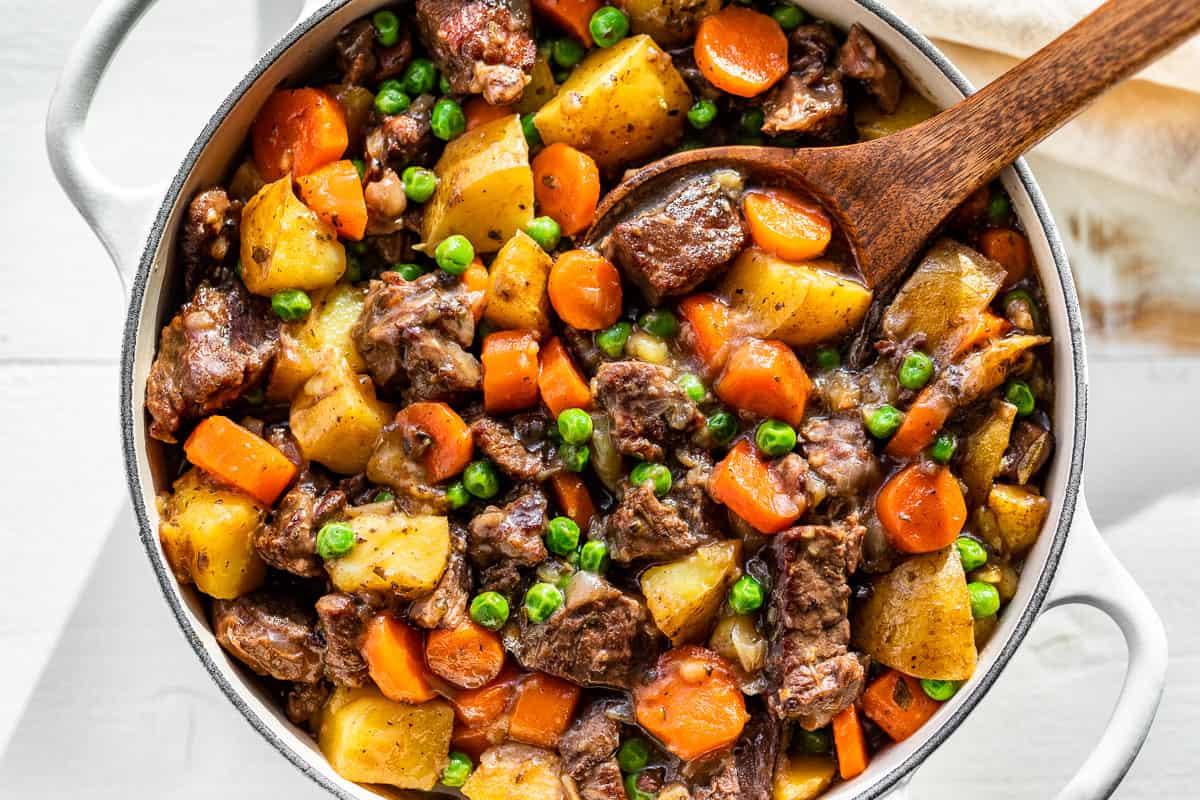 FAQ's
What is the secret to tender beef stew?
There are 2 key secrets to the most tender beef stew. The first is to use chuck roast which stews into meltingly tender beef, and the second is to cook it low and slow in plenty of liquid to keep it moist while braising.
Can you overcook meat in a Dutch oven?
Yes, you can overcook stew meat in a Dutch oven but it's pretty rare to have overcooked stew meat. Make sure after the 2nd hour of braising the beef stew to check it every 10 minutes until it's perfectly tender. Once it hits that tender stage it can move into a tougher drier stage if you overcook it by 15+ minutes. So you can see you have plenty of room to make sure your beef stew is perfectly tender. It doesn't overcook in a few minutes or anything that stressful!
Is it better to cook beef stew meat on the stovetop or in the oven?
You want to cook beef stew meat on both the stovetop, then transfer it to the oven. You start by browning it on the stovetop to add flavor. Once the liquid is added and you bring that mixture to a simmer, the beef stew meat is covered and transferred to the oven where it can braise into an incredibly tender beef stew. By cooking it in the oven, you can have the best flavor and the most tender results with a low and slow approach to cooking beef stew.
Storing leftovers
To store – place any leftovers into an airtight container and store in the refrigerator for 4-5 days.
Make ahead – this stew tastes even better the next day and reheats well so you can make it ahead.
Reheating – place any leftovers into a saucepan and heat stirring constantly over medium-high heat until heated through. Or heat on low covered with a lid stirring occasionally until heated through.
To freeze – the stew freezes fairly well, but the vegetables do come out a bit mushy. Place in aa airtight container and store in the freezer for up to 3 months. Defrost in the fridge overnight before reheating as directed above.
Tips & Tricks
Chuck roast really does make all the difference to the flavor of this stew. Be sure to trim it of excess fat so you don't have any chewy bits in the finished beef stew.
Also, don't rush browning the cubed-up beef, the deep brown color is key and it's what brings a depth of flavor to your finished stew.
Be sure to season well with sea salt and pepper, a well-seasoned stew is extremely important to the flavor. If it tastes bland, chances are it's still lacking in salt.
Don't be afraid to make this ahead because it tastes even better the next day.
You can make this beef stew with red wine or without it, either way is tasty, just different. If you use red wine go for something dry, never a sweet wine. Try a Pinot Noir, Zinfindel, Cabernet, or Malbec. You can't go wrong with anything full flavored and not sweet!
Dietary Options & Substitutions
Paleo or Whole30 – omit the gluten-free flour. Then when the stew is done thicken it with tapioca starch mixed together with water until smooth. Add the starch mixture to the bubbling beef stew just until your desired texture is reached. For Whole30 omit the peas as well. For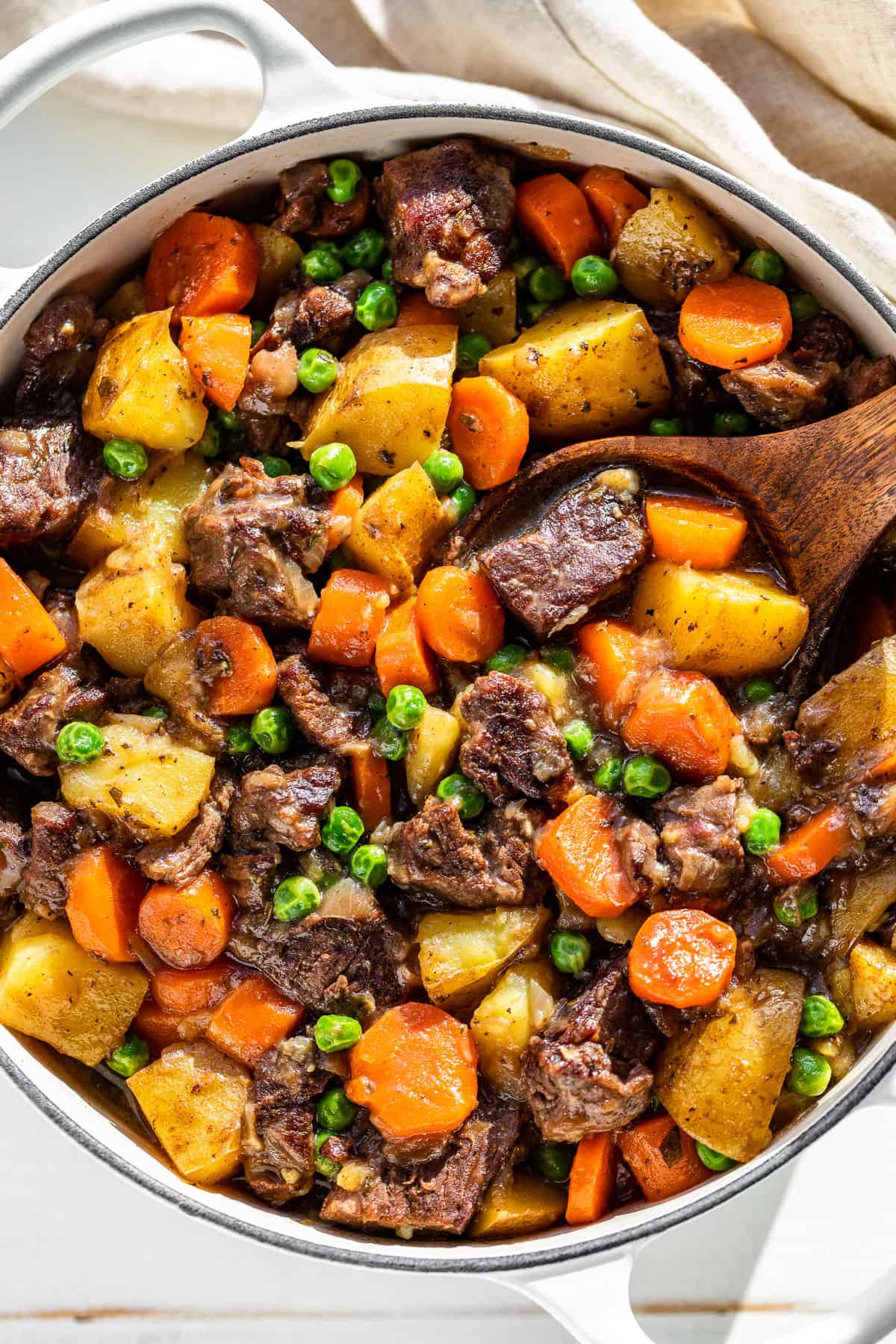 More Beef Recipe Inspiration
I really hope you enjoy this hearty Dutch Oven Beef Stew! Once you get a chance to make this recipe, or if you have any questions, I'd love to hear from you in the comments.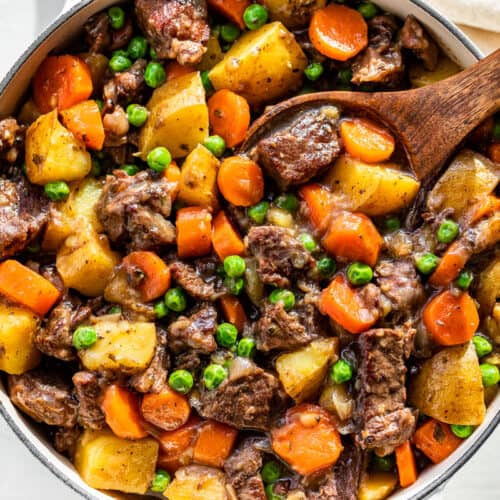 INGREDIENTS
3

pounds

beef chuck roast

-

cut into 1.5" cubes and trimmed of excess fat

1

tbsp

avocado oil

-

or cooking oil of choice, you may need to add a touch more depending on your meat.

1

tsp

sea salt

1

tsp

black pepper

1

large

yellow onion

-

or white, cut into 1/2" dice

4

cloves

garlic

-

minced

1/3

cup

gluten free flour

-

Bob's Red Mill 1:1 gluten free or all-purpose flour

1

tbsp

chopped fresh thyme

-

or a mixture of thyme and rosemary which is my favorite, see notes

1

cup

dry red wine

-

or 1 cup beef broth

3

cups

low sodium beef broth

1

pound

Yukon gold potatoes

-

cut into 1" pieces, or red potatoes

1

pound

carrots

-

peeled and cut into 1/4" slices

1

cup

frozen peas

optional tbsp chopped fresh parsley for a bright pop of color and fresh flavor.
INSTRUCTIONS
Start by preheating the oven to 300ºF. Cube the chuck roast and trim it of excess fat. Place a large 5.5-quart Dutch oven over high heat. When the pan is hot, add the oil and sear the cubed chuck roast in 2-3 batches until well browned.

Remove the browned cubed beef from the pan as it cooks. When the beef is done, lower the heat to medium and add the diced onion and garlic to the pan.

Cook the onion mixture stirring occasionally until golden brown and tender, about 4-5 minutes. Add the flour and mix to combine.

Next add the thyme, red wine/broth, and beef broth. Stir to combine and distribute the flour into the liquid and scrape up any browned bits on the bottom. Bring the mixture to a simmer. Then cover the Dutch oven and bake for 1 hour.

Near the end of the first hour of cooking time, cube up the potatoes and slice the carrots. Then remove the beef stew from the oven and mix in the carrots and potatoes.

Cover the Dutch oven and bake again for 1 hour. Test to see if the beef is fork tender. If not bake for an additional 15 minutes and check again. Times could vary a bit depending on how accurate your oven is.

When the beef is fork-tender, remove the beef stew from the oven. Stir in the peas and allow the boiling heat of the stew to cook them. Season to taste with additional sea salt and pepper if desired and serve.
Bonus Step
If you made this recipe, please leave a rating/comment. Ratings really help us continue to bring you high-quality free recipes. Rate This Recipe!
NOTES
For the fresh herbs, we love a mix of thyme and rosemary but you can use either one by itself with great results.
You can also use dried herbs which are almost as good, use 1 tsp dried thyme, or Herbs de Provence. I've also used 1 tsp Italian seasoning but it's different flavors from what you usually taste in beef stew.
nutrition facts
Calories:
462
kcal
|
Carbohydrates:
25
g
|
Protein:
38
g
|
Fat:
22
g
|
Saturated Fat:
9
g
|
Polyunsaturated Fat:
2
g
|
Monounsaturated Fat:
11
g
|
Trans Fat:
1
g
|
Cholesterol:
117
mg
|
Sodium:
638
mg
|
Potassium:
1251
mg
|
Fiber:
5
g
|
Sugar:
5
g
|
Vitamin A:
9677
IU
|
Vitamin C:
25
mg
|
Calcium:
74
mg
|
Iron:
5
mg