Better than Chipotle for sure, these beef Barbacoa Burrito Bowls are easy to make. And they pack in so much flavor you're going to want to make them often. There are lots of extra tips and recipes provided to make this dairy-free and paleo as well if you'd like. We love making the different parts of this burrito bowl for meal prep. That way you have everything ready to go in the fridge, and can make burrito bowls all week long. Or you can serve this right away for family style dinner where everyone can 'build their bowl'!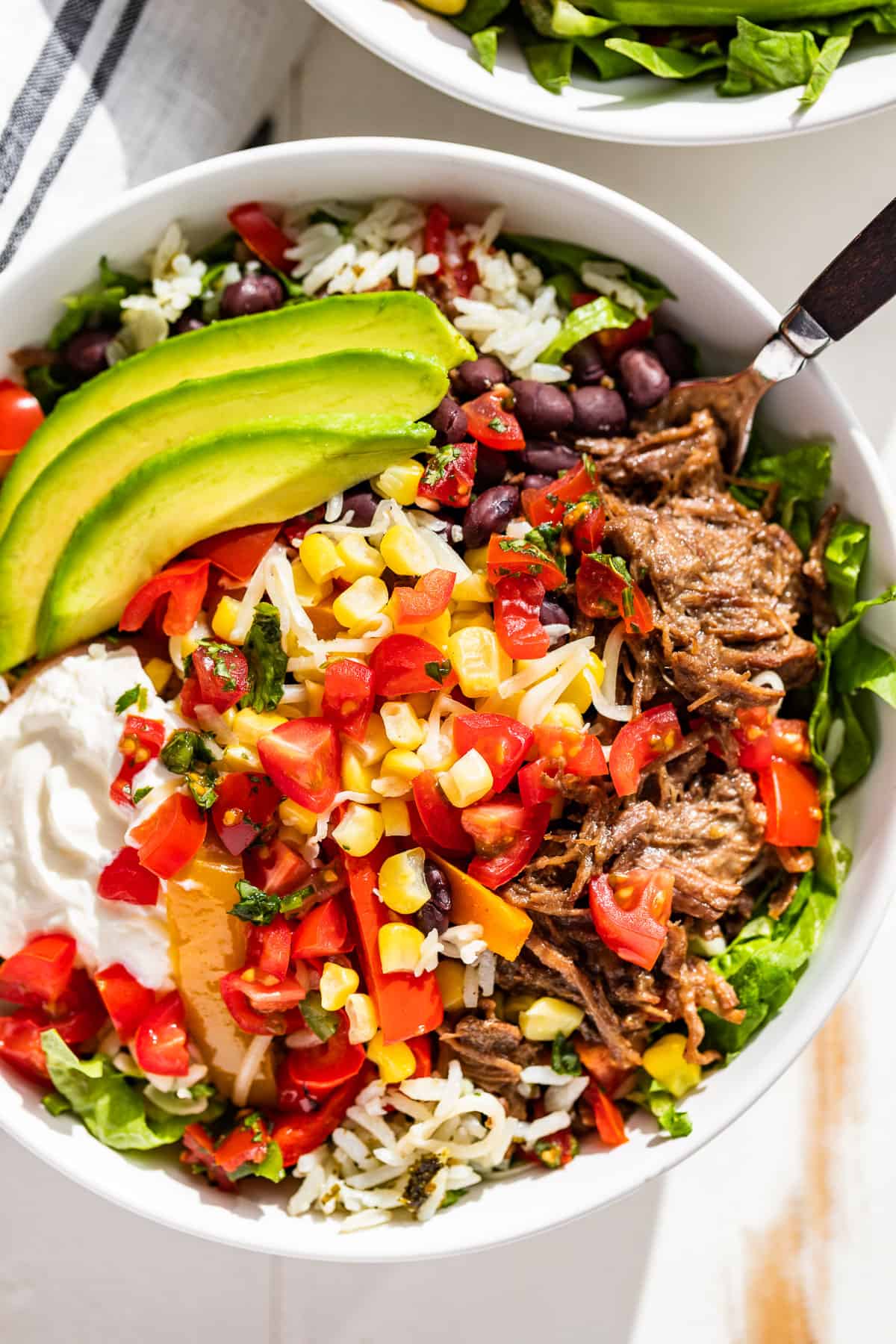 Tender juicy beef piled over my Cilantro Lime Rice with Fajita Veggies and all the toppings. Yes please, and can I have these every single week?! My beef Barbacoa is extra easy to make thanks to the Instant Pot.
In fact, I never make all the things you need for these burrito bowls at one time. It's nice to make a large batch of Barbacoa and then portion it out to freeze. That way you're most of the way toward these burrito bowls. The tough cuts of meat take a bit of cooking time, even in the Instant Pot. So having that already done is a huge bonus.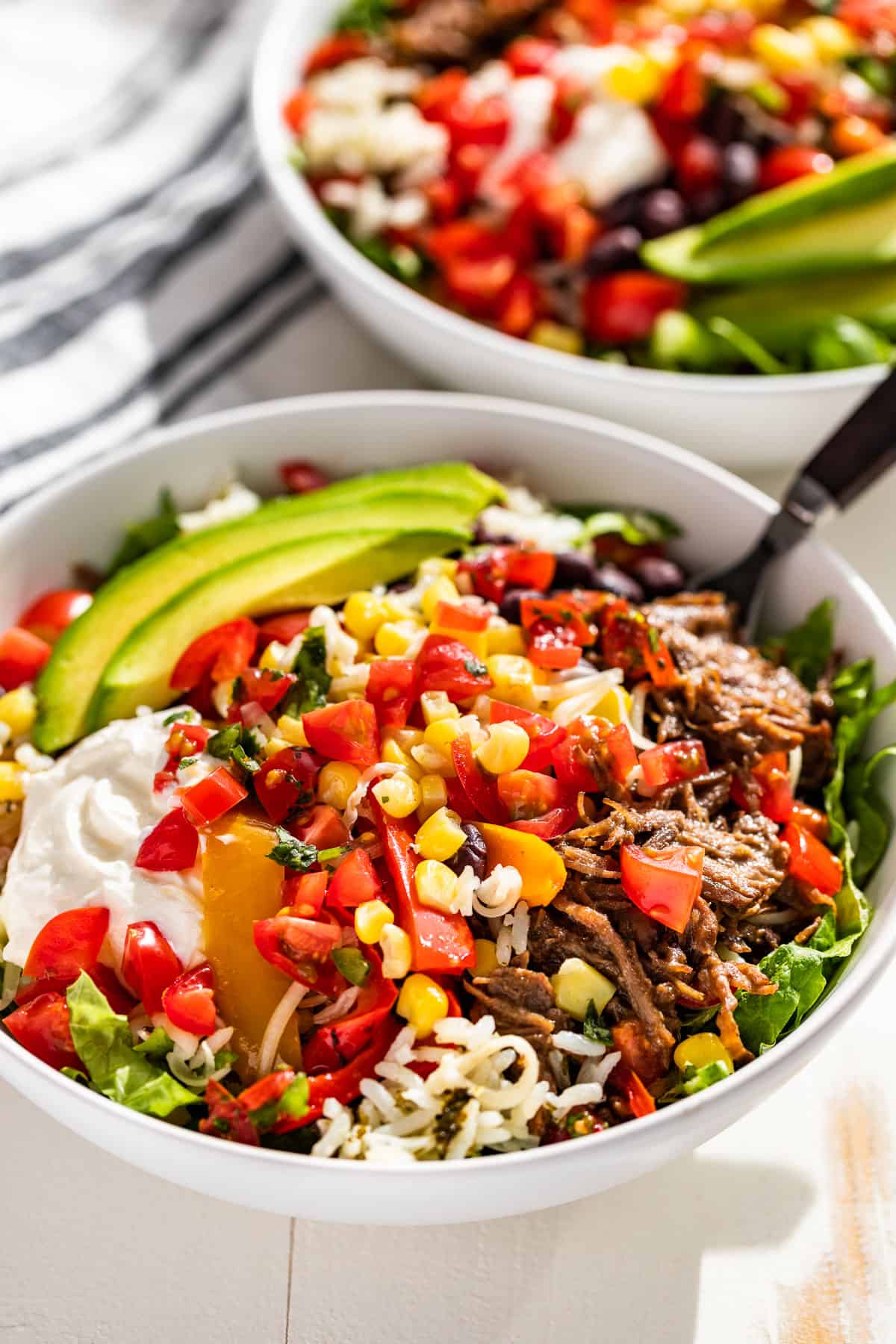 From there you can concentrate on making fresh Pico de Gallo and the Best Guacamole. And what would a burrito bowl be without extra guacamole anyways?! (Don't tell, but sometimes when I'm in a hurry I just dice up an avocado for these bowls!)
Ingredients & Substitutions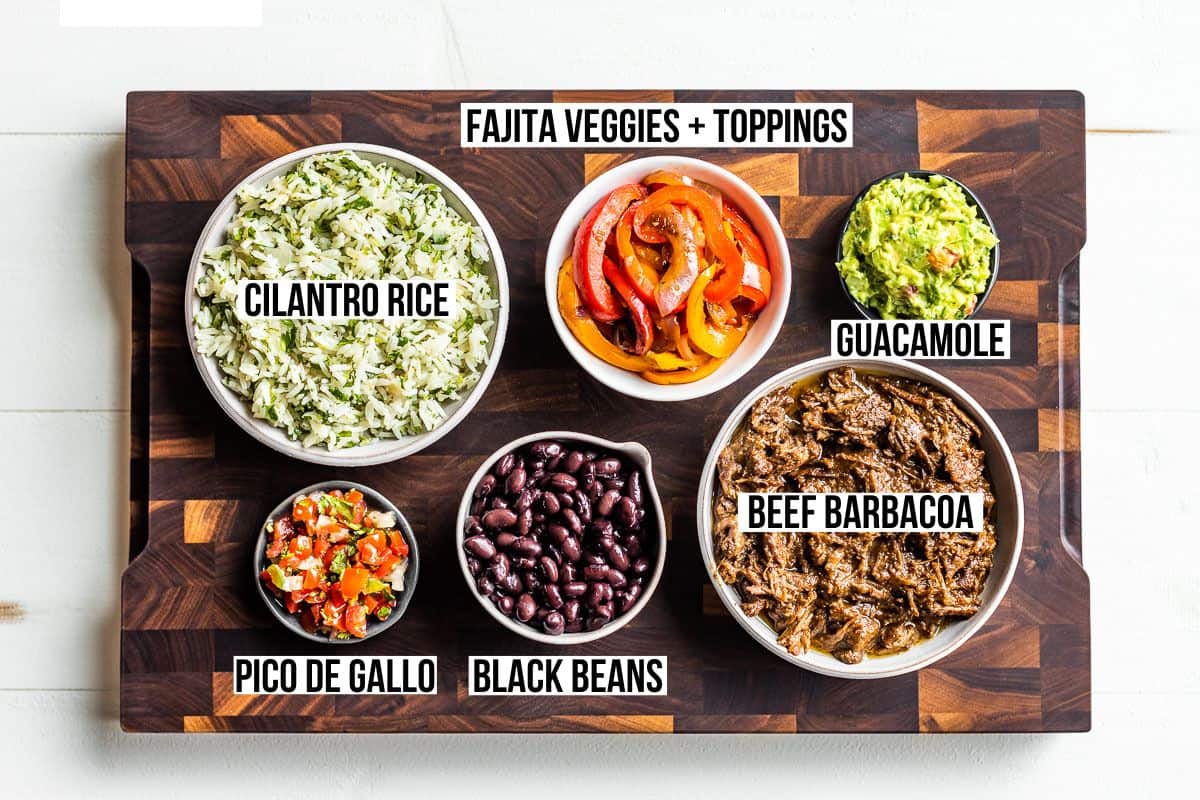 Beef Barbacoa – slightly tangy, super savory, and full of herby flavor, Beef Barbacoa will become a household favorite in no time! It's also another great way to use up tough cuts of meat like chuck roast. By the time it's done cooking in the Instant Pot, you just have tender shreds of beef. It's similar in texture to a good pot roast but with lots of Mexican flavors.
Cilantro Lime Rice – is worth trying for sure if you're used to plain rice in burrito bowls. The cilantro-lime combo is so good, you'll want to eat spoonfuls of rice all by itself.
Fajita Veggies – are optional and a simple combination of onion and peppers with just a touch of extra flavor added with oregano and cumin.
Black beans, cheese, and sour cream – are all standard in a burrito bowl, but definitely optional. Pick and choose any or all toppings here, or leave them out and there's still more than enough flavor to go around.
Pico de Gallo – is a fresh salsa traditional at different 'build your bowl' Mexican restaurants like Chipotle. You can also use my Easy Fire Roasted Blender Salsa in this recipe when tomatoes aren't in season.
The Best Guacamole – is an absolute must in a burrito bowl as I mentioned. And for us, extra guacamole is always a thing with Mexican-inspired bowls.
Lettuce or greens – We like piling the whole works on top of greens. Everything from crunchy romaine to spring mix works here. The firmer the lettuce the more it will stand up to the heat. When we start getting local spring mix from Farmer's Market, I pile it on top because it's so delicate. You can also use either red or green leaf lettuce.
How to make this recipe step by step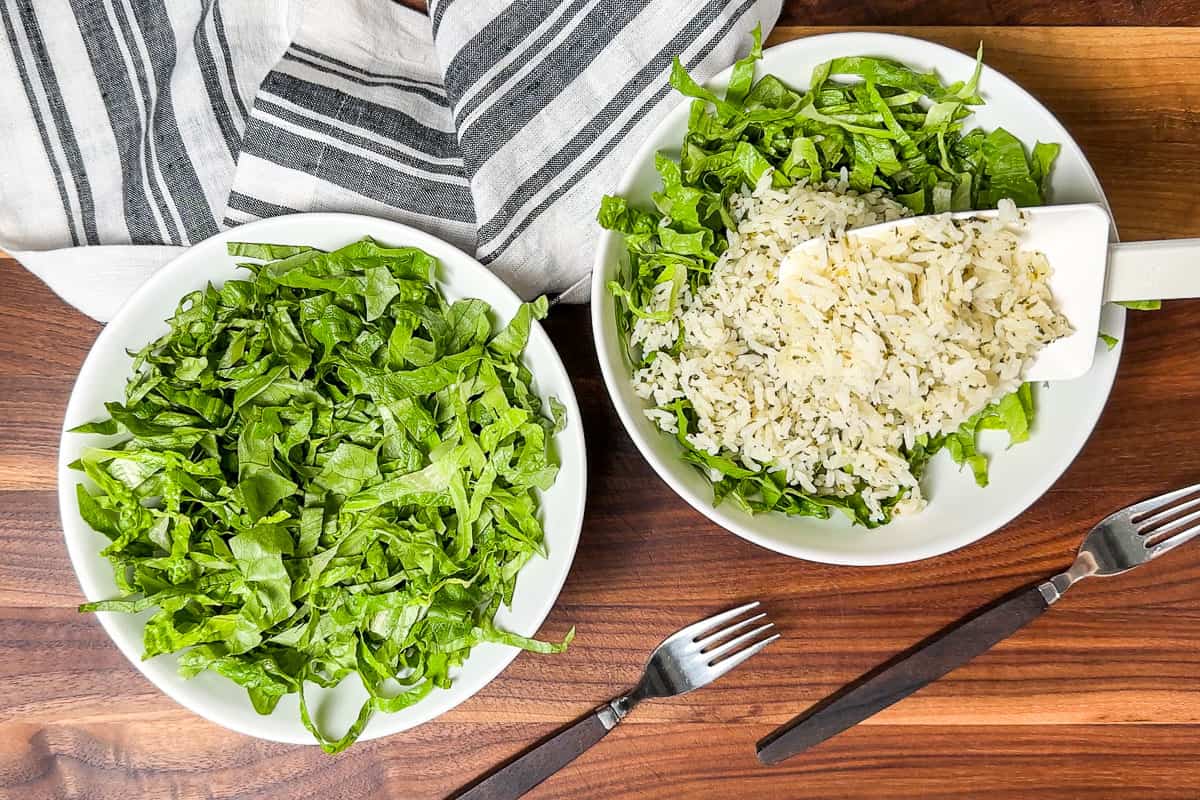 Step 1: Start by making each of the recipes that make up this burrito bowl. I don't always make everything listed. Instead, you can pick and choose what you/your family would like and build a bowl from there.
Be sure to check out the tips section below for all my shortcuts. I start making a barbacoa burrito bowl by layering lettuce followed by cilantro lime rice.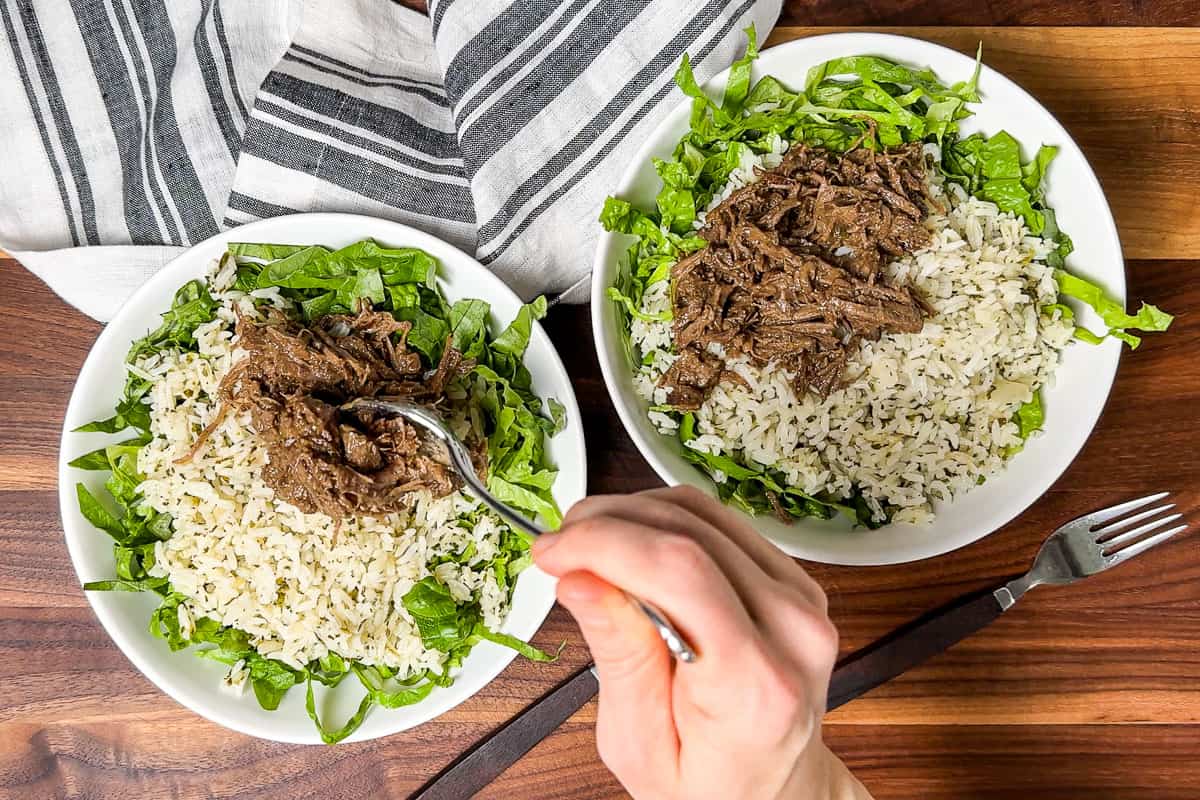 Step 2: After the rice, it's time to add the shredded Beef Barbacoa.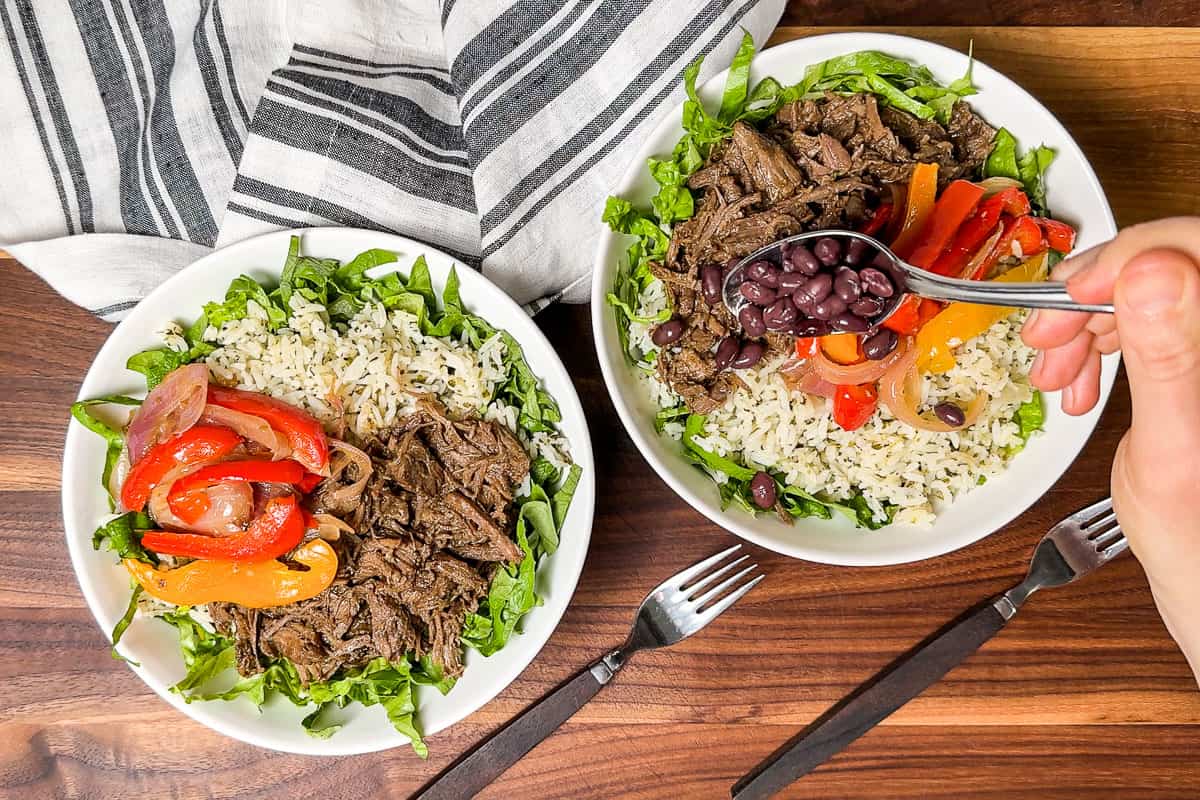 Step 3: From there I like to add Fajita Veggies along with some black beans.
Fajita veggies are optional and usually an add-on for many bowls at Chipotle, but we really love adding them to this recipe.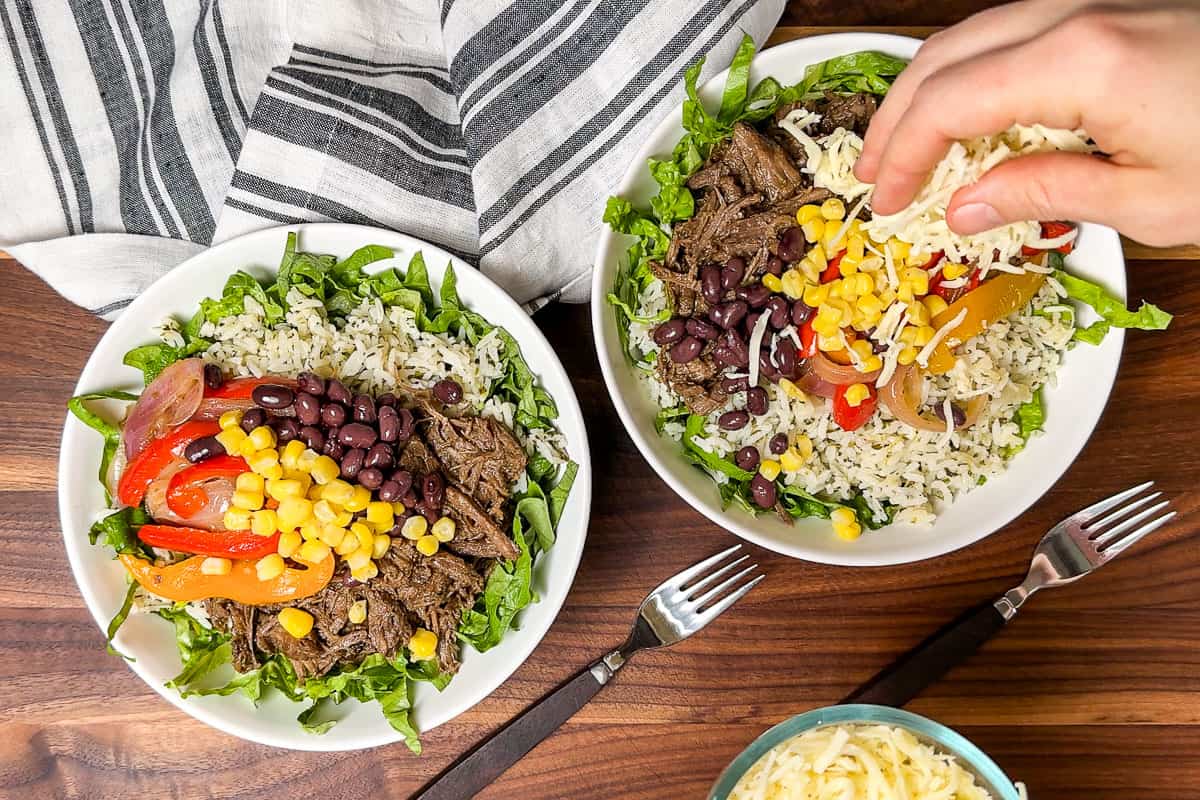 Step 4: And finally keep adding as many toppings as you'd like from corn and cheese to guacamole/avocado and sour cream.
Ways to serve this
Serve with more Pico de Gallo or Blender Salsa and Guacamole along with extra grated cheese too if you're using it.
These bowls are a meal until themselves and they're also great for entertaining. Try adding my Coconut Lime Tart or Coconut Lime Ice Cream into your meal plan for dessert if you're having people over.
Add or omit any toppings you'd like. You can make these bowls super simple, (refer to the tips below) or pile on all the things.
FAQ's
What is in a Chipotle Barbacoa Burrito Bowl?
Barbacoa burrito bowls are usually made up of rice, barbacoa beef, beans, and lots of toppings including lettuce, cheese, sour cream, and salsa. We like to add fajita veggies as well to our version. A squeeze of fresh lime juice over the top is nice as well.
What is beef barbacoa?
Beef barbacoa is shredded beef with Mexican flavors. You start with a beef chuck roast and its flavors with chipotle peppers and a touch of acidity from apple cider vinegar along with spices like cumin.
What kind of meat is used for barbacoa?
Beef is used for barbacoa and chuck roast makes the best shredded beef. You'll find the complete list of spices in my Beef Barbacao recipe.
Storing leftovers
To store – store each component of these burrito bowls separately in airtight containers for 3-4 days.
Make ahead – the rice, salsa, and avocado are best fresh. But the beef barbacoa is the perfect thing to make ahead. The beef can be frozen in an airtight container for up to 3 months. I love meal prepping it to have on hand to make easier burrito bowls. My Restaurant Style Salsa can be stored for 4-5 days or even frozen ahead of time.
Reheating – add some rice, meat, veggies, beans, and corn to a small skillet and reheat over medium heat stirring constantly (adding water as necessary) until heated through. Pile the warmed-up mixture into a bowl with your fresh toppings.
To freeze – the beef barbacoa, black beans, and corn can all be frozen for up to 3 months. The restaurant-style salsa can also be frozen, but the Pico de Gallo needs to be fresh if you make that salsa.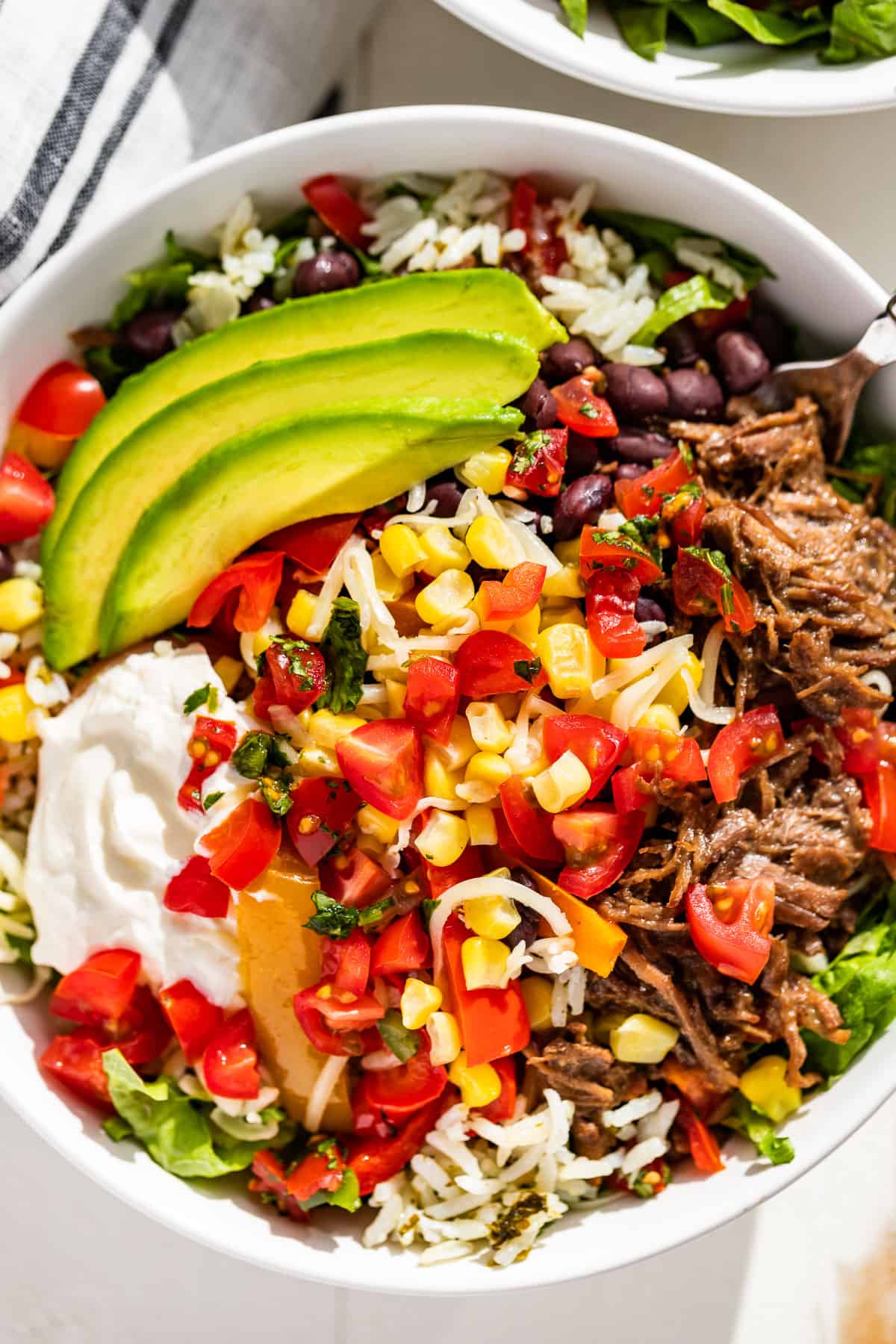 Tips & Tricks
Simplify by making plain steamed rice. Or you can also use my Roasted Sweet Potatoes instead of the rice. Skip the salsa and serve chopped fresh tomatoes and diced avocado in place of the guacamole. Use prewashed lettuce and rinsed canned black beans. No need to cook every single part from scratch!
Basic Burrito Bowl Formula: steamed rice, shredded beef barbacoa, shredded lettuce, black beans, corn, cheese, jarred salsa, and diced avocado.
The recipe below is inspired by how it's made at Chipotle with their Cilantro Lime Rice etc. But you don't need to make each recipe to have a delicious burrito bowl, my burrito bowl formula (above) shortcuts make this way faster. If you have some time to prep, these really are over-the-top made as written.
If you're short on time and don't have the beef barbacoa made, try subbing in regular taco meat for this burrito bowl. It's a completely different flavor, but it's really good and faster than making beef barbacoa. My Slow Cooker Salsa Beef also works here as a faster substitute (way less prep time).
Dietary Options & Substitutions
Dairy-free – omit the sour cream and cheese or use your favorite dairy-free options.
Paleo – omit dairy, corn, and black beans. Replace the Cilantro Lime Rice with my Roasted Sweet Potatoes for a paleo burrito bowl. In place of sour cream and cheese, I like to use my creamy Cilantro Lime Dressing. You can also make my Instant Pot Paleo Queso as an extra topping in place of the cheese. (It freezes well and can be meal prepped.)
Meal Prep Tips
Meal prep – We like to prep the different recipes listed on the weekend. Then you can just reheat them to make bowls during the work week. Most of this recipe will keep well for 4-5 days in the fridge. You'll find that the rice will get hard and dry over a few days in the fridge, but it's still delicious when reheated. I heat the beef and rice together in a small skillet until warmed through. This allows the rice to soften and be a great texture again. You can also use a microwave to reheat as well.
My personal favorite meal prep shortcut is to meal prep the Instant Pot Beef Barbacoa and freeze it. Once I have the meat shredded and cooled, I portion it into freezer containers. That way I have it on hand for the next 3 months.
I really hope you enjoy these Beef Barbacoa Burrito Bowls! If you do get a chance to make this recipe, I'd love to hear from you in the comments. This burrito bowl 'recipe' is really just measurements or a ratio of ingredients for getting you started. From there you can use any of these recipes to create as many variations as you'd like.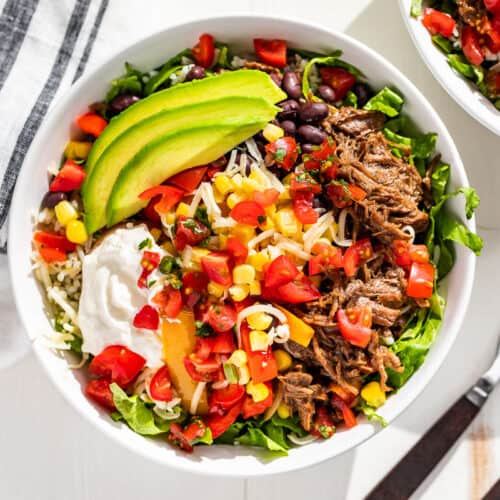 INGREDIENTS
Toppings of your choice:
black beans, corn, sour cream, grated cheese etc.
INSTRUCTIONS
Start by making each of the different recipes that make up this burrito bowl, or refer to the shortcuts in the notes.

Serve everything separately family style so each person can build their own bowl.

Or to assemble a burrito bowl, place the lettuce and Cilantro Lime Rice into a bowl.

Then top with the shredded Beef Barbacoa, Fajita Veggies, and your choice of black beans, corn, cheese, and sour cream.

Serve with the Pico de Gallo and Best Guacamole.
Bonus Step
If you made this recipe, please leave a rating/comment. Ratings really help us continue to bring you high-quality free recipes. Rate This Recipe!
NOTES
For the Beef Barbacoa, I always make a full recipe as it's written and freeze the extra I don't need in this burrito bowl recipe for an extra quick and easy meal the 2nd time around.
The prep time listed below is about how long it takes to assemble a few burrito bowls. It takes me about 1 hour to cook the individual recipes listed here. Both the beef and the rice are made in the Instant Pot. So if you have 1 Instant Pot, make the beef ahead of time, or steam the rice on the stovetop.
The nutritional facts were calculated without the toppings of choice. It's also just an estimate.
Simplify with this Basic Burrito Bowl Formula: steamed rice, shredded beef barbacoa, shredded lettuce, black beans, corn, cheese, jarred salsa, and diced avocado.
nutrition facts
Calories:
545
kcal
|
Carbohydrates:
43
g
|
Protein:
34
g
|
Fat:
27
g
|
Saturated Fat:
8
g
|
Polyunsaturated Fat:
2
g
|
Monounsaturated Fat:
14
g
|
Trans Fat:
1
g
|
Cholesterol:
102
mg
|
Sodium:
505
mg
|
Potassium:
1091
mg
|
Fiber:
8
g
|
Sugar:
11
g
|
Vitamin A:
7568
IU
|
Vitamin C:
139
mg
|
Calcium:
62
mg
|
Iron:
5
mg
This recipe was originally published in 2021 and was updated in 2023 with new photos, more tips, and information.