Super easy and outrageously tasty, this Garlic Herb Chicken and Asparagus can be a family-friendly dinner, or turned into healthy meal prep. It's absolutely packed with veggies and it's naturally gluten-free, dairy-free, and low-carb as well. This dinner cooks on two sheet pans for the ultimate easy meal with minimal prep, and minimal cleanup as well. You'll find extra substitutions and tips for how to make this recipe even easier below!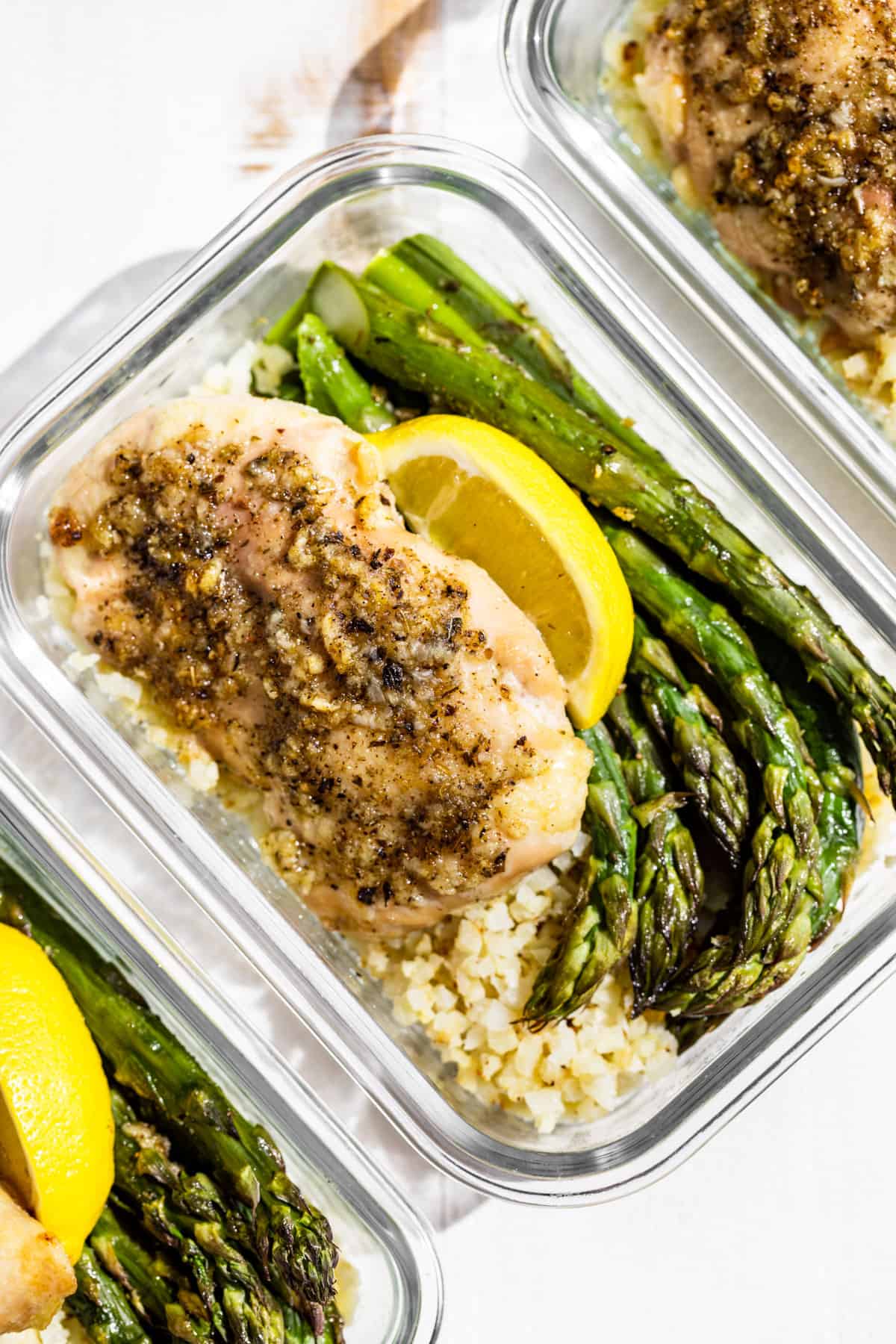 How does super easy to make and can be done in under 30 minutes sound? Pretty great in my book! I love the concept of sheet pan dinners because they keep everything ultra simple. Just place a few ingredients placed on a sheet pan, and bake into golden brown deliciousness.
I serve this recipe both as meal prep for healthy take-along lunches for us, but it's also a go-to dinner as well. To make this a dinner, simply serve it straight out of the oven. And if you're not a huge fan of cauliflower rice, try my Creamy Cauliflower Mash or my Best Mashed Potatoes instead.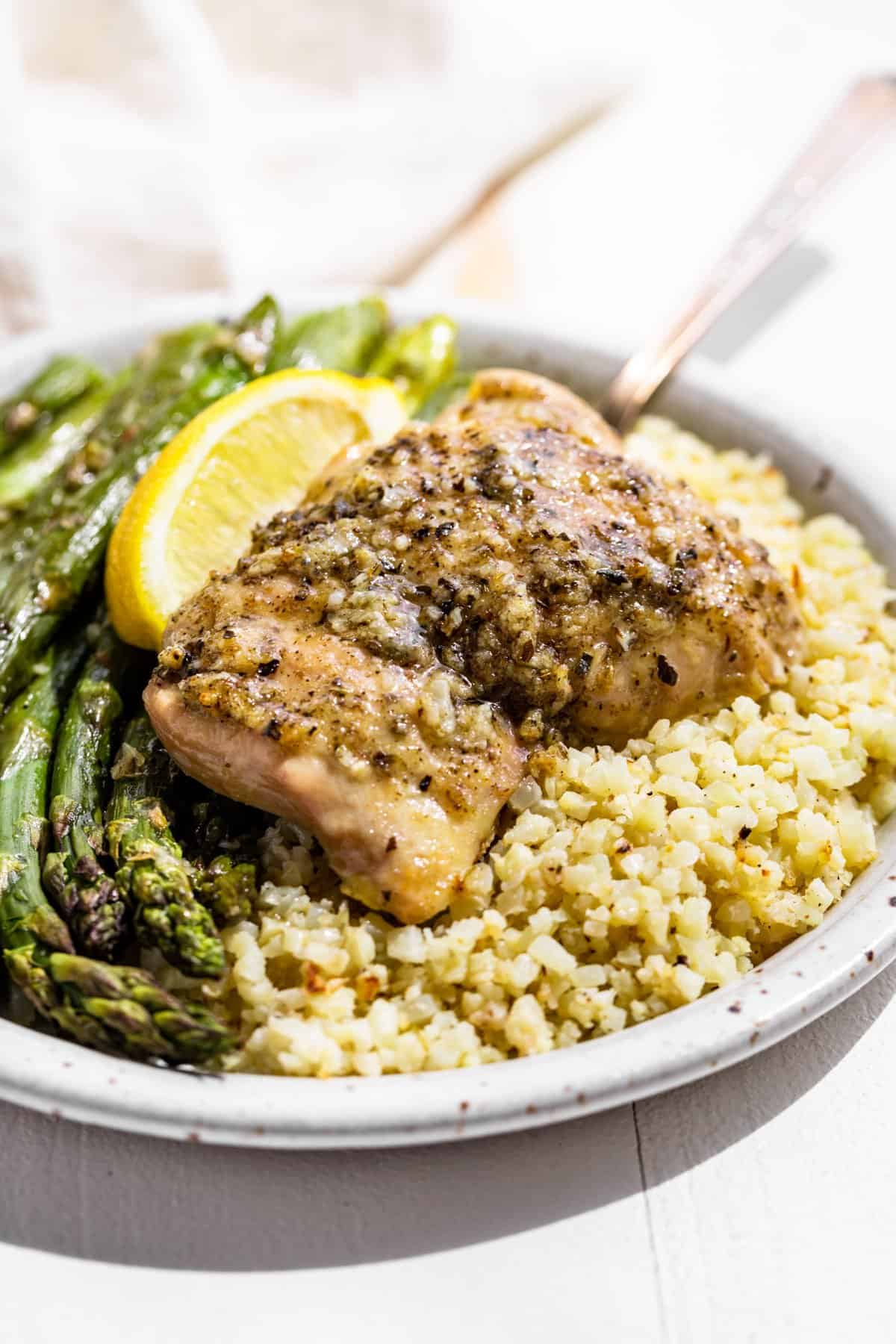 Watch how to make Garlic Herb Chicken and Asparagus Meal Prep
Riced Vegetables Tip: To easily make most any vegetable into a 'rice', cut it up into pieces under 2″ big. Then place all the pieces into a large food processor, and process just until a rice-like texture appears.
Using this technique you can make all sorts of veggie rice to use in this recipe. My favorite veggie to sub in for the cauliflower rice is potato or sweet potato.
Ingredients & Substitutions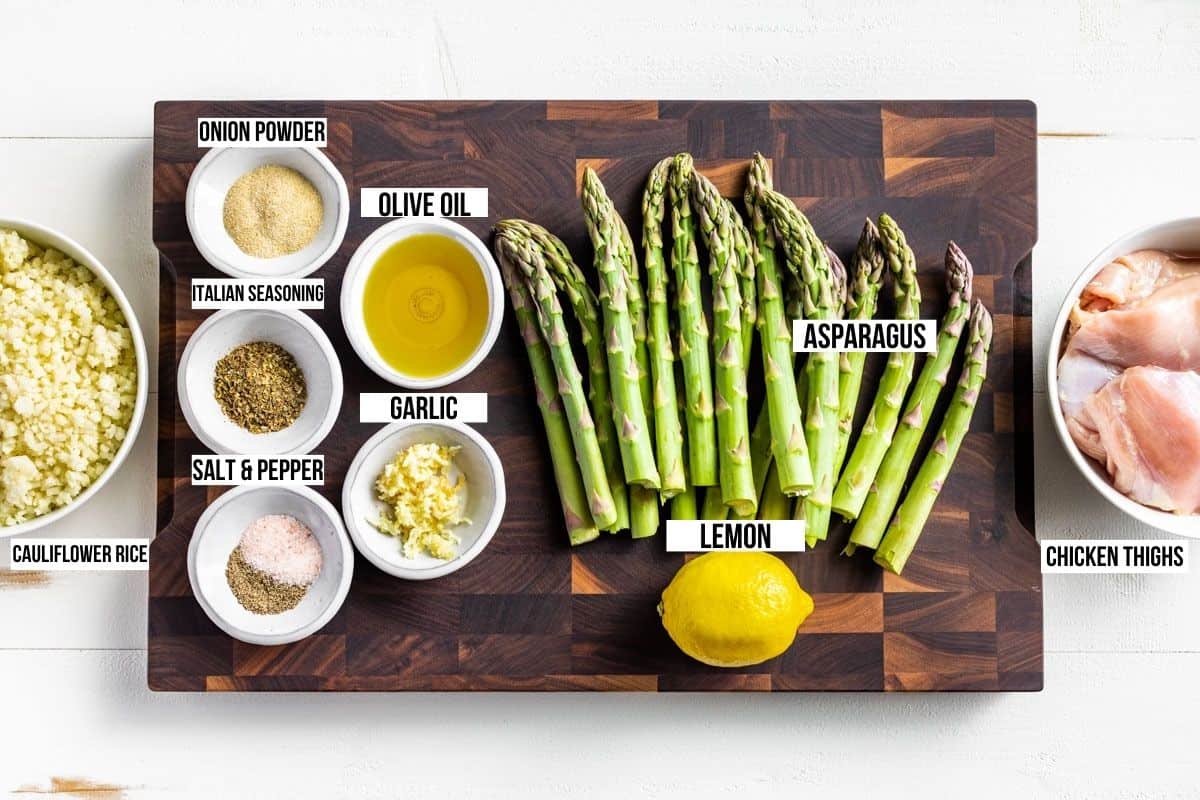 Chicken thighs – boneless skinless chicken thighs for this recipe because they cook quickly, roughly the same amount of time as big spears of asparagus. Chicken breasts can be used as well, but make sure you cook them most of the way before adding the asparagus.
Cauliflower rice – I like to use frozen cauliflower rice because it's easy and budget-friendly. But you can make cauliflower rice from a head of cauliflower as well using a food processor.
Asparagus – nice fat spears work well here, but if you have thin spears just cook the chicken halfway before adding the asparagus to the pan.
Garlic – fresh minced garlic is a must here for good flavor. A garlic press really speeds things up, or you can use garlic powder instead. Just don't use the jarred minced here because its flavor is overwhelming.
Seasonings – I use a touch of onion powder here along with some Italian seasoning to add lots of flavor along with the salt and pepper.
Olive oil – adds both moisture and flavor to everything we're roasting here.
Lemon – wedges to squeeze over the top adds a touch of bright flavor that pairs perfectly with the garlic herb combo.
How to make this recipe step by step
Step 1: Preheat the oven, then start by adding the olive oil, garlic, and herb mixture in a small bowl and stir together. This creates a light 'sauce' for the chicken and the asparagus.
Step 2: Add the asparagus and chicken thighs to the sheet pan and coat with the garlic herb mixture.
You can see the asparagus I had was very thick and cooked at the same time as the chicken thighs. However, if you have really thin spears, you might try adding them to the pan halfway through the cooking time for the chicken.
Step 3: Toss the cauliflower rice with the olive oil and seasonings and spread it evenly on another parchment-lined baking sheet. Roast the 2 baking sheets together, rotating as needed to cook evenly. Or if you're making this as meal prep, you can roast the pans individually.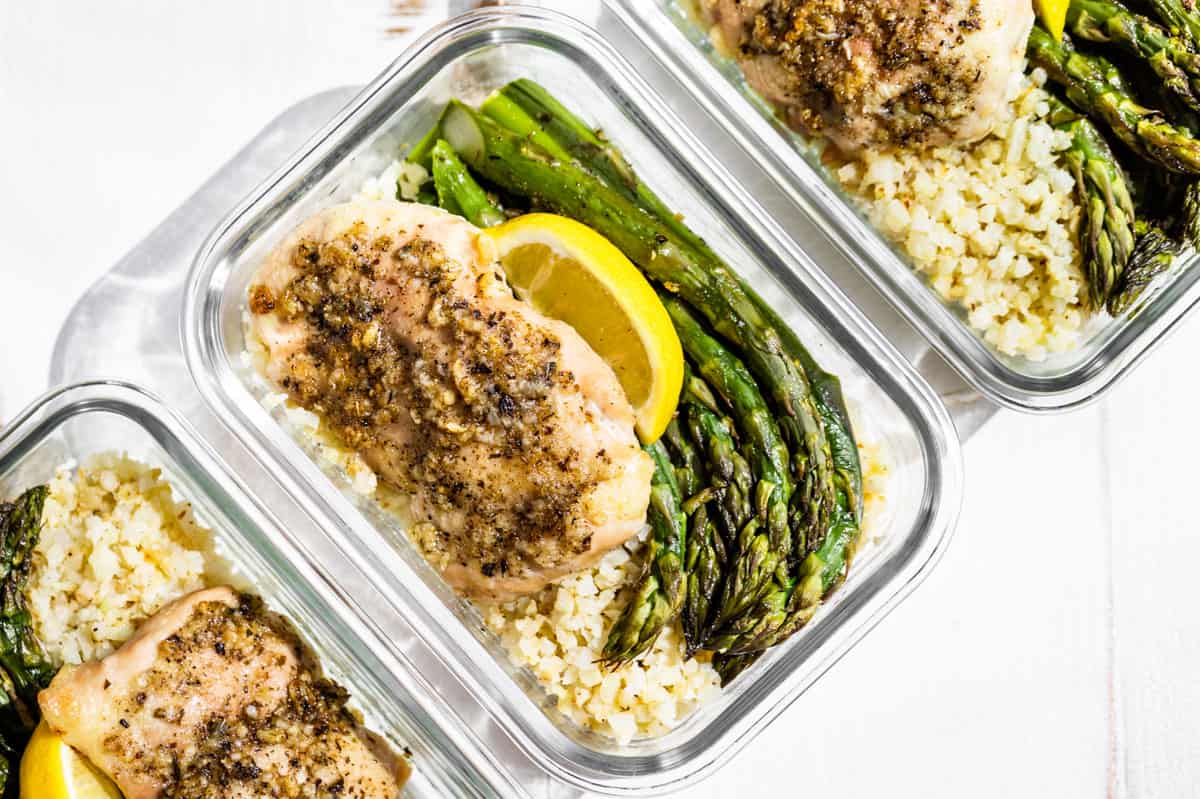 Step 3: If you're serving this for dinner, serve it straight out of the oven. Serve the lemon wedges in a small dish so each person can squeeze fresh lemon juice to their taste over the top.
Or if you're making this as meal prep, remove the pans from the oven and allow them to cool until warm before portioning them out into containers. Top each container with a lemon wedge, seal, and refrigerate for up to 4 days.
Ways to serve this
Serve it straight out of the oven for dinner, this recipe definitely doesn't have to be for meal prepping!
Add some more veggies with my Easy Green Salad or my Grilled Chicken Caesar Salad without the chicken.
If you're serving this for a special dinner, try adding a garnish. Fresh thyme or chopped parsley adds a bright pop of color.
FAQ's
Can I use chicken breasts in place of chicken thighs?
Yes, use boneless skinless chicken breasts. But be aware chicken breasts take longer so I recommend cooking them until almost done before adding the asparagus to the pan to keep from overcooking it.
What can I use instead of asparagus?
Both broccoli and green beans will work well here and bite-sized broccoli florets as well as green beans should cook in the same amount of time as the chicken thighs.
Storing leftovers
To store – place any leftovers from dinner into a sealed container, or your meal-prepped containers into the refrigerator and refrigerate for up to 4 days.
Reheat – place the leftovers into a small skillet with a touch of water and heat covered over medium heat until warmed through making sure the pan doesn't run dry. Or you can microwave the leftovers.
To freeze – I don't recommend freezing the asparagus or cauliflower rice because they come out mushy. You can freeze any leftover chicken in an airtight container for up to 3 months.
Tips & Tricks
Definitely try and find frozen cauliflower rice because it makes everything so much quicker and easier! It's also way more budget-friendly where we live as well. I've been able to find organic frozen cauliflower rice at Costco for a great price. You can also use it to make my Creamy Mashed Cauliflower or my Pineapple Fried Cauliflower Rice. So don't worry about what to do with that giant package!
Make this a heartier meal by omitting the pan of cauliflower rice and subbing in my Best Mashed Potatoes.
Make this a garlic butter chicken instead. Melt butter and garlic together and use that in place of the olive oil called for.
More meal prep recipe inspiration
I really hope you enjoy this Garlic Herb Chicken and Asparagus! If you do get a chance to make this recipe, I'd love to hear from you in the comments. For inspiration check out my Healthy Chicken Dinners for all sorts of options the whole family will love.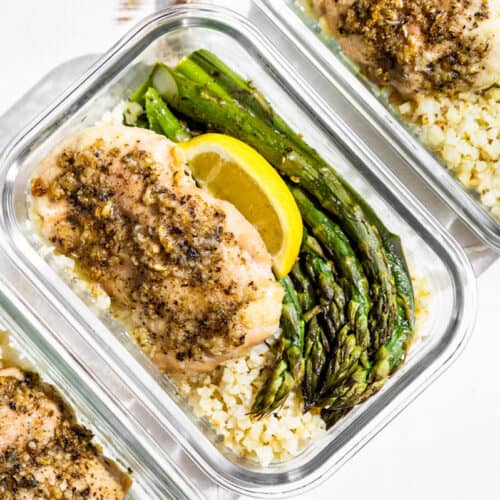 Garlic Herb Chicken and Asparagus Meal Prep
---
INGREDIENTS
Garlic Herb Chicken and Asparagus:
2

tsp

onion powder

2

cloves

garlic

-

minced

1 1/2

tsp

Italian seasoning

1/2

tsp

sea salt

-

or to taste

1/2

tsp

freshly ground black pepper

2

tbsp

olive oil

1

pound

boneless skinless chicken thighs

-

about 4

1 1/2

pounds

trimmed asparagus

-

(woody ends removed)
Cauliflower Rice:
1 1/2

pounds

cauliflower rice

-

see notes

1

tbsp

olive oil

1/2

tsp

sea salt

-

or to taste

1/2

tsp

garlic powder

1

tsp

onion powder

1/2

tsp

freshly ground black pepper

1/2

lemon

-

cut into 4 wedges
INSTRUCTIONS
Preheat the oven to 450ºF and line 2 baking sheets with parchment paper. For the Garlic Herb Chicken and Asparagus, mix together the onion powder, garlic, Italian seasoning, sea salt, pepper, and olive oil until combined.

Place the chicken thighs on one end of the baking sheet. Then arrange the trimmed asparagus spears on the other end.

Next divide the garlic herb oil mixture evenly over the two, and bake until the chicken is done, about 25 minutes. If you have thin asparagus, add it to the pan during the last 10 minutes of cooking time so it doesn't overcook.

Meanwhile, toss the cauliflower rice together with the olive oil, sea salt, garlic powder, onion powder, and pepper. Spread it evenly on the prepared baking sheet.

When the chicken and asparagus are done, remove them from the oven to cool slightly. Then bake the cauliflower rice just until tender, 10-15 minutes.

When the cauliflower rice has been cooked and cooled on a baking rack for about 10 minutes, portion out the chicken, asparagus, and cauliflower rice into containers with lids. Add a lemon wedge to each container, and store in the refrigeratorfor 3-4 days.
Bonus Step
If you made this recipe, please leave a rating/comment. Ratings really help us continue to bring you high-quality free recipes. Rate This Recipe!
NOTES
You'll need about 2 – 2 1/2 pounds cauliflower, (1-2 depending on size) to yield 1 1/2 pounds. This is about 7 cups cauliflower rice. To make rice out of a whole head of cauliflower, trim away the outer leaves. Then cut the florets from the core. Break up any large pieces, (over 2″) and place the florets into a large processor. You'll probably need to do this in 2 batches. Then process the florets into a rice like texture to use in this recipe.
nutrition facts
Calories:
320
kcal
|
Carbohydrates:
19
g
|
Protein:
29
g
|
Fat:
16
g
|
Saturated Fat:
3
g
|
Polyunsaturated Fat:
2
g
|
Monounsaturated Fat:
9
g
|
Trans Fat:
0.02
g
|
Cholesterol:
108
mg
|
Sodium:
739
mg
|
Potassium:
1190
mg
|
Fiber:
8
g
|
Sugar:
7
g
|
Vitamin A:
1332
IU
|
Vitamin C:
100
mg
|
Calcium:
115
mg
|
Iron:
6
mg
This recipe was originally published in 2018, but has been updated in 2022 with new photos, and lots of new information and tips.