These Fish Taco Slaw Bowls with Mango Salsa and Chipotle Aioli are packed with all the best fish taco flavors. They're easy to make and crowd pleasing, as well as being gluten free and dairy free too.
I had the idea for this recipe over a year ago. But I got hung up on my poor choice of title at the time, and the idea ended up on the back burner. It all started when I was just south of LA having fish tacos with my cousin at this absolutely phenomenal place. (Whenever I'm near the ocean, I make it my business to eat as many fish tacos as possible. They're definitely one of my favorite foods, second only to pizza.)
But back to the story, I ordered my tacos with extra avocado on recommendation, which I'm now passing on to you – always extra avocado. My cousin who doesn't eat carbs for health reasons, got his order, and promptly scraped everything off the tortillas and ate his like a salad.
And that's the moment when I thought, 'I should make a fish taco salad'. But right from the get-go, fish taco salad sounded unappetizing to me. So I ran the idea by my cousin, and he agreed the title needed some work. But the idea of it sounded good.
Which brings us to now, 14 months later, I've finally brought that passing idea into reality. In the end I went with a slaw over a typical salad with lettuce. Cabbage/slaw on tacos is more traditional anyways. And I also made this into 'bowl food' because that always sounds appetizing in my book.
Now let's jump in and make my Fish Taco Slaw Bowls with Mango Salsa and Chipotle Aioli!
To start off, you make a cilantro dressing for the slaw.
Then I like to toss the dressing with the slaw right away to let the cabbage begin to soften a little. From there it sits while I prepare the rest of the recipe.
Notes about cabbage: The recipe calls for Savoy cabbage, but Napa cabbage works well too. Both of these types of cabbages are softer in texture which makes for a nicer slaw. Regular cabbage will work too, but you might find yourself exhausted from all the chewing with normal super crunchy cabbage.
Secondly I like to make the mango salsa slightly ahead for the same reason. It tastes even better when the flavors have a few minutes to sit together.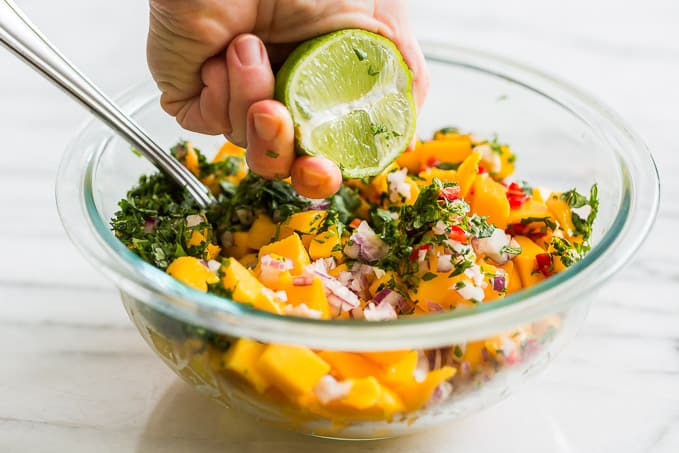 For the salsa, I like to use Champagne or Altaulfo mangos, (they're the same thing going by different names). Overall I've found them to be sweeter with a silky smooth texture in comparison to regular mangos. You'll recognize them in the store by their yellow skins. The really ripe ones are so yellow they have a slight orange tone to them.
And finally after everything else is prepared, it's time to grill the fish. I've included the spices I like to use on my fish in the recipe. But I also wanted to make a case for grilling the fish with nothing more than a light brushing of olive oil and a sprinkle of sea salt.
I personally love this with the fish cooked both ways. But if you do decided to try this sometime without the seasoning, you want to be sure you have extra fresh fish. Anything less than super fresh doesn't taste nearly as good. And this is why I mostly grill my fish with seasonings here in Montana.
And because I love a creamy element to my fish tacos, I topped this bowl off with chipotle aioli. The aioli combined with the avocado takes this straight over the top!
Just a final note about the recipe:
It may seem long, but it's broken down into individual parts to make it easier to follow. Each part is simple to make. But while I provided exact measurements here, I rarely get too hung up on measuring when I make these.
This really helps to speed things up. Finally if you're running short on time, skip the mango salsa. Instead, add diced mango and chopped cilantro to the slaw for a shortcut.
Print
Fish Taco Slaw Bowls with Mango Salsa and Chipotle Aioli
---
Description
All the best fish taco flavors turned into a bowl comfort food!
---
Cilantro Dressing:
1/2 cup roughly chopped cilantro
1/4 cup freshly squeezed lime juice
1 clove garlic, minced
1 Teaspoon sea salt, or to taste
2 Teaspoons ground cumin
1/2 cup avocado oil, or neutral tasting oil of your choice
Slaw:
10 cups shredded savoy cabbage, 1 pound
4 cups shredded purple cabbage, 10 ounces
3/4 cup thinly sliced green onions
Mango Salsa:
4 cups diced ripe mango, from 4 Champagne mangos, 2 pounds
1/4 cup chopped cilantro
1/4 cup minced red onion
1–3 Teaspoons minced jalapeno, to taste
2 Tablespoons freshly squeezed lime juice
1/2 Teaspoon sea salt, or to taste
Chipotle Aioli:
1 very fresh egg, room temperature, see notes
1/2 Teaspoon sea salt
1 tablespoon freshly squeezed lime juice
2 Teaspoons chipotle powder
3/4 cup avocado oil
Grilled Fish:
6 fish fillets, or 1 1/2 pounds white fleshed fish, see notes
2 Teaspoons smoked paprika
1 Teaspoon onion powder
1/2 Teaspoon garlic powder
1 Teaspoon ground cumin
1 Teaspoon sea salt
2 Tablespoons avocado oil
Toppings:
Lime wedges
1–2 ripe avocados, sliced
Extra chopped cilantro
---
Instructions
For the cilantro dressing, place all the ingredients in a blender. Blend starting on low and increasing to medium speed until the dressing is emulsified but small bits of cilantro still remain.
Toss the dressing together with all the slaw ingredients, and set the finished slaw aside.
For the mango salsa, stir together all the ingredients until combined. Taste to adjust the salt to your taste, and set the salsa aside for the flavors to meld.
To make the chipotle aioli, place the egg into a blender along with the sea salt, lime juice, and chipotle powder. Start blending on low, and drizzle the avocado oil in a thin steady stream, increasing the speed as you go.
Keep blending while you continue to add the oil until the chipotle aioli has become quite thick. Transfer the aioli from the blender to a container to refrigerate while you finish the recipe. I like to place mine in a squeeze bottle for convenience and for presentation.
Next make sure you have your toppings prepared, and heat the grill over medium high heat until it reaches around 400ºF.
While the grill heats, mix together all the spices for the fish with the avocado oil. Then evenly coat the fish with the spice mixture. When the grill is preheated, place the fish fillets on the grill and lower the heat to medium to maintain a temperature between 350º-400ºF.
Grill just until the fish loosens from the grill before turning. My fillets were about 1/2″ on the thin side and 1″ on the thickest part. They took 4-5 minutes for the first side, and 2-3 for the second. The cooking time will vary depending on thickness of fillet.
When the fish is finished cooking, serve with the slaw, mango salsa, chipotle aioli, and toppings of choice.
Notes
This recipe contains raw egg which is not considered suitable for certain people. If this is of concern to you, use your choice of mayo with the lime juice and chipotle powder mixed in in place of the homemade aioli.
My favorite fish for fish tacos in order are, halibut (awesome but pricey), Alaskan cod, and rockfish. Ono, any type of tuna, and mahi mahi are all great as well.
Prep Time:

30 mins

Cook Time:

10 mins

Category:

Dinner

Method:

Grilling

Cuisine:

Mexican
Keywords: Fish Taco Bowls, Fish Taco Bowl Recipe, Whole30 Fish Taco Bowls, Fish Taco Bowls Paleo