All the classic sandwich flavors piled into these Banh Mi Burger Bowls are simply perfect for Banh Mi cravings year round! These are the perfect gluten-free, dairy-free, and paleo options to have all these awesome flavors made into an easy bowl meal. These burger bowls are also simply loaded with fresh veggies and herbs. And it's all topped off with sriracha mayo, making them simply irresistible.
Have you ever had a burger bowl before? They were new to me not that long ago, but they're now something I make almost every single week of the year! They're basically all the things you'd want on a burger piled into a bowl.
This means there's room for even more toppings and sauce because you're not trying to hold it all together with a bun. I'm all about more sauce myself, so burger bowls are where it's at. Also if you're gluten-free, they're the perfect option. And they're so much tastier than a gluten-free bun, (in my opinion)!
We often make my In and Out Style Burger Lettuce Wraps all piled into a bowl. But we also like to mix it up with other flavors like my Aloha Teriyaki Burger Bowls. And so the natural next choice for us was Banh Mi flavors because we're both crazy about Banh Mi sandwiches!
Let's get started by talking about the ingredients
Veggies – For these burger bowls I like to use any kind of softer lettuce for the base. I have tons of mixed greens each week from our farm CSA share, so that's what I've been using. They're super tasty and the just the right texture. But red or green leaf or even butter lettuce would work well here. You could use romaine, but it's just too crunchy for my taste in these bowls. From there we add cucumbers and quick pickled carrots just like the traditional sandwich. I don't make full-blown pickled carrots just to keep things simple and quick. I've also had lots of radishes around so I've been adding those, but they're not traditional or necessary. They do add a nice crunch though!
Fresh Herbs – The best flavors always come from using basil, cilantro, and mint. However, unless you've just been to the farmer's market or have herbs growing in your backyard this is super impractical and not budget-friendly! So if you're heading to the store just choose one. My choices would be basil or cilantro, with cilantro being the most budget-friendly.
Burger Patties – I like to use ground pork here for the burgers because of its great flavor, and it stays nice and juicy on the grill. You can use ground chicken or turkey, but be really careful to oil your grill and don't let them dry out. Pork really is the ultimate in this case! Or you can also use my Saté Chicken from my Banh Mi Slaw, (but of course, it's no longer a burger bowl, instead you'll have a tasty salad).
Sriracha Mayo – There are a few options here. First up you can use any good quality mayo mixed together with sriracha to your taste. Or secondly, you can make your own using my sriracha mayo recipe found in my Mango Veggie Sushi Bowls.
Now let's make these Banh Mi Burger Bowls step by step
Step 1: We're going to get started by prepping the veggies for the bowls. Tear the lettuce and cut the cucumbers into small bite-sized pieces.
Grate the carrots and toss them together with the rice vinegar and optional maple syrup. Let the carrots sit for a quick 'pickled' carrot of sorts!
Step 2: Next, mix the sriracha with your choice of mayo. I like to use my mayo recipe that's found in my Mango Veggie Sushi Bowls with Sriracha Mayo recipe. You can also buy good quality avocado mayo from the store now to speed things up as well.
Tip: You can place the sriracha mayo into a squeeze bottle for nice clean lines that look nice. But for most meals I just spoon it over the top of my bowl!
Step 3: Then, remove the stems from the herbs and chop them up together. We love using basil, mint, and cilantro with Banh Mi flavors, but you can also choose just one.
If I'm making these during the warmer months, I have loads of fresh herbs from my garden. But it's really not practical to buy all 3 from the store, so I just choose cilantro for the most budget-friendly option.
Step 4: Next, preheat the grill, mix the ingredients for the burgers together, and form into patties.
Step 5: When the grill is ready, place the burgers on the grill and cook until they're easy to flip about 5-6 minutes.
If you try to turn the burgers too soon, they won't release from the grill easily.
Step 6: Once you flip the burgers, cook until they're done in the center, about 5-6 more minutes. Then serve everything together family style so each person can assemble their own bowl!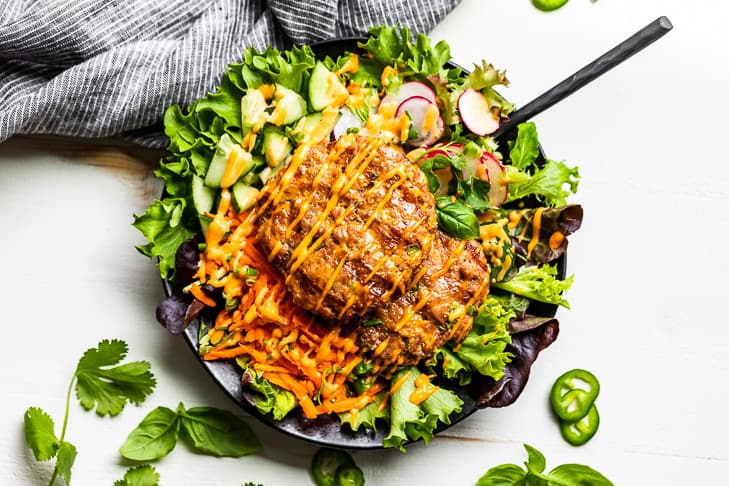 Ways to serve this
Add freshly steamed rice or cooked vermicelli rice noodles to this burger bowl to make it more filling. It will also closely resemble bun vermicelli bowls you can order in Vietnamese restaurants.
Keep this meal light and end with a refreshing dessert like my Coconut Lime Ice Cream, or my Grilled Pineapple paired together with Coconut Ice Cream.
Tips & Tricks
Prep ahead by making the carrots and Sriracha mayo. That will get you much closer to making a quick burger bowl.
Make this more budget-friendly by choosing just 1 herb listed below. I love this recipe with all 3 herbs when they're fresh from my garden. But in the winter months, I just get cilantro from the store. It's usually the best budget option and gives you a lot of flavor.
More Banh Mi inspired recipes
More Burger Recipe Inspiration
I really hope you enjoy these Banh Mi Burger Bowls! And if you do get a chance to make them, I hope you'll leave me a comment/rating below. I always love hearing from you here!
INGREDIENTS
Salad Ingredients:
4

cups

cucumber

-

cut into bite sized pieces

6

cups

mixed greens

-

or green/red leaf lettuce, bite sized pieces

3-4

radishes

-

thinly sliced, optional

1

cup

grated carrots

-

2 medium

2

tbsp

rice vinegar

-

and 1 tablespoon optional maple syrup

1/4

cup

thinly sliced green onions

1/2

cup

chopped fresh herbs

-

I used a mix of basil, cilantro, and mint, see notes

1

jalapeno

-

thinly slice, optional
Sriracha Mayo:
1/2

cup

mayo of choice

-

I like to use an avocado oil mayo

1-4

tbsp

sriracha

-

to your taste
Banh Mi Burgers:
1

pound

ground pork

1

clove

garlic

-

minced

1

tbsp

sriracha

2

tbsp

fish sauce

2

tbsp

sliced green onions
INSTRUCTIONS
Prep the veggies and set them aside. For the carrots, toss them together with the rice vinegar and optional maple syrup and set them aside for a quick 'pickle'.

Next stir the mayo together with sriracha to your taste and set it aside in the fridge until you're ready to serve.

Preheat the grill over hight heat. Meanwhile mix together all the ingredients for the burgers and form the mixture into 4 patties.

When the grill has reached 400ºF place the burgers on the grill and turn it down to medium to maintain a steady temperature between 350º-400ºF.

Grill the burgers until they're easy to turn over, about 5-6 minutes. Flip the burgers and grill until just done in the centers, about 5-6 more minutes.

Serve the burgers along with the salad ingredients and sriracha mayo family style so everyone can make up their own bowl.
Bonus Step
If you made this recipe, please leave a rating/comment. Ratings really help us continue to bring you high-quality free recipes. Rate This Recipe!
NOTES
You can use one herb of choice here too, basil and cilantro are my first choices for stand alone herbs. You can also cut back the amount of fresh herbs to as little as 1/4 cup when fresh herbs aren't plentiful.
nutrition facts
Calories:
539
kcal
|
Carbohydrates:
10
g
|
Protein:
22
g
|
Fat:
45
g
|
Saturated Fat:
12
g
|
Polyunsaturated Fat:
15
g
|
Monounsaturated Fat:
15
g
|
Trans Fat:
0.1
g
|
Cholesterol:
93
mg
|
Sodium:
1164
mg
|
Potassium:
808
mg
|
Fiber:
2
g
|
Sugar:
4
g
|
Vitamin A:
6426
IU
|
Vitamin C:
33
mg
|
Calcium:
70
mg
|
Iron:
2
mg