Game-changing and incredibly tasty, this Gluten Free Gravy is perfect for any Roast Chicken or Slow Cooker Pot Roast! This gluten free version of gravy is so good, no one ever knows it's gluten free. It's perfect for family meals and you'll find my dairy free options below as well. This classic recipe is great for everything from Sunday dinners, to your next Thanksgiving feast. It's also incredibly tasty paired with my Best Mashed Potatoes for the ultimate comfort food.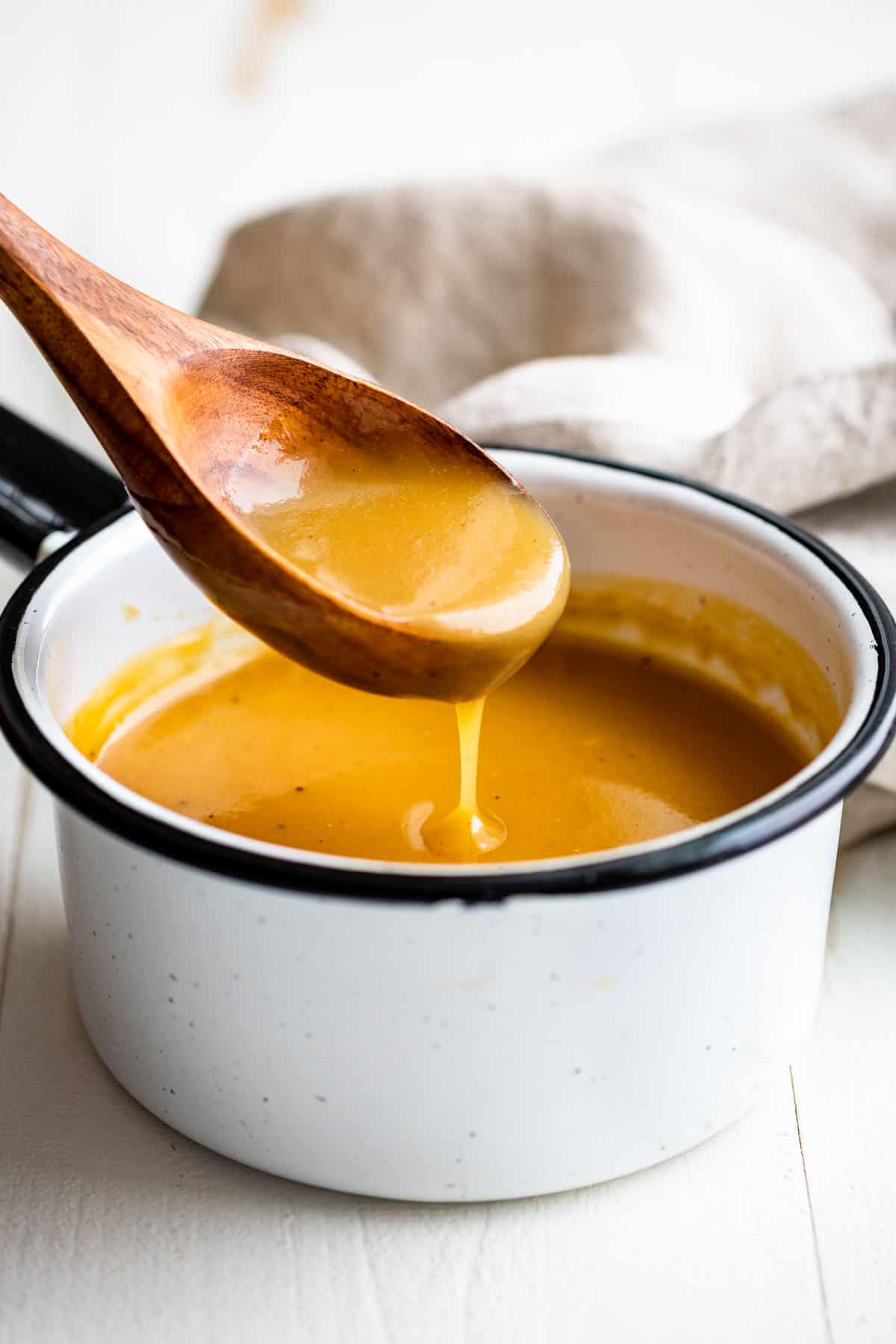 Bring on the sauce, and what are we having for dinner again? Just kidding a bit, but we're pretty big on sauces around here, and it doesn't seem like a meal unless there's sauce involved. Maybe one of the most classic 'sauces' ever is gravy! And everyone needs a gluten-free gravy recipe, it's a kitchen basic perfect for so many meals.
Today we're talking all things gluten-free gravy and how to make sure no one will ever know the difference. Classic gravy is made by melting some butter, whisking in all-purpose flour, then adding broth and drippings if you have them. So it's really quite easy to make gravy gluten-free, but it can go horribly wrong depending on what kind of gluten-free flour you use.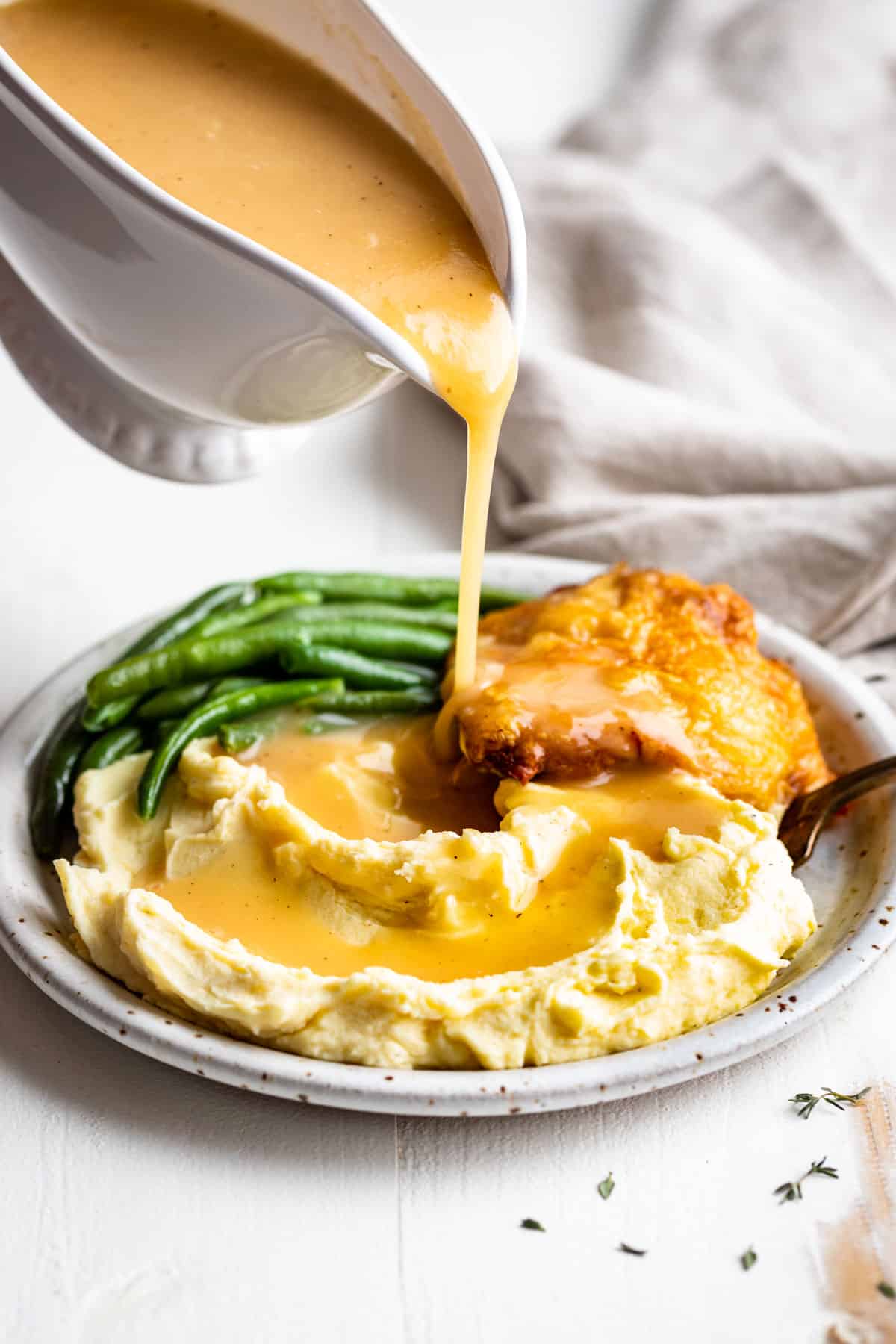 Yep… it's that simple to make good gravy, just choose the right kind of flour! You'll find my tips below, plus the 2 brands that will always give you the perfect result. However availability changes depending on where you live, so I have tips for that as well. Rest assured you now have a go-to gravy recipe to serve with your Sunday roasts or with your Thanksgiving turkey.
Ingredients & Substitutions
Broth or stock – find the best quality broth you can and low sodium is nice too so you can add salt to your taste. Choose chicken stock / broth or beef depending on what you're making the gravy for. If you have homemade broth/stock on hand in the freezer, definitely use that. Homemade broth has so much more flavor, and will truly make the tastiest gravy you've ever had. A lot of recipes will call for bouillon which makes for a deeper flavor and an option to add if your broth isn't great.
Gluten-free flour – sweet white rice flour is the best and makes for a great texture and no weird flavors. This can be hard for some people to find, but it's the best choice of all gluten free flours. I've had good success with both Bob's Red Mill 1 to 1 (blue bag), and the Cup4Cup brand. Be aware that Cup4Cup has milk powder in it, so it's not suitable for dairy free gravy. One key point is to make sure the brand you use doesn't have bean or legume flours in it because it makes for a very strange flavor in your gravy.
Butter – ghee, dairy-free butter or vegan butter of choice, or olive oil all work here.
Garlic powder/granules – add a nice touch of flavor without being overpowering. I don't recommend fresh garlic in gravy because it has too much flavor. Instead just omit the garlic powder if you don't have it on hand.
Pan Drippings – are what's left in the bottom of the pan from a roast of any kind. You can make gravy without drippings, but they do add a lot of flavor if you've made a meal that has drippings like turkey drippings, drippings from roast chicken, or the liquid left from a roast.
Sea salt & pepper – are very important to the flavor of gravy. You won't truly have an incredible gravy unless it's properly salted. So taste as you go, and add until it tastes right to you.
How to make this recipe step by step
Step 1: Start by melting the butter in a small pot, then whisk in the flour to make a roux, making sure there are no clumps. Add the garlic powder/granules and cook briefly over medium heat as it bubbles.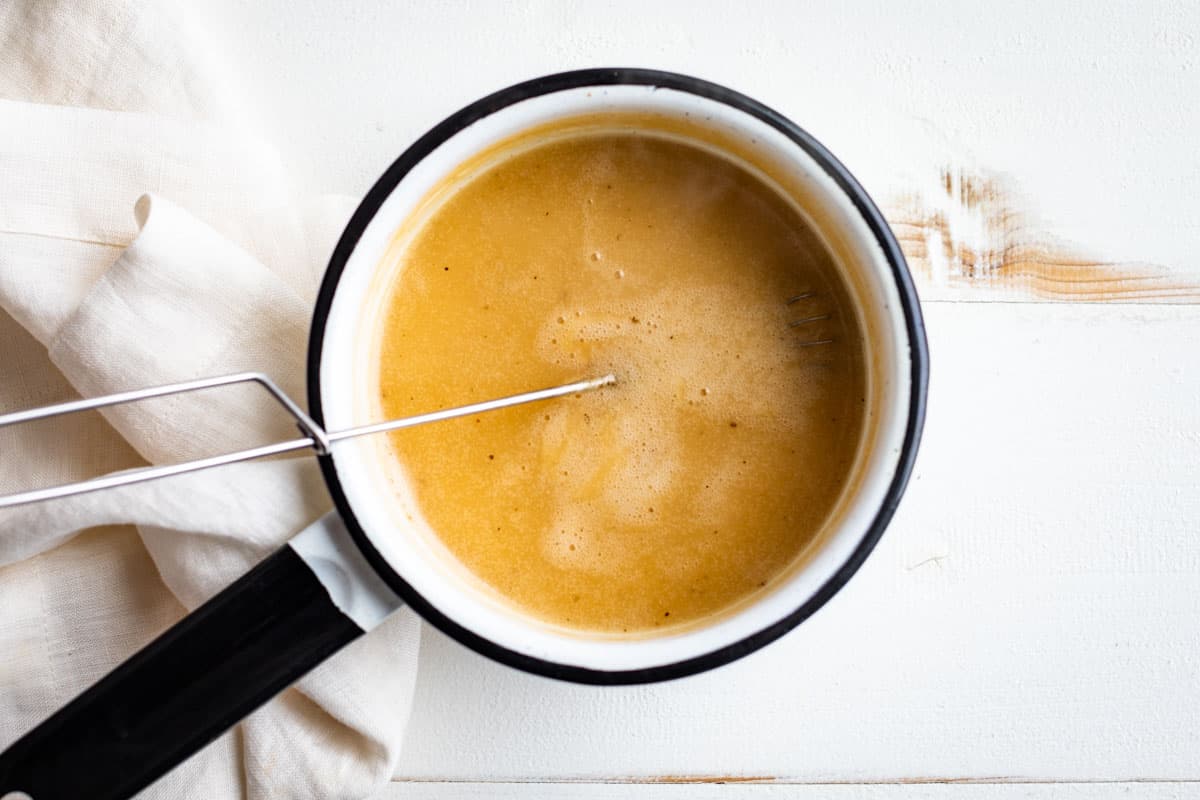 Step 2: Pour the broth into the flour mixture slowly, whisking constantly until all the broth has been added. Add the drippings if you have them, and bring the gravy to a boil. Simmer for 1-2 minutes until it's thickened.
Step 3: Season to taste with sea salt and pepper, and serve with your supper.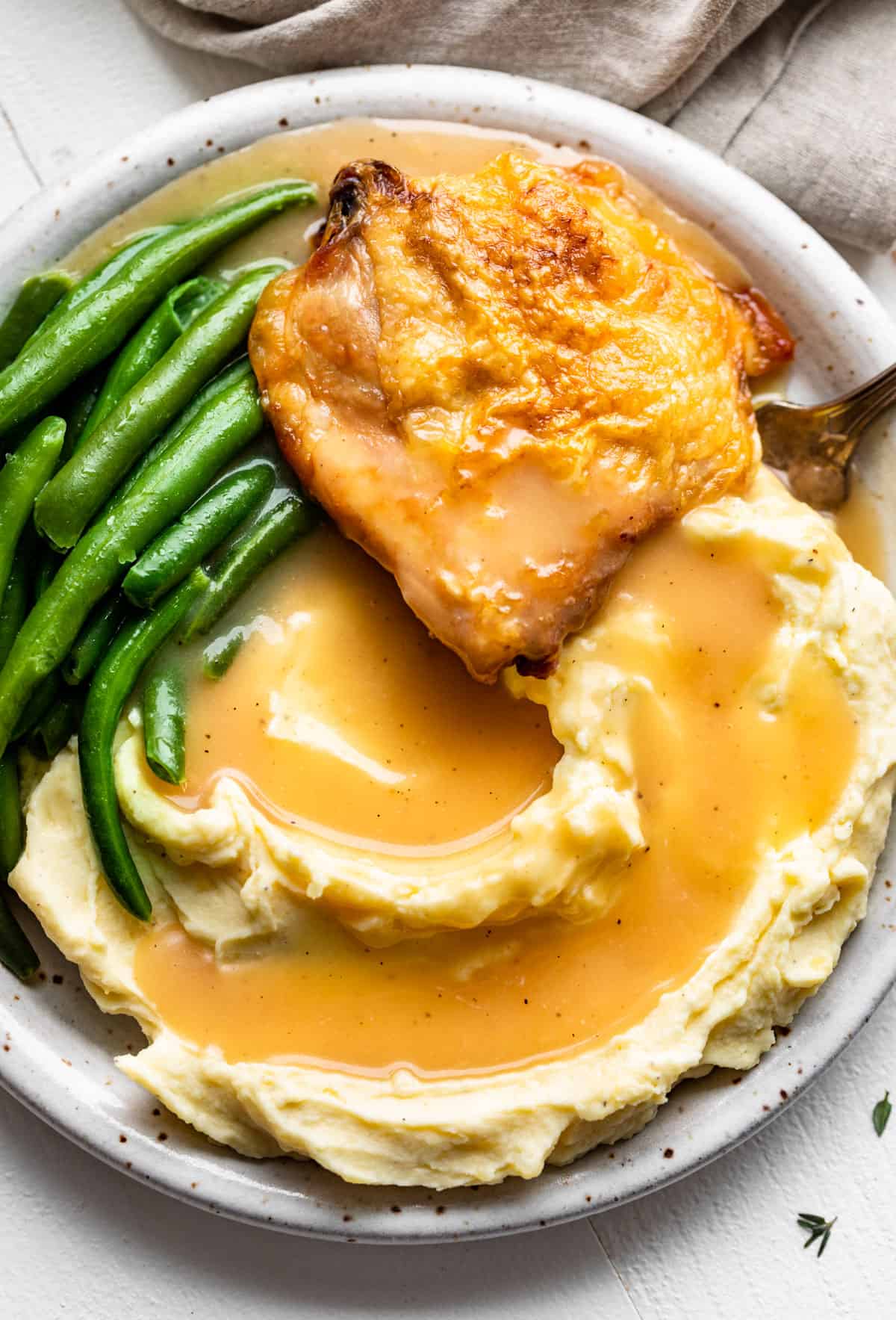 FAQ's
What gluten-free flours make good gravy besides rice flour?
Both Bob's Red Mill 1 to 1, (the blue bag) and Cup4Cup make a great gluten-free gravy. I have tried this recipe with a few other flours and haven't been impressed. So if you can't find either of these 2 brands, I do recommend using sweet white rice flour which comes from short-grain white rice. Contrary to what the name suggests, 'sweet white rice' isn't sweetened, so there should be just 1 ingredient on the packaging label – 'sweet white rice'. It's also sometimes called sweet rice flour or 'glutinous' rice flour. It's gluten-free, the word 'glutinous' just means it is from short-grain white rice which is called 'glutinous' or 'sticky rice'.
I want my gravy to be thicker, can I add more flour in after it's cooked?
Yes and no! You can mix some additional flour together with cold broth until smooth and add it bit by bit to the hot gravy thickening as desired. Or you can mix some cornstarch together with water to create a slurry, then add it bit by bit to the gravy until it's as thick as you'd like. You cannot add gluten-free flour directly to hot gravy or you will have a lumpy mess!
Storing leftovers
To store – place any leftover gravy into a sealed container and store in the fridge for 3-4 days.
Reheat – add the gravy you want to reheat to a small saucepan and heat on low stirring often until heated through.
Freeze – try making this gravy ahead of time or place the leftovers into an airtight container and freeze for up to 1 month. Thaw in the refrigerator overnight, then reheat as directed above.
Tips & Tricks
Check out my easy gravy ratio below so you can always make gravy at a moment's notice. It's so simple you can easily memorize it so you don't always have to refer to the recipe.
Be sure to whisk the broth into the flour mixture slowly enough to incorporate the flour mixture into the liquid. If you add the liquid to the flour mixture too fast, you run the risk of lumpy gravy.
In the event you get some lumps from adding liquid too fast, don't panic! Lumps of flour can mean your gravy won't be thick enough, but just keep going. Instead, bring the gravy to a boil and if it's thick enough finish the gravy by straining it through a fine mesh sieve. If it's not thick enough, try mixing together a bit of cornstarch and water to make a slurry, then finish thickening the gravy before straining it.
Easy Gravy Ratio – I use a 1:1:1 ratio of 1 cup broth/drippings to 1 tablespoon gluten free flour and 1 tablespoon butter. For a thicker gravy use 1 tablespoon + 1 teaspoon flour.
Inspiration for recipes perfect with gravy
I really hope you enjoy this Gluten Free Gravy! If you do get a chance to make this recipe, I'd love to hear from you in the comments.
INGREDIENTS
2

tbsp

butter

-

ghee, dairy free butter, or olive oil

2

tbsp

gluten free flour

-

see notes, 2 tablespoons + 2 teaspoons for a thick gravy

1/4

tsp

garlic powder or garlic granules

2

cups

broth and drippings

-

see notes

1/2

tsp

sea salt

-

more or less to taste depending on your broth

1/4

tsp

ground black pepper

-

to taste
INSTRUCTIONS
Place a small saucepan over medium heat and melt the butter. Then whisk in the flour making sure no lumps remain. Whisk in the garlic powder, and continue to cook for a few seconds until fragrant.

Next add the broth/drippings slowly whisking constantly to incorporate the liquid into the flour mixture. Be sure to whisk really well so no lumps form.

Bring the mixture to a boil, then season to taste with sea salt and pepper.

Serve with your favorite roast chicken or pot roast dinner.
Bonus Step
If you made this recipe, please leave a rating/comment. Ratings really help us continue to bring you high-quality free recipes. Rate This Recipe!
NOTES
The best options for gluten free flour in order are: sweet white rice flour, Bob's Red Mill 1 to 1 (blue bag), or Cup4Cup (not dairy free).
Use beef broth for pot roasts, or chicken broth for roasted chicken. You can use the leftover liquid from cooking a roast or any pan drippings combined with broth to make up the 2 cups.
For a touch more flavor, try adding a large pinch of poultry seasoning. It's a blend that has sage and thyme in it, and is especially well suited to gravy.
The nutritional facts were calculated without the optional drippings.
nutrition facts
Calories:
68
kcal
|
Carbohydrates:
4
g
|
Protein:
0.4
g
|
Fat:
6
g
|
Saturated Fat:
4
g
|
Polyunsaturated Fat:
0.2
g
|
Monounsaturated Fat:
1
g
|
Trans Fat:
0.2
g
|
Cholesterol:
15
mg
|
Sodium:
806
mg
|
Potassium:
3
mg
|
Fiber:
0.4
g
|
Sugar:
1
g
|
Vitamin A:
426
IU
|
Calcium:
5
mg
|
Iron:
0.1
mg