Easy to make and with super fresh flavors, this Greek Yogurt Dressing recipe is perfect for all your salad needs. It's simple to stir together with light garlic flavors and fresh dill pairing with the bright zesty lemon. This salad dressing is great with all sorts of salads, but we especially love to drizzle it over my Easy Green Salad. But it's equally delicious as a dip for your favorite veggies including carrot sticks, sliced cucumbers, broccoli florets, and cherry tomatoes.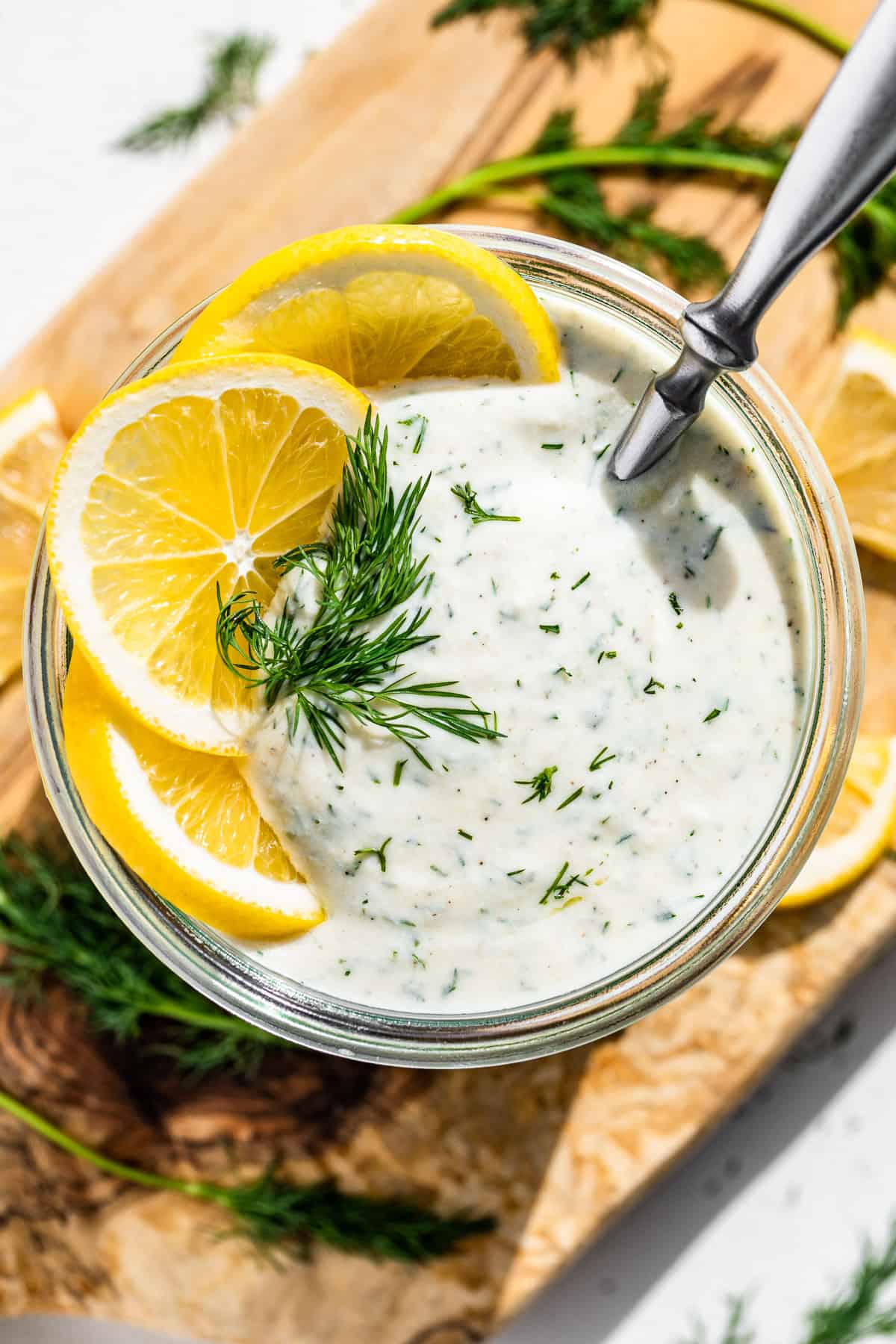 Homemade salad dressings are one of those things that are definitely worth making from scratch. It's cheaper and budget-friendly to make your own, and homemade salad dressings taste so much better than store-bought.
The other reason I love to make my own salad dressings is you get to control what ingredients you use. You can use good quality oils and there's no added sugar either.
If you do feel like adding a touch of sweetness, you have the option to use a natural sweetener like maple syrup. All in all homemade salad dressings are a good deal. And I know that once you get a taste of making your own, you just can't go back to store-bought!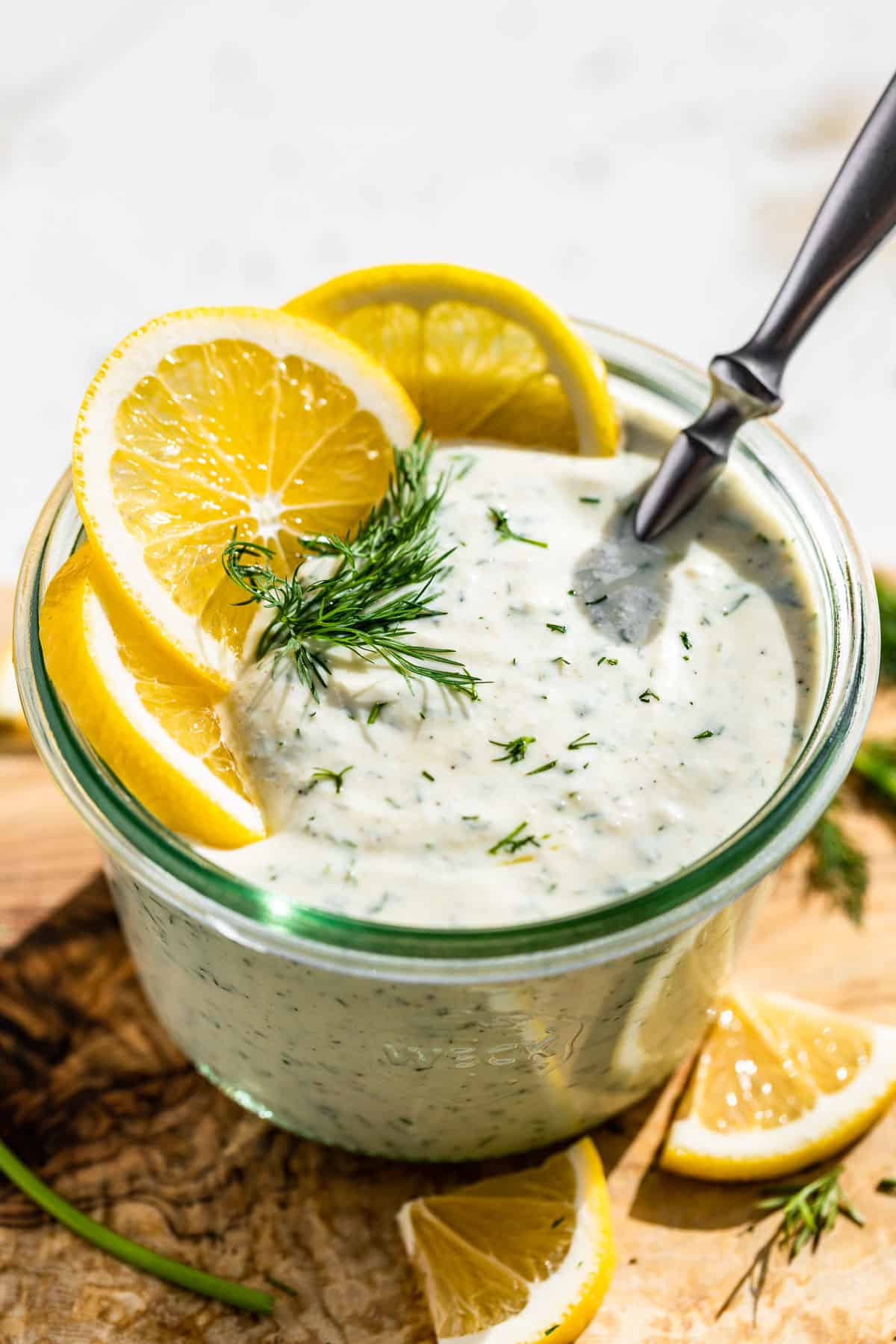 Ingredients & Substitutions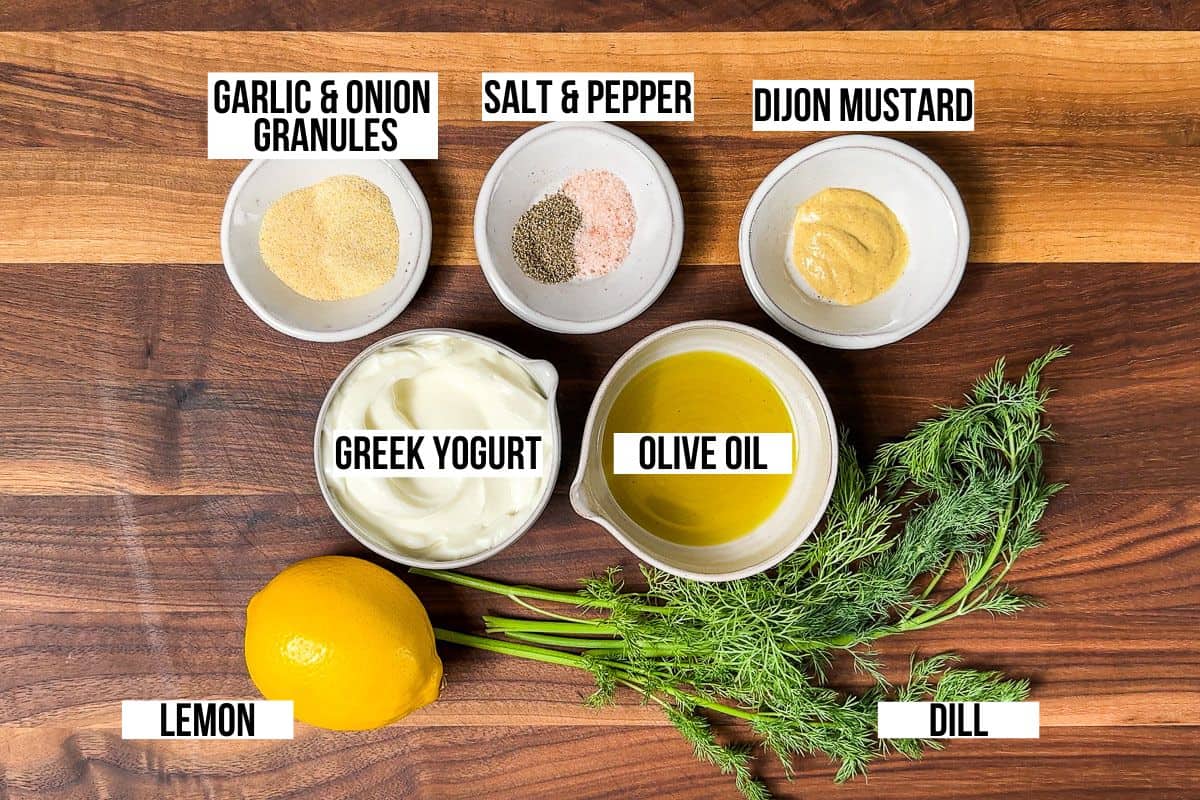 Greek Yogurt – a nice creamy full-fat Greek yogurt will make the best dressing. I don't recommend low-fat yogurts because they're thinner and don't make as creamy of a dressing. I haven't tried a dairy-free yogurt for this dressing, but it would be a thinner dressing and less creamy.
Olive oil – is added to this dressing for flavor and a touch of richness. I don't recommend leaving it out because it really does add a lot of flavor. Try using a full-flavored fruity extra virgin olive oil for the best results.
Garlic & onion granules – you want to make sure what you get is unsalted so you can add salt to taste. Garlic granules & onion granules are like garlic powder but more granulated in texture like in the above photo. It also has a wonderful toasty flavor. You could also sub in 1 clove of minced fresh garlic, but the dressing does tend to get a bit strong as it sits.
Dijon mustard – adds another layer of flavor to this dressing and pairs well with the lemon and dill.
Lemon – freshly squeezed lemon juice is a must for this dressing for good flavor. Don't use bottled lemon juice here because the flavor will be noticeable.
Fresh dill – is very tasty in this dressing and sort of tastes like a Greek yogurt ranch. But you can also use fresh chives, basil, or tarragon in place of the dill.
Sweetener – if desired you can add a touch of sweetener to taste. I like to use Grade A amber maple syrup and sometimes add 1 tsp. You could use honey as well, but I find it difficult to mix into cold ingredients.
How to make this recipe step by step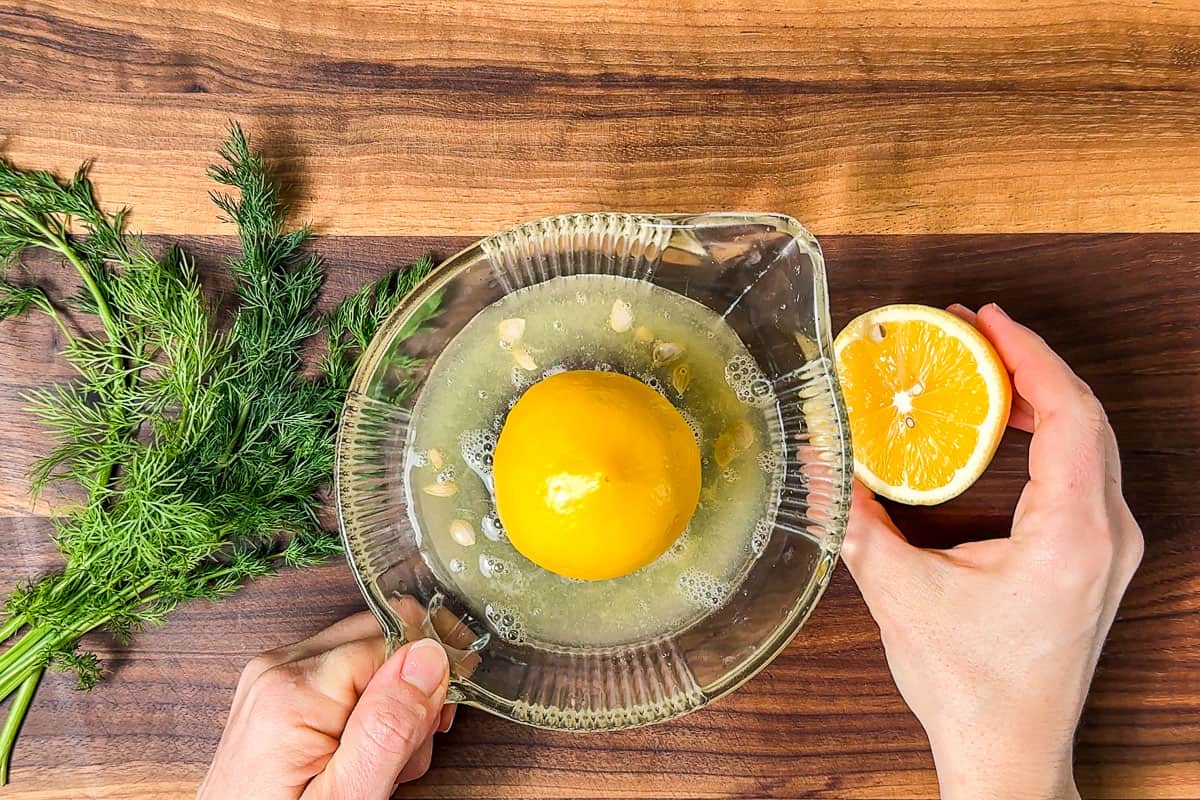 Step 1: Start by juicing 1/2 a lemon. I like to use a reamer like the one pictured above to make this easy.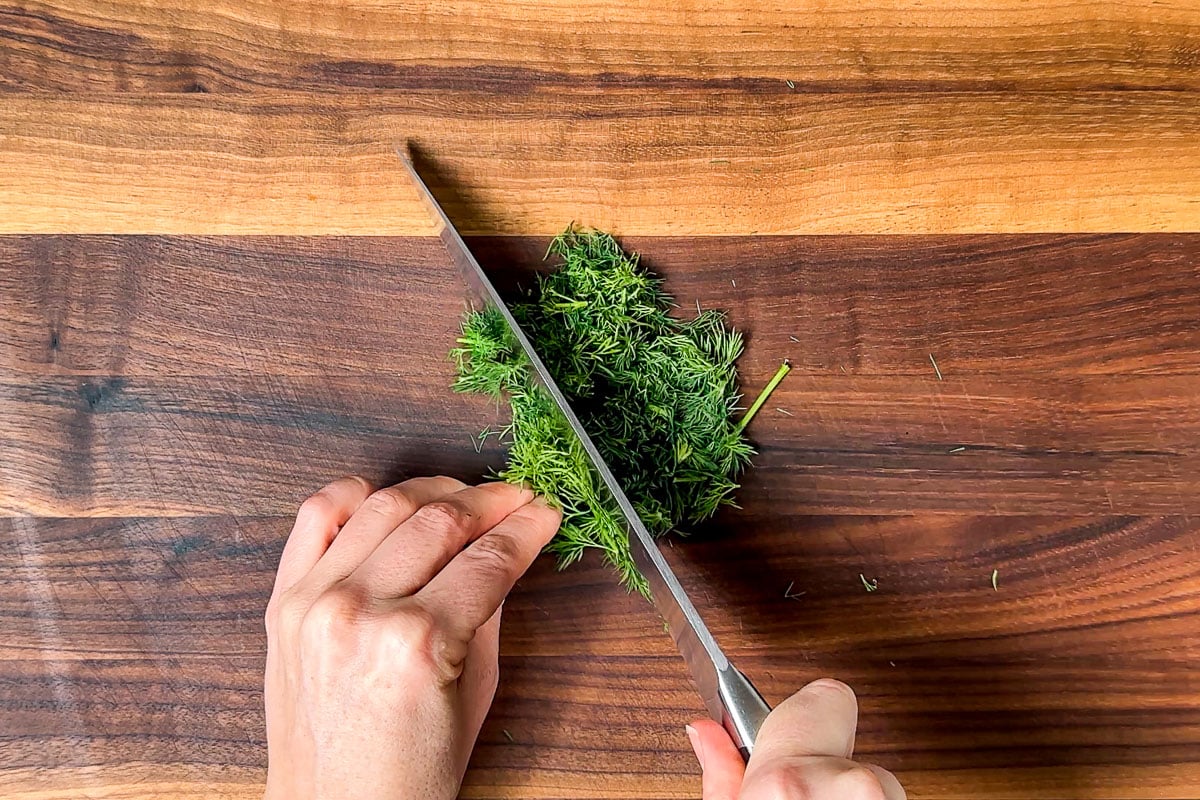 Step 2: Next chop up the fresh dill, discarding any larger pieces of stem.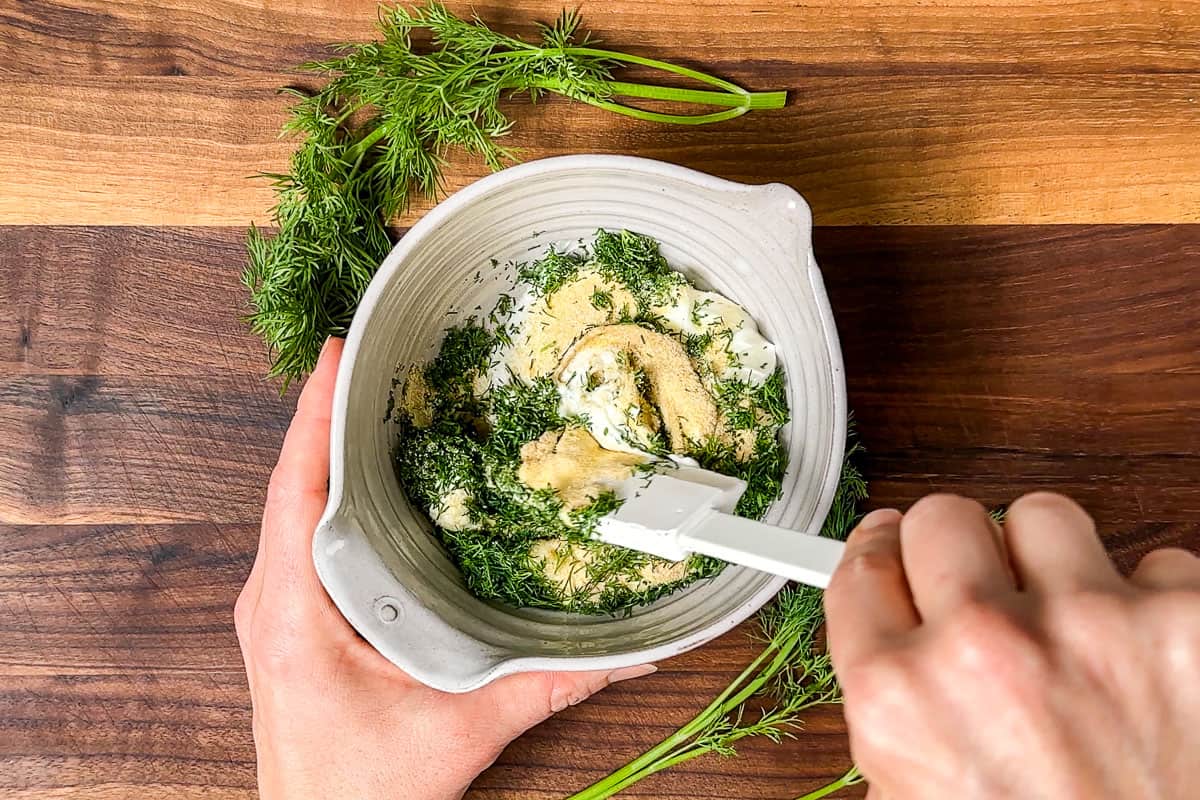 Step 3: Then in a small bowl, stir together the Greek yogurt, Dijon mustard, chopped dill, granulated garlic, and granulated onion. Be sure to mix the granulated garlic and onion well so there are no lumps.
You can also mix this dressing together in a mason jar, a 2-cup or 1-pint jar works perfectly because this dressing makes 1 cup of dressing. This way there's plenty of space to mix the dressing together.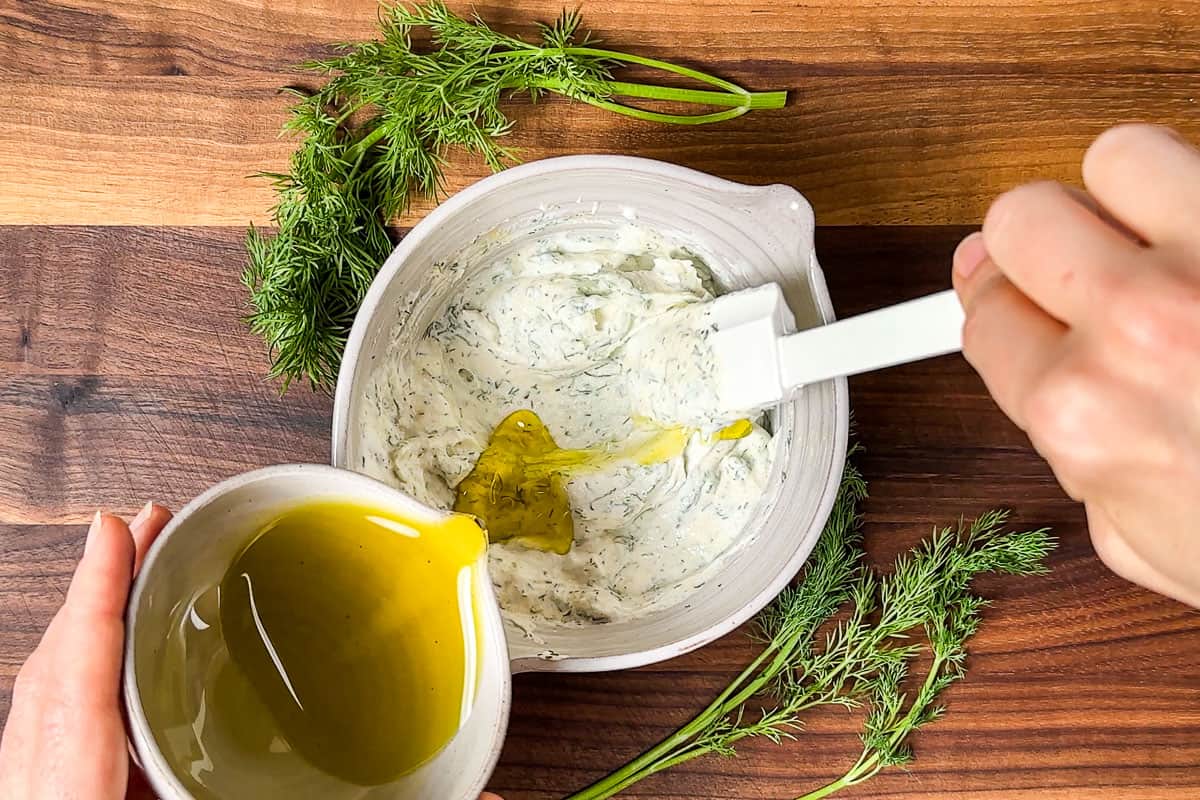 Step 4: Then slowly mix in the olive oil until it's completely combined. Finally, season to taste sea salt and pepper. Taste the dressing and decide if you want to add 1-2 teaspoons of maple syrup for sweetness.
Remember the dressing will continue to develop flavor as it sits. In fact, it tastes better after it's been refrigerated for 3-4 hours to allow the garlic and onion flavors to develop along with the dill.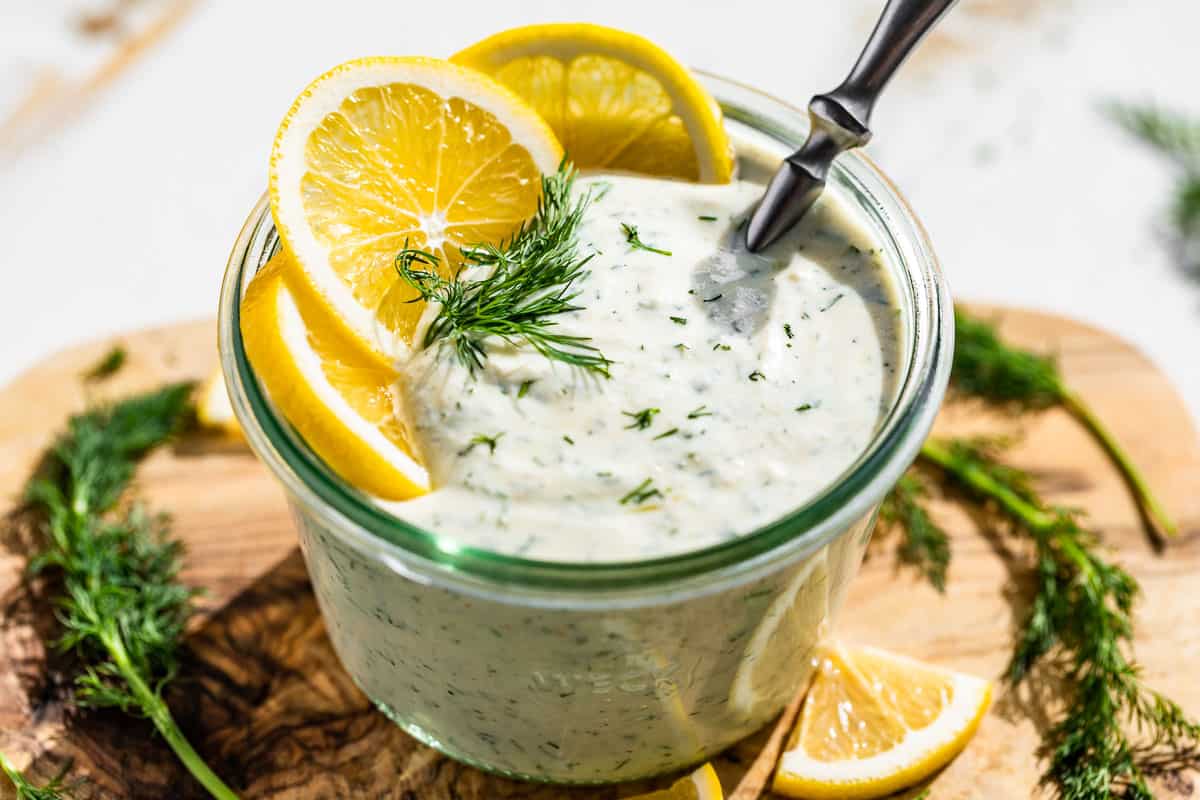 Ways to serve this
This dressing is perfect as a dip for veggies. Think of any veggie you like to dip in ranch dressing and it's perfect with this Greek Yogurt Dressing. Carrot sticks, broccoli and cauliflower florets, cherry tomatoes, sliced cucumbers, and any other veggie you love works perfectly to dip.
Serve this dressing with my Easy Green Salad instead of the lemon vinaigrette.
Use this dressing in place of the mayonnaise called for in my Healthy Tuna Salad or Classic Chicken Salad.
FAQ's
Is yogurt dressing healthier?
Greek yogurt dressing is a healthy option with Greek yogurt being a good source of protein, calcium, and probiotics. It also makes a dressing that has very little oil added so it's naturally lower in fat than usual dressings.
What can I use instead of Greek yogurt in this dressing recipe?
I don't recommend using dairy-free yogurt in this recipe because it's not very rich in texture or taste, but you can give it a try if you want. Instead, I recommend trying any of the dressings listed out below, most of them are naturally dairy free and very tasty.
Can I use vinegar in place of fresh lemon juice?
Yes, you could use good-quality vinegar in place of the lemon juice. My first choice would be white wine vinegar, but I would encourage you to try the fresh lemon because it really adds a lot of fresh bright flavor.
Storing leftovers
To store – leftover dressing can be stored in the fridge in an airtight container for 4-5 days.
Make ahead – this dressing tastes best made ahead and is kept in the refrigerator at least 4 hours in advance. Just remember that making it ahead means the leftovers don't keep as long after you serve the dressing.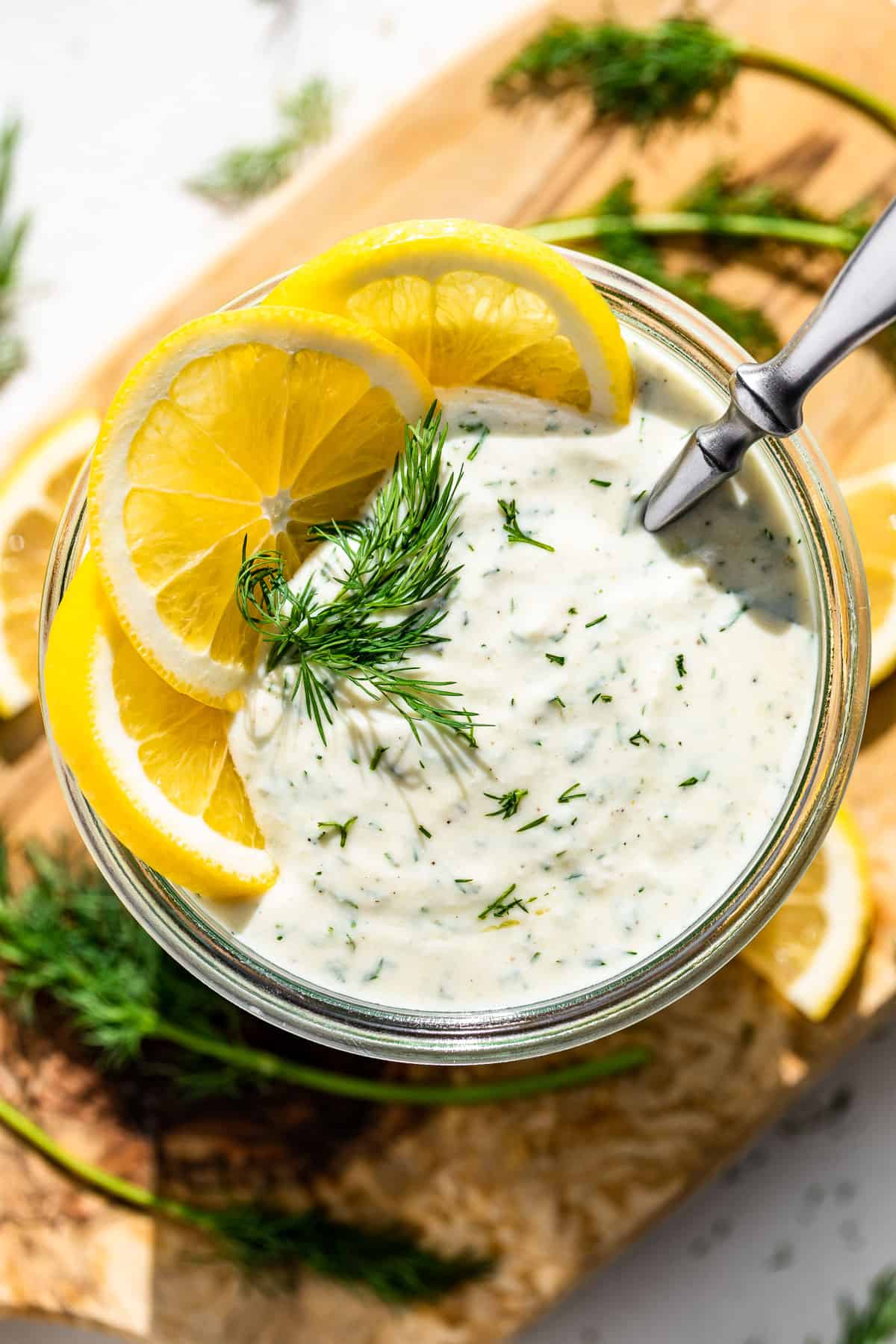 Tips & Tricks
Make sure to use a full-fat creamy Greek yogurt for the best-tasting dressing. Also, a Greek yogurt that is drained rather than thickened by gums/thickeners will yield a better result.
Fresh dill is a must in this dressing for the best flavor! I have tried dried dill but the flavor is a bit lackluster.
You can whir this dressing together in a blender or food processor, but it's easy enough to mix together by hand. The prep time for this recipe is 10 minutes made by hand, but you can make this even faster if you have good knife skills.
Mix up the herbs by trying fresh basil, chives, or tarragon. You can also use fresh oregano and drizzle the dressing over a traditional Greek Salad for an unconventional but tasty pairing.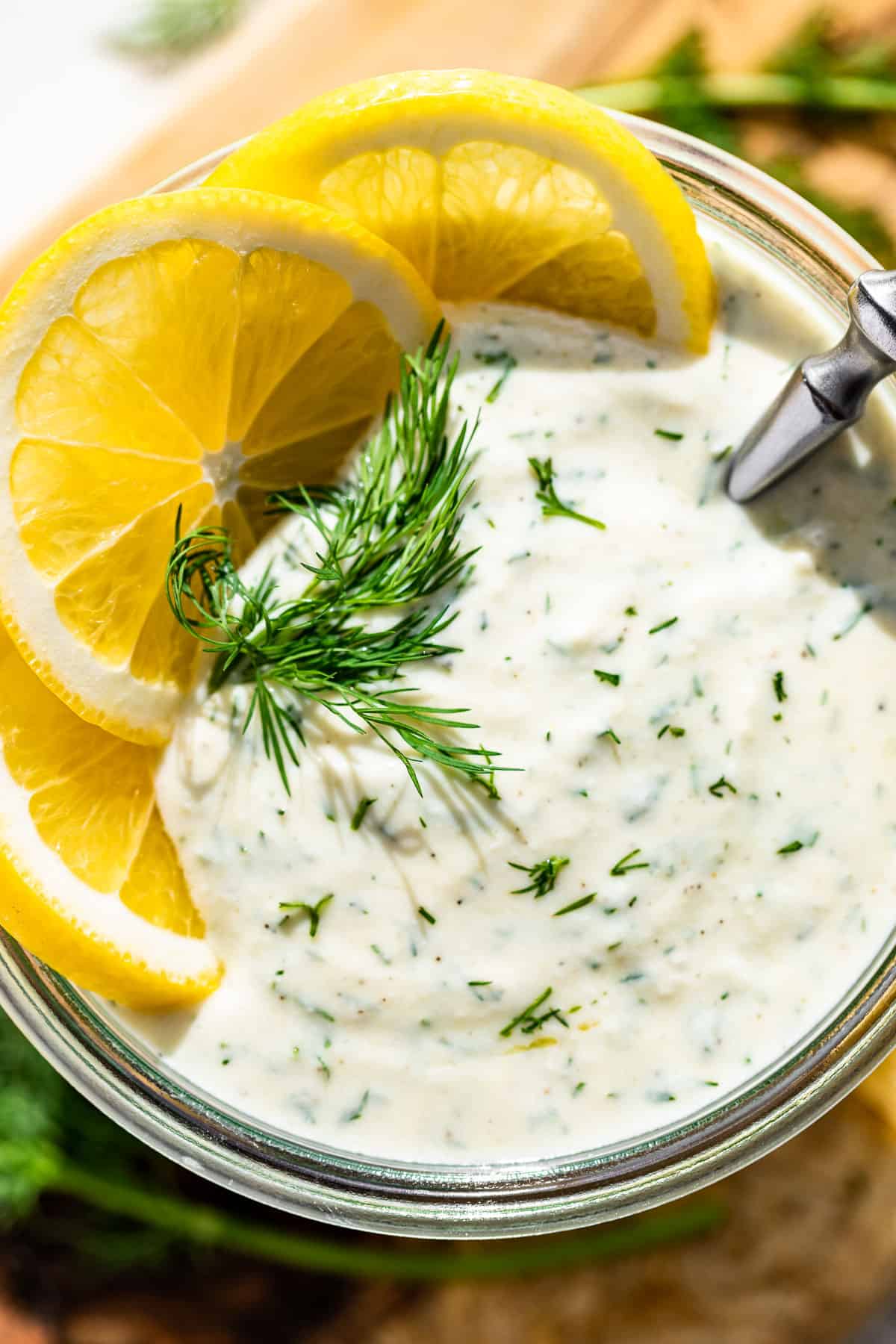 I really hope you enjoy this Greek Yogurt Dressing! If you do get a chance to make this recipe, I'd love to hear from you in the comments.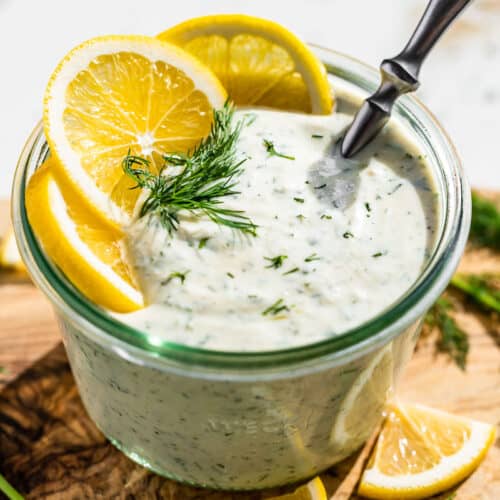 INGREDIENTS
3/4

cup

Greek yogurt

-

not low-fat

1

tsp

Dijon mustard

2

tbsp

fresh dill

-

chopped

1

tsp

granulated garlic

-

unsalted

1

tsp

granulated onion

-

unsalted

2

tbps

lemon juice

-

freshly squeezed

2

tbsp

olive oil

1/2

tsp

sea salt

1/2

tsp

black pepper

1-2

tsp

maple syrup -

optional, add to taste only as desired.
INSTRUCTIONS
Add the Greek yogurt, Dijon mustard, chopped dill, granulated garlic, and granulated onion to a small bowl and stir together well to combine.

Next whisk in the lemon juice until combined. Then slowly add the olive oil whisking to combine. Add the oil only as it emulsifies into the dressing.

Season to taste with sea salt and pepper. Taste to see if you want to add the optional maple syrup.

Refrigerate the finished dressing for 4 hours to allow the herb flavors to develop and then serve with your favorite green salad.
Bonus Step
If you made this recipe, please leave a rating/comment. Ratings really help us continue to bring you high-quality free recipes. Rate This Recipe!
NOTES
You can also make this dressing with other fresh herbs like basil or tarragon in place of the dill.
nutrition facts
Serving:
2
tbsp
|
Calories:
48
kcal
|
Carbohydrates:
2
g
|
Protein:
2
g
|
Fat:
4
g
|
Saturated Fat:
1
g
|
Polyunsaturated Fat:
0.4
g
|
Monounsaturated Fat:
3
g
|
Trans Fat:
0.001
g
|
Cholesterol:
1
mg
|
Sodium:
160
mg
|
Potassium:
43
mg
|
Fiber:
0.1
g
|
Sugar:
1
g
|
Vitamin A:
10
IU
|
Vitamin C:
2
mg
|
Calcium:
25
mg
|
Iron:
0.1
mg