Full of flavor and super easy to make, this Lemon Chicken and Asparagus is made on a sheet pan for a simple dinner option. It's naturally gluten free, dairy free, and paleo as well as family friendly. It's packed with veggies and very flavorful thanks to the Herbs de Provence along with the zesty lemon. It's all rounded out with a touch of maple syrup which makes this dinner a surefire crowd pleaser. Try it paired with my Creamy Cauliflower Mash or my Best Mashed Potatoes.
This recipe is based off the flavors of my husband's favorite meal – Lemon Chicken Penne Pasta. He loves this dish so much in fact it was on the menu for our wedding. The only 'problem' with that recipe is the several cups of heavy cream.
It's not the type of dinner you'd want to be eating every single week since it's on the heavier side. So I came up with a super flavorful version absolutely packed with veggies instead. I went with asparagus here because it's our favorite green veggie, but broccoli or green beans can work as well.
As a bonus this recipe is gluten free and dairy free making it suitable for lots of different dietary restrictions. Yet no one is going to feel like they're eating diet food here, it's just a simple recipe with lots of flavor to go around.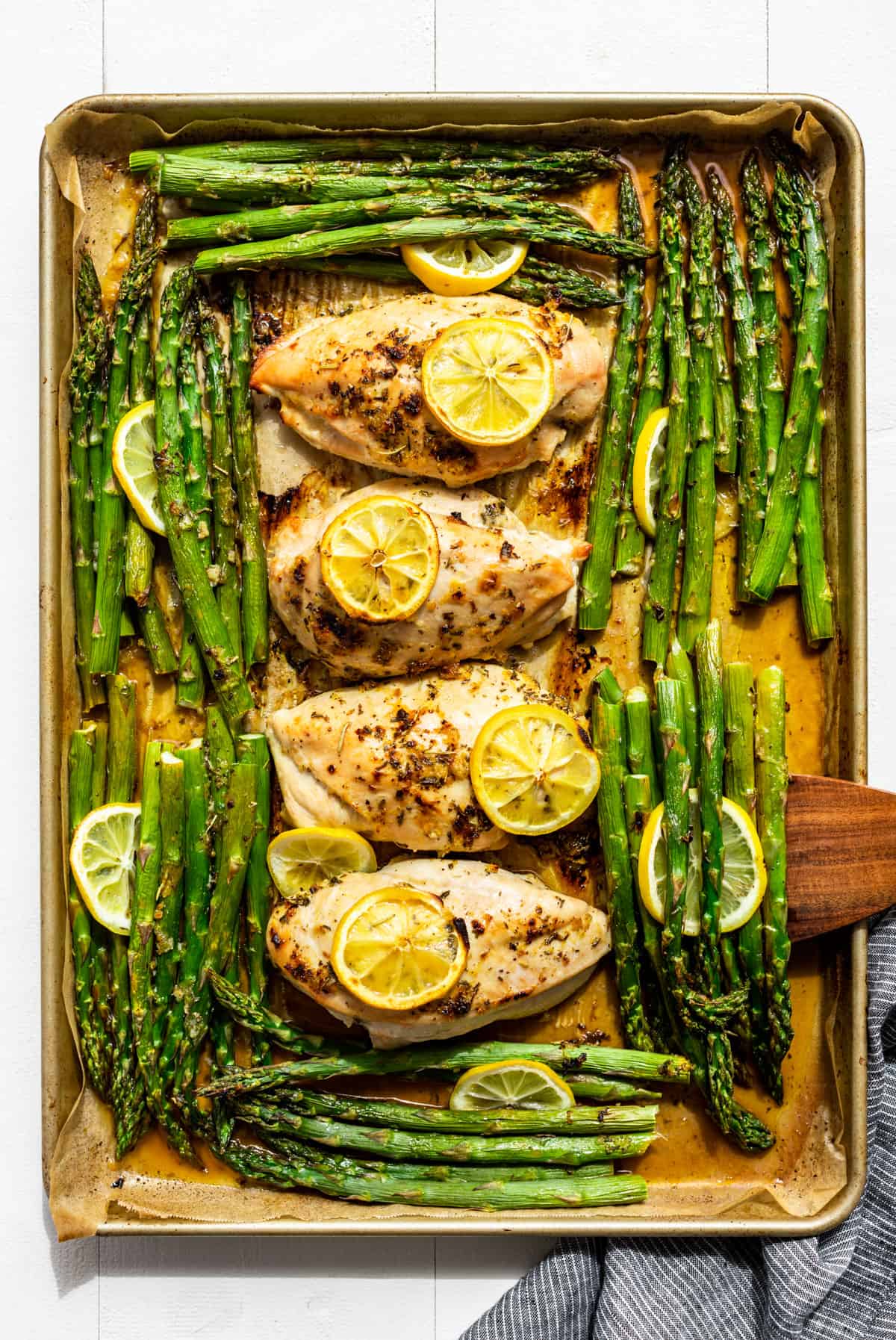 Ingredients & Substitutions
Chicken – I like to use chicken breasts in this sheet pan dinner because it's a larger serving size per person. However you can definitely use chicken thighs as well and adjust the cooking time, just keep the overall amount of chicken the same. I also use boneless skinless chicken meat here. I wouldn't recommend subbing with bone in and skin on because the maple syrup will get too brown in the longer cooking time.
Asparagus – is our favorite veggie to use here, but broccoli or broccolini works just as well. You many want to add 3-5 minutes to the cooking time depending on the size of the broccoli florets.
Herbs de Provence – is a spice mix made up of thyme, basil, rosemary, tarragon, savory, marjoram, oregano, bay leaf, and often a touch of lavender. The amounts and herbs vary in each spice mix. I use the one from Simply Organic spices, but I've never found a blend I didn't like. Just make sure whatever you use doesn't have any salt in it, or adjust the rest of the recipe accordingly.
Garlic – minced fresh garlic or you can also use a garlic press. I don't recommend jarred minced garlic here because it's overwhelming. If you don't have fresh garlic, try 1 teaspoon of unsalted garlic powder instead.
Maple syrup – adds a touch of sweetness and really brings out the taste of everything else, but it can be omitted.
Olive oil – helps both the chicken and asparagus to roast nicely and keeps everything moist.
How to make this Lemon Chicken and Asparagus recipe step by step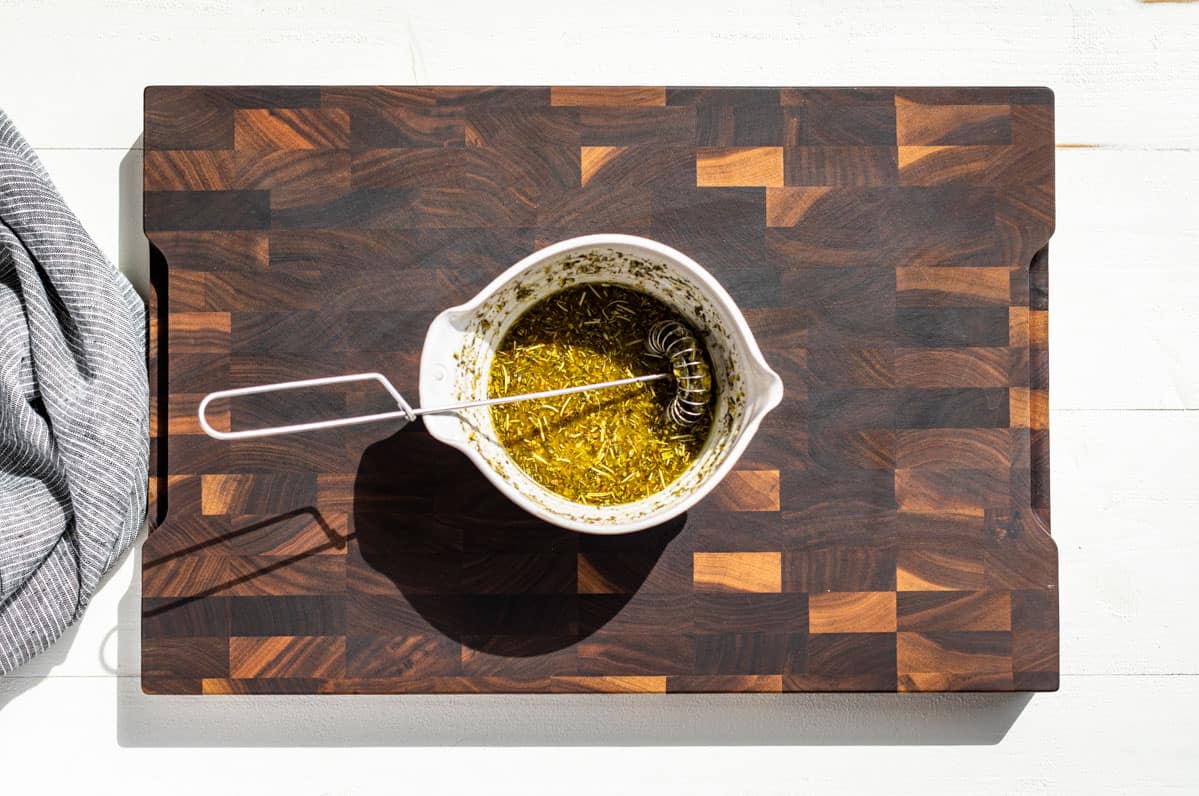 Step 1: Start by preheating the oven. Next whisk together all the ingredients listed for the sauce in the recipe. I like to try and crush the Herbs de Provence a bit between my fingers as I add it to the mixture to help bring out it's flavors.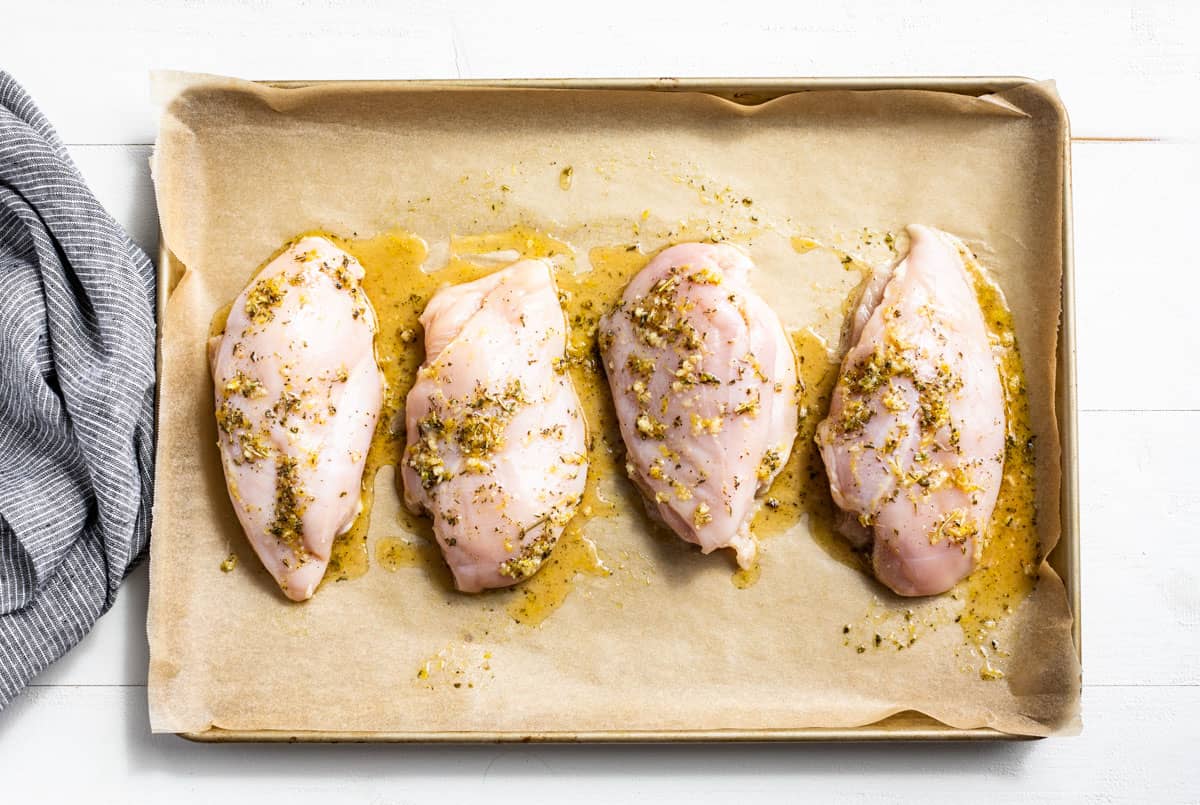 Step 2: Next line a large baking sheet with parchment paper and evenly space out the 4 chicken breasts. Pour 1/2-2/3 of the Herbs de Provence mixture over the chicken breasts and bake until almost done.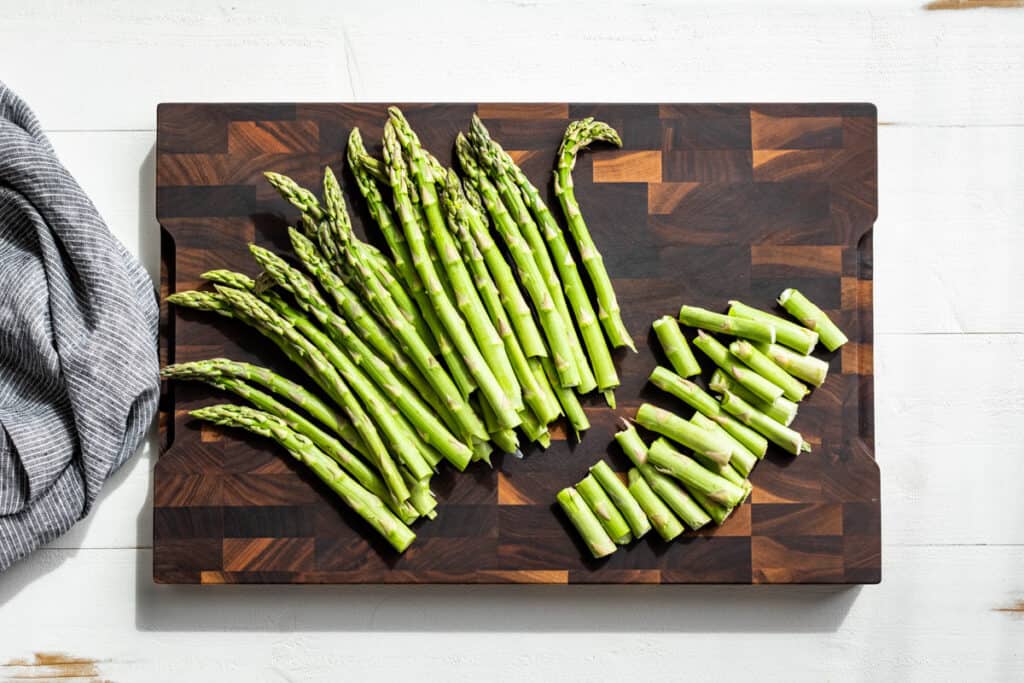 Step 3: While the chicken bakes, trim the asparagus by snapping off the ends or use a knife to cut the tough woody ends. You can also peel away the tough outer layer of the bottom 2-3″ of the asparagus.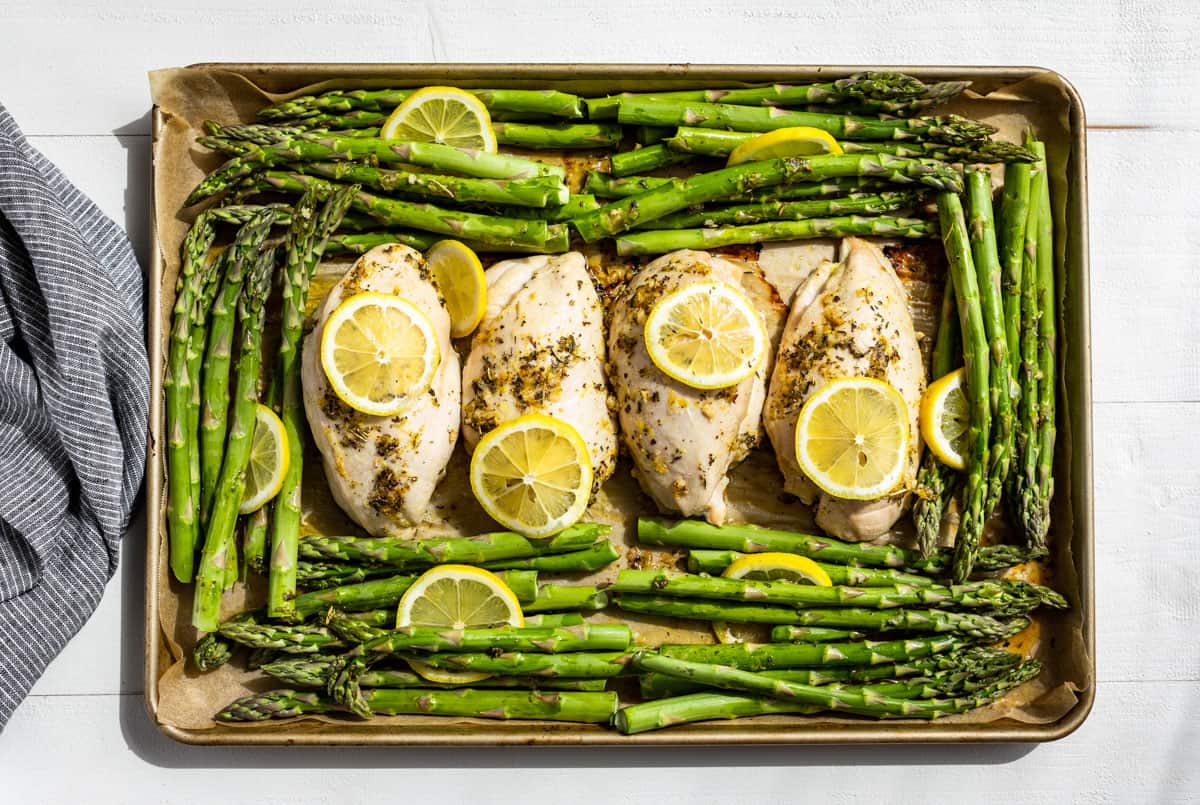 Step 4: When the chicken is almost done, remove it from the oven and position them close together. Arrange the asparagus around the outer layer and drizzle with the remaining Herbs de Provence mixture. Place the lemon slices over the chicken breasts and asparagus, then return the pan to the oven to broil just until done.
Important note: I like to use parchment paper for easy cleanup but I make sure there's no extra hanging over the ends of the baking sheet to burn under the broiler. It's not usually recommended to broil parchment paper, but I've made this countless times and it's never burned yet. You can also just bake everything right on the cookie sheet, but make sure your baking pan is in good condition or it will be difficult to clean up.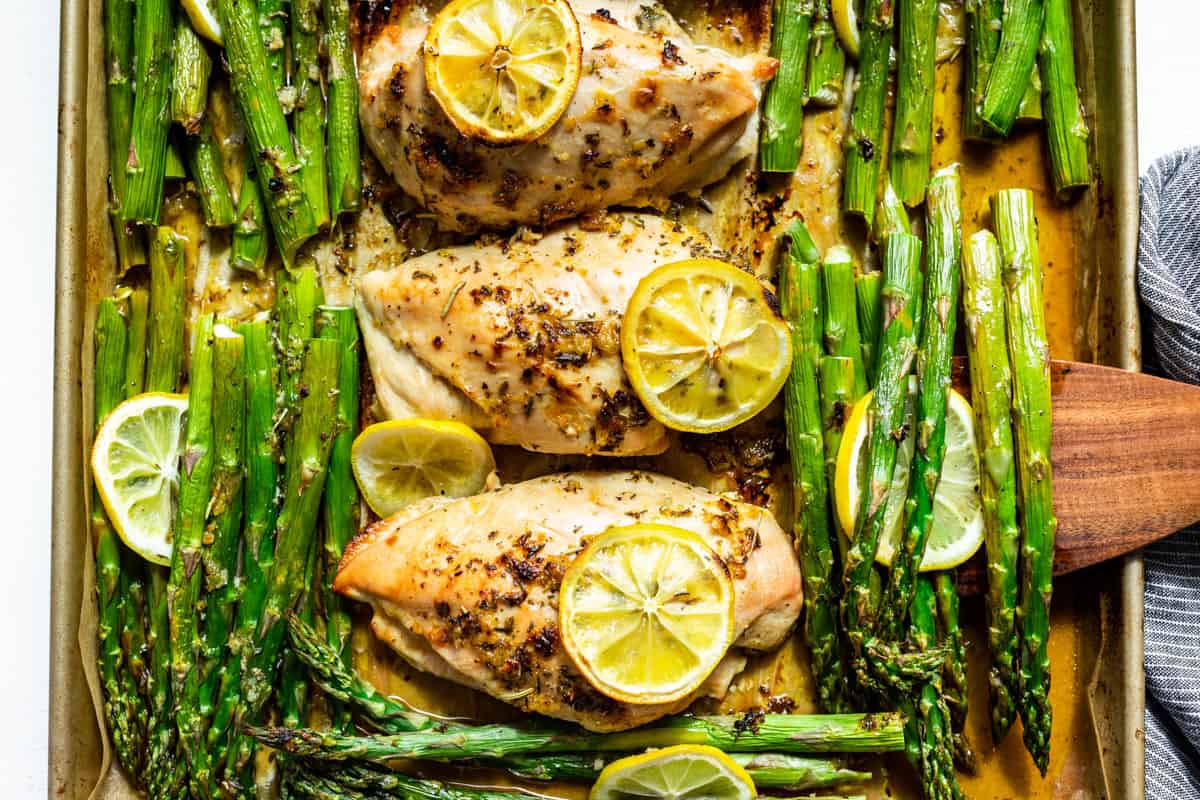 Ways to serve this Lemon Chicken and Asparagus
FAQ's
What is the difference between Herbs de Provence and Italian Seasoning?
They are both a mixture of very similar dried herbs but in different proportions. However Herbs de Provence also contains lavender flowers adding a different flavor profile altogether. Herbs de Provence is a mixture of thyme, basil, rosemary, tarragon, savory, marjoram, oregano, bay leaf, and of course the above mentioned lavender.
Can I use Italian seasoning instead of Herbs de Provence?
Yes you can, I have done this on occasion just to mix things up. But the lemon flavors here are really best with Herbs de Provence! And I think you'll find yourself using it often once you have it in your spice cabinet. It's really wonderful as a marinade for any grilled chicken as well.
What can I use instead of asparagus?
Small broccoli florets or broccolini will work well here, but you'll probably need to double the cooking time listed for the asparagus. Green beans would work well here too.Add question
Storing leftovers
To store – place any leftovers into a sealed container and refrigerate for up to 4 days.
Reheat – add a portion of the leftovers to a skillet, cover and simmer over medium heat until heated through. If the pan runs dry add a touch of water to the pan. Or you can microwave the leftovers. It also helps to cut the chicken up into bite sized pieces before you heat it up so the asparagus doesn't overcook.
To freeze – You can freeze any remaining chicken in an airtight container for up to 3 months. Defrost overnight in the refrigerator and heat as directed above. I sometimes chop the chicken up into bite sized pieces before freezing so I can use it in lunch salads later. I don't recommend freezing the asparagus because it will be soggy when it thaws.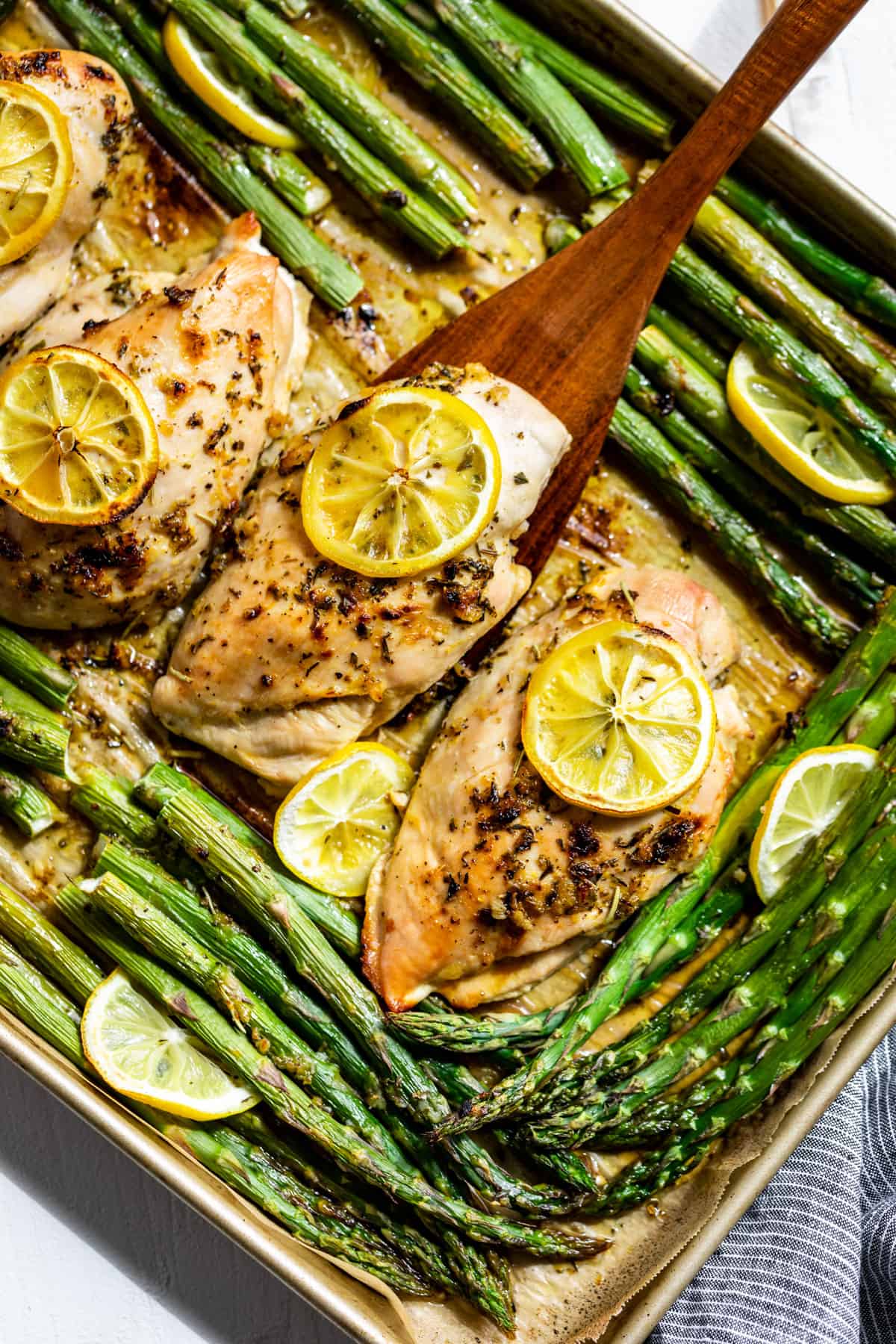 Tips & Tricks
Be careful when you turn the oven up to broil! Broiling is the best way to finish the chicken and perfectly cook the asparagus. However things can go from perfect to burned quickly. So just be sure to keep a close eye on things!
Try other veggies like the broccoli or green beans mentioned above, this sheet pan dinner is the perfect way to use up veggies from the garden, Farmer's market or a CSA.
As mentioned above, be careful to fit the parchment paper to the size of the pan without any extra hanging over. As long as the chicken and asparagus are covering up most of the parchment paper there won't be any problem with it burning.
Asparagus tip: Store bought asparagus has been cut which means the bottom ends will be too hard and woody to eat. By snapping off the ends, you end up with just tender spears. I bought 2 pounds of asparagus, and ended up with just 1 1/2 pounds after removing the ends.


When I buy asparagus from the Farmer's Market, they've harvested the asparagus by snapping the stalks at the natural breaking point. This means that the whole bunch is useable without any of it going to waste. This also means you get a better deal price wise than store bought – pound for pound.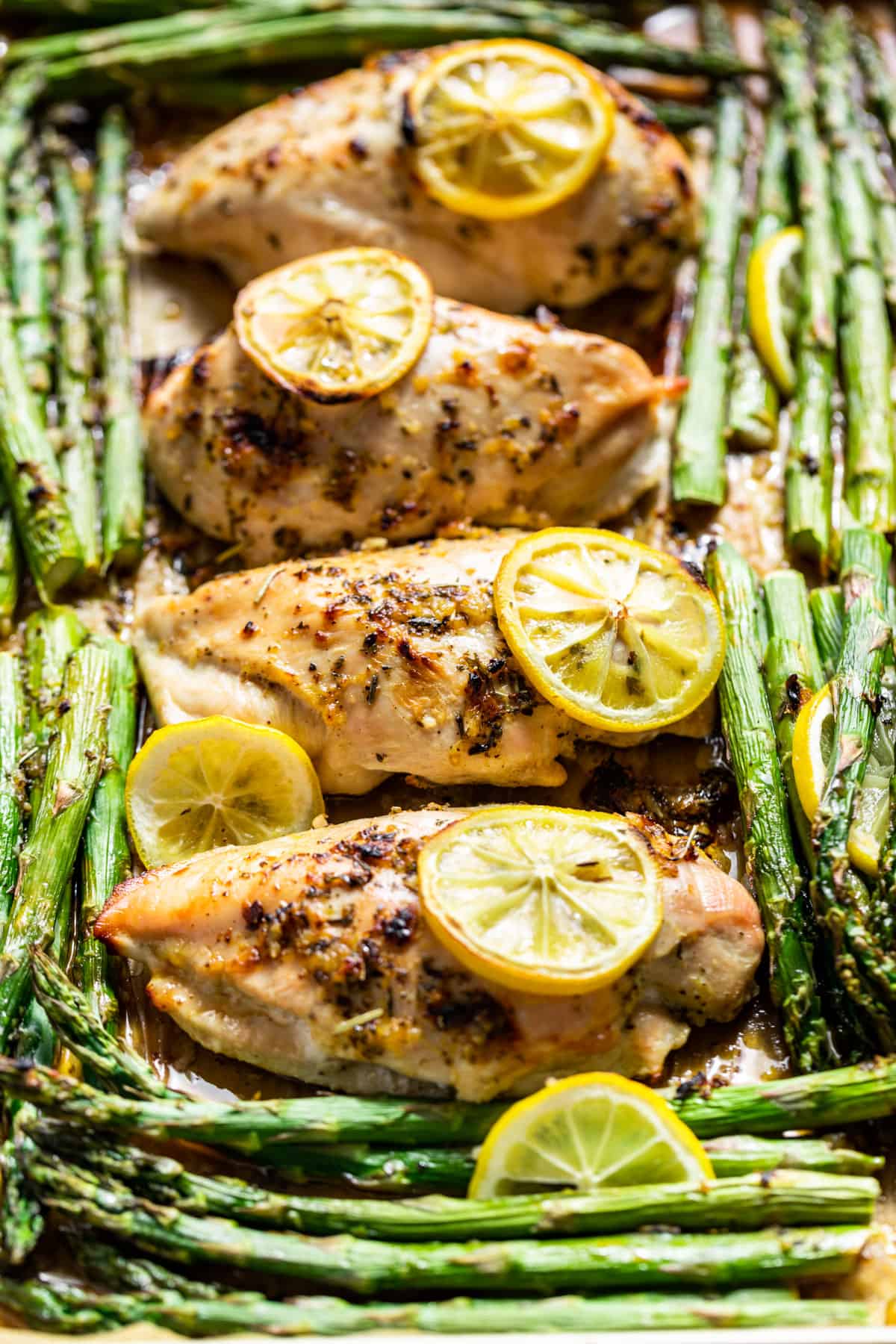 More easy sheet pan dinner recipe inspiration
I really hope you enjoy this Lemon Chicken and Asparagus! If you do get a chance to make this recipe, please leave a rating below, I'd love to hear from you in the comments.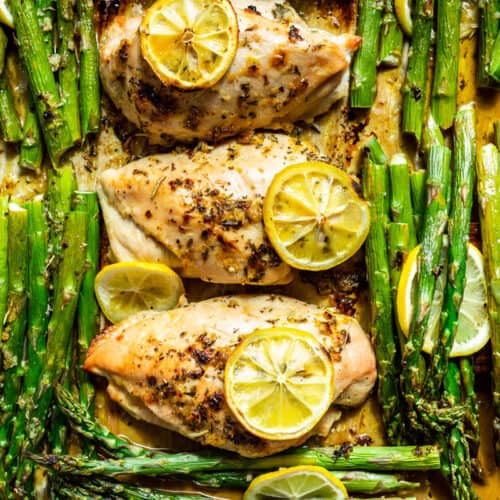 Lemon Chicken and Asparagus Sheet Pan Dinner
---
INGREDIENTS
2

pounds

boneless skinless chicken breasts

-

4

2

Teaspoons

Herbs de Provence

1

clove

garlic

-

minced

2

Tablespoons

olive oil

1

Tablespoon

honey or maple syrup

1

Tablespoon

lemon zest

1/4

cup

freshly squeezed lemon juice

-

from 1 lemon

2

Teaspoons

sea salt

-

or to taste

1/2

Teaspoon

freshly ground black pepper

1.5

pounds

asparagus

-

1 bunch

1

lemon

-

cut into thin slices
INSTRUCTIONS
Preheat the oven to 400ºF and line a baking sheet with parchment paper.

Place the chicken breasts evenly on the baking sheet, and set aside.

In a small bowl, whisk together the Herb de Provence, minced garlic, olive oil, honey or maple syrup, lemon zest, lemon juice, sea salt, and pepper until combined. Pour half of the mixture over the chicken breasts. Place the pan in the oven and cook until the chicken is almost done, about 20 minutes.

Toss the remaining Herbs de Provence mixture with the asparagus, and set it aside.

When the chicken is almost done, remove it from the oven, and set the oven to the broil setting. Place the asparagus around the edges. Pour any of the remaining sauce from the asparagus over the pan. Place a few lemon slices in and around the chicken and asparagus.

Broil, (on the low setting) the chicken and asparagus until the asparagus is crisp tender and the chicken golden brown and no longer pink in the center, about 10 minutes.

Serve immediately.
NOTES
Small broccoli florets or broccolini will work well here in place of the asparagus, but you'll probably need to add 5 minutes the cooking time listed for the asparagus, so pull the chicken out 5 minutes sooner so it doesn't overcook. Green beans would work well here too.
nutrition facts
Calories:
383
kcal
(19%)
Carbohydrates:
15
g
(5%)
Protein:
52
g
(104%)
Fat:
13
g
(20%)
Saturated Fat:
2
g
(13%)
Polyunsaturated Fat:
2
g
Monounsaturated Fat:
7
g
Trans Fat:
1
g
Cholesterol:
145
mg
(48%)
Sodium:
1431
mg
(62%)
Potassium:
1260
mg
(36%)
Fiber:
5
g
(21%)
Sugar:
7
g
(8%)
Vitamin A:
1382
IU
(28%)
Vitamin C:
35
mg
(42%)
Calcium:
80
mg
(8%)
Iron:
5
mg
(28%)