This easy Avocado Chocolate Mousse is perfect for chocolate cravings because it's the perfect combination of creamy and decadent! It's easy to make and perfect with berries of any kind. It's naturally gluten-free, dairy-free, vegan, and paleo. You can also make this mousse ahead of time which makes it great for holidays and birthdays. During the summer, try it with fresh berries, and during the colder months try my Berry Sauce instead.
Chocolate mousse is one of those desserts you'll say yes to, even when you're too full for dessert. There's still room for a couple of bites! There's just something about its silky smooth texture and intense chocolate flavor that quickly satisfies your need for sweets.
This mousse recipe is based on the filling for one of our all-time favorite desserts – Chocolate Tart. Both of these recipes have avocado as a base.
And before you run away as quickly as possible, don't worry you can't taste the avocado. I've tried both of these recipes out on lots of people who say they 'hate' avocado. Not only has everyone loved it, but they had no idea there was avocado in it.
Avocado brings an incredibly smooth texture to this dairy-free mousse. Then it's lightened up with a bit of coconut whipped cream, but you can also use my Best Whipped Cream (not dairy-free).
From there it's up to you whether you add your favorite toppings, or eat it plain. Our personal favorite way to eat this chocolate mousse is topped with whipped cream and raspberries.
Ingredients & Substitutions
Avocado – you want just ripe avocados in this recipe, not super soft overripe avocados that have a distinctive flavor. Avocado makes the perfect base for chocolate mousse with healthy fats as well.
Cocoa powder – thickens this mousse but also adds most of the chocolate flavor. You want to be sure to use unsweetened cocoa powder.
Maple syrup – I like to use Grade A amber pure maple syrup which has a very light maple flavor that doesn't compete with the chocolate. You can add the sweetener to your taste.
Vanilla extract – pure vanilla extract really rounds out the flavor and brings out the chocolate.
Sea salt – just a pinch really makes a difference in the depth of flavor.
Chocolate chips – I use the dairy-free Enjoy Life chocolate chips here. You can use your favorite chocolate but I don't recommend going over 70% dark chocolate.
Whipped cream – coconut whipped cream here for dairy-free and vegan chocolate mousse, or you can also use my Best Whipped Cream if desired instead. You'll see the option to use heavy cream below in the recipe.
How to make this recipe step by step
Step 1: First add the avocado, maple syrup, cocoa powder, vanilla, and sea salt to a small food processor. You can also use the small bowl insert of a larger food processor.
I have tried making this in my Vitamix blender, but it's harder to get the texture smooth and harder to get out of the blender as well.
Step 2: Process the chocolate mousse until smooth, scraping down the sides once.
Add the melted chocolate and process again.
Step 3: Scrape the mousse out of the food processor into a medium-sized bowl, and fold in the whipped cream. Refrigerate 3-4 hours until completely chilled.
Step 4: Serve the chilled mousse with your choice of toppings, we love whipped cream and raspberries, but strawberries are really good too.
FAQ's
Can you taste the avocado in Avocado Chocolate Mousse?
No, you can't taste the avocado in the chocolate mousse as long as you don't use over-ripe avocados. You only taste the deep chocolate flavor between the cocoa powder and melted chocolate.
How long does Avocado Chocolate Mousse last in the refrigerator?
Properly stored in an airtight container, your Avocado Chocolate Mousse will last up to 5 days refrigerated.
Why isn't the chocolate blending into the Avocado Chocolate Mousse?
You want to be sure your avocado and other ingredients are at room temperature. The melted chocolate will become solid as soon as it touches cold ingredients, and that's why it won't blend in properly.
What can I use instead of maple syrup?
You can also use honey or agave nectar, just be aware honey has a much more distinctive flavor. Also, you'll need to make sure your honey is liquid, it won't blend into the mousse if it's solid and crystallized.
Storing leftovers
To store – any leftovers can be placed into an airtight container and refrigerated for up to 5 days.
Make ahead – the mousse is the perfect make-ahead dessert, remember the leftovers won't keep as long. I recommend making it 1-2 days beforehand for the best results.
To freeze – this mousse can be frozen for up to 1 month in an airtight container. You can eat it straight from the freezer like ice cream, or defrost it in the fridge overnight. I don't think this freezes as well if you use regular whipped cream, the dairy-free/vegan version with coconut whipped cream freezes better.
Tips & Tricks
While we love this recipe as it is with dairy-free Coconut Whipped Cream, it's also superb with my Best Whipped Cream subbed in instead.
It's essential that your avocados aren't overripe. That will cause an 'avocado' flavor in your final dessert, and we don't want that!
To keep your avocados from getting overripe, refrigerate them as soon as they begin to soften. This way they will usually keep for 1 week without going bad.
Dietary Options & Substitutions
Dairy-free, vegan, vegetarian, & paleo – make the recipe as written with the Coconut Whipped Cream, don't use the regular whipped cream option.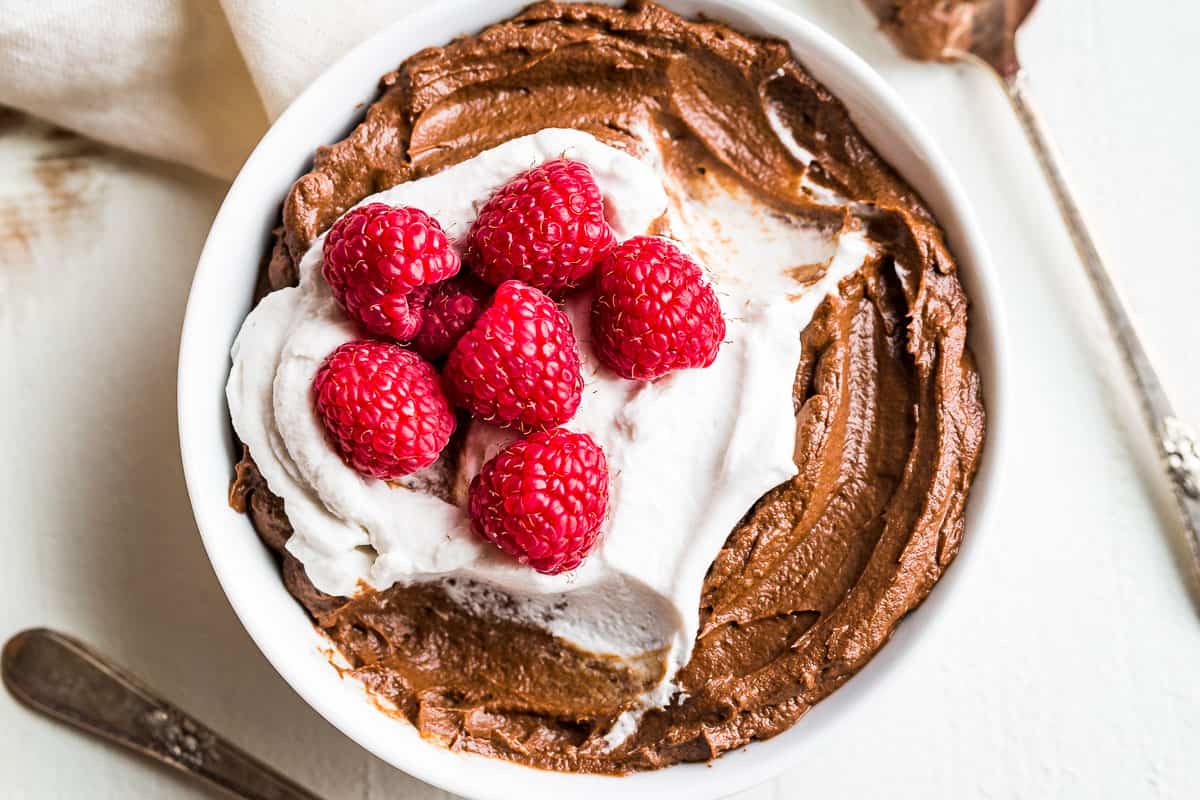 More Chocolate Dessert Recipe Inspiration
I really hope you enjoy this Avocado Chocolate Mousse! If you get a chance to make this recipe, I'd love to hear from you in the comments. If you love this mousse, you might try chocolate avocado pudding too, my Healthy Chocolate Hazelnut Pudding is perfect.
INGREDIENTS
1/4

cup

cocoa powder

1//4

cup

Grade A amber maple syrup

1

just ripe avocado

-

room temperature

2

tsp

vanilla extract

1/4

tsp

sea salt

1/4

cup

chocolate chips

-

melted, I used Enjoy Life
Coconut Whipped Cream:
1

can chilled coconut milk

-

1 cup cream scooped off the top, see notes

1

tbsp

Grade A amber maple syrup

pinch

of sea salt

1

tsp

vanilla extract
Toppings:
remaining whipped cream

fresh berries or Berry Sauce
INSTRUCTIONS
In a small food processor, or the small bowl insert of a larger food processor add the cocoa powder and maple syrup. Remove the pit from the avocado and scrape it out of the skin into the food processor with the vanilla and sea salt.

Process until smooth, then add the melted chocolate chips and process again to combine. Remove the mousse base from the food processor into a medium sized bowl.

Next make the coconut whipped cream by adding only the hardened cream from the can of coconut milk, (reserve the liquid for another use like a smoothie) to an electric mixer. Beat until fluffy, 1-2 minutes. Then add the maple syrup, sea salt, and vanilla. Beat again to combine.

Then portion out about half of the whipped cream, (you should have about 1 1/2 cups) and add it to the chocolate mousse base. Using a spatula, fold the whipped cream into the mousse until just combined.

From here you can refrigerate the mousse for up to 3 days, but if you want to top it with the remaining whipped cream that is the best on the first day.

Serve the mousse with the remaining whipped cream and berries of your choice if desired.
Bonus Step
If you made this recipe, please leave a rating/comment. Ratings really help us continue to bring you high-quality free recipes. Rate This Recipe!
NOTES
You can also use 1 cup heavy whipping cream in place of the coconut cream here if desired. Make sure you use unsweetened coconut milk for your coconut cream.
It's important that the avocado is at room temperature because when you add the melted chocolate chips, you don't want them to 'seize' up if the avocado has been refrigerated. You'll end up with hardened bits of chocolate in the mousse, which of course is still edible, but not silky smooth!
The nutrition facts were calculate with the extra leftover whipped cream, but not with the berries or Berry Sauce.
nutrition facts
Calories:
423
kcal
|
Carbohydrates:
36
g
|
Protein:
4
g
|
Fat:
32
g
|
Saturated Fat:
22
g
|
Polyunsaturated Fat:
1
g
|
Monounsaturated Fat:
6
g
|
Sodium:
155
mg
|
Potassium:
614
mg
|
Fiber:
7
g
|
Sugar:
22
g
|
Vitamin A:
73
IU
|
Vitamin C:
7
mg
|
Calcium:
55
mg
|
Iron:
2
mg
This recipe was originally published in 2020, but has been updated with new information, tips, and nutritional information.