The weekend is looking extra good with these Healthy Banana Oatmeal Pancakes! They're naturally gluten-free and dairy-free as well as whole grain. They're full of flavor, nice and fluffy, and so good with drizzled with pure maple syrup and more sliced bananas. We also enjoy a good amount of salted butter on our pancakes with a side of freshly brewed coffee. These pancakes are easy to make in your blender and are a great way to use up super ripe bananas.
'Makin' Banana Pancakes on the weekend or pretend that it's the weekend, yeah'. These are great for a lazy weekend morning as well as easing the Monday morning blues.
I'm not much of a breakfast person during the week. But sometimes a little something out of the ordinary in the form of pancakes and extra espresso is definitely in order.
The best part of this recipe is that it takes less than 10 minutes to prep. And before you know it, you have pancakes in the skillet. You just throw everything in the blender for a few seconds and that's it!
And whenever I'm making these banana pancakes it reminds me of Jack Johnson's – Banana Pancakes song. It just sets the tone for the whole day.
Ingredients for these Healthy Banana Oatmeal Pancakes
Bananas – make up the base of these pancakes. And they add some natural sweetness as well which is nice because you don't need quite as much maple syrup.
Eggs – create the structure of these pancakes and hold everything together along with providing some protein too.
Coconut milk – or any milk of choice works here to add a little hydration to the oats. Any dairy-free milk works and I've tried both almond milk and regular milk in this recipe.
Rolled oats – are what we're using here in place of the usual all-purpose flour or oat flour. But don't worry… these aren't 'health food pancakes' if you know what I mean! Oats make for great texture in pancakes once they're blended up and it means your pancakes are whole grain too.
Cinnamon – just a touch of spice is so good with the banana flavor here. We love cinnamon, but we've also used ground cardamom here a lot too.
Baking powder – adds the perfect amount of fluffy to these pancakes. I know some oatmeal pancakes go super simple without any type of leavening. But I think a bit of baking powder goes a long way towards a great fluffy pancake recipe.
Make this recipe step by step
Step 1: Measure out and prep all the ingredients.
Step 2: Add all of the ingredients to the blender.
You want to add the ingredients in the order listed, that way the liquids blend together smoothly before the oats hit the blades which keeps the batter moving well in the blender.
Step 3: Blend until the oatmeal has been well combined into a pancake batter with small pieces of oats remaining.
Step 4: Cook the pancakes over medium heat until bubbles form and golden brown. Flip the pancakes and cook until puffed in the middle and done.
Serve piping hot! You can keep them warm in the oven if you want to cook them all at once before serving.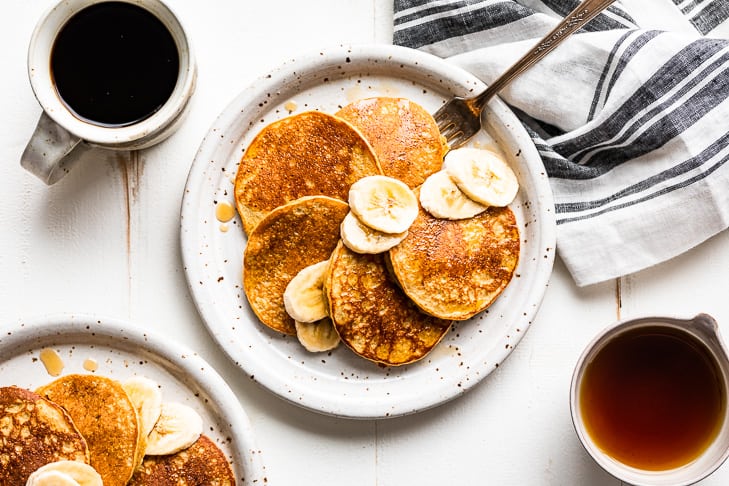 FAQ's
How do you make fluffy oatmeal pancakes?
The key to fluffy oatmeal pancakes is to get the right ratio of liquid to oats in the recipe. My banana oatmeal pancakes also have a touch of baking powder which also makes a nice fluffy oatmeal pancakes.
Why are my banana pancakes soggy?
Usually, banana pancakes are soggy because the bananas are too ripe or there is too much liquid in the recipe. The other reason banana pancakes can be soggy is they're undercooked. It's important to cook banana pancakes at the right temperature so they cook through without burning. I find that banana oatmeal pancakes take almost twice as long to cook as regular pancakes.
Storing leftovers
To store – place any leftovers into an airtight container and store them in the refrigerator for 2-3 days.
Make ahead – these pancakes are best served fresh, but you can make them ahead and reheat.
Reheating – reheat these pancakes in the microwave, or in a non-stick skillet with a touch of butter to keep them from sticking. You can also reheat pancakes in a toaster oven on low settings.
To freeze – freeze in a single layer on a parchment-lined baking sheet, then transfer them to an airtight container and store them in the freezer for up to 1 month. Defrost in the fridge overnight before reheating.
Tips & Tricks
Let the batter sit for a few minutes. This allows the oats to hydrate and soak up the liquid a bit.
Keep the pancakes small. There's no flour or gluten here to 'hold things together', so it's much easier to flip these pancakes when they're small. I find around the 4-5″ mark is about perfect.
Cook them until bubbles form before flipping. Again these are a bit more fragile than all-purpose flour pancakes. So it's extra important to cook the pancakes until bubbles form across the tops before flipping them. If you try to turn them too soon, you'll struggle and break some.
Serve them as you cook them. I've found these get heavier in texture as they sit, which is also true for most pancakes. So if you want the best fluffiest pancakes, serve them hot straight off the griddle.
More recipes to use up ripe bananas
I really hope you enjoy these pancakes, they make the best brunch! And if you do get a chance to make them, I hope you'll leave me a comment/rating below. I always love hearing from you here! Also for lots more breakfast recipes, head over to the recipe index.
Healthy Banana Oatmeal Pancakes
---
INGREDIENTS
3

eggs

2

ripe bananas

-

peeled and broken into chunks

2

tbsp

coconut milk -

or milk of choice

1/2

tsp

ground cinnamon

pinch

of sea salt

3/4

cup

rolled oats

1

tsp

baking powder

1/2

tsp

vanilla extract -

optional
INSTRUCTIONS
Place ingredients in the blender in the order listed. Blend on low until combined. Increase speed to medium for a few seconds, small pieces of oats should remain.

Cook pancakes in a nonstick pan over medium heat. For crispy edges, add some butter to the pan.

Keep the pancake size to about 4 inches across. Cook for a few minutes until bubbles appear in the center of the pancakes.

Flip the pancakes and cook until the middle is done, 2-3 minutes. Repeat this process until the batter is gone.

Serve immediately as you cook them.
Bonus Step
If you made this recipe, please leave a rating/comment. Ratings really help us continue to bring you high-quality free recipes. Rate This Recipe!
NOTES
This recipe makes about 18 small 4″ pancakes, but can easily be doubled. It can also serve as many as 4 if you add extra sides like sausage, bacon, eggs, etc.
nutrition facts
Calories:
349
kcal
|
Carbohydrates:
49
g
|
Protein:
14
g
|
Fat:
12
g
|
Saturated Fat:
5
g
|
Polyunsaturated Fat:
2
g
|
Monounsaturated Fat:
3
g
|
Trans Fat:
0.03
g
|
Cholesterol:
246
mg
|
Sodium:
311
mg
|
Potassium:
661
mg
|
Fiber:
6
g
|
Sugar:
15
g
|
Vitamin A:
433
IU
|
Vitamin C:
10
mg
|
Calcium:
184
mg
|
Iron:
4
mg
This recipe was originally published in 2013 but has been updated with new photos, information, tips, and nutritional information in 2021.