I don't know what I want to celebrate more – the fact that watermelon and tomatoes are unbelievable right now, or that the cases of juicy ripe peaches are starting to arrive! Oh how I love the summer abundance that starts in July and runs right into my favorite months of fall. You really can't be too overly enthusiastic because after many long winter months of lack luster produce, everything tastes amazing.
Even the super sour unripe blackberries we get imported here taste so good baked into a semblance of sweetness with ripe peaches. In fact they add a note of tartness to the overall crisp that I'm rather fond of. If you're part of the lucky group that has ripe blackberries, you may not want to add any sweetener to the fruit at all – that's the beauty of summer-ripe!
This crisp topping is much wetter than a normal topping, but don't worry it bakes up perfectly. It actually helps to keep the crisp topping from falling into the fruit below, and creates nice crunchy islands of caramelized nuts and coconut.
See… didn't I tell you it creates little islands – lots of crunch and no soggy topping!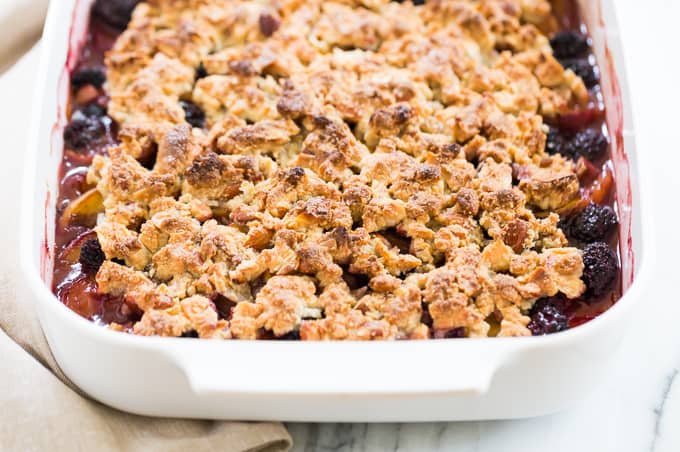 For another summery option, try my No Bake Triple Berry Crisp.
Crisps are wonderful served warm right out of the oven topped with ice cream, but they're also great at room temperature. I love to take a fruit crisp with us when we're camping because they make for a fairly healthy breakfast – you know with the fruit and all! The topping does soften after a day or two at room temperature, but you can re-crisp it in the oven if you'd like.
Print
Blackberry Cardamom Peach Crisp
---
Fruit Filling:
3

ripe peaches, 1 1/2 pounds

1 1/2 cups

blackberries, fresh or frozen, 6 ounces

2 Tablespoons

maple syrup, optional if your fruit is perfectly ripe

1 Tablespoon

tapioca starch

1/4 Teaspoon

ground cardamom

1 Tablespoon

vanilla extract
Crisp Topping:
3/4 cup

almond flour

1/2 cup

chopped almonds, 2 1/2 ounces

1/2 cup

unsweetened big flake coconut, 1 ounce
pinch of sea salt

2 Tablespoons

coconut oil, melted

1/4 cup

Grade A maple syrup
---
Instructions
Preheat the oven to 325ºF.
Slice the peaches into thin slices, for 3 peaches I sliced them into 16ths. Lay the peach slices into a 11″ x 7″ – 2 quart baking dish. Scatter the blackberries evenly over the top.
Mix together the maple syrup, tapioca, cardamom, and vanilla extract until completely smooth. If you're not using the maple syrup, you may need to add 1-2 Tablespoons of water to the mixture. Pour the mixture over the peaches and blackberries.
Make the crisp topping by mixing all the ingredients together until combined.
Using a spoon, dot the crisp topping as evenly as possible over the top of the fruit. It's ok if a bit of the fruit peeks through here and there.
Bake the crisp for 35-45 minutes, or until the crisp is bubbling around the edges and the topping is golden brown.
Remove the crisp from the oven and cool for at least 30 minutes before serving.
This crisp keeps well for 3-4 days refrigerated, but the topping will soften.
Prep Time:

20 mins

Cook Time:

40 mins