This Strawberry Rhubarb Crisp is naturally gluten-free with dairy-free options as well. It's also an egg-free dessert that's easily made vegan for an overall winner. You can't go wrong with the dynamite combo of strawberry and rhubarb. Then add a crisp topping plus some ice cream, and you have a dessert everyone loves. It's simple to make and you can even prep the crisp topping ahead to have in the fridge or freezer too.
Strawberry Rhubarb Crisp is one of the first things I make every year with produce from our garden. Rhubarb is hardy enough to make an early appearance before almost anything else around here. And since our local strawberries come in later around the end of June, I like to use frozen strawberries to make this recipe even easier.
If you have a rhubarb plant at your house, you'll know that it's kinda like zucchini. Once it gets going, there's so much of it that it's a total overload! I just learned that you can freeze it, so that's going to be my main strategy in keeping up with the supply.
You can also find rhubarb at your local grocery stores when it's in season. And you'll definitely see it at most farmer's markets. If you find you just love its unique tangy flavor, try looking for a plant to buy.
It can be planted right into your landscape/flower beds, and it pretty much takes care of itself. That way you'll be loaded up with rhubarb for months every spring into early summer!
Ingredients & Substitutions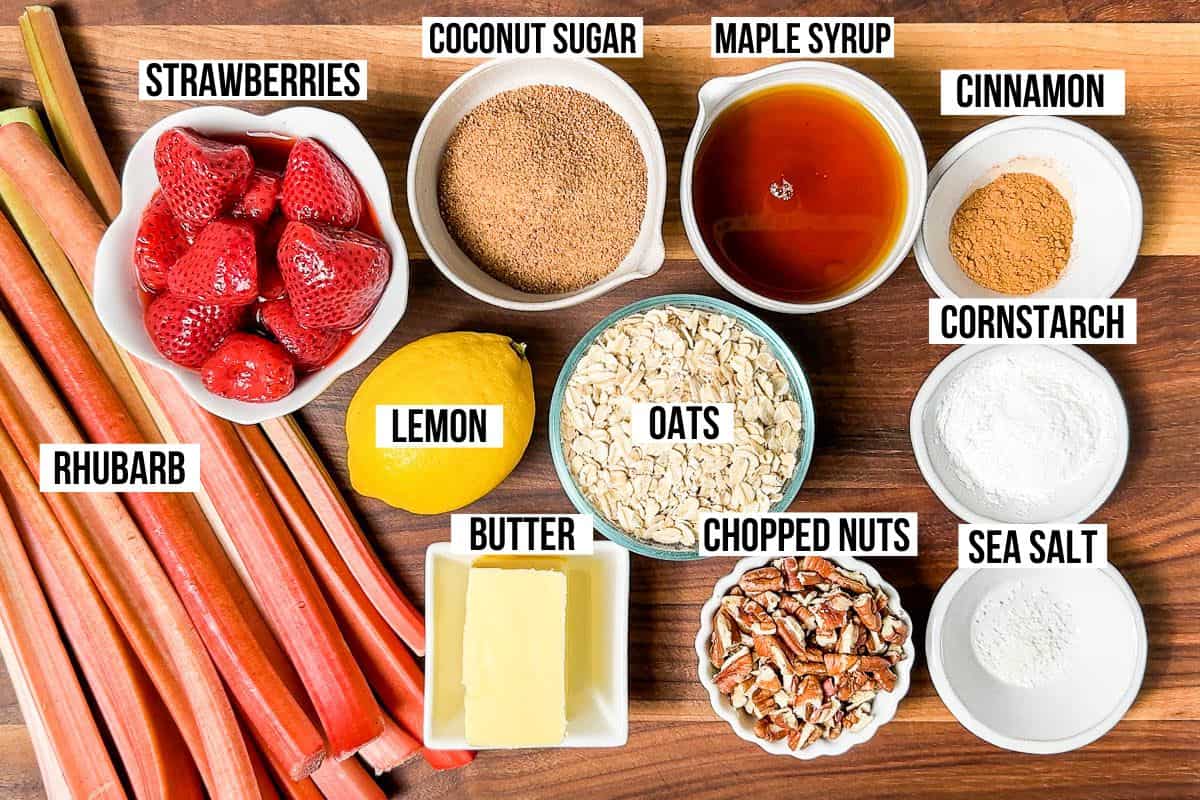 Rhubarb – is from the Buckwheat family and is a tangy/string stalk sort of like celery. The leaves aren't edible, so be sure to trim them off first. It's hard to describe rhubarb if you haven't had it, but definitely pick some up and try it out in a dessert. Its tangy nature is so perfect with berries, and you might find yourself addicted to its unique tanginess.
Strawberries – I use thawed frozen strawberries in this recipe because strawberries aren't in season here when rhubarb is in the early months. If you have fresh strawberries, the fresher the better. Store-bought strawberries have way less juice than frozen, so that could make your crisp slightly thicker.
Maple syrup – or honey both works in this recipe and both have unique flavor profiles that are very tasty. I tend to use whatever I have, but honey is really nice with the rhubarb-strawberry combo.
Orange zest – or lemon juice adds the perfect bright note to this recipe that makes it stand out in combination with the cinnamon.
Cinnamon – in both the filling and the topping makes this crisp perfectly flavorful and works together with the orange zest for a great combo.
Tapioca starch – thickens up the filling, but you can use cornstarch or arrowroot too.
Oats – are used to make homemade oat flour and are stirred in at the end as well for the classic crisp topping. Use certified gluten-free oats if you have allergies. I like homemade oat flour better than gluten-free flour, but that will work as well.
Butter – or coconut oil, avocado oil, or vegan butter all work as dairy-free options as well.
Coconut Sugar – makes an extra crispy topping. I have used maple syrup or honey, but the crisp topping comes out much softer so I don't recommend it. You can also use cane sugar or brown sugar instead.
Nuts – chopped and added to the crisp topping adds a lot of crunch and flavor. But if you can't have nuts, just leave them out, or you might even try pumpkin seeds.
Make this Strawberry Rhubarb Crisp step by step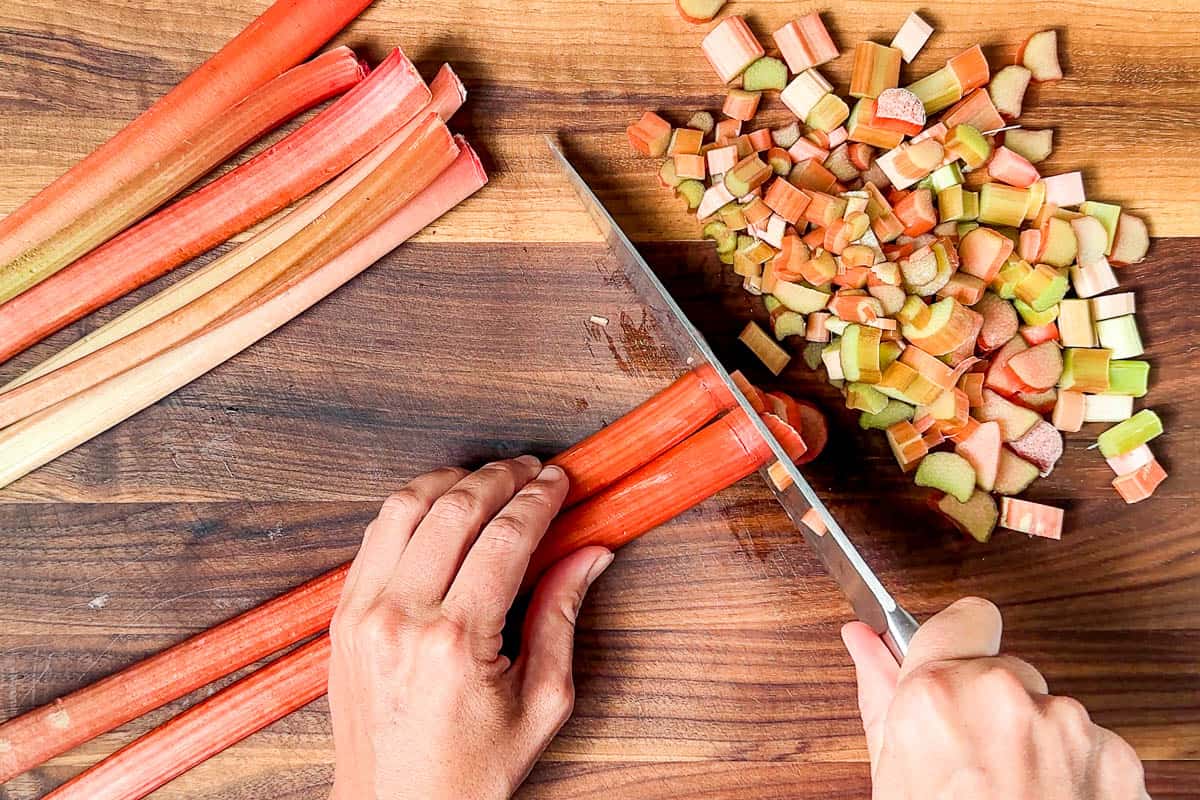 Step 1: Start by washing and trimming your rhubarb. Then slice the rhubarb into slices 1/4″-1/2″ thick. Use a nice sharp knife to make this easier.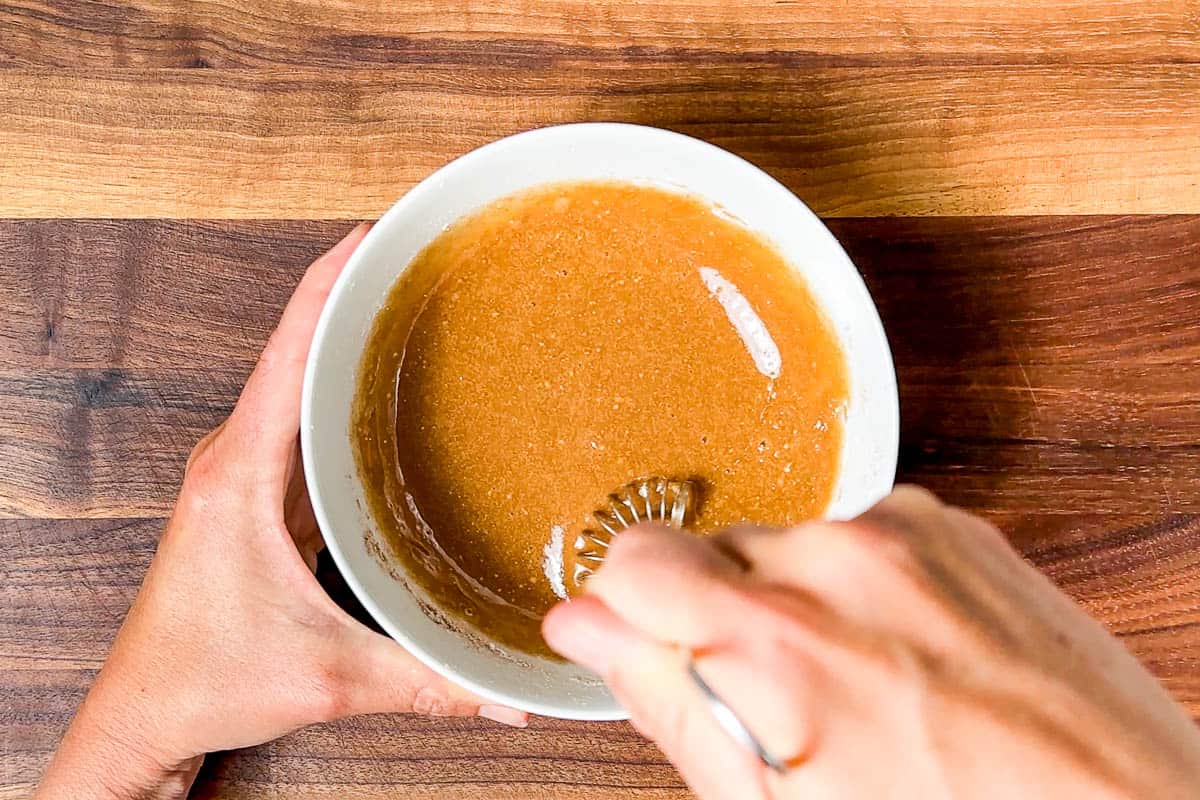 Step 2:Next whisk together the maple syrup with the cornstarch or tapioca and cinnamon until no lumps remain. Stir in the lemon zest and set the mixture aside.
Step 3: Add 3/4 cup rolled oats to the food processor and process into coarse oat flour.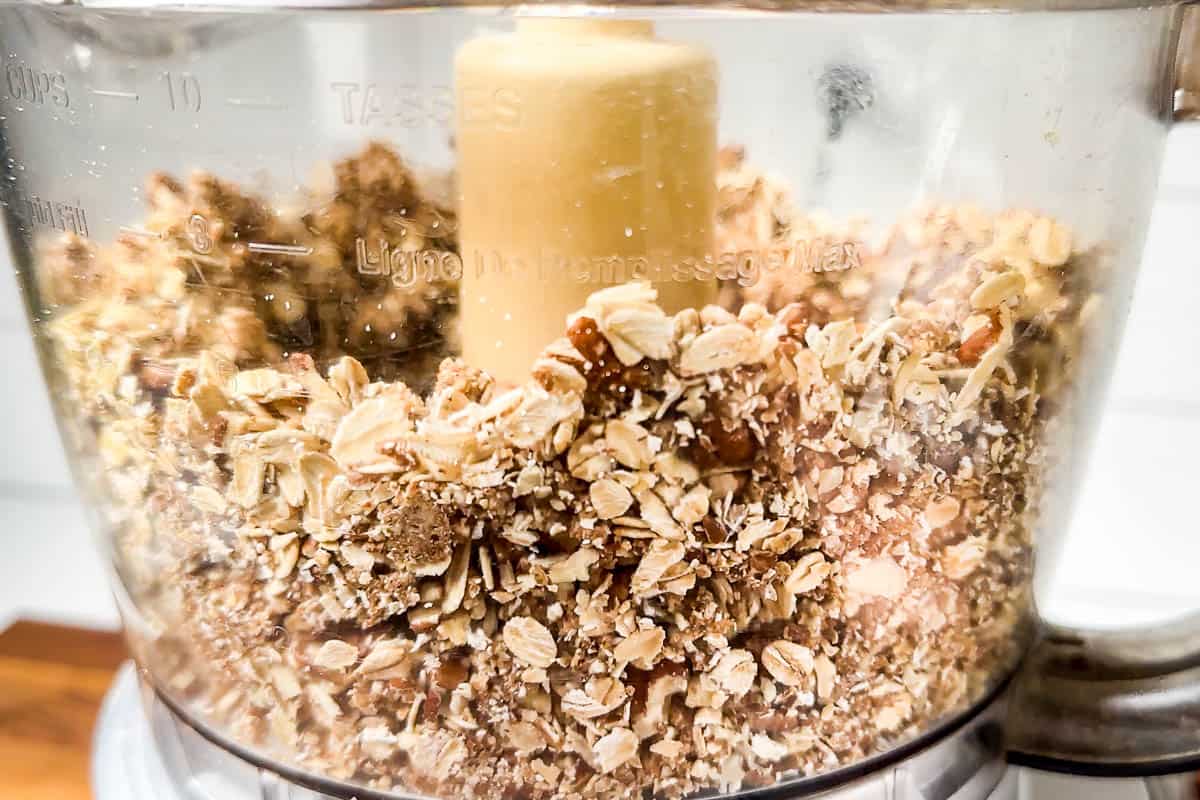 Step 4: Add the butter, coconut sugar, cinnamon, and sea salt to the food processor. Process until the mixture begins to clump.
Then add the remaining 1/4 cup rolled oats and chopped nuts. Pulse just to combine.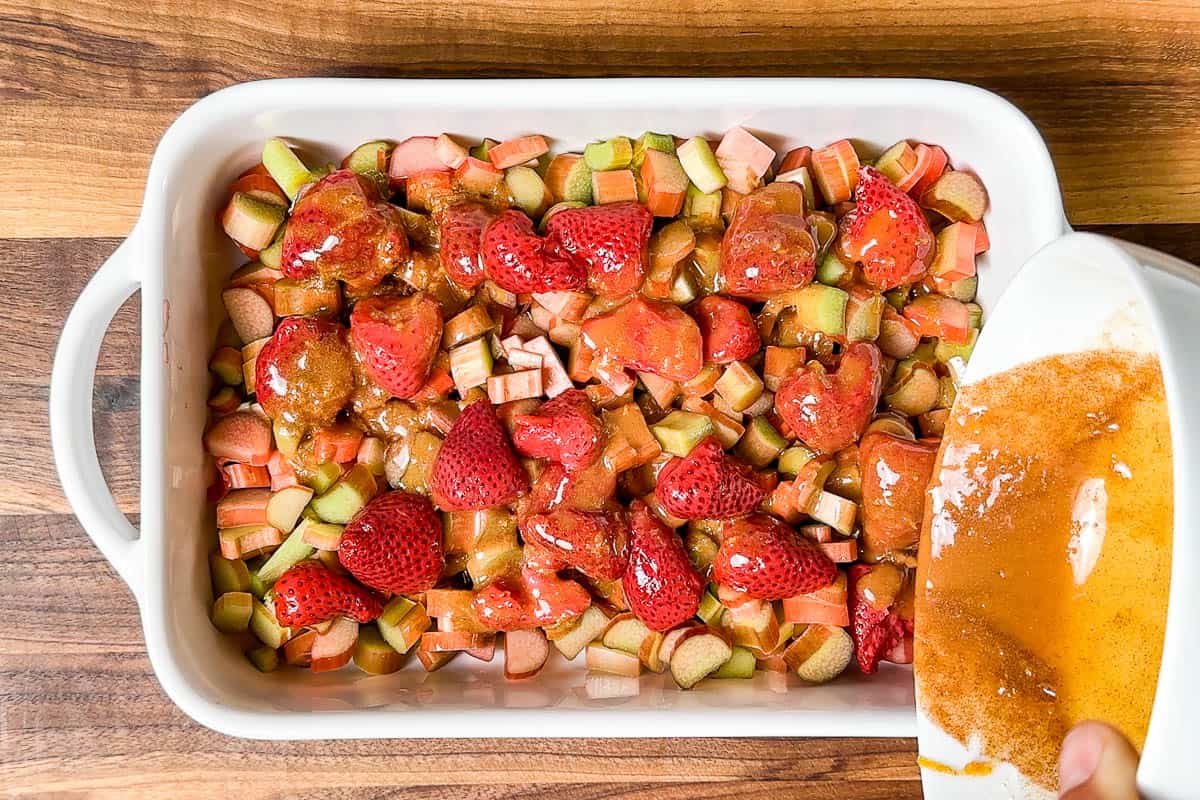 Step 5: Add the rhubarb to an 11″x7″ baking dish along with the strawberries. Pour the maple syrup mixture over the top and mix to combine.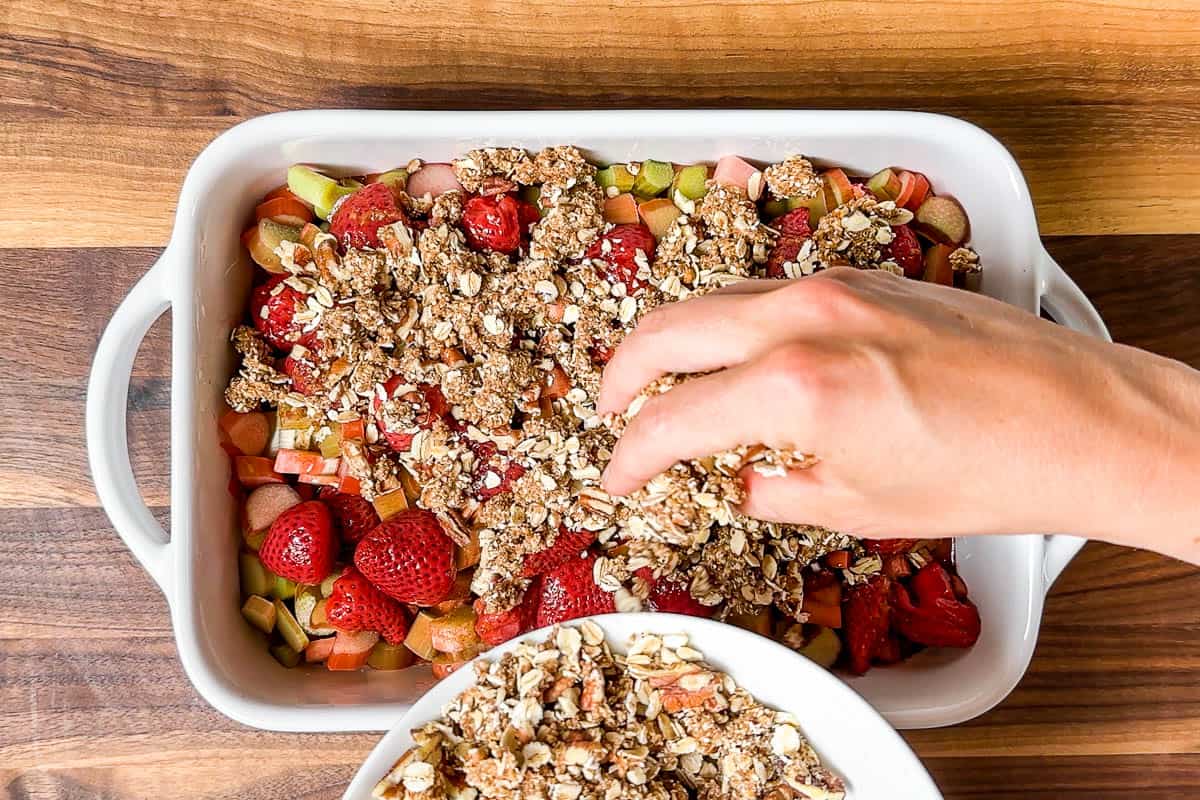 Step 6: Sprinkle the crisp topping evenly over the top of the strawberry rhubarb mixture. Bake the crisp until the rhubarb is tender, the crisp topping is browned and the juices are bubbling around the edges, about 40 minutes.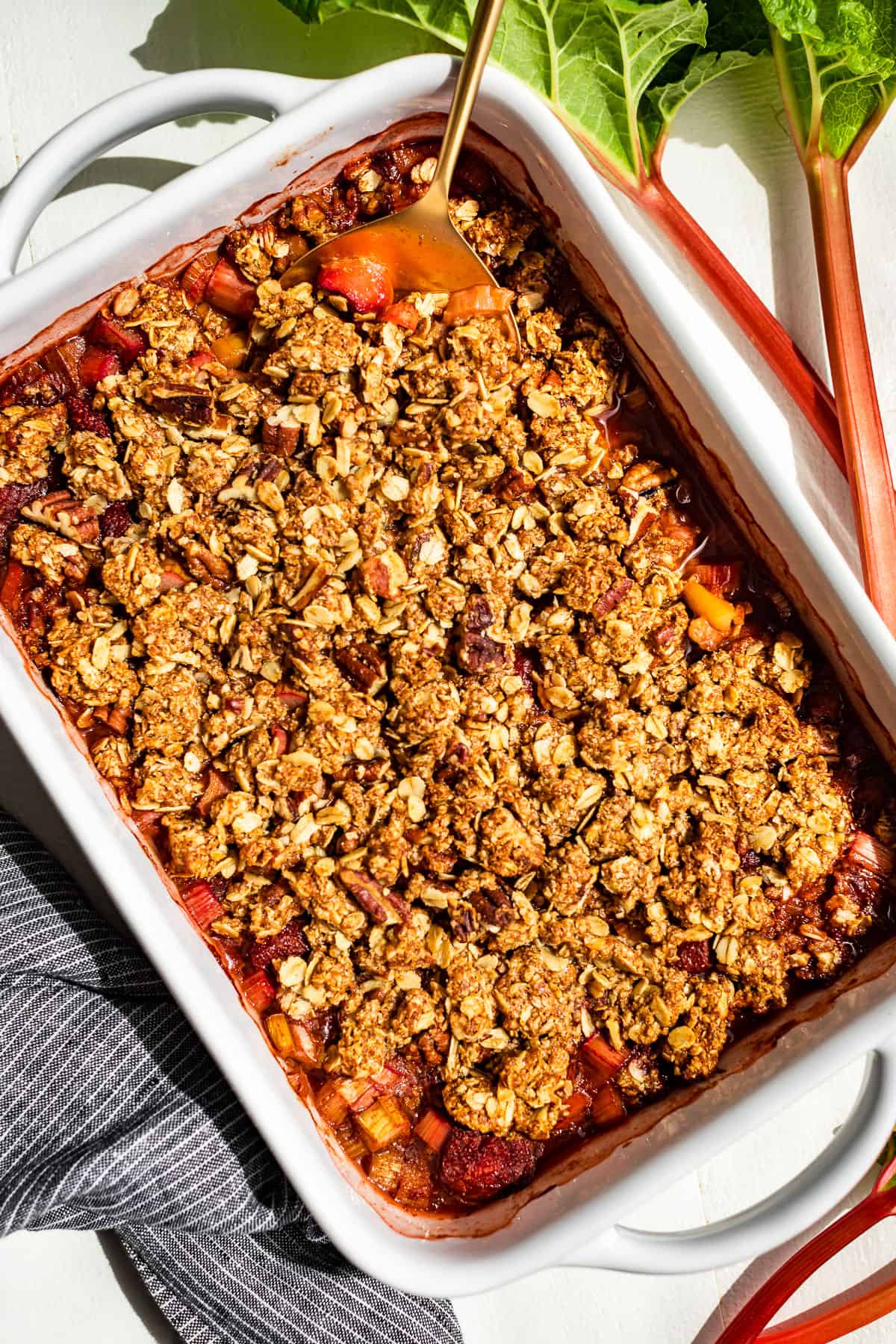 FAQ's
Do I need to refrigerate Strawberry Rhubarb Crisp?
The common consensus is YES! definitely refrigerate your strawberry rhubarb crisp once it's completely cooled to room temperature for 3-4 days. I personally leave mine on the counter overnight, and refrigerate the next morning after eating some for breakfast, but it never hurts to be safe than sorry!
How do I reheat Strawberry Rhubarb Crisp?
The best way to reheat and crunchy up your crisp is to heat it in the oven at 300ºF until warm and the topping has become crisp again 10-15 minutes.
Do I peel rhubarb before cooking?
You don't need to peel rhubarb before cooking. If you are lucky enough to have beautiful red/pink rhubarb the skin will add a lot of color to your crisp. Also, the skin on rhubarb isn't tough at all once your crisp is baked.
Storing leftovers
To store – place any leftovers into an airtight container and store them in the refrigerator for 3-4 days.
Reheating – place the crisp into the oven at 300ºF just until the warmed up again.
To freeze – this crisp freezes ok with the rhubarb a bit softer after you defrost it. Place any leftovers into an airtight container and store them in the freezer for up to 1 month. Defrost overnight in the fridge and crisp it up again if desired by following the reheating instructions.
Tips & Tricks
Make the crisp topping ahead of time and store it in the fridge for 1-2 days, or in the freezer for up to 1 month. This is one of my favorite shortcuts so I can make a homemade crisp so much faster.
How to make Strawberry Rhubarb Crisp ahead of time? This crisp is best eaten the same day it's made, but my best make-ahead tip is listed above to make the crisp topping ahead. You can also prep the strawberry rhubarb mixture and refrigerate the baking dish. Then take the dish out to warm up to room temperature before adding the crisp topping and baking. The 3rd best option would be to bake it 1-2 days in advance, cover and refrigerate. Then warm up the crisp in a 300ºF oven until the crisp topping is crispy again.
Dietary Options & Substitutions
Dairy-free, Vegan, or Vegetarian – use dairy-free or vegan butter. I've used coconut oil and avocado oil which both work well too.
Paleo – use the crisp topping from my Paleo Apple Crisp which is grain free.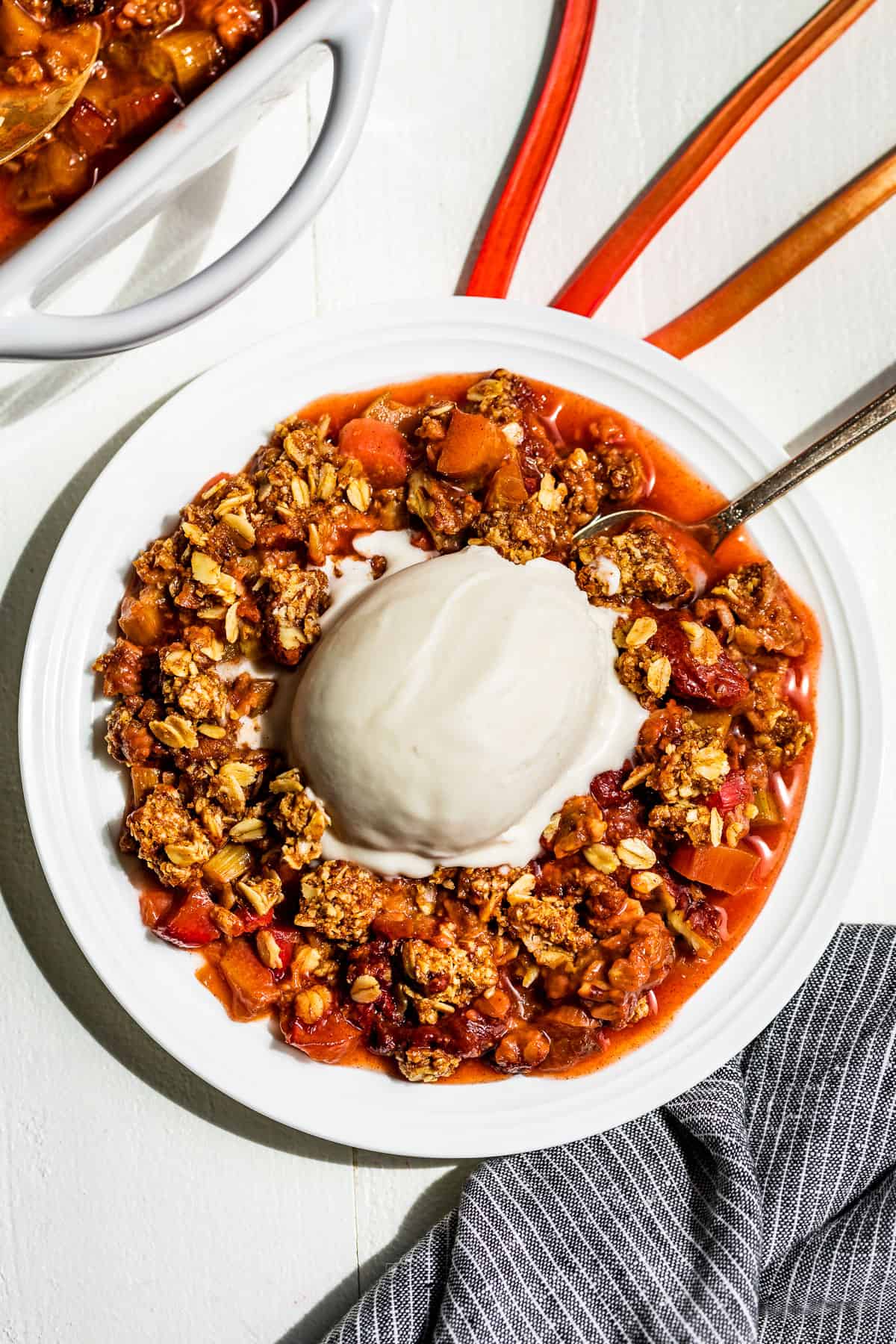 More Fruit Crisp Recipe Inspiration
I really hope you enjoy this Strawberry Rhubarb Crisp! And if you do get a chance to make it, I hope you'll leave me a comment/rating below. I always love hearing from you here! If you're crazy about strawberry and rhubarb, try my Strawberry Rhubarb Sauce or my Strawberry Rhubarb Streusel Tart.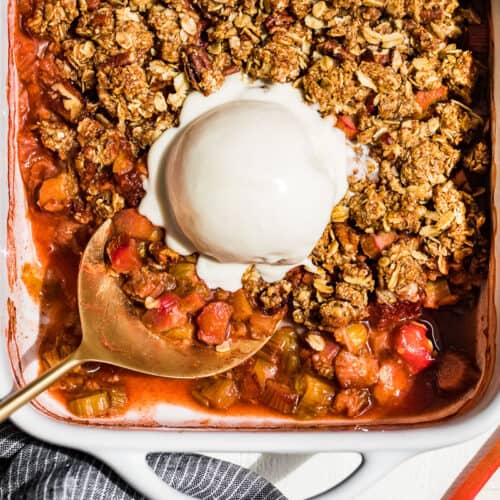 INGREDIENTS
Strawberry Rhubarb Filling:
1

pound

rhubarb

8

ounces

frozen strawberries

-

thawed and the juices saved

1/4

cup

maple syrup -

or honey (more to taste if your berries aren't sweet)

1

tsp

orange or lemon zest

1

tsp

cinnamon

2

tbsp

tapioca starch
Crisp Topping:
3/4

cup

rolled oats

-

or 1/2 cup oat flour

1/4

cup

butter

-

avocado oil, vegan butter, or coconut oil

1/4

cup

coconut sugar

1

tsp

cinnamon

1/4

tsp

sea salt

1/2

cup

chopped nuts

-

pecans, cashews, or walnuts

1/4

cup

rolled oats
INSTRUCTIONS
Preheat the oven to 350ºF.

Wash and trim the rhubarb, then slice it into 1/4-1/2 inch pieces. Add the rhubarb and strawberries to a 11″x7″ baking dish. Mix together, then spread out evenly.

Combine the tapioca starch with the maple syrup until completely combined and no lumps remain. Then mix  in the orange/lemon zest and cinnamon, then pour the mixture over the sliced rhubarb and strawberries.

For the crisp topping, place the 3/4 cup oats into a food processor and process for 2-3 minutes or until you have a coarse flour. Add the butter in small pieces, coconut sugar, cinnamon, and sea salt. Pulse until the mixture begins to clump.

Add the chopped nuts and additional 1/4 cup rolled oats and mix the crisp topping together by hand.

Using your hands to break apart the topping, crumble it evenly over the top of the strawberry rhubarb mixture.

Bake it in the oven for 35-45 minutes or until the topping is golden brown and the filling is bubbling.

Serve hot, warm, or at room temperature with your favorite vanilla ice cream.
Bonus Step
If you made this recipe, please leave a rating/comment. Ratings really help us continue to bring you high-quality free recipes. Rate This Recipe!
NOTES
This rhubarb crisp is on the tangy side so that it pairs well with ice cream and isn't overly sweet!
Paleo Crisp Topping: 1 cup almond flour, 1 cup chopped walnuts, 1 teaspoon orange zest, 1/4 cup maple syrup, 1/4 cup coconut oil or ghee, (melted), 1 teaspoon cinnamon
nutrition facts
Calories:
278
kcal
|
Carbohydrates:
34
g
|
Protein:
4
g
|
Fat:
15
g
|
Saturated Fat:
6
g
|
Polyunsaturated Fat:
5
g
|
Monounsaturated Fat:
3
g
|
Trans Fat:
0.3
g
|
Cholesterol:
20
mg
|
Sodium:
176
mg
|
Potassium:
401
mg
|
Fiber:
4
g
|
Sugar:
15
g
|
Vitamin A:
320
IU
|
Vitamin C:
29
mg
|
Calcium:
105
mg
|
Iron:
1
mg
This post was originally published in 2014, but has been updated in 2021 & 2023 to include new photos, prep photos, nutritional facts, more information and tips.