Ultra smooth, this Best Vegan Queso recipe is easy to make and perfect for all your snacking needs. Try it with salsa, chips, and guacamole, or as a 'cheese' sauce in any of your favorite Mexican recipes. It's great on everything from burrito bowls to tacos. It's also freezer friendly, so whip up a batch to freeze and have on hand at a moments notice.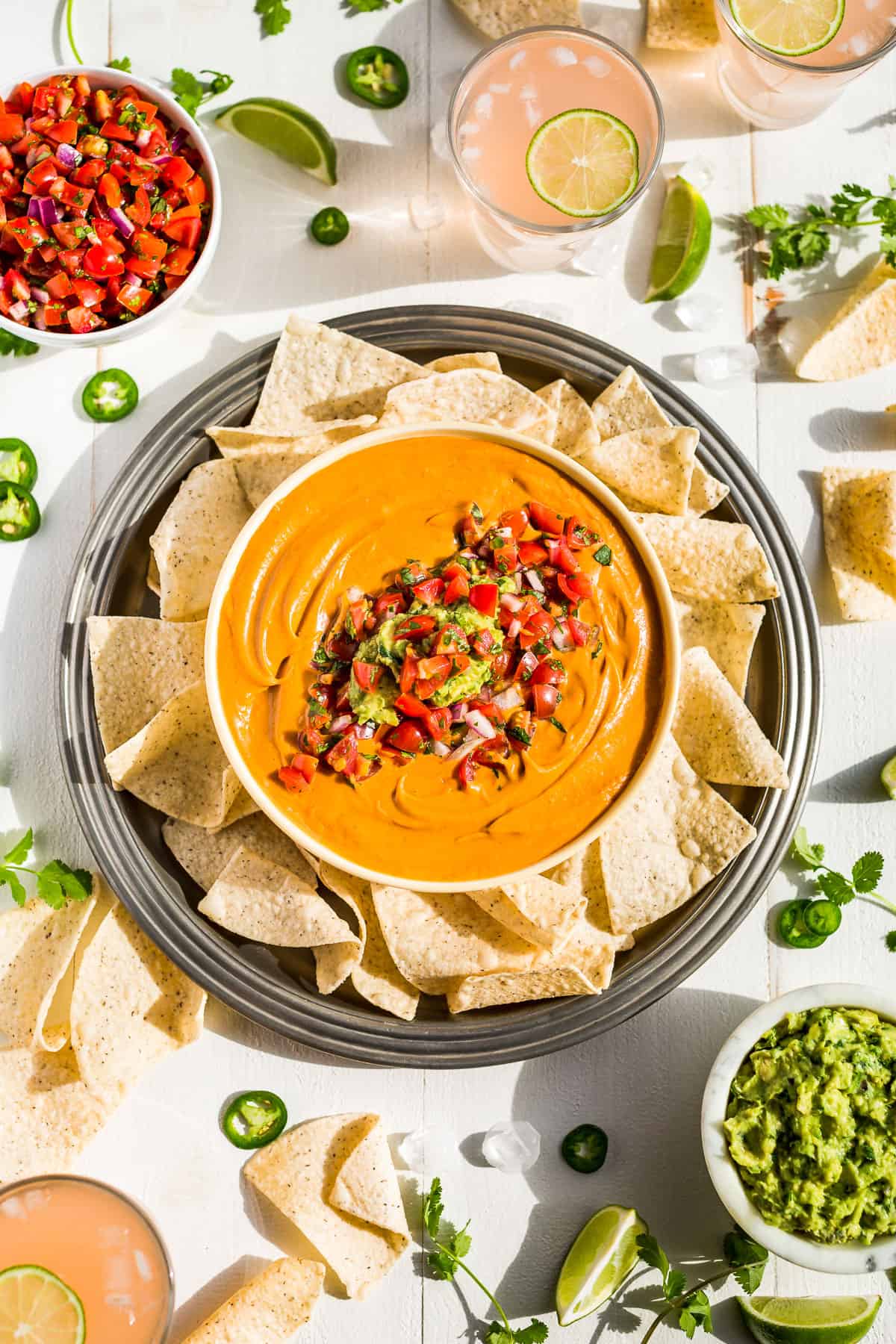 I feel like trying to use words to tell you how good dairy-free queso is kind of a tough sell! But if I could just pass you one of these chips loaded with queso, guacamole, and pico, you wouldn't need any words at all.
But since photos don't have a scratch-and-sniff option, (haha wouldn't that be fun?) you'll have to just trust me on this one. I won't sit here and tell you this dairy-free queso beats the real thing, I'm not that crazy!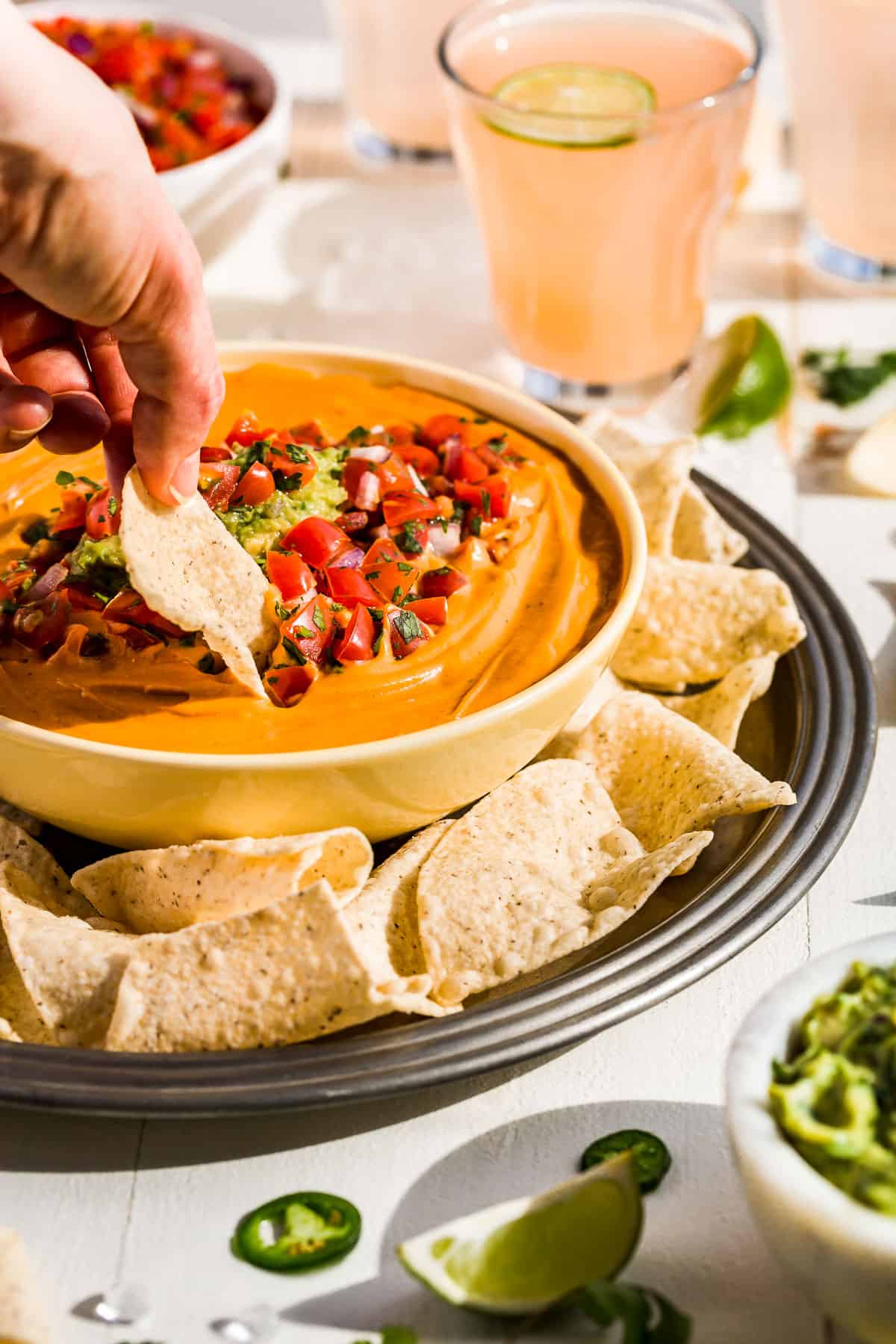 After all, cheese is my favorite food on this planet. And in my mind, nothing is better than cheese, not even chocolate. But this dairy-free & vegan queso is as close as you can get to the real thing.
It's great for snacking with tortilla chips, but we also love this with any Mexican bowl-type recipe. Picture it drizzled over your next taco bowl or burrito bowl – so good!
Ingredients & Substitutions
Sweet potato – makes a great base for dairy-free queso and it blends up to be perfectly smooth as well.
Cashews – add richness to this plant-based queso. They combine together with the sweet potato to make the perfect dairy-free cheese sauce without being overwhelmingly cashew in flavor.
Broth – use vegetable broth to be completely plant-based and vegan, or use chicken broth for more flavor. Either way, I recommend looking for low-sodium broth, that way you can add salt to your taste.
Onion & garlic – add essential depth of flavor to this sauce.
Green chiles – canned green chiles give this queso a 'nacho cheese' kind of flavor.
Diced tomatoes – try to find fire roasted diced tomatoes if you can because they add so much flavor.
Coconut milk – adds a lot of creaminess when you blend up this 'cheese' sauce.
Spices – a mix of cumin, chili powder, smoked paprika, granulated onion, and granulated garlic add plenty of Mexican-inspired flavor to this queso.
Nutritional yeast – is what gives you the 'cheesy' flavor in vegan and dairy-free cheese sauces. You can easily find it at any health food store. It's inexpensive and an essential pantry item if you're dairy free.
Quick note: this recipe makes 8 cups of queso, but don't be alarmed, it freezes perfectly! You can make half the recipe as well, but then you end up using 1/2 a can of tomatoes etc. This recipe is formulated to use up the full amount of each canned good called for, so enjoy your leftover cheese sauce on all sorts of Mexican recipes.
How to make this recipe step by step
Step 1: First up prep everything you'll need. You can use white or orange sweet potatoes here, either one works fine.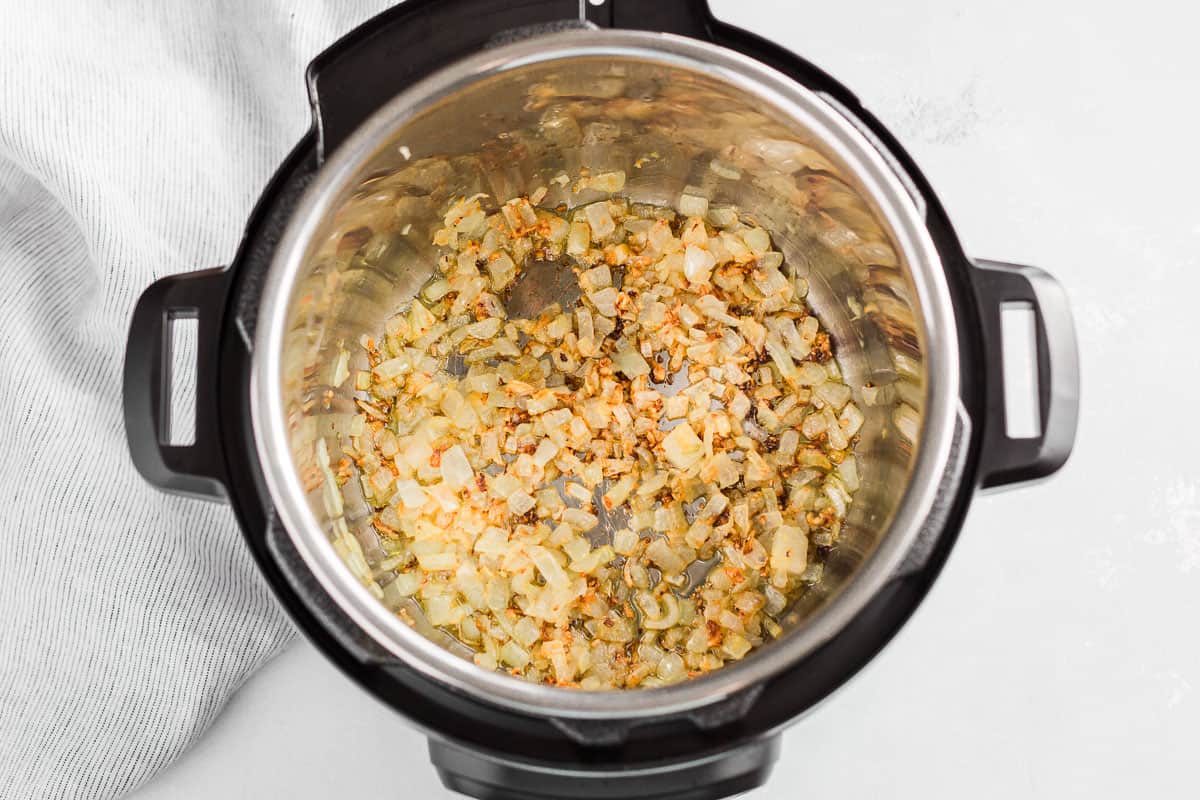 Step 2: Next sauté the onion and garlic until golden brown in the Instant Pot or on the stove top.
Step 3: Then add everything except the coconut cream and nutritional yeast to the Instant Pot, or you can simmer on the stovetop. Cook until the sweet potatoes are completely broken down and tender.
By cooking the sweet potato and cashews together, you don't need to worry about soaking the cashews.
Step 4: Finally add the coconut milk and nutritional yeast, and blend the queso mixture until the texture is completely smooth. I blend mine in a Vitamix, and a high-powered blender will give you the best results.
If you don't have a high-speed blender, definitely blend this in small batches.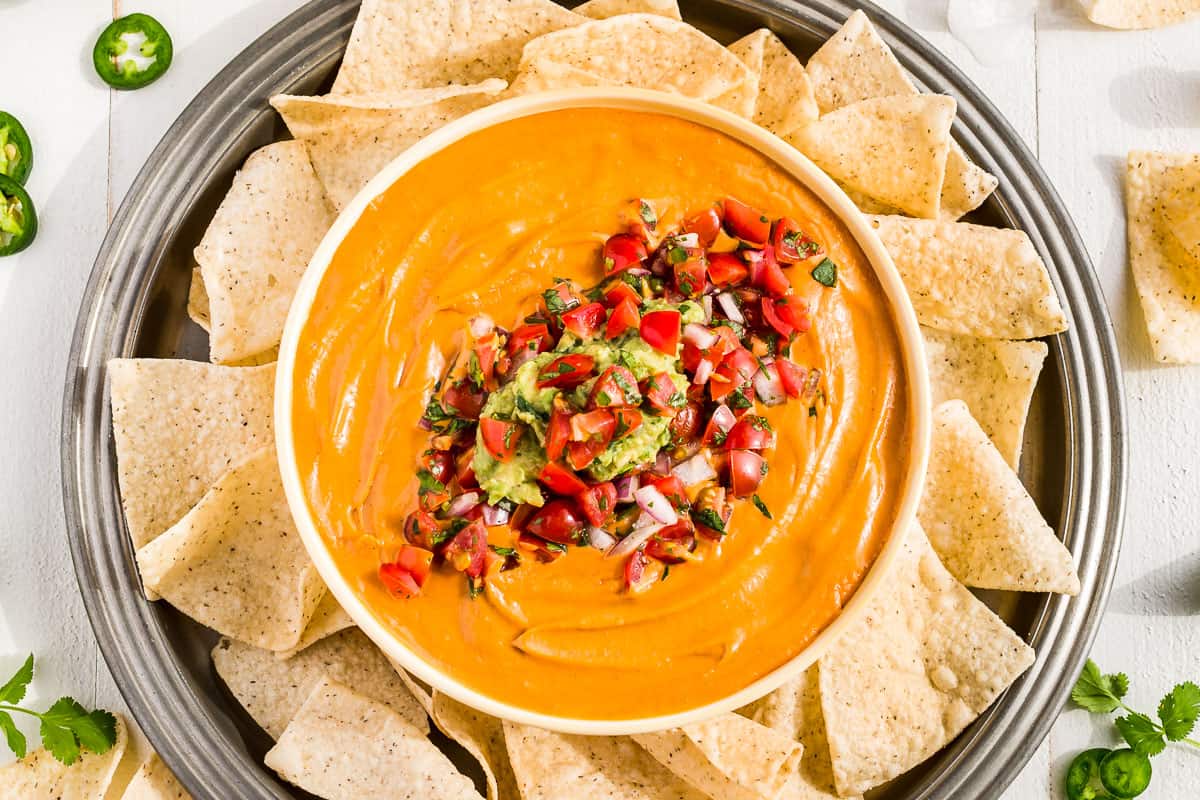 FAQ's
What is plant-based queso made of?
Plant-based or vegan queso is usually made up of cashews for the base. However, we've found it much tastier to cut back on the amount of cashews and add sweet potato as part of the base for ultra-smooth and creamy vegan queso along with some fire-roasted tomatoes and spices.
Is plant-based queso vegan?
If you buy plant-based queso, be sure to carefully read the ingredients to make sure it's vegan, or look for a vegan label on the front. This recipe is vegan when made with vegetable broth.
Storing leftovers
To store – place the leftovers into an airtight sealed container and store it the refrigerator for up to 5 days.
Make ahead – this queso can be made ahead and reheated gently over low heat on the stovetop. Just keep in mind the leftovers don't keep as long in the fridge.
Reheating – place any leftovers into a saucepan and reheat gently over low heat until warm or hot.
To freeze – this queso freezes really well. Place the leftovers into an airtight sealed container and freeze for up to 3 months. Defrost in the fridge in a container to catch any leaks overnight before reheating. The queso will look 'broken' as it thaws, but it becomes smooth again when reheated.
Tips & Tricks
The Instant Pot makes this really easy, but if you don't have one, simmer on the stove top stirring occasionally so it doesn't stick until the sweet potatoes are tender. Then proceed with the rest of the recipe as directed.
Nutritional yeast is what gives dairy-free and vegan 'cheese' sauces their 'cheese-like' flavor. You can easily find it in any health food store. And if you're dairy free, you're definitely going to want to have some around!
What is nutritional yeast, and what are its benefits
Nutritional yeast is from the same strain used to make bread or kombucha, but it's been deactivated.
It's packed with B vitamins as well as traces of other minerals.
It provides a nutty cheesy flavor perfect for those who are dairy free.
By weight, it's 50% protein, and a serving size boasts 9 grams.
And finally a quick 'recipe' for the drinks pictured here: Grapefruit Spindrift + a squeeze of fresh lime juice + a splash of freshly squeezed grapefruit or orange juice over ice.
More Snacking Recipe Inspiration
I really hope you enjoy this Best Vegan Queso! If you do get a chance to make this recipe, I'd love to hear from you in the comments.
INGREDIENTS
2

tbsp

avocado oil

-

or olive oil

1

small

yellow onion

-

1/4″ dice, 1/2 pound

2

cloves

garlic

-

minced

14

oz

can diced fire roasted tomatoes

1 1/2

cups

broth

-

veggie broth for vegan

1

white sweet potato

-

1 pound, peeled and cut into 1" pieces, or orange

1/2

cup

raw cashews

-

not toasted or salted

1

tsp

each: granulated garlic, granulated onion, ground cumin, & chili powder.

2

tsp

smoked paprika

1

tsp

sea salt

-

more or less to taste

4

oz

can green chiles

1

can

coconut milk -

13.5 oz refrigerated, see notes

3/4

cup

nutritional yeast

2-3

tbsp

freshly squeezed lime juice

-

to taste

 Salsa, Chips, and Guacamole for serving
INSTRUCTIONS
Set the Instant Pot to the sauté mode, and when it's hot, add the avocado oil, onions, and garlic. Sauté until lightly browned then turn off the sauté mode.

Add the fire roasted tomatoes and broth, stirring to scrape up any browned bits from the bottom. Then add the sweet potato pieces, cashews, garlic and onion powder, cumin, smoked paprika, chili powder, sea salt, and green chilis.

For the coconut milk, scoop the hardened cream from the top of the can and set it aside. Then add the remaining liquid to the Instant Pot. Stir to combine the ingredients, then set the Instant Pot to pressure cook for 5 minutes.

When the time is over, use the quick release function. When the Instant Pot is safe to open, carefully transfer the contents to a high powered blender. Add the reserved coconut cream, secure the lid and begin to blend starting on low.

Increase the speed using the tamper to keep the mixture moving, and blend until mostly smooth. Add the nutritional yeast and blend again until smooth, being careful not to burn yourself as the 'queso' is very hot. You can also do this in 2 batches.

When the 'queso' is completely smooth, add lime juice to taste and serve immediately with chips, guacamole, and pico de gallo.
Bonus Step
If you made this recipe, please leave a rating/comment. Ratings really help us continue to bring you high-quality free recipes. Rate This Recipe!
NOTES
The coconut milk needs to be refrigerated to separate the cream from the liquid. If you have coconut milk that's been sitting on the shelf in the pantry for a while, it will separate without being refrigerated. 
Quick note: this recipe makes about 8 cups of queso, but don't be alarmed, it freezes perfectly! You can make half the recipe as well, but then you end up using 1/2 a can of tomatoes etc. This recipe is formulated to use up the full amount of each canned good called for, so enjoy your leftover cheese sauce on all sorts of Mexican recipes.
Defrost frozen queso overnight in the fridge in a container to catch any leaks. The defrosted queso will look 'broken' don't worry it comes back together! Reheat gently on the stove top stirring constantly until it's smooth and creamy again.
nutrition facts
Serving:
5
cup
|
Calories:
112
kcal
|
Carbohydrates:
7
g
|
Protein:
3
g
|
Fat:
9
g
|
Saturated Fat:
5
g
|
Polyunsaturated Fat:
1
g
|
Monounsaturated Fat:
2
g
|
Sodium:
220
mg
|
Potassium:
174
mg
|
Fiber:
1
g
|
Sugar:
1
g
|
Vitamin A:
1385
IU
|
Vitamin C:
4
mg
|
Calcium:
21
mg
|
Iron:
2
mg
This recipe was originally published in 2019 but has been updated in 2023 to include better photos, nutrition information, and more tips.