This Fresh Mango Salsa is just 5 ingredients and all sweet-spicy flavor. It's perfect served with salmon or chicken, and it makes the most incredible fish tacos. It's super easy to make, and a great way to add so much flavor to your dinner. Try serving it alongside your favorite taco bowls, burrito bowls, or quesadillas. Mango Salsa also keeps well for a few days in the fridge which is another bonus!
Mango salsa is my favorite fruit salsa because it makes everything it touches so good! That sweetness combined with the savory flavors and touch of spicy from the jalapeno is an unbeatable combination. You'll always find me looking for ripe mangos when I'm grocery shopping because I will change up our entire menu to fit in some mango salsa.
We mostly serve this salsa over taco bowls or burrito bowls. And you'll find mango salsa as part of several recipes already on the blog. But I figured it was way past time I got you a dedicated recipe for this because it's too good to be passed over.
Mangos are available where we live way more months a year than ripe tomatoes. So I find myself making it often for all sorts of things. One of our all-time favorites is to serve it with my Instant Pot Carnitas.
And my favorite way to eat this salsa is with Fish Tacos or in these Fish Taco Slaw Bowls. Tyler isn't crazy about seafood, so you'll find him sticking to the carnitas!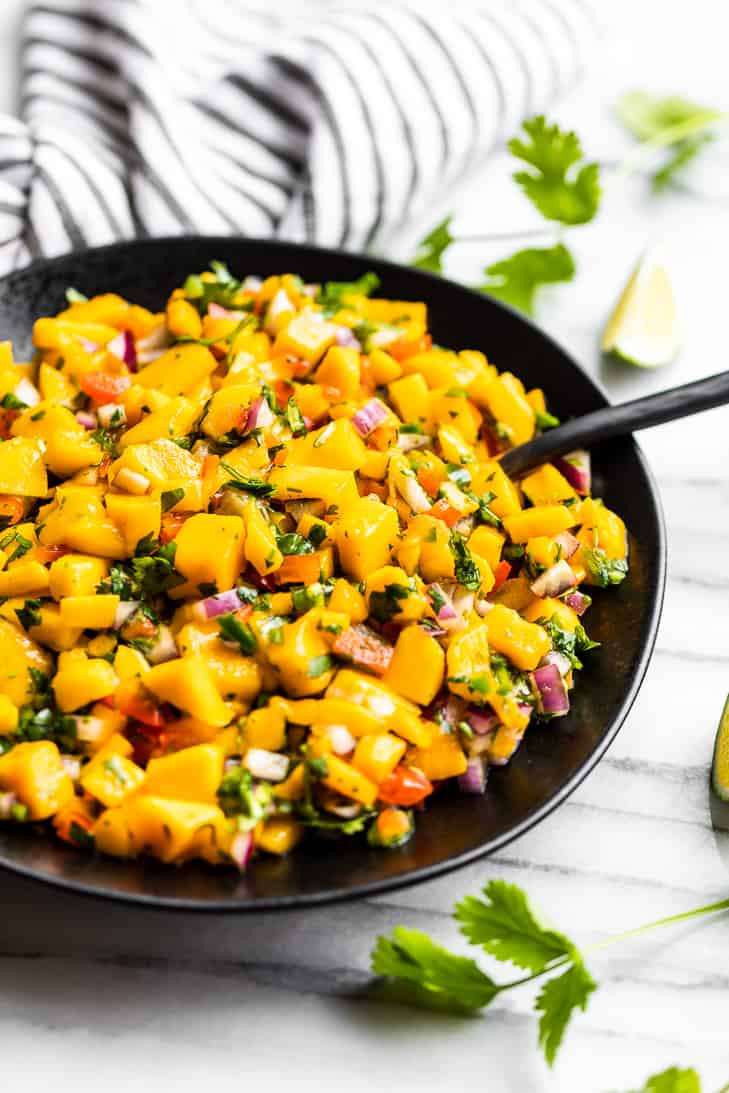 ingredients for this Mango Salsa
Mangos – My favorite mango to use in this salsa is the Champagne or Ataulfo. They're the ones you see that have all yellow skin, and when it's a deep yellow-orange color they're ripe. They're super sweet and less fibrous than regular mangos. But whatever ripe mango you find is perfect because it's hard to go wrong with mango salsa. I don't recommend trying to use frozen mango because the texture is too soft when it thaws. If you can't find mango, you can sub in finely diced ripe pineapple.
Red onion – finely diced red onion adds a lot of savory flavor and nice color. You can use any onion you'd like, but red onion is a bit milder and perfect in this fruit salsa.
Jalapeno/Serrano – finely diced adds a touch of spice to the mix that makes this salsa addictive. The amount listed in the recipe is for a mild salsa. But feel free to add as much as you'd like, we add about triple the amount of jalapeno called for.
Cilantro – fresh cilantro is essential to any good salsa. Try to find cilantro at a local farmer's market when you can, or grow your own for the most amazing cilantro flavor. There's really no comparison to store-bought, and I always get so excited to see it each year at the market.
Lime juice – adds a touch of acid that perfectly compliments the sweetness of the mango.
Sea salt – salt is essential to bring out the flavors of any recipe, but it's often overlooked in salsas. Season to taste with salt and you'll find your salsa goes up a notch in flavor.
Tip: It's nice to add 1 tablespoon of finely diced red bell pepper for gorgeous color if you're not using the serrano chili.
Now let's make this recipe step by step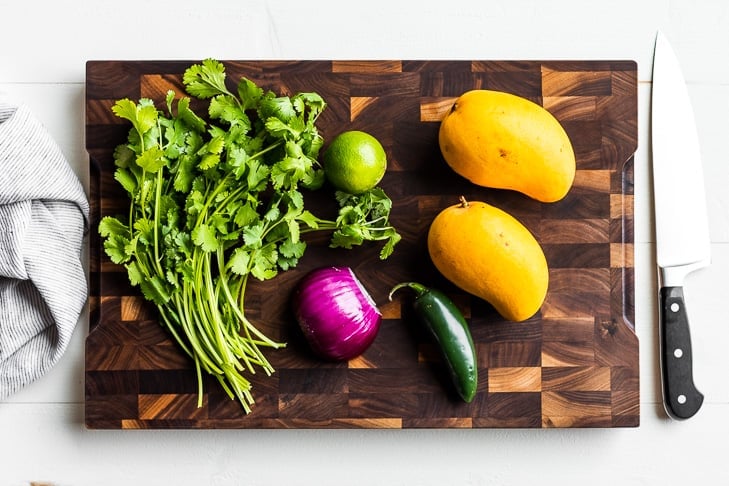 Step 1: Wash and spin dry the cilantro in a salad spinner.
Then prep the rest of the ingredients by trimming away stems, etc.
Step 2: Mince the cilantro and finely dice the onion and jalapeno along with squeezing the lime.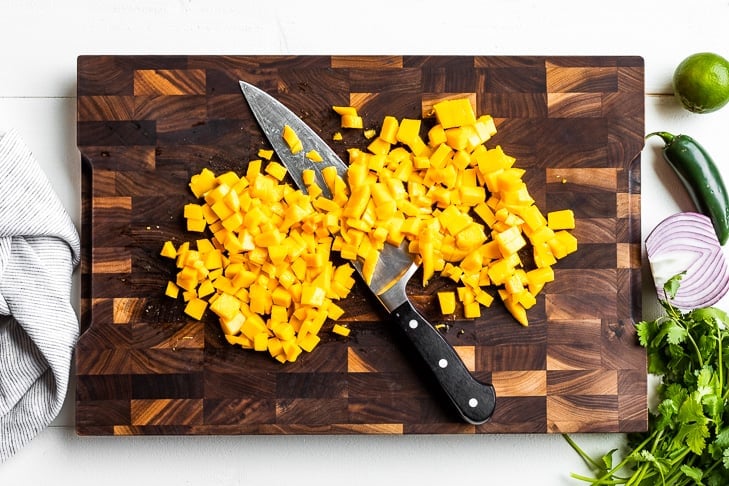 Step 3: Dice the mango into small bite-sized pieces. You can either use a sharp vegetable peeler to peel away the skins, then cut the mango away from the pit. Or you can cut the 'mango cheeks' away from the pit.
Then using a sharp knife cut the mango into cubes inside the skin being careful not to cut through. From there you can use a spoon the scoop out the mango cubes.
Step 4: Add all of the prepped salsa ingredients to a medium-sized bowl. Mix together and season to taste with sea salt.
Ways to serve this
This mango salsa pairs well with chicken, pork, seafood, and fish. I especially love it with salmon!
Serve it with any taco bowl, burrito bowl, or over a quesadilla. My Carnitas Burrito Bowl, Barbacoa Burrito Bowl, or Chipotle Chicken Burrito Bowl all work with this salsa. Try it with my Chicken Tinga Bowls, Taco Bowls, Shrimp Tacos, or over my Cilantro Jalapeno Chicken.
Make a salad with chopped crunchy romaine and top it with this mango salsa, cooked chicken, and my Cilantro Lime Dressing. Or add it in place of the usual tomatoes in my Turkey Taco Salad.
FAQ's
What is the difference between mango salsa and mango chutney?
The main difference is mango salsa has Mexican flavors and mango chutney has Indian flavors. Mango salsa has mango, onion, cilantro, jalapeno, and lime juice whereas mango chutney has mango, ginger, garlic, and Indian spices and is usually seasoned with sugar and vinegar.
What can you eat mango salsa with?
Mango salsa is great served with tortilla chips and guacamole. It also pairs well with chicken, pork, and seafood as well as quesadillas, burrito bowls, and taco bowls.
Is mango salsa spicy?
Most store-bought mango salsas I've tried have been mild, but when you make your own you can control just how spicy your salsa turns out.
Storing leftovers
To store – leftovers will usually keep in an airtight container refrigerated for 2-3 days. However, if your mango is really ripe or overripe the salsa will turn brown within 24 hours or so.
Make ahead – this recipe is best made fresh and served within 1-2 hours, but it can be made and refrigerated for half a day and served with dinner if desired.
Tips & Tricks
Try to find the yellow mangos sometimes called Champagne mangos or Altaulfo mangos. They have a smoother less fibrous texture that is really great in salsa. But don't worry if you can't find them, regular mangos are also yummy of course!
Don't use bottled lime juice, freshly squeezed lime juice is essential for a fresh salsa. The fresh flavor is what it's all about, and bottled citrus juice always shows through.
Keep the diced mango small enough to be easily bite-sized when combined with your main dish. Small diced mango pieces mean you get sweet juicy mango with every bite of burrito bowl.
Mix it up by adding cubed avocadoes to this mango salsa for a fun variation. I have a salsa recipe with strawberries and mangos you may enjoy as well.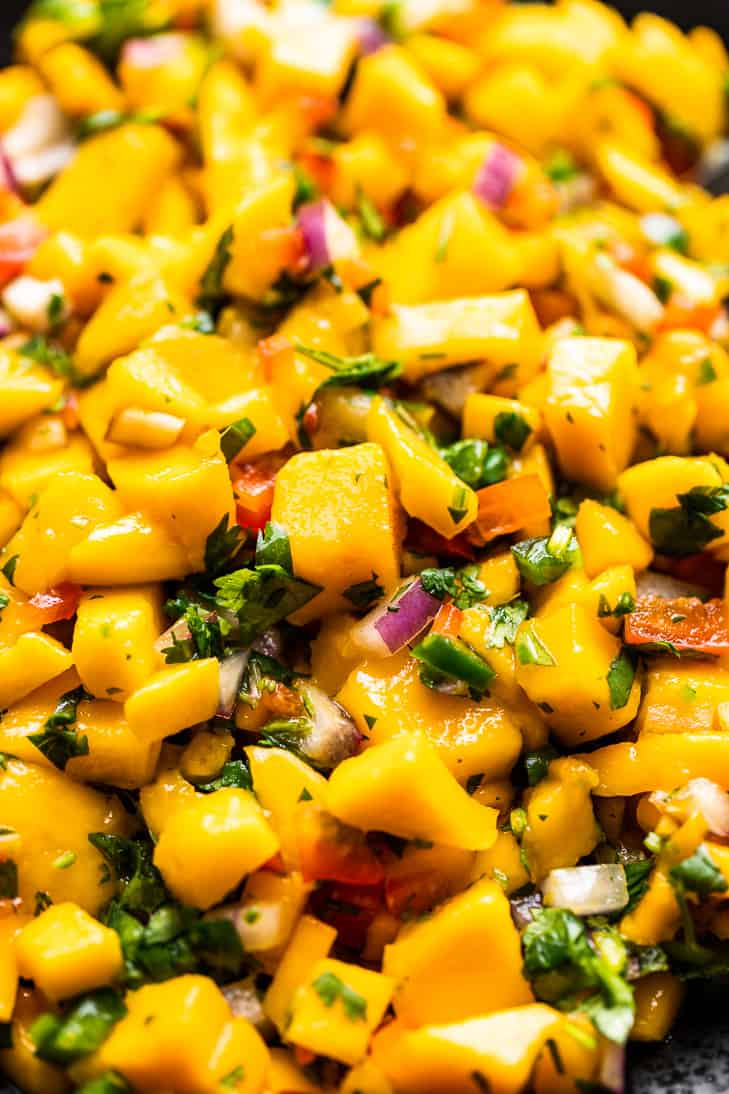 This Mango Salsa is part of my make your own burrito bowl series
Choose as many of the above recipes as you'd like to mix and match and create a taco bowl or burrito bowl. You can also add all sorts of toppings like corn, black beans, grated cheese, and sour cream.
I really hope you enjoy this Mango Salsa, it will add so much fresh flavor to your Mexican dinners! And if you do get a chance to make it, I hope you'll leave me a comment/rating below.
Fresh Mango Salsa (5-Ingredients)
---
INGREDIENTS
4

cups

diced mangos

-

2 mangos, 2 pounds

1/4

cup

minced red onion

1/4

cup

minced fresh cilantro

2

tbsp

freshly squeezed lime juice

-

from 1 lime

1

tsp

minced jalapeno or serrano chili

-

see notes

1/4-1/2

tsp

sea salt

-

or to taste
INSTRUCTIONS
Place all of the salsa ingredients into a medium sized bowl and stir together.

Add sea salt to your taste and serve. This salsa tastes even better if you can let it sit at room temperature for 10-20 minutes first.
Bonus Step
If you made this recipe, please leave a rating/comment. Ratings really help us continue to bring you high-quality free recipes. Rate This Recipe!
NOTES
The amount of minced chili listed is for a mild salsa. We like to triple it to 1 tablespoon for a medium to medium-hot salsa.
It's nice to add 1 tablespoon of finely diced red bell pepper for gorgeous color if you're not using the serrano chili.
nutrition facts
Calories:
70
kcal
|
Carbohydrates:
18
g
|
Protein:
1
g
|
Fat:
0.4
g
|
Saturated Fat:
0.1
g
|
Polyunsaturated Fat:
0.1
g
|
Monounsaturated Fat:
0.2
g
|
Sodium:
99
mg
|
Potassium:
206
mg
|
Fiber:
2
g
|
Sugar:
15
g
|
Vitamin A:
1247
IU
|
Vitamin C:
43
mg
|
Calcium:
15
mg
|
Iron:
0.2
mg