Pico de Gallo is a simple fresh salsa that's easy to make and keeps for days in the fridge as well! You'll find yourself making it for everything from a 'chips and salsa snack' to any Mexican inspired meal. A good Pico de Gallo is all about simple, fresh ingredients, and I've included all my tips for success below.
It's hard to believe that with over 600 recipes and counting, I don't have a recipe for Pico de Gallo yet! You'll find it as an add-on of sorts in my Mexican recipes like my Chipotle Shrimp Tacos. But it's way past time I shared with you my specific recipe for a good pico along with all my tips!
There are a few things that make a Pico de Gallo authentic. And it's just as simple as the ingredients you use. However you'll also find all my tips below for the tastiest Pico de Gallo based on what you have on hand, or can buy at the store. First of all we would have to talk about tomatoes, because what would this salsa be without tomatoes?
Authentic recipes use Roma tomatoes, or any de-seeded tomatoes of your choice. But one of my biggest flavor tips is to use the grape cherry tomatoes. If it's the height of summer, you'll find the best tomatoes at farmer's market. However you'll find the Roma tomatoes from the store have the texture of styrofoam. And more often than not, they have little to no flavor at all.
Which just proves that being authentic is nice when you can, but not necessarily the best way to go for flavor. More often than not, you'll find cherry tomatoes are your best store bought option. Also when tomatoes aren't in season, head over to my Easy Fire Roasted Blender Salsa which uses canned tomatoes.
What is Pico de Gallo?
Pico de Gallo is pronounced like peeko-de- guyo, and is sometimes called Salsa Fresca, or fresh salsa. It's easy to make with just 5 fresh ingredients, and no cooking required!
Now let's get started by talking about each ingredient for this Pico de Gallo:
Tomatoes – As mentioned above, Roma tomatoes are normally used in authentic Pico de Gallo. However in our area, the grape cherry tomatoes have been the most reliable for the best flavor. And it's worth mentioning, everyone always asks why my Pico de Gallo is so good. The big secret is all about starting with tomatoes that have the most flavor. So don't worry too much about being authentic, and choose the best of what you have available. If you use 'slicer' type tomatoes, I would recommend de-seeding them before dicing them up. This is because they have way too much liquid for a good Pico de Gallo which is solved by removing the seeds. Roma tomatoes don't have much in the way of seeds, so you can use them as is.
Onion – White onion is traditionally used and has a great flavor in this fresh salsa. I've also used yellow and red onions as well when that's what I had on hand. And they both work well too.
Serrano or Jalapeno chilis – serrano chilis are the authentic choice, but they're not always readily available for me. And since they're a trip across town to another store, I most often use jalapenos. Another thing to consider is jalapenos aren't as spicy as serrano chilis. So choose what works best for you because either chili flavor is fantastic!
Cilantro – freshly chopped cilantro adds tons of fresh flavor to this pico. And if you can find cilantro at the farmer's market, definitely pick some up. Locally grown cilantro will blow you away with it's incredible flavor!
Lime juice – freshly squeezed is a must here because this recipe is all about fresh flavor.
Sea salt – just a touch of salt is what you need to bring out all the flavors of this salsa.
Now let's make this recipe step by step!
Step 1:
Assemble all your ingredients, wash, de-stem, etc. If you choose cherry tomatoes, try for the grape cherry tomatoes as you see pictured above. The reason for this is they have less liquid and seeds than the round cherry tomatoes.
Step 2:
Dice up the tomatoes of your choice into very small pieces. The smaller the dice the better the salsa texture will be.
Tip: You'll notice in the photos above the deep red color of the diced up cherry tomatoes which is a good sign. Color is a good indication of flavor!
Step 3:
Mince the onion, jalapeno, and cilantro, and juice the lime.
Step 4:
Add the minced onion, jalapeno, and cilantro to the cherry tomatoes along with the sea salt and tomato juice.
Step 5:
Stir the Pico de Gallo together and season to taste with additional sea salt if needed. Pico de Gallo tastes even better if the flavors are allowed to sit 10 minutes or so before serving. Refrigerate and use within 3-4 days.
And now for some more fun salsa recipes: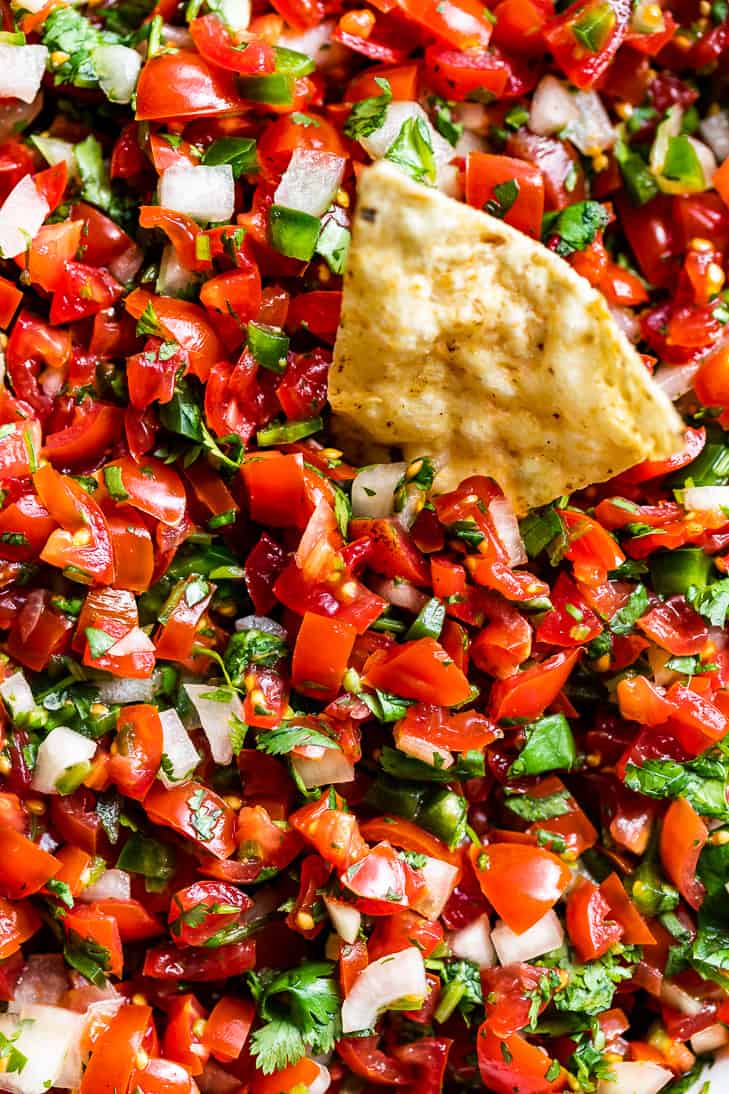 This Pico de Gallo is part of my 'build a bowl' series:
Choose as many of the above recipes as you'd like to mix and match and create a taco bowl or burrito bowl. You can also add all sorts of toppings like corn, black beans, grated cheese, and sour cream.
I really hope you enjoy this Pico de Gallo, it will add amazing fresh flavor to your Mexican dinners! And if you do get a chance to make it, I hope you'll leave me a comment/rating below. I always love hearing from you here! Also for lots more Mexican inspired recipes, head over to the recipe index.
Print
Pico de Gallo Recipe (Authentic & Easy)
---
Author:

Kari

Total Time:

15 minutes

Yield:

6

servings

1

x

Diet:

Gluten Free
Description
This fresh salsa is everything you'll need to take your Mexican inspired dinners to the next level! Pico de Gallo is an authentic Mexican fresh salsa that's just 5 ingredients and comes together quickly. It's perfect for tacos, burritos, and any kind of Chipotle style bowl.
---
3 cups finely diced tomatoes, 4 cups whole grape cherry tomatoes or 4–5 Roma tomatoes
1/2 cup finely diced white onion
1 jalapeno or serrano chili, seeded and finely minced
1/2 cup finely chopped cilantro
2 tablespoons fresh lime juice, from 1 lime
1/2 teaspoon sea salt, or to taste
---
Instructions
Finely dice the tomatoes and place them in a non-reactive bowl, (pottery/glass/etc.). If you're using any tomato other than what's listed, be sure to remove the seeds so you final salsa isn't too watery.
Dice the onion, jalapeno, and cilantro, and juice the lime.
Add the onion, jalapeno, cilantro, and lime juice to a bowl with the tomatoes and toss the mixture together.
Season to taste with sea salt, and let sit for 10-20 minutes for the flavors to develop if you can before serving.
Refrigerate and use within 3-4 days.
Prep Time:

15

Category:

Snack

Method:

Mixing

Cuisine:

Mexican
Keywords: Pico de Gallo Recipe, How to Make Pico de Gallo, Best Pico de Gallo Recipe, Homemade Pico de Gallo