This Creamy Ethiopian Berbere Chicken Curry is super easy, and takes just a few minutes of prep work! It's deeply flavored with the chili spice mix that makes it taste like you spent hours in the kitchen, but there's only a few simple ingredients. It's naturally gluten free and dairy free, and perfect served with freshly steamed rice or cauliflower rice.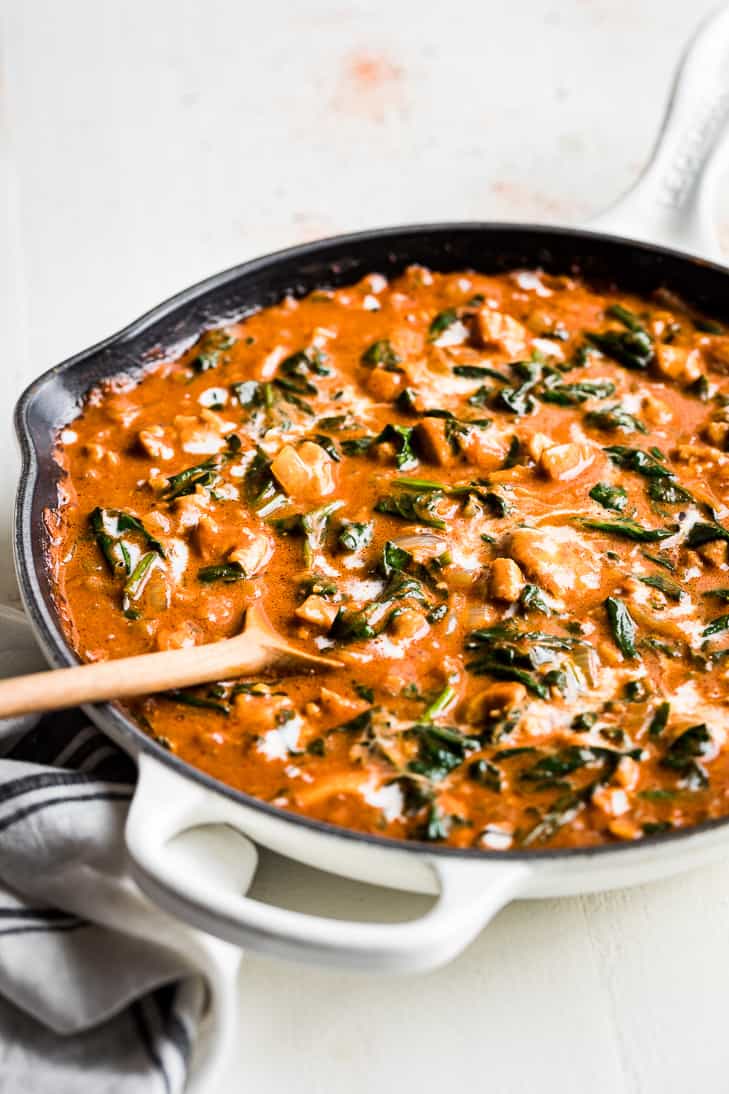 Have you tried Ethiopian Berbere spice mix yet? If not it's more than worth a few minutes to track some down because it's incredibly flavorful! You can also put together curries and stir fries in just minutes because all the spices are conveniently mixed together, and ready to go for you.
You can check out below where I get my spice mix, but first let's talk about this curry shall we? It's perfectly creamy as you might expect from a coconut curry. But what I love about Ethiopian curries is the combination of coconut and tomato together. Any other curries I've tried before are one or the other. But I think you'll find you love the combination of both tomato and coconut too.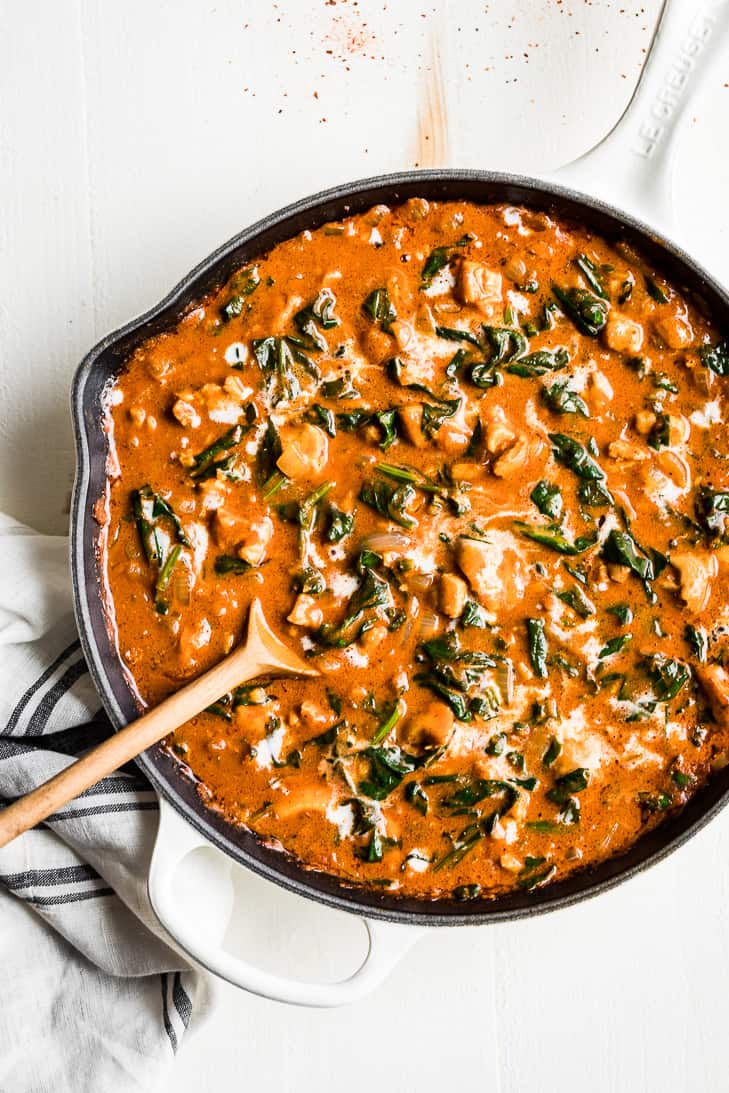 It's perfectly flavored with a mix of onions, garlic, and ginger that compliments the berbere spice mix. And for a veggie I added in loads of roughly chopped fresh spinach right at the end for an easy way to add more greens to your diet.
Also I have so many packages of frozen greens in my freezer I put up from our Farmer's Market last year I need to use. So I've been creating curry recipes to make good use of all those frozen greens!
Let's get started making this Creamy Ethiopian Berbere Chicken Curry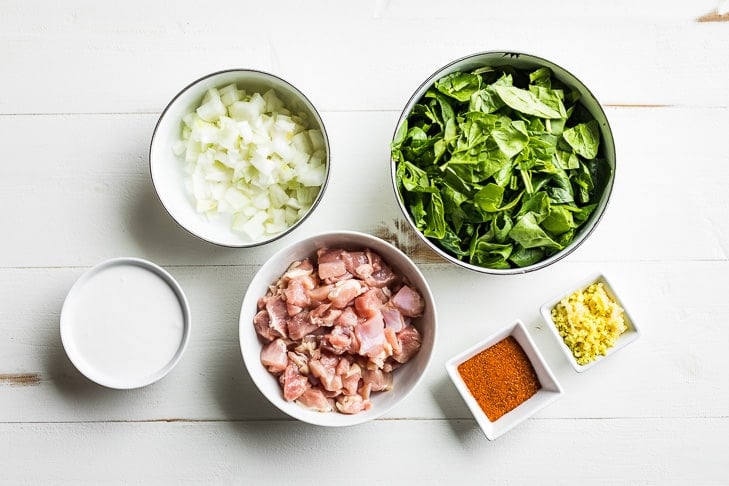 The first step is to prep all of your ingredients. This recipe comes together pretty quickly, then just simmers for a bit. So it's best to have everything ready to go!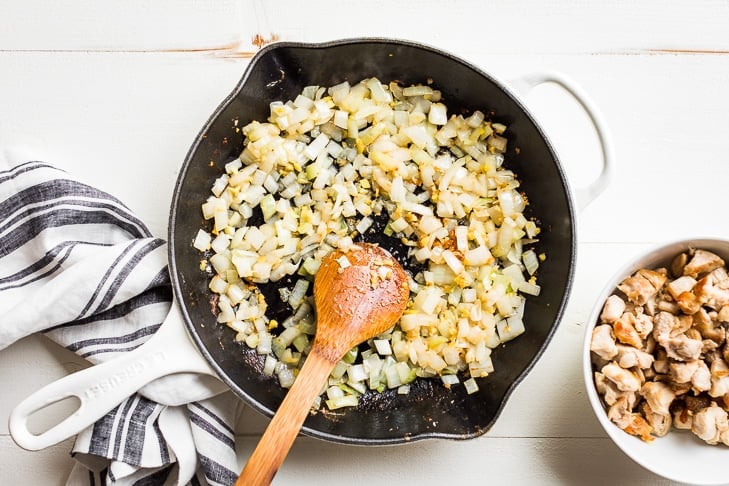 Next we're going to sauté the chicken, then remove it from the pan, and set it aside in a bowl. Then after the chicken has been sautéed, we're going to cook the onion together with the garlic and ginger over medium-low heat until softened.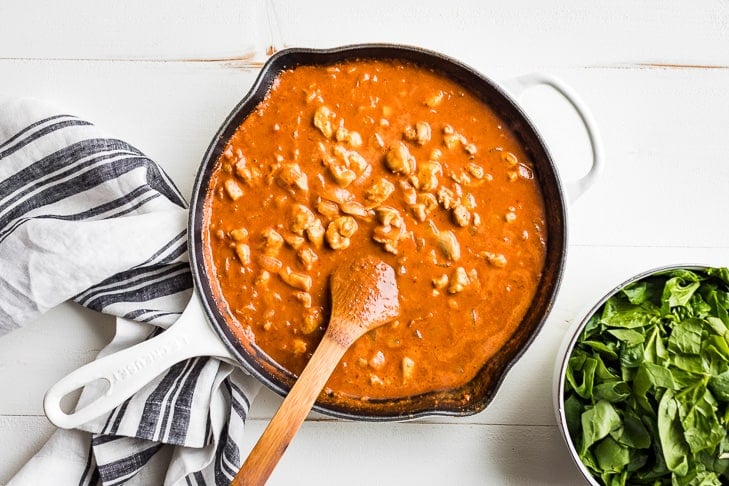 From there it's time to add the spice mix, tomato sauce, and coconut milk. Bring the curry to a boil, then lower the heat to a simmer and cook until the flavors meld, about 10-15 minutes.
This step helps the onion, garlic, and ginger flavors to infuse the curry and make sure there's no crunch of partially cooked ginger.
Then we'll add the chicken back to the pan, and cook for a couple of minutes, or until just done.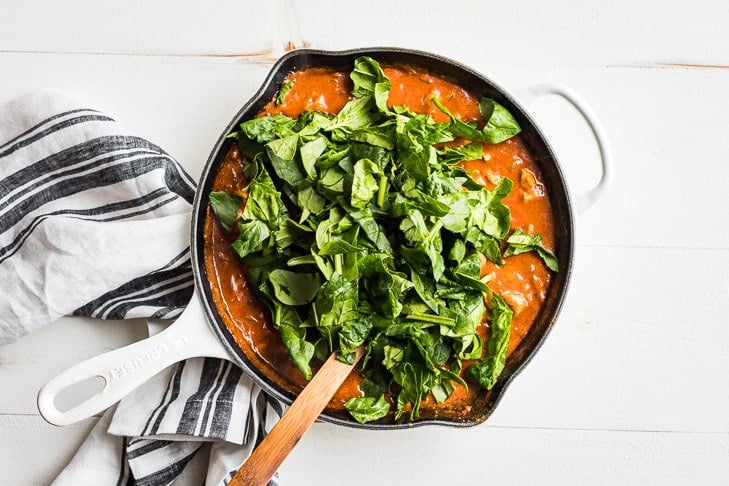 And finally, it's time to add the chopped fresh spinach, (or frozen chopped greens that you like). It's definitely a lot to add to the pan. So spread it out and allow it to slightly wilt before you mix it in!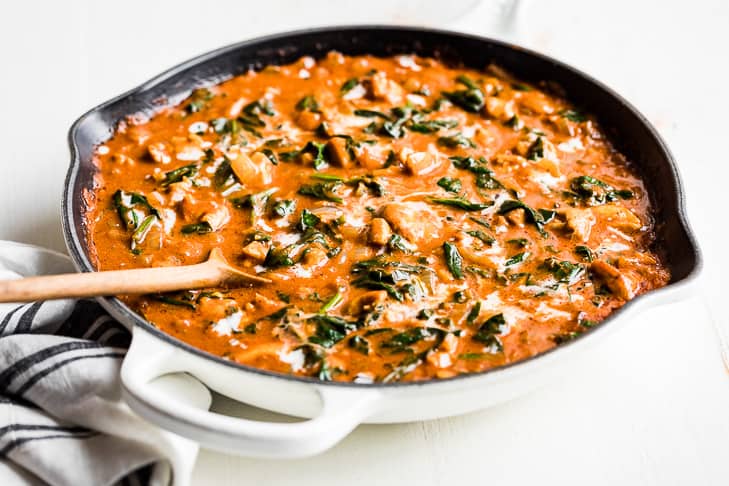 After the spinach has just wilted, taste and adjust the sea salt and serve! We love this with freshly steamed rice, but you can use cauliflower rice, or even roasted spaghetti squash as well.
A few FAQ's about berbere spice
How spicy is it? This varies greatly from spice mix to spice mix. So what I do is taste it first to see. Mine is warm to the taste but not instantly burning your tongue. I also can't recommend the one I use enough just because it tastes so good. This isn't sponsored, but you can find it at The Silk Road Catering under Berbere Spice Mix. I actually have every single one of their spice mixes, and use them constantly! They're made without additives, sugar, salt, and are gluten-free and sold on Amazon. So you should be able to get your hands on some too if you want.
What is Ethiopian Berbere Spice, and what is made of? It's a mix of spices usually including chili, paprika, fenugreek, ginger, coriander, black pepper, cumin, cardamom, allspice, turmeric, and a few others as well. It's hard to describe exactly what it tastes like. But here are a few flavors: earthy, light fruitiness from the chili, and ends on a spicy note.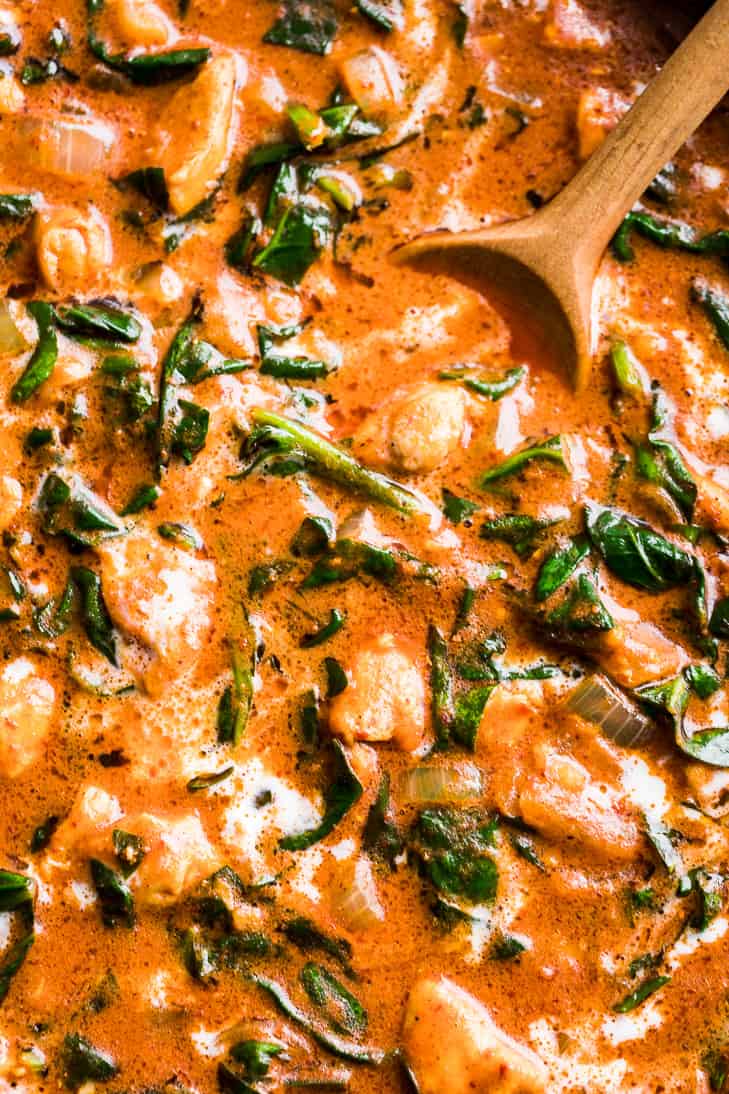 Coconut Curry Recipe inspiration
And lastly if you're looking for something else to do with berbere spice, check out my Ethiopian Berbere Chicken and Veggie Stir Fry!
I sure hope you get a chance to make this curry soon. And if you do, I hope you'll leave me a comment/rating below. I always love hearing from you here in the comments. And also over on Instagram where you can tag me at #getinspiredeveryday with your photos!
Print
Creamy Ethiopian Berbere Chicken Curry
---
Author:

Kari Peters

Total Time:

45 minutes

Yield:

6

servings

1

x

Diet:

Gluten Free
Description
Creamy with a light amount of spice, this chili laden Ethiopian Curry is sure to become a new super easy favorite!
---
1 pound boneless, skinless chicken thighs, cut into 1/2" pieces
2 Tablespoons avocado oil
1 yellow onion, finely diced, 2 cups
1 clove garlic, minced
1 Tablespoon minced fresh ginger
2 Tablespoons berbere spice mix, to taste, see notes
1 cup tomato sauce, plain not seasoned
1 can coconut milk, full fat, 13.66 oz
5 cups spinach, roughly chopped, 5 ounces
1 Teaspoon sea salt, or salt to taste
---
Instructions
Prep all the ingredients before you begin cooking. Preheat a 9-10″ skillet over medium high heat. When the pan is hot, add 1 tablespoon of the avocado oil along with the chicken. Sauté until the chicken is beginning to brown and is mostly cooked, 4-5 minutes.
Remove the chicken from the pan and set it aside. Then add the remaining 1 tablespoon avocado oil to the pan along with the onion, garlic, and ginger.
Sauté over medium-low heat for 3-4 minutes, or until the onions are beginning to turn translucent. Add the berbere spice mix and stir to combine before adding the tomato sauce and coconut milk. Bring the curry to a boil, then reduce the heat and simmer until thickened and the flavors meld, about 10 minutes.
Add the chicken back to the pan along with the spinach. Pile the spinach over the top of the curry, and let the heat of it simmering wilt the spinach for about 1 minute before starting to mix it in. This helps the spinach not to go overboard! 
Once the spinach is just wilted, 2-3 minutes, season to taste with sea salt and serve immediately! Leftovers reheat well on the stove top.
Notes
Berbere spice mixes vary in heat greatly. The one I use that's listed in the blog post is warm to the tongue when you taste it plain. If you're not sure, taste yours, and you can always add less to be sure it's not too spicy.
Tip: You can save back 1-2 tablespoons coconut milk to drizzle over the top of the finished curry for a nice presentation!
Prep Time:

20

Cook Time:

25

Category:

Dinner

Method:

Stove Top

Cuisine:

Ethiopian
Keywords: Berbere Chicken Curry, Ethiopian Berbere Curry, Berbere Curry